Get hair inspirations from Taylor Swift's latest hairstyles gallery, in this gallery, you can find her updos, long wavy, curly hairstyles etc.
Taylor Alison Swift (December 13, 1989) is an American singer-songwriter. Raised in Wyomissing, Pennsylvania, Swift moved to Nashville, Tennessee at the age of fourteen to pursue a career in country music. Her Grammy-award winning platinum album is called Fearless and that adjective could also describe Taylor Swift's attitude about her hair. From side buns to boho chic hairstyles, it's impossible not to root for this adorable country music princess.
Celebrity Hairstyles Series:  Taylor Swift Hairstyles Pictures
1. Taylor Swift Loose Bun Updo Hairstyle – Romantic Hairstyles for Wedding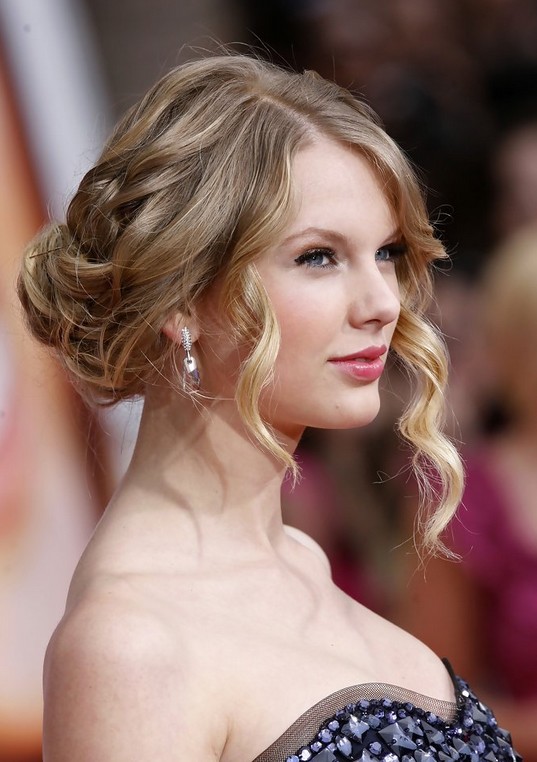 A side parting at the front of the head leaves just enough curly hair loose to frame the face perfectly and complement this gorgeous updo. Taylor Swift opts for tousled curls pinned back into a loose bun. Key to this style is the waves that start close to the roots so that all of the hair is wavy and small sections have even been loosely wrapped around one another, braided loosely and softly to create loads of texture. This is a great updo for prom,wedding and homecoming! So beautiful!
 2.Taylor Swift Long Straight Hairstyle: blonde sleek hair style with blunt bangs for girls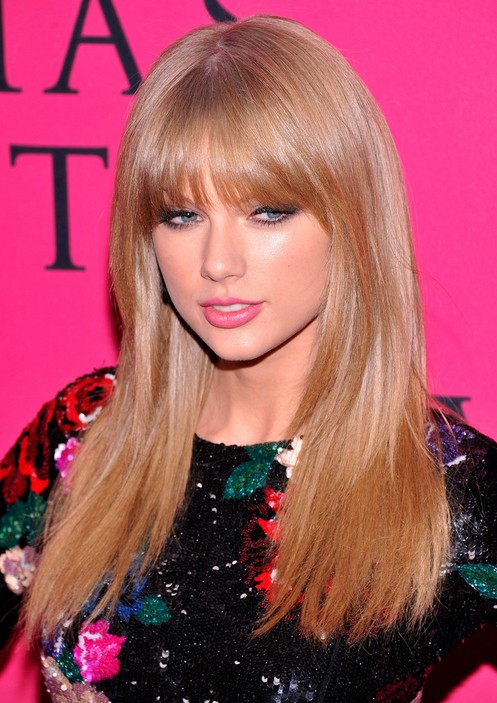 This style has been cut with absolute precision to give Taylor Swift a fashionable feel that works perfectly with her facial shape. With her heavy fringe feathered a little and allowed to grow out at the sides, and quite drastic layers cut to the front of the hair, she achieves a rounded, face-flattering shape to the hair. Her fine features are perfectly framed by this voluminous straight style – giving her an almost doll-like look that is cute and on-trend. This is a simple daily hairstyle, if you love this style, why not have a try?
3. Taylor Swift Long Curls with Bangs – Romantic long wavy hairstyle with blunt bangs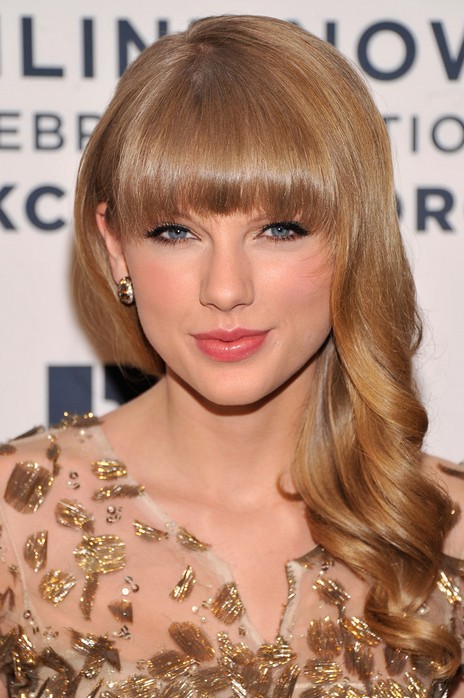 The classic, retro-inspired side parting with waves of soft curls over the shoulder is given a contemporary shake-up here with Taylor Swift's trademark long fringe adding a modern twist. The texture of the hair here is remarkable – just so soft and smooth, it makes you wonder how those curls and all the subtle volume have been made to stay! The colour is a triumph; soft, natural blonde in a range of warm and cool tones add depth and just look at that shine! This long hairstyle is great for thick hair.
4. Taylor Swift Updo: Elegant Chignon updo with bangs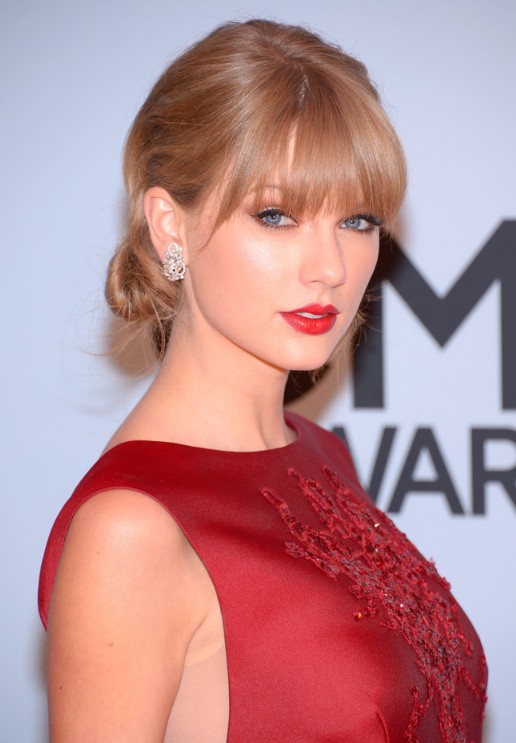 For an elegant updo, the chignon is a classic choice and here she shows off a wonderful softness to the hair with a soft dark blonde colour and a silky soft texture. The long fringe and those loose strands make this style a flattering, feminine look that flatters the singer's skin tone and gives her an elegant, grown-up look that she really suits.
 5.Taylor Swift Braided Hairstyles: beautiful Updo with braid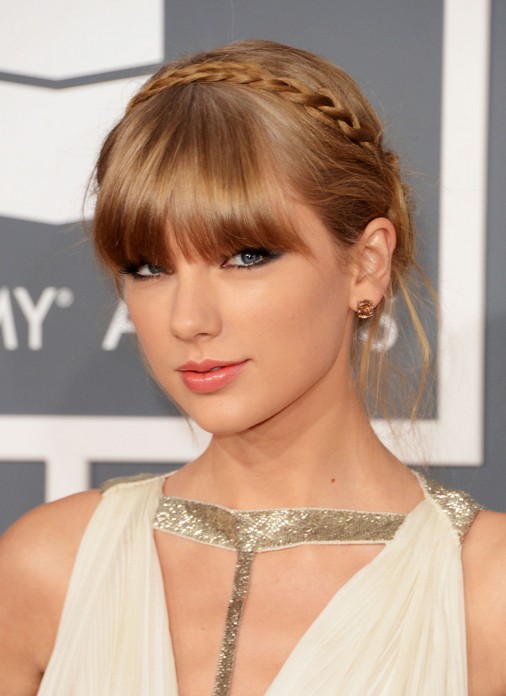 This style is a great example of how a deep fringe that starts far back on the head can make the most of a smaller forehead. The fringe just skims the eyes, which gives Taylor Swift an air of mystery as her dark-rimmed eyes peek out from under it. This darker look contrasts with the halo-like braid on the top of the head for a sweet, feminine look with just a little edge. This is a great way to let personality shine through.
6. Taylor Swift Soft Wavy Hairstyle with Bangs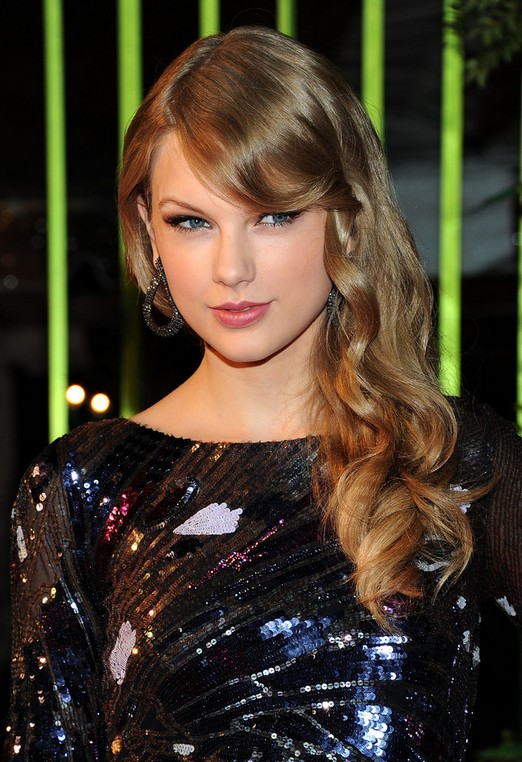 For a soft and feminine look that showcases silky smooth hair, this is a great choice – especially if you can get the colour just right like Taylor Swift does here. The casual elegance of this look comes from the way the waves look like curls which have softened and fallen out slightly. The ash tones are a great winter look and really bring out the blue in the singer's eyes. We just love that sweet wave over her left eye, adding a touch of fun to this sweet look.
 7.Taylor Swift Side Sweep Soft Curly Hairstyle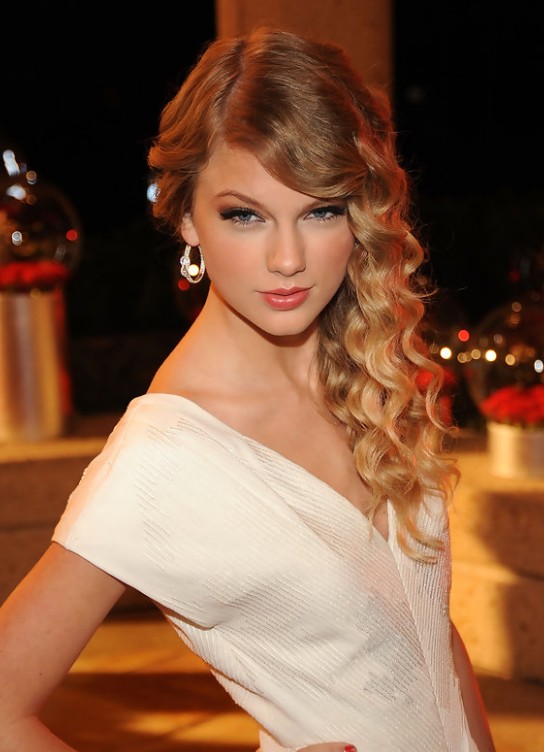 Defined waves like this, verging on the zigzag shape that was popular in the later 90s, can be hard to hear, but Taylor Swift gets it just right here. Her soft side sweep, pinned back into the waves over her shoulder, really frames her face and draws our attention up to her eyes. The colour here is used to perfection, with lighter straw blonde along the lengths contrasting with the natural mid brown of the roots. A great statement style for long hair. Do youlove this hairstyle? Find Taylor Swift hairstyles step by step tutorials on our site: stylesweekly, just using the search form.
 8.Taylor Swift Pinned Up Ringlets Faux Bob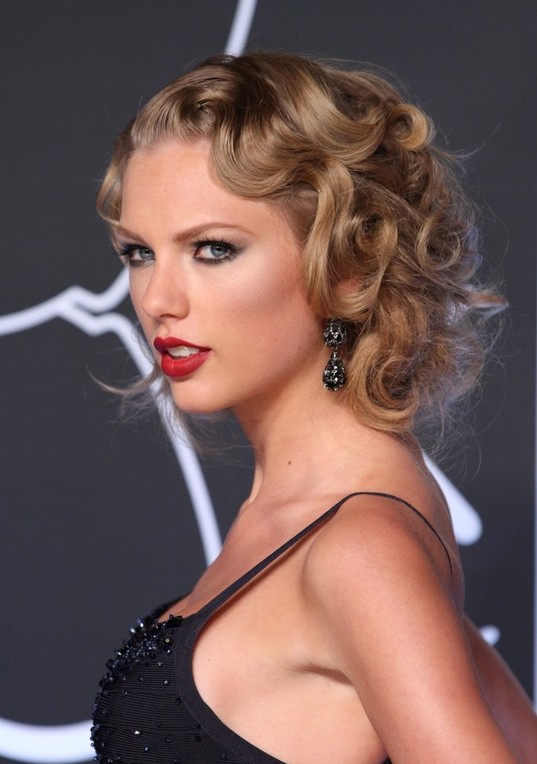 This style got everyone wondering if Taylor Swift had cut her famously long locks in favour of a trendy bob, but in fact, this is a clever style where the hair has been pinned up to create a short style without the need for scissors! The ringlet curls, fixed closed to the head evoke a strong sense of retro Hollywood glamour; a great look for creating drama and ideal for maximum impact at a big event.
 9.Taylor Swift Hairstyles 2014 – Elegant Pinned Up Ringlets
Taylor Swift looked endearing with her lovely pinned-up ringlets at the Golden Globes.
 10.Taylor Swift Love Story Hairstyle: braided updo with bangs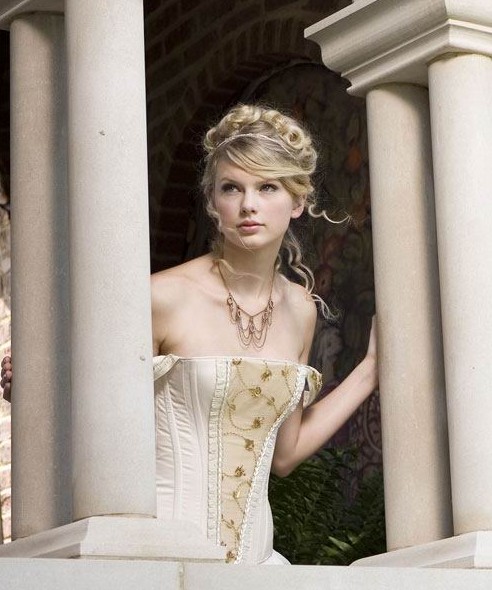 Taylor Swift hairstyles for prom: How to Get Taylor Swift's pretty "Love Story" updo hairstyle, check it out here.
And here are more pictures of Taylor Swift's hairstyles on pinterest.