Find Vanessa Hudgens' Latest hairstyles in this gallery. Including her short haircuts, updos, medium hair & long hairstyles. Check it out here.
Vanessa Anne Hudgens (December 14, 1988) is an American actress and singer. The High School Musical cutie is a proud brunette, who mixes up her hairstyles by trying different styles of bangs. Hudgens has also appeared in various films and television series for the Disney Channel. Vanessa Hudgens has totally transformed from Disney starlet to mega movie star. Vanessa Hudgens' naturla hair color is dark brown, but she loves to dye her hair in black, and she looks great with black hair! Whether she wears them long and shaggy, pinned back or sideswept, bangs help keep Vanessa Hudgen's heart-shaped face proportional.  Check out her beauty transformation over the past few years. Enjoy.
Celebrity hairstyles: pictures of Vanessa Hudgens hairstyles
1. Vanessa Hudgens Medium Curly Hairstyle – Black Curly Hairstyles for Women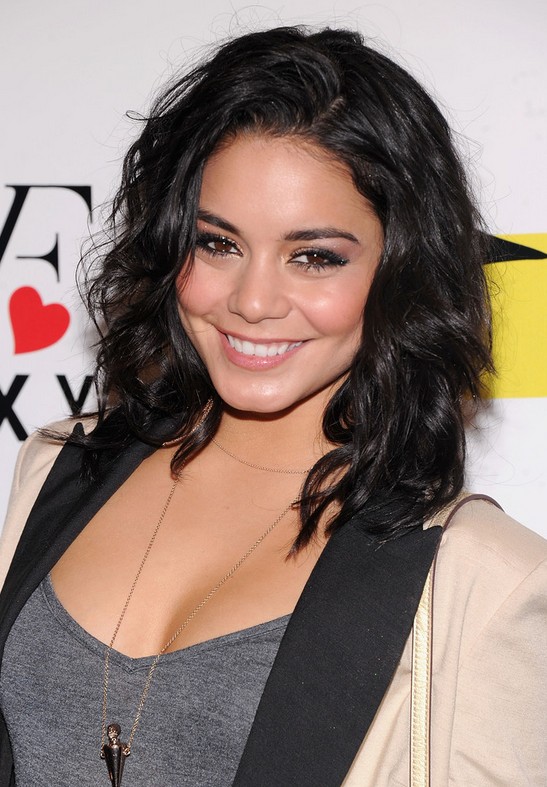 Here, Vanessa Hudgens opts for a glossy dark all-over colour that simply dazzles with mirror-shine. Her hair is deliberately under styled to create a messy, "just out of bed" style that works so well with her smoky eyes, nude lips and bright complexion. Tousled waves and a aside parting that looks like she has literally just swpet her fingers through it, give this a casual, carefree look that just screams natural beauty. This shoulder length black curly hair style is great for oval, square, heart, round faces.
 2.Vanessa Hudgens Long Ombre Hair – Long brown to light blond ombre hair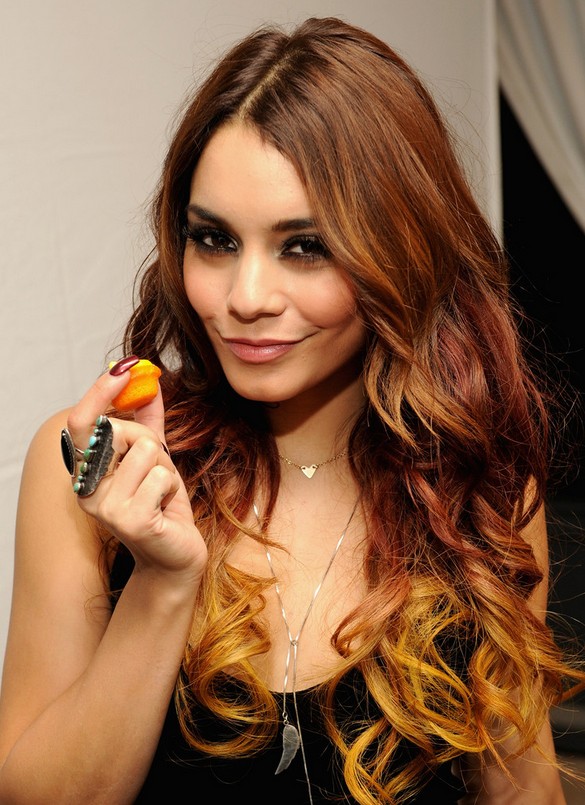 Hair color ideas for 2014: This is a very bold take on the ombre, graduated colour trend. Here, Vanessa Hudgens wears the dip-dyed look with copper and auburn shades with undertones of mahogany changing to bright orange and red-blonde tones at the ends. The resulting effect is certainly eye-catching! Vanessa really suits red shades, and the bright splash of colour at the ends is playful and fun. Styled with a dazzling spread of perfect, chunky curls, this style looks like so muhc fun to wear.
 3.Vanessa Hudgens Long Hairstyles – Casual daily hairstyles for women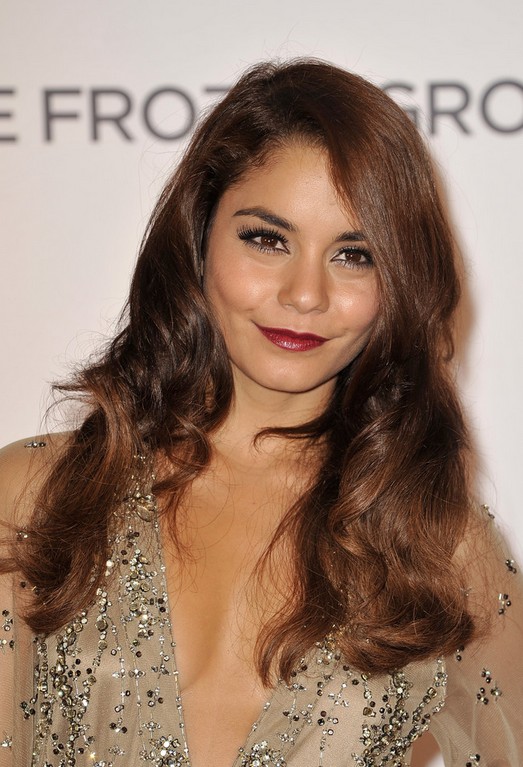 An unusual combination of tones makes this hairstyle look a tiny bit washed out; the darker areas looks glossy while the lighter areas look drier. Long hair worn down like this can sometimes make an oval face look long, but the side part and sweep of hair disguises the forehead and makes the face look rounder. Loose, carefree waves and a sense that the sides have been twisted to create shape make this a casual, easy to wear style, but it certainly isn't Vanessa Hudgens best choice.
 4.Vanessa Hudgens Hairstyles – medium black curly hairstyle with bangs for girls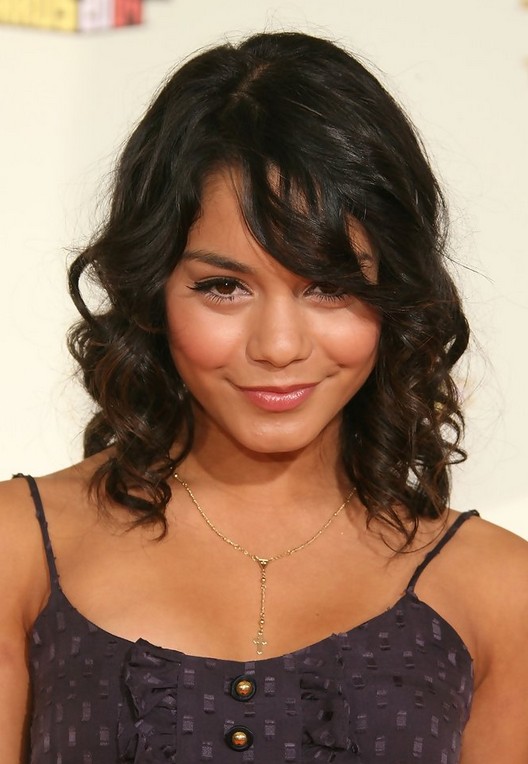 Back to school hair ideas: This is a lovely curly style that really changes the shape of Vanessa Hudgens' face by covering a larger forehead with a sweet side sweeping fringe. The loose ringlets combine just the right mix of definition and softness, thanks in part to the subtle highlights which add a slightly lighter, slightly warmer tone to the hair, creating a very pretty understated look for Vanessa. Do you want to know how to do Vanessa Hudgens hairstyles? Please use the search form on our site stylesweekly to search Vanessa Hudgens hairstyles tutorials, we have posted related tutorials weeks ago!
 5.Vanessa Hudgens Braided Updo – Summer Updo Ideas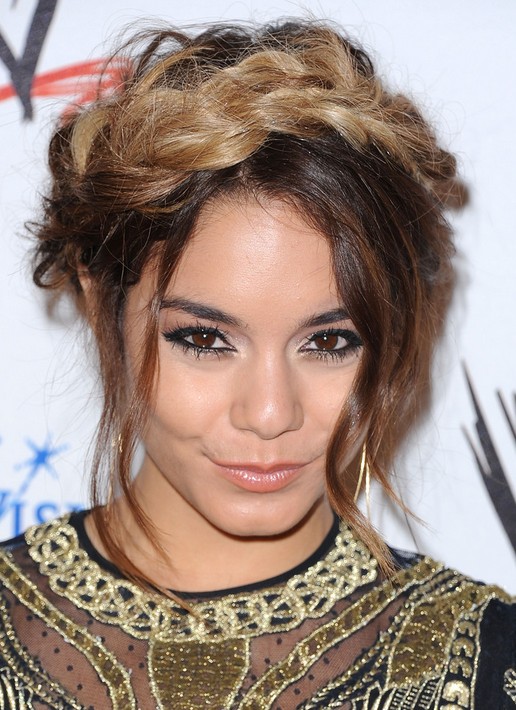 While this style embraces the messy hairstyle trend, it does look slightly as though someone with a long blonde braid is standing behind Vanessa Hudgens with their hair on top of hers… However, the loose strands falling freely around the face are very pretty and the whole look gives her a rather etheral, fairytale look that is lots of fun and certainly makes a big style statement.
 6.Vanessa Hudgens Twisted Bun Updo: Beautiful updo for prom, wedding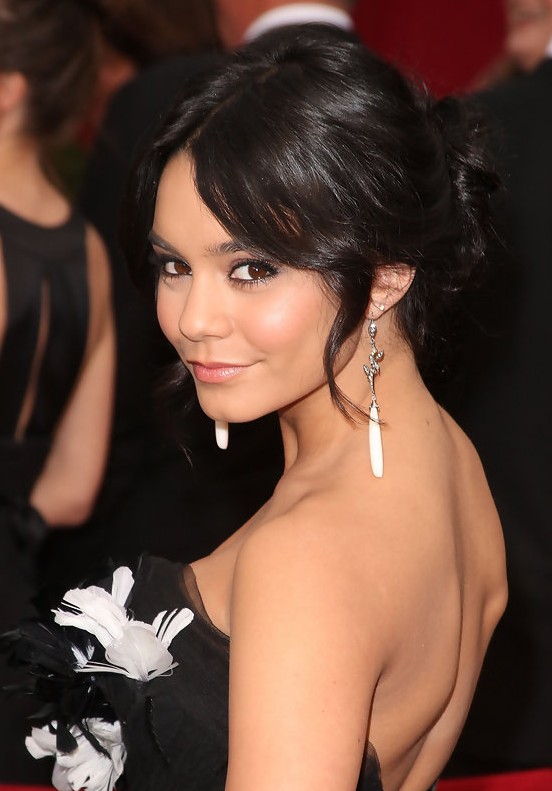 With a strongly defined center parting and those loose waves at the sides to frame the face, this style has been designed to suit Vanessa Hudgens' face shape. At the back, the hair is twisted around a bun shape and pinned. The key to this elegant look is how the hair in the bun is allowed to be just a little messy while the rest of the hair is smooth and glossy. This gives her a tidy, perfectly groomed look from the front but with lots of interest and a touch of fun at the back. This is a great hair style for homecoming, prom and wedding!
 7.Vanessa Hudgens Short Haircut: Chic Layered Black Wavy Hairstyle for Women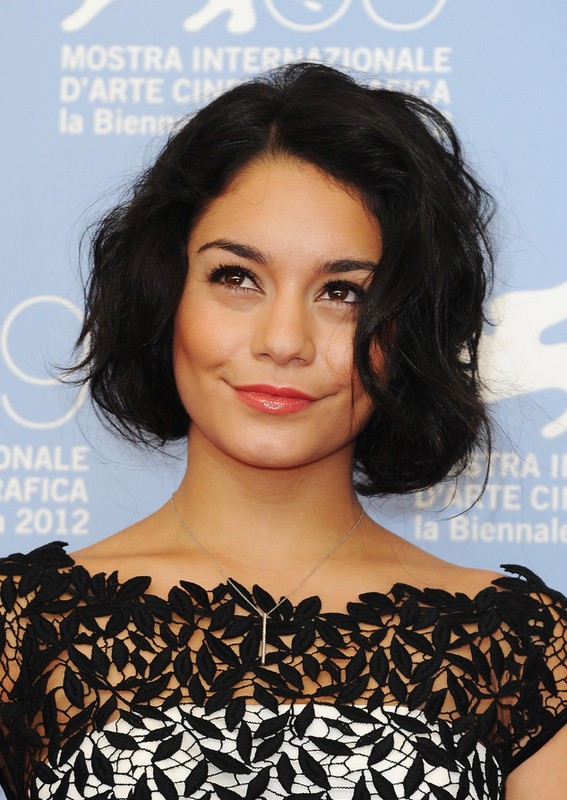 This short wavy style is just so sweet. Vanessa Hudgens' wears her chin-length hair just wavy enough to create a soft, feminine style without it being too heavily curled or falling too flat. She gets the balance just right – more curls and the whole head would look too round, any straighter and the look would be too harsh. The side sweep and those flyaway strands give this a casual, easily-styled look that is young and carefree.
8. Vanessa Hudgens Short Hairstyle: Cute Layered Black Short Cut with Side Swept Bangs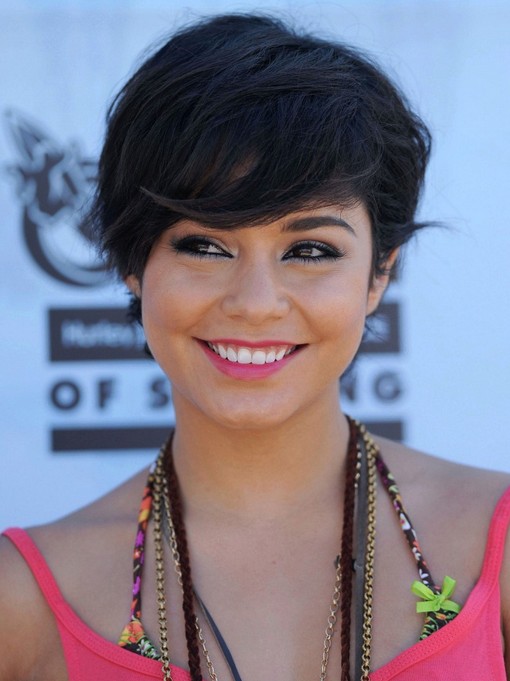 Few people suit a short cut like this, but Vanessa Hudgens certainly does. This high fashion style is a lovely cross-over between a boy cut and a cropped bob; there is plenty of length on top to create shape and style while the sides are cropped up short to show off a very beautiful face shape. This style highlights Vanessa Hudgens' bone structure and provides her with a bold look that remains feminine and flattering – a brave move that has paid off very well! This short haircut is great for oval, square, round faces.
 9.Vanessa Hudgens Medium Hairstyle: Casual daily hairstyle for women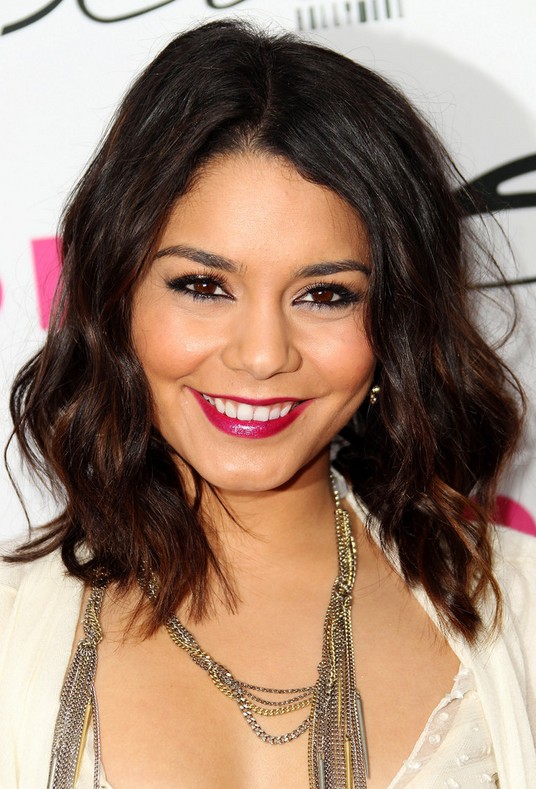 Vanessa Hudgens hair color highlights: Fine sections of Vanessa Hudgens' hair have been treated to a warm, rich brown colour, and with these lighter strands peeking through from underneath her thick darkest-brown waves she achieves a look that is full of texture and depth. The warm undertones really lift her glossy brown-black look and tone in perfectly with her lovely warm skin tone. The length is very flattering, and the simple style works so well to create an everyday look that can work just as well dressed up.
 10.Vanessa Hudgens Hairstyles 2014 – Long Straight Hairstyle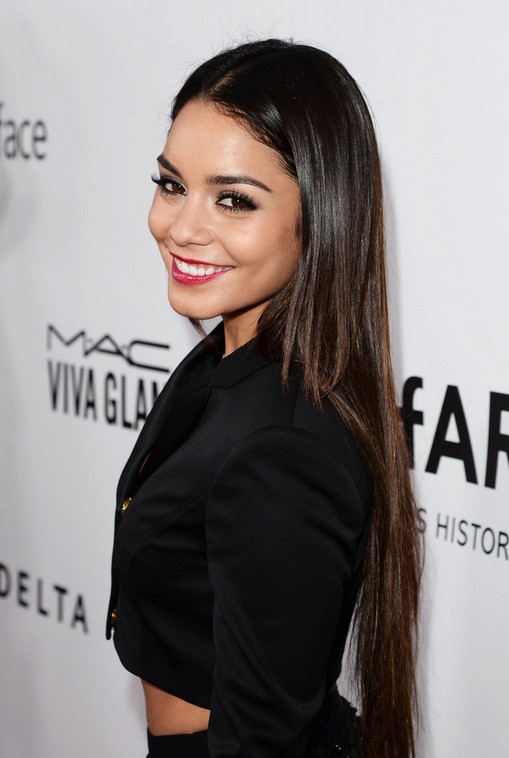 Do you know what hairstyle Vanessa Hudgens wears latest? Well, here it is. She wore her hair long and sleek straight recently, this style is simple but beautiful!