Which of Rihanna's hairstyles is your favorite? Browse this gallery of Rihanna's hairstyles over the years, including short haircuts, updos, shoulder length hair, long hairstyles from Rihanna.
Robyn Rihanna Fenty(February 20, 1988), known by her stage name Rihanna, is a Barbadian recording artist, actress, and fashion designer, Rihanna's natural hair color is black, she loves to dye her hair in different color, just like blond, red, purple, brown etc, her favorite hair style is medium curly hairstyle in black.
Rihanna Hairstyle Pictures
1.Rihanna Short Curly Hairstyle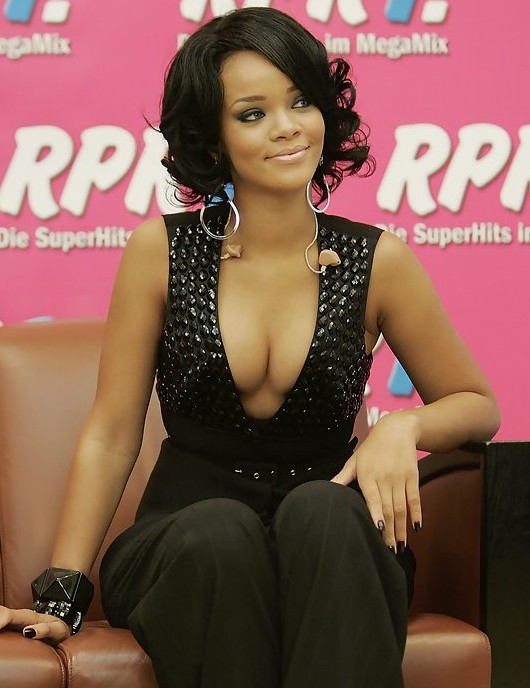 This pretty and feminine style could easily be an elegant updo, but instead Rihanna has styled her short hair with big bouncy curls that begin half way down the lengths of her hair, so that the top is straight but infused with plenty of volume to create this curvy, flattering shape that is just so feminine and pretty. As always, Rihanna's hair is glossy and smooth.
 2.Rihanna Short Boycut – short boyish haircut for women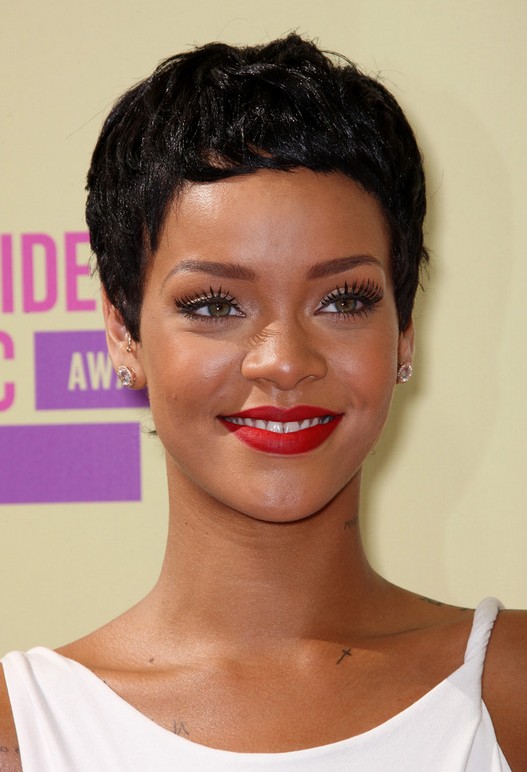 Look at the shine! Rihanna's boy cut caused controversy – some love it, some hate it… many have imitated it. Whatever you think of the boy cut, the shape certainly suits Rihanna's face shape. Boy cuts don't have to be boring – in fact, they can be the perfect opportunity to experiment with different looks – Rihanna opts for bold makeup for a glam look here.
 3.Rihanna Short Haircut: Black Curly Bob Hairstyle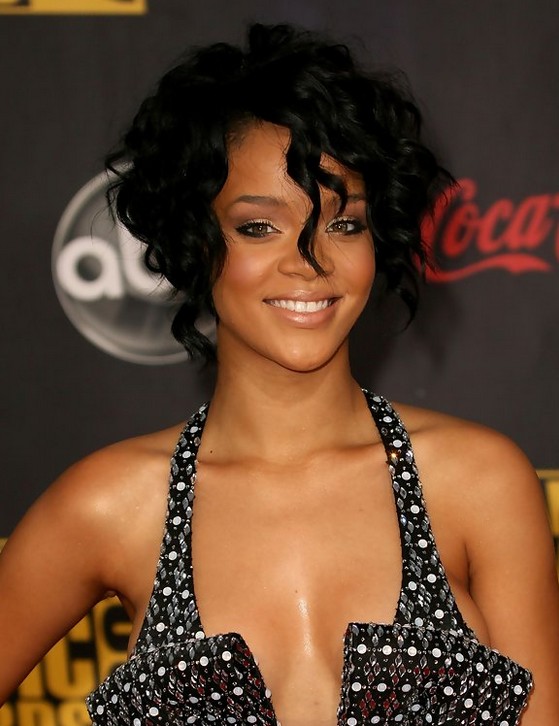 Rihanna's hair is gorgeous in jet black here – so glossy, with a mirror shine and perfect curls that give her an effortlessly elegant look. A huge tumble of perfectly defined curls give make her short bob look like she is wearing an elegant updo, when in fact her hair is down. This just goes to show that even a short bob can  look fantastic when styled with great curls and the right attitude. A great short hairstyle for black women.
 4.Rihanna Long Burnt Red Hairstyle – long black to brown wavy hairstyle with bangs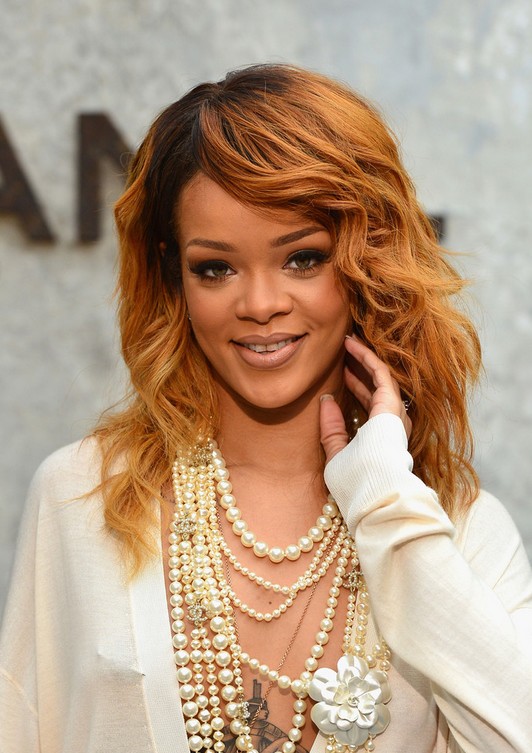 The color might be a brave choice, but no-one can deny that Rihanna makes it work. This is a style we see a lot – side sweep, tousled waves and a length that falls to just below the shoulder… but as always, Rihanna mixes it up with an outstanding color. This burnt red/auburn shade has darker tones at the roots and underneath to soften the effect and give it lots of depth. Brave, bold and beautiful!
 5.Rihanna Updo: French Twist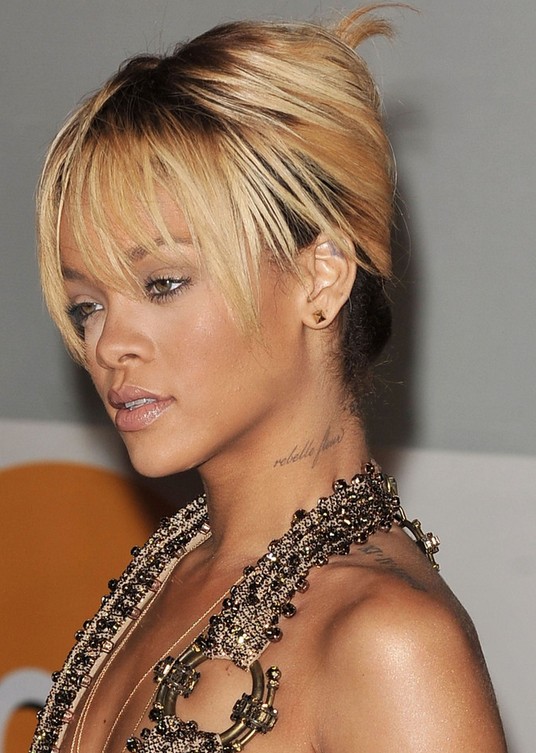 This French twist is a great style to show off a great color – the golden blonde on top is swept around to the back of the head and twisted into a classic French twist while the dark layer underneath just peeks through. The result is an elegant up-do, softened by the light fringe which falls at different lengths over the face, covering a high forehead and giving a classic updo a contemporary edge.
6.Rihanna Short Red Bob Cut: cool red bob hair style for thick hair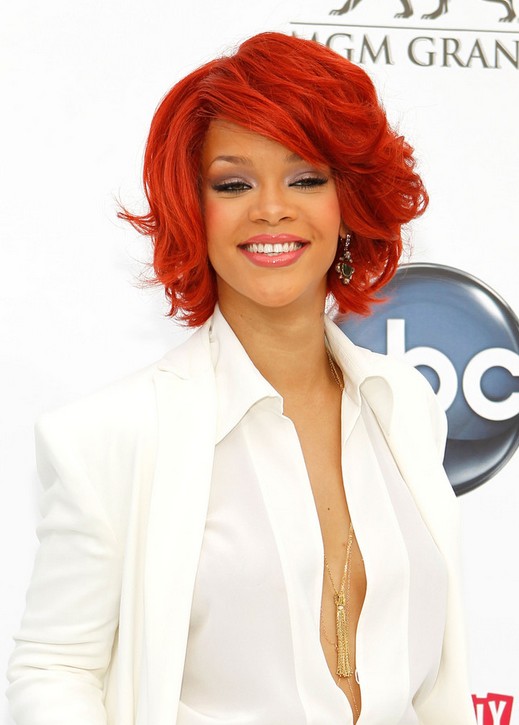 All eyes are on Rihanna's hair as she teams a bright red style with a tailored crisp white outfit for a real diva look that she has all the personality and attitude to carry off. The key to this look is lots of volume for big hair that has loads of shape thanks to the waves and flicked edges. In a dull colour this style would age her, but in this bright modern shade, Rihanna rocks a very on-trend look.
 7.Rihanna Red Cut: Short Edgy Red Boy Cut – bowl cut for women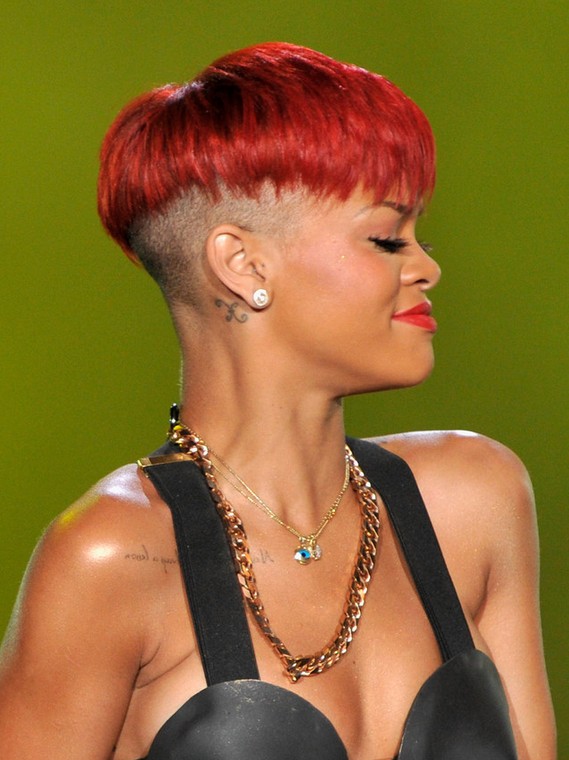 We will be the first to admit that this style won't suit everyone, in fact, it isn't the most flattering style for anyone… but the red is fabulous, it has been cut to perfection, and let's face it – if you want to make a big style statement with your hairstyle then you just won't find a better model to imitate than Rihanna!
 8.Rihanna Ombre Hair Styles – long black to brown ombre hair with curls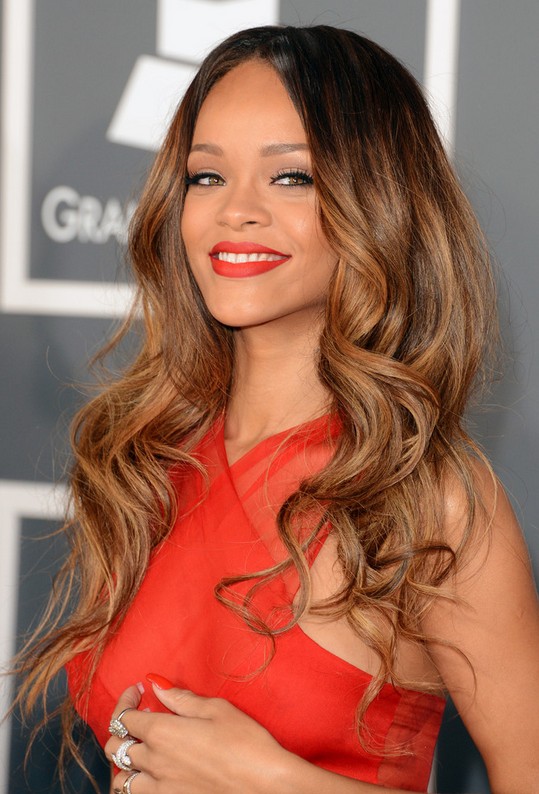 Rihanna wore her gorgeous honey-highlighted locks in loose, carefee waves for the 2013 Grammy Awards. Rihanna kept things classic with shimmery brown shadow and kohl liner.
9.Rihanna Latest Hairstyles 2014 – medium black curly hairstyle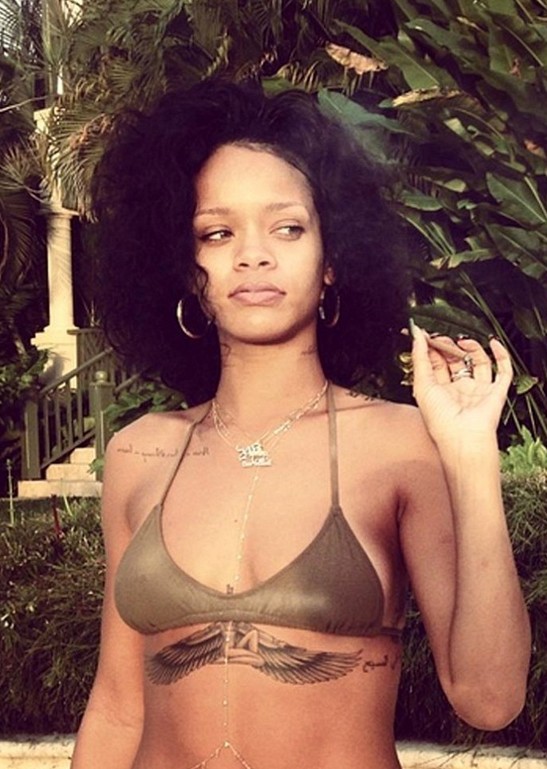 Here is Rihanna's latest hairstyle, she wears sexy shoulder length black curly hairstyle at the begin of this year. A great hairstyle for black women. Have you noticed Rihanna's Tattoos?
10.Rihanna Updo Hairstyles: Messy High Bun for women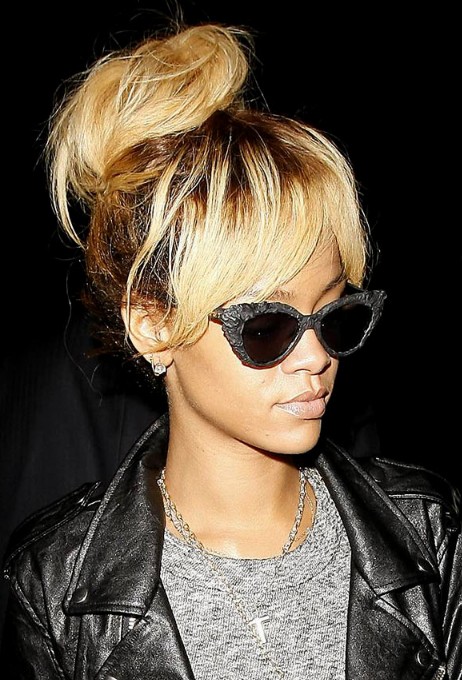 11.Rihanna Prom Hairstyles – mid length curly hair style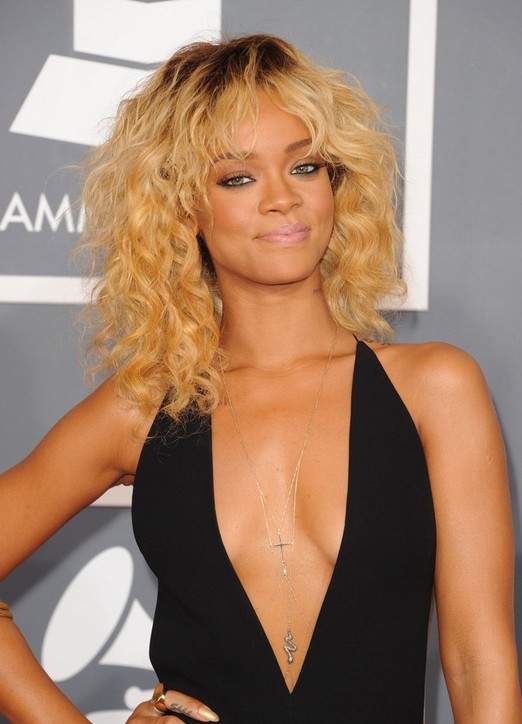 Rihanna attended the 54th Annual Grammy Awards wearing her newly flaxen locks in tousled curls, this is a great hairstyle for prom, if you wear shoulder legnth hair, why not try this beautiful blonde curly hairstyle?
12.Rihanna Curly Hairstyles  – cool highlighted medium curly hairstyle for black women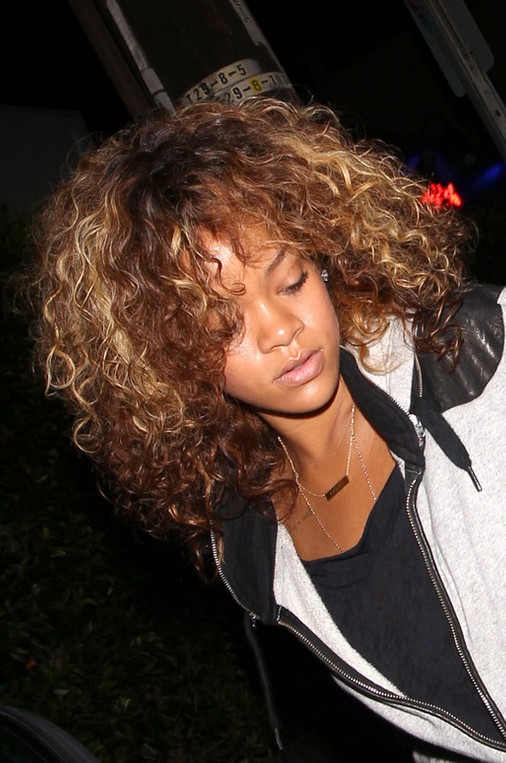 Rihanna looked lovely with her hair in soft spiral curls while out in Santa Monica.