Here at Styles Weekly, we like to stay on top of all the trends in the fashion scene. From makeup to hair, clothes and of course nails too. This post is all about nails, and will be full of some gorgeous inspiration. The latest trend to sweep the nail industry by storm is chrome nails. A special buffing technique and polish set which gives your nails a shiny chrome-like effect. Here are 10 stunning chrome nail ideas for you to copy.
Metallic Purple Chrome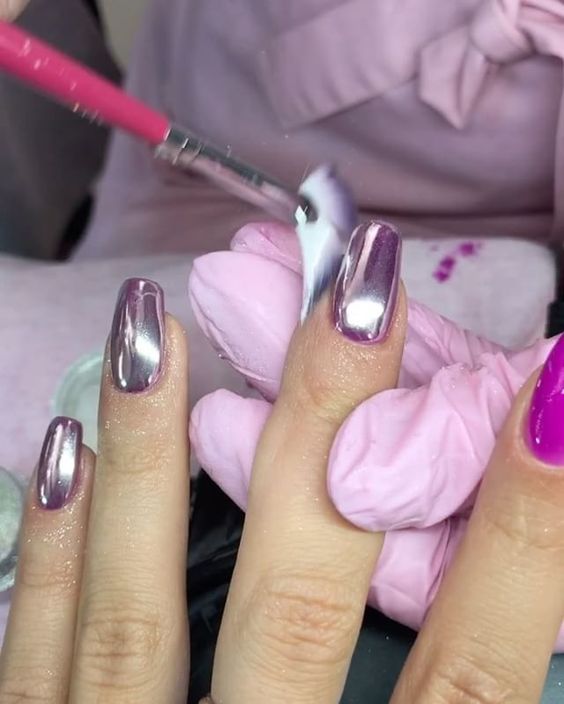 Purple is the perfect way to start our gallery! Choose a pretty purple metallic chrome colour for a nail art look that will wow the crowds. Paint your index fingers a matte purple to contrast with the pretty chrome shades on the rest of the hand. Keep the nails rounded at the top and finished with a gloss and shine that will wow the crowds!
Classic Chrome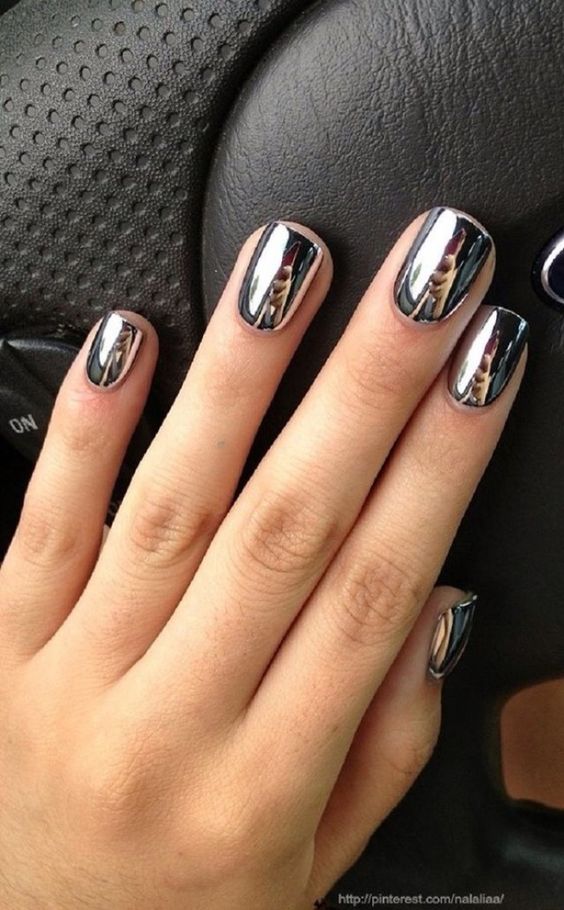 Classic chrome is what started the trend off, and one look at this gorgeous image will show you exactly why. To recreate this look, cut your nails short and round them off, filing to get your desired length. Opt for a classic chrome colour and style, buffing the nails to get the ultimate finish and shine. This gorgeous shiny grey will certainly attract attention!
Pointy Pastel Lilac Chrome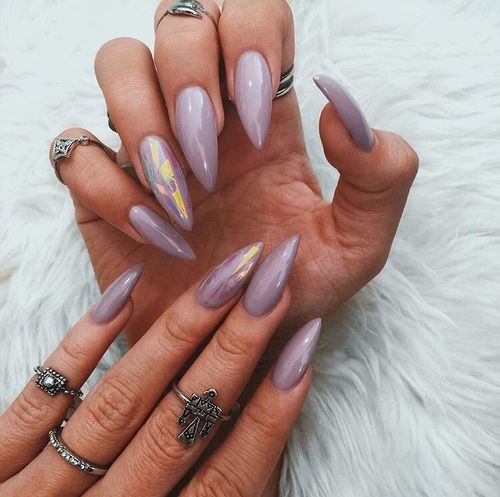 Pastel shades also work with the chrome trend too – as pictured above! steal this style by opting for false nails and getting them long. File your nails to a point, for a super stylish claw effect. Choose a pretty pastel lilac and work the chrome effect all over. Add an extra layer of glitter to your ring fingers to create a wonderful accent nail.
Shiny Turquoise Chrome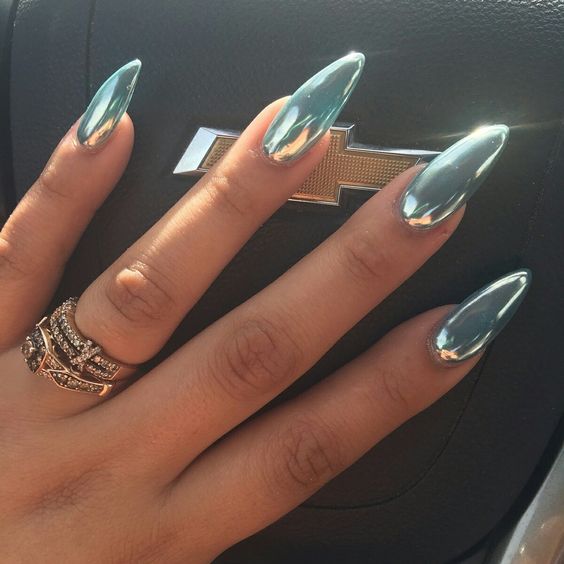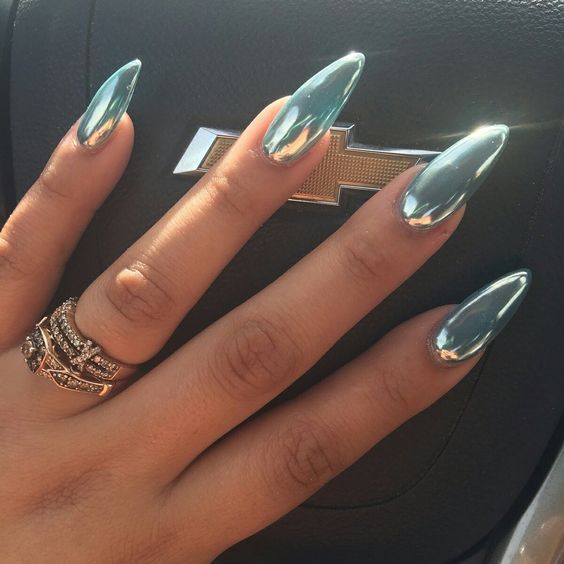 Turquoise or teal is the perfect colour to paint your nails for spring. Combine this fabulous shade with the chrome trend and you're really on to a winner! Keep your nails long and file them to a curved point so that you have fantastic nails which draw attention. Choose a turquoise chrome effect to make this light blue shade glossy and stand out.
Baby Pink Chrome Nails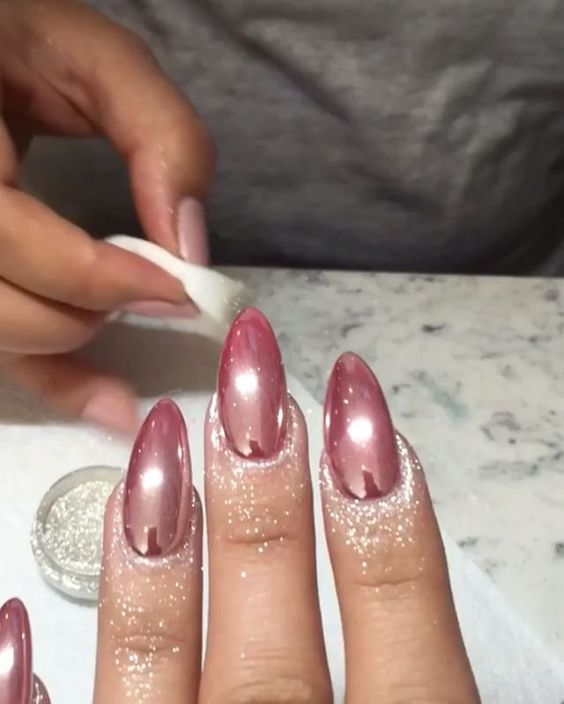 Barbie would be oh so envious of these perfect pastel pink chrome nails! The chrome effect is created by buffing a special powder across specific nail polish, the powder is pictured above. That's what creates the unique and glossy effect we can't get enough of. Choose a pretty pastel pink for a look which is the perfect combination of neutral and sassy.
Rose Gold Chrome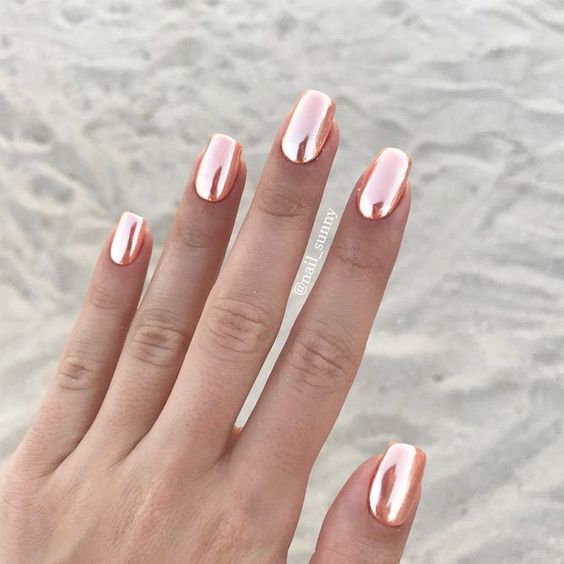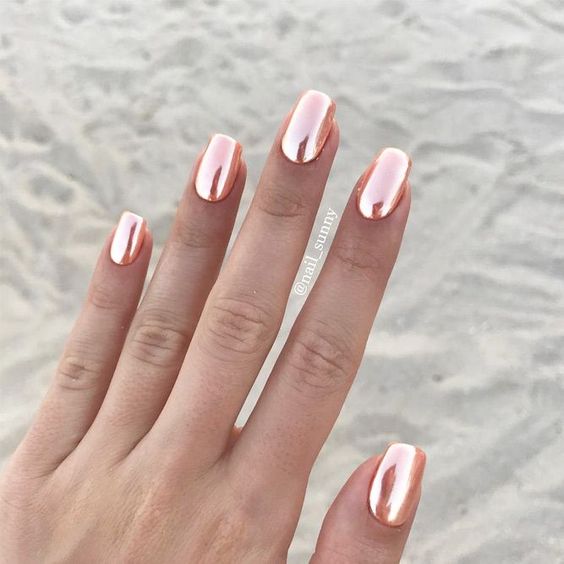 Rose gold is a shade which has swept the world by storm, so why wouldn't you choose it for your nail colour? Keep your nails relatively short, and file them to a squared edge with rounded corners for a wonderful finish. Choose a beautiful rose gold effect for a fantastic and totally on trend look that will perfectly complement any outfit.
Purple-Blue Chrome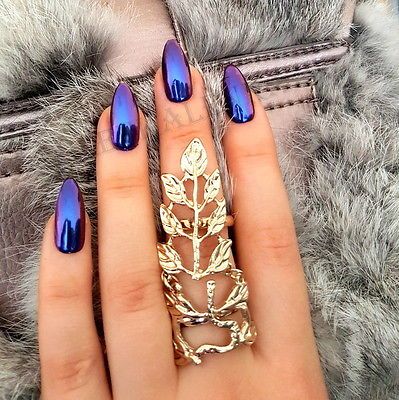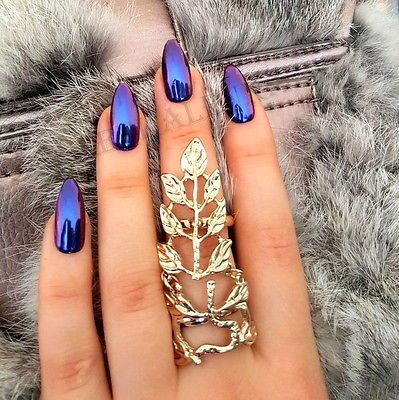 The best chrome colours are so shiny and metallic that they transform from one shade to the next. This gorgeous purple-blue chrome colour does exactly that, looking a different shade however it hits the light. Choose a beautiful blue-purple metallic shade to work with the chrome effect for a nail look which will take your outfit to the next level.
Rainbow Chrome Nails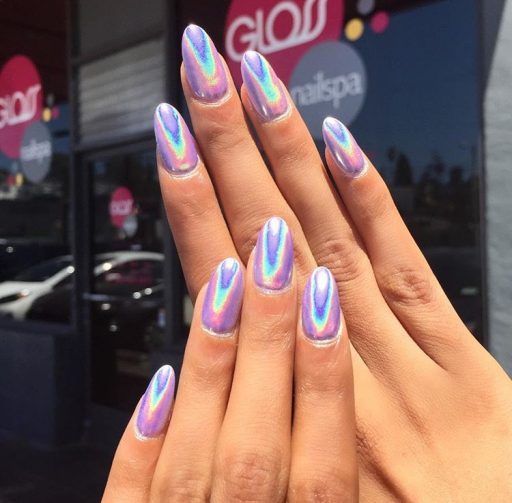 Iridescent nails are possibly our favourite way to work the chrome nail trend. Choosing a white or pale shade which is buffed to perfection offers this incredible unicorn style iridescent finish when it meets the light. This look will change with every angle and creates a beautiful rainbow effect which you will just never get tired of.
Nude and Pink Chrome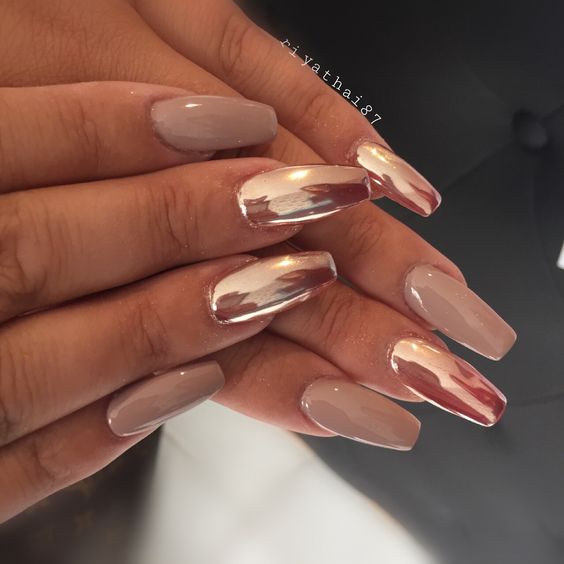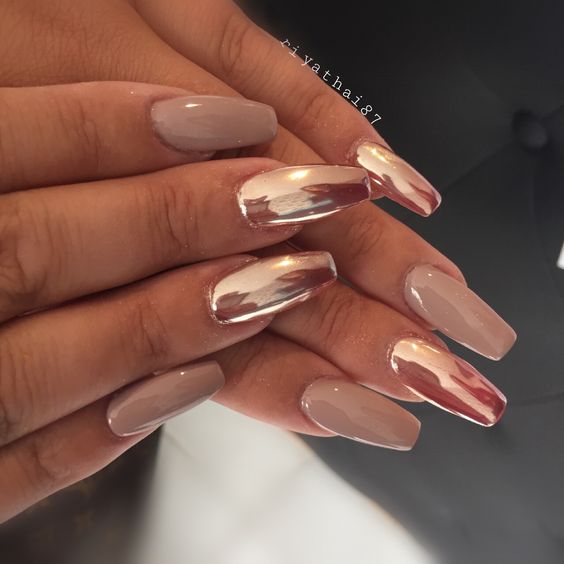 Accentuate glossy nails with chrome nails for a truly wonderful finish which will ensure your nails stand out from the crowd. This lady has created a fantastic alternating look we can't get enough of. Paint your little fingernail, your index fingernail and your thumb nail in a gorgeous nude of your choice and paint the others a pretty pink chrome effect to finish.
White Glitter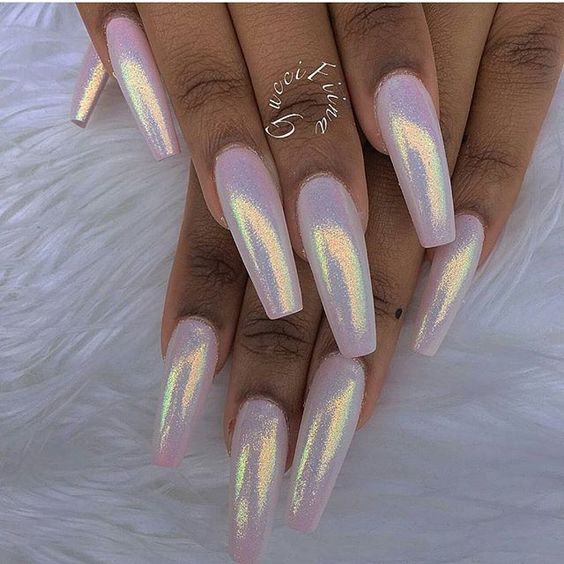 White glitter can be the best look of all to create a chrome nail style with! Keep your nails long and squared off by filing the ends into a square shape. Paint them in a white chrome style, buffing the colour so that it develops this striking iridescent sheen we can't get enough of. Paint with a top coat and you're ready to go!
We can't wait to hear which of our chrome nail looks will be your favourite, so make sure to leave us a comment below this blog and let us know which one you'll be trying for yourself. Which nail art looks would you like us to cover next on the Styles Weekly blog? Don't forget to check weekly for new style inspiration!
 And here are more Chrome Nail designs for you to choose from: