There's no two ways about it – pink is a wonderfully pretty colour just perfect for spring. Pink is the colour of cherry blossoms and roses, which makes it synonymous with spring time – so why not opt to inject a dose of pink into your hairstyle? Pink is the perfect colour to perk up your hair do and experiment with a colour; simply perfect for spring. Here's a gallery full of gorgeous pink hairstyles to inspire you to be brave with your choices this spring!
This lady has opted for two stunning pastel shades at once for her spring hairstyle, and we simply can't get enough of the unique finish! Bold, vibrant and oh so beautiful – she's dyed her hair in two halves – one is bubblegum blue and one is a gorgeous pastel pink; they work together perfectly. She's finished her adorable look off with two mini buns on either side for the cutest look we ever did see.
Salmon Pink Tousled Waves – Pink ombre hairstyle for long hair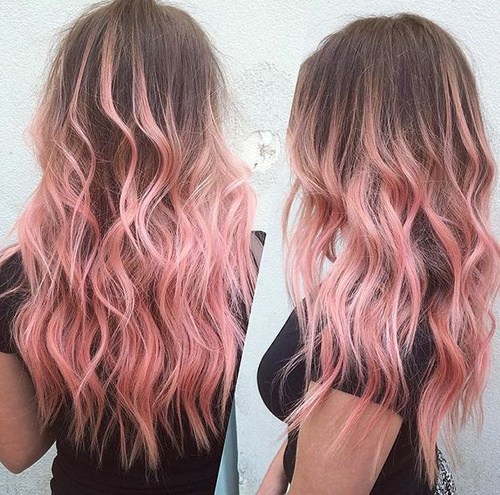 This lady's lovely long locks fall down her back in gorgeous waves which she's loosely tousled for a beautiful look, and finished in a stunning tone of salmon pink! This pastel shade is a lovely muted pink which is perfect for spring time, and looks lovely against the muted brown roots for the cool ombre look this girl has opted for. We love it!
Pink, White and Blue hairstyle for medium straight hair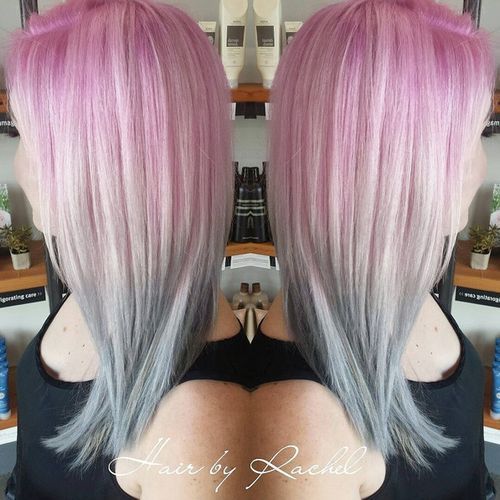 This look is most definitely one of our favourite colour blends from the collection; we just can't get over how beautiful the finished result is! This incredibly fashionable lady has gone for a stunning baby pink colour at the root which melts into a striking white and is finished with a pastel blue at the tips. The straight and sleek style shows the colours off perfectly!
Pink and Brown Chunky Highlights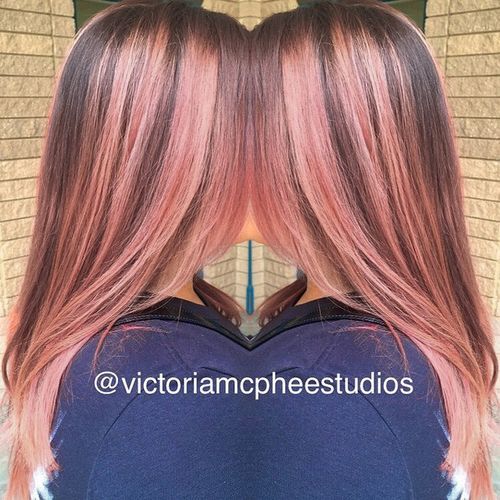 An ombre transition is a lovely and subtle way to implement a pink tone into your hairstyle, but opting for something a little bolder and brighter can be equally as beautiful – as this wonderful lady has proved with her fabulous highlights! She's worked this gorgeous dusty pink tone into her hair using wonderful chunky stripes and the finish is fabulous.
Peachy Pink Perfection – soft wavy pink hairstyle for girls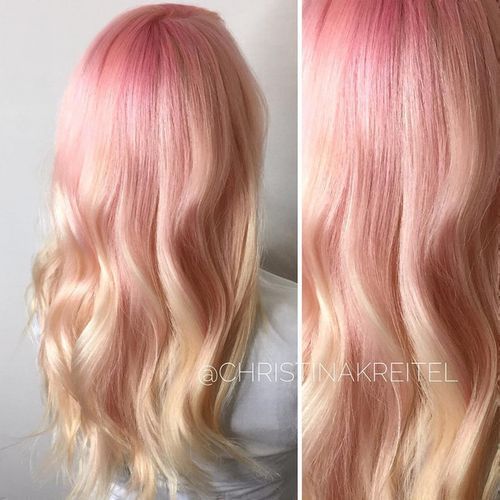 This beautiful and shiny hair is simply striking and oh so perfect for the new season! We absolutely adore the gorgeous peach, pink and light blonde colour tones this lady has gone for – they blend together so beautifully and create the most gorgeous finished style. She's curled it softly throughout for a truly gorgeous look and we just adore it!
Chocolate Brown to Pink Corkscrew Curly bob hairstyle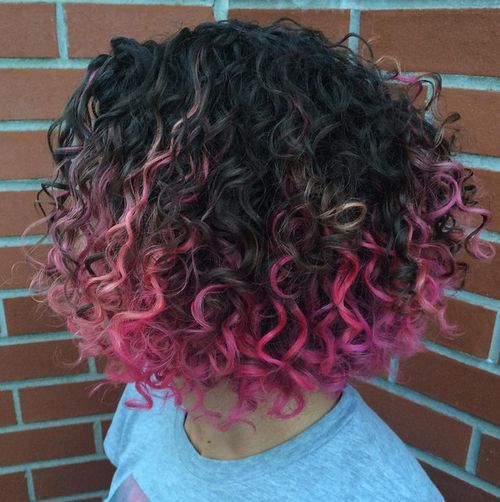 This lady has the most beautiful and striking natural corkscrew curls that are stylish and lovely to look at. Her natural hair colour is a gorgeous, rich chocolate brown which blends into a bright pink tone which graces the tips of her wonderful curly crop and creates the most fabulous finished look which is absolutely perfect for spring!
Pastel Rainbow Curls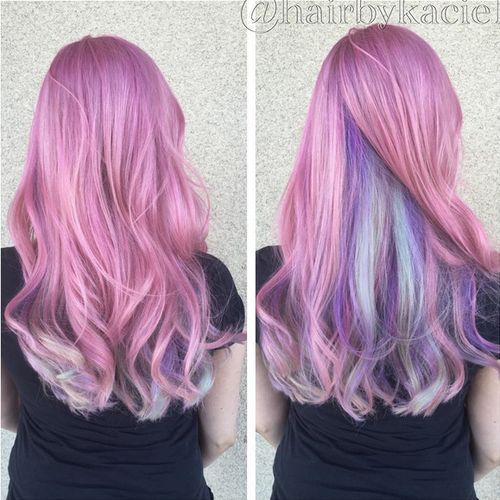 As opposed to an ombre look, this incredibly fashionable lady has embraced spring with both hands and opted for a gorgeous pink colour all over her long hair! This wonderful pastel pink is complemented perfectly by the hidden pale blue and pastel purple layers which she's opted for on the underneath! The curls show off all of these colours working together to perfection!
Blonde to Baby Pink Curls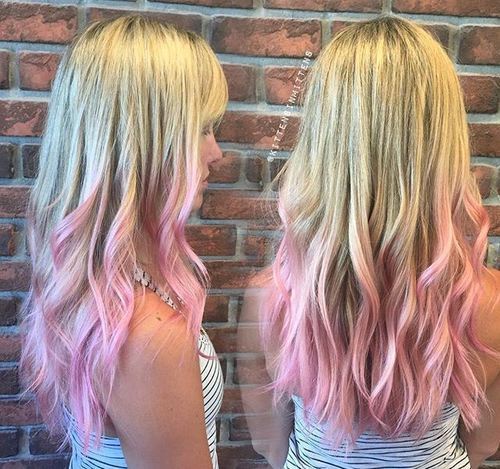 This incredibly stylish lady has proved that implementing a gorgeous pink shade into your hairstyle does not have to be a bold and vibrant look – it can be subtle and equally breathtaking too! This cut goes from a glorious blonde to a beautiful baby pink in an ombre transition, and she's loosely curled the ends to create a stunning finished look.
Purple to Pink Ombre Blend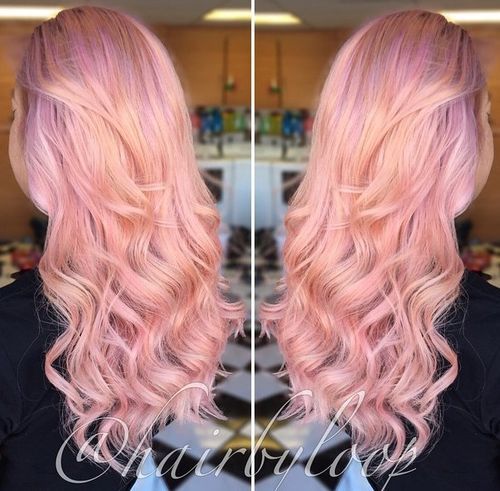 This absolutely stunning hair is long and glossy, finished with gorgeous ringlets throughout for a beautiful and bouncy finish. If the style weren't quite lovely enough on its own, then this lady has opted for the most striking colour blend too – with lovely lavender roots that melt into a stunning pastel pink that we absolutely can't get enough of.
Pink Bob with Fringe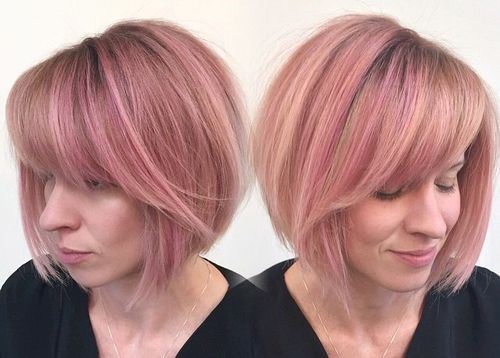 This fabulous fashionista has created the most gorgeous graduated bob style which starts slightly longer at the front to frame the face and is cropped a little shorter at the back for a bouncy bob finish. She's also got a lovely sweeping fringe which is the perfect finishing touch for the cut. The colour is a gorgeous pastel pink which is ideal for spring, don't you think?
Blue and Pink Half and Half Hair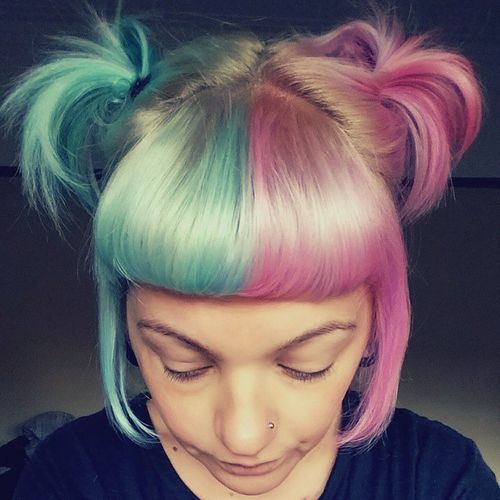 Dark to Light Pink Ombre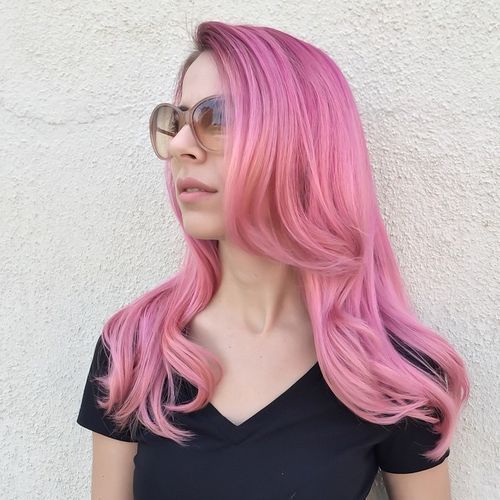 Of course, if you're finding your perfect shade of pink too difficult to narrow down then why not implement a few different pink hues like this gorgeous lady has done? She's used a stunning ombre transition to work her hair from a deep magenta-toned pink to a gorgeous light baby pink at the ends, and finished the style off with a soft curl throughout.
Purple and Pink Tousled Bob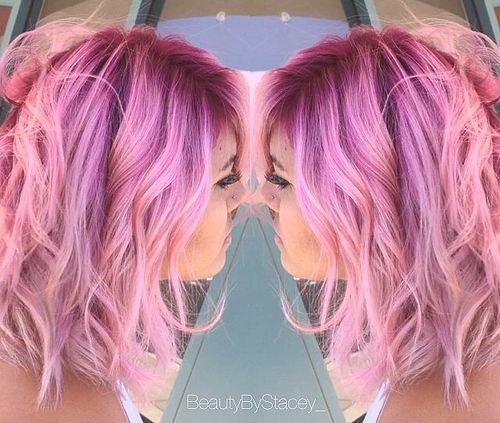 This gorgeous long bob style sits just around shoulder length and is finished with shorter layers around the face for a lovely finish. She's curled this gorgeous crop and tousled it loosely for the perfect beached style that looks gorgeous – especially because of the pink and purple pastel tones that run right throughout the hair! This look would be fabulous for a festival.
White Blonde and Blush Pink Blend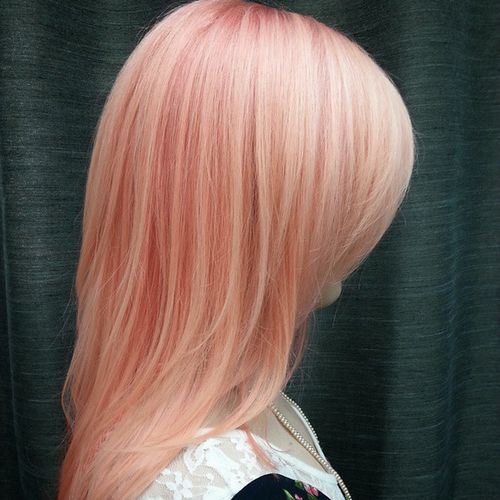 This lady has worked a beautiful white blonde shade with a dusty pastel pink that blend together seamlessly to create the most gorgeous peachy finish! The pink shade is for an underneath layer and the stunning and vibrant blonde falls over the top, which means the end result is oh so striking! We particularly love the straight and sleek finish she's opted for.
Dark Pink and Silver Stripes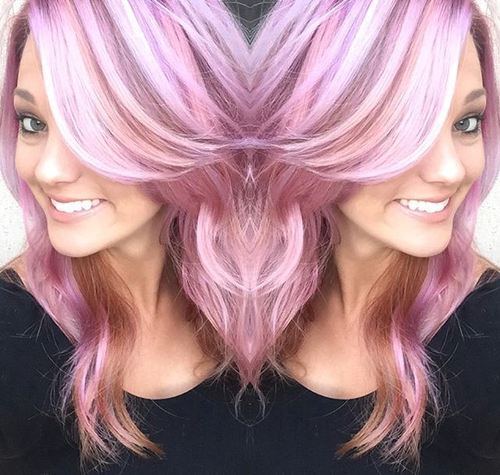 As well as being incredibly pretty, this girl has the most fabulous hair we ever did see too! Her gorgeous hair is a soft brown underneath, and has a beautiful dark pink and silver stripe running throughout the parting and working together beautifully. She's finished her style with a relaxed wave throughout and the most lovely flicked fringe section.
Pink and Blue Hair With Fishtail Braids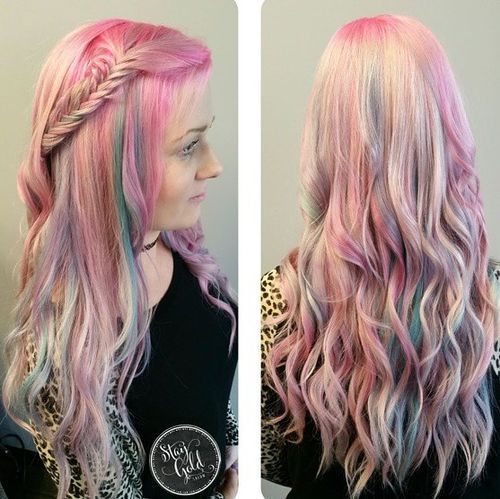 This beautiful and long hair is so gorgeous it reminds the Styles Weekly office of Mermaid hair – which is every girl's dream right? This breathtaking look comprises of a stunning pastel pink and baby blue shade that blend together perfectly, especially when finished with these gorgeous ringlets too! She's added a fishtail braid on either side to finish the look off perfectly.
Pink and Blue Curly Bob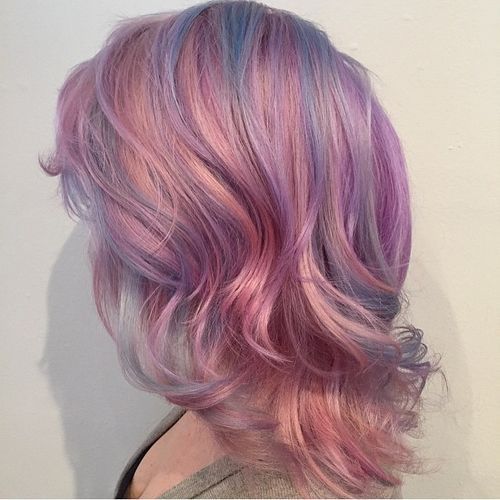 This glorious shoulder length cut is absolutely full of stunning pastel colours and creates a magical finish that we can't get enough of. Pinks, blues and purples work together beautifully throughout this cut which is finished with stunning, soft curls throughout to create a wonderful bounce that flicks at the ends. This shape is just gorgeous!
White Blonde and Bright Pink Bob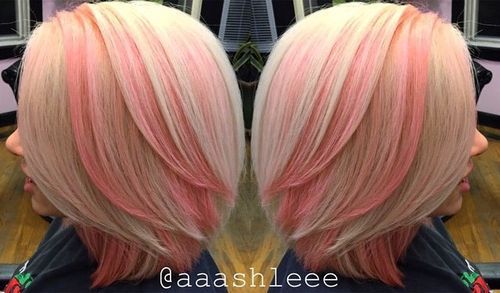 This beautiful bob is cropped in a gorgeous straight line above the shoulder with slightly shorter layers working their way through to the top, which creates a gorgeous graduated look from the side! The stunning white blonde and beautiful bright pink work together throughout the entire cut, which is finished with amazing flicked ends.
Pink and Peach Bob with Half Braid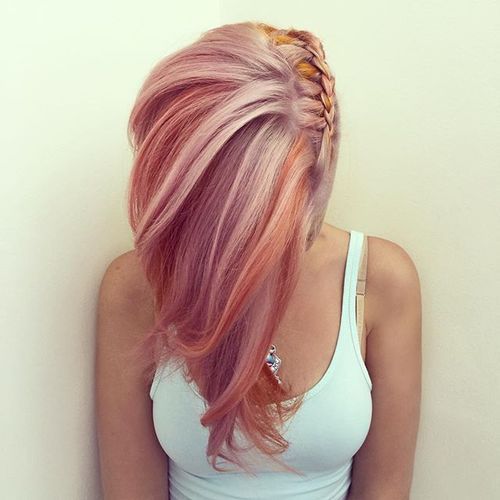 This stunning pink and peach colour combination finishes this remarkable bob style off to perfection; in the most adorable spring style! The bob is graduated with gorgeous flicked longer sections at the front of the face, with shorter hair at the back. She's braided one side of her hair to highlight the beautiful pink and peach tones working together, and it looks amazing!
We're hoping that this incredible gallery has inspired you to include a gorgeous shade of pink into your next hair transformation – especially in time for spring! Styles Weekly strives to always bring you the best collection of hair inspiration.