Latest most popular messy bob hairstyles for women
Updated: Having "bed head". Not so many years ago, it was considered an insult to walk into an office or to go on a date with hair that basically looked disheveled. These days? It's considered extremely stylish to do so! That's why, if you look on a lot of hairstyle blogs, you will see all sorts of looks that are called "messy".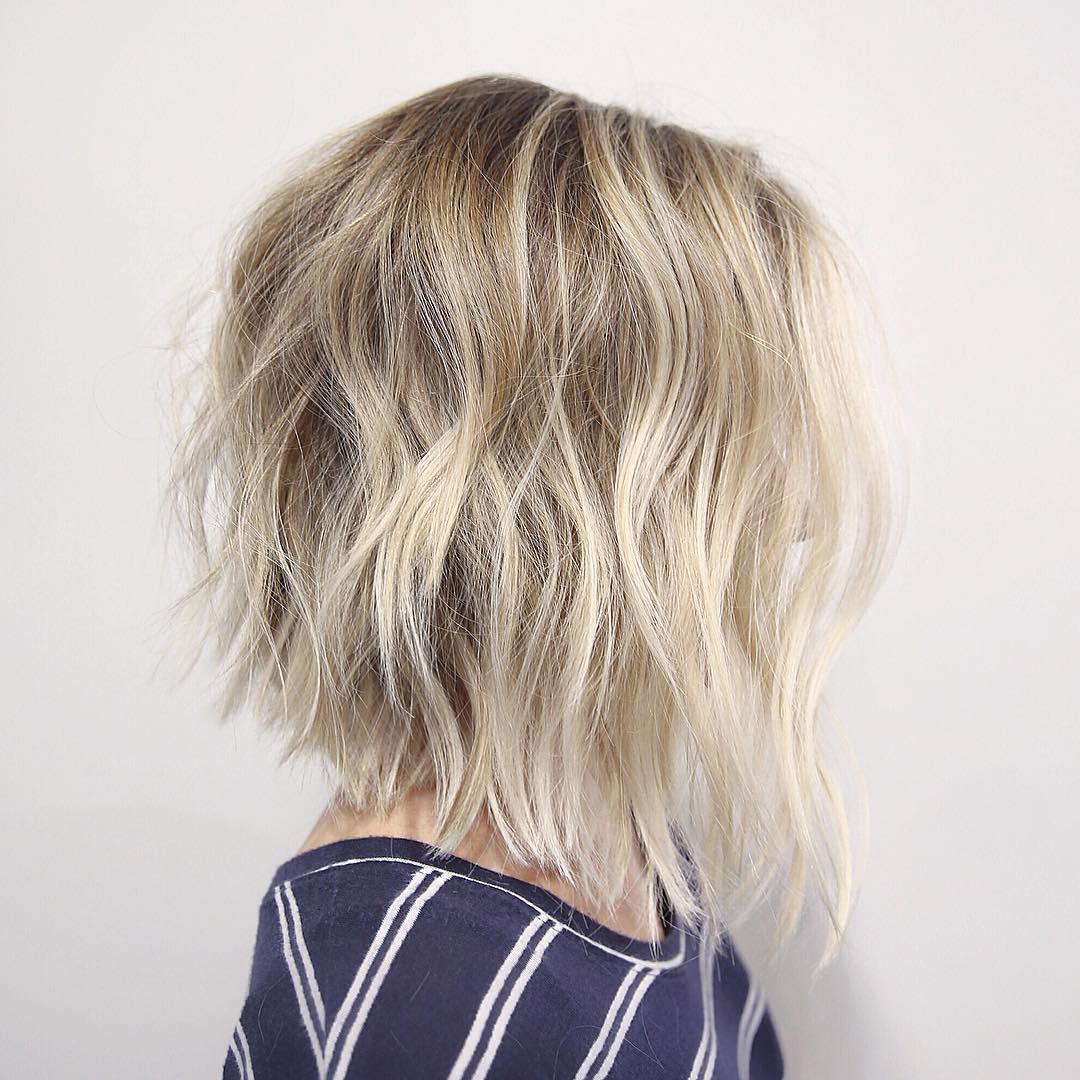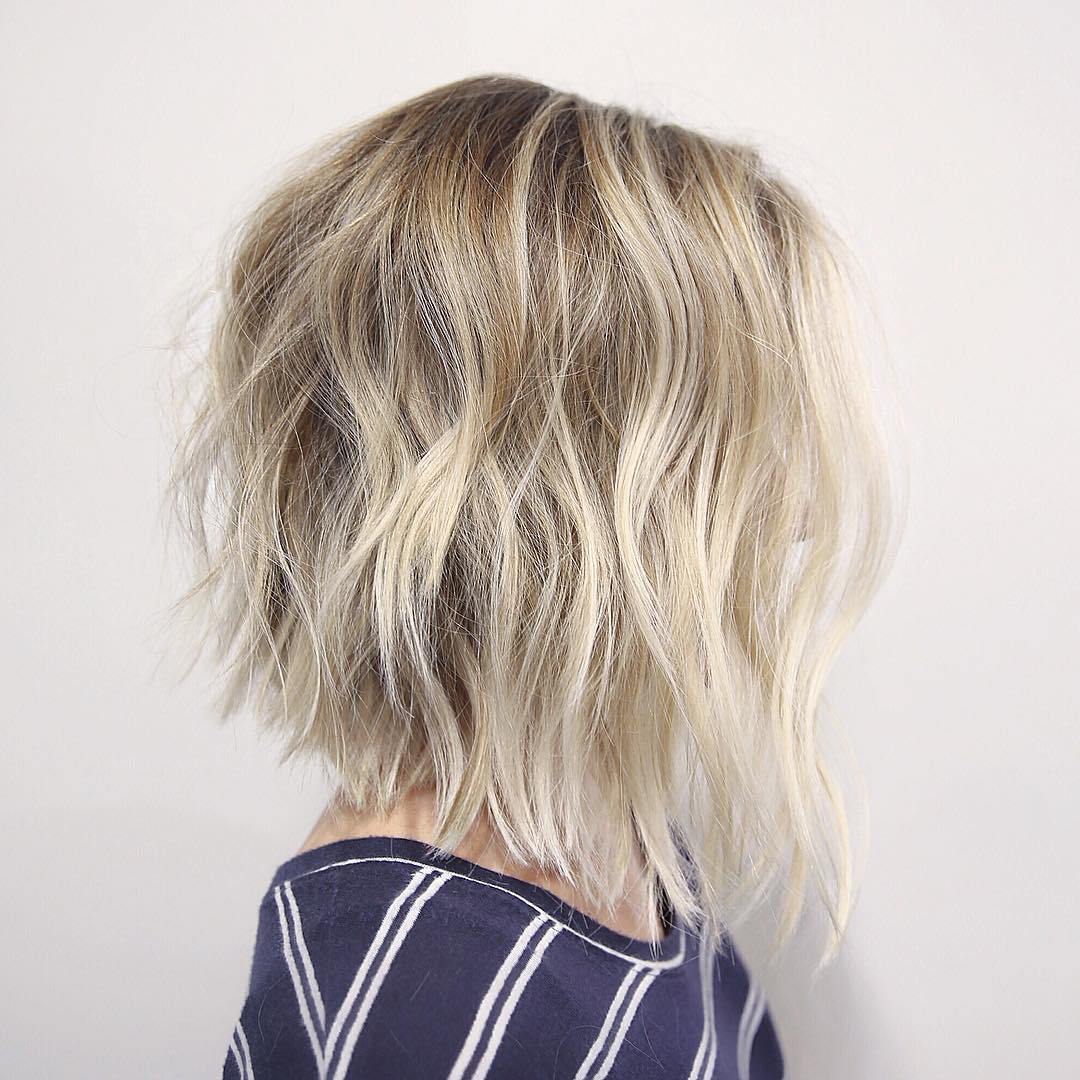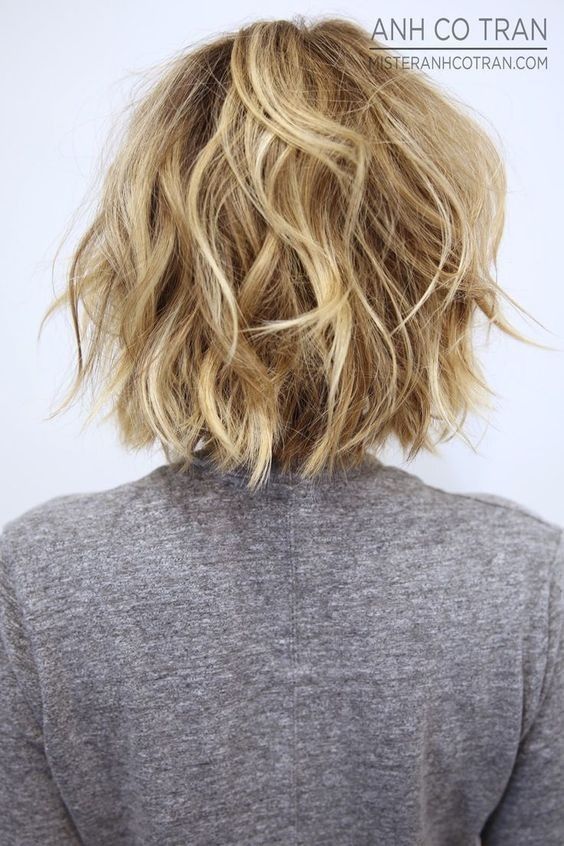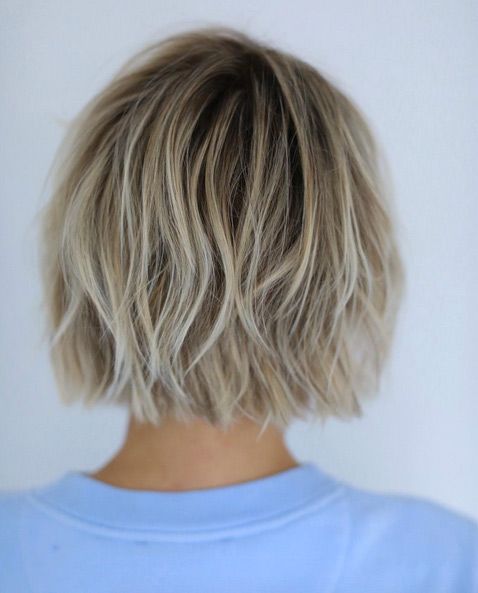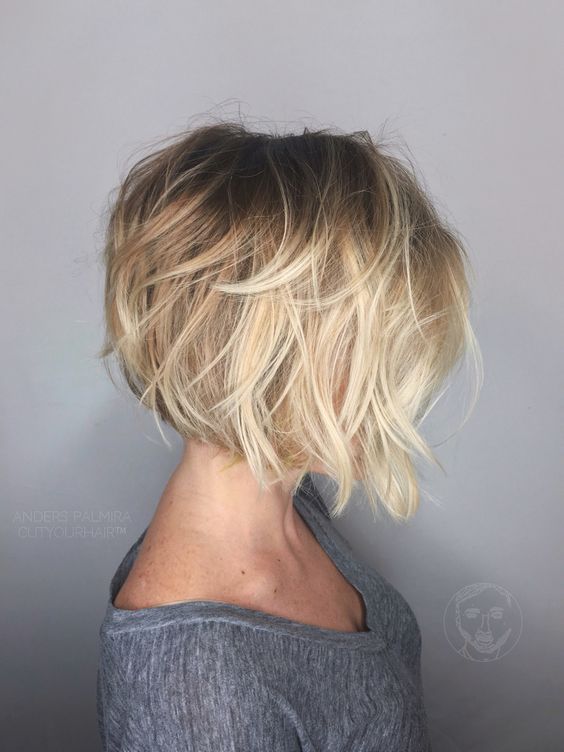 Cute layered messy bob hairstyle for short hair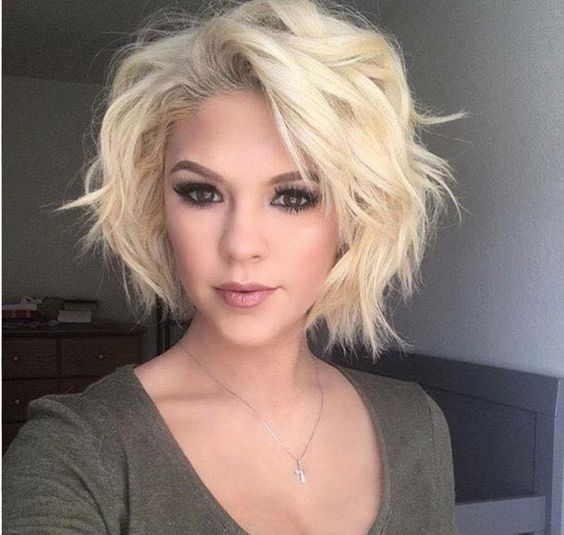 Personally, we prefer to refer to these looks as "organized chaos". That's because with the right cut and product, it can have you looking truly magnificent.
The following messy bobs are proof of this very fact…
Messy A-line bob with blunt ends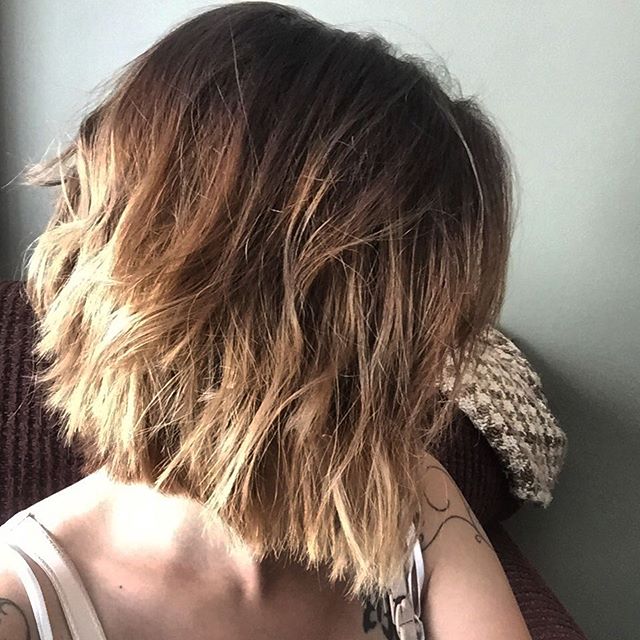 Of the messy bobs that we have featured here, this is one that's considered to be pretty "tame" mostly due to the blunt ends. Being that her hair is straight with a few loose waves, that helps it to look a bit on the un-kept side. Although if you straightened it totally, it would look less messy.
Messy lob with soft-and-natural blonde highlights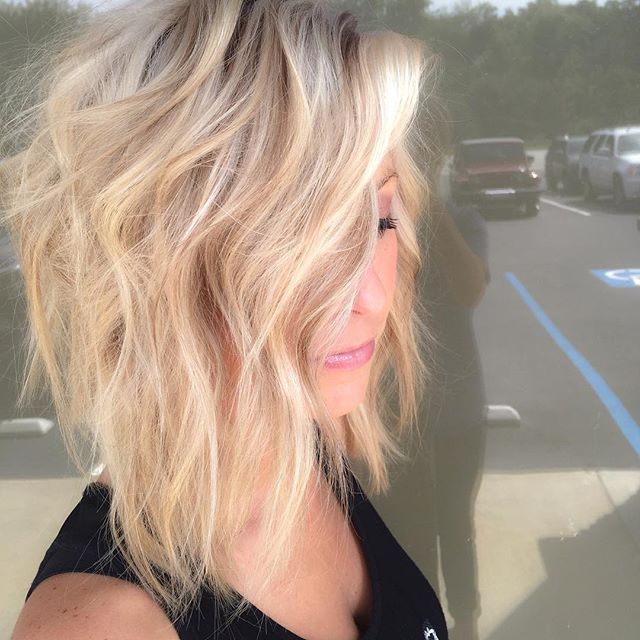 A lob is a long bob and here's a great example of one. Her hair is tousled which helps to make it look messy. It also has an A-line in the back with keeps it from looking like a conservative lob. Our favorite part is the color, though. It's so rich and bright and really soft. A very pretty blonde color job. Extremely so.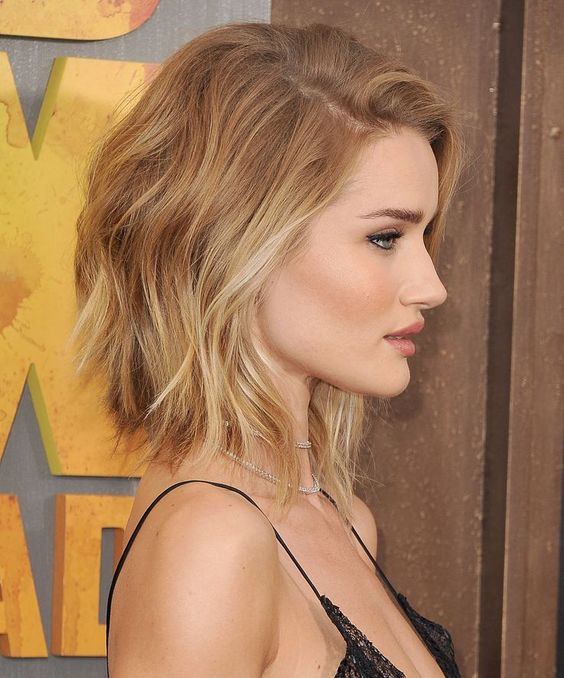 Violet wavy messy graduated bob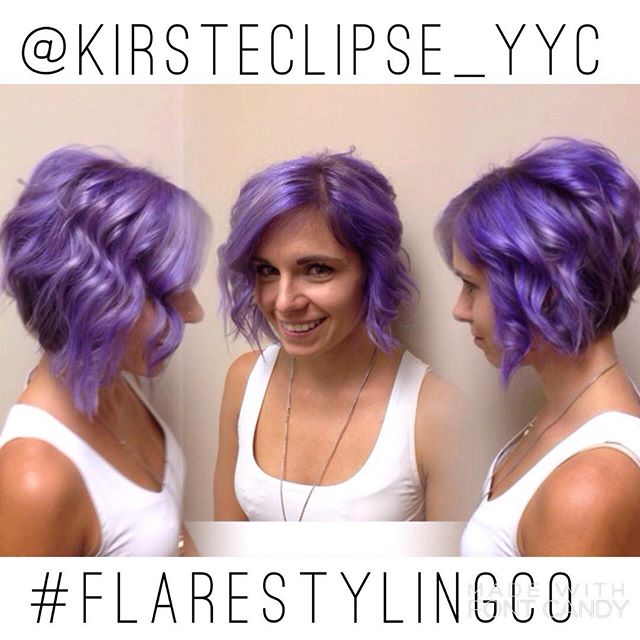 Do your friends consider you to be a risk-taker? If so, when's the last time you colored your hair a shade that isn't neutral? Dark blue, deep green or even this violet shade would be PERFECT for a messy bob! Especially if it's a graduated one.
Lavender messy bob with curly ends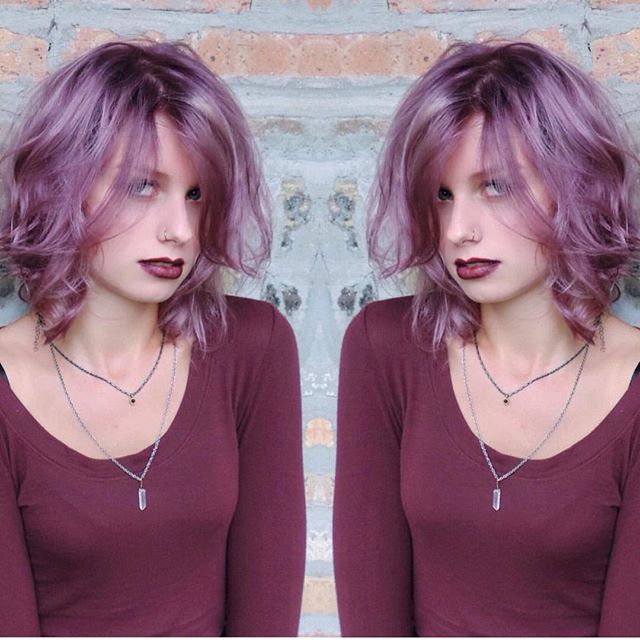 Was that previous shade of purple a bit to stark for you? What do you think about this lavender one? The long layers add to the messiness but it's the curls that are basically reserved for the ends that really make it fit into this feature. Quite well.
Curly messy lob with platinum highlights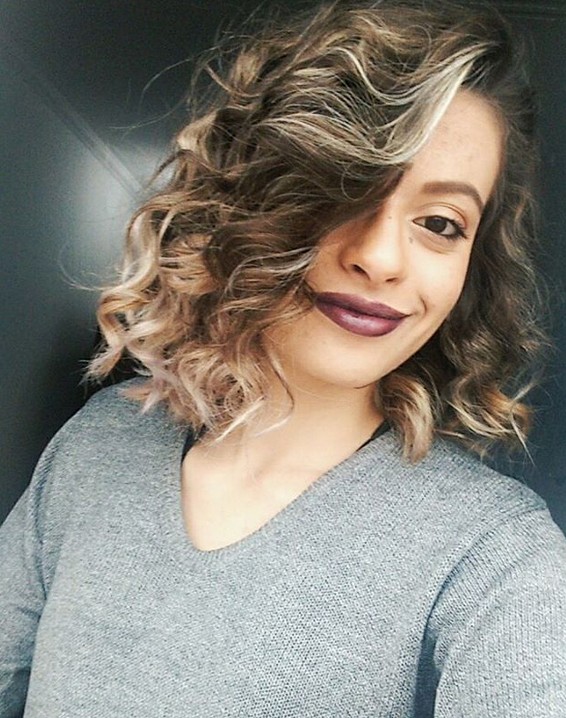 If your hair is naturally curly, don't worry about getting too many layers put into it in order to achieve a messy look. Just use your fingers rather than a brush or comb as you're styling it. Also, how about adding some bold streaks of blonde coloring if your hair is dark? The contrast will be a bit "messy" in and of itself.
Messy wavy lob with low lights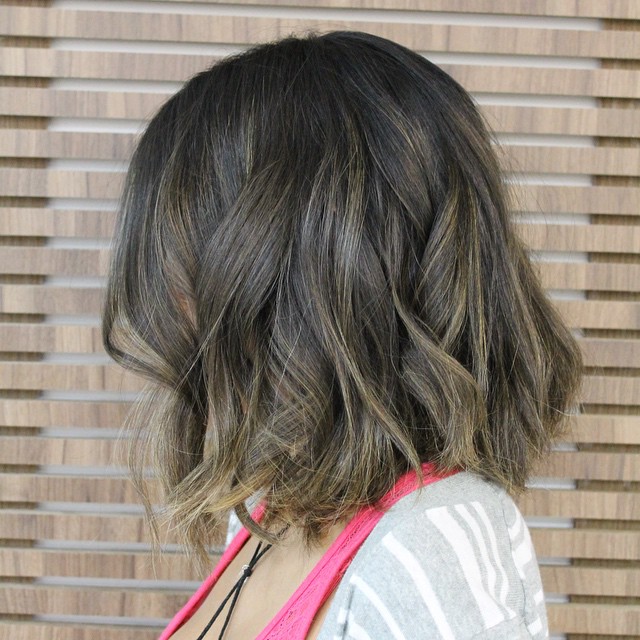 This is a shorter version of a lob. It's about the longest a bob hairstyle can go before it fits into the "lob category".  And if you don't want to be too drastic when it comes to hair color, ask your stylist to put in some low lights. Every time you run your fingers through your messy bob, there will be a hint of shimmer that can be quite appealing.
Deep blue A-line short messy bob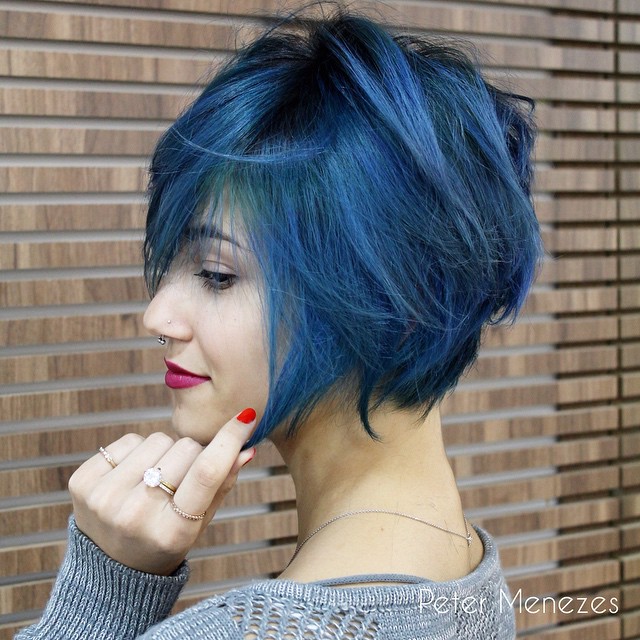 Yep. Everything about this short and messy bob screams hip and chic! You're going to need to get your hair tapered rather short in the back to get these kinds of results. And while you could basically color it any shade you like, we hope that you'll at least consider a deep blue hue. Long bangs are a good look too. If you love this messy inverted bob cut, you can find more cool inverted bob hairstyles here.
Air-dried messy bob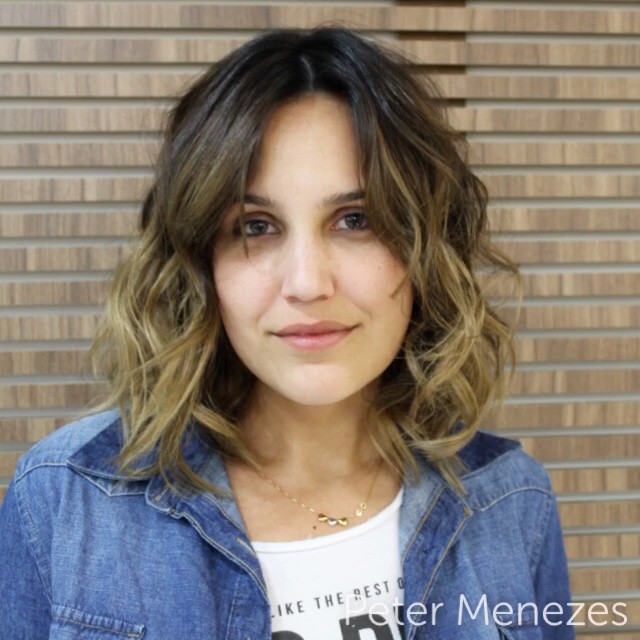 This is probably one of the most natural-looking hairstyles and pictures that we've featured in a while. That's what we like about it. It goes to show that it's not only models who look great with messy hair. Even women who let their friends take candid pictures of them do!
Messy black bob with dark green ends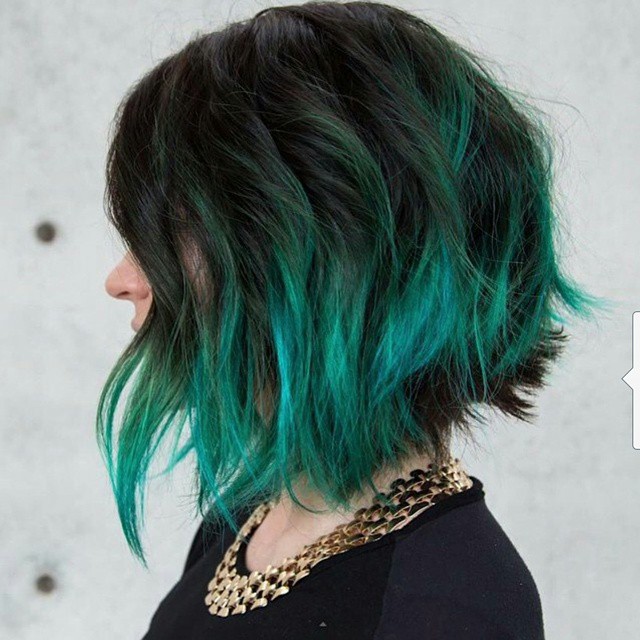 Are you in love with this messy bob but you don't want to commit to the green hair color? No problem. You can always put in a few green wave tracks to achieve a very similar effect. In fact you might want to go with all-black hair except from in the front. The sides can be green weave to make this hairstyle even more unique.
Messy semi-stacked bob without bangs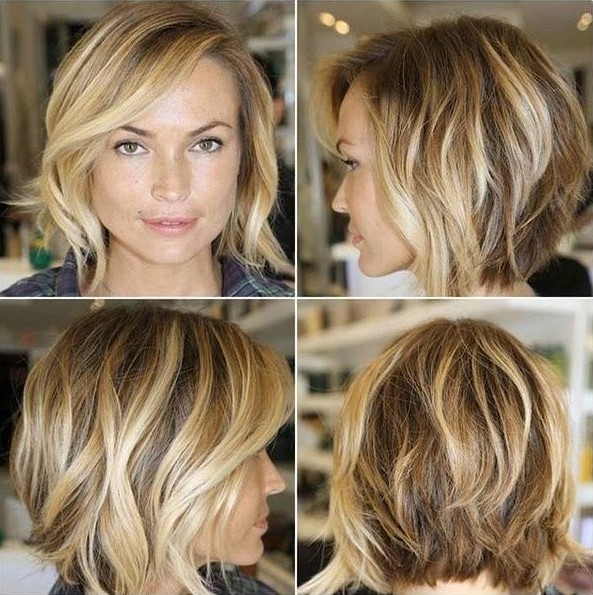 You're going to see bangs a lot over the next couple of seasons, but that doesn't mean you have to wear them if you don't want to. Here's how you can make a messy bob sans the bangs still look really cute. Our favorite part is the blunt tapering in the back.
Razor cut messy bob with choppy layers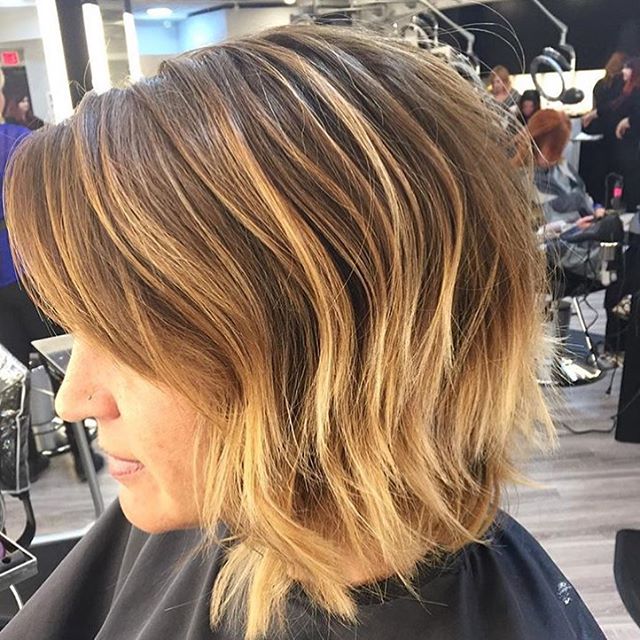 What makes this bob "messy" is the fact a razor has been used on the ends in order to give her ends a choppy look. It also appears to be air-dried which also adds to the "messiness factor"—in the best way possible, though. Hair without a lot of heat is healthy for it.
Wavy messy bob with added curls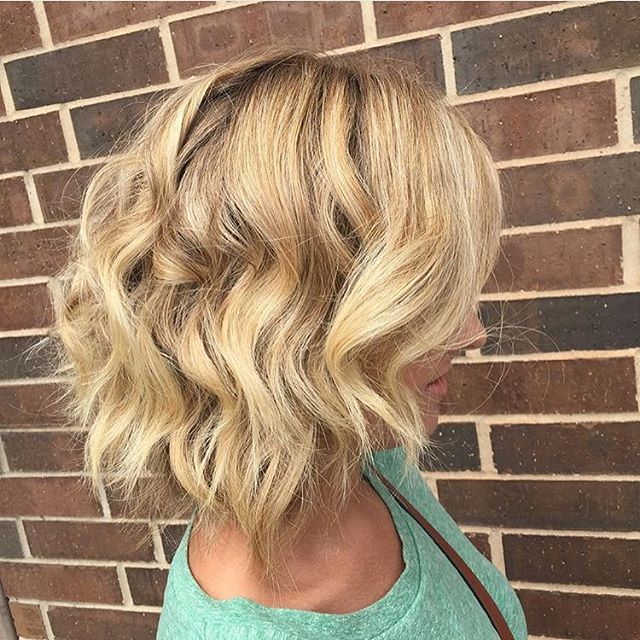 The natural texture of her hair is wavy. This is basically how your bob would look if yours is similar. What you can do to add some extra volume is to cut some long layers into it and to also use a curling iron to add a bit more definition to some of your waves as well.
Deep red with lighter red highlights and long layers in front messy bob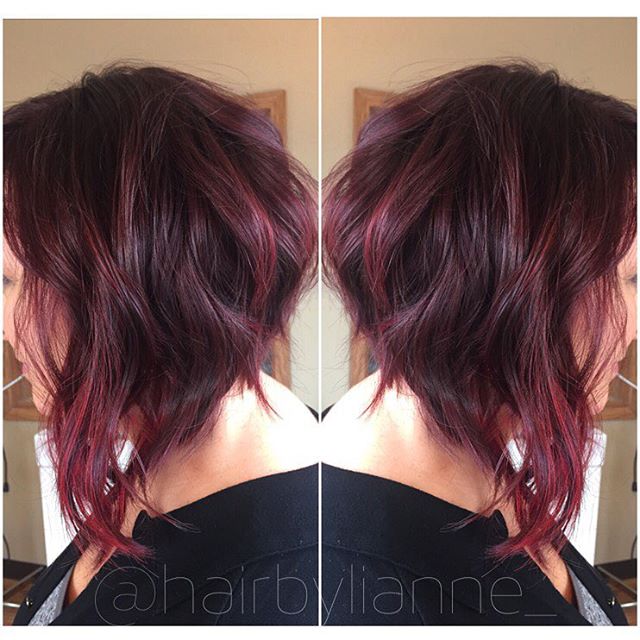 Hair color ideas for bob hairstyles 2016: A delightful way to highlight your hair is two-tone the same hue. For instance, if the base of your hair is a dark red, get some highlights (or low lights) that are a few shades lighter. It's a vibrant twist to hair color. Loose waves make this messy. Really long sides add to it too.
Messy bob with tight waves and middle part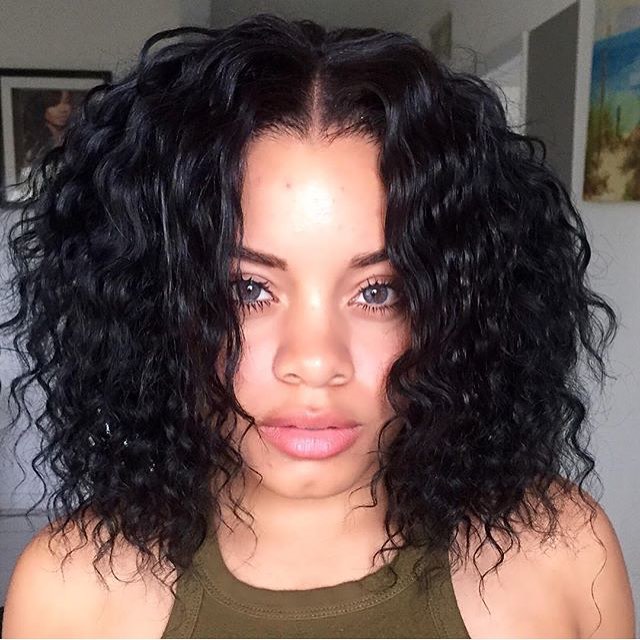 Messy black curly bob hairstyle: She looks so sexy with this look. The tight waves are sultry and actually make it possible for her not to need a ton of layers. The middle part makes it so much more alluring. So, what if your hair doesn't naturally come with this wave pattern? No problem. After washing it, apply a leave-in conditioner and a bit of mousse or gel and braid or cornrow your locks. Wait for it to dry complete, take out the braids and…there you go! This look!
Long and wavy lob with bright blonde ombre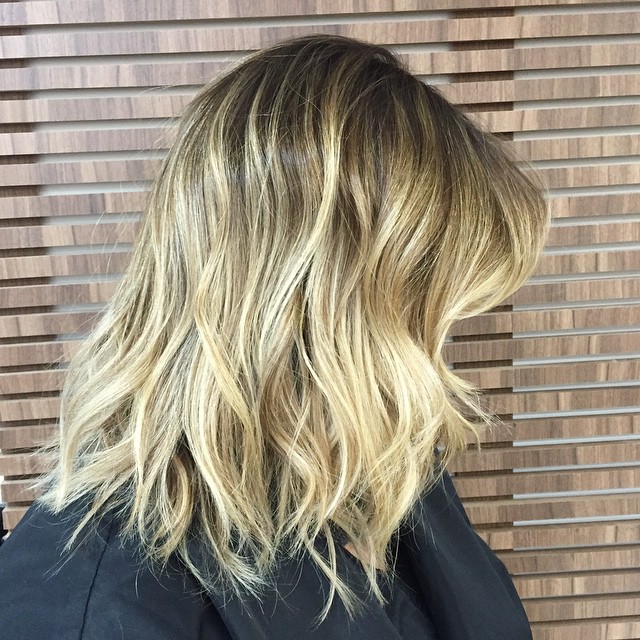 Although ombre has been around for awhile now, it's such a favorite look among many that we don't see it going out of style any time soon. If you decide to use a bright blonde as the foundation for your ombre hair color, you will look like you're ready for the beach…even in the dead of winter.
Grey messy bob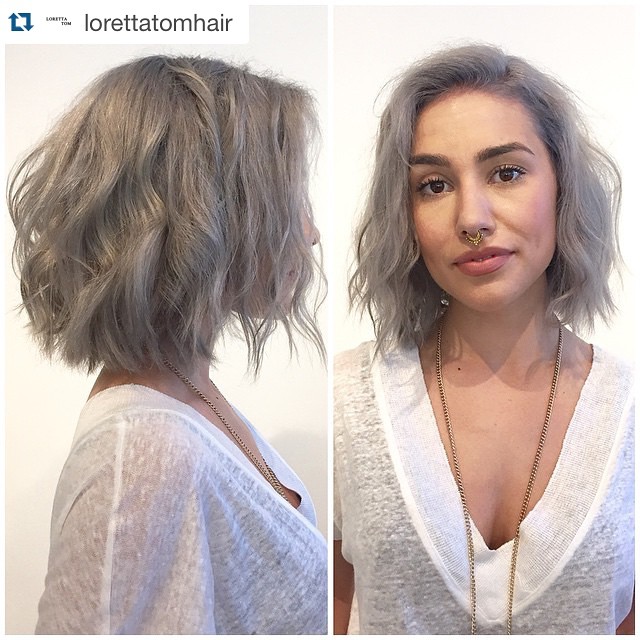 Yeah, she definitely looked like she rolled out of bed. Her hair does anyway! There are some long layers in the back that attribute to the final product. But what really sets it off is her grey hair color. Silver would add some more sheen. Grey makes it look a bit on the duller side. Just a heads up if you can't decide which color you'd prefer to go with.
Messy lob with deep side part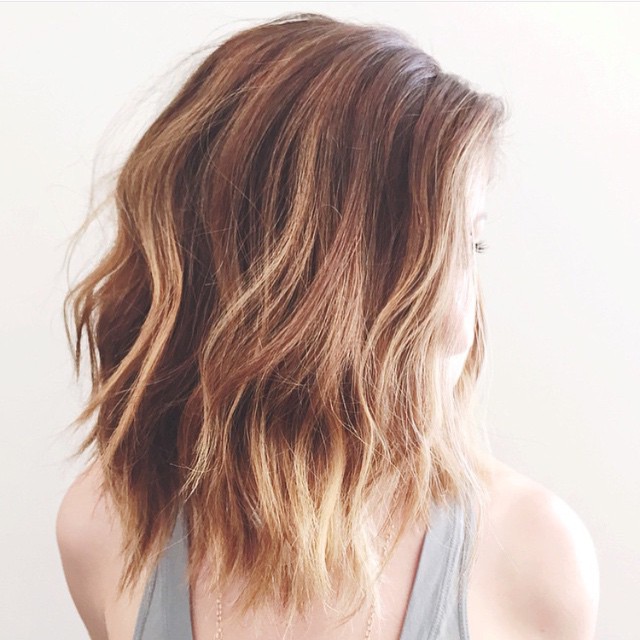 Deep side parts are all over the fashion runways right now, so how about adding one to your messy lob? Just put i a part, run your finger through your hair and head right on out the door! That's all you'll need to be effortlessly sexy. All day long.
Black and platinum messy bob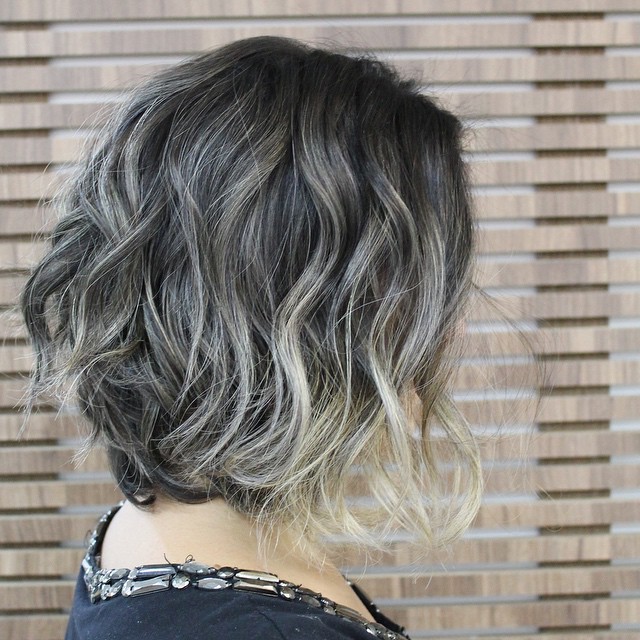 Bob hair ideas for 2016: Here's another color combo that is a bit "messy". Black hair with platinum tips? It doesn't really get too much more extreme than that. Especially if the ends of your hair are super wavy or very curly.
Blonde and caramel messy lob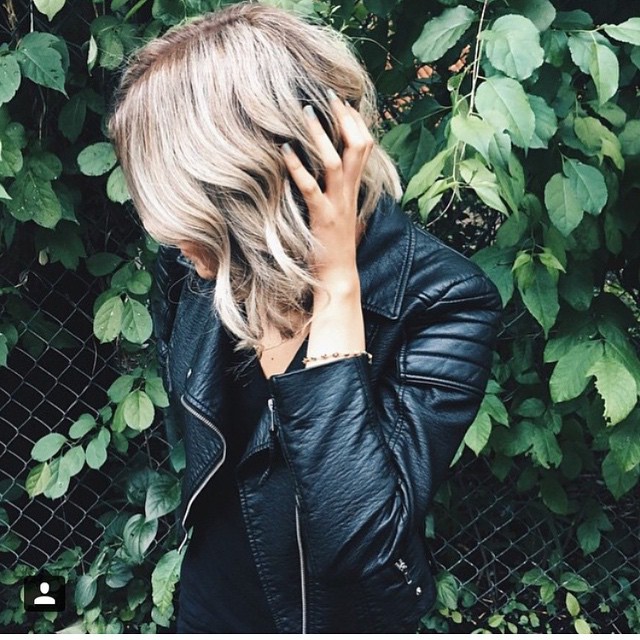 This also is one of the neater "messy lobs". What attracted us most to it is the blonde and caramel coloring. Plus, the fact that this model is literally running her fingers through her hair in the picture sells our point that messy bobs/lobs are great because it doesn't matter if every lock is in place. You're going to look killer regardless!
Messy bob with three different colors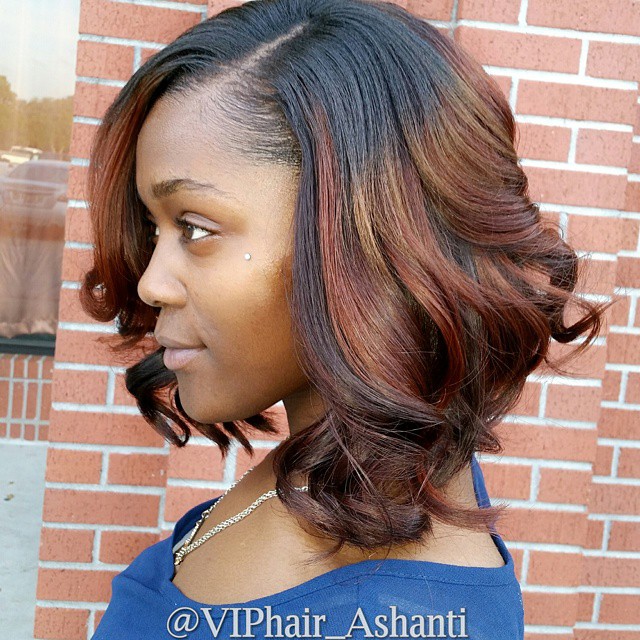 As natural-looking hair colors go, if you want to add more than two, go with ones that are neutral. This is a combination of dark brown, auburn and golden brown. We're pretty sure she gets compliments on her hair just about everywhere that she goes.
Buttery blonde and black messy A-line bob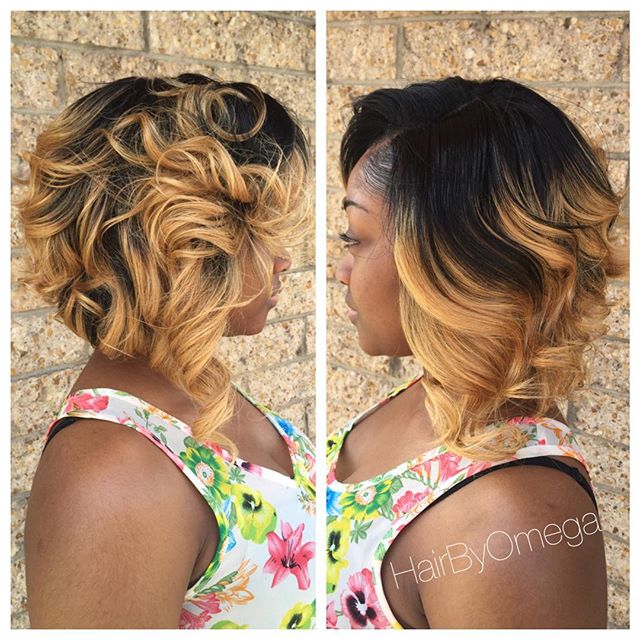 Buttery blonde is big in the blonde family right now. So, if you're a woman with a darker complexion and you always wanted to try blonde, this may be the hue to go with—at least when it's your first time out. And on a messy A-line bob? It will be pretty close to perfection! Find more African American hair ideas stylesweekly.com
Brown ombre messy bob with middle part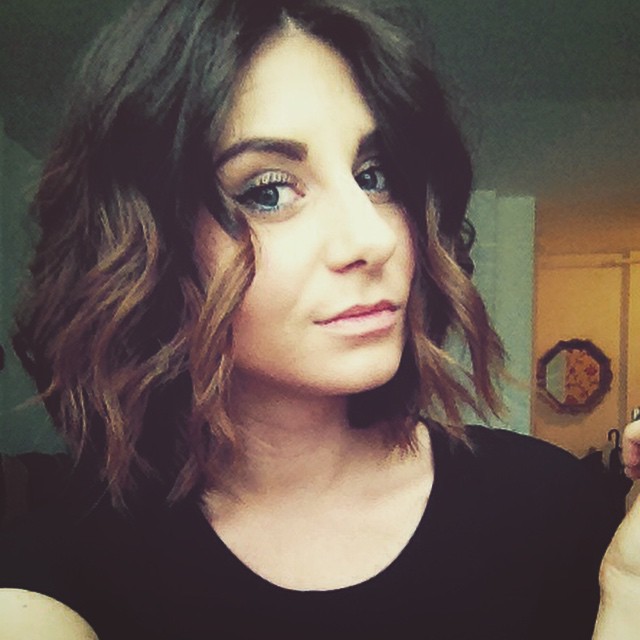 Here's another cool ombre look. Only this time, she's going with a brown/caramel color rather than blonde. The super straight tips help this wavy bob to still look messy. In a really lovely kind of way.
Do you love these messy bob haircuts? Find more latest right hairstyles on stylesweekly.com