Updated: Do you like the ombre hair color but you've never tried it before? If so, why not? As you're about to see in just a few minutes, there are a myriad of different color options to try, no matter what length or texture of hair you may have. However, because bobs are such a huge hair trend right now, we decided to show you bobs (and lobs) that look amazing with the ombre color treatment added to it.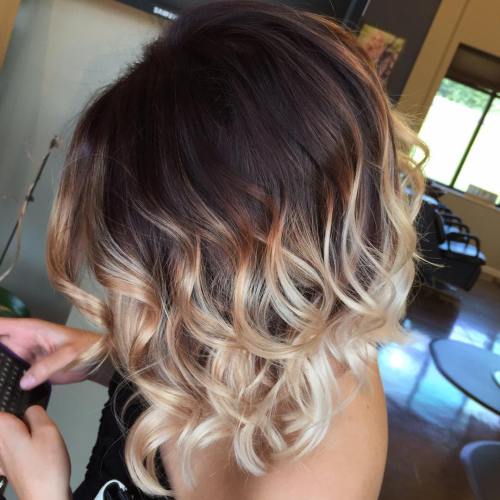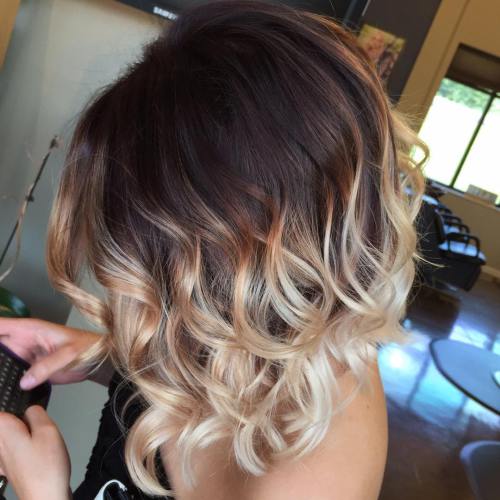 Trendy layered dark to brunette ombre bob hairstyle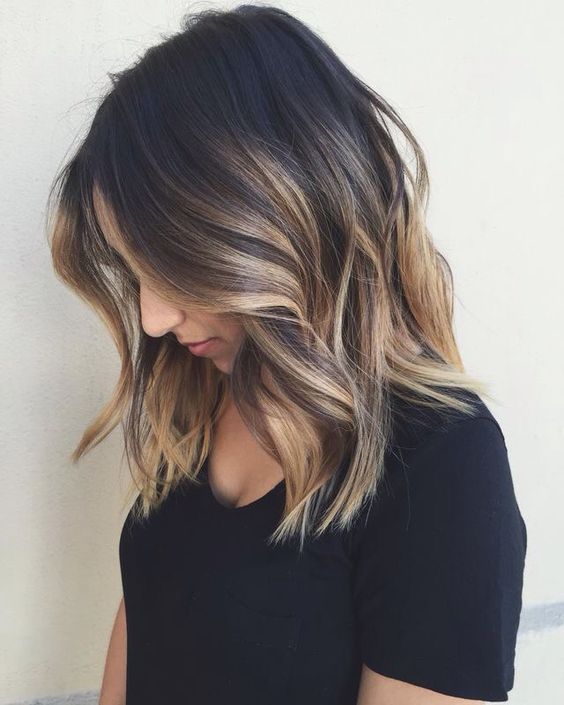 Hopefully, it will be just the "push" that you need to experiment with a different kind of hairstyle.
Loose curls ombre lob for thick hair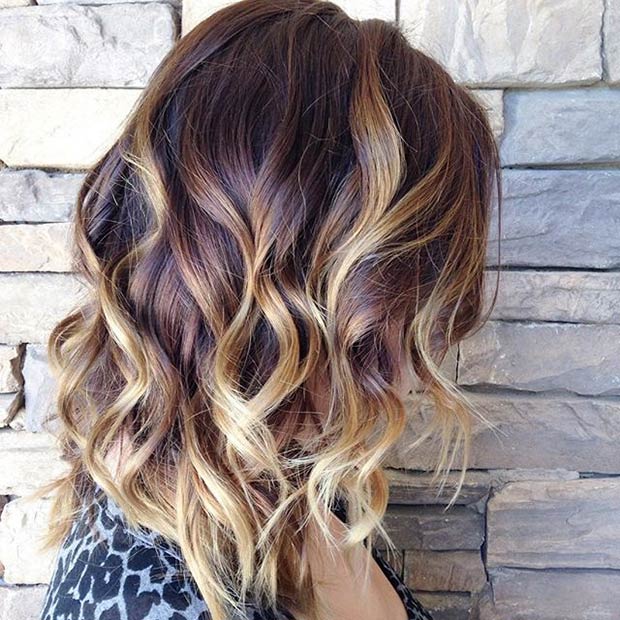 Cute. That's what first comes to our minds because it really is such a cute cut. The next thought—in part, thanks to the ombre color and somewhat curly hair texture—is that it's also really sexy. When curly locks cascade down a woman's shoulders and back, it makes her look so feminine and sultry. There's something really special about that.
Dark brown, copper and red ombre bob for wavy hair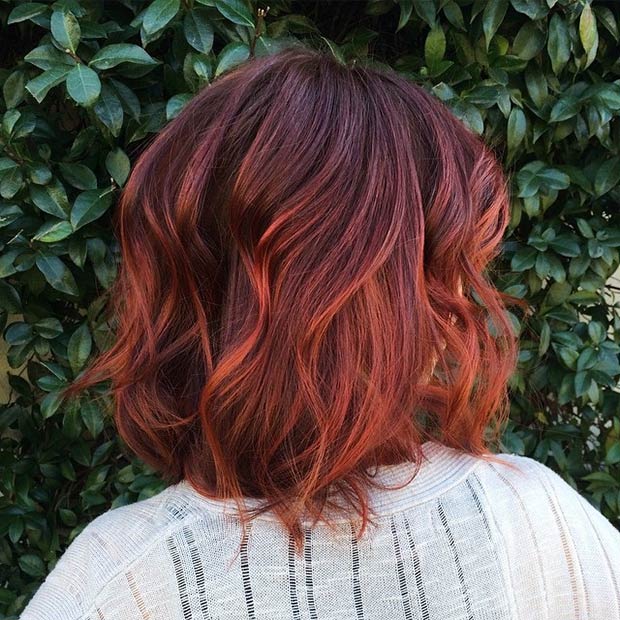 Dark to red ombre bob cut with soft waves. Have you always wanted to be a redhead? You can go bold by coloring all of your hair a bright hue or you can be a bit more subtle with the help of a tri-tone ombre hair color treatment. Maybe something like this that has a blend of dark brown, copper and red. Do you love this messy bob cut?
Dark brown and buttery blonde ombre bob with side part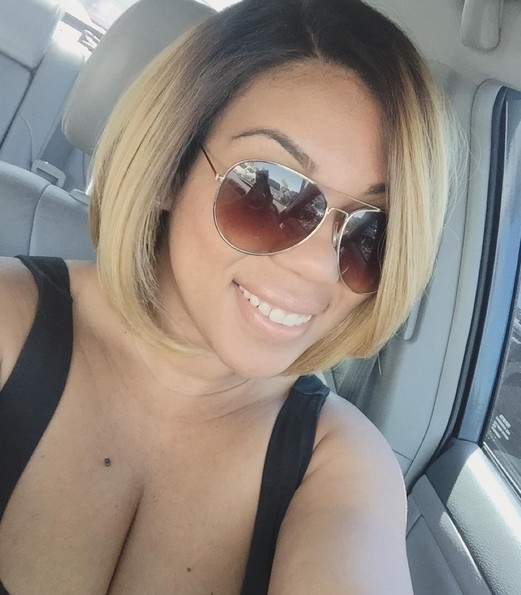 Doesn't she look so graceful and also really gorgeous here? The bob is already super playful in its appearance and the color of the ombre? Well, here's an example of how buttery blonde can work, beautifully so, on all skin tones. And since it's a trending color, why not ask your stylist to put some of it into your own tresses?
Chocolate and red ombre bob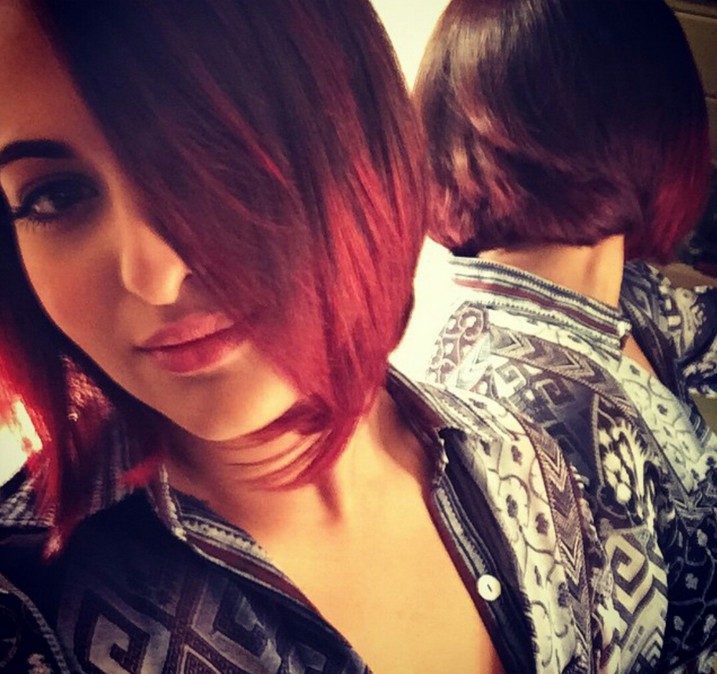 First up, this is a really cool picture (especially to show off a hairdo). Secondly, the cut is killer. It looks a lot like the picture that's right above it only we're assuming there are more choppy layers in the back. And third, how about this ombre color combination? Chocolate and red? It's so…alluring.
"Beachy" ombre lob with middle part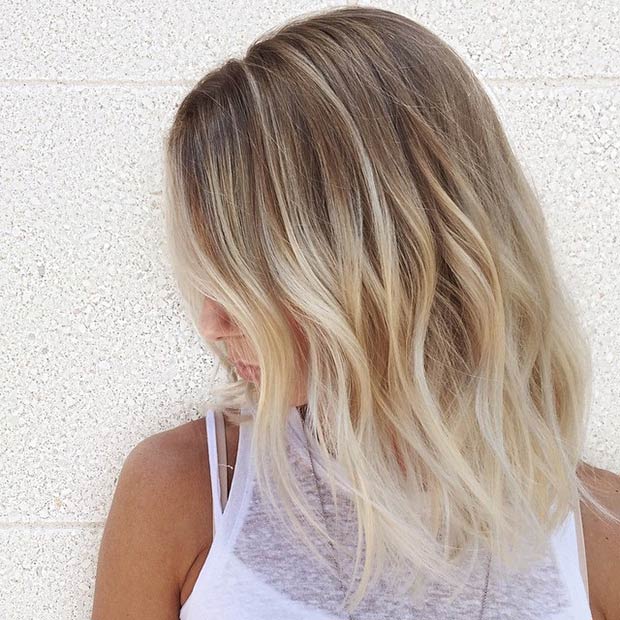 Dark to blonde ombre medium bob cut: So, how can you get the beachy look like this? Ask your stylist to turn the base of your hair color to a light shade of brown and then to gradually make everything lighter until the very ends are so platinum, they are almost white in appearance. (Then make sure to constantly deep-condition it.)
High angled classic ombre bob for straight hair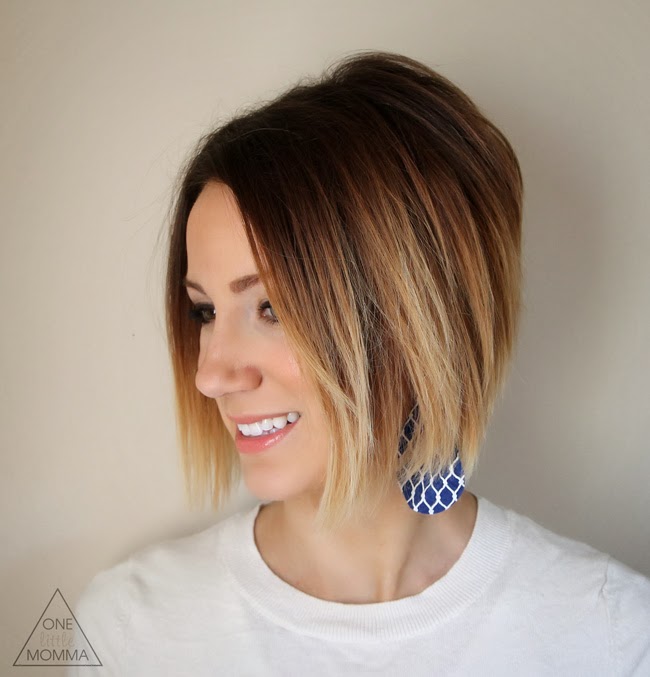 Simple easy daily hair ideas: This type of short haircut is basically the best of both worlds. From the front, you have a pretty traditional-looking bob while from the back, it's an angle that is so sharp that you're almost wearing a short hairdo. With this, a classic ombre is awesome. Or you can add something like rose gold to make it appear even more unique.
Copper, platinum with a touch of red and pink ombre lob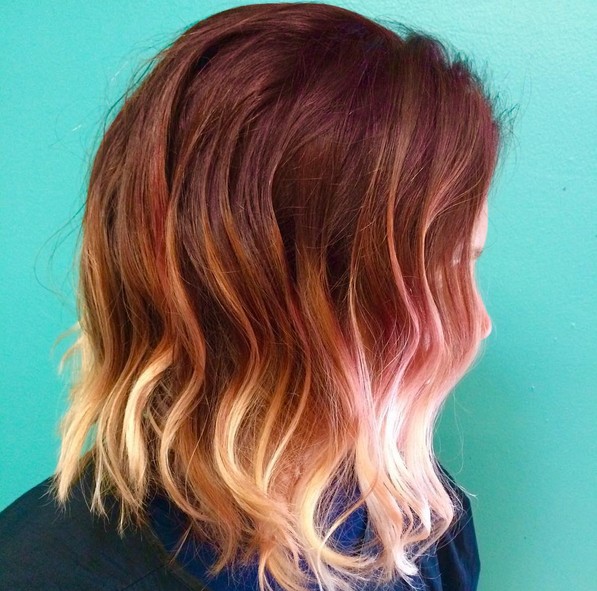 There is so much that can be said about this ombre, but we'll basically sum it all up by saying this: If you go with a look like this one, you will never (EVER) have to worry about walking into a room and running into someone who has a hairstyle that is just like yours. It's fabulous and bold in so many ways. Just make sure that if you do decide to try something like this that you leave it to the professionals. It's a gorgeous look but if you don't color it correctly, it could ultimately lead to quite a bit of damage.
Tri-tone ombre bob with deep side part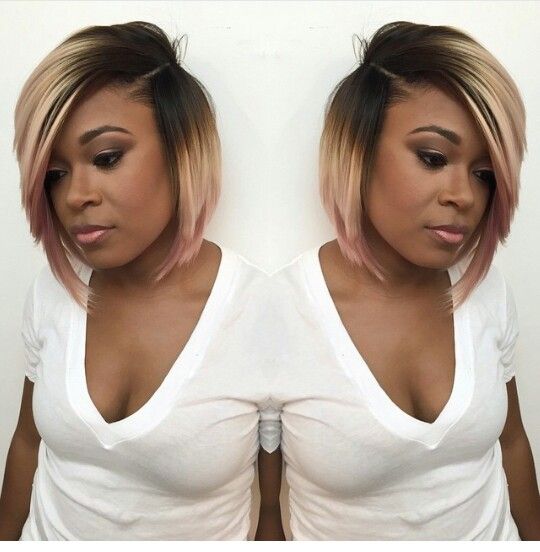 Here's a tri-tone ombre angled bob that has some pink added to the tips. It's one of our favorite "non-neutral hues" to apply to an ombre style. And with long layered bangs like this, the color (and cut) will caress your face so gracefully.
Traditional ombre lob with long layers and "choppy" ends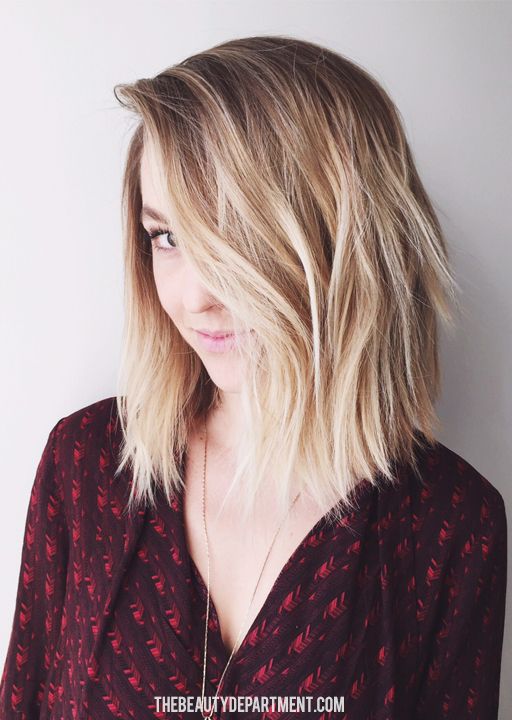 Sexy messy bob cut with latest popular ombre color. Although at first, this might appear to not be much different than the other ombres that you've seen, we're showing it here because the ends are brighter that some of the other classic looks. It's a beautiful addition to a straight lob like this that may have choppy ends.
"Messy and wavy" chocolate and blonde ombre bob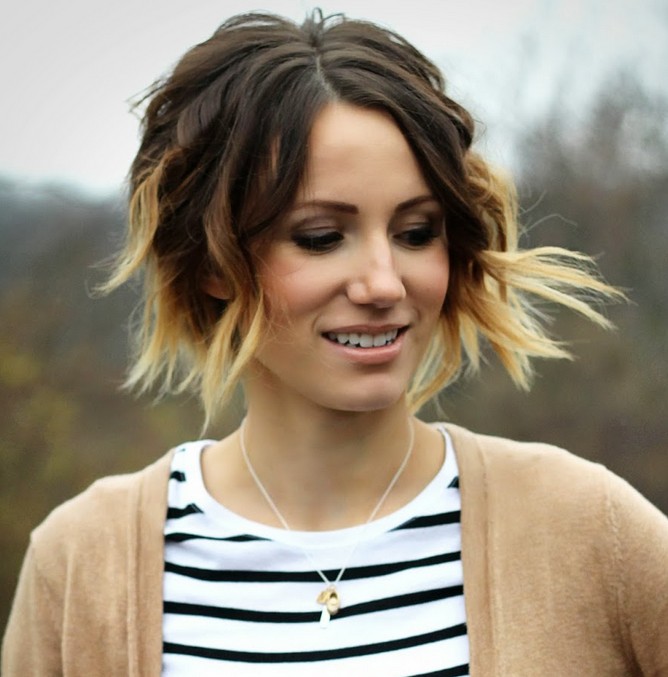 This is one of the most complicated messy hairstyles we've seen. We say that because it's hard to understand exactly how the hair is wavy all throughout but straight on the ends. Our guess is that the ends are probably straightened with a flat iron and it's definitely a great example of why it can never hurt to get your hair professionally cut and styled. Anyway, the look plus the super dramatic chocolate and ombre blonde hair color makes it a great look to start off which in this feature. This soft wavy curly ombre bob hair style is great for round faces.
Classic A-lined ombre bob (with middle part)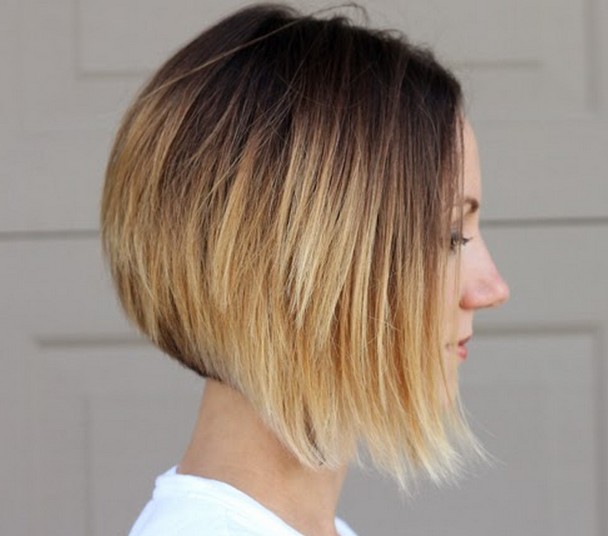 This ombre color is a classic combo for the most part. We like that it's shown on such a dramatic A-line bob because it reveals how ombre can work with so many different layers of hair in such a multi-dimensional kind of way. From the middle part to the tampering in the back. This short ombre bob haircut is perfect for thin hair.
Tri-tone bob with dark brown, silver and dark blue (and side part)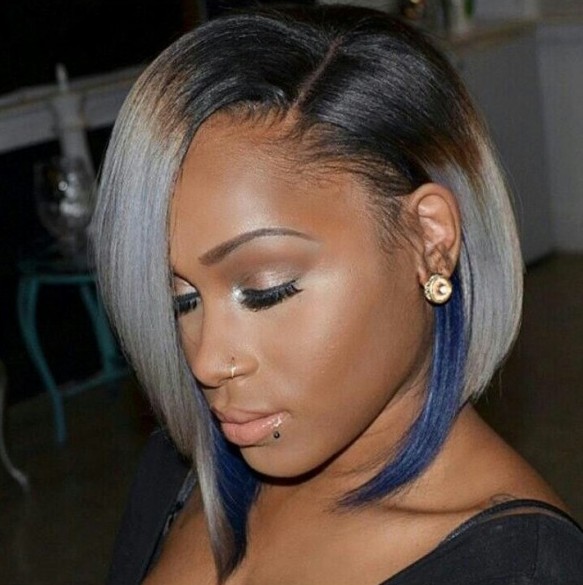 This is probably not the kind of ombre that you would do if you've never tried to look before. But if you consider yourself to be a pretty daring woman, this is an option that will have you literally standing heads above the rest. If the silver seems a bit too "loud", you can always substitute it with a very dark green or even a violet.
Black and grey ombre bob with angled bangs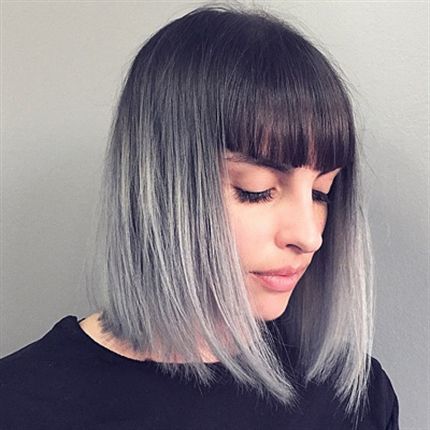 Medium blunt bob cut with grey ombre color. Since silver/grey hair was such a popular hair trend for the past couple of seasons, we wanted to show a somewhat unique way to make it work for you. Add it to an ombre. Even on a signature bob, it will look very distinctive. The best part about this hairstyle though, in our opinion, is how the bangs are cut at an angle on both sides.
"On Fire" ombre bob for thin hair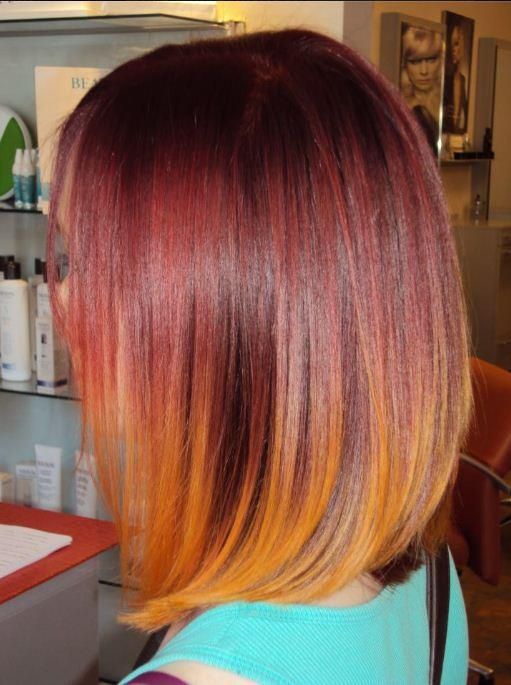 We called this one "on fire" because to us, that's exactly what it looks like. Although no one is going to look at this kind of maroon-orange-and-yellow look and assume you would born with it, that's sooooo not the point. They will find it appealing because it's an ombre approach that says "I'm a confident woman who likes trying new things." And that's not something you're born with. It's a kind of self-respect that you learn over time.
Straight long bob – Silver ombre lob hairstyle for winter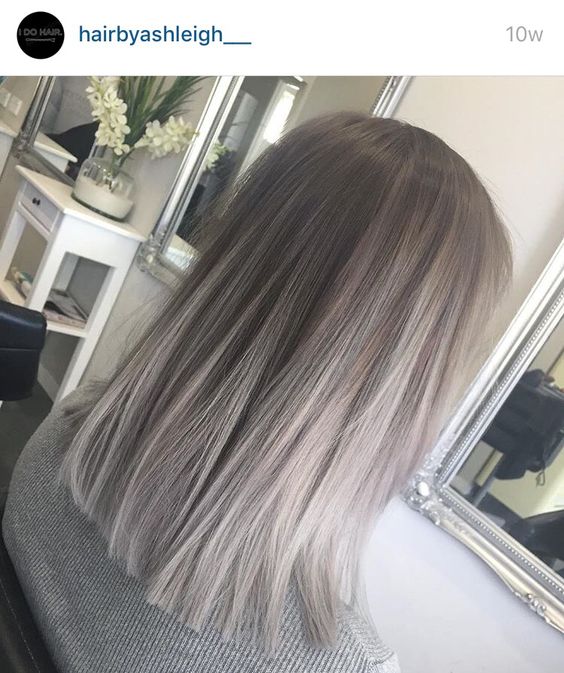 Sea foam green messy ombre bob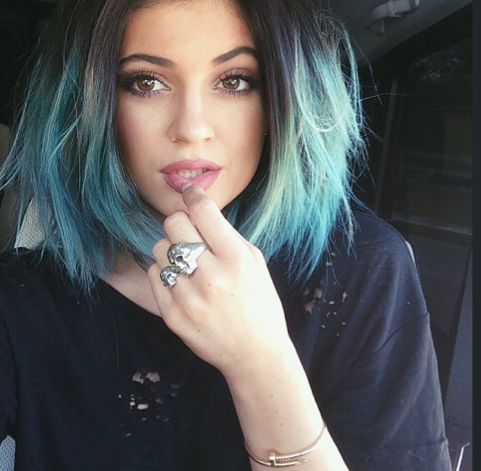 Hair color ideas for 2016: Until this very moment, you might've thought it was CRAZY to dye your hair green, let alone a sea foam hue. But even if you don't want to permanently commit your locks to this kind of color, we're showing you this as a reminder that you can always add some weave tracks in and still get the same results. You can glue, clip or sew. It's totally up to you.
Dark brown and dirty blonde messy ombre with bangs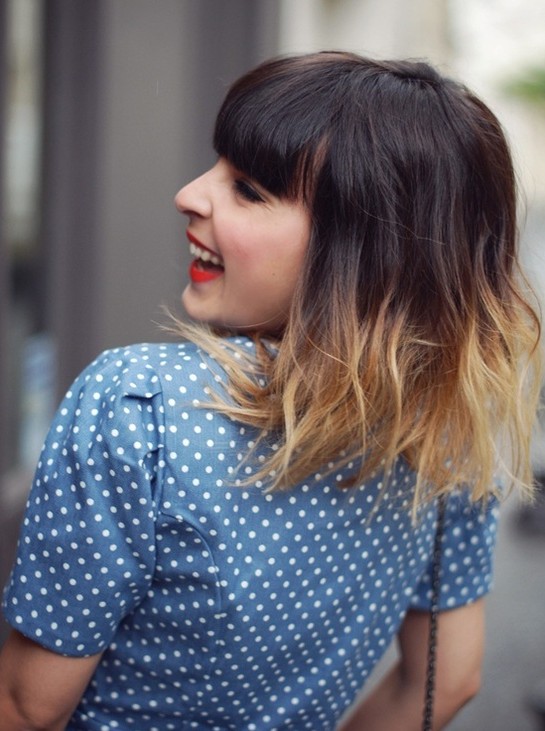 This ombre is a bit more…"drastic" is the word that first comes to mind because although other ones tend to gradually blend in three different colors, this one mostly uses two and the blonde is closer to the ends of the model's hair. It's awesome with a messy bob hairstyle and even better if the bob has blunt bangs.
Super straight asymmetrical ombre bob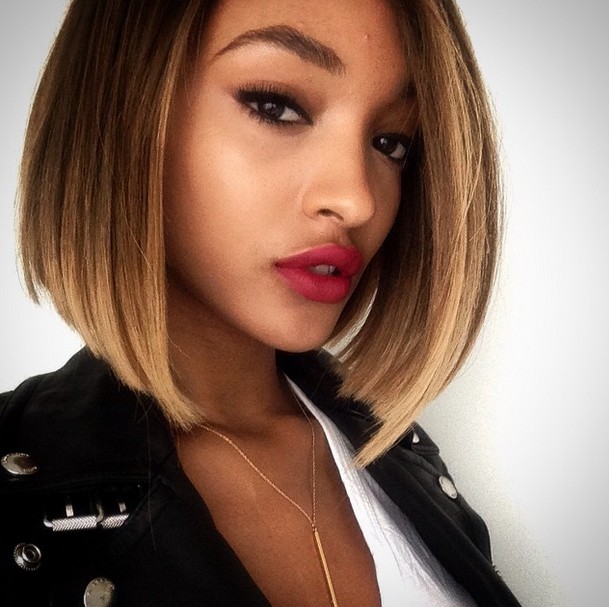 We love (LOVE, LOVE) asymmetrical bobs, which is the main reason why this picture is featured. It's also another way to show how the ombre look works. Notice how it's "ombred" closer to the ends and how there are blonde streaks in the front, right where the side part is. This short ombre bob cut is perfect for black women who love to sport short straight hair.
Brown and copper ombre bob for thin hair (with middle part)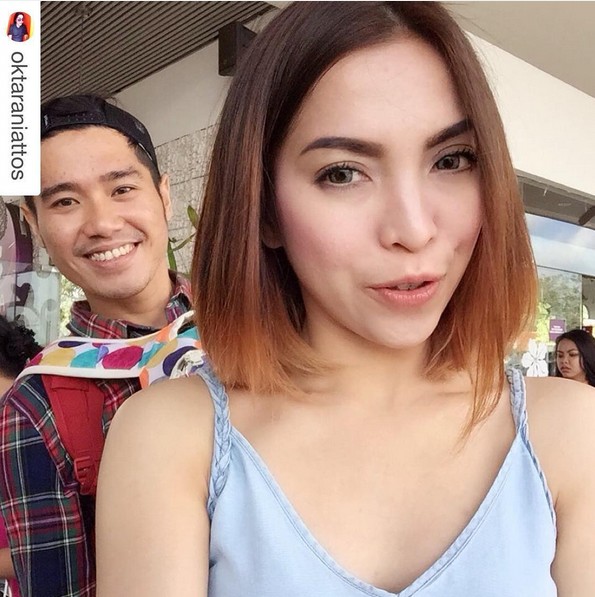 Short haircut for women 2016: the straight ombre bob cut. This is a subtle kind of ombre. All the stylist basically did was take about three inches of her hair and lighten it up a couple of shades from her natural hair. Almost as if hydrogen peroxide was directly applied to it.
 Loose waves bob with super platinum ombre tips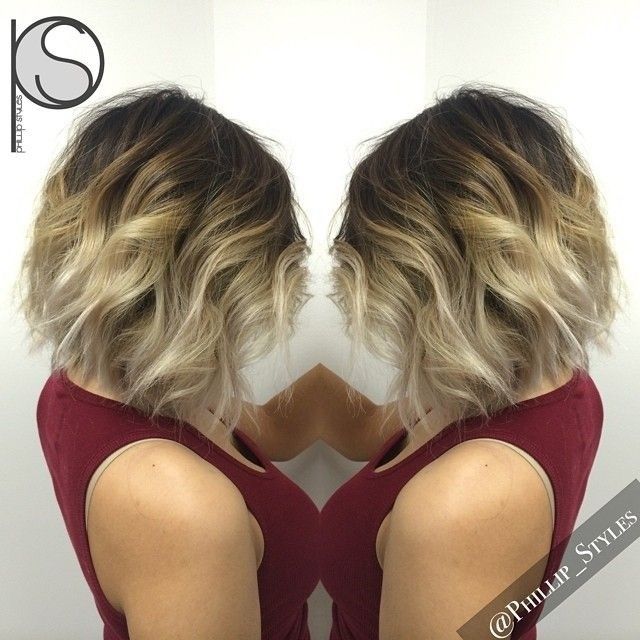 Hair that is so dark brown that it looks almost black is fun to color with a platinum ombre blend. It's so rocker chic while the wave pattern of a bob like this still makes it look soft and sweet. A rare and totally gorgeous blend.
Straight and thick ombre lob with side part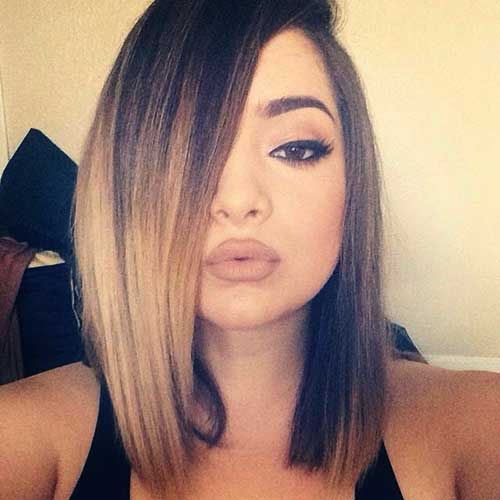 If your hair is already straight and thick in texture, then you are well on your way to having a really full and healthy-looking lob. One that can pull off an ombre style that's similar to this one. If you're paying close attention, you can tell that there are ombre low lights that are applied to a lot of her hair but bold highlights in the front. Thanks to the part, it's super noticeable.
Choppy ombre A-line bob with messy side part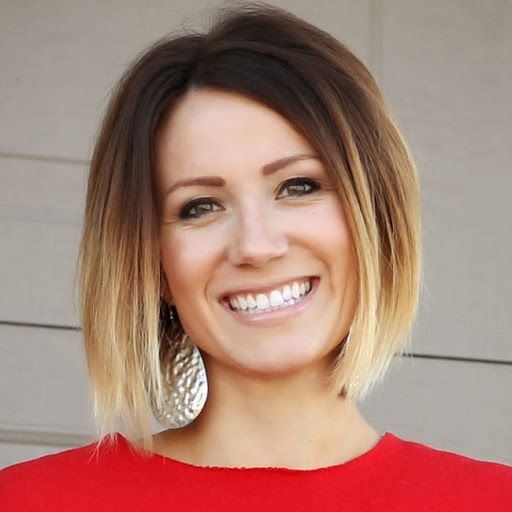 Simple easy daily hairstyle for short hair: Let's end the feature here. Although you've basically already seen this ombre look when it comes to the color of it, we wanted to show you a picture of a straight and choppy bob (along with a middle part), just so that you could get an idea of how versatile ombre color can look. With each kind of hairstyle, it can convey a different message. Wonderfully and fashionably so.
Do you love these ombre hair color ideas? Find more on stylesweekly.com