So, we were trying to find a way to blend a classic cut with a current trend. Something that immediately came to mind was "the marriage" between a bob (classic) and bangs (trend). It's a super cute way to wear your hair. Plus, there are actually several different ways to try the combo…as you'll soon see.
Are you ready to check out some of the hottest chic bob hairstyles that come with bangs?
Let's proceed…
Chin-length bob with blunt bangs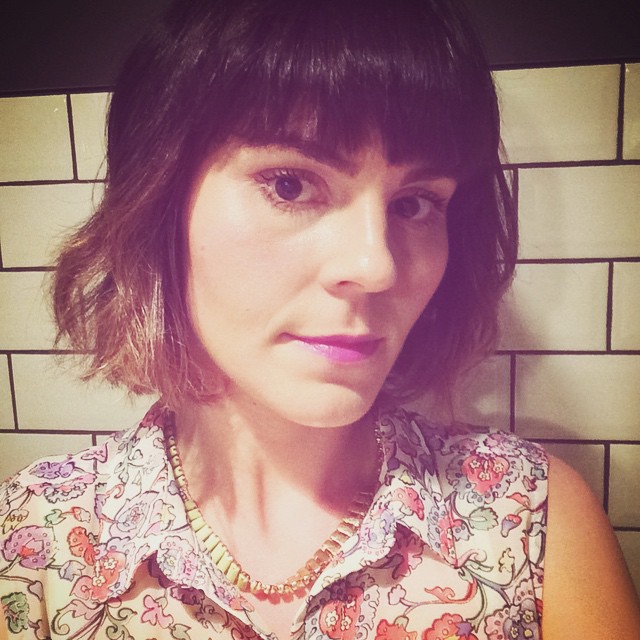 Whether the ends of your hair are wavy or straight, this is a sweet and sassy kind of hairstyle. In our opinion the best part of it are the blunt bangs. The bronze hair coloring on the tips ain't have bad either.
Platinum wavy bob with super straight bangs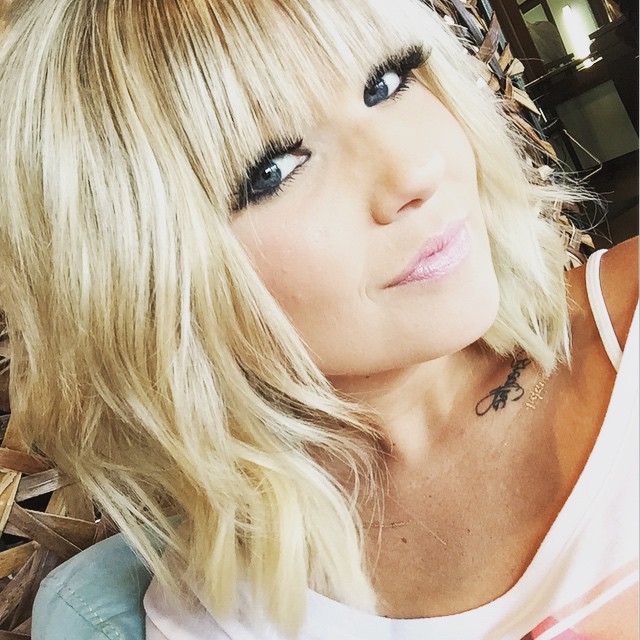 If Barbie was able to get her haircut, she'd probably request something that's a lot like this. There are long layers that are throughout the bob but as you can see, her bangs are super duper straight. (We're thinking she might've even got them relaxed.) This bob hairstyle is also great for round faces.
Long graduated by with side bangs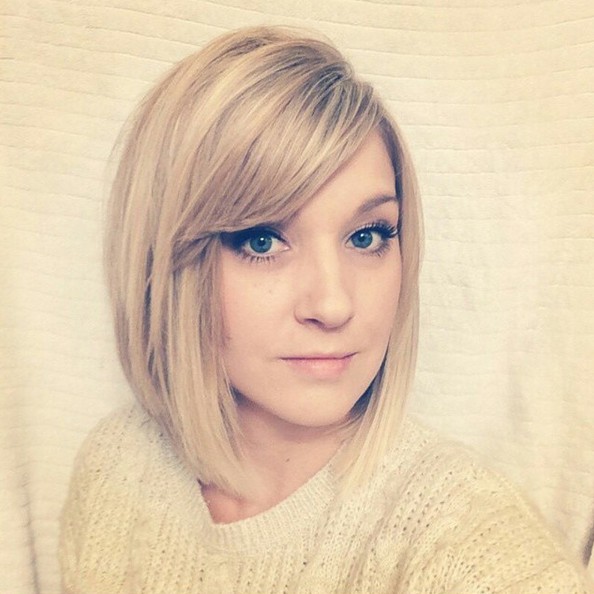 These bangs are kind of long but they are able to gracefully accent her face thanks to the side part. This is one of those cuts that would look pretty awesome with any hair texture. Although you're able to see the cut best being that hers happens to be really straight.
Wavy bob with blunt bangs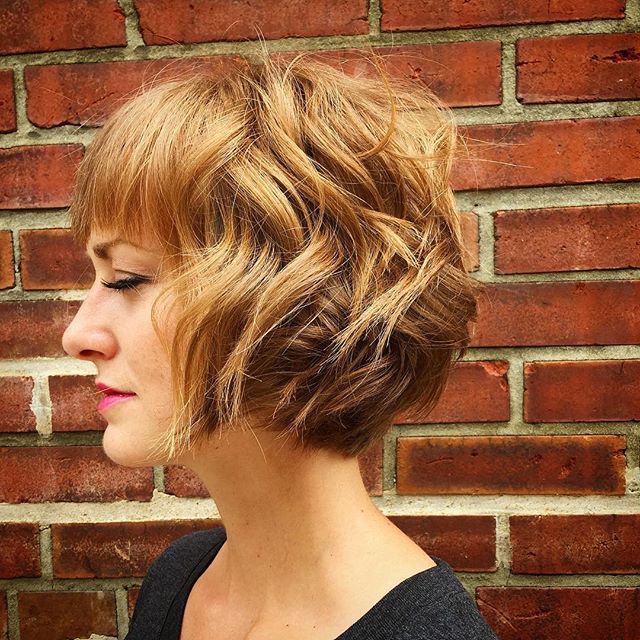 Short hairstyles for 2016: If your hair is naturally wavy, you might be hesitant about adding some bangs. But with a bit of product and a big barrel curling iron, you can make your bangs super straight—a nice contrast to your otherwise curly bob.
A-line lob with blonde tips and blunt bangs
A-line bobs are fun to wear and look at due to the drastic angles that are featured in them. This is a really stellar look because from the front, this model's hair is past her shoulders, almost daring it to be a lob at all. While in the back, it's a medium A-line bob. (We adore those blonde tips!)
Blunt blonde lob with long bangs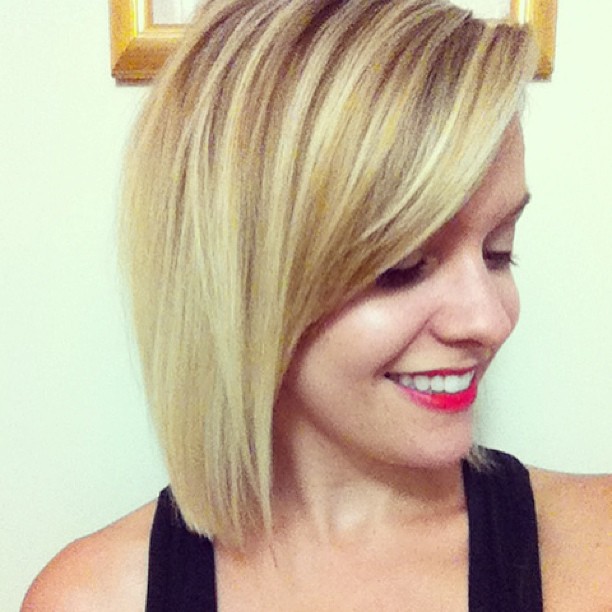 This is a lob that works really well with super straight hair. There's not a lot of layers to it which means you won't have to worry about a ton of maintenance or upkeep. Go for a monthly trim and that's basically all that you need; especially if you were born a blonde.
Blonde lob with long bangs for thin hair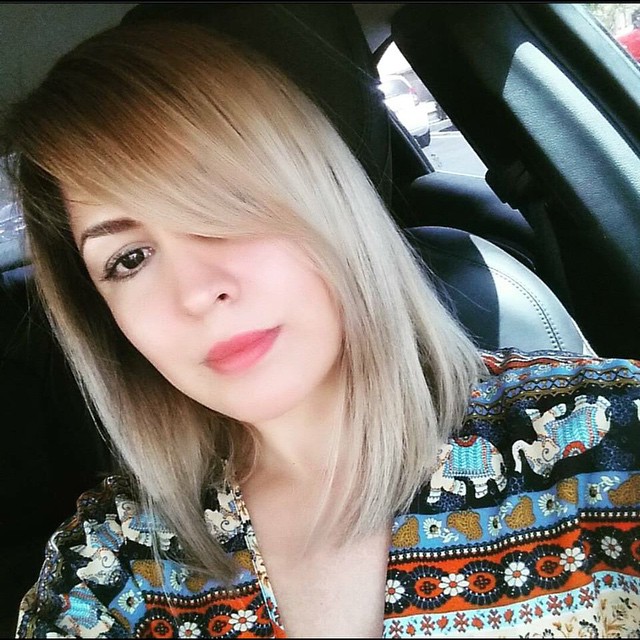 Easy daily mob hairstyle for women: This model's hair is thinner than the one that you just saw but the cut is still really attractive. If you do have thin hair, you might want to do a bit of layering when it comes to your color. Like perhaps a darker blonde or brown underneath. It will provide the illusion that it's actually thicker.
Short A-line bob with straight blunt bangs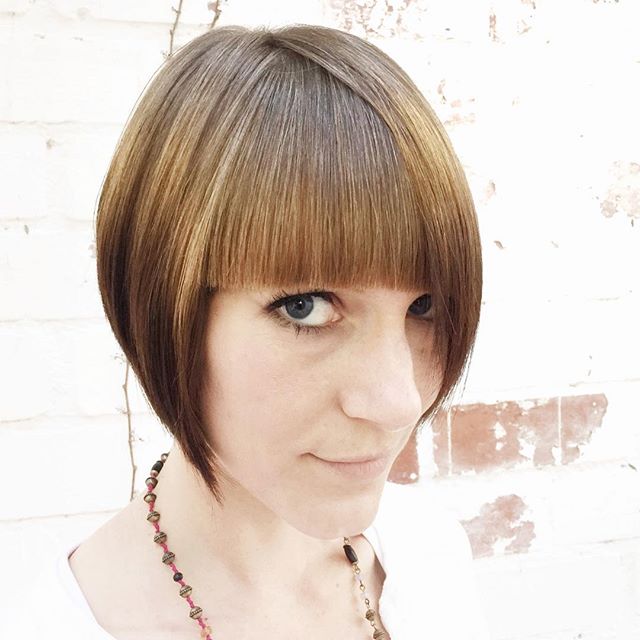 Trendy short bob cut: This is the kind of bob that is both refined and delightful. The A-line gives it lots of personality. However, being that it's so short, you won't have to worry about spending 30 minutes in the mirror each morning getting ready. For the record, don't try cutting bangs that blunt yourself. Get a professional to do it. Otherwise, you might not end up with the results that you're looking for.
Red-on-top-of-red graduated lob with bangs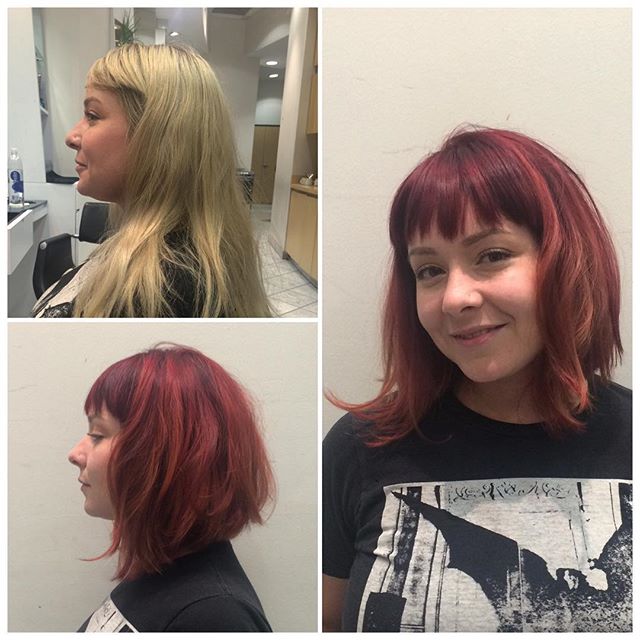 We're taking bets on what you like more about this cut: The cut itself or the bangin' hair color! When you want to go for a shade that is not "super natural", take things to the extreme by getting it highlighted in a shade that is 1-2 steps up from it. You'll end p with something just like this!
Brown bob with short blunt bangs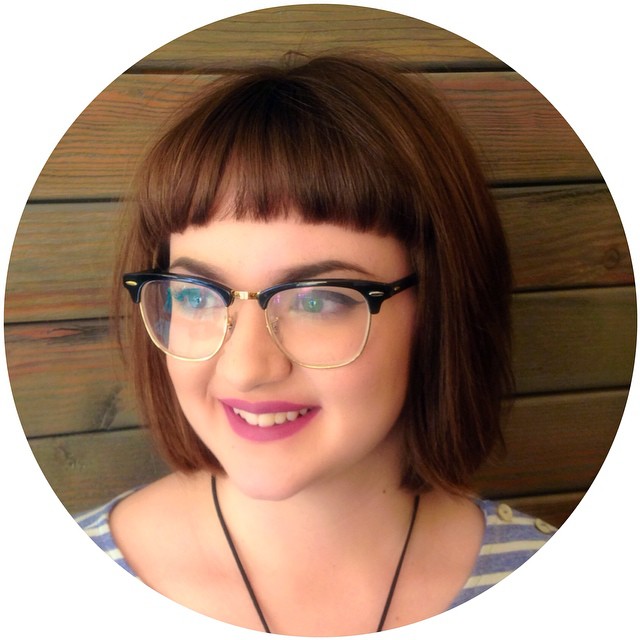 Here's an easygoing kind of bob. It has a few long layers in it that help the hair to flow softly. The short blunt bangs help to make it look extra chic. This is really true on a younger woman in her teens or 20s.
Short bob bob with short bangs and blonde streaks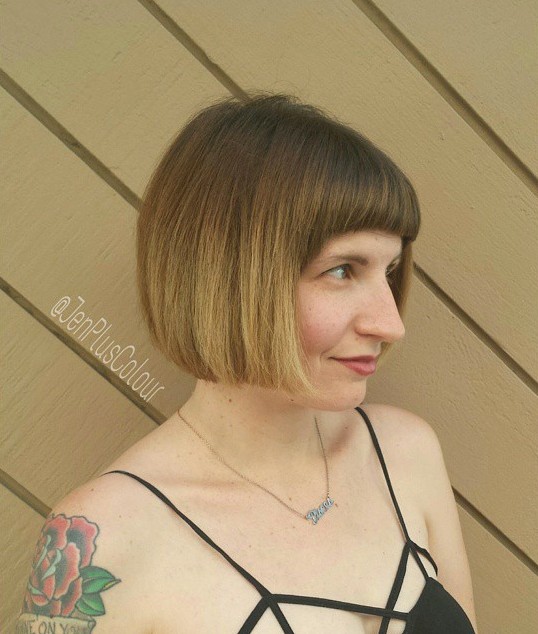 This almost looks like an ombre, except for the fact that there are even blonde tips on her short blunt bangs. This is the kind of color effect that you could either get one permanently or you could honestly find a can of spray color and do some experimenting if you'd like.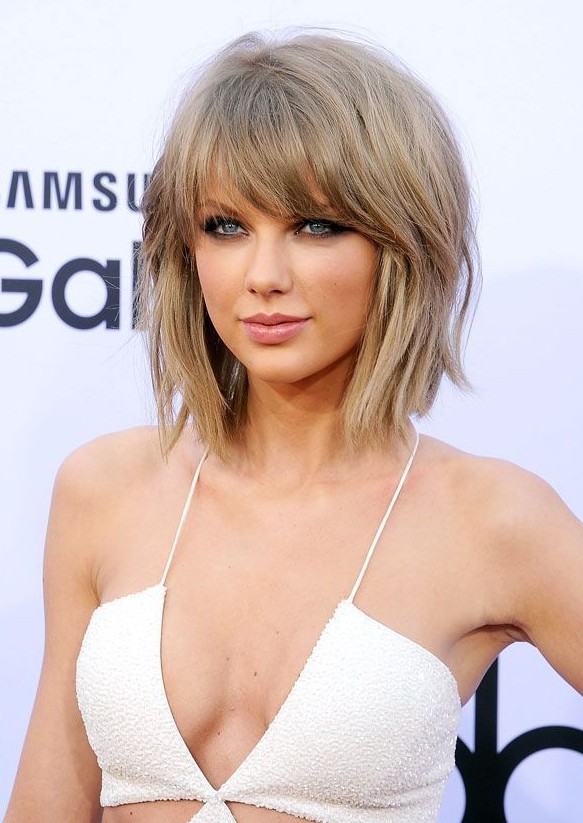 Celebrity bob hairstyle for short hair: Do you hate the kind of hair that looks like not one solitary tress is left out of place? It's OK to go messy. If Taylor can pull it off, anyone can! And how do her bangs look so full? Easy. Her stylist cut some layers into them.
Messy and choppy bob with lots of multi-layers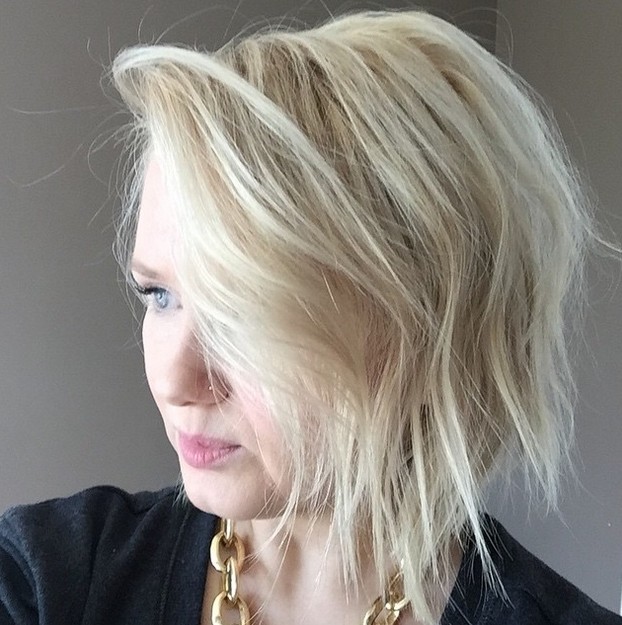 Speaking of messy bobs, here's another way to wear one. If your hair is slightly wavy, that's going to make all of the layers look even more choppy. As you can see, there's not a lot of rhyme or reason to this cut. Just tons of different lengths and lots of uniqueness.
Red bob with natural roots and angled bangs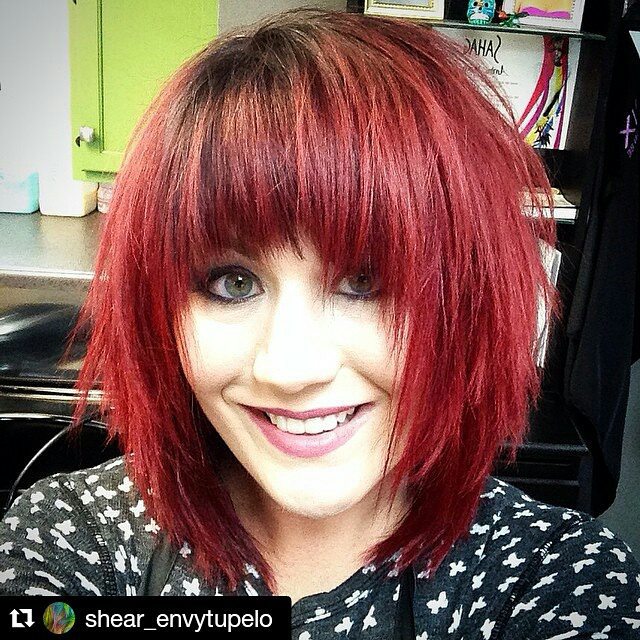 Hair color ideas for short hair: First up, natural roots are in so don't worry your pretty little head if some of yours are starting to show—let 'em! Secondly, there are layers all over this bob. But do you notice how her bangs and the sides of her hair blend in so well? That's because they are cut with some angles to them. Kind of like a shag.
Wavy bob with bangs and middle part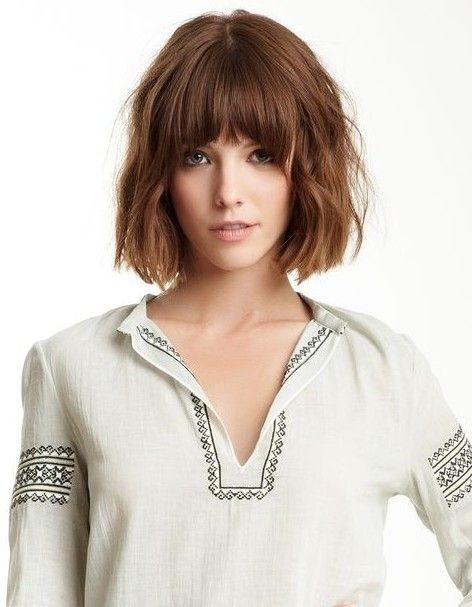 This bob comes with very little drama. The model's natural wave pattern is left "as is" and there's a part towards the crown of her head. It's a way to draw more attention to her bangs, believe it or not.
Jet black bone straight lob with short blunt bangs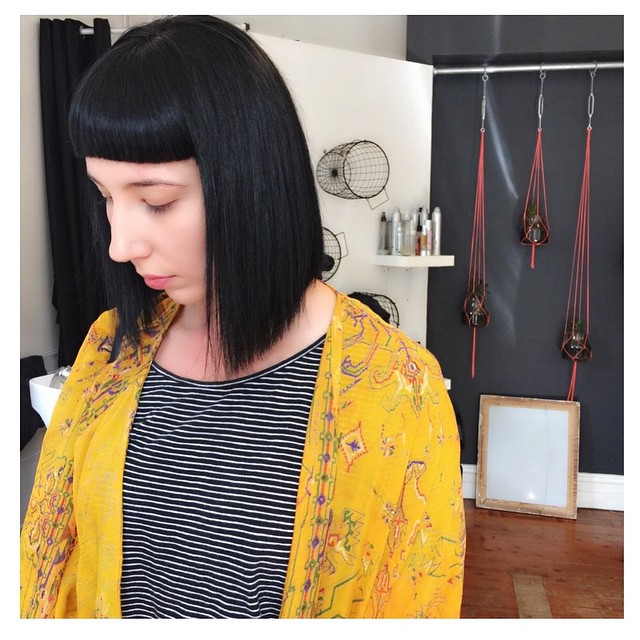 Although this lob would look cool in pretty much any color, if we had our preference, it would be the jet black that you see here. Being that her hair is sooooo straight, it looks a bit Asian-inspired. Even more so thanks to the short blunt bangs.
"Bed head" bob with long layers and long bangs for thin hair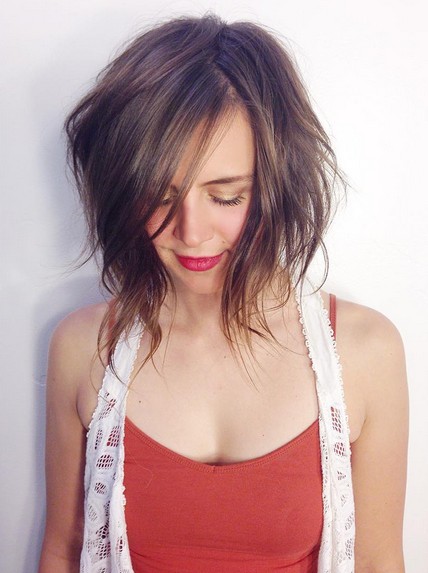 You don't have to be afraid of having messy hair (AKA "bed head") if your hair is naturally thin. The key is to get some layers cut into the bottom parts of your hair along with your bangs. If you do, you should end up with results that are similar to this.
Dark blonde wavy bob with full blunt bangs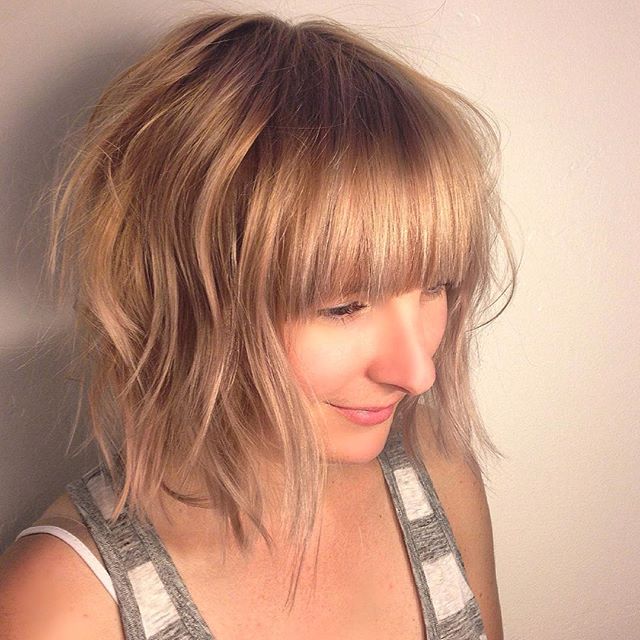 Here's another blonde color that you might want to consider trying. Dark blonde is the kind of hue that looks pretty hot on every skin tone. Don't forget to get some bangs added and run your fingers through it once your stylist is done. In fact, run your fingers through it every day!
Green straight A-line bob with blunt bangs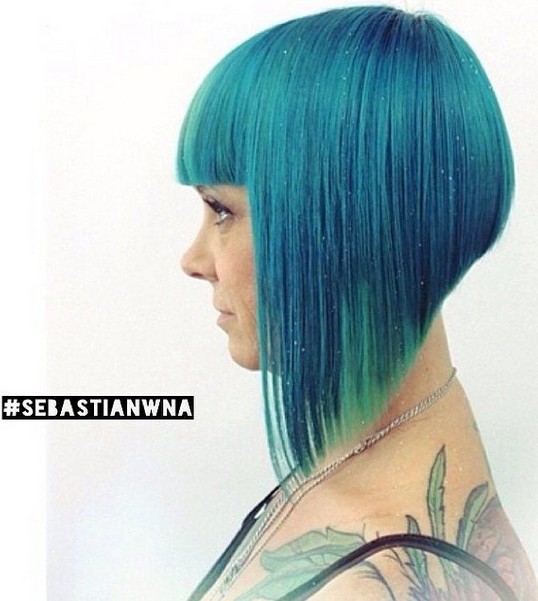 This is the kind of look that if you didn't want to take the risk and color your own hair this shade, you could add a weave or even put on a wig. Just make sure that you get some blunt bangs added. It's one of the best parts about it!
60s bob with blunt bangs and chocolate coloring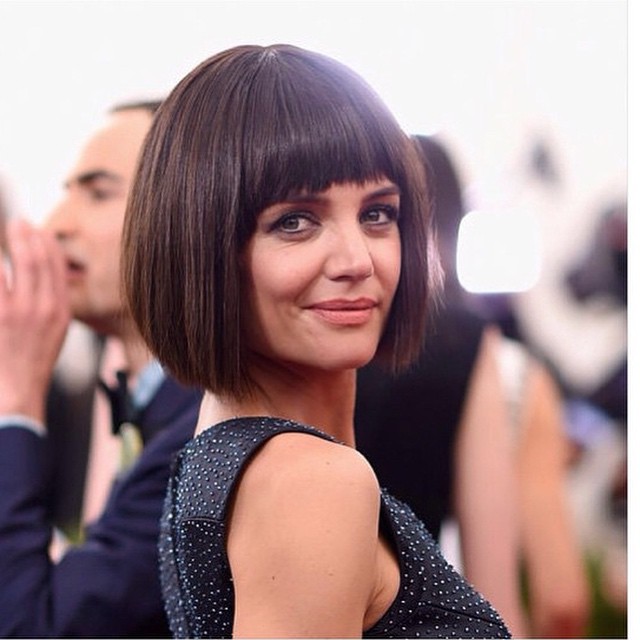 Short bob hairstyle with bangs for women over 50: She looks like she walked straight out of the 60s, right? That's the thing about timeless hair cuts like this short bob with blunt bangs. They never ever really go out of style. No, not ever!
Do you love these cute bob hairstyles with bangs? Find more latest hairstyles on stylesweekly.com!