If you fancy a change with your hairstyle – and who doesn't like a change every now and then – then the easiest way to bring some bounce back into your barnet is a fabulous bob! We've gathered a collection of our favourite pretty bobs for mid-length hair to provide you with all the inspiration you need to go for the chop.
These bobs are ideal for mid-length hair, and still have plenty of length for you to play aroun d with as well as lots of body and texture to keep your hair looking fresh and versatile, day in and day out. The mid-length bob is a hairstyle which suits absolutely everyone, as you're about to see, so let us talk you through some of our favourite bob looks that'll have you reaching for the phone to book your next hair appointment immediately!
Sleek and Straight Platinum Bob with Flicked Fringe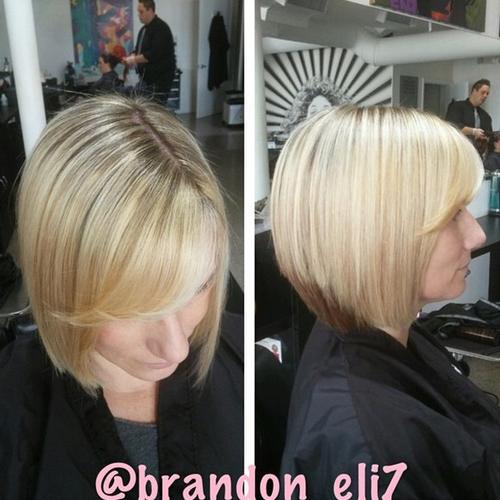 This beautiful platinum bob is simply stunning, don't you agree? With a straight and sleek finish that really shows off the beautiful blonde highlights around the centre of the parting, this bob is finished to perfection with a flicked fringe which adds bounce and body to this incredibly smooth cut.
Natural Chestnut Bob with Subtle Highlights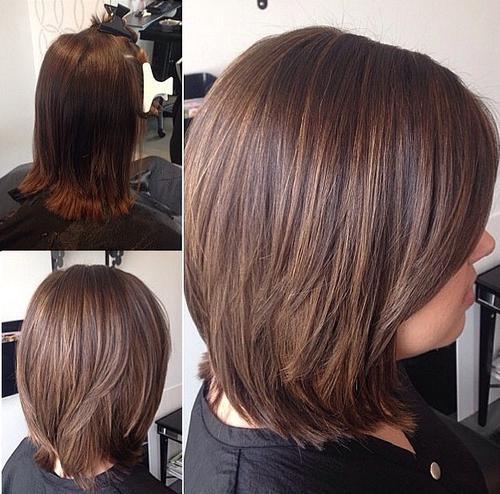 This gorgeous mid-length chestnut bob is the perfect compromise between long and short hair, offering plenty of length to play with whilst still embodying a trendy, bob style. The beautiful, natural highlights are incredibly subtle but really lift the colour of the hair creating a lovely finish.
Sleek and Staggered Bob with Natural Highlights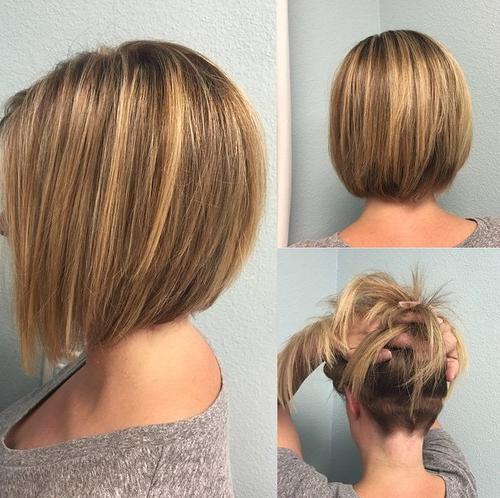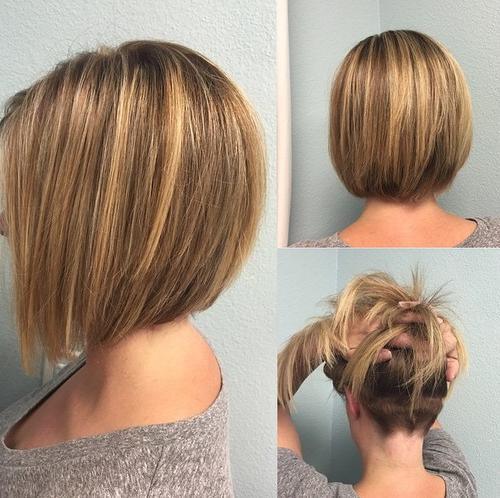 This beautiful staggered bob has a sharp and sleek curved line where the hair is shorter at the back than at the front. A style made famous by fashion icon Victoria Beckham, you just know you can't go wrong with this beautiful haircut! Team with lots of natural highlights, as pictured, for a gorgeous finish.
Bouncy Curled Under Bob with Chunky Highlights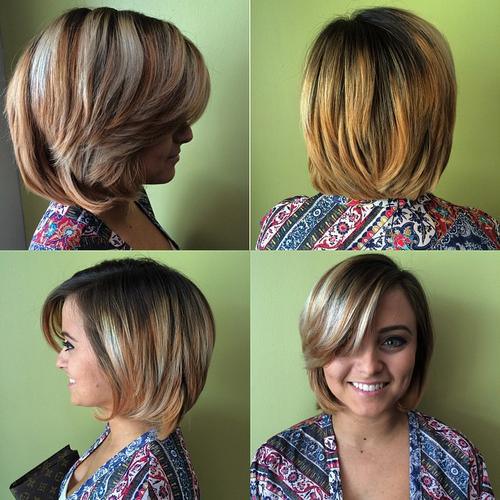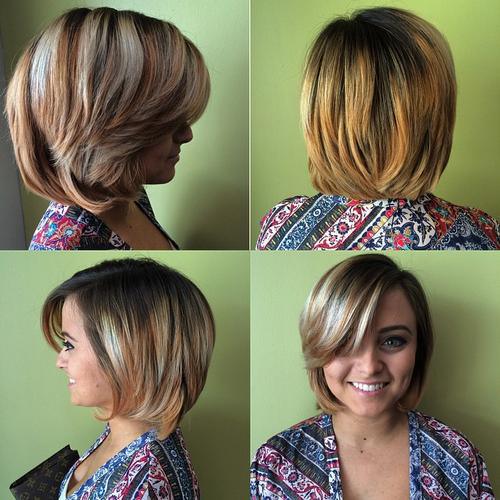 If bounce and volume is what you're looking for, then you've certainly found it with this fabulous curled under bob! This gorgeous bob has a long and sweeping fringe with the ends curled under to add a welcome dash of oomf! The chunky white blonde and auburn highlights create a striking finish.
Smooth and Sleek Bouncy Bob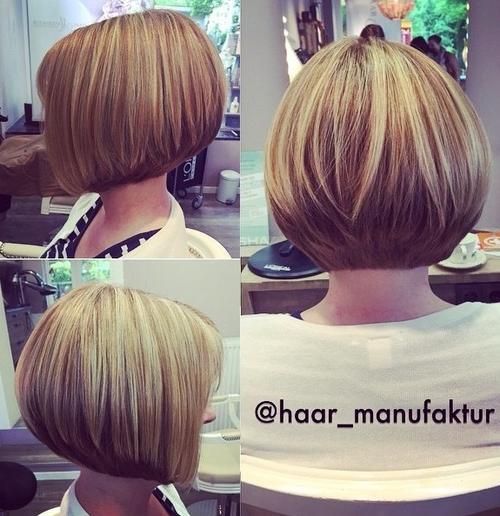 This fabulous smooth and sleek bob resembles the famous hair of Vogue fashionista Anna Wintour – so you know it's a timeless classic! With a beautiful finish and lots of volume, it's difficult to ever go wrong with this simply classic cut.
Sweeping Bob with Purple Highlights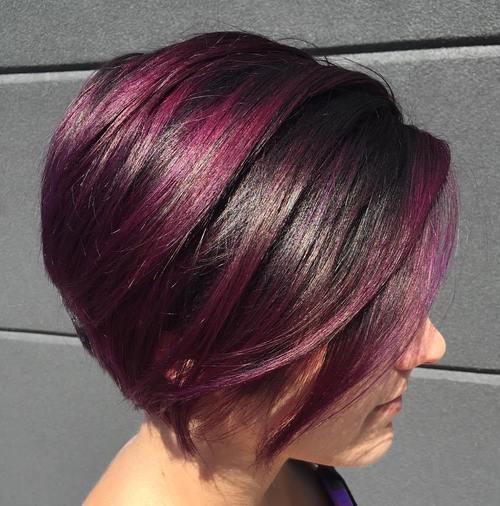 This fabulous sweeping bob simply oozes personality with striking and vibrant purple stripes! The stunning sweeping style adds a bouncy and glossy finish, making your hair look soft, healthy and glamorous all at the very same time! This cut is super slick and the side fringe will perfectly frame your face.
Texturized Messy Bob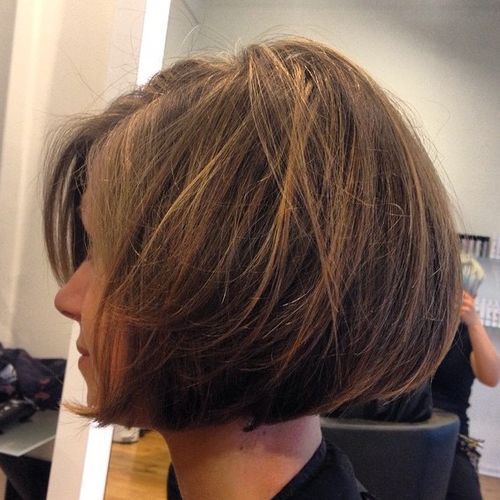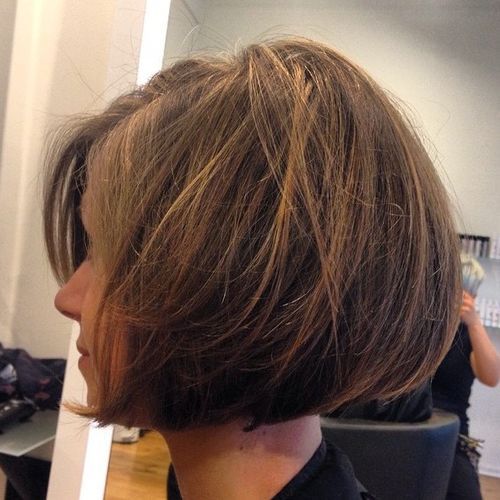 This texturized messy bob is so on trend you'll be the envy of everyone you meet if you choose to rock it! It looks incredibly edgy but still fashionable at the same time – and it really shows off the gorgeous layers that have been cut in to perfection. A bit of back-combing and this cut is full of life, taking you from behind your desk to the dance floor without so much as a hair out of place!
Beachy Blonde Bob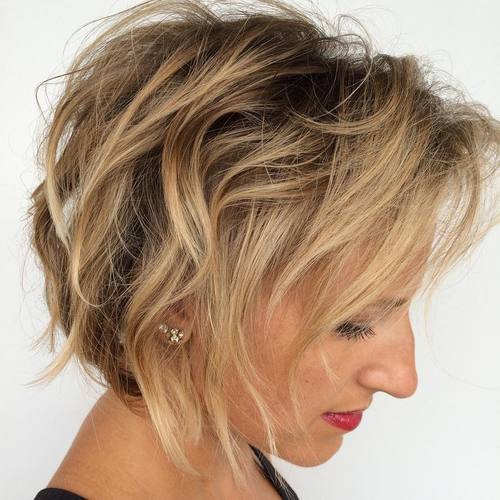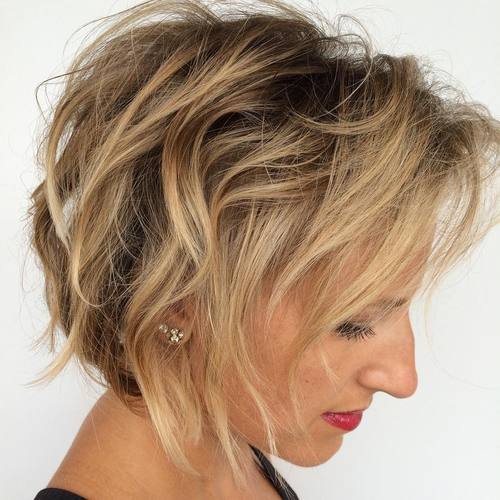 This stunning beachy blonde bob is perfect for those dressed down days where you want something low-maintenance but high-impact out of your hair do. Simply throw in a few loosely tousled curls for an impeccable beach look that works well for day or night. This cut is particularly fabulous with blonde locks!
Tousled Mid Length Bob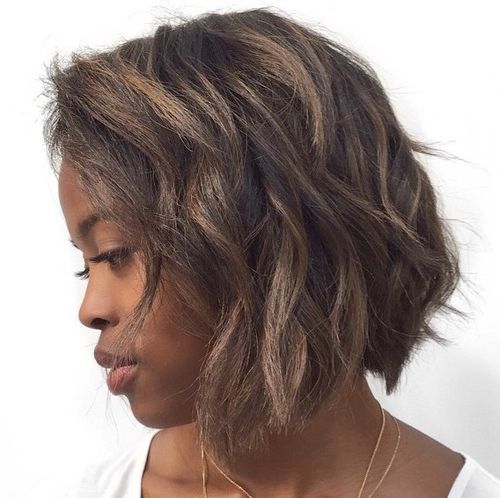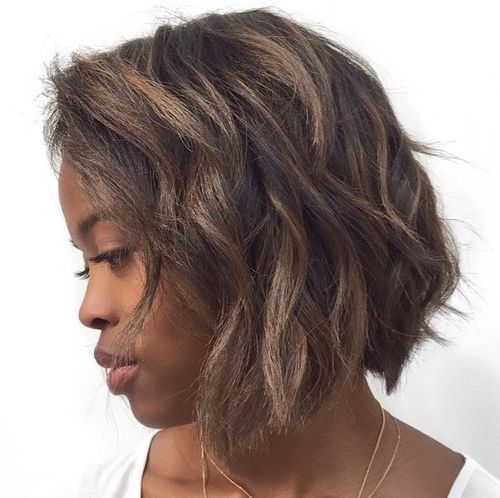 This mid-length bob is cut to perfection, showcasing a range of gorgeous layers that compliment this beautiful tousled look so perfectly! Simply curl your hair loosely, rough it up and let your fantastic cut do the rest of the talking. We love the subtle chocolate brown highlights that lighten this cut up no end.
Vibrant Copper Bob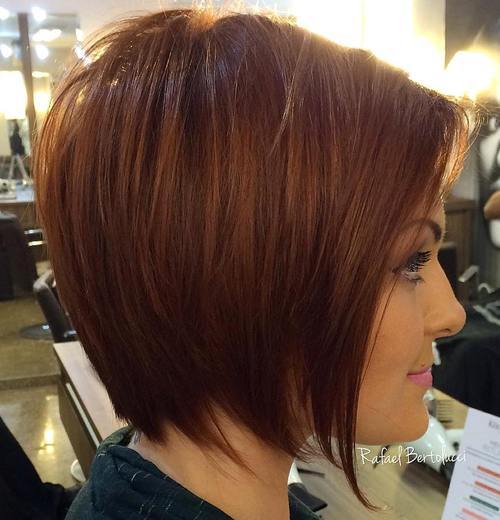 This stunning and vibrant copper bob is sleek, shiny and healthy – ensuring to attract attention wherever you go! Finished with slightly longer pieces of hair to frame the face nicely and a gorgeous crop at the back, this hair is low-maintenance but incredibly effective – always guaranteeing you look the part for every occasion.
Loosely Curled Angled Bob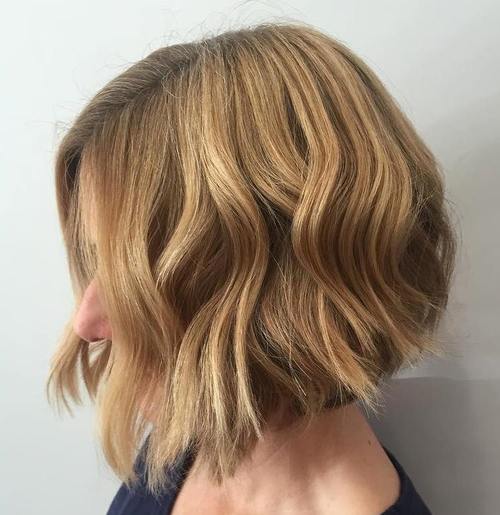 This gorgeous cut showcases the classic bob look – longer at the front and shorter at the back. Finished with a gorgeous loose curl, this blonde bob is perfect for a relaxed day to day look with lots of bounce and character. Simply curl loosely and brush the curls out for this relaxed and tousled appearance.
Sleek Bob with Striking Highlights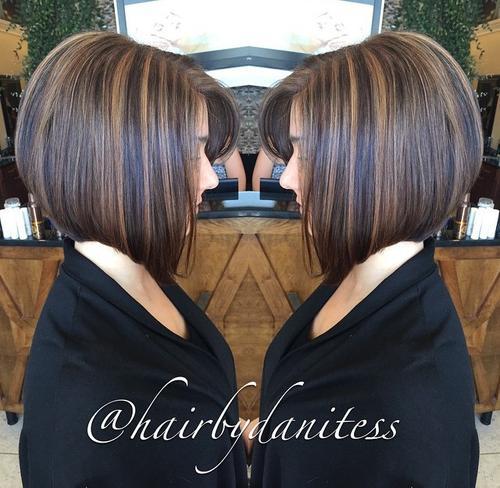 This fabulous bob is designed to ensure that all eyes are on you with this stunning juxtaposition of rich, chocolate brown and light brown highlights! The alternating stripes work to accentuate the beautiful smooth cut that frames the face just perfectly and is cropped in style at the back of the head. Finished with a slightly shorter fringe section to frame the face, this cut is perfect for the wow factor!
Softly Curled Bob with Flashes of Blonde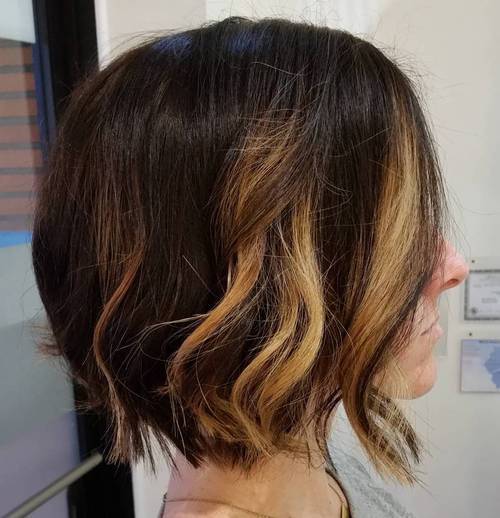 Can't decide between blonde or brown? This gorgeous bob is the perfect cut for you! In a fabulous mid-length, this lovely and sleek chocolate brown bob is finished perfectly with a halo of bright blonde flashes falling around the face to add a unique splash of colour. Finished with a soft curl on the ends, this look is truly gorgeous.
Two-tone Brown Mid Length Bob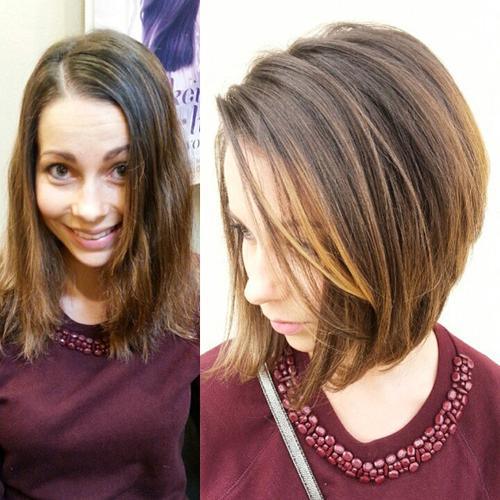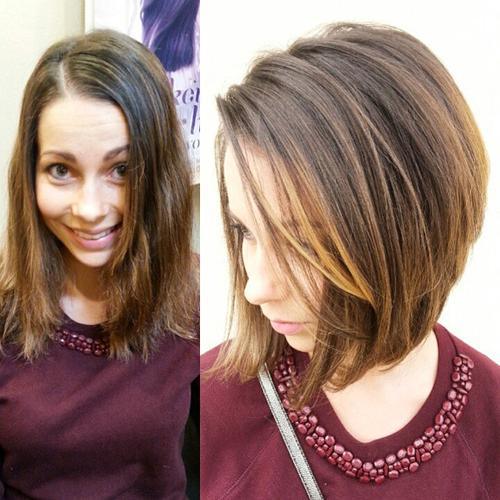 This stunning two-tone brown bob has a really beautiful finish with gorgeous highlights of light brown flashing through the ends of each layer. This adds to the lovely and sleek effect this bob has, with the slight curl under framing the face creating an extremely flattering finish which will make you look just wonderful!
Choppy Blonde Bob with Straight Fringe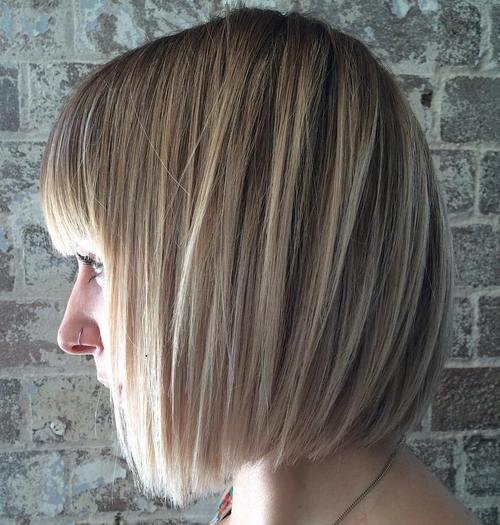 This beautiful, choppy blonde bob is finished with a choppy edge all around the bottom creating a sleek and sharp look that will look equally great when straight or curled! Finished with a gorgeous straight fringe, this mid-length bob will make you look and feel fantastic. It's versatile, easy to maintain and looks great every time.
Platinum Blonde Bouncy Bob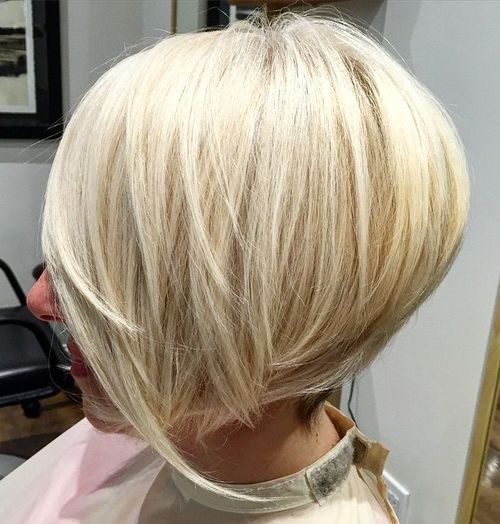 This absolutely stunning platinum blonde bouncy bob oozes class and sophistication – and will make you look and feel like a million dollars! Clopped closely and quite short at the back and sweeping into beautiful longer strands that curve beautifully around your jaw line, this impeccable cut will dry in minutes but look simply sublime every time.
Cute Curled Mid Length Bob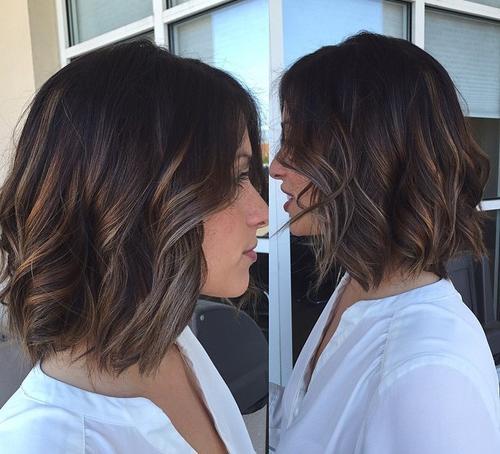 This stunning curled bob is the perfect happy medium between short and long hair. Sitting perfectly above the shoulders and offering a glamorous finish with big barrel curls, this cut perfectly shows off the subtle highlights which run through the body of the hair and lift the colour to a gorgeous light brown tone.
Blonde Tousled Crop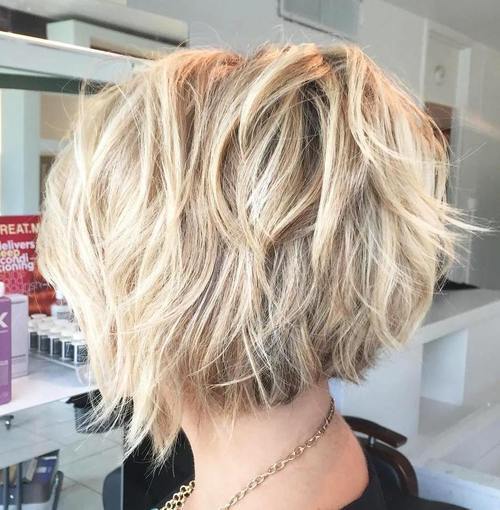 This incredible blonde tousled crop is the ideal cut for those who like their hairstyles to be incredibly striking, whilst remaining as low maintenance as possible. Cropped just below the ears with fabulous choppy layers right the way through to add body and texture, this blonde bob is finished with a loose tousle to create the perfect beach vibe.
Bleached Asymmetrical Bob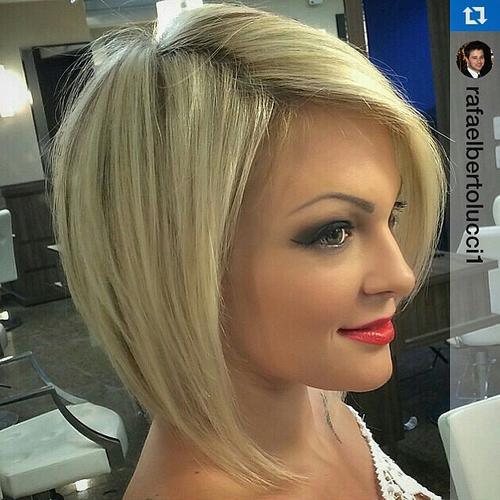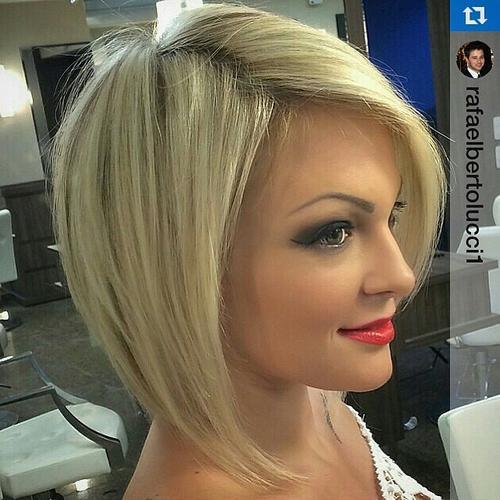 This gorgeous bleached asymmetrical bob is so on trend you'll look like you've come straight from the catwalk! Finishing slightly longer on one side to fall around the face, and shorter on the other to create a fabulous, fashion-forward look, this beautiful platinum bob is sleek, shiny and oh so unique – and who wouldn't want that?
Blonde Bob with Long Layers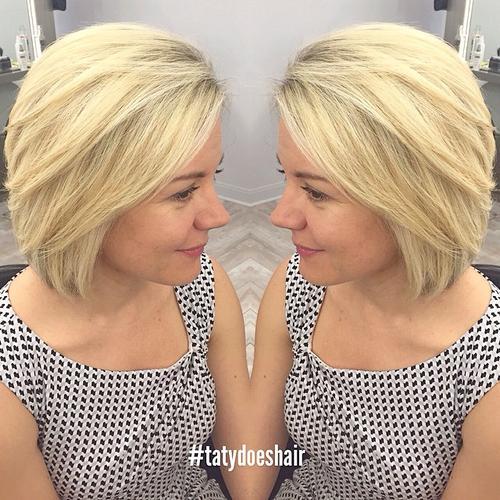 This stunning blonde bob with long layers is a cropped cut that finishes slightly above shoulder length. In a gorgeous blonde colour with very subtle darker blonde swatches seen throughout, the lovely long layers of this bob create a striking sweeping effect, which looks effortlessly gorgeous as your hair falls naturally. This look is perfect either straight or curled!
White Blonde Bob with Flicked Ends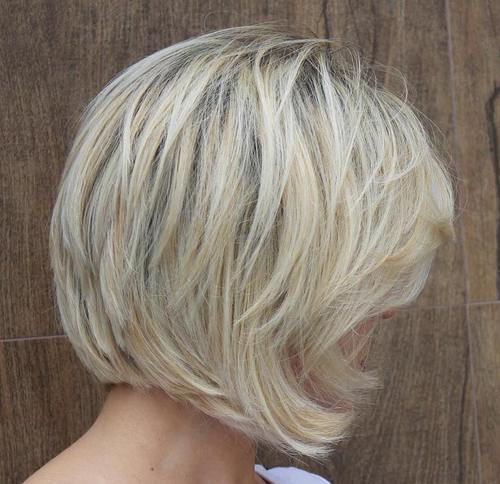 If you're looking for a style that is cute and carefree, then this gorgeous white blonde bob with flicked ends will absolutely suit all of your needs! Finished in a stunning bleached blonde, this gorgeous cut is cropped closely to your neck at the back and finished with fabulous long strands that flick around the face, creating a relaxed and beautiful look.
Curled Bob with Straight Cut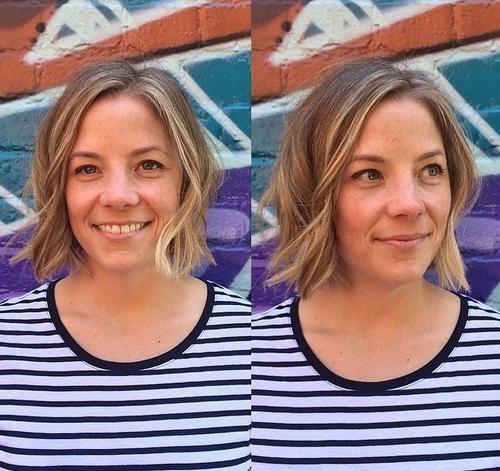 Simple but oh so effective, this curled bob with a straight cut is absolutely fabulous for a low-maintenance girl. The bob is finished with a straight cut, which means that the cut is one length from the front to the back – just perfect for those who like a style which is easy. As you can see, it looks gorgeous with soft curls around the face, but it looks equally special straight too!
This stunning collection of bobs for mid-length hair is simply gorgeous, we're sure you're agree. Are you looking for more hair inspiration? Be sure to browse our blog and find the perfect haircut for you!