Some people would argue that in order to create a gorgeous nail design look, you have to have lovely long nails as the foundation. Here at Styles Weekly, it's our mission to debunk that myth and prove that short nails can be the best nails to work with for beautiful nail designs. Here's our gallery of stunning nail ideas for short nails.
White and Pink Nail Designs

We're starting our gallery with a gorgeous, flirty and feminine nail design style which we cannot get enough of. Take your favourite crisp white shade and a beautiful pastel pink. Using the white, paint all of your finger nails bar the index finger nail. Paint this nail a pale pink. Using a nail art pen, subtly draw a tiny heart on your index finger in white paint for the ultimate finishing touch.
Peach Perfection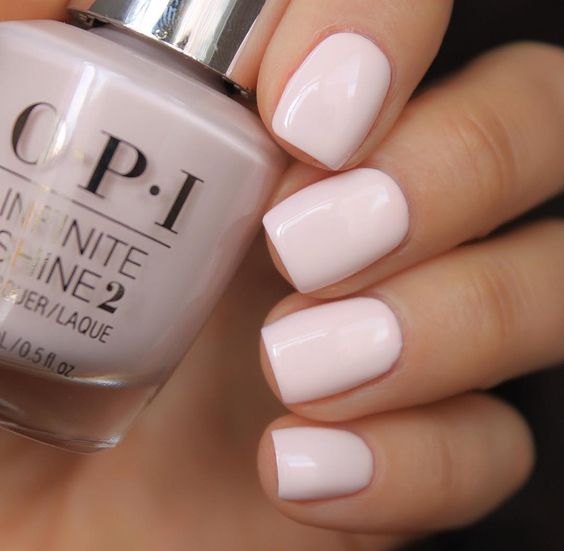 Sometimes opting for one consistent colour with flawless application can be the best choice for short nails. This lovely lady has opted for the prettiest peach shade we ever did see, and applied it seamlessly across all nails ensuring an even coat. Finished with a top coat for added shine, we adore this end result.
Peach and Black Combination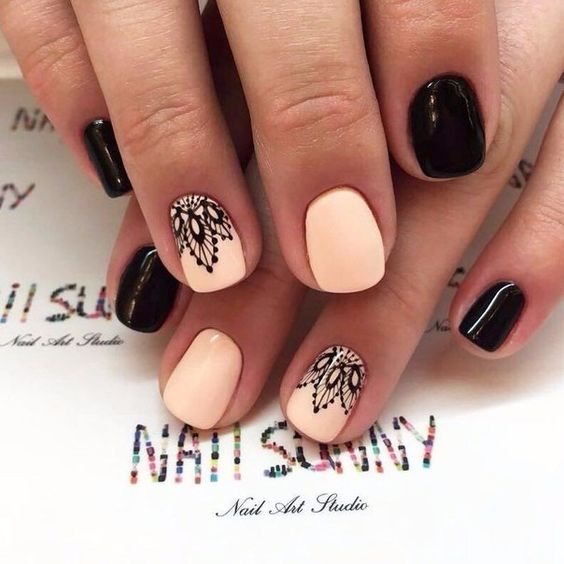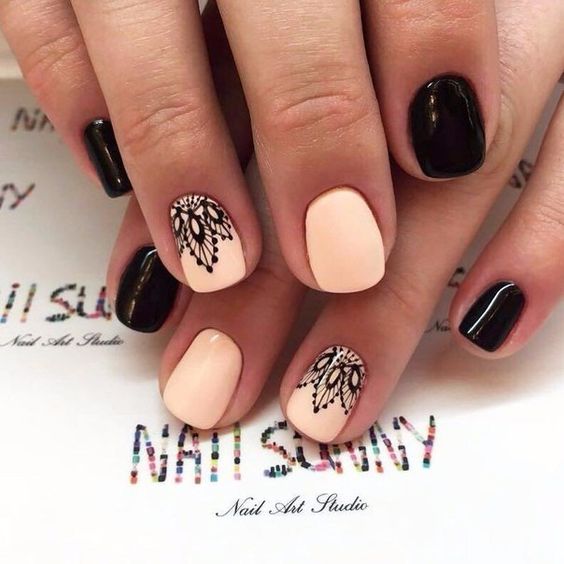 Choose a glossy black nail polish from your collection and a contrasting pastel peach tone. Use the black shade to paint your little finger nail, index finger nail and thumb nail. Paint the middle two fingers in the alternative peach colour. Using a nail art pen, draw a pretty pattern in black on your index finger for the ultimate accent finger.
Nude, White and Gold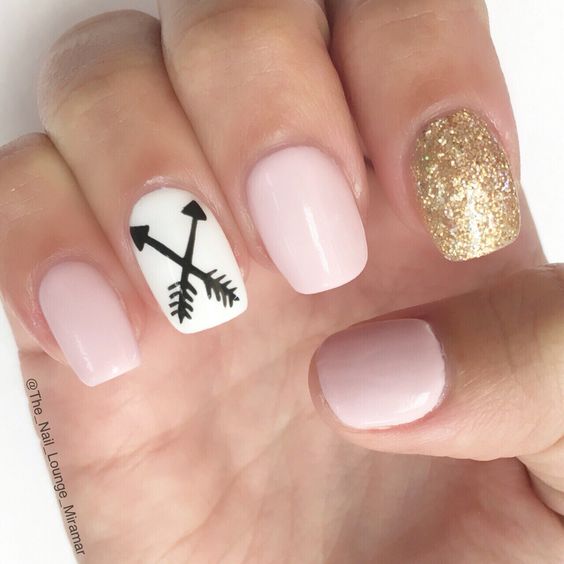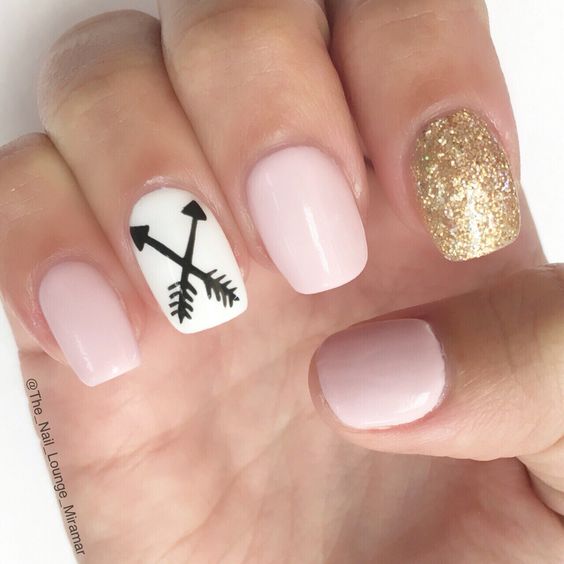 This incredible nail art consists of some of our favourite nail colours! This lady has used a pale pink shade to paint her thumb nails, little finger nails and middle finger nails, a white shade for the index finger nails and a gorgeous gold glitter for the ring finger nails. She's finished off the look by drawing adorable black arrows on the index fingers.
Pink and Brown Glitter Glam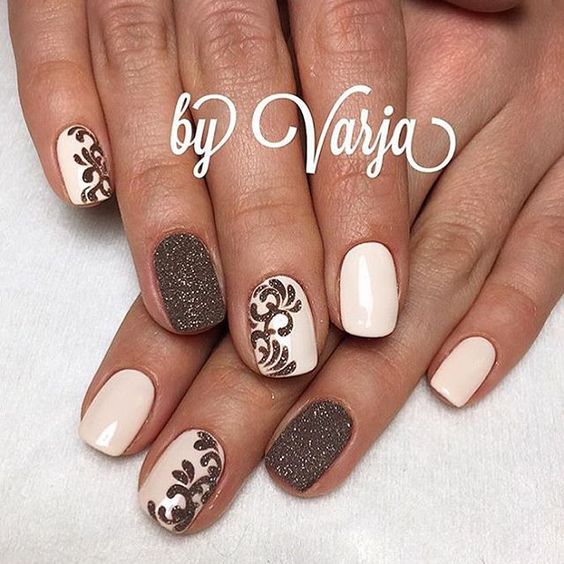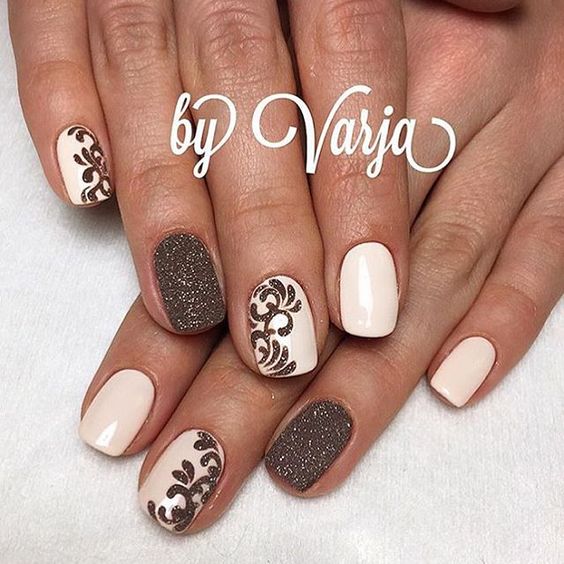 This gorgeous and glamorous nail art design has well and truly stolen our hearts. Take your ultimate nude shade, preferably in a pale pink, and paint all finger nails except your index fingers, which should be painted in a gorgeous glittery brown. Using a nail art stamp, stamp a pretty pattern on your middle and little fingers in the brown glitter to contrast the pink.
Classic French Manicure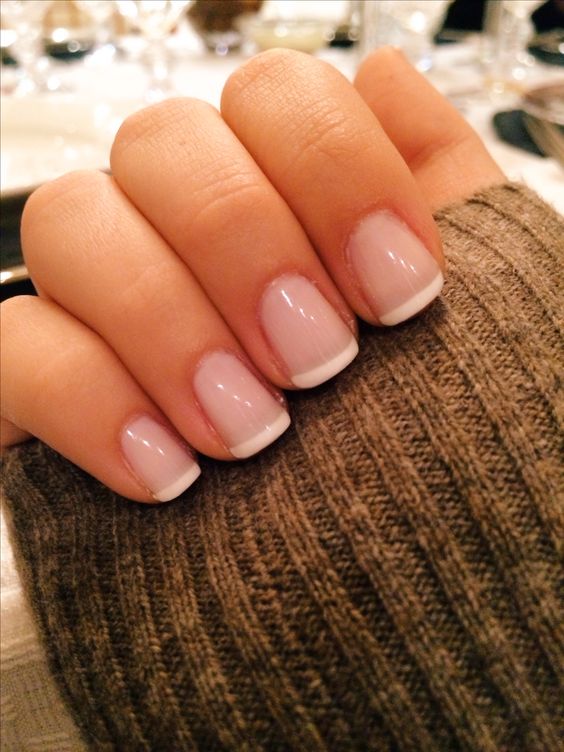 A classic French manicure looks equally impressive on short nails as it does long nails! This clean and crisp look is achieved by painting your finger nails a baby pink, and then taking a bright white shade and painting the tips to create a contrast. Finish with a top coat for a wonderful glossy finish.
Pink and Black Patterns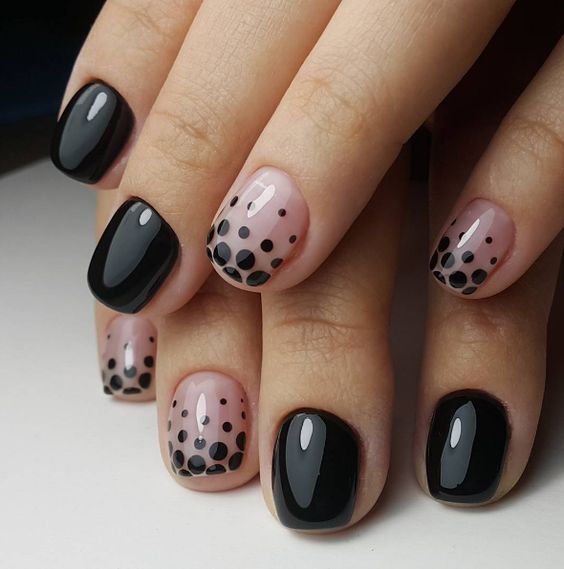 This incredible nail art design is achieved by using simply two nail colours – pink and black! With the black shade, paint your thumb, index and middle finger nails in a consistent coat. Using the pink, paint your little finger and index finger nails. Use a nail art pen to create gorgeous black polka dots on the pink to create the cutest pattern.
Pink, Black and Gold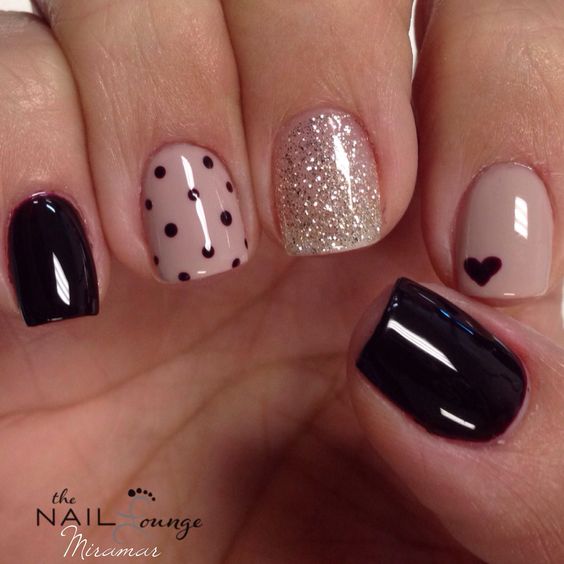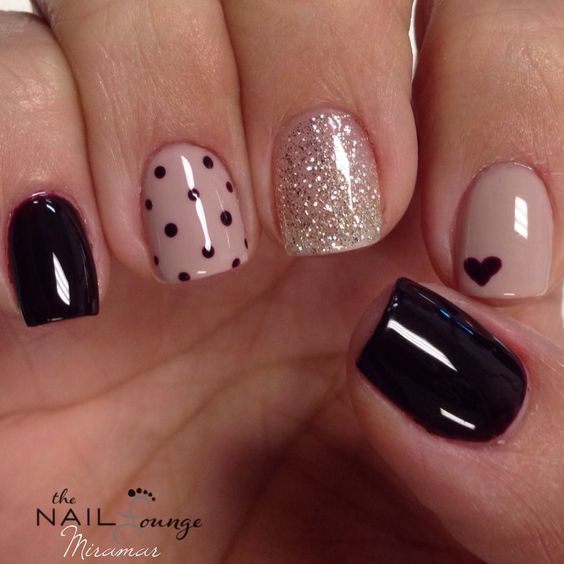 We absolutely adore this pink, black and gold colour combination for gorgeous nail art! Using the black polish, paint your thumb and little finger nails. With the ring finger and index finger nails, paint these a pretty pale pink. Take your gold glitter and paint the middle finger nail. A nail art pen and some pretty patterns on the pink nails will finish the style off perfectly.
Pink and Purple Floral Nail Art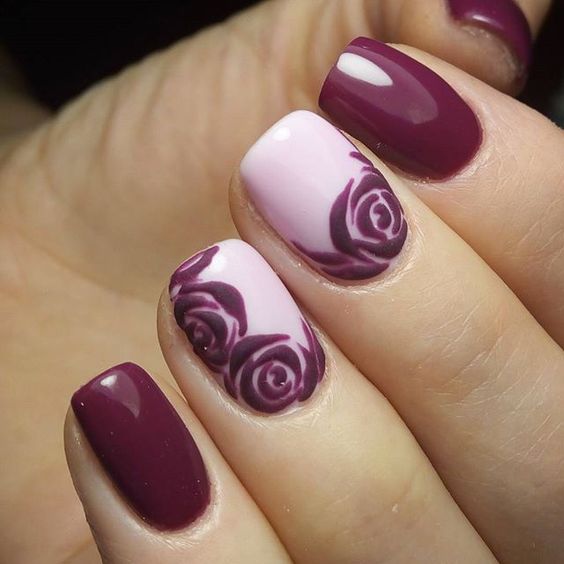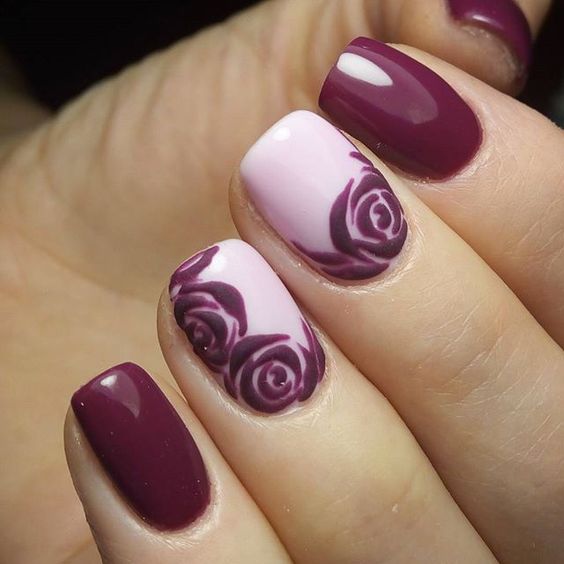 Another look which is so simple to recreate, but incredibly gorgeous! Choose your favourite purple and pink nail polishes, and with the dark purple, paint your little finger nail, thumb nail and ring finger nail. Paint the remaining two nails in the pale pink, and finish them off with purple patterns with the help of a nail art pen!
Navy Nails with Silver Glitter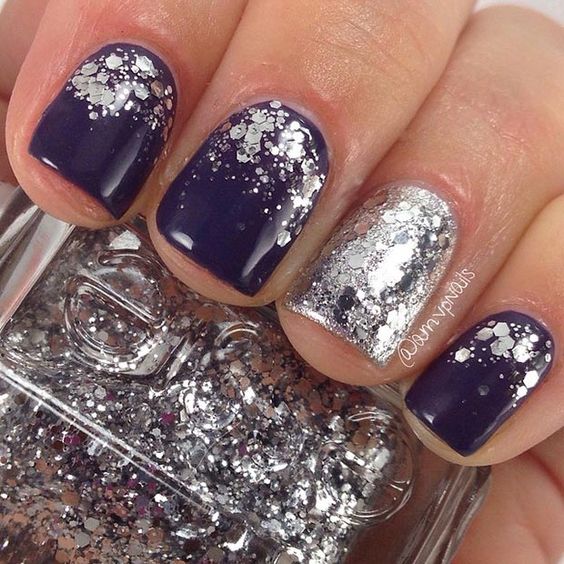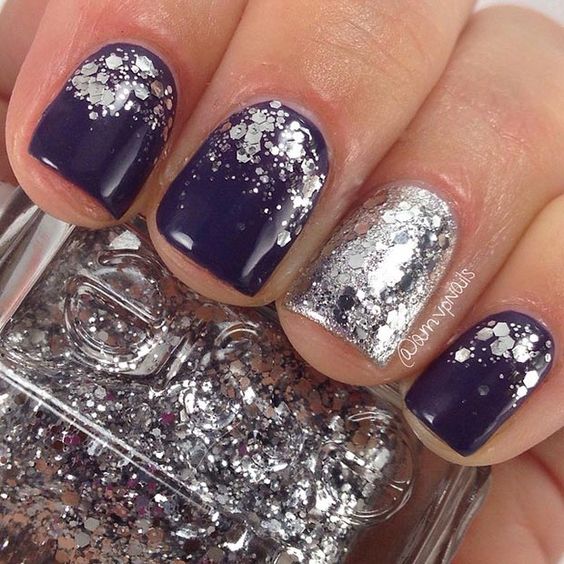 This amazing nail art style creates the most gorgeous look with just two different nail polishes! A dark navy blue and opaque silver glitter combine to create this flawless finish. Paint all of your nails navy bar your index finger nail, which is painted in the silver glitter. Finish the look off by dabbing silver glitter on the navy nails for a fantastic finish.
Pretty Pinks with Silver Glitter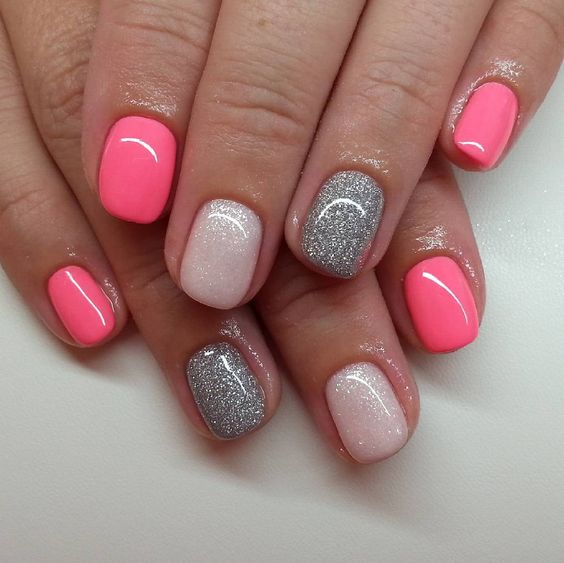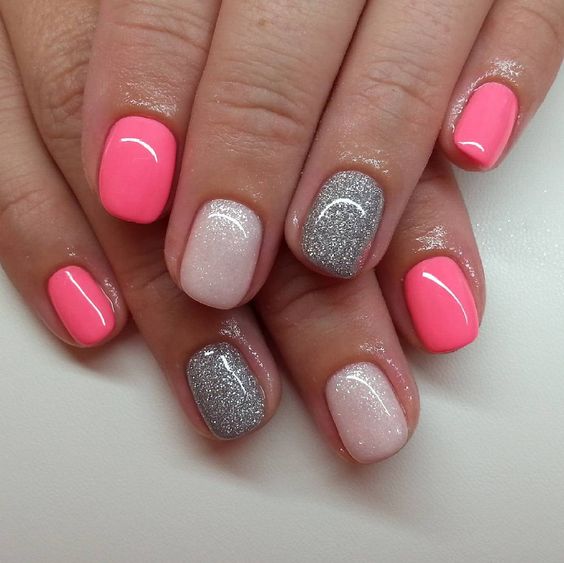 Another gorgeous nail art style for short nail which utilises only three different colours! This lovely lady has gone for a bright pink, a glittery pale pink and a gorgeous silver glitter. Using the bright pink, she's painted her thumb, little finger and index finger. The middle finger is the pale pink glitter and the silver is the ring finger – we adore the end result!
These are some of our favourite nail designs for short nails, and we think they simply steal the show and will provide the perfect finishing touch to any outfit you choose to wear. Let us know which nail art ideas you'd like us to showcase for you next!