More and more women began to do nails on themselves and you can find so many nail design pictures from some DIY tutorials. However, when you follow them and decide to have a try. You may find it difficult to paint all those stunning patterns on the limited space of your nails. That's because some of nail designs are made for long nails.
So, if your nails are short, just like me, don't worry that you can't have beautiful nails.  In today's post, we have found 20 amazing nail designs for short nails. All of them are simple and stylish, which will make your short nails adorable and fashionable without any effort. Now, scroll down and check out these 20 amazing nail designs. Enjoy!
Shimmering Black Nail Design for Short Nails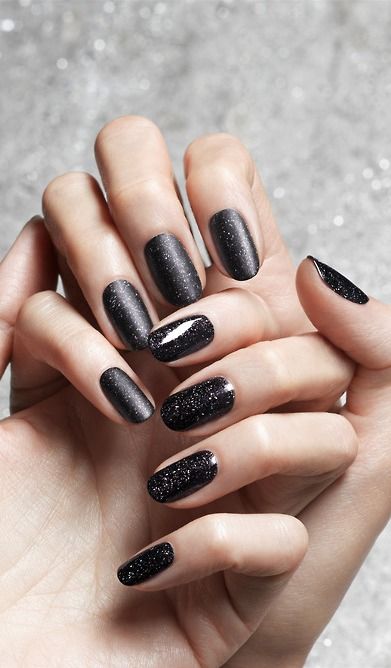 This shimmering black nail design is very faddish with such a simple design. Women at any age are suitable for this fashionable nail design.
Fabulous Short Nail Design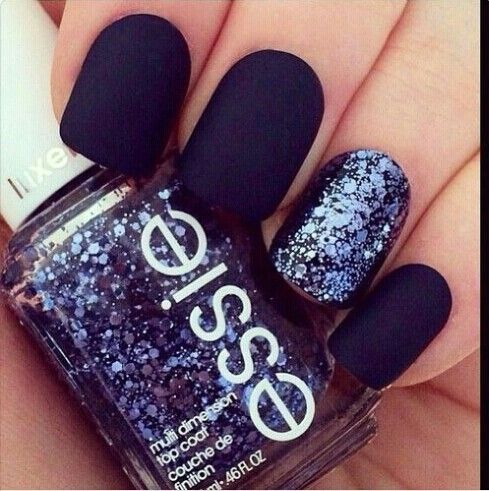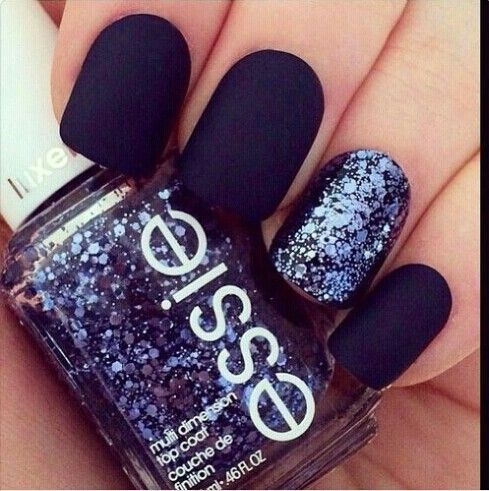 The matte nails look quite noble while the glitters make the whole design more fashionable with some flaring vibes. It's quite suitable for women of marked individuality. Plus, it's quite sexy in a careless way.
Edgy Nail Art for Short Nails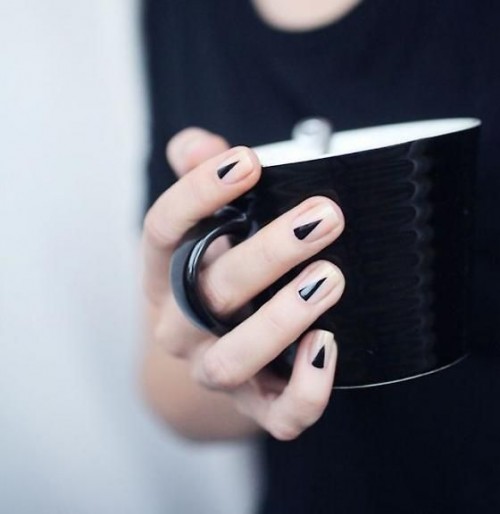 Perhaps, the most characteristic and easiest nails look the best on short nails. As is shown in this picture, this simple design looks quite edgy chic just with a black taper on each nail. Don't you think it's quite easy yet very chic?
Stunning Leopard Printed Nail Design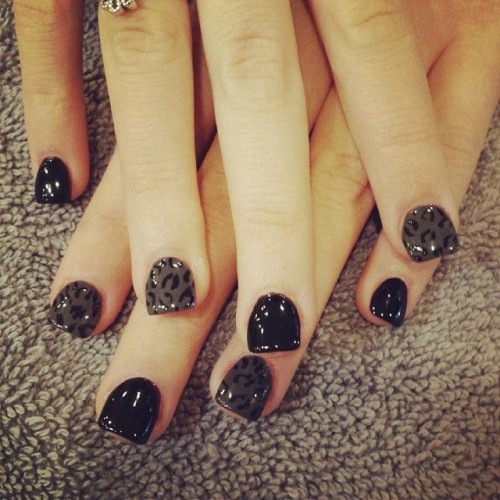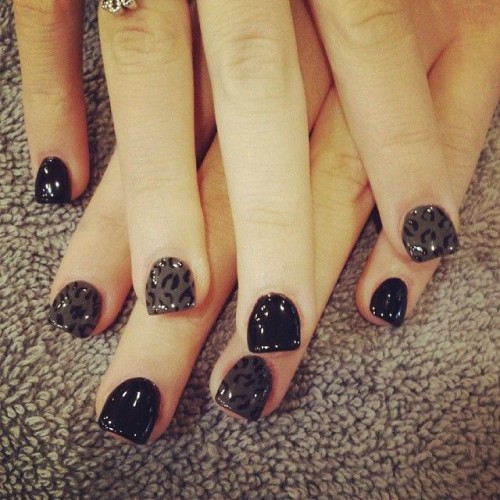 You don't have to be scantily clad for a sexy look. Sometimes, a simple detail is enough to show your sexy attitude. For example, this black and grey leopard printed nail design will add a lot of feminine attraction to your overall look.
Interesting Short Nail Designs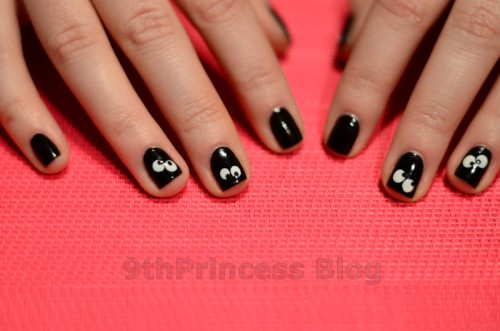 Black nails are not just for cool and sexy girls. They can be cute, too. Just a few steps, you can have this intereting nail design.
Grey Nail Art for Short Nails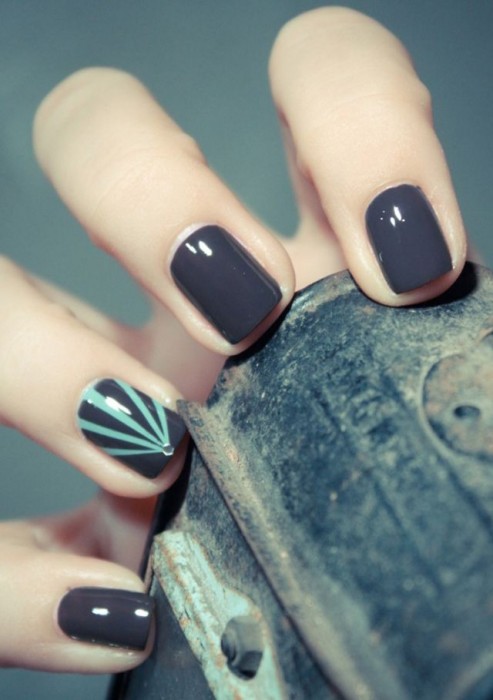 How to match the colors is somewhat sciential. Your nails will look effortless fabulous with the right combinaiton of colors, even though the pattern may be simple.
Burgundy Short Nail Design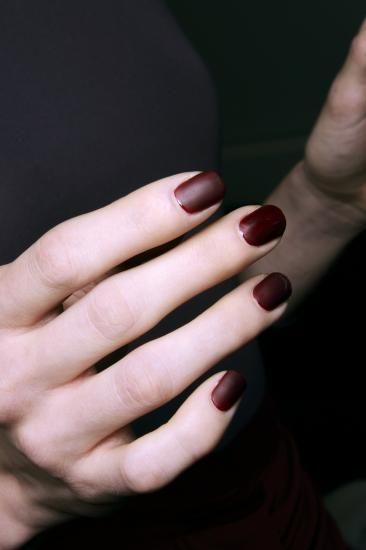 Ombre nails are always gorgeous. This dark burgundy to black ombre nail design looks quite stylish and mysterious. Besides, it will lighten up the skin tone of your hands and make them more attractive.
Chic French Nail Manicure for Short Nails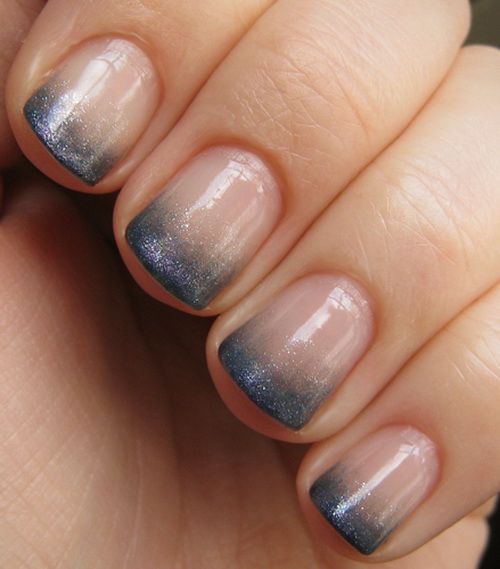 The transparent nail design gives a healthy look to your nails and the dark blue glitter make it quite modern and fashionable. So, this is quite an appropriate nail design for every woman and every occasion.
Glitter Ombre Nail Design for Short Hair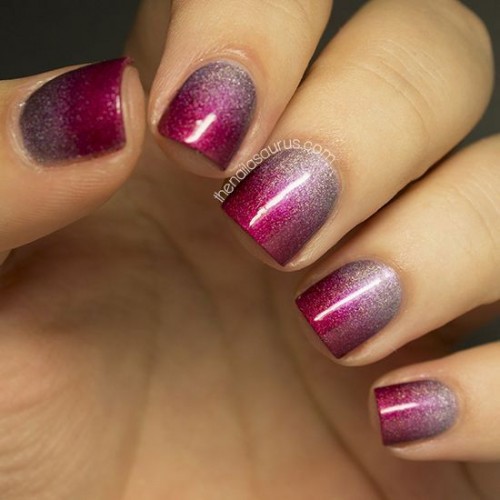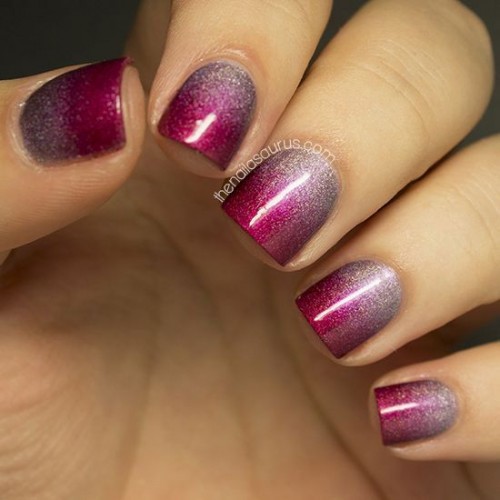 Fuchsia is an ebullient for women. You can try this glitter ombre nail design for those joyful days or whenever you want to feel happier.
Coffee Nail Design with Glitters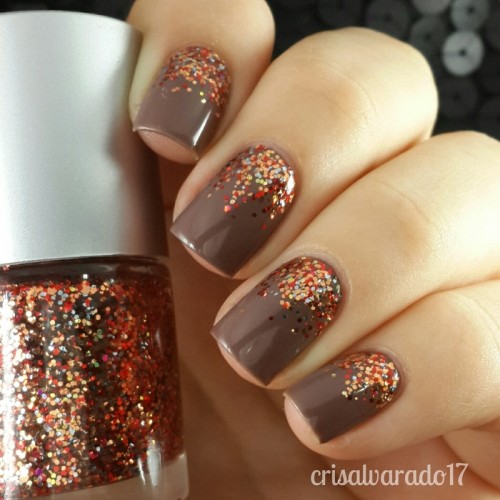 Mature women can try this coffee nail design. It's quite stylish very the brownish glitters. In addition, this is a very simple idea to try and you can replace the coffee nail polish with nail polish in any other colors you like.
Lovely Pink Nail Design for Short Nails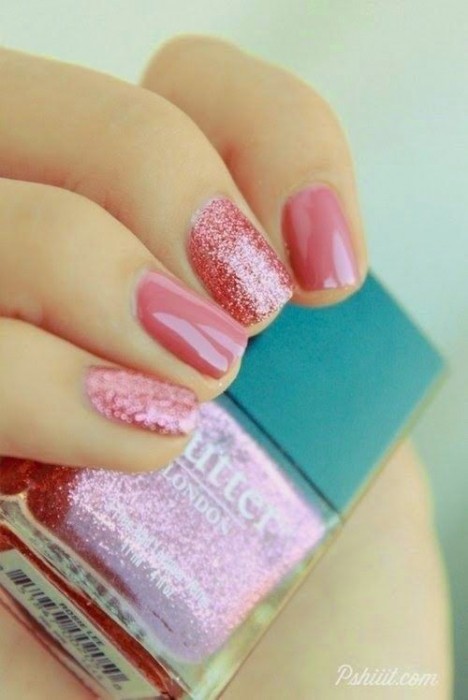 Young women can go for a lovely nail look with this beautiful pink nail design. It doesn't require any skill and your nails can look so pretty even if you are merely a beginner.
Beautiful Pink Shimmer Nail Art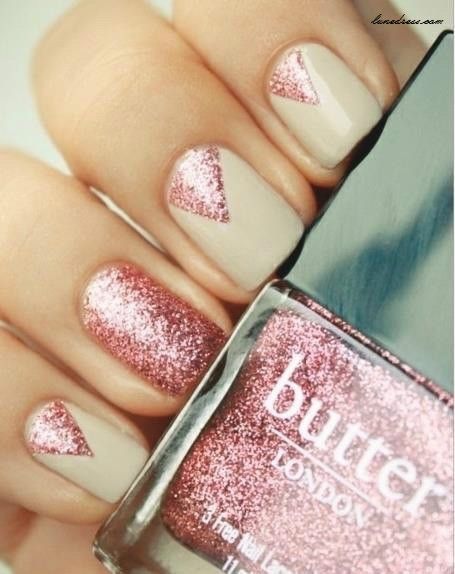 Here is another way to rock the shimmering pink nails. It's quite sweet with the fashion attitude. Practice it if you like this idfea.
Cats and Dots Nail Design for Short Nails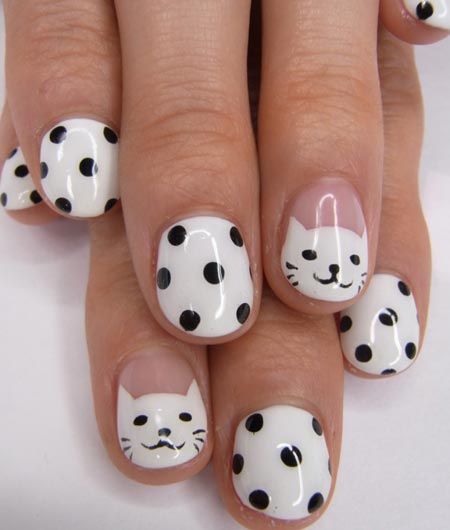 These cats and dots are so cute and they are not difficult for a DIY nail lover. It's a very stunning nail design for holidays and some casual occasions.
Cute Nail Design for Short Nails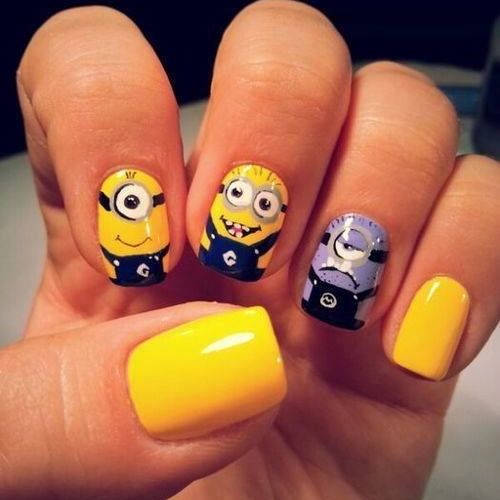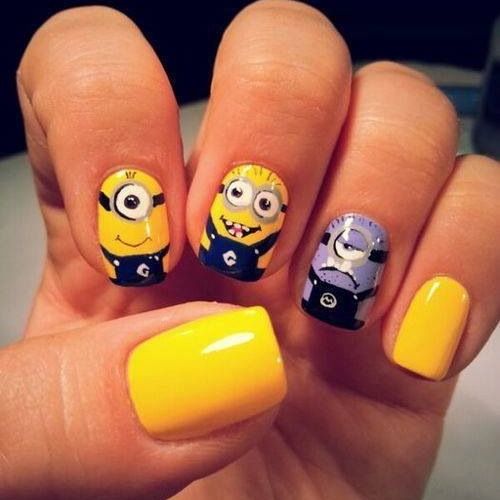 Although it's hard for me to figure out why so many people think the Minions are cute, I still show this picture to you. If you like them, just try to paint them on your nails so that you can see them every day.
Simple Yet Stylish Nail Design for Short Nail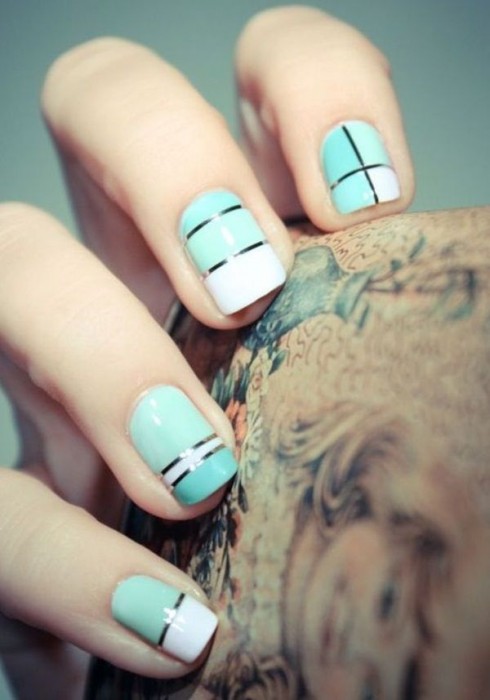 Simple patterns and pretty colors are what make this nail design wonderful for all occasions in our everyday life.
Pretty Short Nail Design with Hearts
The navy blue background is elegant while the while casual hearts make this nail look more youthful and full of life. Therefore, both mature and younger women are welcome to try this pretty short nail design.
Chic Short Nail Design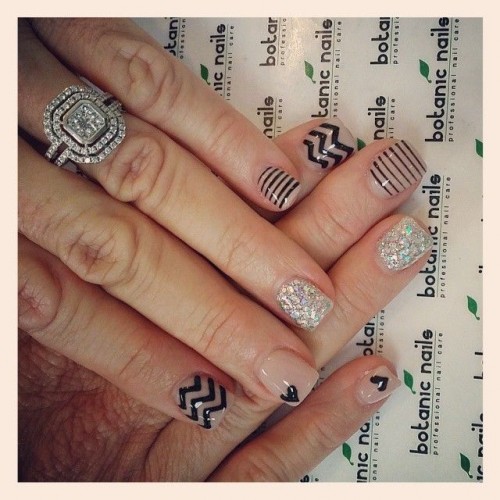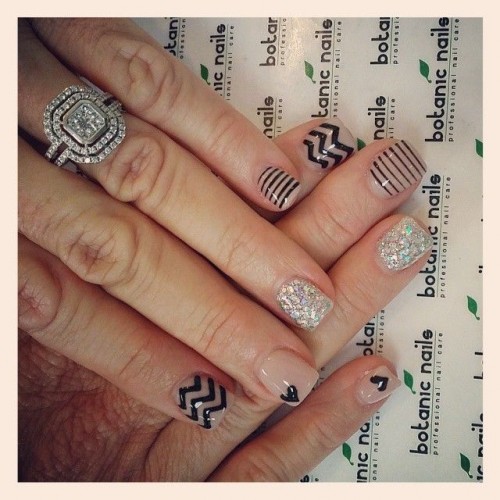 Glitters, stripes, hearts and waves. Your short nails will look rather chic and fun with the stylish designs on each nail.
Stylish Purple Nail Design for Short Nails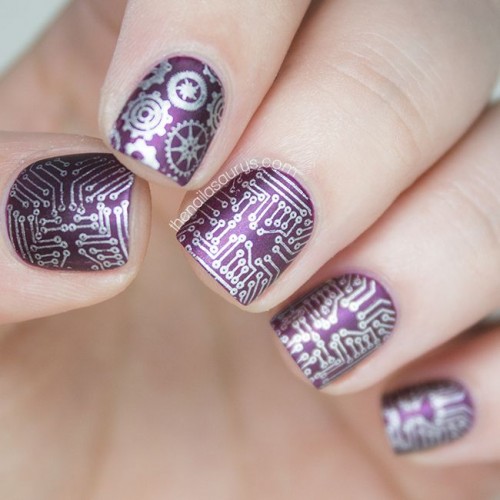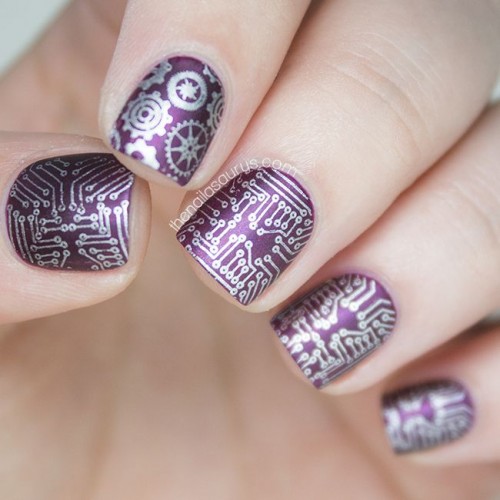 This is a complicate design for a beginner or women who are not so skilled. However, this design looks indeed stylish on short nails. So, if you do love this idea, you may try it or just go to the salon for help.
Pastel Nail Design for Short Nails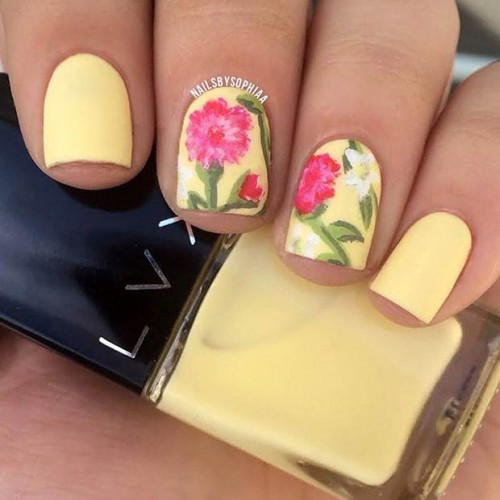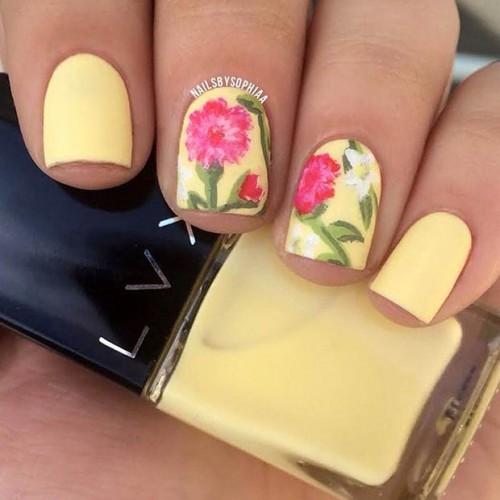 The pastel yellow nails are very pretty and soft. In additon, those blooming flowers make this nail design more engaging. If you like pastel nails, just try it.
Chic Splatter Nail Design for Short Nails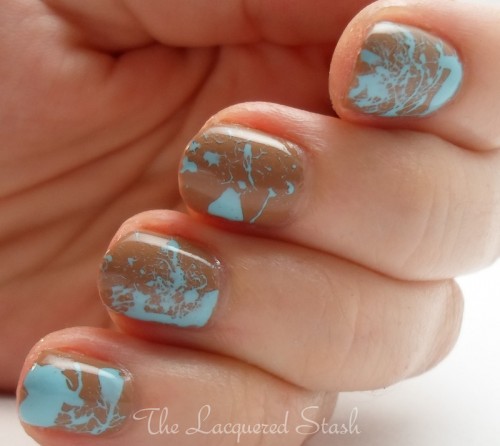 A splatter nail design like this is fabulous for short nails. The patterns are different on each nails as they are created naturally and casually. You can try to make one and see if yours will look fabulous as well.