If you're looking to experiment with your hair and introduce a little bit of colour into your style then why not opt for a purple hue? Purple tones come in a variation of gorgeous shades, from pastel to a more lavender colour, or a deep plum-toned shade; which makes it the perfect colour to spice up your lovely locks with! Here are some examples of super sassy hair styles which have purple highlights in there to finish the job.
Hopefully Styles Weekly can provide you with enough inspiration to be bold at your next hair appointment and embrace purple!
Bright Blonde Bob with Subtle Purple Highlights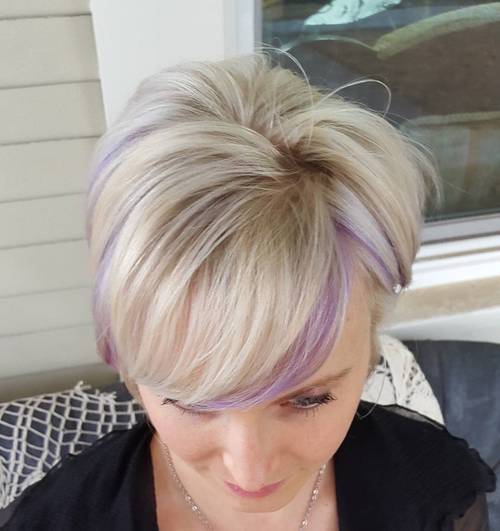 This utterly gorgeous white blonde bob is cropped short and finished with a gorgeous sweeping fringe section that frames the face to perfection. Finished with lots of lovely layers throughout the back, this cut is taken to the next level with ever so subtle gorgeous lavender highlights throughout the fringe and front sections of her lovely hair.
Grey and Vibrant Purple Bouncy Bob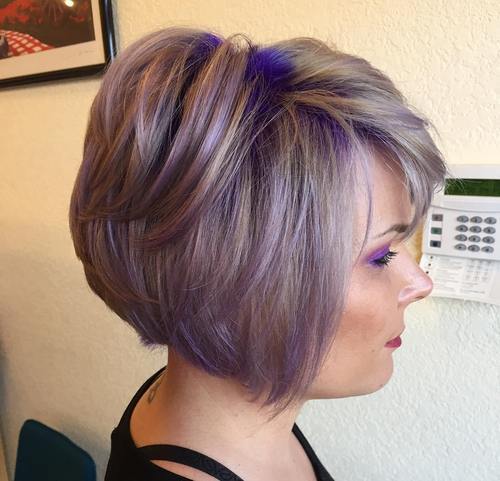 This simply wonderful and incredibly fashionable bouncy bob blends two totally on trend colours together in the most seamless manner! Her wonderful bob which finishes around the jaw works with bright purple roots into a gorgeous grey blend with subtle touches of purple at the ends to tie the look together. We can't get enough of this style.
Soft Purple Highlights on a Blonde Bob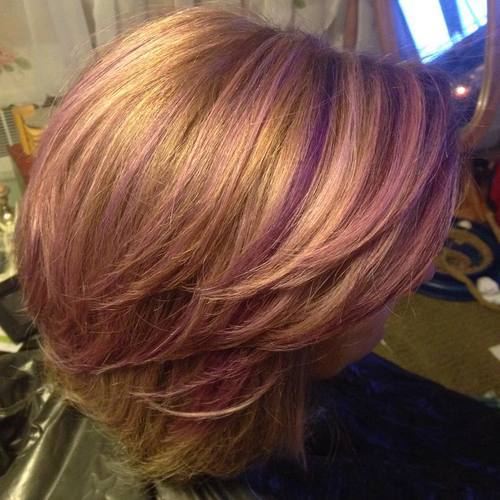 If you want to implement a purple shade into your hair in a manner that is the perfect balance between subtle and vibrant, then this lady has worked it with ease. Her wonderful blonde bob finishes just above the shoulder and has gorgeous graduated layers working their way through. The purple highlights create the most stunning finished effect – especially with the flicked ends.
Purple and White Curled Crop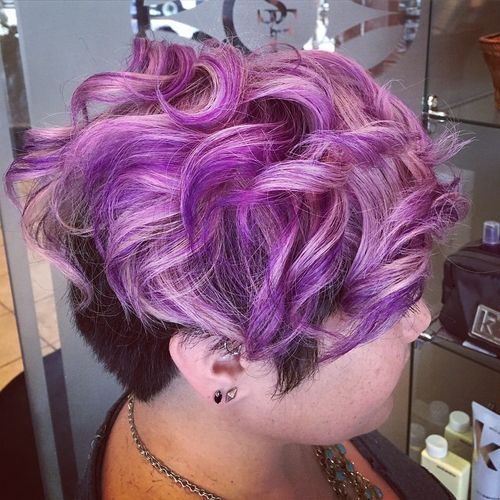 This wonderful lady has absolutely nailed the art of highlighting her hair, by implementing a stunning selection of purple and white highlights throughout the top of her head. The underneath of her hair is a lovely rich brown colour, which is a perfect contrast to the lovely vibrant top layer! She's added short ringlets to the top to show off these incredible colours.
Dark to Light Purple Ombre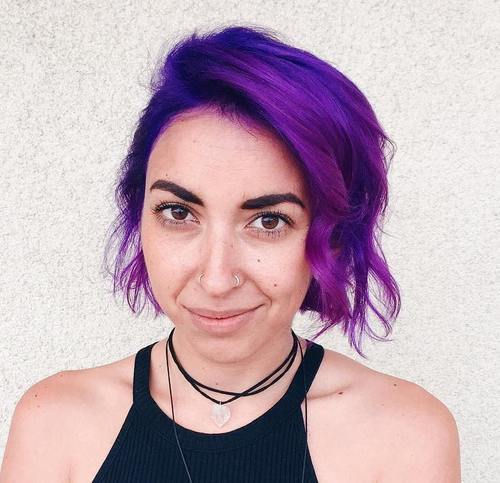 Of course, you don't simply need to opt for one shade of purple when you can work with two – as this gorgeous lady proves! She's worked an utterly gorgeous ombre transition for dark to light purple on her beautiful short bob which falls just below the ears. She's added loose curls throughout to finish the look off and give bounce and body to the look!
Pastel Purple Sleek Bob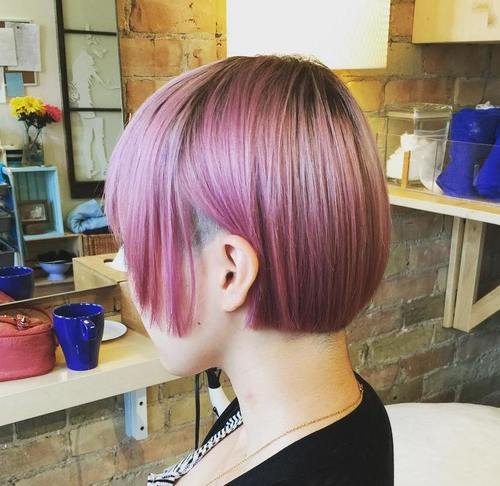 This lady has an utterly stunning, sleek bob that finishes below the ear in a smooth and straight line. Her glossy locks are dyed the most gorgeous purple shade, in a beautiful pastel tone that we can't get enough of! This trendy bob has been finished in a straight style, but we think adding some curls throughout it would make a fantastic night out look too!
Brown to Purple Ombre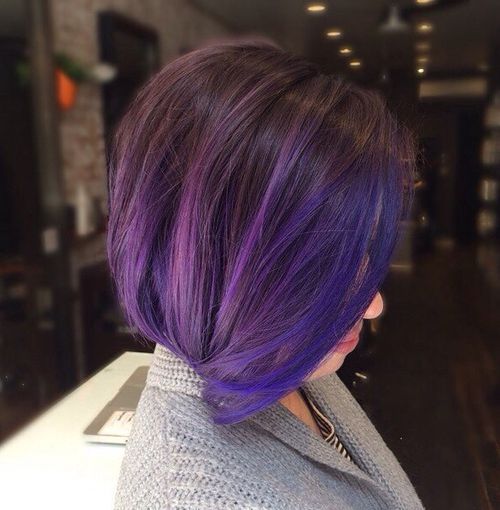 This stunning curved bob falls beautifully around the jaw length in a gorgeous sweeping motion that we just can't get enough of! This lady has accentuated the remarkable cut by opting for a striking brown to purple ombre blend that simply brings the style to life. The fringe section of the bob is a slightly darker purple, but it blends beautifully with the lighter purple to create a gorgeous finish.
Pastel Purple Curly Bob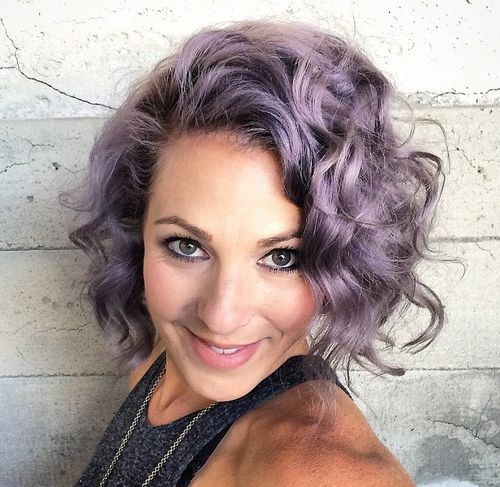 A fashionable bob cut is so on trend this season, and this gorgeous lady has nailed the style with her wonderful cropped bob! It falls just below ear length in one length, with a fabulous side parting that creates a great shape. Her hair has been dyed the most gorgeous silver toned pastel purple that has a metallic look, and she's added lovely ringlets throughout for the perfect finish.
Gorgeous Plum Ringlets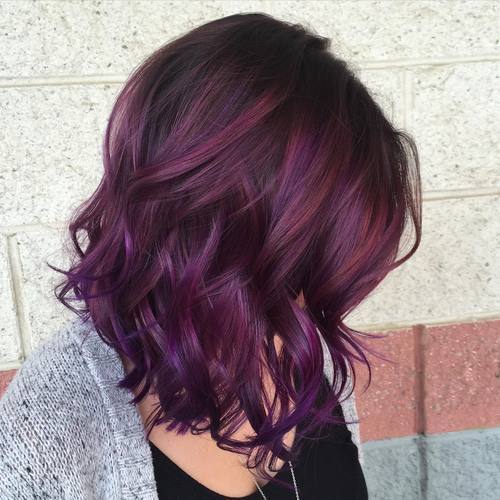 This incredibly fashionable lady has truly showcased what a remarkable colour purple can be for your hair, and what a striking finish it can create. She's worked a plethora of plum tones into her hair using a subtle balayage technique that goes from lighter shades at the top to a lovely, rich shade at the bottom. She's curled her hair to highlight the colour transition and we adore it!
Purple Flicked Ends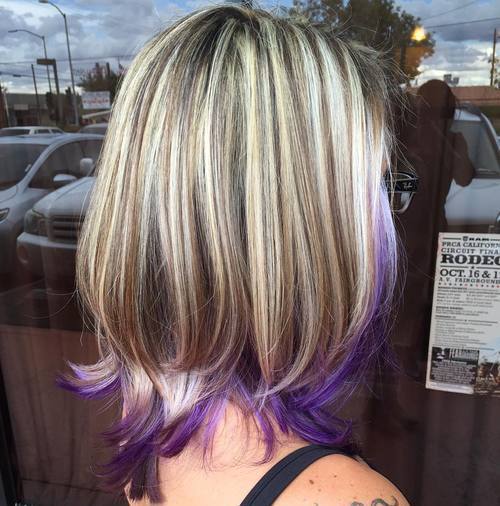 A touch of purple does the job, as this super stylish woman has proved! She's worked a gorgeous and vibrant purple shades right through the end of her gorgeous brown and blonde highlighted hair, to create a truly stunning finish, and has flicked the ends out to emphasise the remarkable colour change. This hair would be equally amazing when curled too!
Red-Toned Purple Ringlets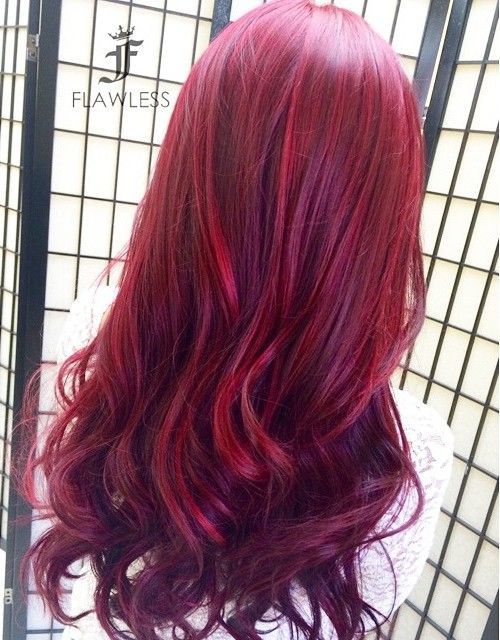 This hair is just so beautiful we can barely take our eyes off it! The vibrant red-toned purple is certainly designed to attract attention, and oh boy does it! This lady has gorgeous, thick and glossy hair which has been curled into incredible ringlets at the ends to highlight the finished result. The colour is a striking light purple which blends into a dark plum shade at the tips.
Subtle Pastel Purple Highlights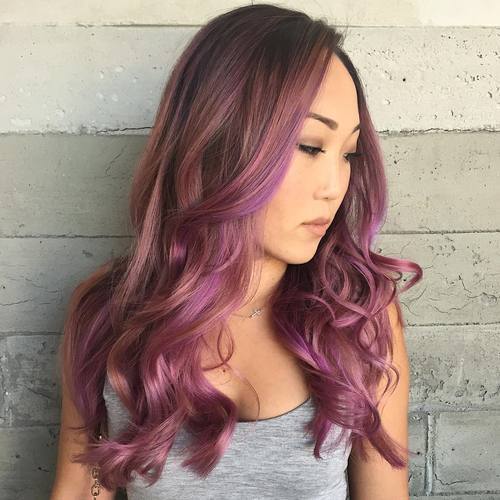 This utterly gorgeous lady has hair almost as beautiful as she is – which is quite a statement to make, we're sure you'll agree! Her striking long locks are parted slightly to the side, and her hair cascades in stunning curls that fall past her shoulders. Naturally a light brown shade, she's opted for a gorgeous lavender tone to highlight the front of the hair and gently lift the tips. The finished result is astonishing!
Pink and Purple Pastel Beach Waves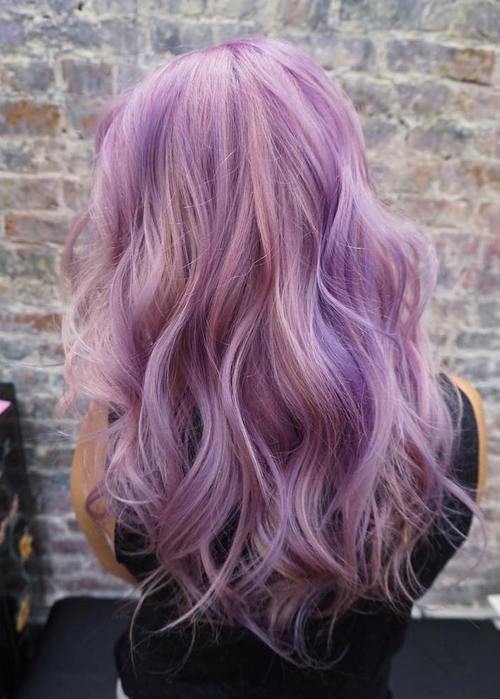 This hair might just be our favourite from the wonderful purple hair trend, and when you look at the stunning lavender and baby pink hues working together to create this striking look it's really not difficult to see why! This lady's hair is long and curled into tousled beach waves for a voluminous finish, and the pastel tones are blended together to perfection.
Purple, Blue and Black Blend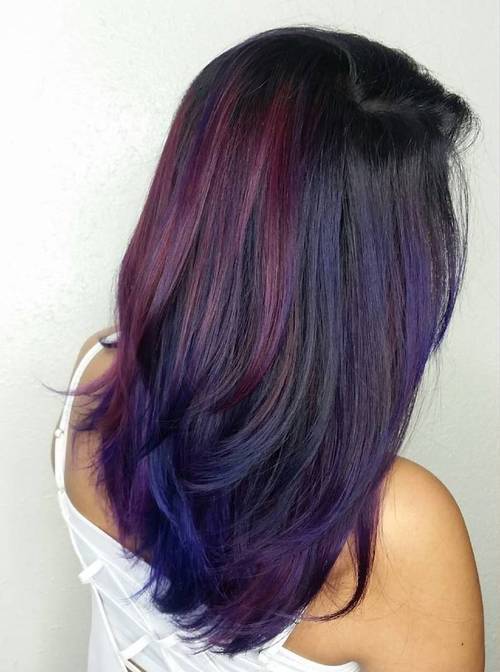 This lady has brought her gorgeous and glossy black hair to life by implementing a blend of purple and blue tones streaked through to create the most beautiful finished style that we ever did see. The different shades of purple work together to create an utterly striking finish, particularly on this straight and sleek hair. We think this would look incredible when curled too.
Blonde to Plum Curls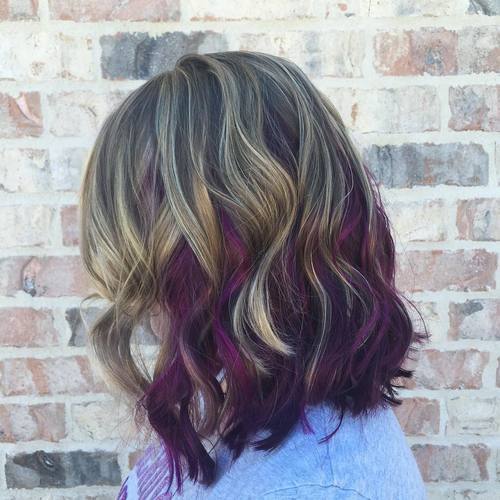 This lady has the most gorgeous highlighted hair that we ever did see – with stunning blonde and brown tones streaked through the top. She's curled her hair from the ears down, so that the bottom of her shoulder length hair is loosely curled for effect. The best part about this style is the deep plum underneath layer of hair; this colour works perfectly with the blonde and brown top layer!
Subtle Purple Streaks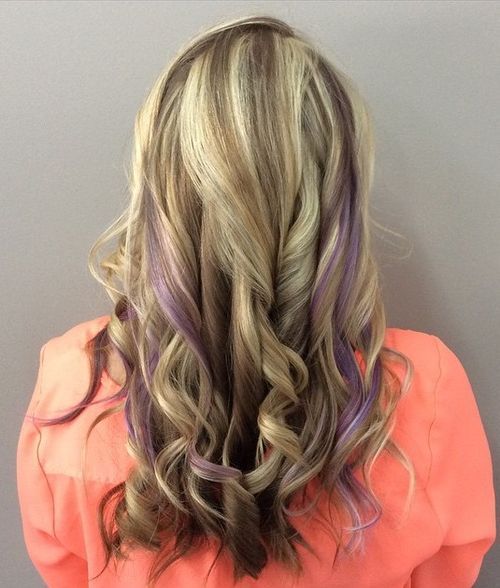 When it comes to purple, a little goes a long way; as this lady has proved with her incredibly subtle colour palette! She is blessed with naturally beautiful hair, which falls in tight ringlets down her back, showing off the stunning blonde and brown tones she's worked through it, but to give it that extra kick, she's added a few lavender streaks to lift the colour and add some personality.
Purple to Electric Blue Blend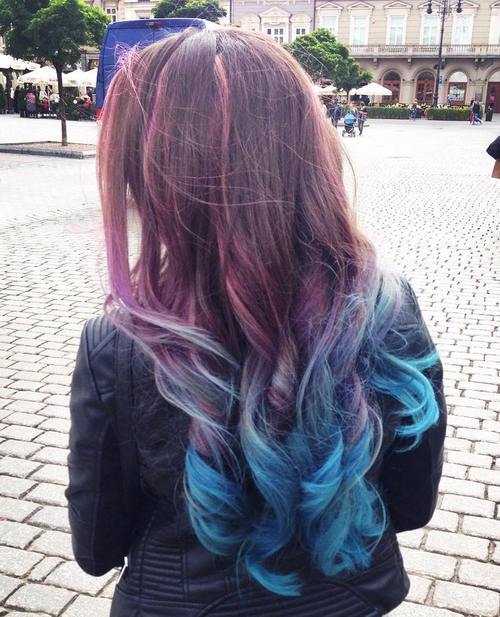 This lady's hair reminds us of a slush puppy – and that is in no way a bad thing! This gorgeous and bright style is long, thick and oh so striking, working from a stunning purple at the root to an electric blue at the tips, blending seamlessly from one colour to the other. She's worked beautiful barrel curls throughout to highlight the transition.
Metallic Blue to Purple Balayage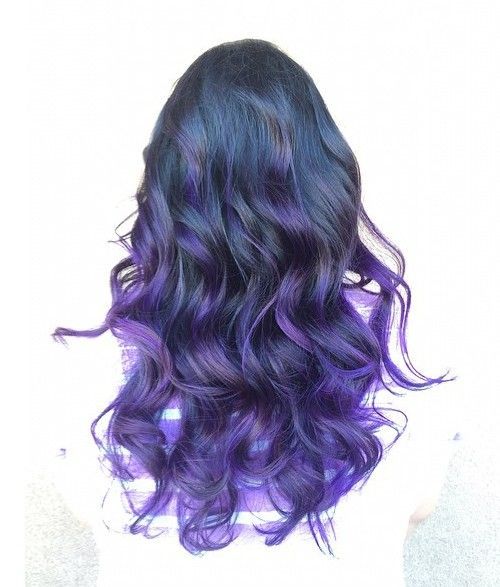 This stunning balayage blend is simply electric, and we can't get enough of the two beautiful colours that work together here. From a wonderful metallic blue shade at the root to a stunning, bright purple at the tip, the melt from one colour to the other is seamless; highlighted perfectly by the big curls that run throughout the hair!
Pastel Purple Loose Waves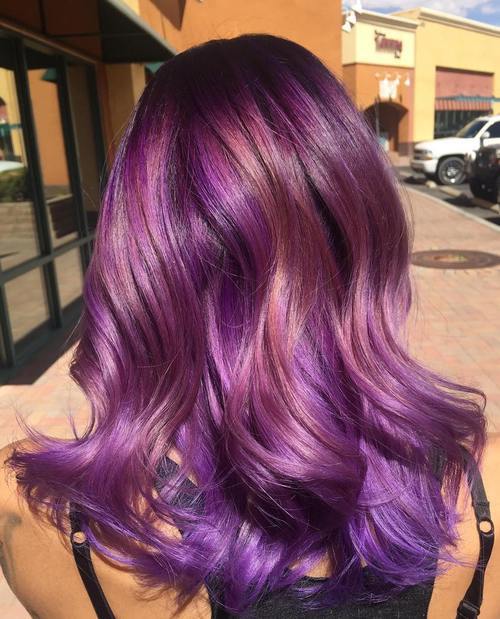 This gorgeous shoulder length hair has been curled to create incredibly loose waves throughout, making a beautiful bounce that makes a wonderful silhouette. The bulk of this hair is a striking pastel purple which is shimmery and glossy, but there are subtle pink highlights in there which create the most lovely finish, as we're sure you'll agree.
The Styles Weekly team are huge fans of purple hair – and we hope that we've turned you guys into fans of it too with this amazing purple hair gallery full of luscious looks with different shades of purple. Let us know which look is your favourite!