The sports luxe trend has taken the fashion world by storm, and the Styles Weekly team couldn't possibly be more excited about it. Favouring a combination of smart and casual and introducing sports gear into every day fashion, sports luxe is a trend which is equal parts comfortable and stylish. Our favourite trend to emerge from this is how trainers are now the most coveted fashion item amongst females.
Trainers are not only incredibly comfortable footwear – they're now super fashionable too. Working with a whole range of different outfits, expect to see the trainers trend grow and grow. Here's 10 stylish ways to wear trainers so that you can stay on top of the trend.
High Top Trainers and Blazer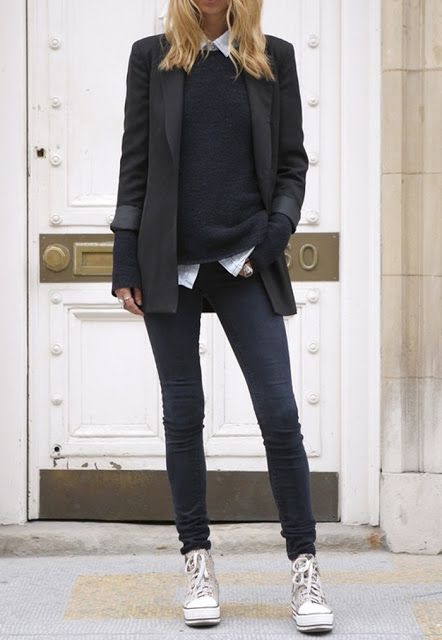 Work just got a lot more comfortable! High top trainers sit above the ankle and are incredibly comfortable. Wear them with skinny jeans, a shirt and a comfortable jumper. Finish your look off with your favourite blazer and you've got a seriously smart casual outfit that will ensure you look the part for your office. Wear your hair down and your most professional makeup look to finish!
Trainers with Maxi Dress and Sweater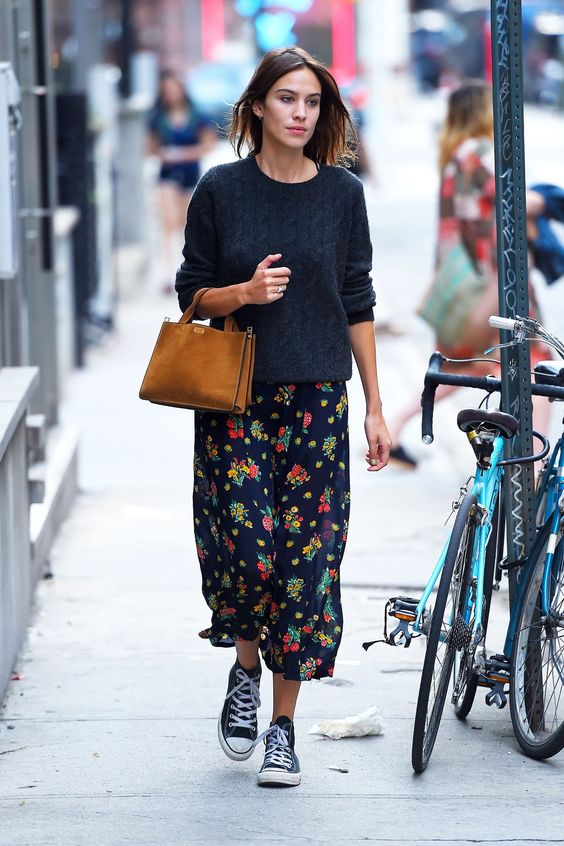 Maxi dresses are traditionally very feminine and pretty items of clothing, rarely seen paired with trainers. However, as fashion guru Alexa Chung proves above, they go together like ebony and ivory! Dress down your fancy maxi dress with your favourite pair of trainers. Throw on your favourite comfortable sweater on top to create the perfect balance of pretty and comfortable. We adore this look!
Trainers with Tailored Trousers and Band Tees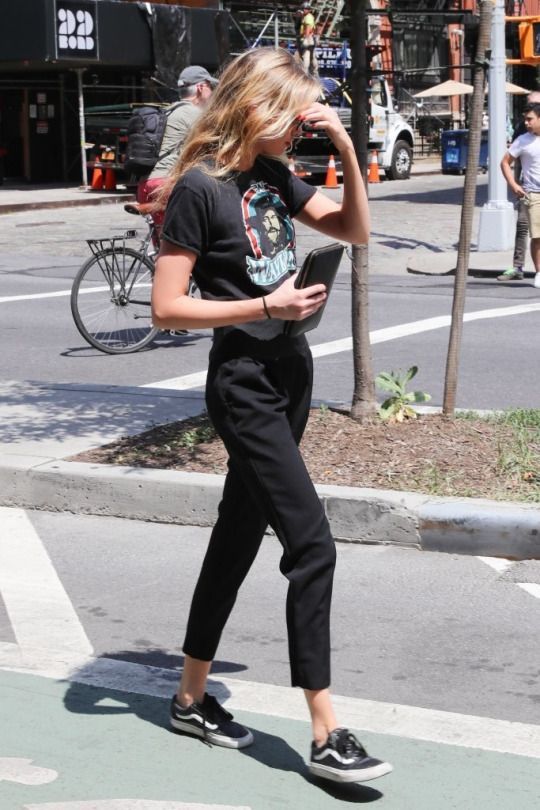 Tailored trousers are also a perfect match for trainers, believe it or not! So many are scared to rock this awesome combination, but hopefully after you've seen the picture above you will be inspired. This utterly gorgeous look consists of comfortable trainers with tailored trousers which finish a few inches above the ankle. Throw on your favourite band tee to add a welcome element of grunge.
Trainers with Jumpsuits and Denim Jackets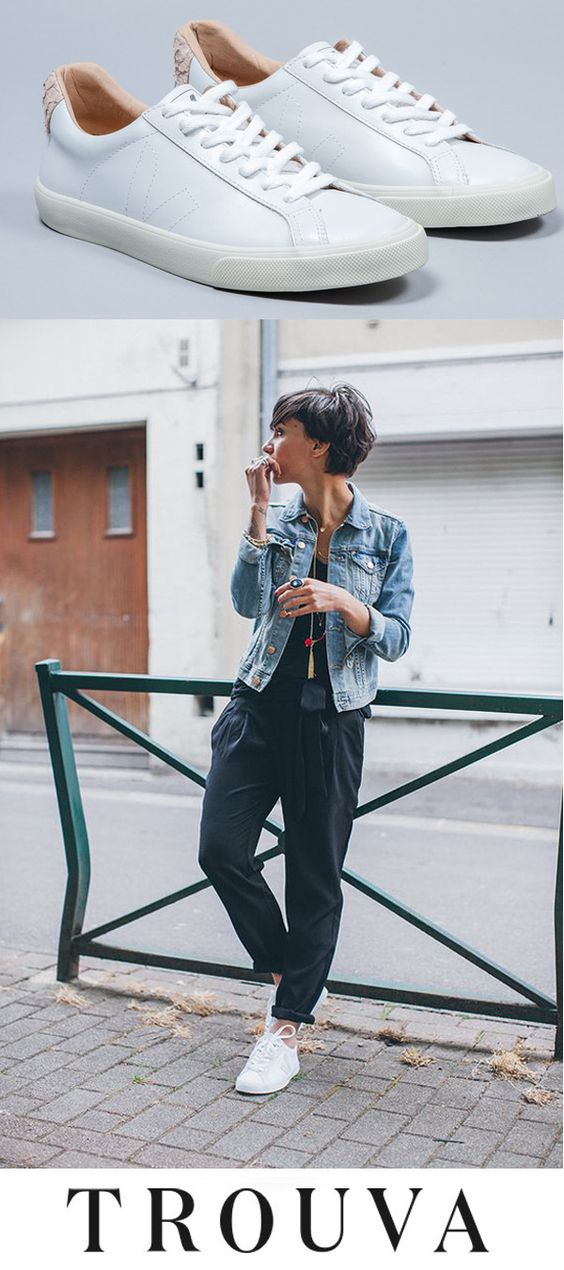 Denim jackets are an incredible trend in their own right, but why not combine them with trainers to make a super trendy outfit? Choose your favourite relaxed jumpsuit – something casual and comfortable. This will also work with jogger type trousers and a separate tee if this is more to your taste. Add your trainers and your favourite denim jacket for the perfect day out look.
Trainers with Mini Skirt and Sweater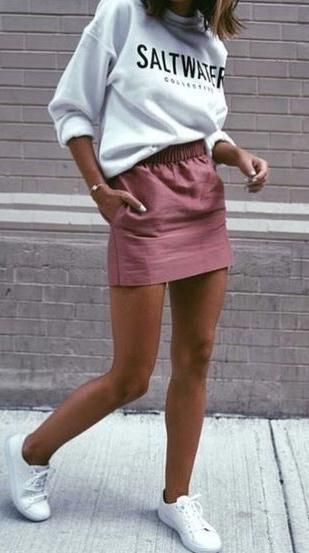 Mini skirts are often worn with boots or high heels – but they look so great with trainers too! As this wonderful lady proves, trainers help dress down your mini skirts and make them super versatile. Choose your favourite statement mini skirt, preferably one which has a nice colour or pattern. Work with your favourite trainers and finish with a cool and casual sweater.
Statement Tee and Jeans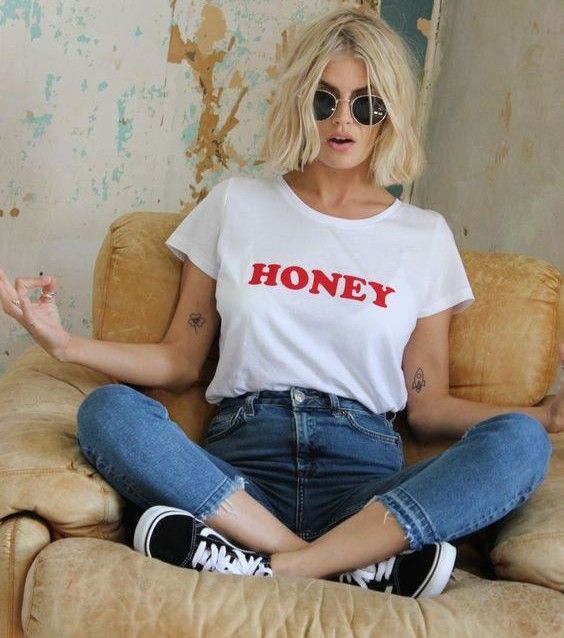 Undeniably the best way to wear trainers is with a super casual and comfortable outfit that is perfect for day to day wear. Grab your favourite statement or slogan tee and team with your best fitting pair of jeans. Whether these have ripped ends or rips throughout or are simple straight leg jeans – these will all look fab with the trainers you'll add to finish your outfit off to perfection.
Trainers with Smart Trousers and Roll Necks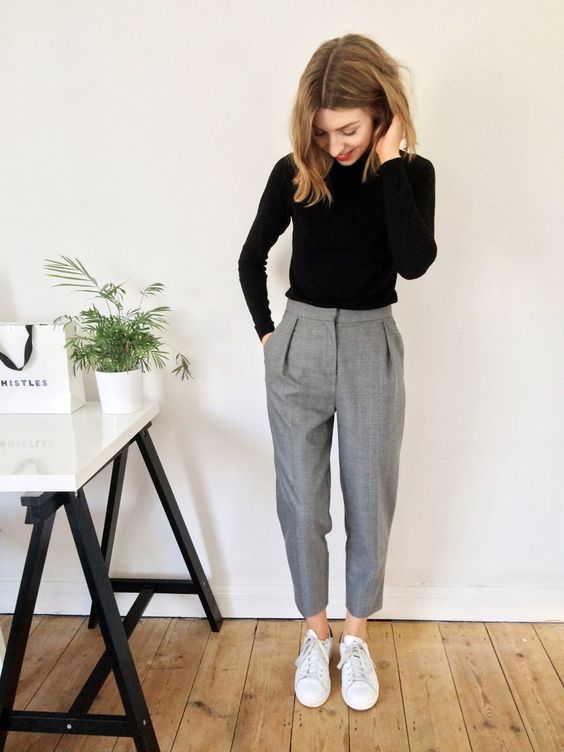 Roll necks are a super chic fashion item which are much-loved lately. Why not add some trainers into the mix for an incredibly chic outfit? Tuck your roll neck into your favourite pair of trousers – preferably ones which are high waisted and tailored. The more cropped they are the more effective this look is – we think! Work your best white trainers into this look for a super smart work style. If you're interested in write fashion posts, you can write for us and get paid.
Trainers with Leather Jacket and Jeans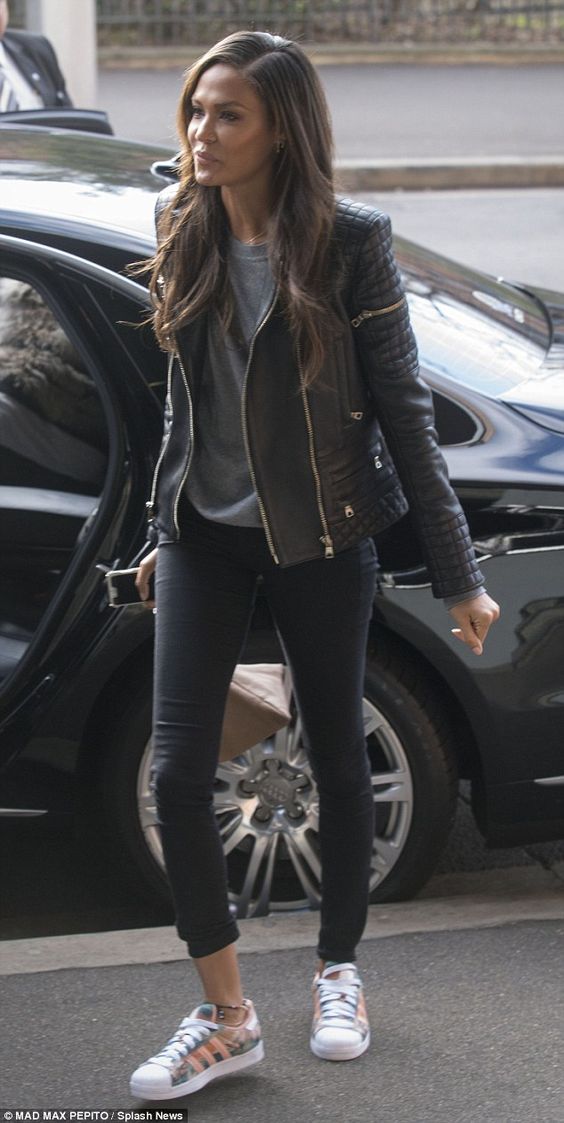 Leather jackets can transform any look – and are the perfect way to finish off your outfit with trainers! Start with your favourite pair of trainers – they can be as plain or patterned as you like. Team with super skinny jeans and a plain tee of your choice. We like the grey pictured above! Finish the outfit off to perfection with your favourite leather jacket or biker jacket for a cool and contemporary end result.
Trainers with Baggy Sweaters and Ripped Jeans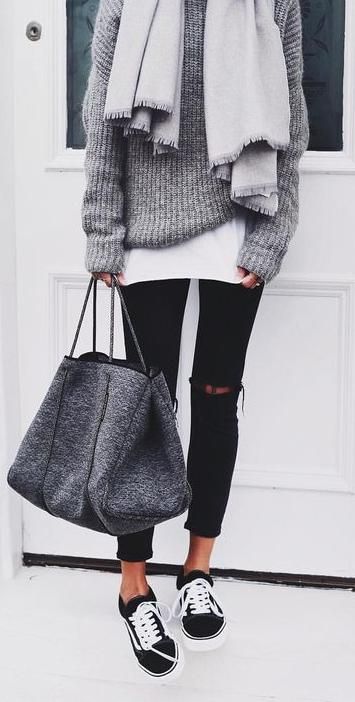 Ripped jeans have taken the fashion world by storm lately, and create the most cool and contemporary look we ever did see. Wearing them with trainers takes them to the next level of cool – so you should most definitely attempt to recreate this look. Finish the outfit off with a big, baggy sweater that is super soft and comfortable. Add a scarf for a wonderful and relaxed look we just adore.
Patterned Trainers with Statement Coat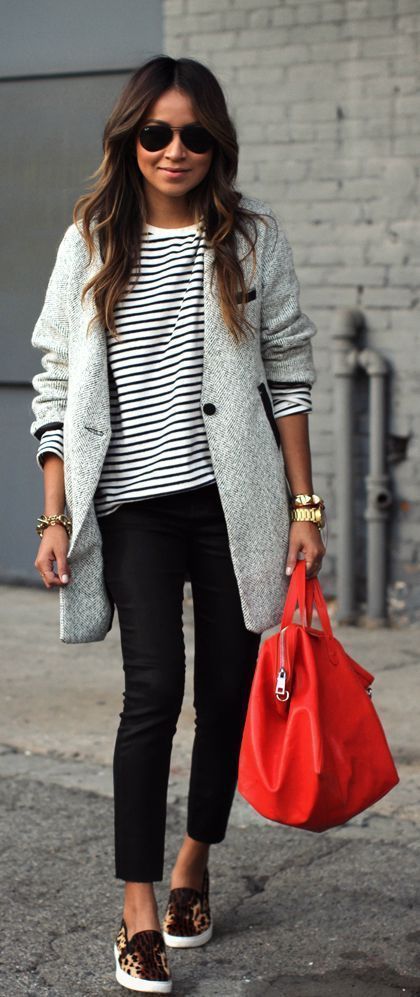 Patterned trainers are a fantastic addition to your wardrobe – you most definitely don't just need to stick to white! We love these leopard print kicks. Team with black skinny jeans, a plain striped tee and your most stylish statement coat to finish off your look. This will create a look which is super stylish and fit for almost any occasion, but incredibly comfortable at the same time.
We hope we've convinced you to drag your trainers out of the cupboard and start working them into your wardrobe again! Let us know which look is your favourite.