If you are borthered about your changeless hairstyles, then stay here and you will find this post helpful. In this post, we have made a collection of 20 fashionable Boho hairstyles. They are quite beautiful yet rather simple to achieve.
For example, just with a leather headband or even an elastic, you can get a gorgeous hair look within several minutes. Just stay here and find the ones you love. Enjoy!
Stylish Braided Ponytail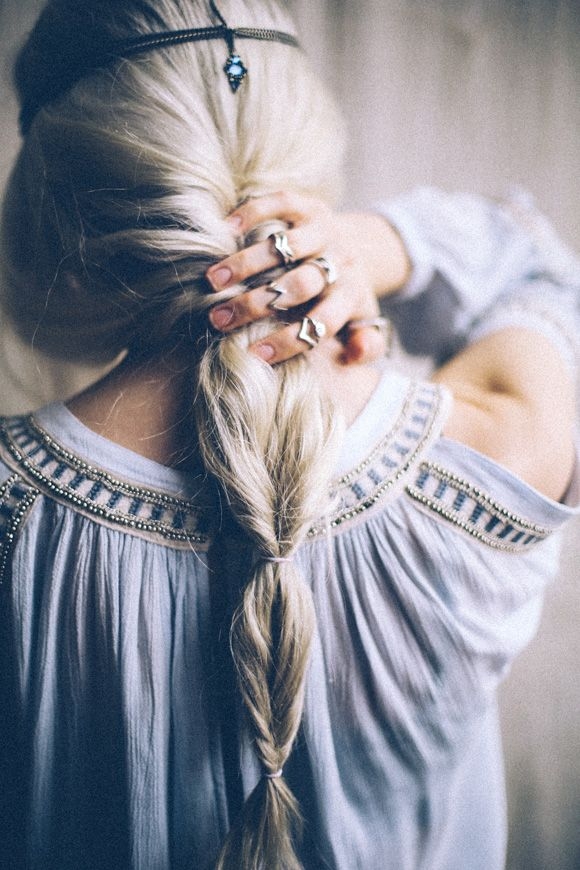 This fake fishtail ponytail is easy to make and rather stylish, which you can finish within 3 minutes. All occasions will be suited for such a stylish hairstyle.
Boho Style Braided Hairstyle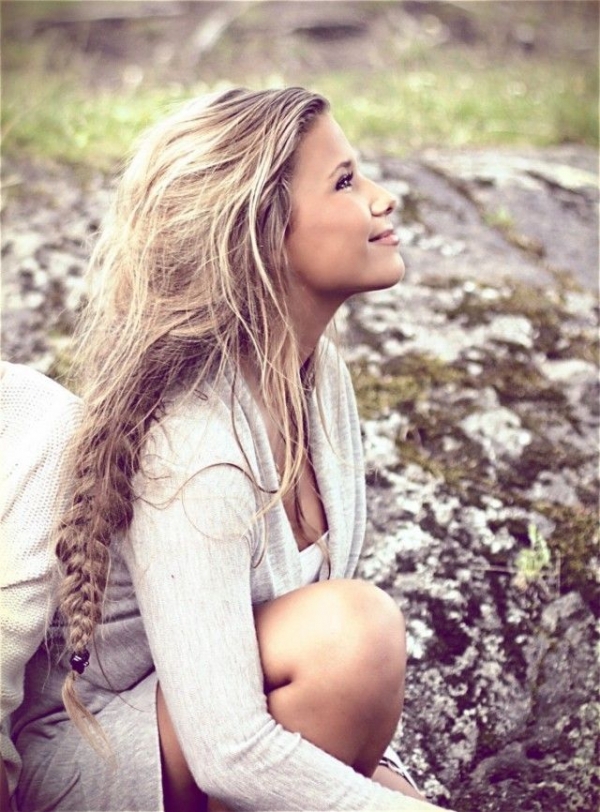 This boho hairstyle is great for women with super long hair. Tease your hair messily so that it can be casual chic. But if you go to those formal occasions, just make it neater.
Messy Braided Ponytail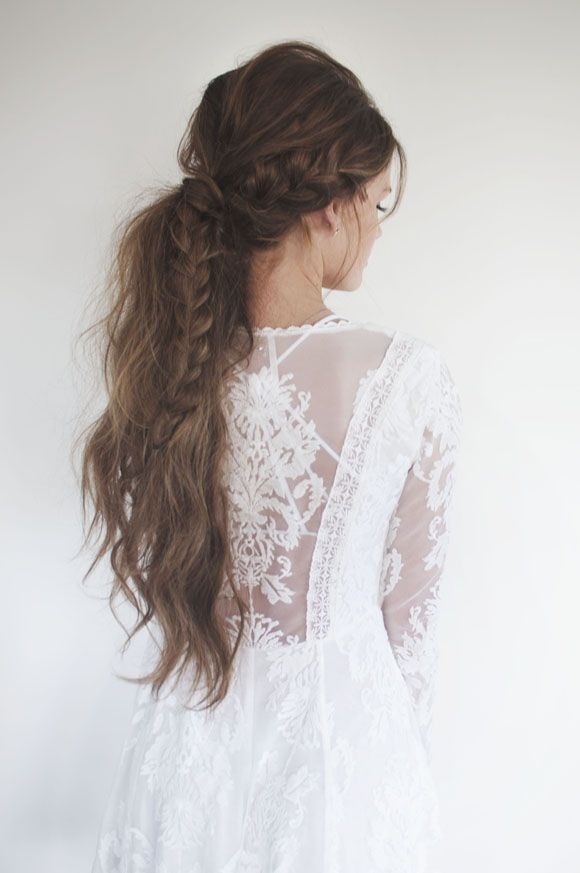 Messy hairstyles are carelessly fashionable and the side brade adds more cuteness to the overall look.
Bouffant Hairstyle with Braid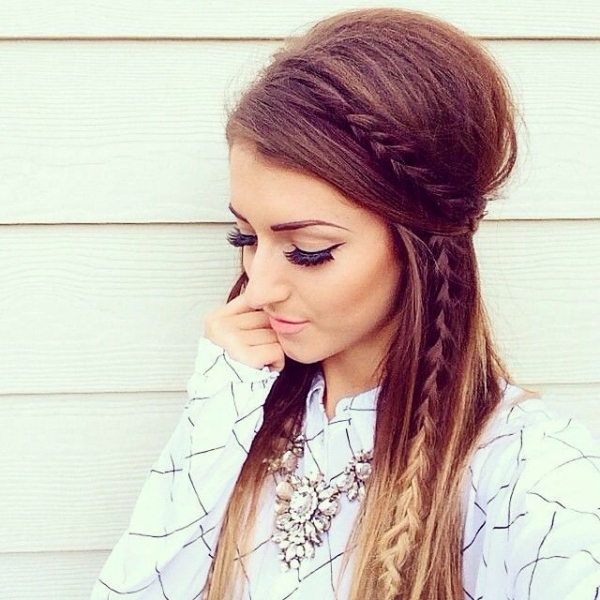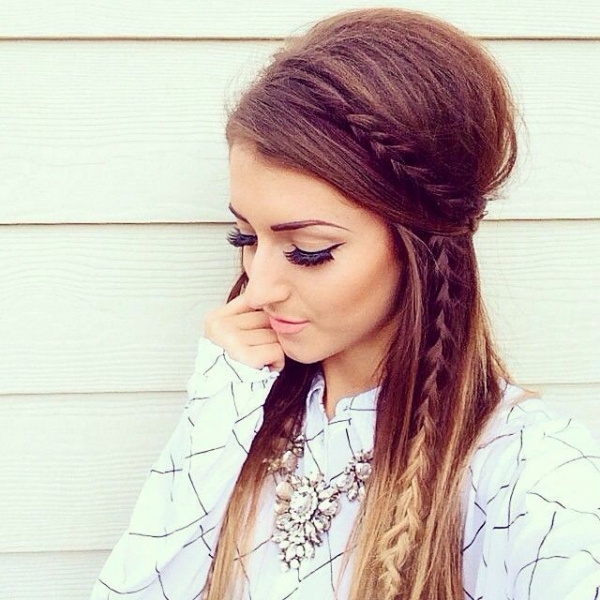 The bouffant hairstyle adds some height to the crown, so it can farme the face. To make it prettier, you can add some braids to your hair.
Colored Medium Curls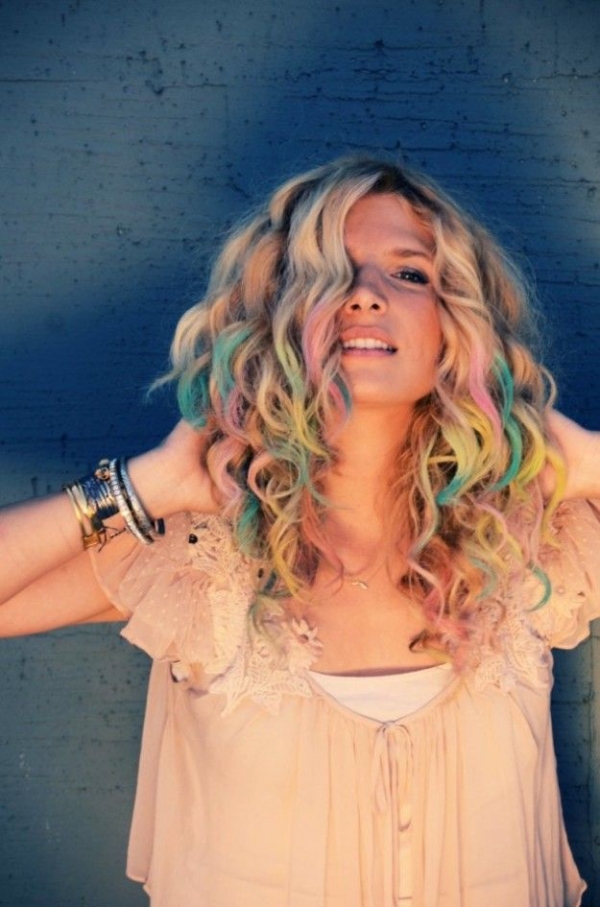 Voluminous curs are stylish and if you want your hair even more fashionable, just try some colors with your hair.
Braided Half-updo Hairstyle
This braided half-updo is quite fashionable and it looks best on long hair. You can experiment with this nice hairstyle for all occasions.
Boho Braided Half-Updo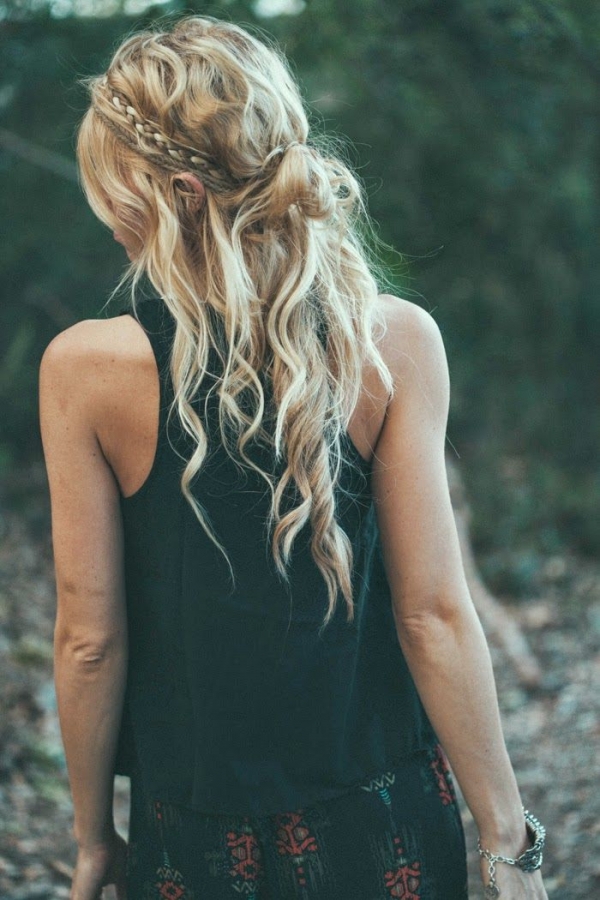 This braided half-updo is so pretty that I'm eager to try. It looks best on curly hair, so if your hair is straight, just create some natural curls first before you try this romantic hairstyle.
Pretty Beach Braid Hairstyle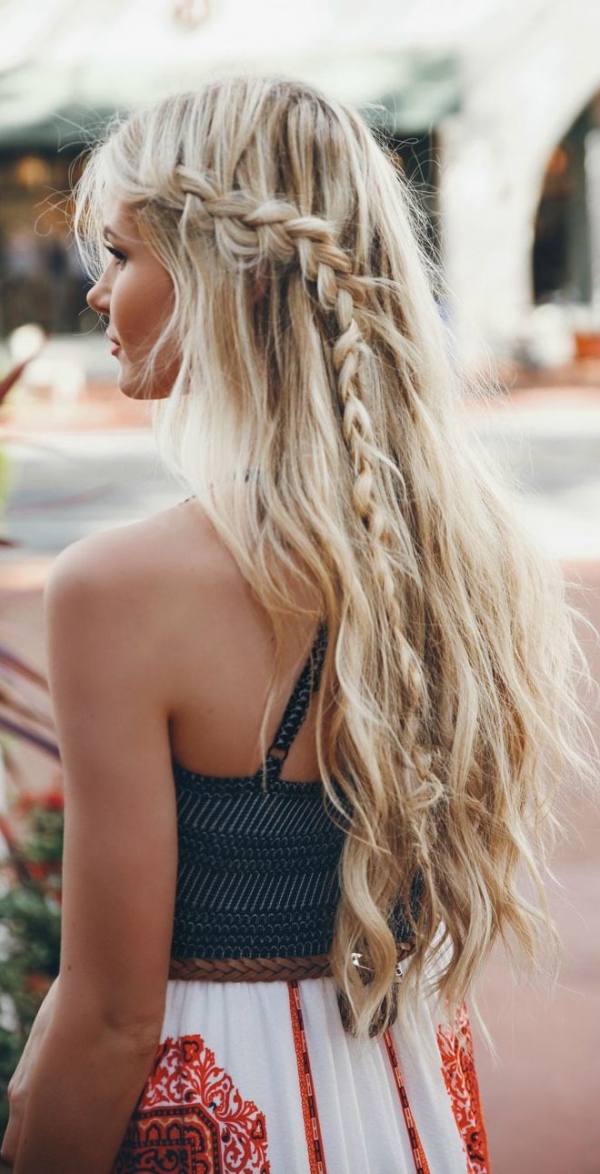 Make a loose beach braid with your natural hair. This pretty hairstyle is nice for a date or friends gathering.
Mellifluent Headband Hairstyle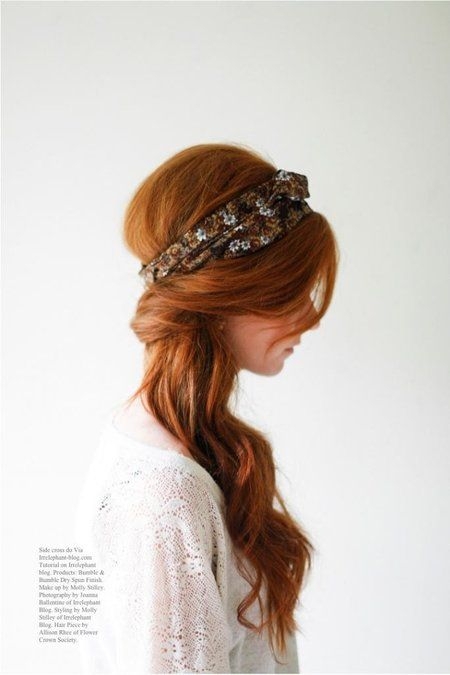 This golden hair color is really worth trying. The chic hair color can upgrad any basic hair look. Plus, the soft curls and floral headband really look so sweet. It's great for all young girls to try.
Messy Straight Hairstyle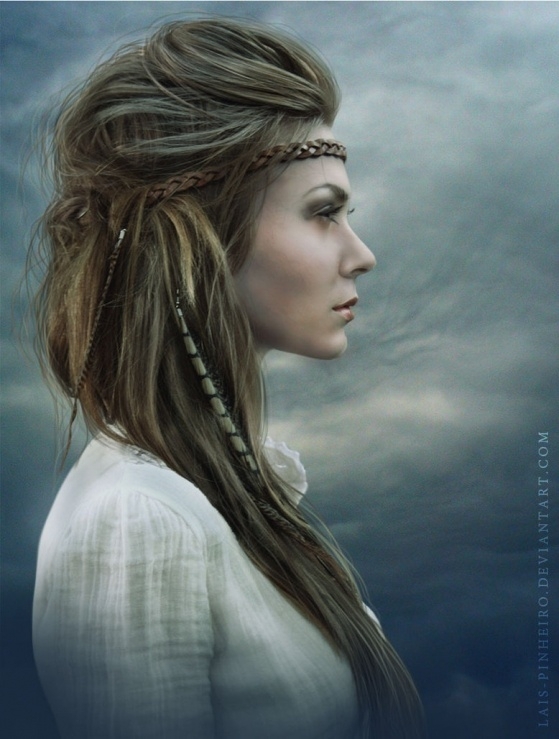 The soft straight hair is breathtakingly beautiful. And this grey brown hair color is really fashionable.
Ombre Beach Waves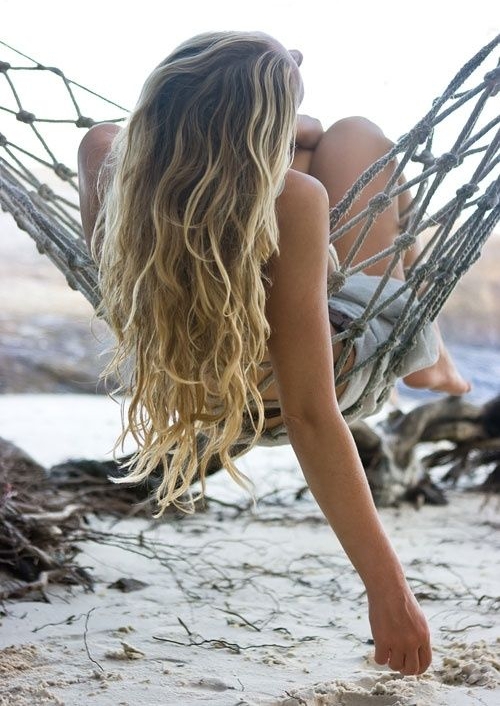 For women with long hair, just try the ombre beach waves. Less is more! You can be effortless chic without any excrescent details.
Braided Crown with Bouncy Curls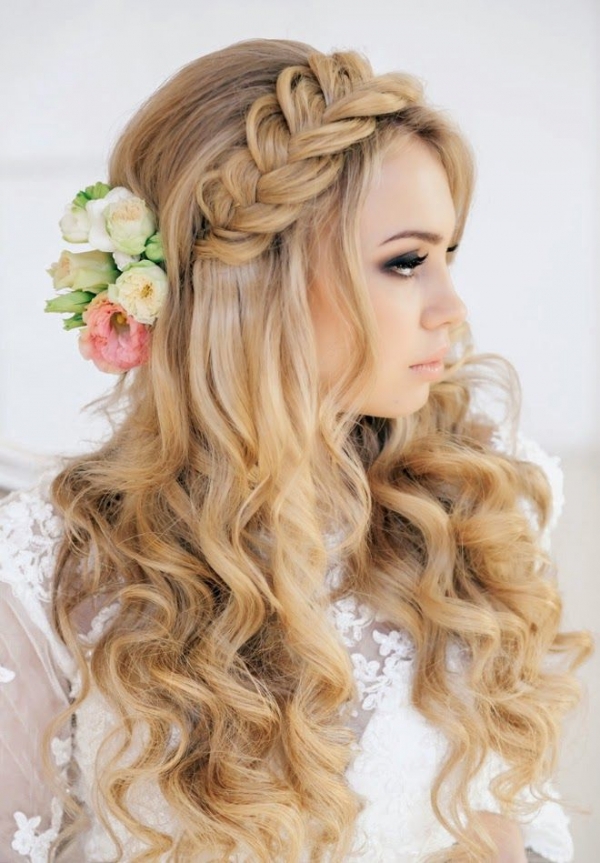 When the braided crown meets the bouncy curls, what a fascinating hairstyle will be created. This beautiful hairstyle can be an ideal choice for a wedding hair look. Do you like it?
Popular Braided Crown Hairstyle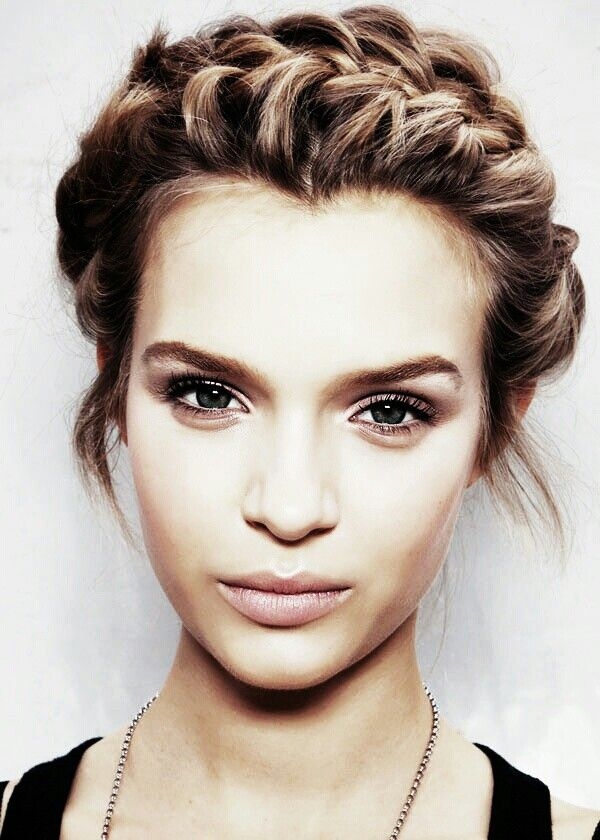 For a confident woman, you should show your gorgeous face to the whole world with this great braided crown hairstyle.
Beautiful Side Braided Hairstyle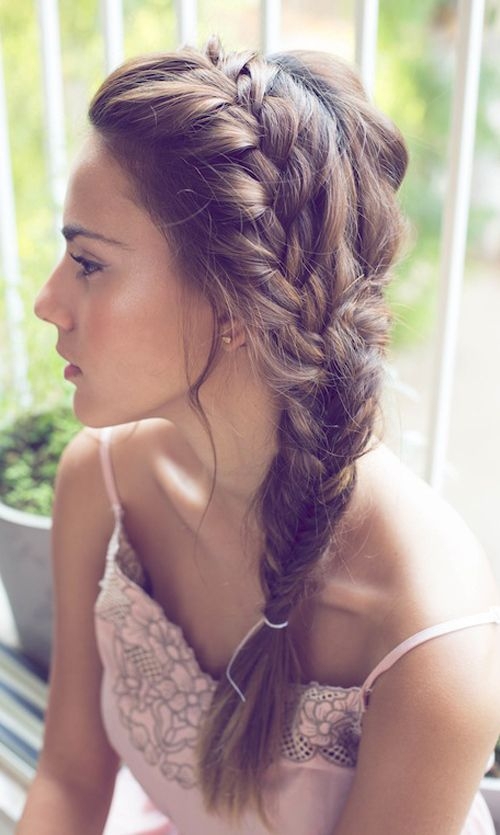 This side ponytail is tight yet a bit messy. SO beautiful! It's a perfect solution to the thick hair.
Chic Updo with Muti Braids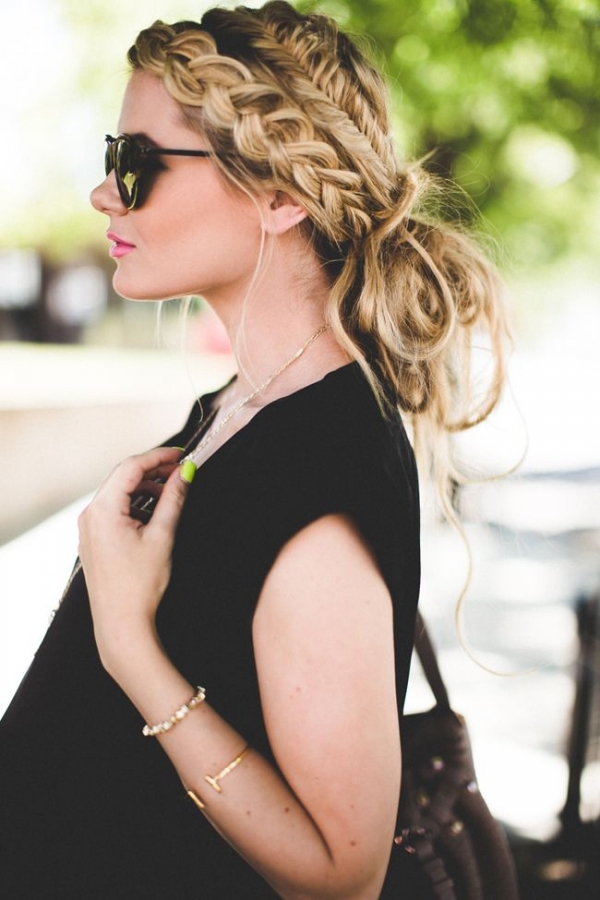 This is a wonderful mix of braided crown and lower updo. The multi braids will attract all the attentions of the people around you.
Stylish Braided Chignon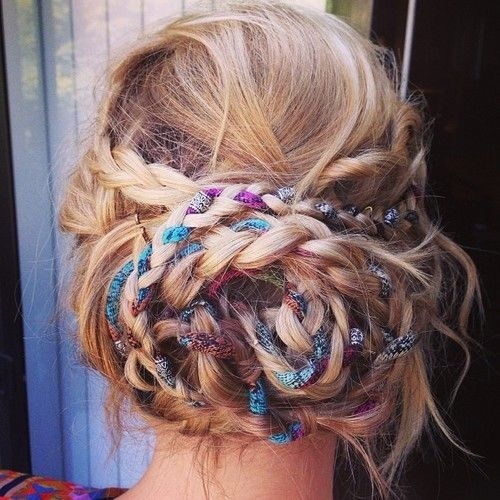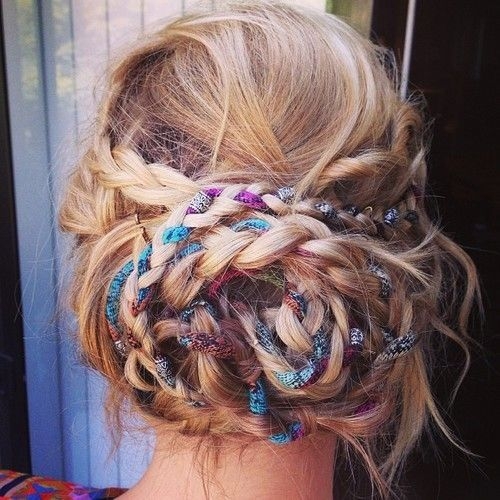 If you have thick hair, this braided bun can be a wonderful idea for you to try. For women wih thinner hair, you just need to braid the hair loosely so that you can get the huge bun look.
Messy Ponytail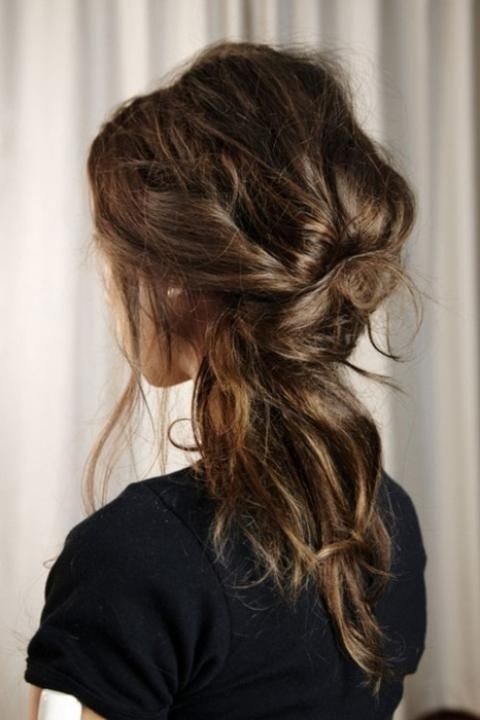 For a lazy morning, you can try this messy ponytail. Make an inside-out pony and then tease it as you like.
Hat Hairstyle
If you don't want to style your hair at all, then just put on a hat. Rember that the color of your hat should go well with your outfits, otherwise it will be redundant.
Beach Waves with Leather Headband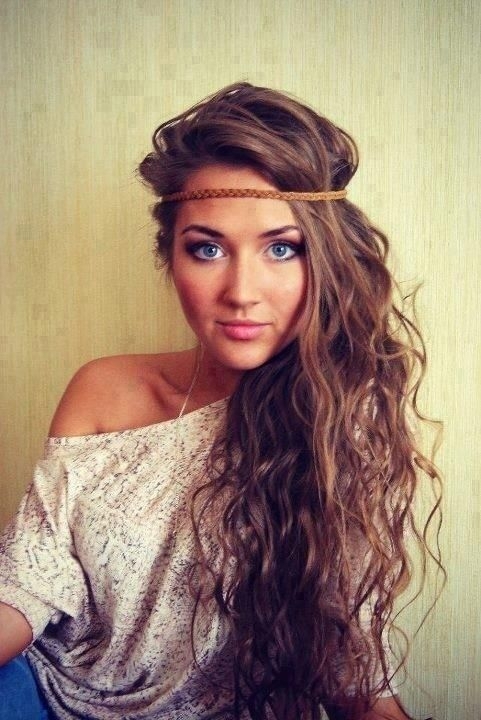 Swept all your long curls to one side and add a slimsy leather headband across your forehead. It's really chic!
Chic Ombre Hair with Accessories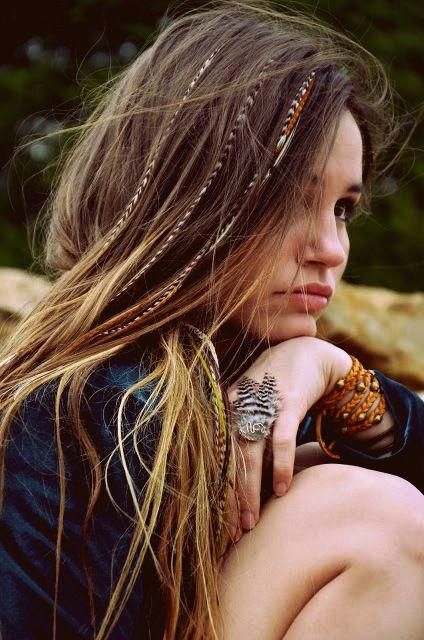 Ombre hair is trendy by itself  but it is just the distinctive accessories that make it a radiate.
Romantic Hairstyle With Lace Crown
Do you like lace just like every fanciful girl does? If so, take the beautiful lace as your headband to wrap your hair. It will be fantastic hairstyle for holidays.
Pretty Hair Accessories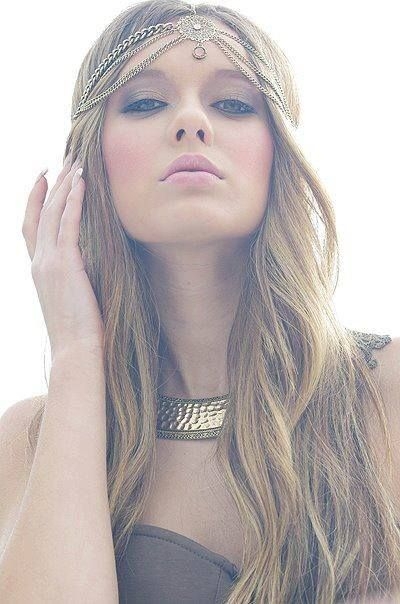 Even the simplest hairstyle can stand out as long as you add a stylih accessory to it. So,don't forget to buy some chic accessories when you go to the shops next time.
Gypsy Headband Hairstyle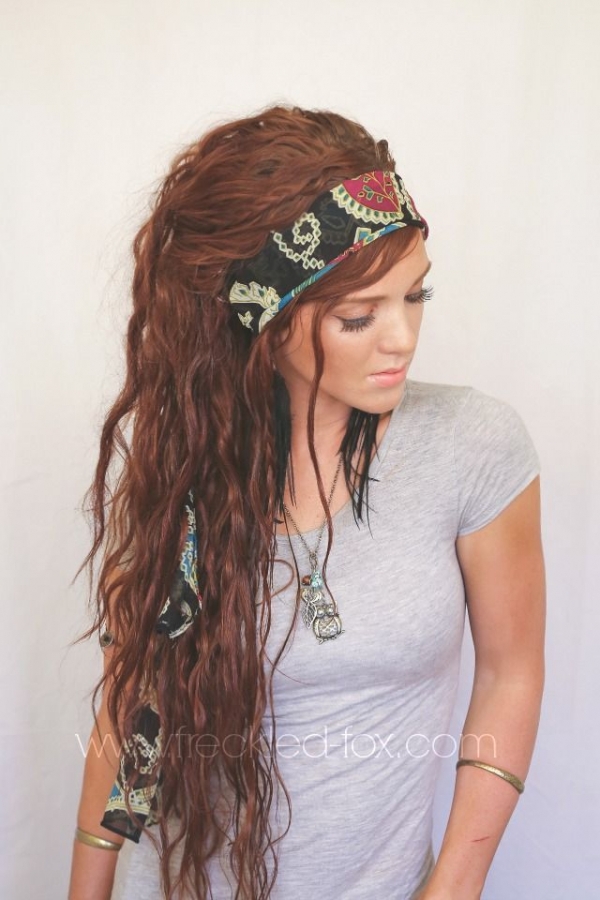 The Gypsy hairstyle is full of exotic vibes. The printed long headband turns the long curly hair alive, making the hair look much more fashionable.
The Dread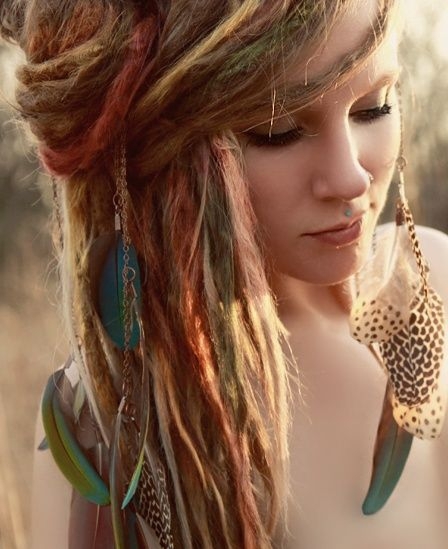 The dread hairstyles are quite popular among fashionistas. It shows the wearer's revolutionary spirit and independent fashion attitude. Dare you try it?
Lovely Boho Chic Hairstyle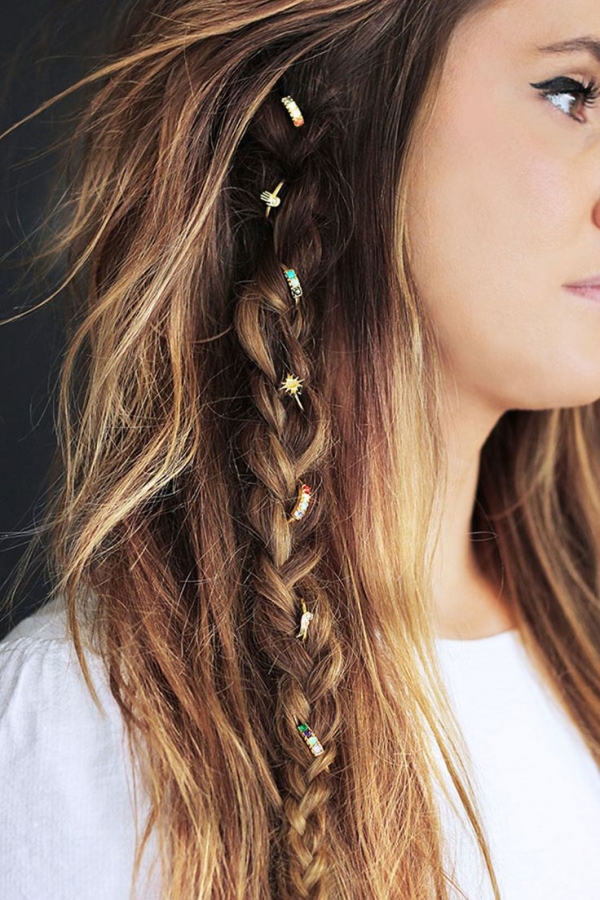 It's actually simple straight hair with a cute braid. However, it become more stunning because of the hair pins added to the braids. You can try this lovely idea to beautify your basic hair look.
Stylish Messy Braided Hairstyle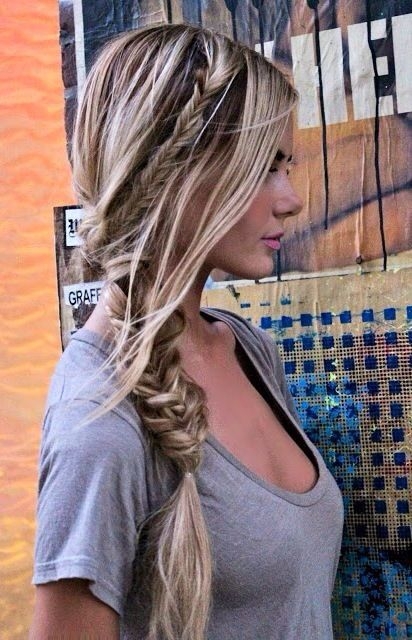 The messy side braided hairstyle is quite beautiful and the hair strands left in the front work well to frame the face to a better shape.
Beautiful Floral Crown Hairstyle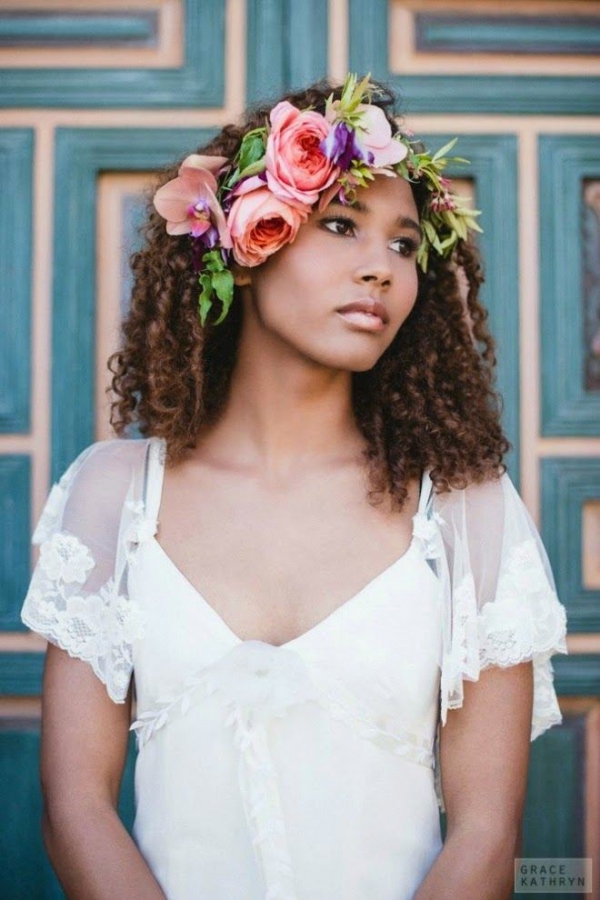 Floral crown is the best accessory for a dreamlike look. You can wear it for an eye-catching holiday look.
Scarf Hairstyle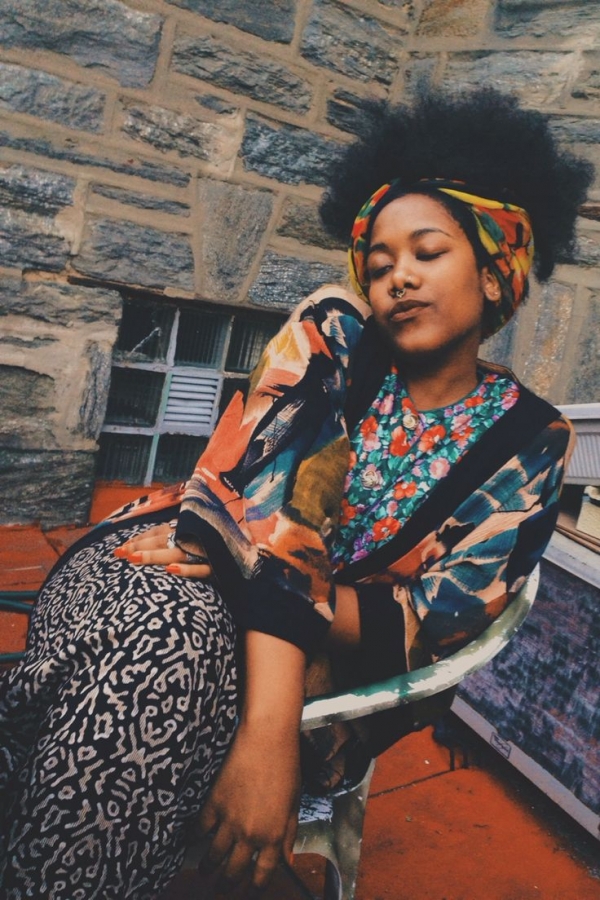 Here is a hair accessory in your wardrobe. That is the scarf. Wrap the scarf around your natural hair and you can get an effortless hairstyle.