There are so many things that make a black woman's face so beautiful. The variety of skin tones, plus the full yet distinctive features make it possible for her to wear a variety of different makeup colors in a myriad of ways.
Yet as with women of all ethnicities, there are some colors that are more complementary than others. So, whether you are a black woman, you're a make-up artist who works with black women or you have a friend you'd like to pick up a few cosmetics for as a gift, here are some colors that will create extreme radiance. Guaranteed.
1. Classic red lip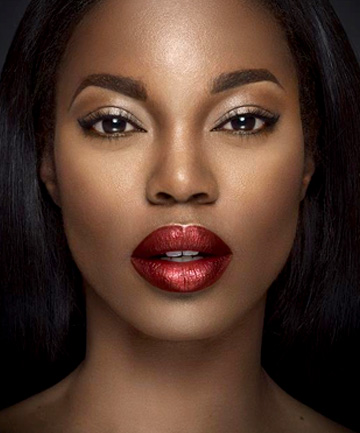 A lot of black women have naturally beautiful full lips. One way to showcase them is with a classic red lip color.
2. Smoky eye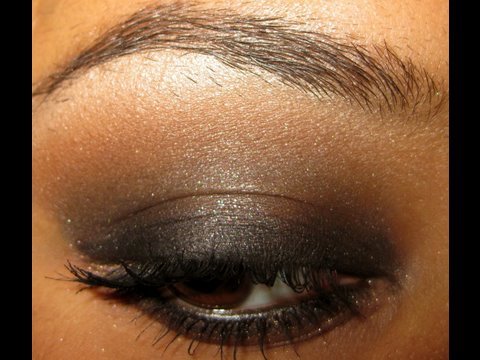 For nights out on the town, brown (or even hazel) eyes are so mysterious and alluring with the help of a smoky eye.
3. Dark purple lips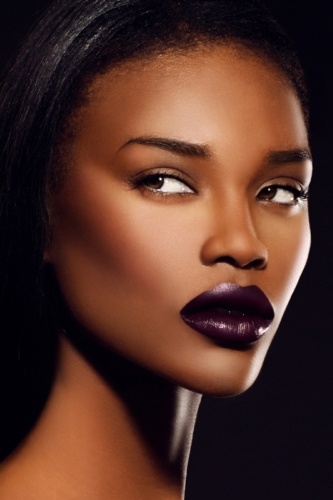 Violet is a popular color for clothing and cosmetics right now. Full lips are unstoppable in a matte violet lip stain.
4. Nude face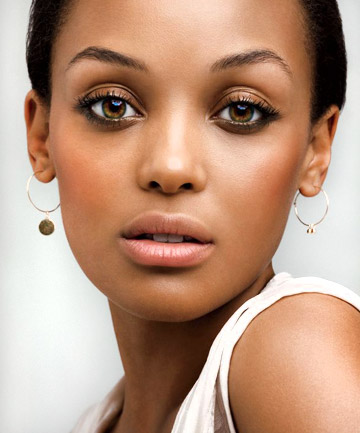 This season when it comes to makeup, the nude face is getting quite a bit of attention. If you're a black woman, so will you if you decide to take the "less is more" route. It's so simple yet so stunning.
5. Metallic silver lips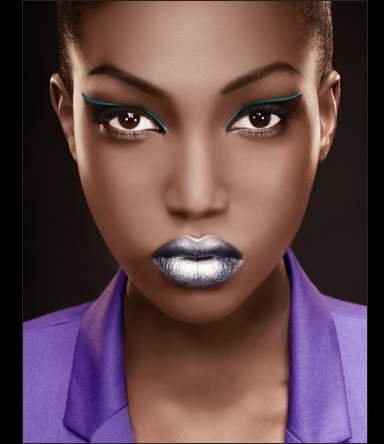 So where would you wear a silver metallic lip? If you pride yourself in being a super confident woman, you can wear it pretty much anywhere. But if you'd like our humble opinion, our recommendation is during the evening hours. It will have a way of making your face gleam and sparkle like the stars.
6. Green eyes and pink lips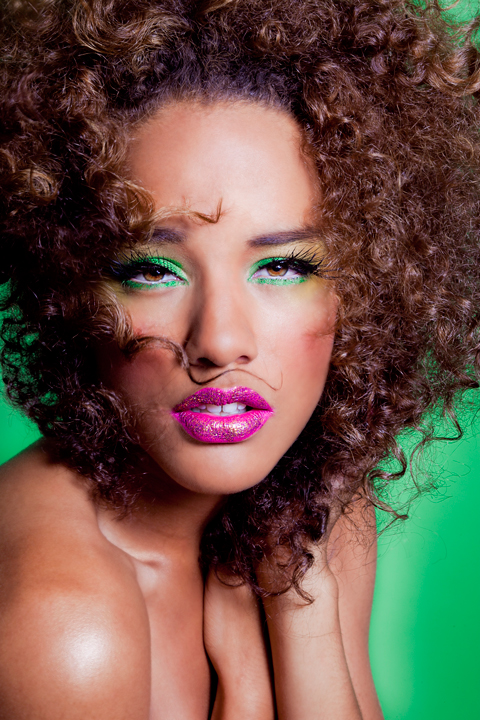 You might not have ever thought to put pink and green together. But when you're looking for a "makeup face" for the summer season, it's a color combo that's truly hard to beat.
7. Soft metallic eye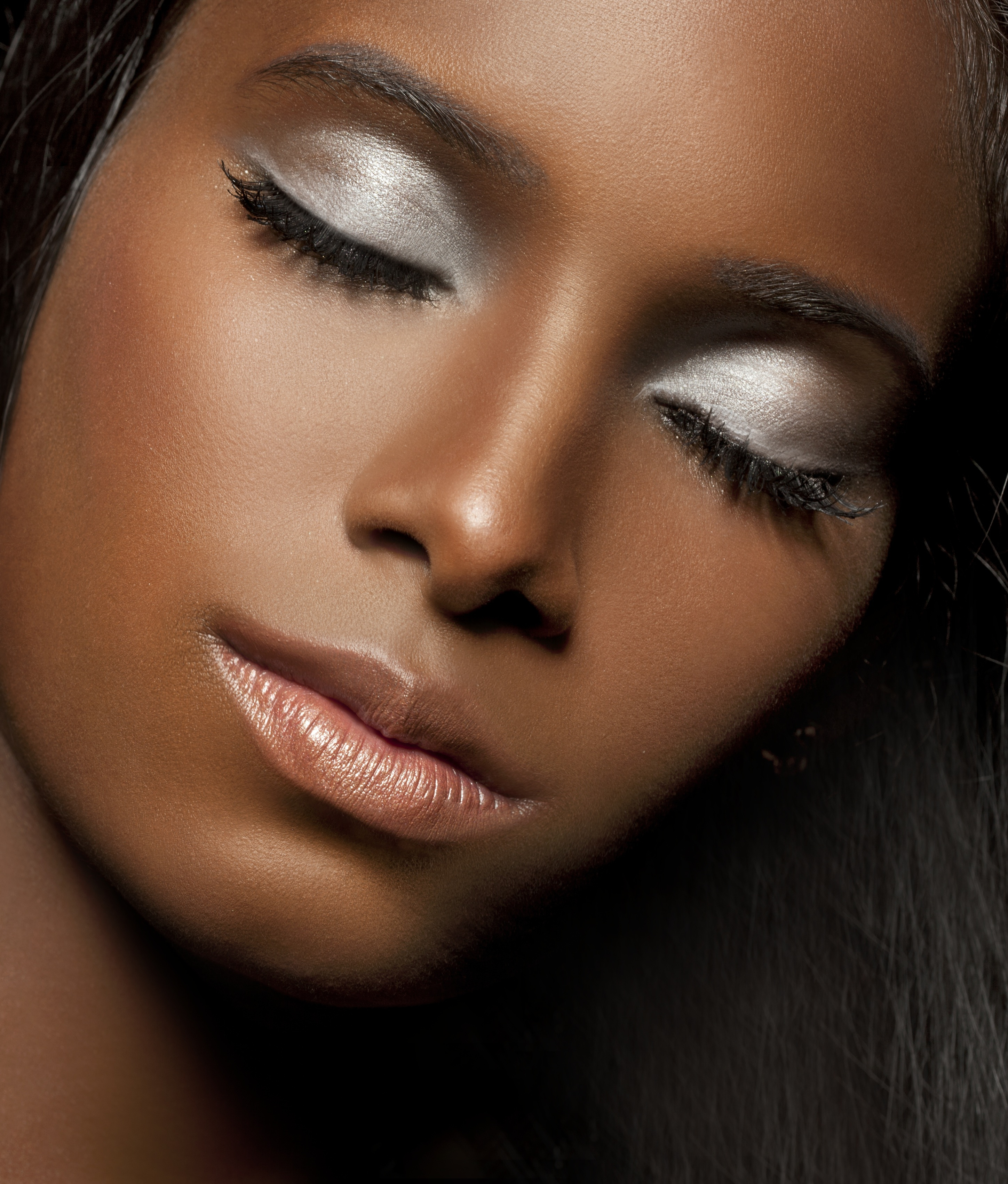 Silver metallic eyeshadow is beautiful on brown skin and magnificent complement to brown eyes as well.
8. Dark eye and light lip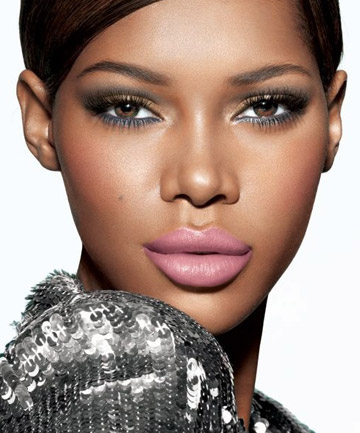 This is another wonderful nighttime date look. The dark eye is smoldering and the pink lip is inviting.
9. Blue and purple ombre lips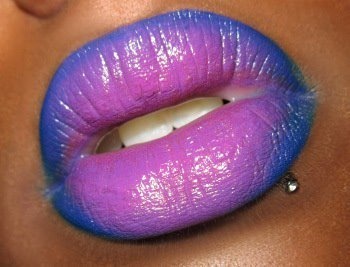 The fun thing about the ombre effect as it relates to lip color is there are so many different lip liner, lipstick and lip gloss colors that you can use to blend together. And when you have full lips, the ombre look is even more amazing. Blue and purple are just two colors that look oh so good on brown skin.
10. Light pink lips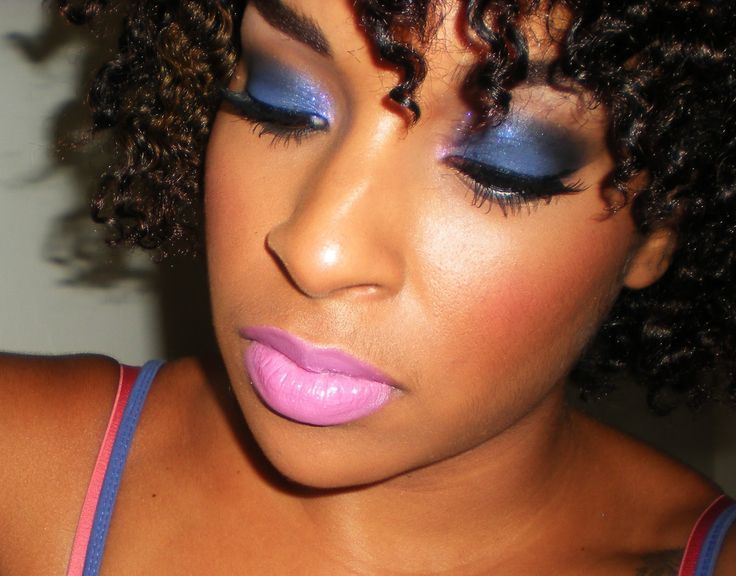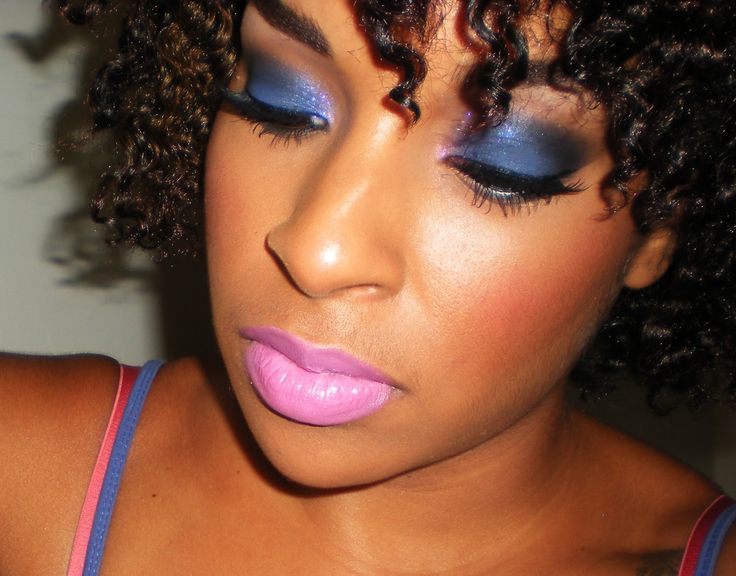 If you have really dark skin that's a bit of a chocolate hue, light pink lips may not look quite as complementary. But i you are more like a mocha or latte, give it a try. You might really like the results.
11. Shiny brown eye shadow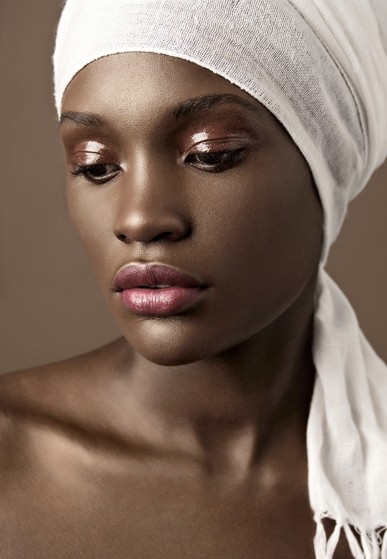 This is basically another take on the metallic look only it's copper. And how did she get her face to look so shiny? There are some eye shadows that come that way. Or, you can dab a bit of Vaseline on your lids before apply the makeup. (Shh! That'll be our little secret.)
12. Blue and yellow eye shadow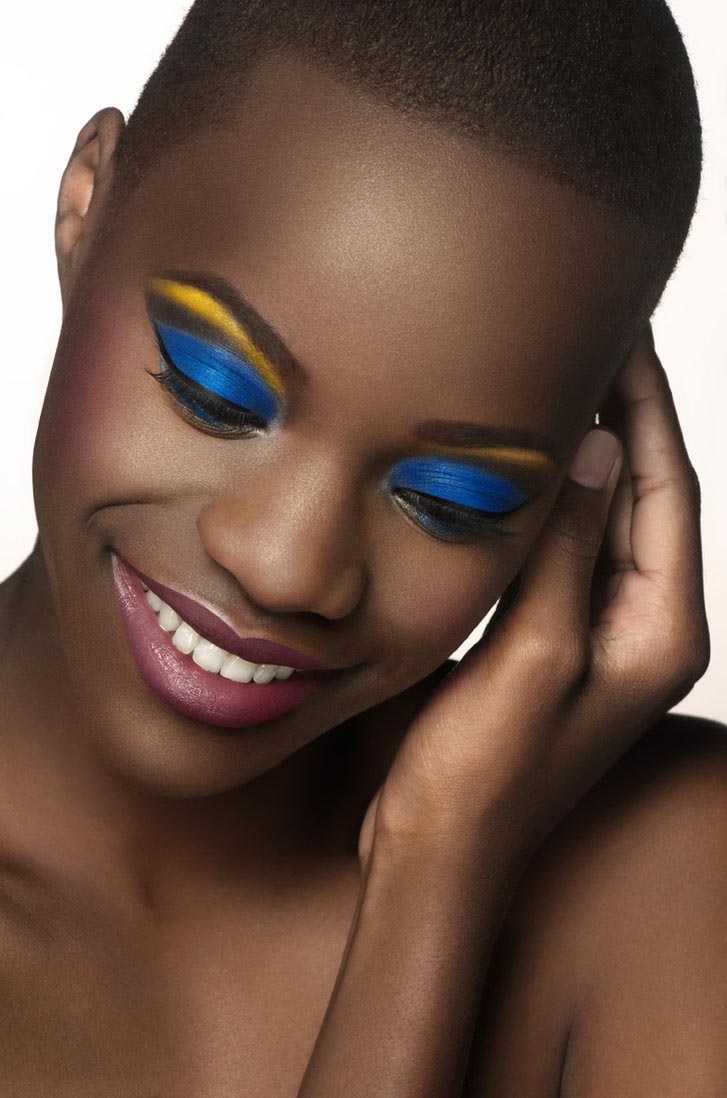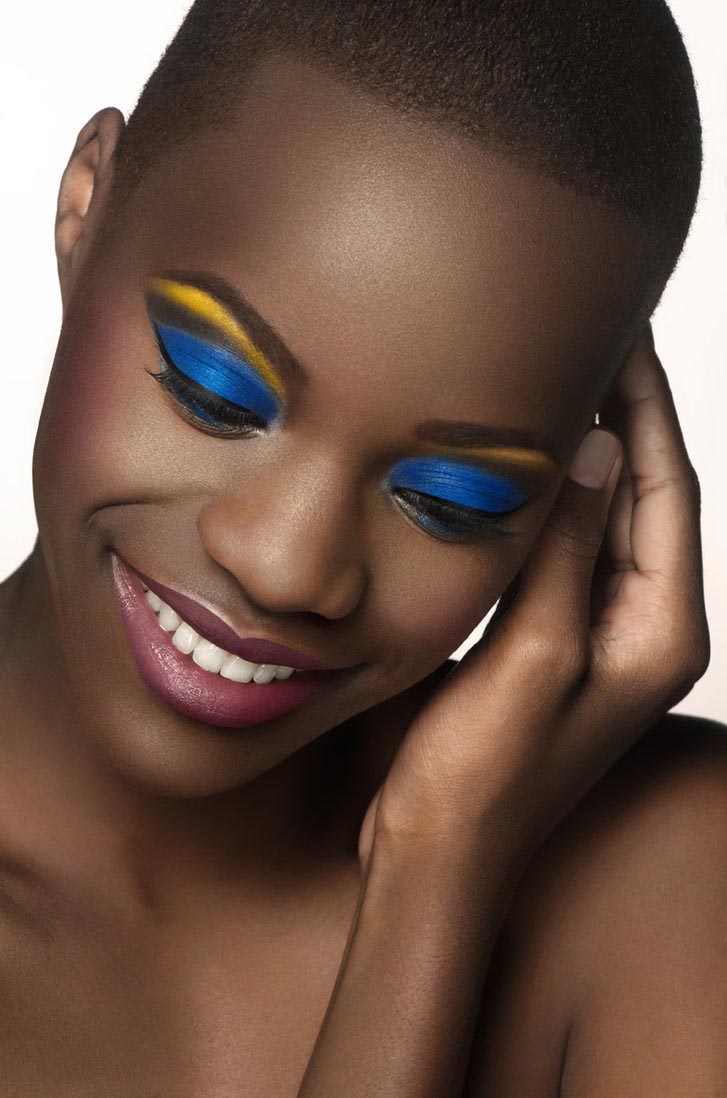 Some black women shy aware from bright colors. If you're one of them, you shouldn't. Color combinations like blue and yellow are actually quite striking.
13. Purple lips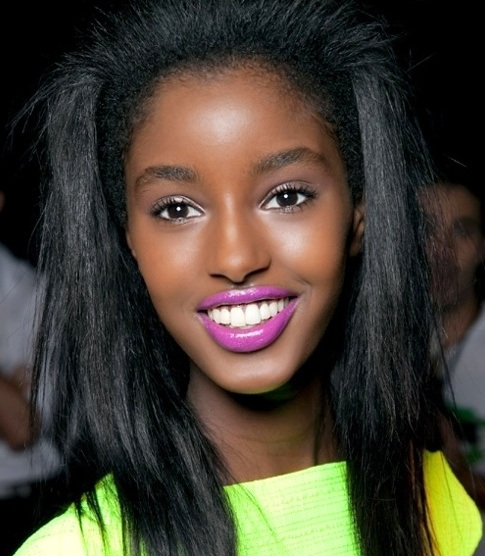 Purple is a radiant color on any woman's lips. It's definitely a shade that should be in every cosmetic bag.
14. Bronze metallic eye shadow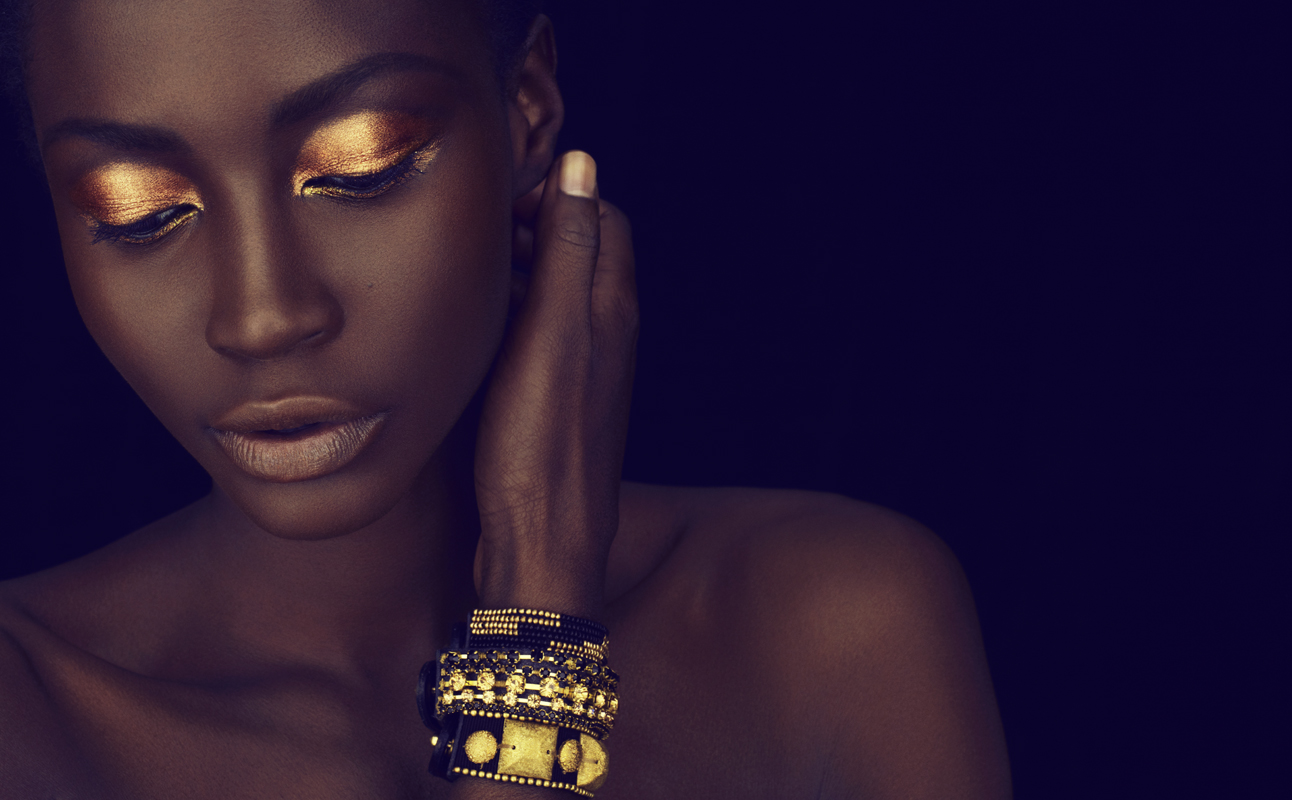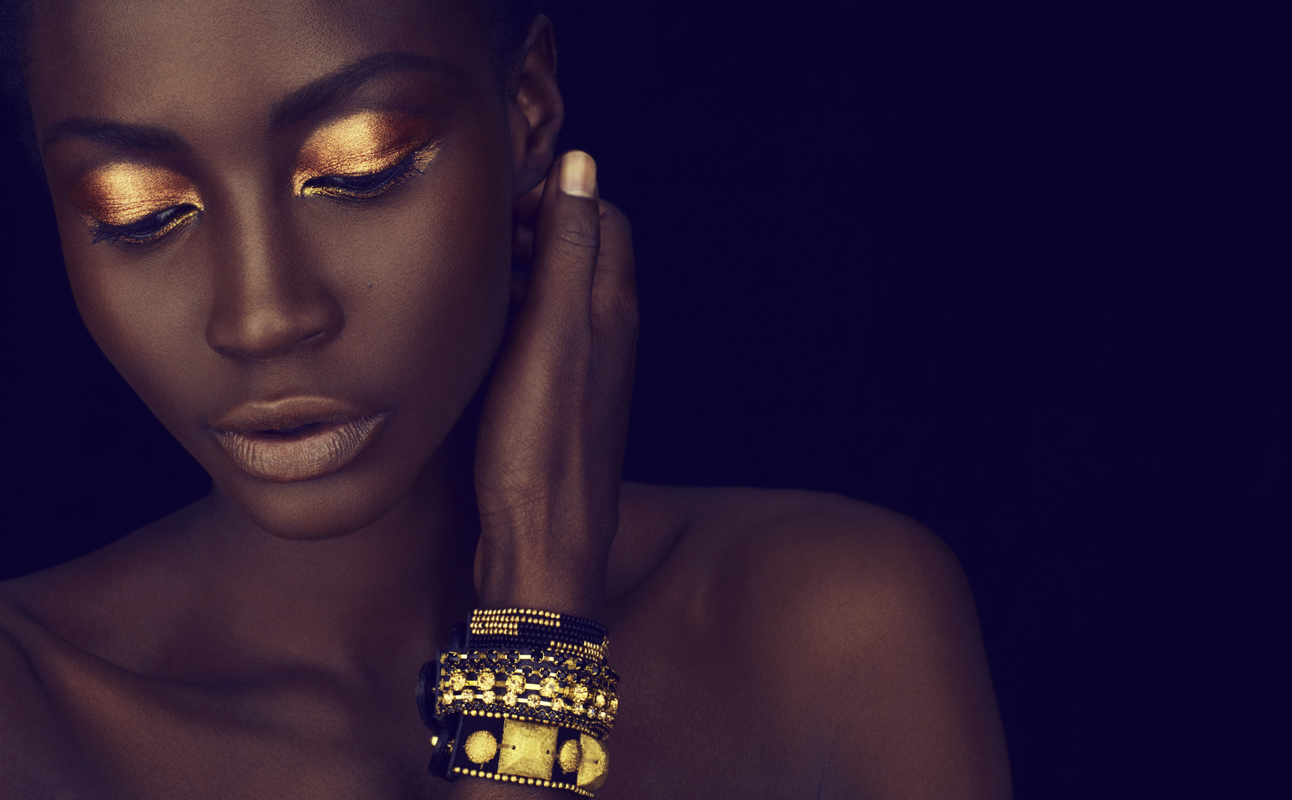 This is another look that is magnificent on chocolate skin. Bronze metallic eye shadow will earn you stares from day into night.
15. Lavender lips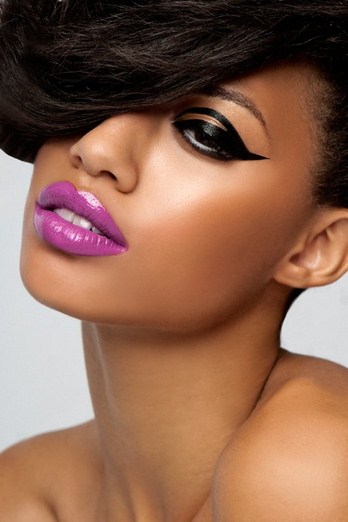 Lavender is a shade of purple that goes nicely on golden skin. Put it on with a coat or two of mascara and it will be all that you need.
16. Blue 'under eye shadow'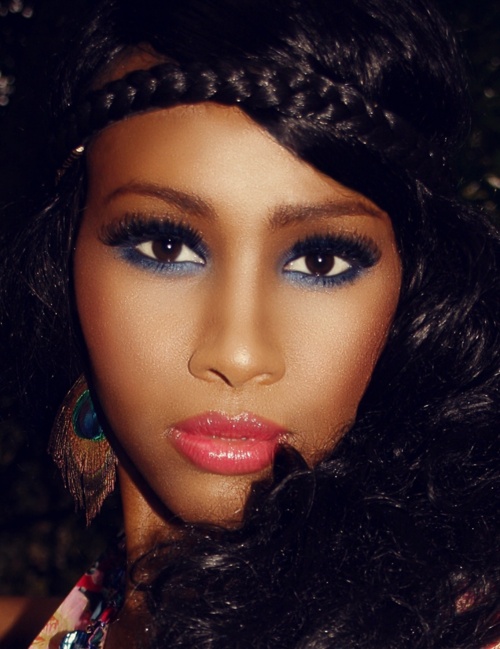 Looking for a way to soften your brown eyes? Smudge a bit of blue eye shadow underneath it. You'll get glowing yet really romantic results.
17. Brown ombre lips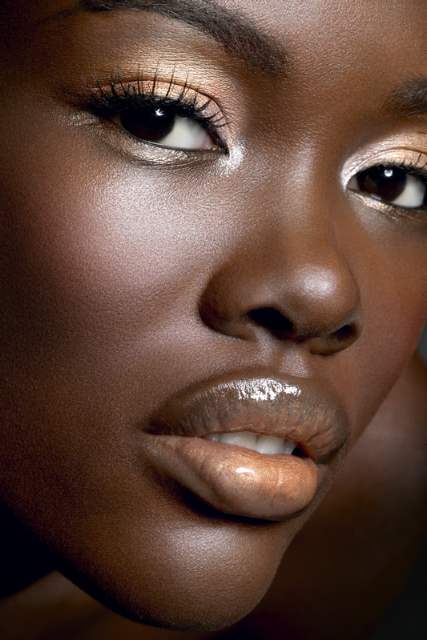 Here's another example of how to do a more conservative ombre lip look. First apply a brown lipstick and then dab a peach or even golden color in the middle of your top and bottom lips.
18. Dramatic face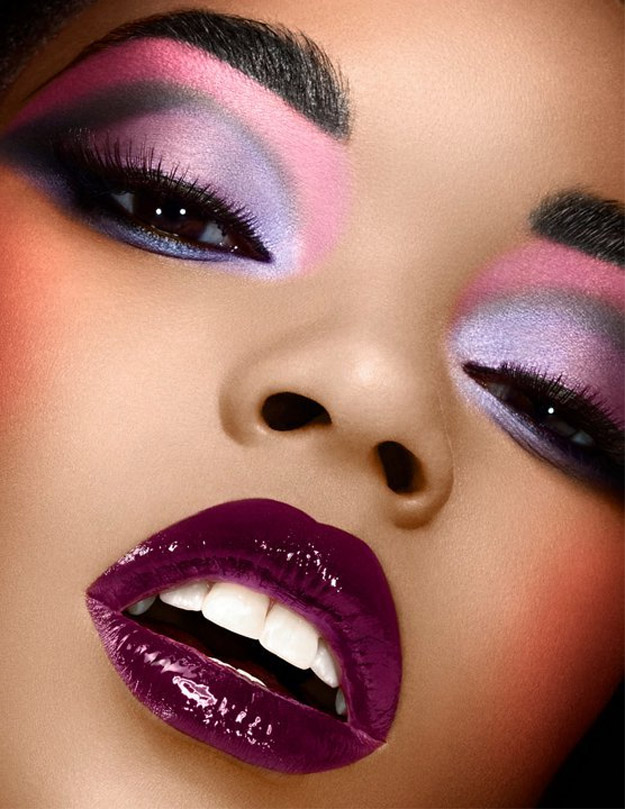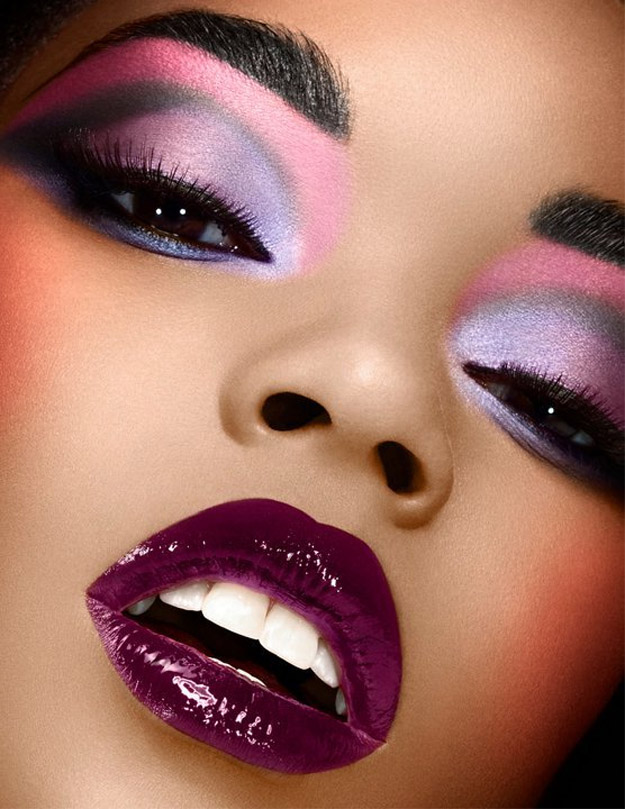 If you can't get enough makeup and you've got a formal event coming up, you can definitely take the dramatic route. Purples, pinks and greys on your face will make your shimmer. Unforgettably so.
19. Coral lips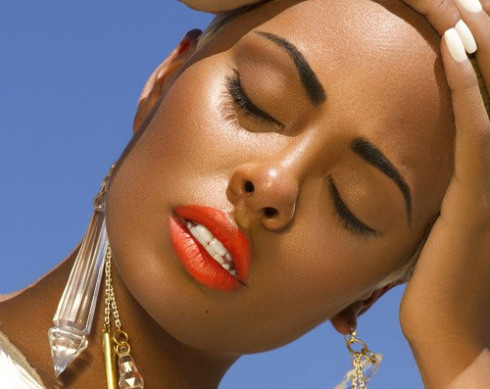 Coral is fun for the summer. And it works on black woman of all skin tones.
20. Shimmering eye shadow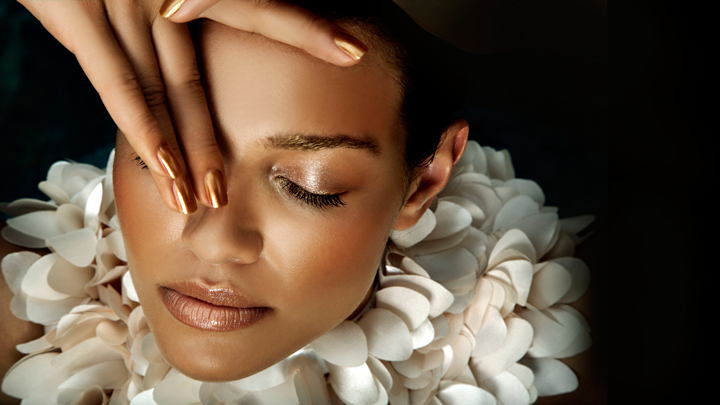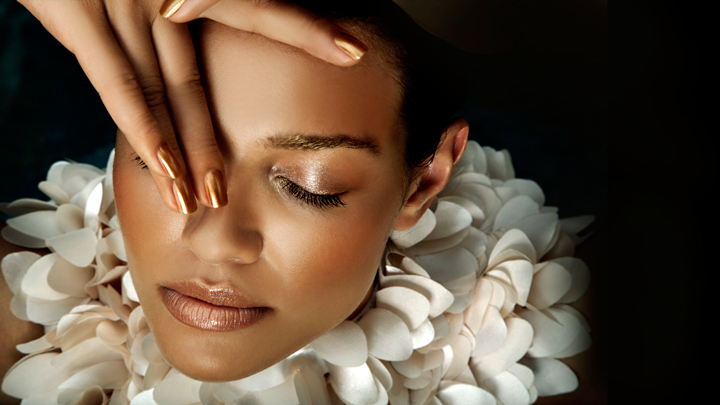 This is basically the evening version of the nude face. Simply look for nude colors. Only make sure that they have a bit of shimmer added to them.
21. 'Peacock' face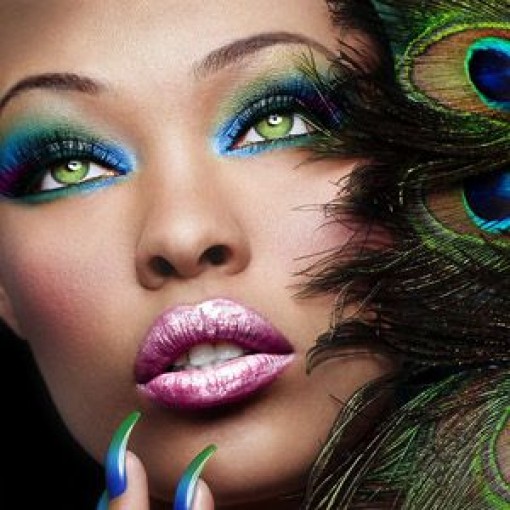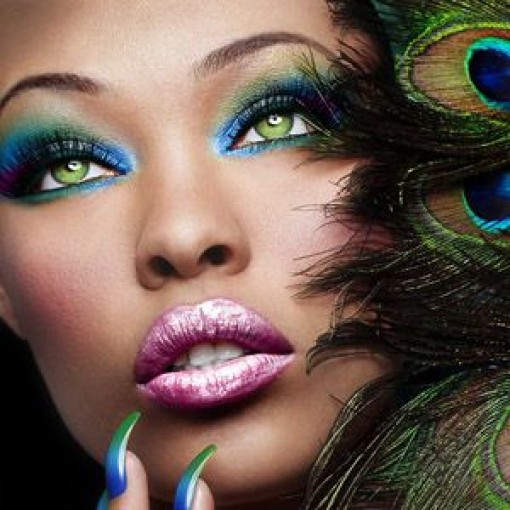 Peacock feathers are everywhere this season. One way to wear it on your face is to blend in some blue, green and gold along your eyelids. It's an absolutely alluring combination.
22. Blue lips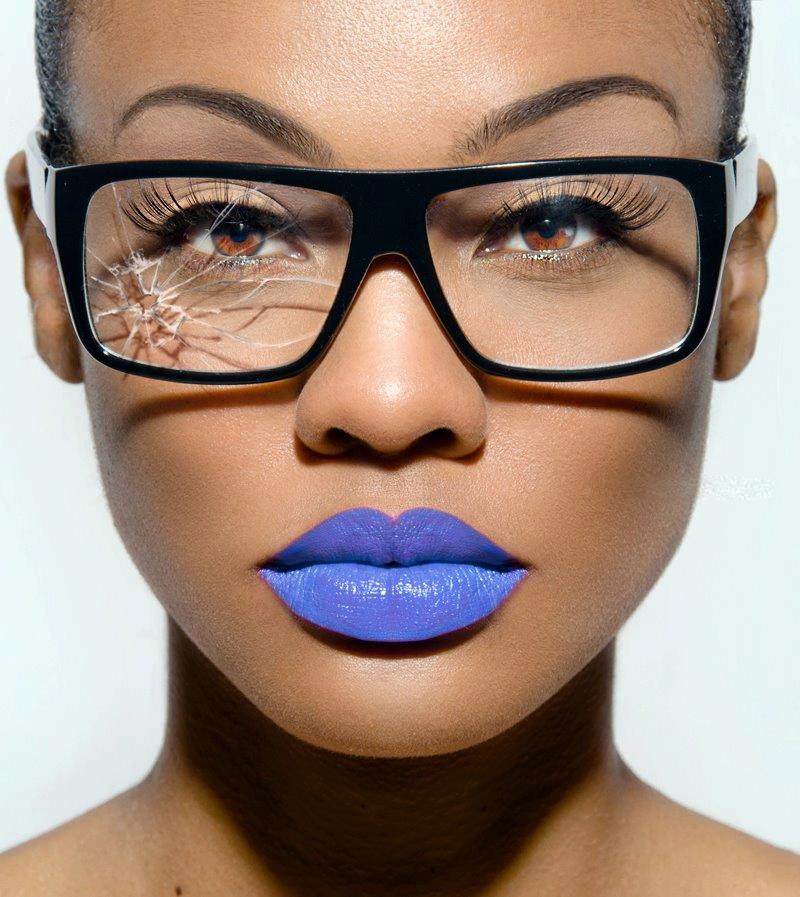 Never thought about wearing blue lipstick before? How about now?
23. 'Brilliant eyes'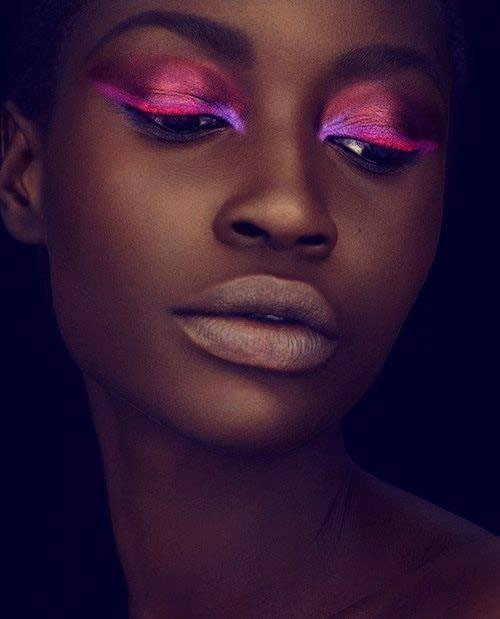 Black skin is such a special makeup canvas. Nothing proves this more than a picture like this. The colors literally glow on her rich and dark skin tone. And you know what? They'll do the same for you too.