We all know that white is a timeless trend in the fashion world. You will look fabulous with the white outfits throughout the world. In today's post, we are going to show you 16 ways to wear the white outfits. Scroll down and check out these stunning ideas.
White Outfit with Jeans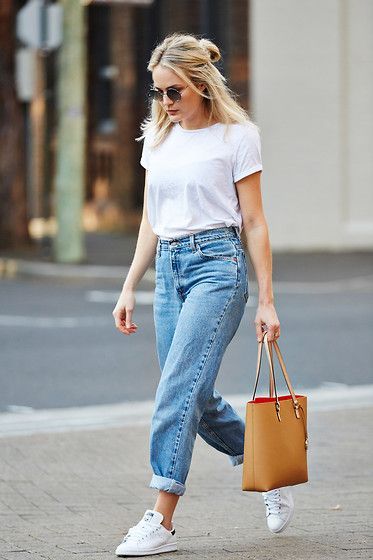 A basic white tee is chic enough to pair with the jeans.
White Ripped Jeans Outfit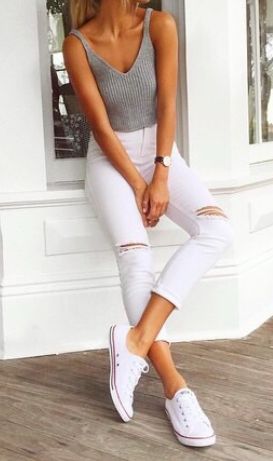 White ripped jeans look effortless with the white sneakers. A crochet crop top will add more fashion vibes to your overall look.
Fashionable All White Outfit for Summer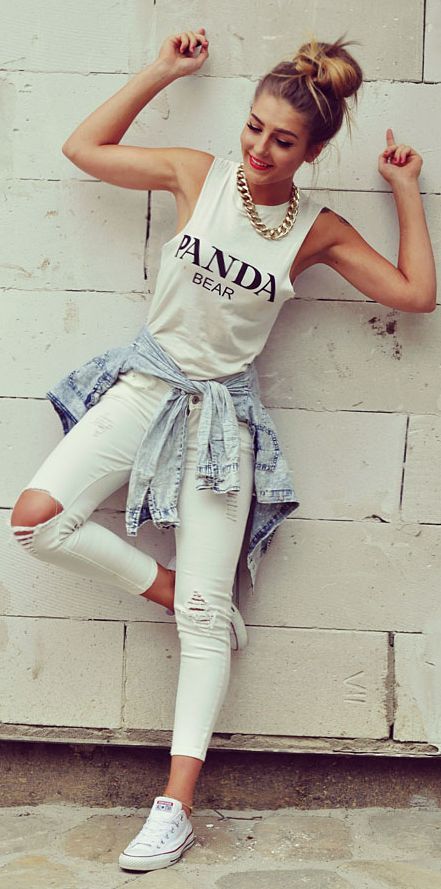 Young women should not miss this casual chic outfit. The white singlet is chic enough to pair with the ripped jeans. The white sneakers make this outfit comfortable and fashionable to wear.
Stylish Withe Outfit for Summer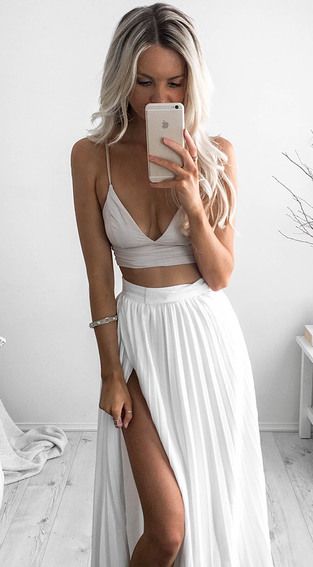 The white thigh-split maxi skirt is very pretty for women to wear. This is quite a sexy outfit for confident women.
Stylish White Dress Outfit

A simple white dress in a smart design will bring you an effortless chic look. The strap flats complete this outfit in a faddish way.
Graceful All White Outfit Idea

To get a graceful look, you can copy this idea. The V-neck suit makes this formal outfit more feminine. And the metallic sandals do a great job to enhance the overall look.
Chic White Outfit with Metallic Shoes

You can also wear a pair of metallic sneakers to complete your white outfit. The white mini skirt is quite amazing to make women look several years younger.
Beautiful All White Outfit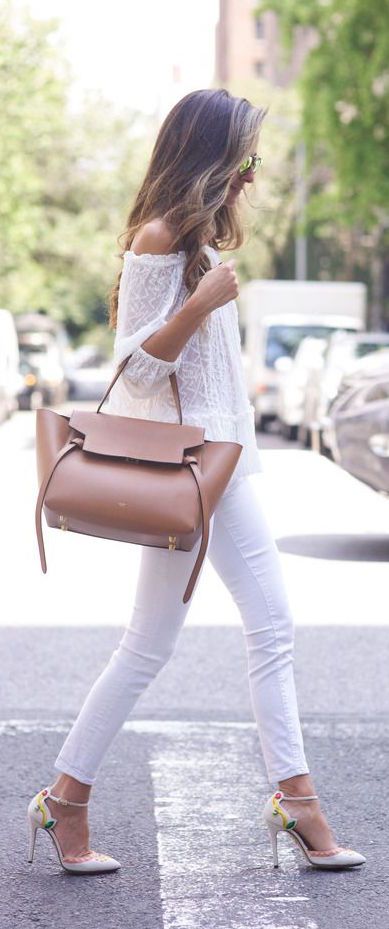 Choose an off-the-shoulder white top to pair your white jeans, and then put on your little pumps. Thus, you will get a super chic white outfit for all occasions.
Faddish Culotte Outfit for Summer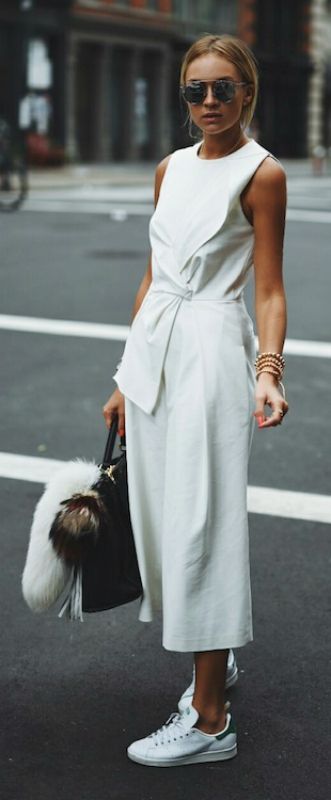 The white culotte must be one of the best pieces for office ladies. The white sports shoes make this outfit more youthful and faddish. It's fabulous for women who don't like wearing high-heels.
Amazing White Outfit for Holiday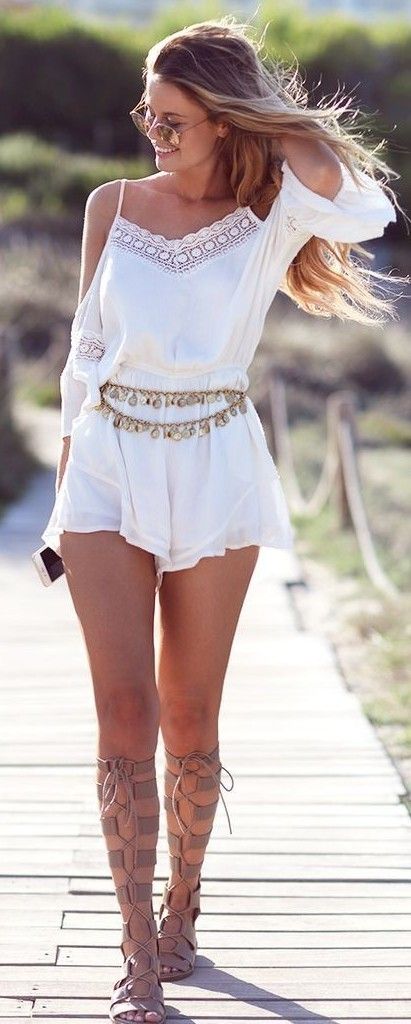 This white outfit is super stylish for holiday. The Roman sandals can make your legs look longer and slimmer. Copy this outfit idea next time you go on a holiday.
Comfortable White Outfit for Summer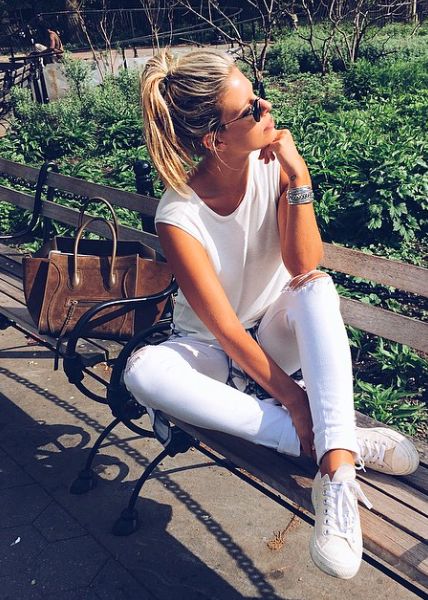 This casual-chic outfit is quite suitable for women who love sports. It's not only comfortable to wear but can also make you look much more youthful.
Sophisticated White Outfit Idea

If you want to make your office outfit more sophisticated, you can learn from this idea.
Sexy White Dress Outfit with Strap Sandals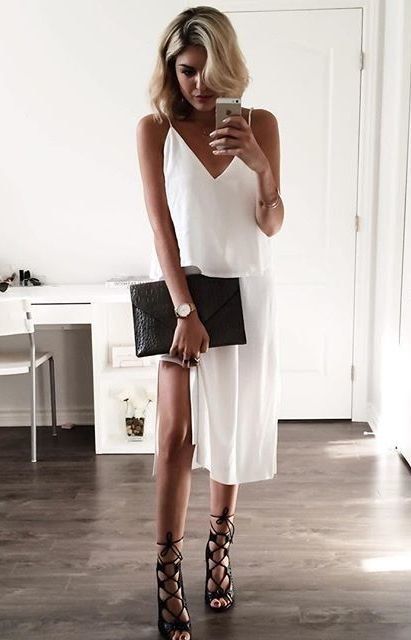 The white dress and black high-heel sandals makes a fabulous black and white outfit. It's quite sexy to wear for a romantic date.
Fashionable All White Outfit Idea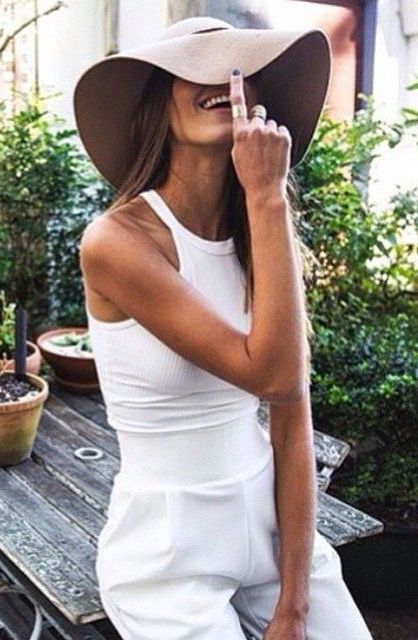 Such a fashionable all white outfit is fascinating for those casual occasions. You can wear it for dates and holidays. It can make you look faddish without any effort.
Chic All White Outfit Idea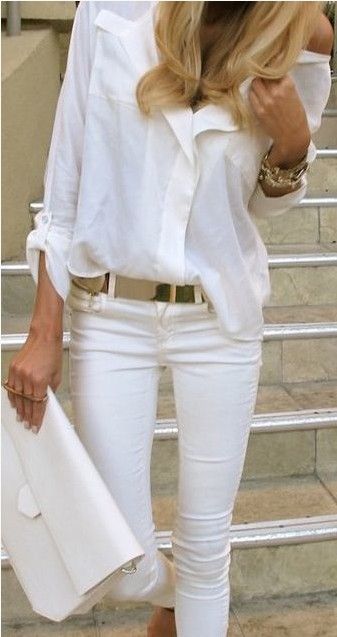 White shirt, white jeans and white clutch! Everything is so simple, yet everything becomes different when combined together.
Graceful White Outfit Idea

Add a golden belt to your all white outfit and put on your red pumps. In this way, you can get an effortless chic outfit for all the important occasions.
Beautiful All White Outfit Idea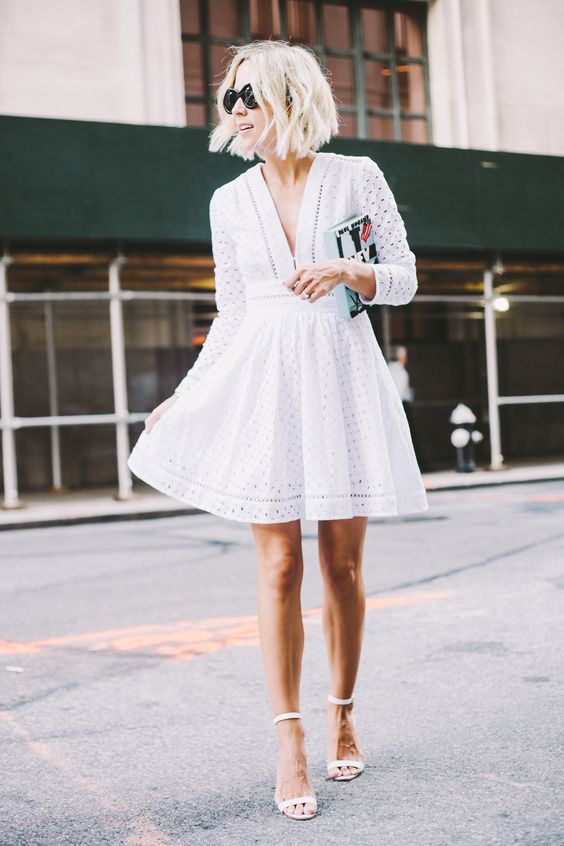 A pair of stylish high-heel sandals is fashionable enough to pair a beautiful white dress. This outfit won't be wrong wherever you go.
Feminine White Outfit for Summer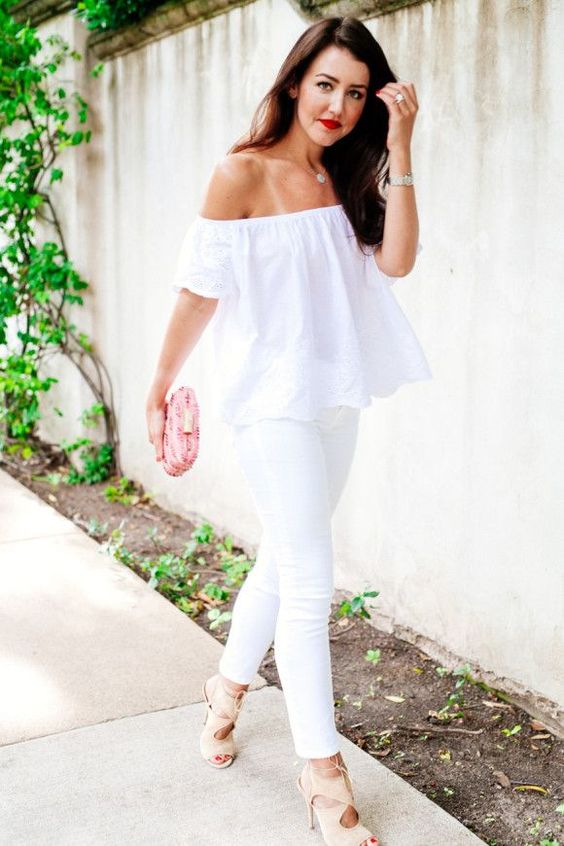 The all white outfit looks quite graceful with the nude sandals. The off-the-shoulder blouse makes this outfit more feminine and suitable for all occasions.