Find Jessica Alba's Latest Hairstyles in This Gallery. Including Short Haircuts, Updos, Medium Hairstyles & Long Hairstyles from Jessica Alba!
Jessica Marie Alba(April 28, 1981) is an American television and film actress and model. She began her television and movie appearances at age 13 in Camp Nowhere and The Secret World of Alex Mack. Jessica Alba's hair color is brown, and she loves to wear long brown wavy hairstyles very much.
1. Jessica Alba Shoulder Length Hairstyles: Chic Layered Medium Hairstyle with Low-lights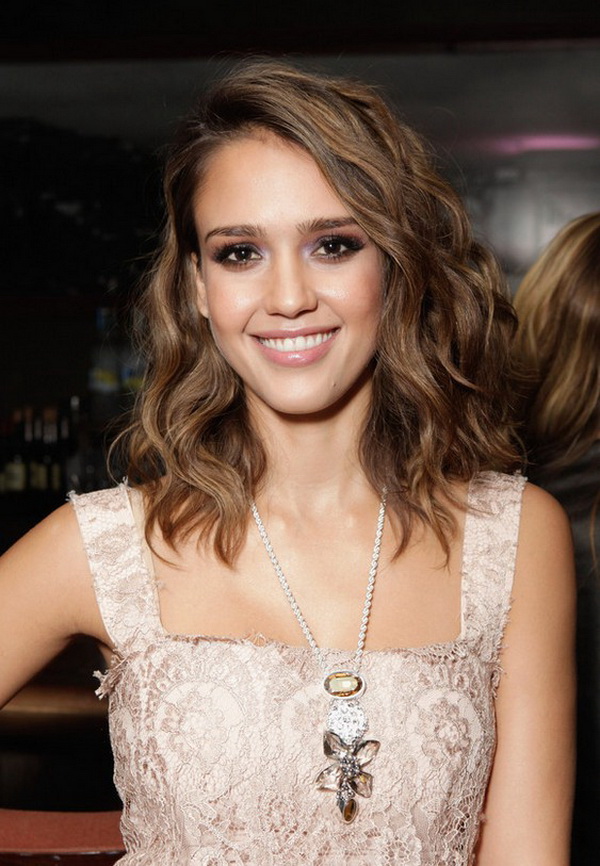 Casual daily hairstyle for women: This is a great look for hair that is being grown out or to jazz up a medium style. With loads of texture thanks to the choppy waves and loose finger-combed look and plenty of volume due to the side parting and sweep of hair that frames the side of the face, this is a fun, easy to wear look. Jessica Alba gets it right with just a hint of warmer tones to spice it up a little. This medium hairstyle is great for oval, oblong, round face shapes.
2.  Jessica Alba Long Wavy Hairstyle: Deep side part hairstyle for night out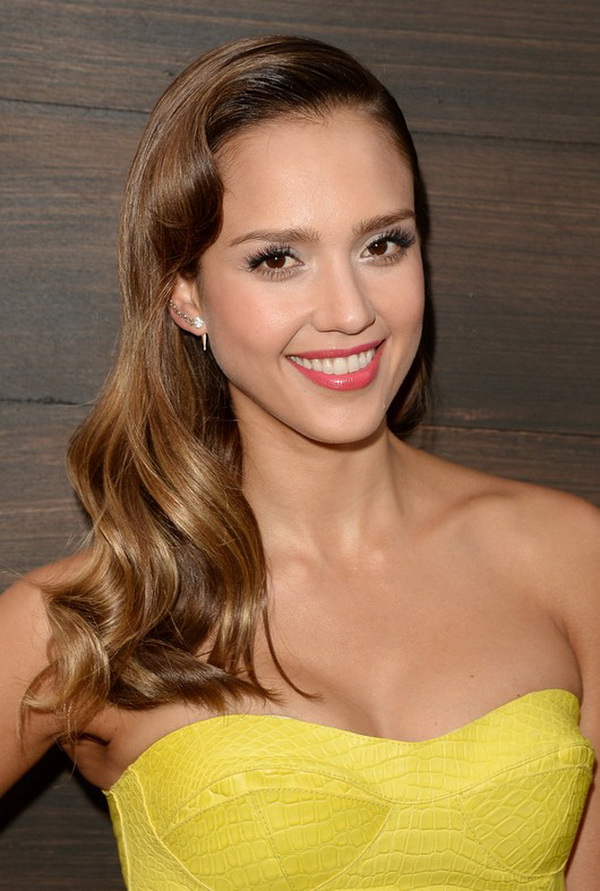 In a slightly darker blonde tone than she normally wears, Jessica Alba keeps it casual with loose waves and lets the sleek shine of her hair do the talking. The side part is particularly flattering as it is kept back from the forehead so the face looks balanced and the attention is directed to the eyes. An understated style that could be worn anywhere and would suit many face shapes.
3.  Jessica Alba Long Hairstyle: Elegant long wavy hairstyle for spring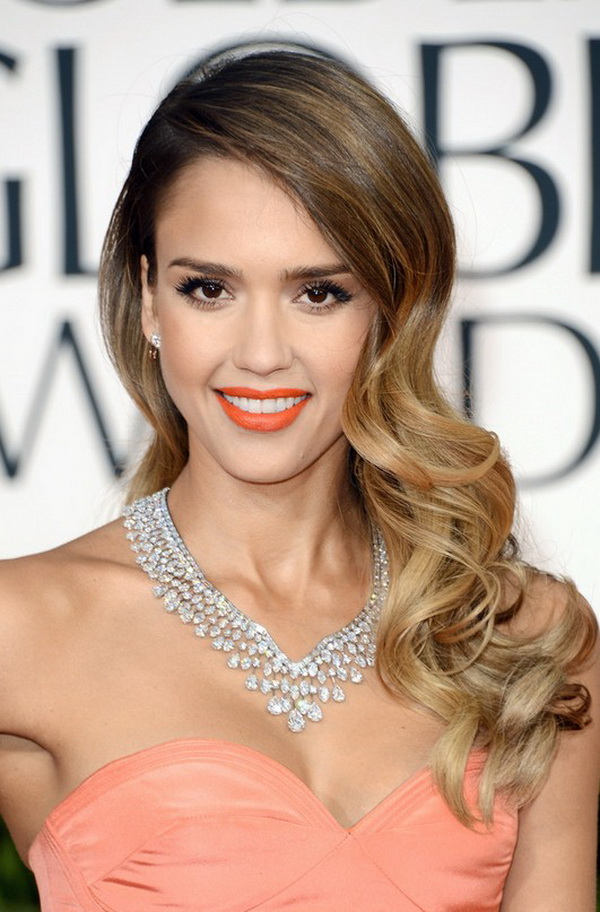 In this look, Jessica Alba manages to make this glamorous style look like it 'just happened'! The hair is soft with barely a hint of any product and yet it sits perfectly – the broad sweep of hair from the side falls effortlessly into a flow of natural-looking curls. Not all of the hair is over the shoulder, instead she lets it fall naturally down her back for a gentler feminine look.
4.  Jessica Alba Chignon Updo: Simple Chignon Hair – Popular Chignon Hairstyle for Women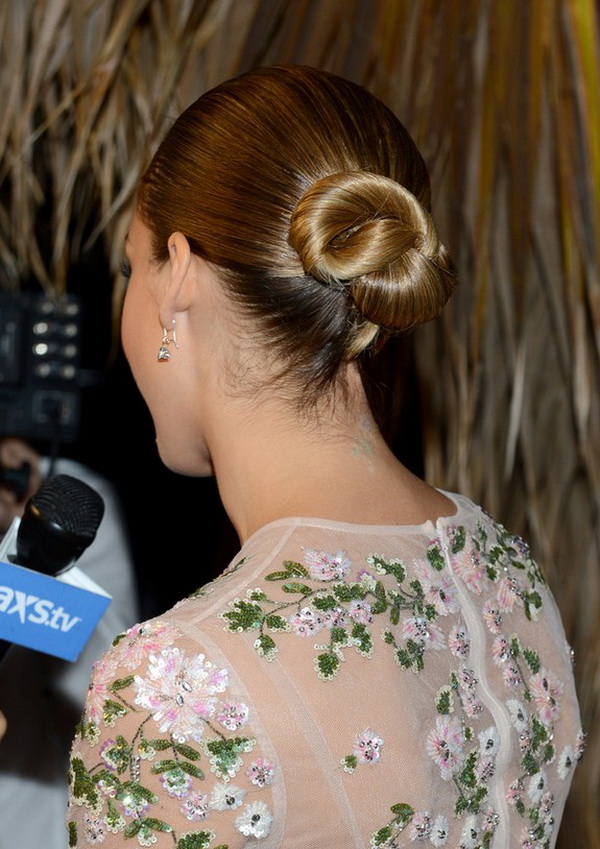 The chignon is a classic look and Jessica Alba gets it peferect here with perfect, mirror-shone hair that twists into the chignon shape at the back of the head and gives a truly elegant feel to her look. The hair is in beautiful condition with great shine and the subtle highlights ranging from dark blonde to touches of a light straw colour make this style a great success. Do you like this Chignon hair style? And it is easy to style, if you want to DIY Chignon at home, please search the chignon tutorials on our site.
 5. Jessica Alba Short Hairstyle: Chic Messy Short Haircuts for Summer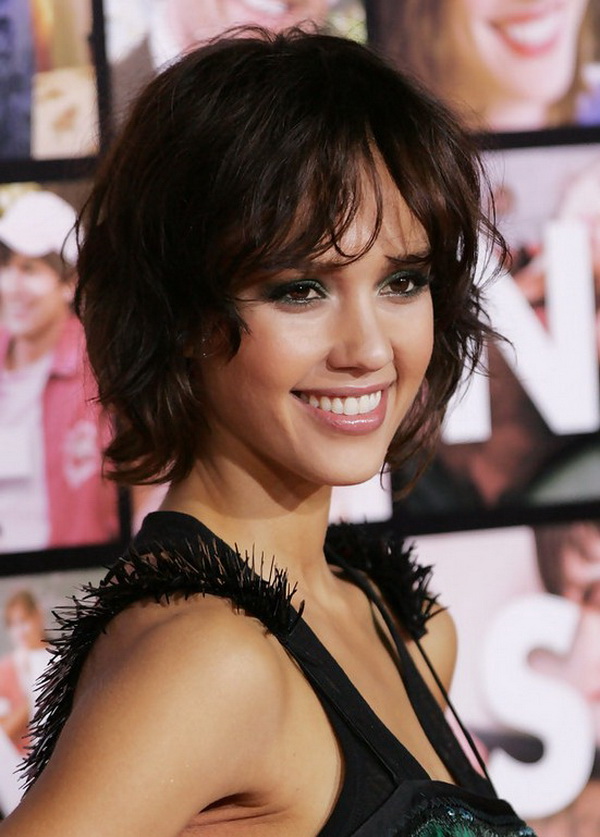 This is as dark as we have seen Jessica Alba's hair and it works surprisingly well, especially with the smoky eye-makeup and defined brows. This is a very well-cut style, with layers cut and shaped around the face to frame it perfectly. Subtle volume and plenty of texture make this a style that really flatters Alba's features.  If you're looking for short hairstyles for round. oval, heart face shapes, this is a great one!
 6. Jessica Alba Bob Hairstyle: Short Blonde bob hair style with side swept bangs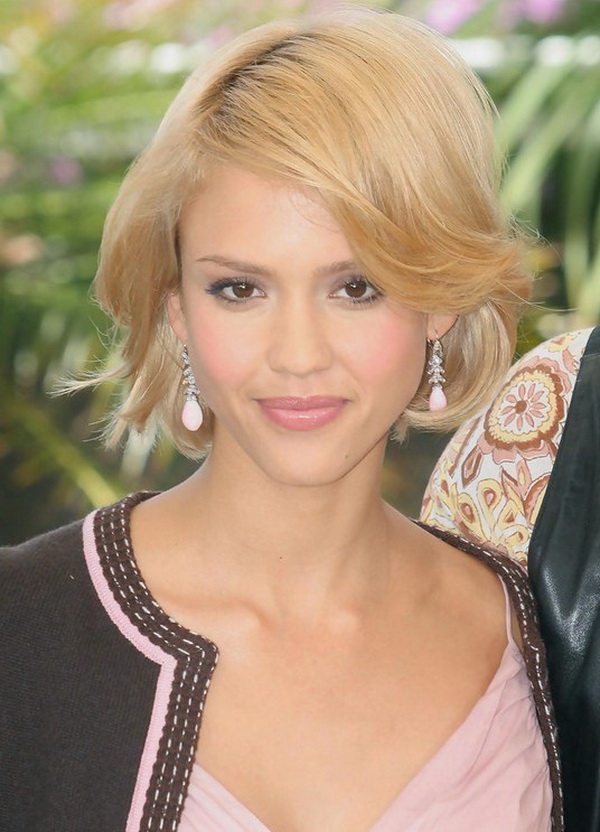 Summer hair ideas: At first glance you could be forgiven for thinking this was a long hairstyle tied back rather than a cleverly styled short bob. By angling the parting of the hair, Jessica Alba makes the most of a sweeping fringe while still leaving plenty of hair on both sides of the head. Loose waves and a playful flick make the style fun and feminine. This is a great short hair for round faces.
 7. Jessica Alba Short Haircuts: Messy Updo for Short Hair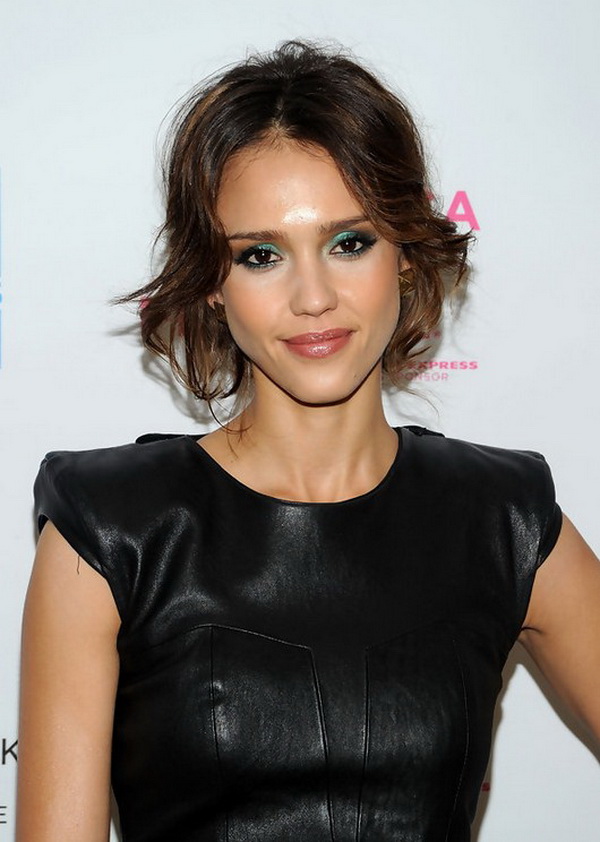 Casual updo for short hair: It can be really difficult to find an updo that will work with short hair, but if anyone does it well it is Jessica Alba with this modern, messy updo that allows tousled curls to frame the face while the rest of the hair is pinned back. The dark brunette curls are finished beautifully with hints of warm copper which tie the dark colour to Jessica's skin tone really well, lifting what might otherwise be quite a stark flat look.
8.  Jessica Alba Medium Length Hairstyles: Sexy medium hairstyle with long bangs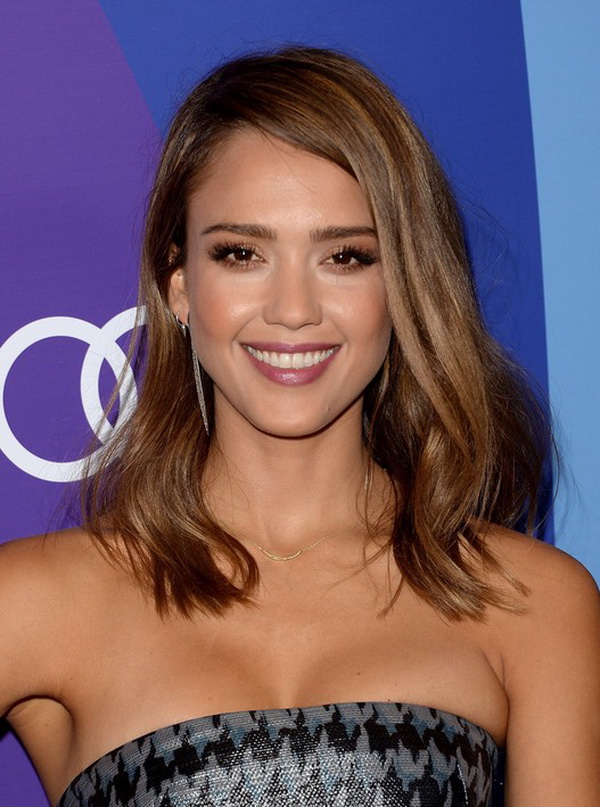 Hairstyles for medium length hair: A side parting looks great on Jessica Alba; it frames the side of the face and still slows her to showcase her rather lovely cheekbones. However, it is hard to tell if this style is intentionally this loose; the barely there waves aren't quite tousled enough for a purposely messy style. This results in a slightly unfinished look, but a good casual look. Find more celebrity hairstyles on stylesweekly.com
9. Jessica Alba Make Up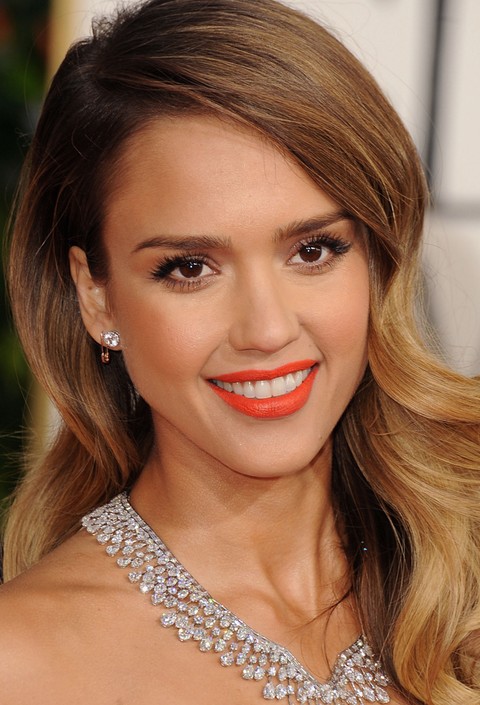 If you thought orange lips were over, Jessica Alba's Golden Globes makeup should show you that ain't so. The actress dazzled in matte tangerine lipstick, which she wore with a peach-coloured Oscar de la Renta gown.
10 Jessica Alba Ombre Hair : Center Part long ombre hair – brown to blond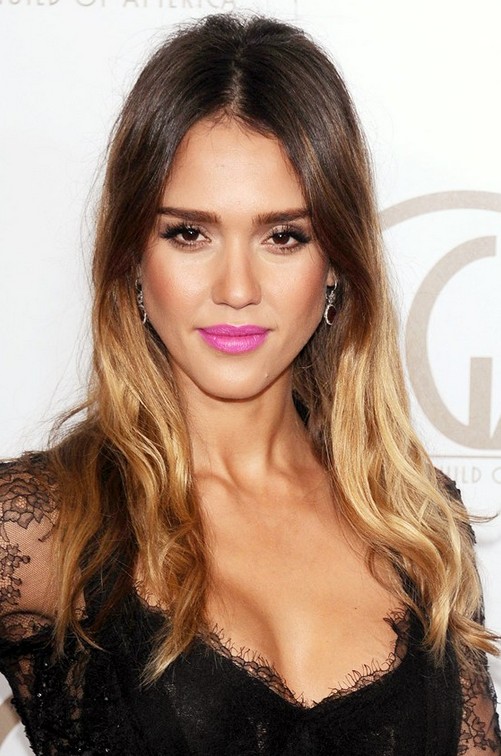 The ombre hair is hot in recent years, Jessica also followed the trends.
11. Jessica Alba Hairstyles 2014: Center part long straight hairstyle for women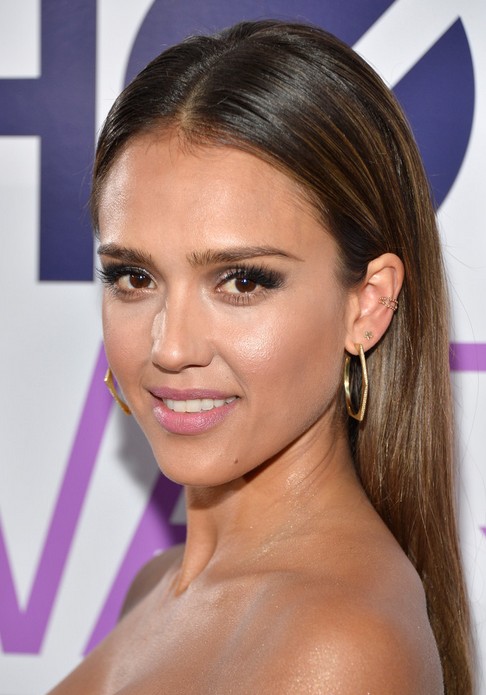 Celebrity hairstyles: Jessica Alba opted for simple styling with this straight center-parted 'do when she attended the People's Choice Awards. The long sleek hairstyles are simple and easy to maintenance.
12. Jessica Alba Hair: Chic highlighted medium hairstyle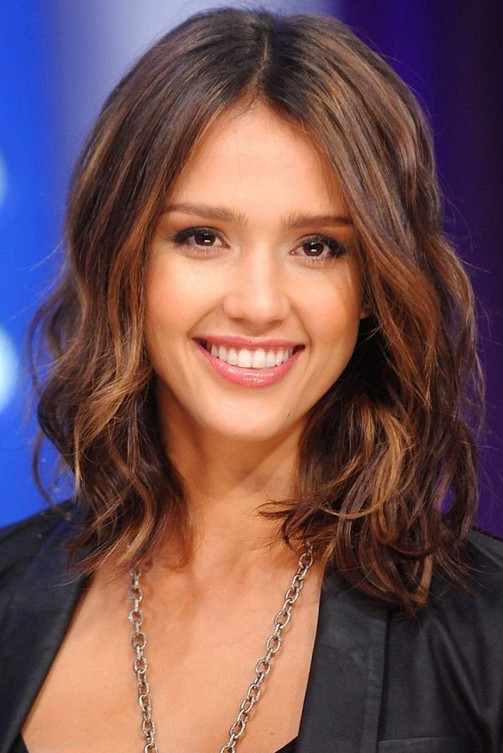 Looking for new hairstyles for spring? Here is a great layered medium wavy hairstyle with highlights from Jessica, do you love this style?
13. Jessica Alba Long Ombre Hair Style: Sexy long ombre hair for Fall/Winter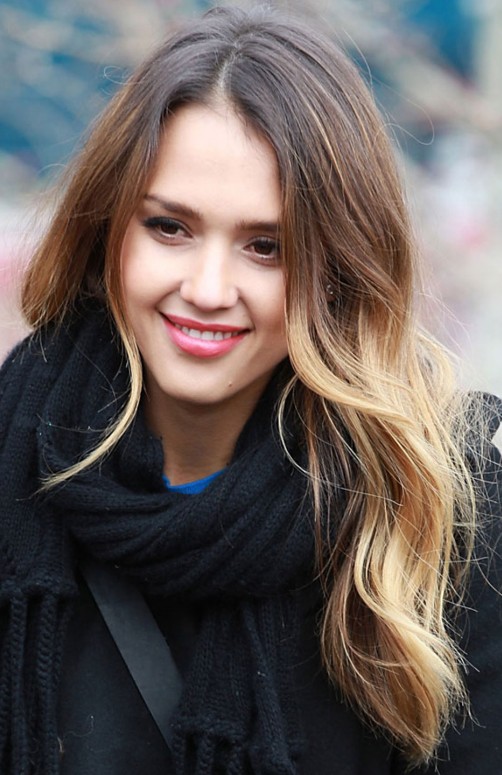 Jessica Alba ditches her ombre hair for a new blonde hue, this style is great for cold days.