Find Miley Cyrus' Latest hairstyles in this gallery, including short haircuts, shoulder length hair, updos, and long hairstyles from this pop star Miley~
Miley Ray Cyrus(November 23, 1992) is an American actress and recording artist. The daughter of country singer Billy Ray Cyrus, she held minor roles in the television series Doc and the film Big Fish in her childhood, Miley Cyrus' hair color is blond, and she loves to wear long hairstyles, but in recent year, exactly since 2013, she cut her signature long wavy hairstyle short! It's Miley's changing hairstyles that are the talking point at the moment – and not least of all, that daring peroxide blonde crop.
Miley Cyrus Hairstyles over the years
1. Miley Cyrus Short Haircut – Side view of chic short ombre wavy bob hairstyle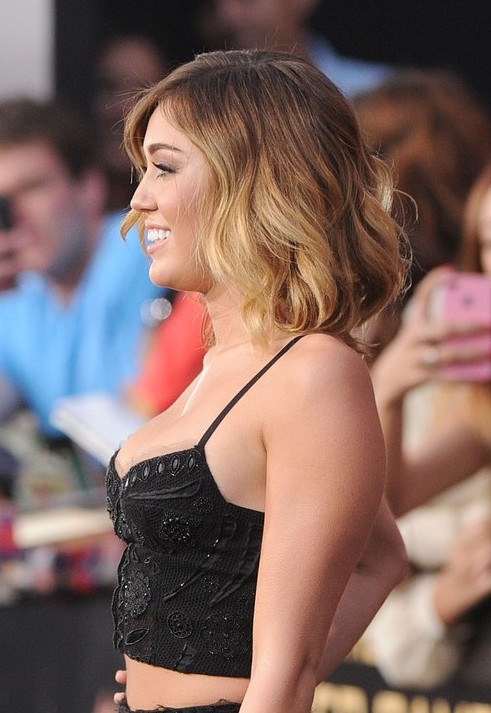 This is a very casual, simple look from Miley Cyrus who wears her shoulder-length hair down and gently waved for volume and shape. A simple parting and a soft wave at the front make this an everyday look that is quick and easy to achieve for minimum fuss. The colour is graduated from dark blonde/ash brown to blonde shades, giving it a natural look that tones with Miley's complexion very well. The ombre hair is really popular in recent years, Miley also following the trends. Need to find more ombre hair color ideas? Pls search our site stylesweekly to find more.
2.  Miley Cyrus Short Pixie Haircut – chic side swept pixie cut without bangs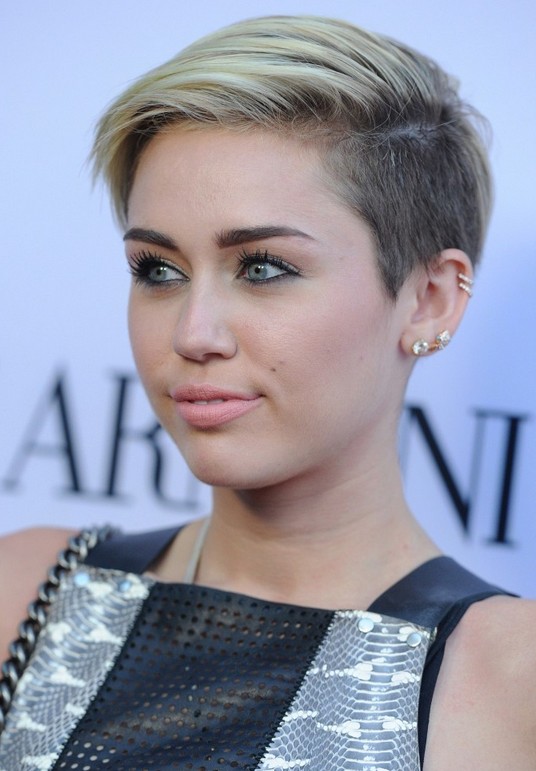 With lots of length on top, but very cropped sides, Miley Cyrus finds so many ways to style this cut, from the fauxhawk to this more toned-down style. The longer part of the hair has been brushed over to the side casually for an extremely effortless style. The two-tone look, with dark cropped sides and platinum on the top of the head creates all the drama that this style needs. Do you love this boyish cut from Miley?
3.  Miley Cyrus Short Fauxhawk – Cool spiked faux hawk haircut for women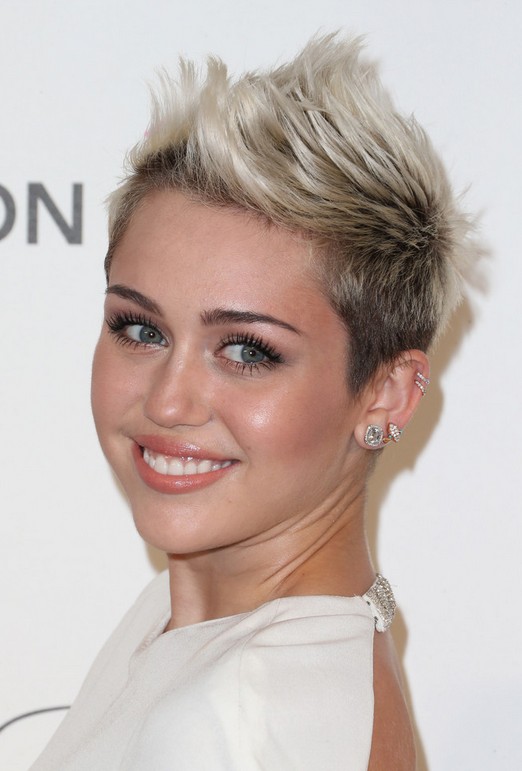 The 'fauxhawk' is a good way to achieve a punky, edgy look without making any drastic choices when it comes to actually cutting the hair. Miley Cyrus has styled her platinum pixie-cut to look like a mo-hawk and in doing so, she creates a big style statement. Flawless make-up, feminine eyes and groomed brows, combined with shiny lips and a glamorous outfit soften the harshness of the cut. I love this highlighted faux hawk!
 4. Miley Cyrus Pixie cut with long bangs – cool short cut for young ladies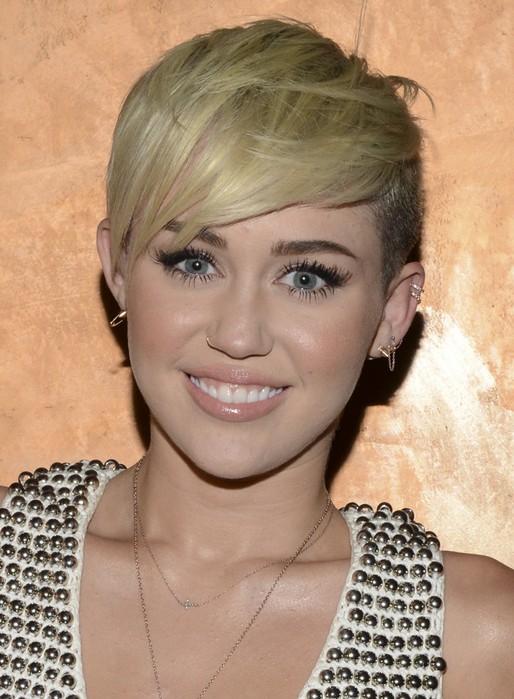 The pixie cut is a brave look, but Miley Cyrus has the fine features to carry this bold style off. She has delicate bone structure and full lips which prevent s the style from looking masculine. Worn very short at the sides and longer on top with a swathe of straw-blonde hair sweeping from the back of the head over the forehead , this is a style that makes a big fashion statement, 'cutting' ties with the singer's girly, childish past and announcing a new phase in her career and in her personal style
5.  Miley Cyrus Messy Updo – cute layered medium wavy hairstyle for women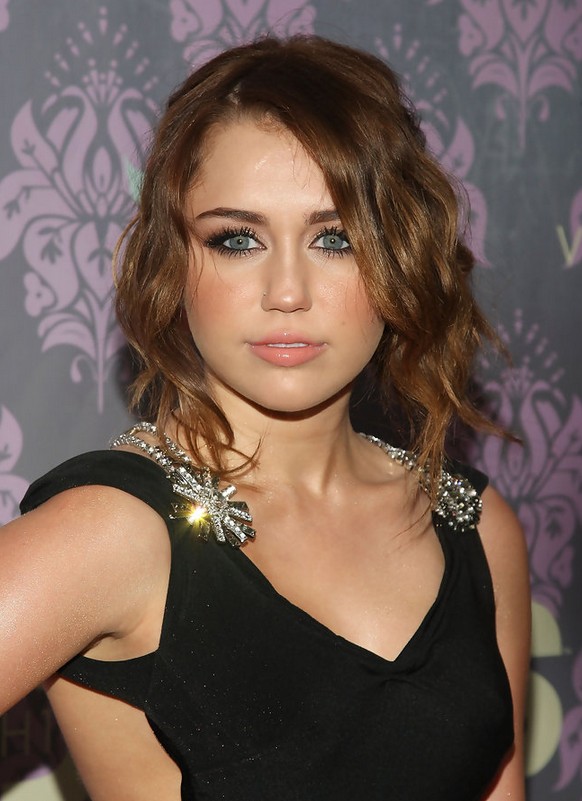 The messy updo is a great look for younger women – the effortless, carefree style is a great way to dress down a glamorous outfit a little for an edgier look that doesn't come across as too formal. Miley Cyrus wears lots of hair down towards the front of the head here, wavy and swept gently to the side. The rest of the hair is loosely pinned back. This is a great messy hairstyle for prom!
 6. Miley Cyrus Medium Straight Hairstyle – mid lengthsleek bob cut without bangs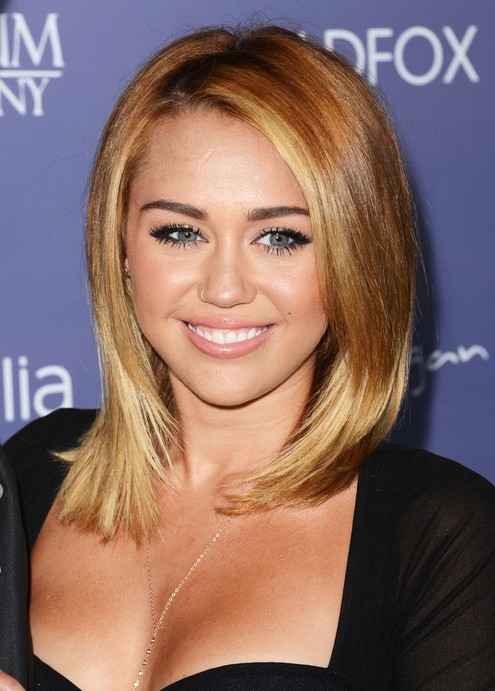 This side parting and sweeping fringe give Miley Cyrus a grown-up look that remains flattering and youthful. The golden tones and mid to dark blonde shades add lots of interest to the style, and flatter a light complexion perfectly. A few well-positioned layers and a length that sits just belo9w the shoulder frame the face and elongate it without looking too structured. This hairstyle is great for oval, square, heart, round faces.
 7. Miley Cyrus Medium Ombre Curly Hairstyles for women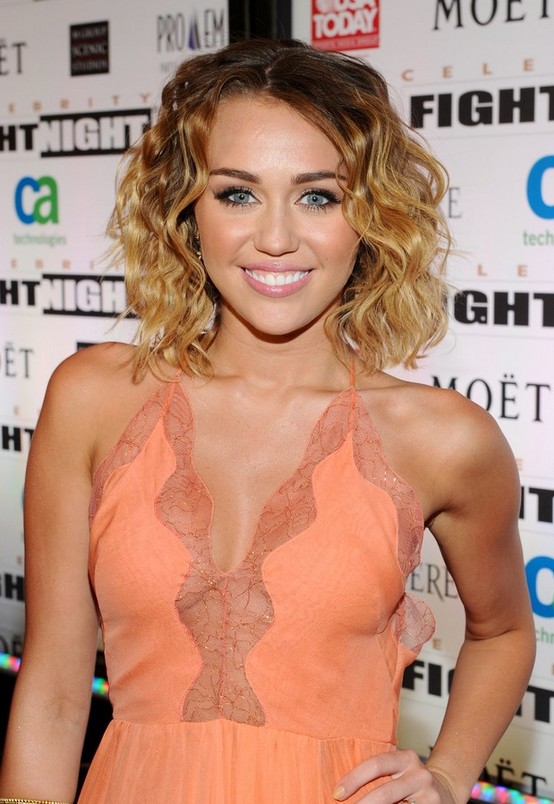 Here is another ombre hair from Miley. This medium-shirt style gives Miley Cyrus a sun bleached summer look and the tousled curls create a beachy look that tied in perfectly with her  dress and tanned, dewy complexion. The parting of the hair is a little uncertain – the part seems to be in the middle of the head but the hair at one side sits differently; deliberately messy or a rushed style? Which omre hair do you love best? The wavy one or the curly one?
8.  Miley Cyrus Long Wavy Hairstyles – highlighted blonde wavy hair style for long thick hair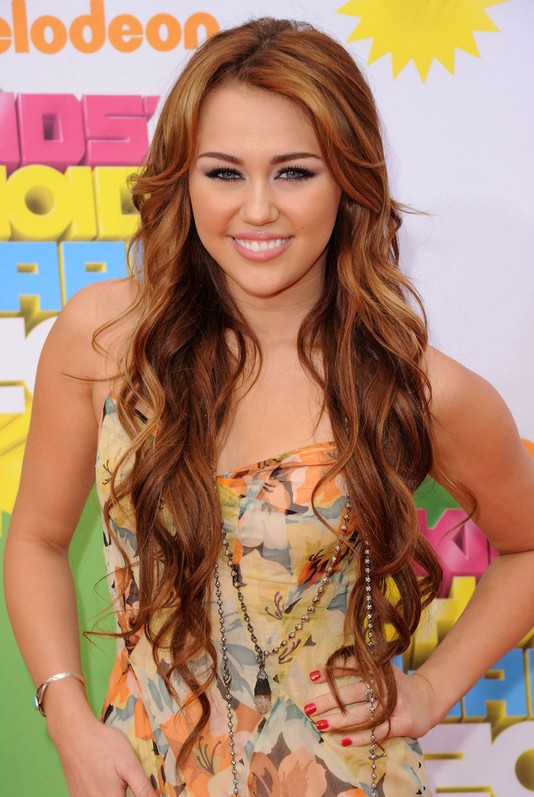 Back to school hairstyle ideas: This super-long style makes the most of a great copper and auburn mix that suits Miley Cyrus' complexion perfectly here, especially with make-up so perfectly chosen to match the red tones. The extra length elongates Miley's face and a sweeping fringe and flattering off-centre parting balances out her slightly pointed chin.
9.  Miley Cyrus Ombre Hairstyle – chic short dark brown to blond ombre hair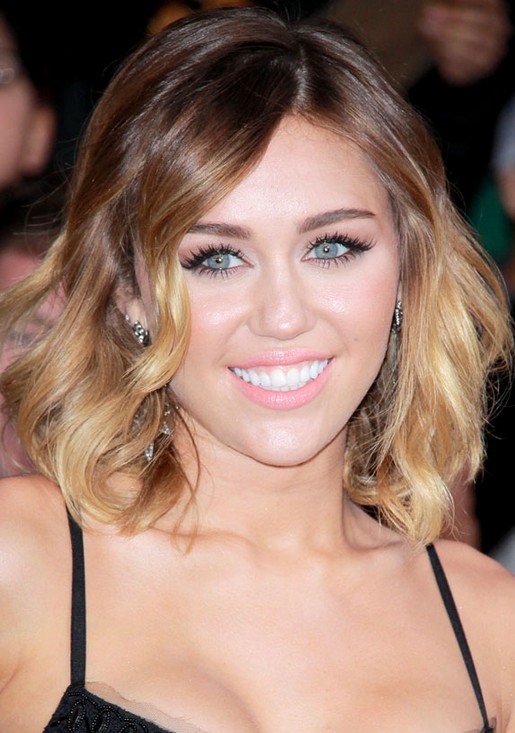 This is a great casual look that gives Miley Cyrus a relaxed, feminine look that is naturally pretty and youthful. Loose curls and a gentle side parting give the style shape, though the side sweep does shorten the forehead slightly. The graduated colour which moves from mid brown through various shades of blonde towards the roots is a very flattering way to wear a blonde colour. The ombre hair is not for medium, long hairstyles only,  if you wear short hair, also you can dye your hair in ombre!
 10. Miley Cyrus Short Ombre Bob hairstyle – short hairstyle for thick hair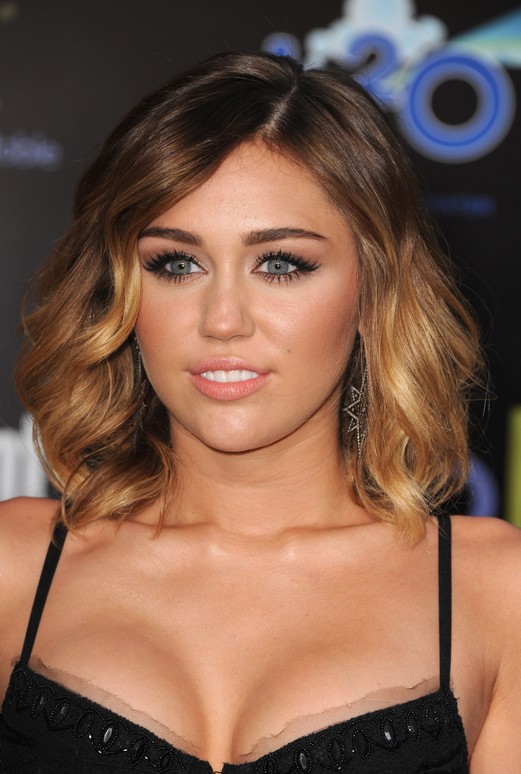 This is a great bob for Miley Cyrus who combines a graduated colour which gets blonder towards the ends with a soft, feminine style that looks casual but perfectly styled. Gentle waves with that "combed out" look curl down to the shoulders while on the head the hair is straight and smooth with a side parting that makes the most of a small forehead and just skims the side of the eye for a touch of glamour. This elegant hairstyle is great for prom, wedding and homecoming. A chic hairstyle for women under 30.
11.  Miley Cyrus Short Hairstyles 2014 – Chic short haircut for women 2014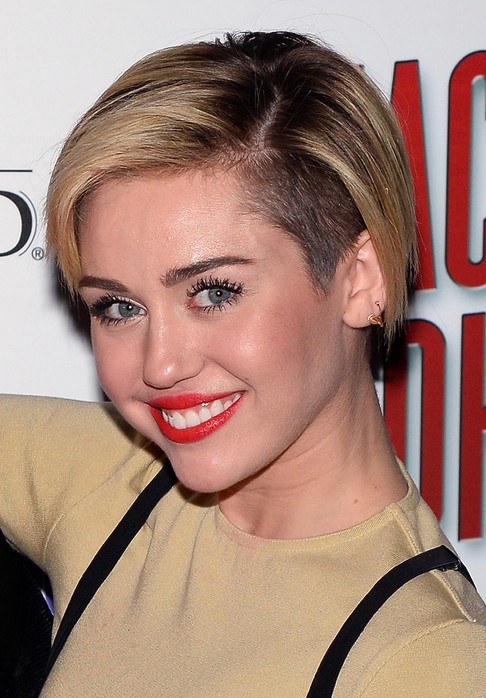 Here is Miley Cyrus's latest hairstyle, she opted for a tame side-parted straight cut when she attended the Beacher's Madhouse premiere. This is a great short haircut from Miley, I love this cut very much.
12. Miley Cyrus Short Side Parted Straight Hairdo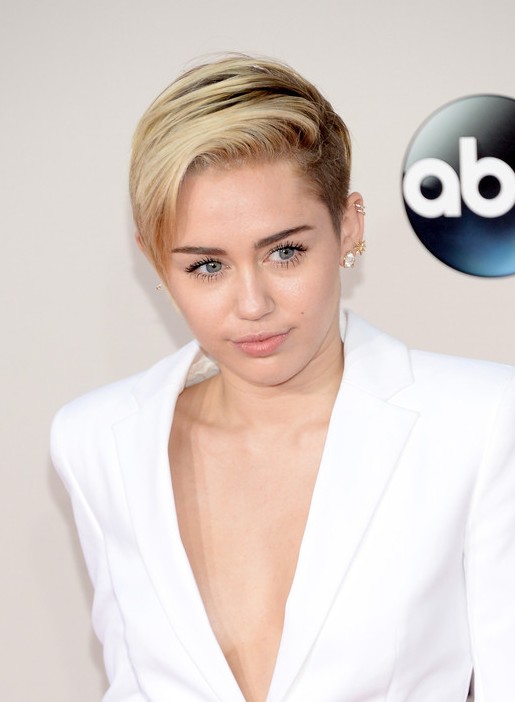 Chic boyish short haircut for women.
Hey, wait, Miley Cyrus got a new hair again!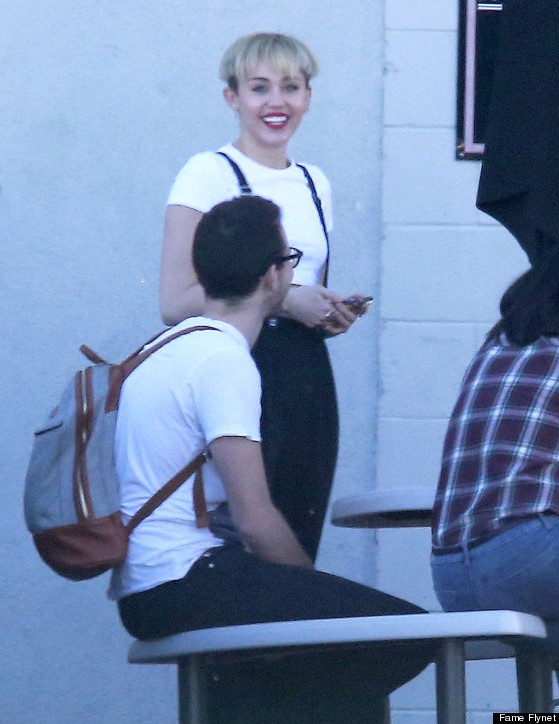 Yes, Miley Cyrus cut her hair shorter a few days ago, more details about this bowl cut, check it out here.