1. Leighton Meester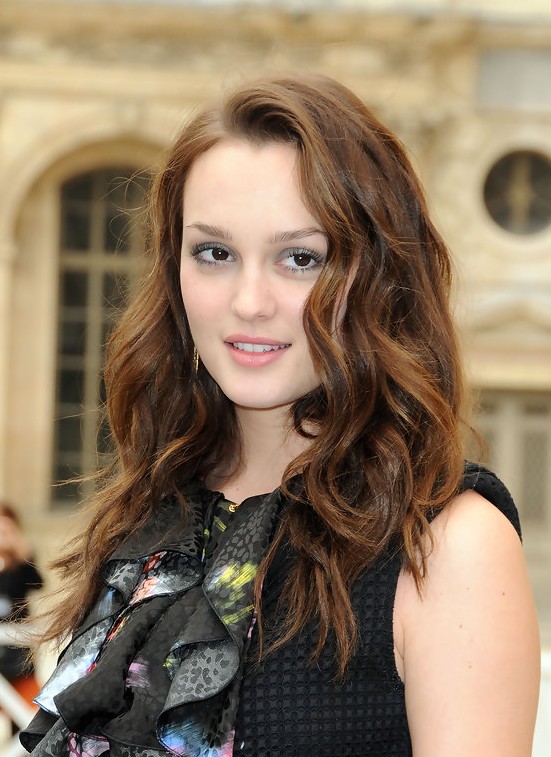 With her flawless, porcelain white complexion, Leighton Meester really suits this warm auburn shade. Darker browns and warm coppery reds make this a hugely flattering colour for her, and her light, pastel shade makeup adds to the effectiveness of this look. In terms of style, her hair is side parted and brought over the side of the face to create a face-framing sweep of waves. The lengths are tousled for a messed-up, sexy style that is both feminine and effortless.
2. Leighton Meester Style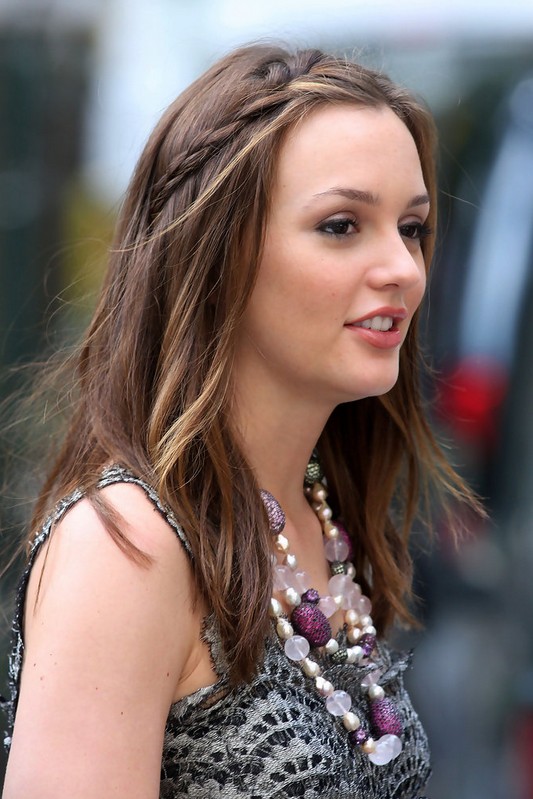 This is a very sweet girly style. Leighton Meester deals with her side sweep from the flattering side parting by braiding it and pinning it back into the lengths of the hair. This keeps her face clear and provides a feminine detail at the side of the head. Her hair is worn straight but tousled and occasional flashes of blonde really add some very pretty detail and help to break up the solid brown which could overpower her complexion without them.
3. Leighton Meester Straight Hairstyles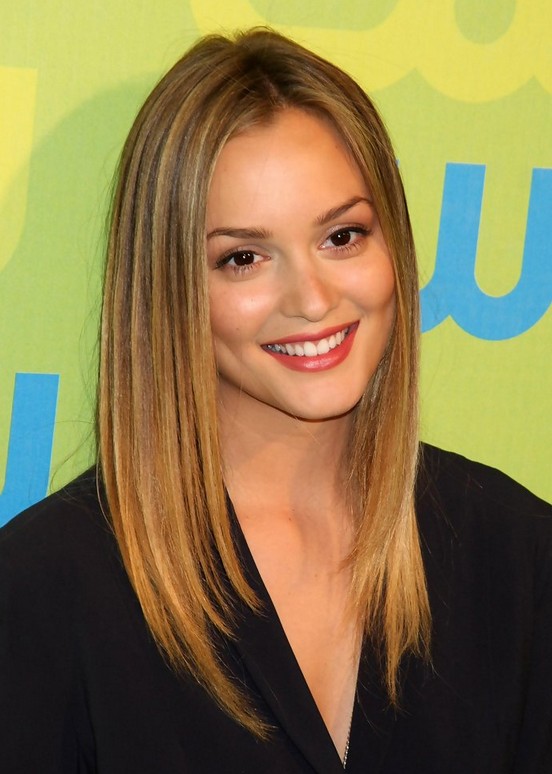 It is amazing how different Leighton Meester looks with a long straight style in these graduated blonde shades. This simple straight style with a few perfectly judges layers adding just enough shape to the look, is deliberately simple to draw our attention to the fabulous colour. Ash blonde tones at the roots work their way down to a golden, coppery finish at the ends. Subtle highlights throughout the hair help the change of colour to be almost unnoticeable. With a sun-kissed complexion and subtle red lips, Leighton Meester creates a striking look that she carries off perfectly.
4. Leighton Meester Short Hairstyle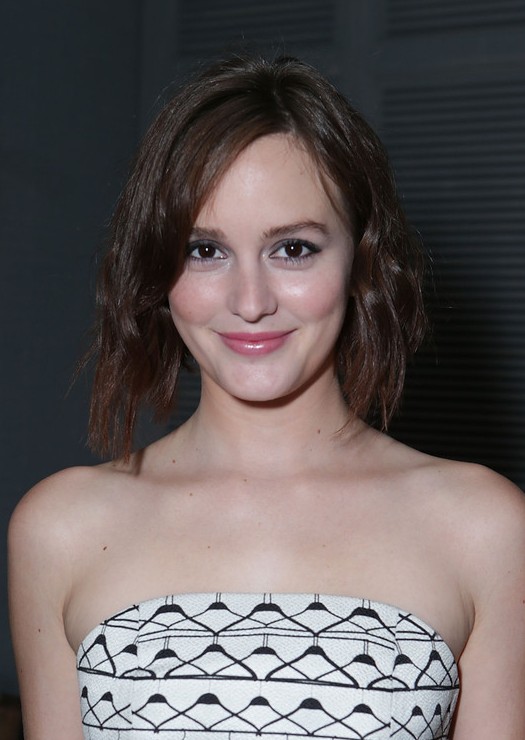 This is a very sweet and feminine style from Leighton Meester. Here, the singer and actress wears her short style in soft, crimped waves with plenty of loose strands to frame the face and add movement and texture to the style. A side parting creates a side sweep which draws attention to the line of her eyes while the ash brown shade is sleek and glossy, with lovely shine. The look may be a little cold, but Leighton wears it well, especially with the barely-there makeup and bare shoulders.
5. Leighton Meester Short Haircut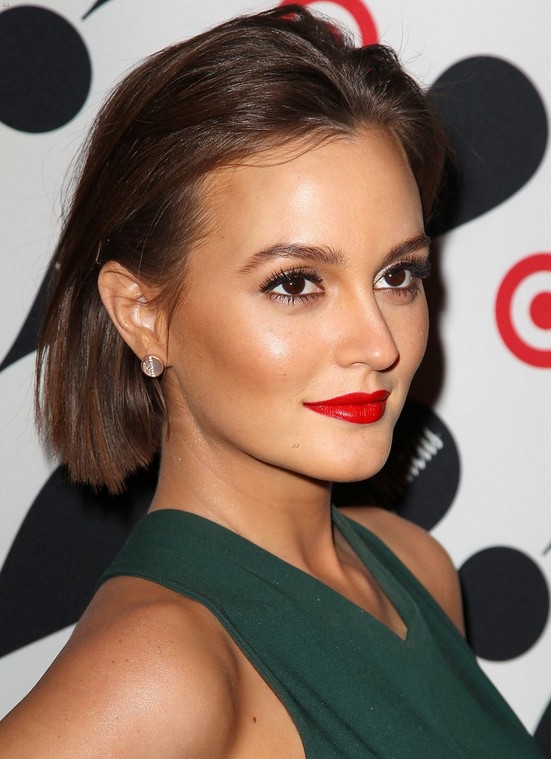 This barely look like Leighton Meester! Her usually pale complexion has been given a summery makeover and her trademark auburn locks have had a dark colour treatment. Even more dramatic is the cut; a short bob with the hair swept back from the face and tucked behind the ears. The ends of the hair are chopped straight and sharp, for a strong look. The overall effect is very striking, and while it isn't her usual look, Leighton Meester really carries this style off well. The full, classic makeup adds to the sophisticated glamour of the look.
6. Leighton Meester Ombre Hair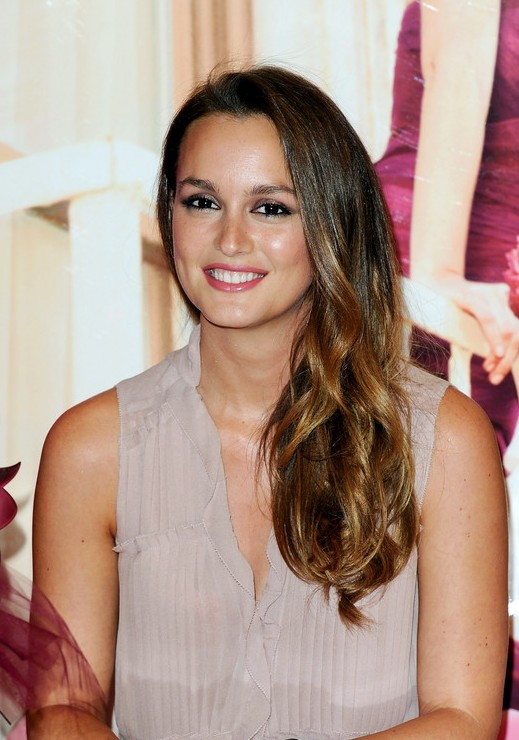 The ombre look gets the Leighton Meester treatment here. She starts with a dark brown on top and then the colour graduates to a warmer, lighter colour, with copper tones and highlights that are verging on a honey blonde. These lighter ends are essential to this look, which is rather dark and a little harsh for the actress compared to her usual auburn tones. A parting set to the side and a straight sweep which goes on to fall over the shoulder in tousled waves is flattering to the face and works well.
7. Leighton Meester Medium Hairstyle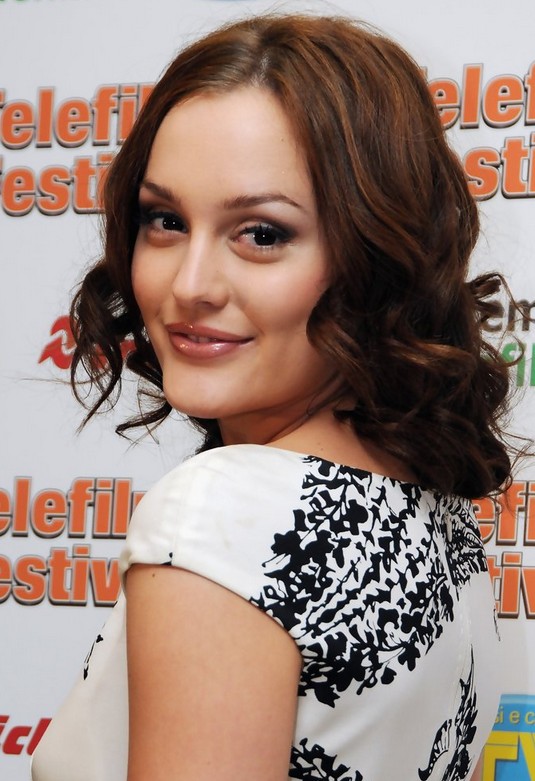 This medium length style is a big change for Leighton Meester, who we usually see with long flowing locks. However, the shorter style works well. It gives her a slightly more grown-up look, and the pretty, well-formed curls add a touch of glamour to the look which adds to this effect. The colour is a gorgeous rich auburn, dark and warm with hints of copper throughout, breaking up a solid colour and adding more warmth to the style. A very glossy, smooth look for the young star, great for oval face shapes.
8. Leighton Meester Loose Bun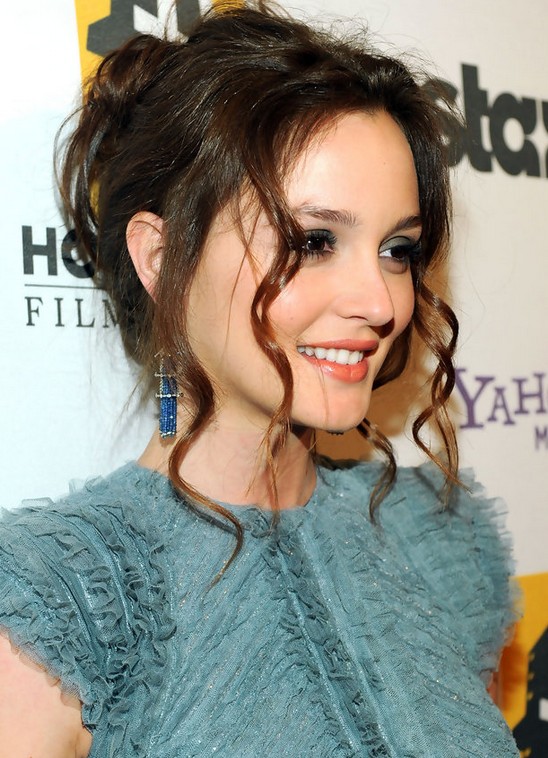 This darker colour works well for Leighton Meester because it is mostly pulled back from the face and so the dark colour doesn't overpower her pale complexion. This is a relaxed, messy style that has a touch of elegance about it thanks to the way the hair is pulled back into a high updo. Loose strands have been given a loose spiral curl and they soften the look perfectly and add a touch of fun to the style.
9. Leighton Meester Long Hairstyles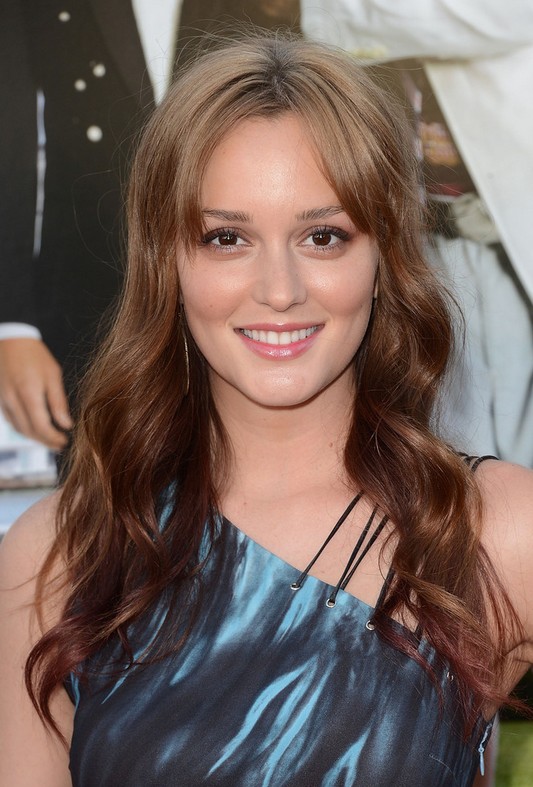 Leighton Meester is fortunate enough to have a very balanced facial shape, meaning that she can wear most hairstyles. This long style with a short, centre parted fringe is no exception; it neither elongates nor shortens her face. The hair here is styled with unusual bangs; parted and brought to the sides where they fall to eye level, drawing our attention to this part of the face. The lengths are styled in smooth, loose waves that are girly and flattering.
10. Leighton Meester Hairstyles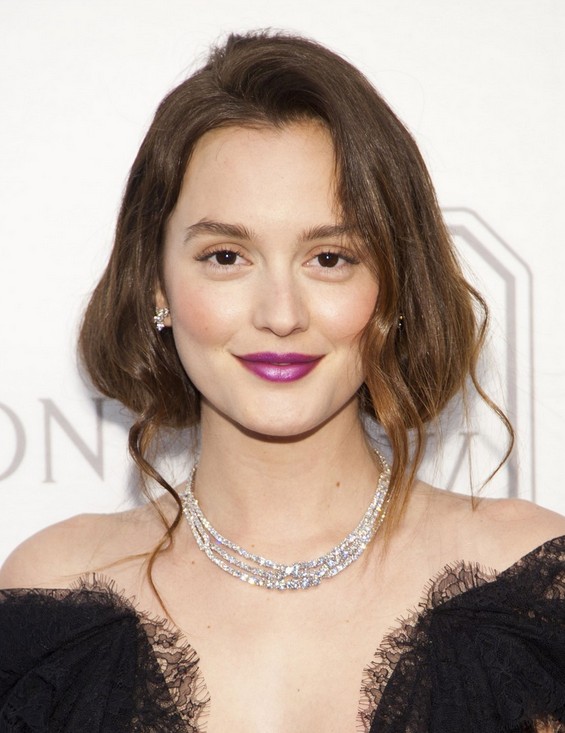 Multi-talented singer and actress Leighton Meester works a faux bob in this dramatic and unusual style. The hair has been styled to look like a rounded bob while loose, wavy strands of hair hang down and give the game away that this is in fact a clever updo. The darker than usual colour emphasises Leighton Meester's pale skin tone, but this appears to be intentional as she reinforced it with those striking purple lips and a dramatic outfit. This is an unusual look that might divide opinion, but Leighton's naturally pretty features help make it work.
11. Leighton Meester Hair Styles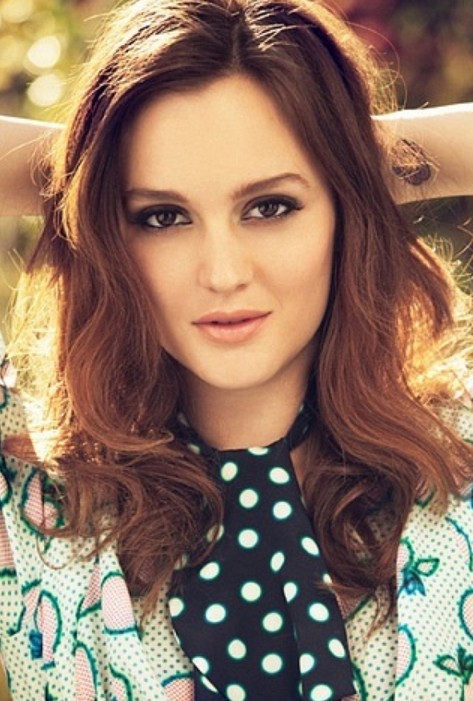 In warm auburn shades with subtle highlights, this hairstyle works so well with Leighton Meester's pale skin tone and smoky eyes. A side parting creates a side sweep but in order to provide balance to the face, the sweep doesn't obscure the forehead, but rather skims it and falls close to the face, creating warm flattering shadows over the cheekbone. Sexy, tousled waves make this a genuinely gorgeous look for this natural beauty.
12. Leighton Meester Brunette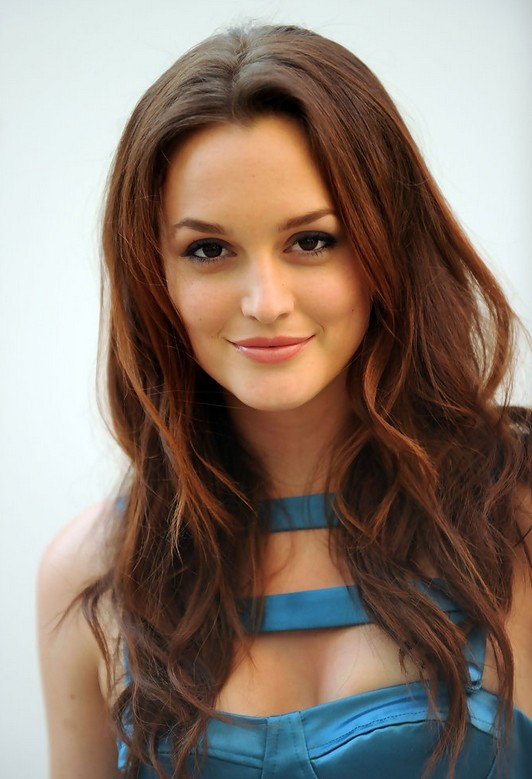 With her pale skin tone, Leighton Meester knows that the best brunette shade for her complexion has to have a red base, and this is an ideal choice. Auburn tones with hints of copper and rich warm browns make this a gorgeous multifaceted look for her. Her long hair is styled quite simply to let the colour do the talking; a centre parting allows the hair to fall evenly in loose waves at both sides of the face for a style that really flatters her oval face shape.