Spring fever. It's a term that most of us are familiar with and can be taken a couple of ways. For one thing, being that the winter season brings with it the kind of weather where most of us can't wait to get outside, "spring fever" speaks to spending as much time outdoors as possible. Also, spring is a season when not only flowers start to bloom. Oftentimes, it's the peak season for love to do the same.
That's why we want you to be prepared…
Don't wait until someone asks you out to figure out what's hot in springtime fashion. Pick out a few items now that will have you more than ready for your first springtime date!
1. Plaid shirt with ruffles and jean mini skirt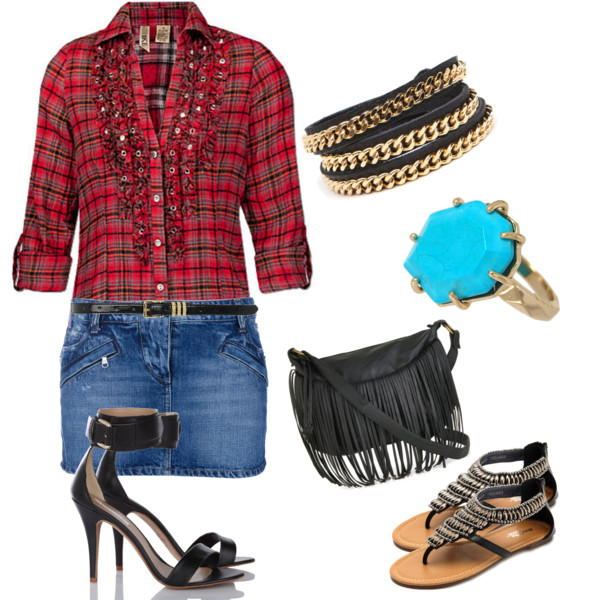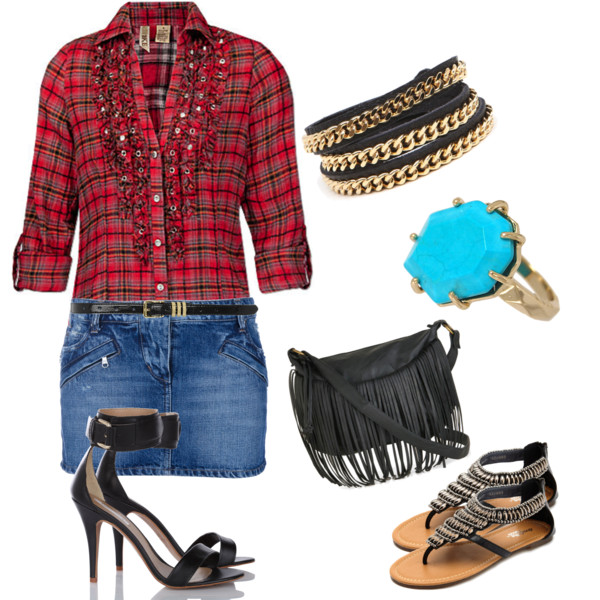 Two things that are already in the spring fashion forecast are plaid prints and ruffles. So if you happen to be fortunate enough to find them on the same shirt, don't let it pass you by! You can easily wear it with a pair of fitted and/or distressed jeans. But if you know that one of your best physical features are your legs, why not show them off with the help of a denim mini skirt? You can finish the outfit with a pair of heels or if you want to go more casual, a pair of flat sandals.
2. Floral strapless cocktail dress and jean shirt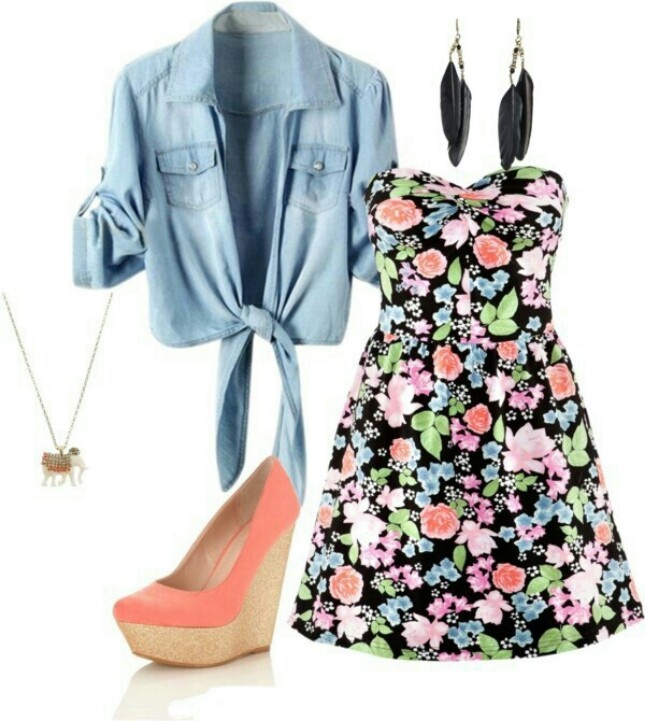 Do you have a cocktail dress that you absolutely love but it's not warm enough yet to put it on? No problem! Throw on a jean shirt or jacket over it. Make sure to also add some wedge heels. They're comfortable and sexy all in one.
3. Printed strapless floral mini dress with solid-color accessories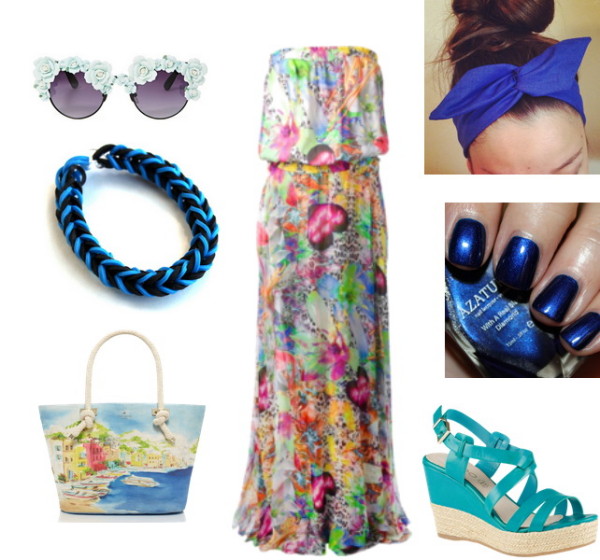 Every women should own a maxi dress. Preferably two: one that has sleeves and one like this that doesn't. Being that this is strapless, of course it makes sense to wear it in warmer climates. The beach is one that immediately comes to mind. Oh, and you see how the detailing of the nail polish and head wrap is blue? If your maxi dress is printed like this one, select a color that is not prominent and accessorize with it. It's a smart way to bring the color out.
4. White tank, cotton "wrap skirt" and flat tops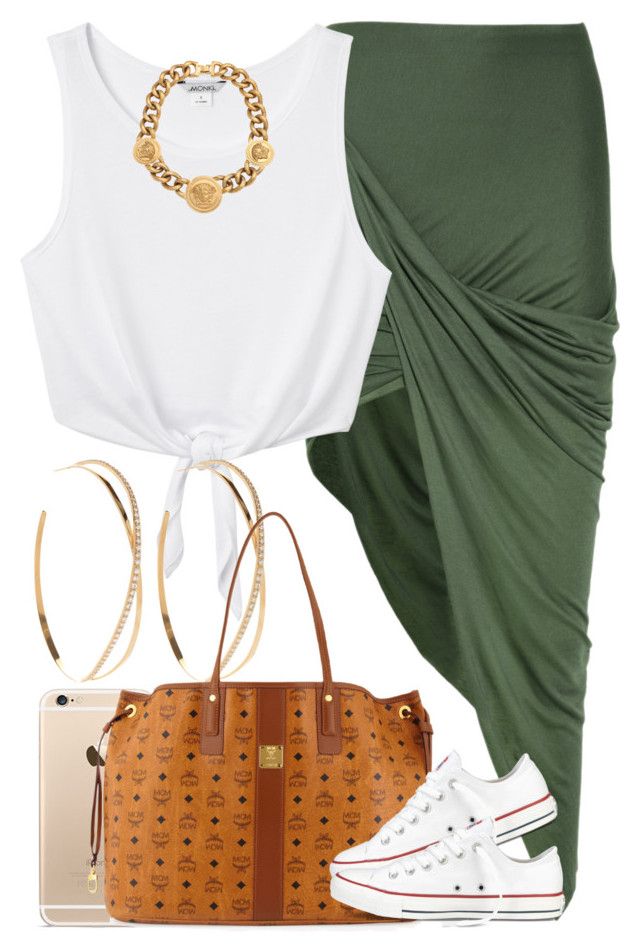 As far as "sexy casual" goes, this is a look that we like A LOT for a first date. You probably already have a white tank (right?). You may already have some low-top Chucks as well. It's that wrap skirt that we can't seem to get enough of! It looks so laid back and yet so…"stare-able" at the same time.
5. Taupe dress and two-tone strap heels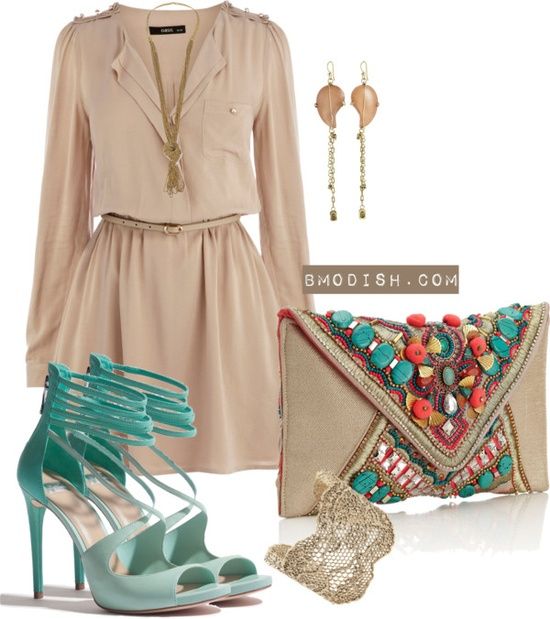 If you're going to meet someone for lunch, taupe is a color that will help you and them to feel more at ease. And when it's accessorized with a color like sea foam green, you'll be sure to get PLENTY of compliments. (Yeah, look for some two-tone strap heels. You won't EVER regret getting them!)
6. Silk top, distressed skinny jeans and brim hat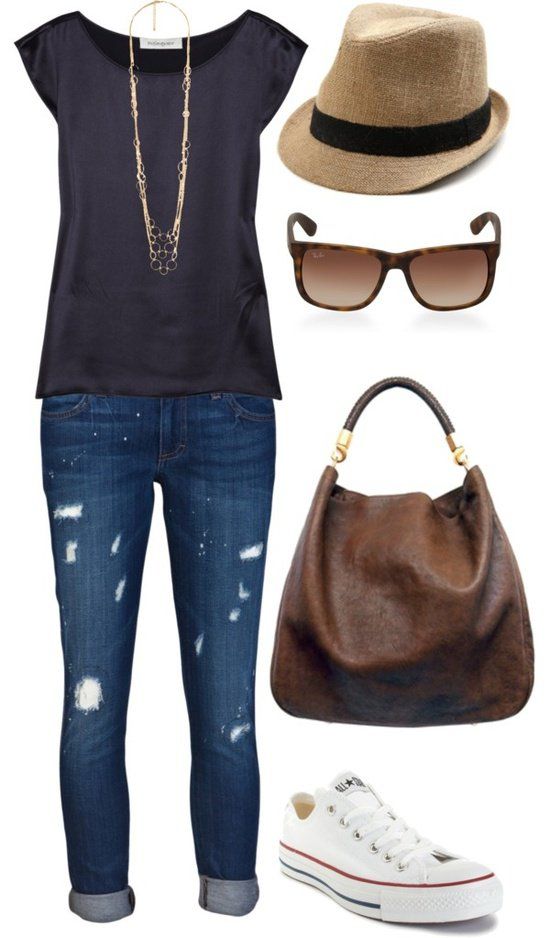 So, the two of you are meeting to do a stroll downtown or to get a midday drink at a local bar on the weekends? If you think that dressing up is a bit over the top for that type of date, put on a silk top, your favorite pair of distressed jeans and some low tops. Oh, but please don't forget to tilt a brim on your head. That's what will effortlessly tie everything all in together. Plus, you won't have spend an hour on your hair! (A win/win all around!)
7. Ruffled top, white skinny jeans and cardigan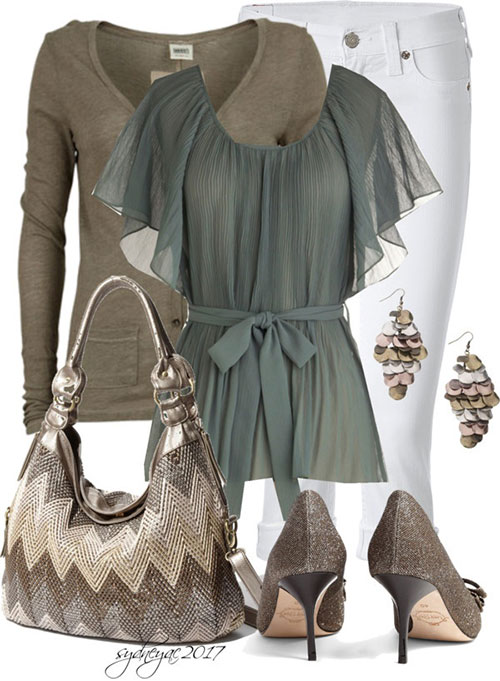 This is a very…ladylike is the word that immediately comes to mind when describing this particular outfit. Again, since ruffles are in right now, we wanted to share with you another way to make it work in a blouse. Sheer is such a feminine look. But if you want something to cover you up, add a cardigan. Oh, and don't worry about "the white rule" when it comes to fashion. Let us tell it, white pants are perfect any time of the year!
8. Fitted T-shirt, mini skirt and beaded accessories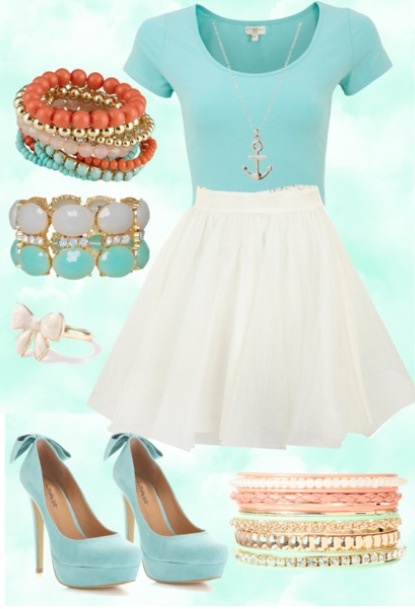 Do you already own a fitted T-shirt and flare mini skirt? If so, then go to a local custom jewelry store to get some beaded accessories. It will be just right with your outfit…so long as you wear a pair of really nice high heels!
9. Black mini dress, jean jacket and tan walking boots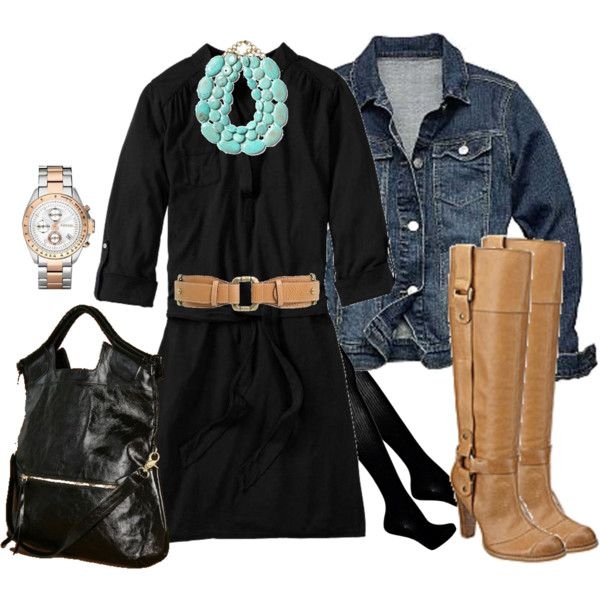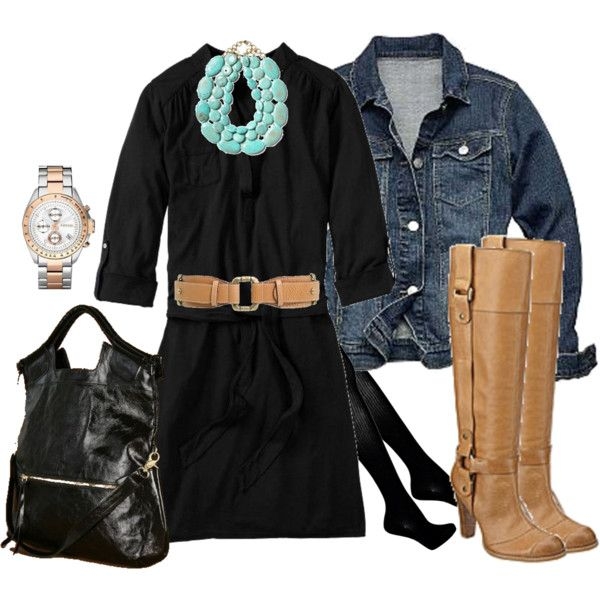 Oftentimes, when the topic of a "little black dress" comes up, one that's dressier comes to mind. But we personally really like this casual number, simply because it has oh so many different possibilities! Just one of them is to put on some black ribbed opaque tights, a blue jean jacket and a pair of tan walking boots (with a heel or without).
10. Floral sleeveless dress (with flare skirt) and distressed jean jacket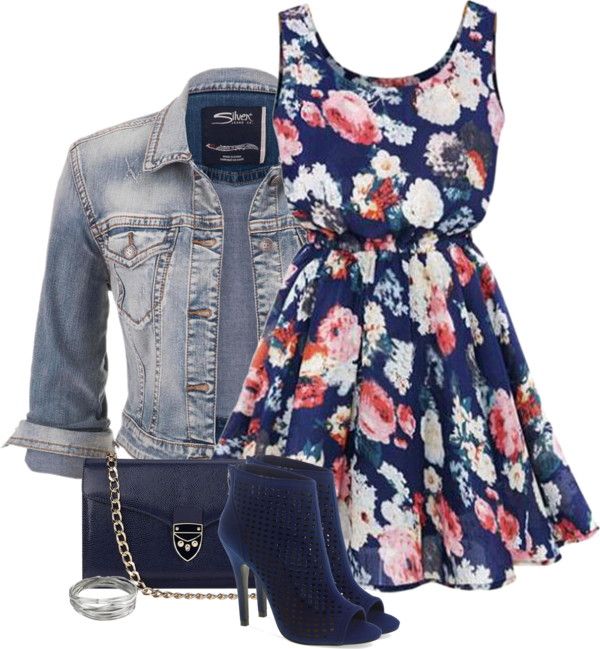 Do you have a cotton floral dress that comes with no sleeves and a flare skirt? Nothing quite says "springtime" like flowers do. Throw on a jean jacket to make it more casual and don't forget to also put on your absolute most killer pair of shoes!
11. Sleeveless polka dot dress and sleeveless jean jacket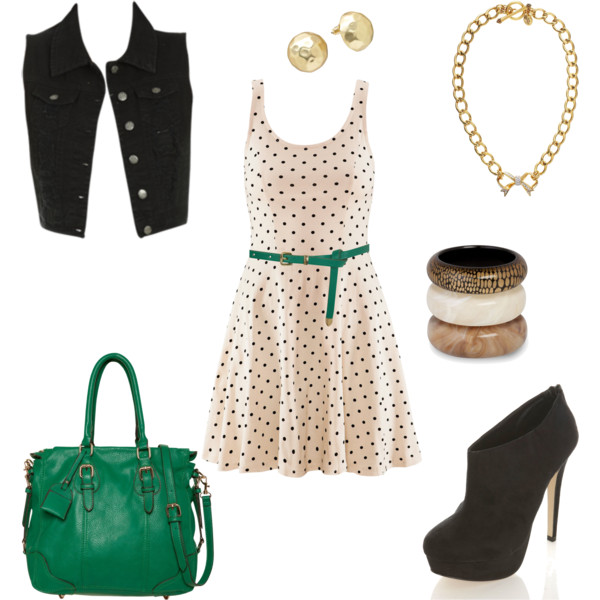 Polka dots are precious, in the absolute best way possible. This outfit shows how to make three colors work together in perhaps an unexpected kind of way. The black and off-white are pretty much a no-brainer. But would you have ever thought to bring GREEN into the mix? #awesome
12. Halter geometric tri-tone dress and strap heels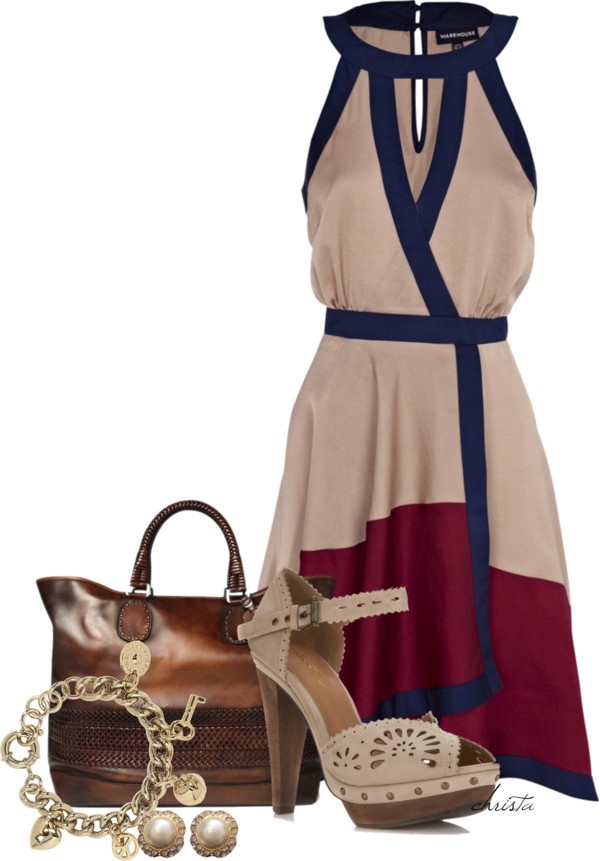 This is one of the best halter dresses that we've seen in a while. One reason is because it's tri-tone. Another is because the hemline appears to be asymmetrical (still another spring fashion trend). An outfit like this doesn't need a lot of jewelry. Maybe just a charm bracelet and a pair of stud earrings or hoops.
13. Strapless flare shirt, shorts and brim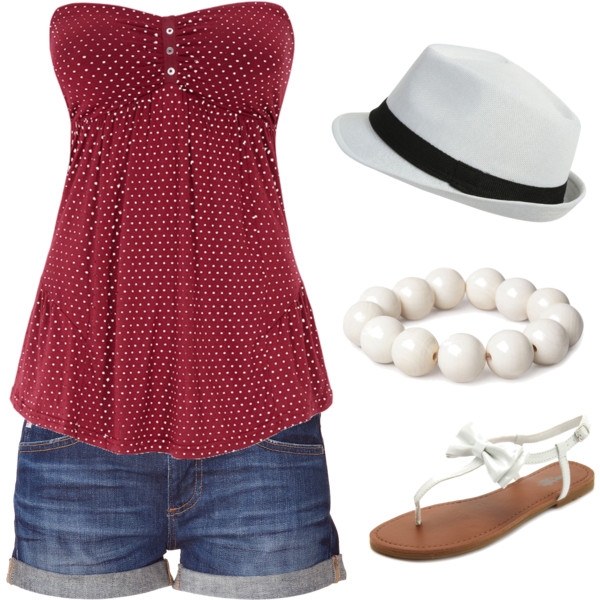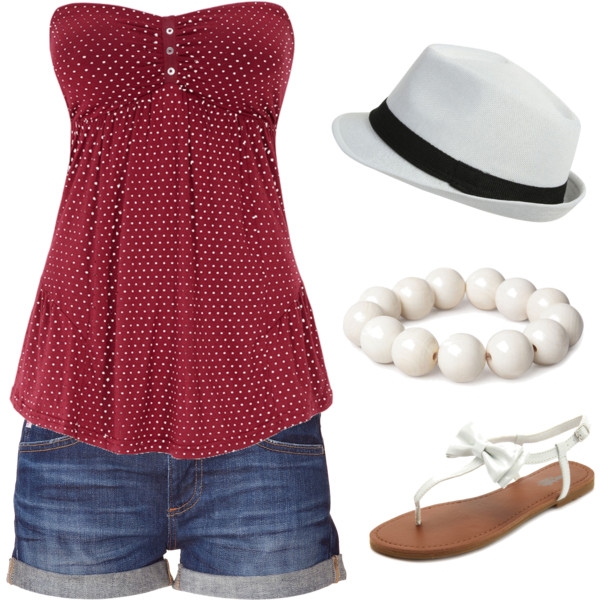 Are you going on a Memorial Day date? Being that it's relatively a month out from the official first day of summer, it might be much warmer outside than it was when springtime began. So, pull out your jean shorts for the first time along with a strapless flare shirt. Please put on a hat, though. It will protect you from the sun, for one. It's a super fun accessory, for two.
14. Lace tank, sleeveless cover-up and dark skinny jeans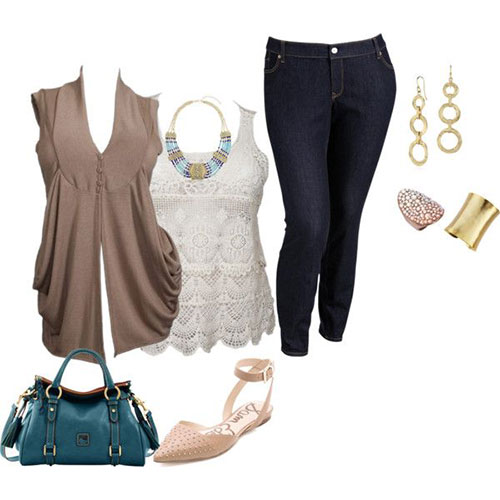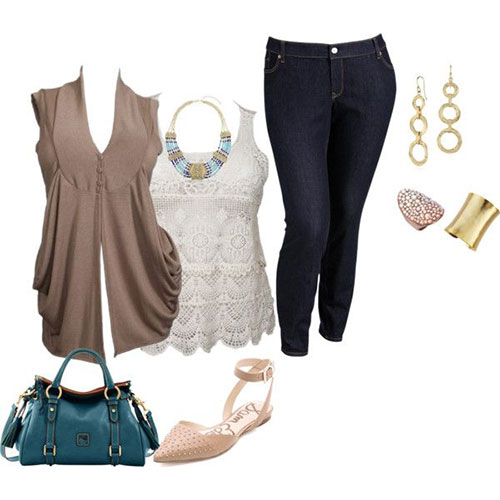 Spring and fall are the best times of year to do some layers. In the spring, pull out a tank that you adore and then add to it a sleeveless cover-up like the one you see here. With your darkest skinny jeans and some mix-and-match accessories, your date will think you took hours when you only took minutes to get ready.
15. Desert sage flowing tank, flare jeans and colorful accessories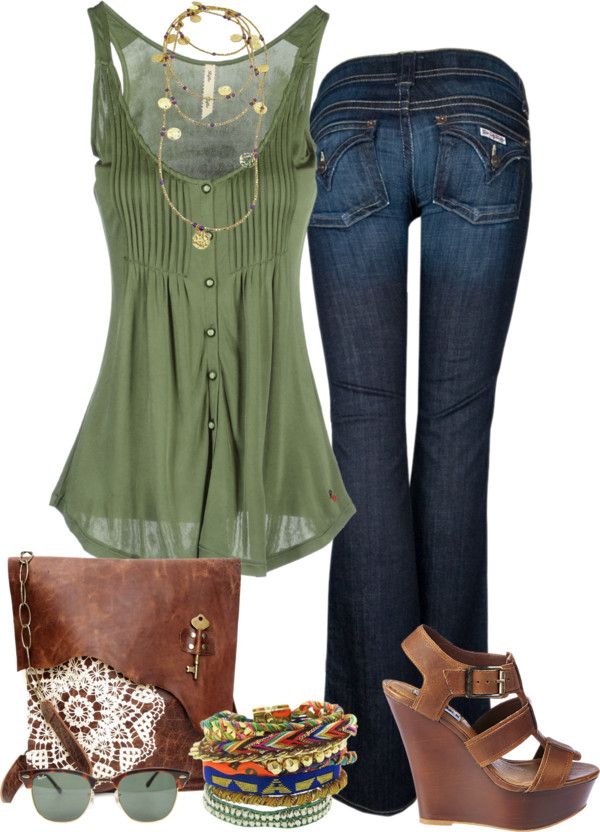 Desert sage is a big color this spring, so you would be well within your fashionable rights to wear it. As far as the cut of jeans go, what's getting a lot of attention right now are flare ones. If you tend not to like them because sometimes they drag on the ground, no problem! Put on some wedge sandals and that'll take care of that problem. One more thing: Being that desert sage is a bit of a darker color, brighten it up with bold and colorful accessories!
16. Floral bustier, soft cardigan and distressed fitted jeans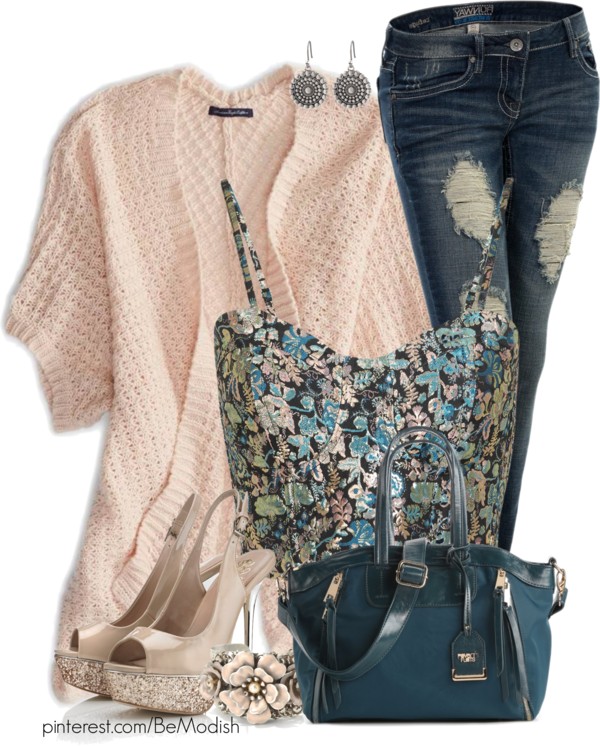 Do you feel like you're not exactly bold enough to pull off a bustier? Yes you are! All you need to do is put on a cardigan over it. Not only is it a modest touch but it is also an appropriate way to wear this kind of article of clothing during the spring, when it might not be hot enough yet. Don't forget your distressed jeans!
17. Striped strapless maxi dress, jean jacket and sandals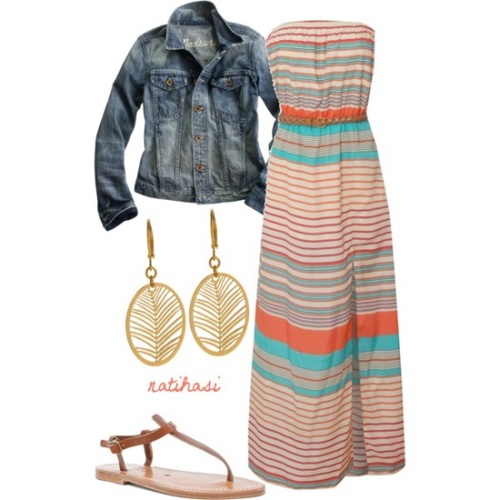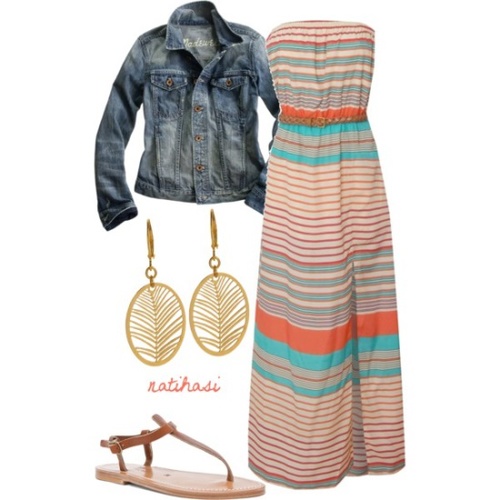 Here's another kind of long maxi dress and the other way to wear it that we mentioned before: with a jean jacket. The reason why we're showing you this picture is because stripes are in, big time, this spring. You'll be such the fashionista if you decide to show up on your date in one that's a lot like this.
18. Dark grey short sleeve fitted dress and cognac leather accessories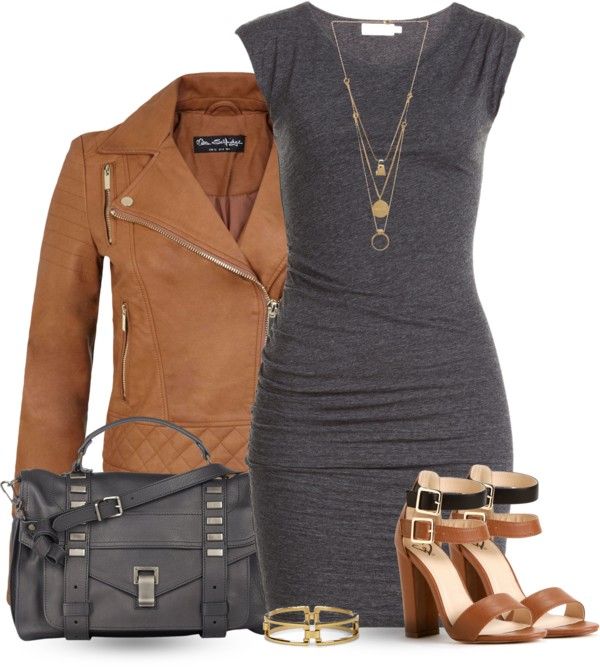 Dark grey is not only a color that looks nice all year round but it's a nice diversion from black. Consider wearing it in a dress like this when it comes to a date. And if the date is at night and there's a bit of a chill in the air, take along a leather jacket. If it's in the color of cognac, it will look so good against the color of your dress.
19. Floral kimono dress and wedge sandals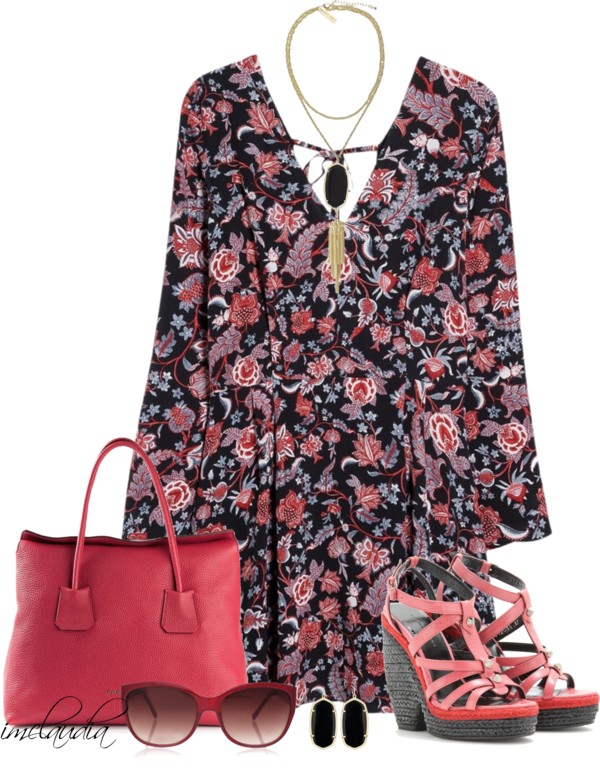 We LOVE, LOVE, LOVE the kimono dress. That's because it has a way of being really sexy while also being really forgiving at the same time if there are places on your body that you'd prefer to stay hidden. Plus, this is the kind of date outfit where, if you are going to eat out, you don't have to be finicky. It's loose fitting so order whatever you wish that's on the menu!
20. Tank T-shirt (material) dress with gold and pearl accessories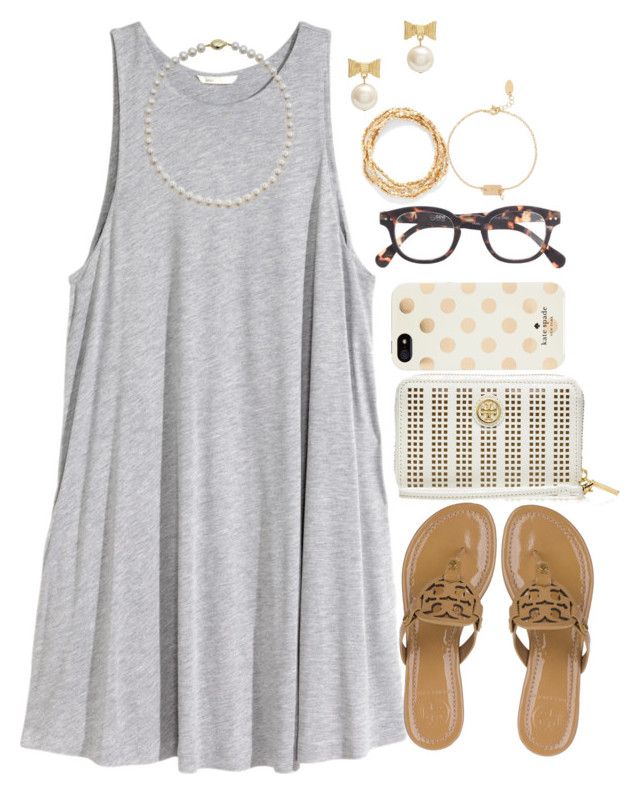 Do you have a cotton tank T-shirt that you picked up from a store like Old Navy and you're not quite sure what to do with it? All good. All you need to do is ACCESSORIZE. Play around with your statement necklaces and earrings or maybe even your pearls. It's a way to dress it up without very much effort at all.
21. Printed spaghetti strap short dress and straw big hat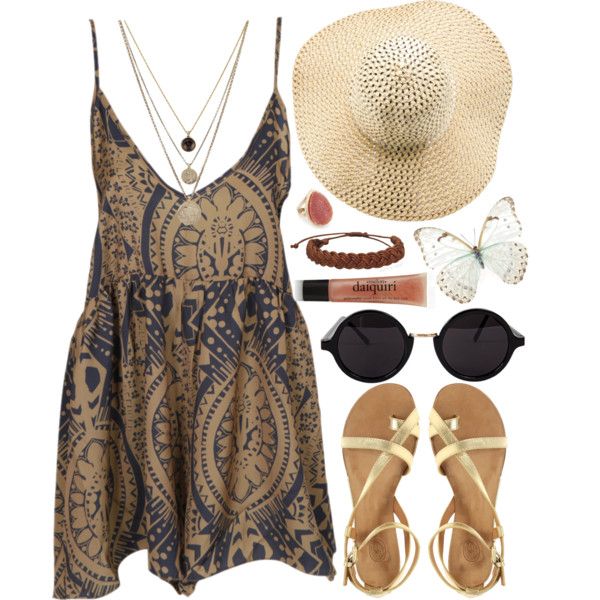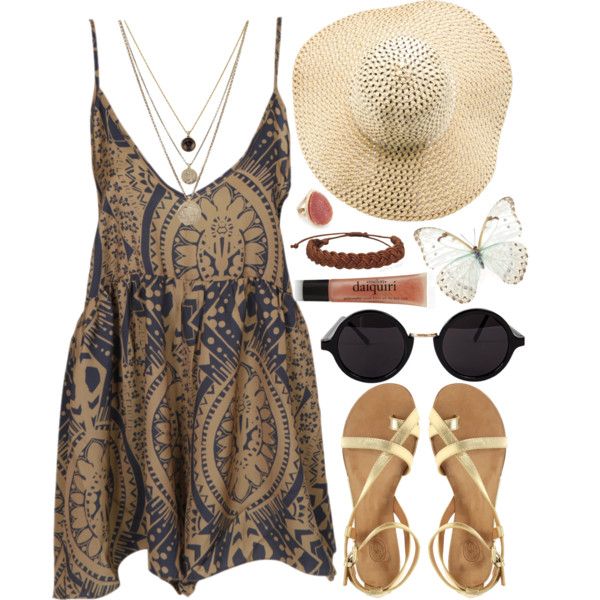 If you happen to live in a warmer climate or the weather is starting to heat up a bit, it's OK to pull out some of those spaghetti strap dresses. They will be super cute with a straw hat. And what if it's not quite warm enough to bare your shoulders? Put on a sheer cardigan or shawl. You'll be just fine.
22. Violet spaghetti strap top with dark skinny jeans and violet accessories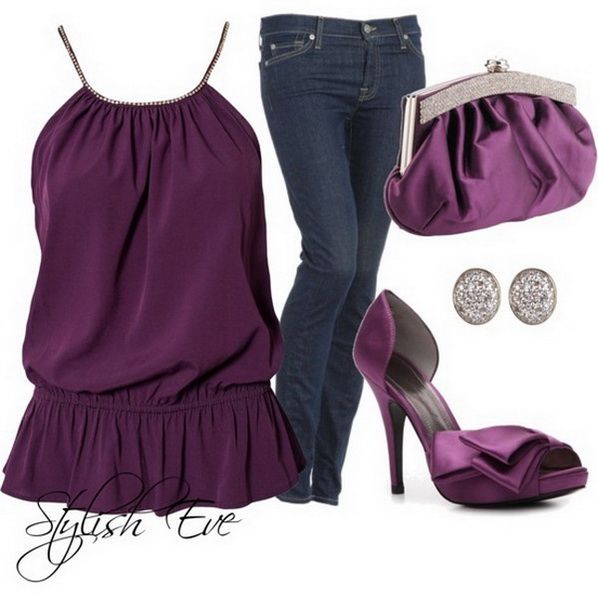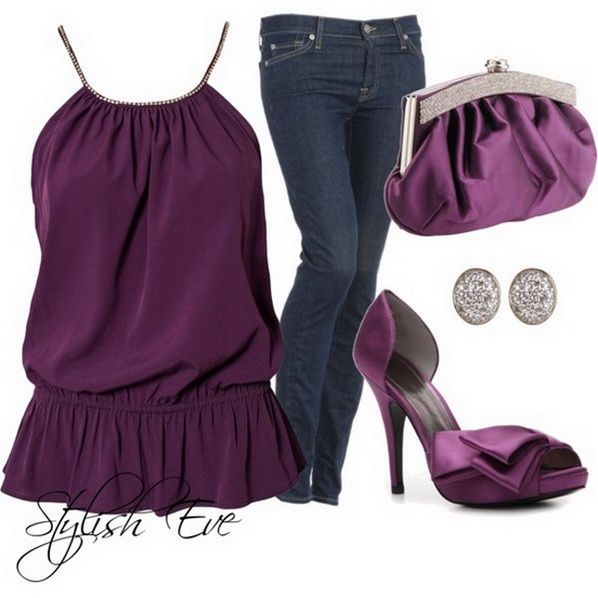 Although the color purple in general symbolizes royalty, did you know what violet symbolizes imagination. It's a way to convey a message without saying anything at all: "Yeah, let's meet up and see where a possible connection could take us!"