Being that yellow symbolizes things like sunshine, happiness and energy, it should come as no surprise that buttercup (a variation of yellow) is one of fashion's feature colors this spring and summer seasons.
So, if you don't already have a bit of yellow—umm, buttercup—in your wardrobe and you're honestly not quite sure if you want to incorporate it (or how), we're pretty sure that you'll find a perfect look to brighten up your wardrobe and style after checking some of these looks out.
1. Buttercup dress with violet accessories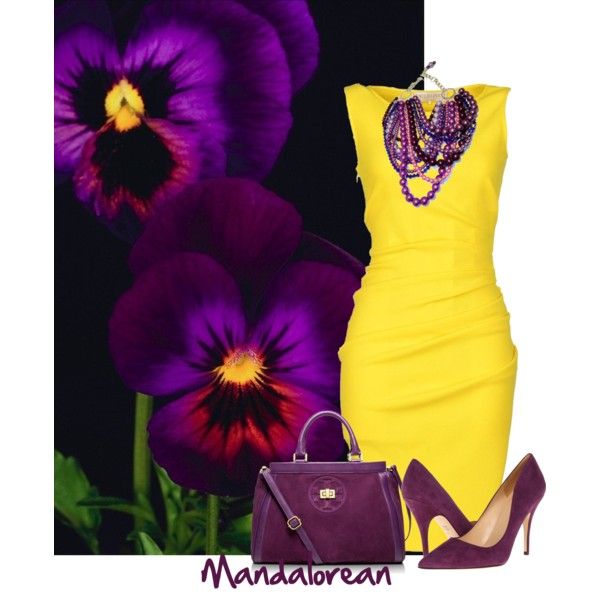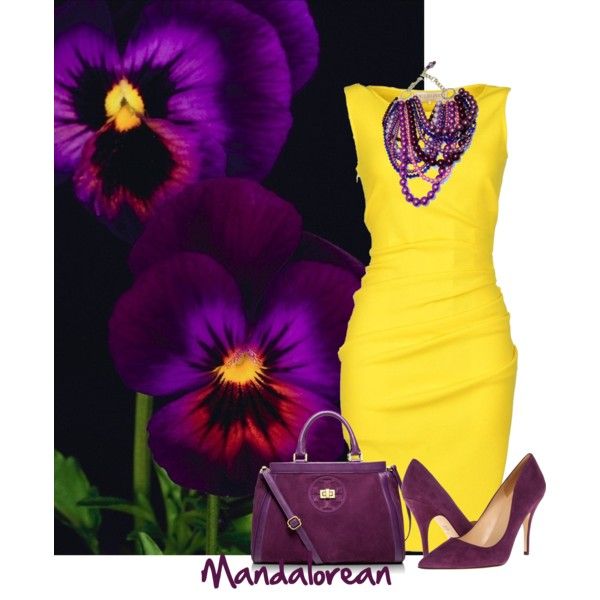 Whether you're planning on going to a wedding or you're looking for a way to brighten up your office atmosphere, a buttercup dress is a perfect look for both occasions. Something that you can do to keep from looking too youthful is to offset the dress with accessories of a deeper hue—like the royalty and regal look of violet.
2. Buttercup strapless eyelet top and jeans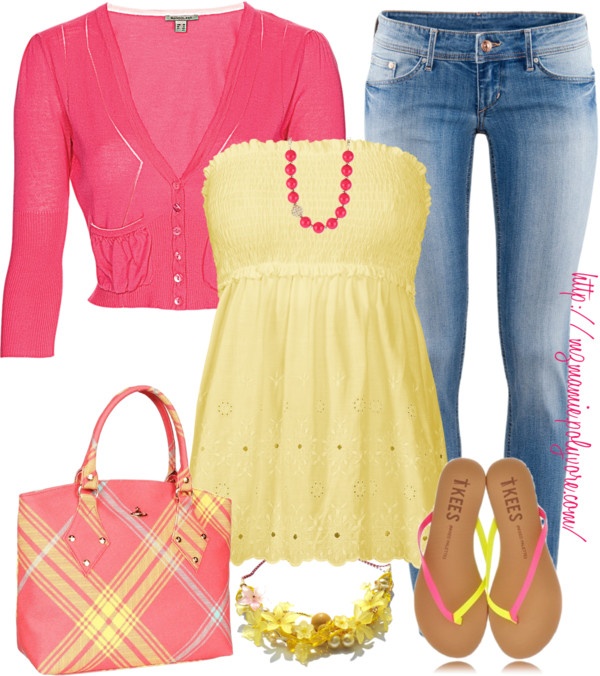 Is your boyfriend the kind of person who calls you up out of the blue to go on picnics or walks throughout the city? You'll be absolutely adorable in a strapless buttercup top like this! And what if the weather is on the mild side of things? No problem. Just bring along a cardigan. What we really like here is the plaid bag and…did you also notice the floral headband? Again, simply adorable.
3. Buttercup peasant top and jeans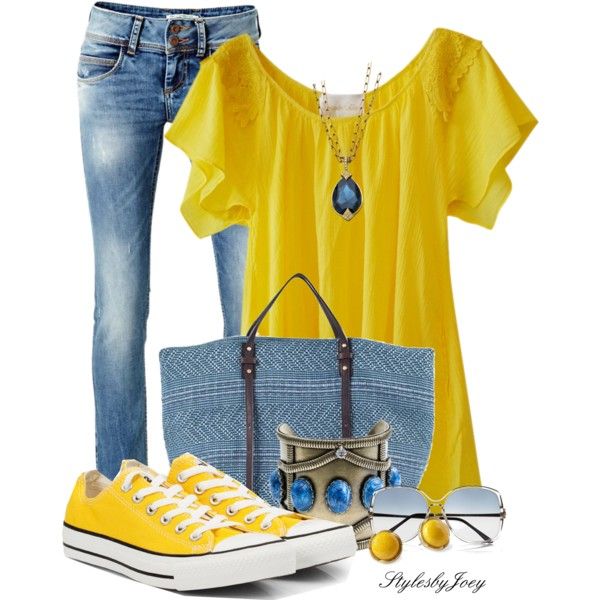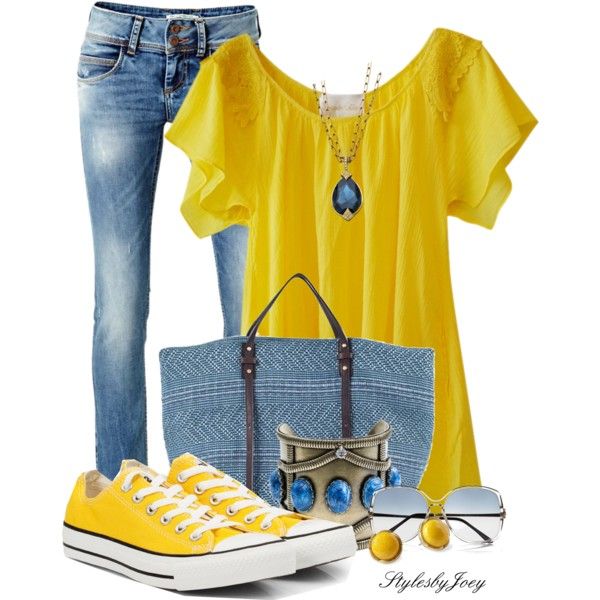 If you've gained a bit of weight around the waist or perhaps you're even expecting, here's a comfortable outfit that's still pretty appealing. Get a peasant top in the shade of buttercup and then put your favorite comfy jeans on underneath it. And if heels are the last thing that you want to put on your feet…some low-top buttercup will do just fine!
4. Buttercup skinny jeans, white top and jean jacket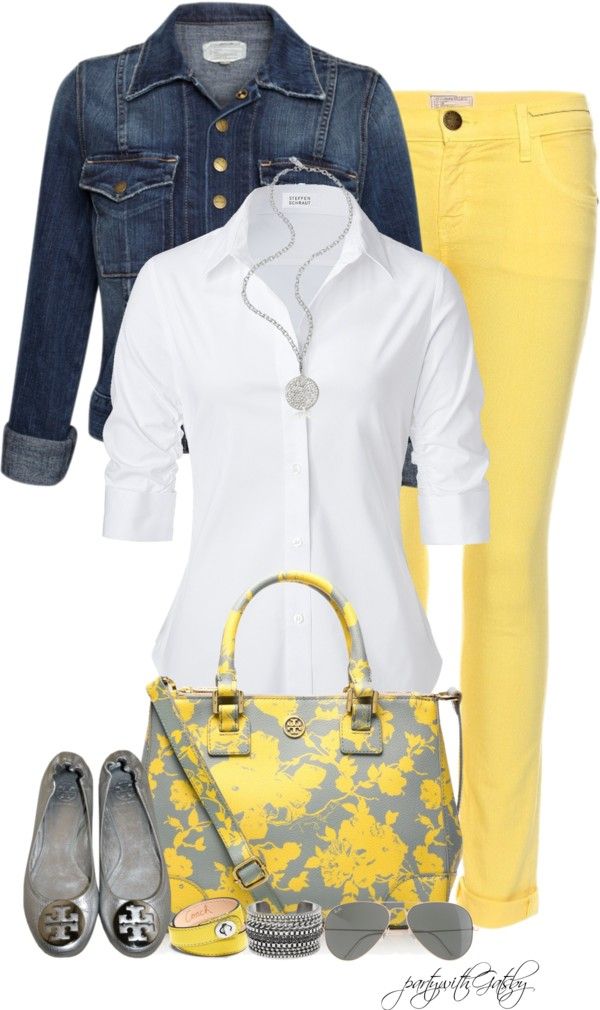 Ah, the skinny jeans. Although there are a lot of people who will be wearing flare ones, no doubt, that doesn't mean that you should give your skinny jeans away. In fact, we recommend that you purchase a new set of colored ones. Just make sure that one pair are buttercup colored. With a white top and a fabulous printed bag that has buttercup in it, you'll look so good on Casual Fridays!
5. Buttercup sleeveless top, grey tank and jeans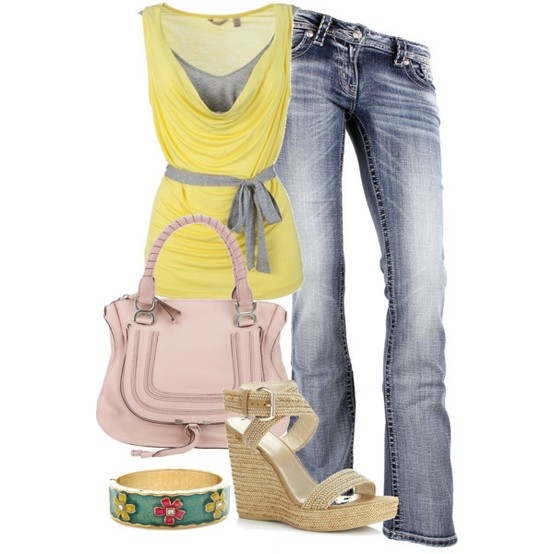 Once summer hits, you're probably gonna want to get rid of all of the cover-ups. If you're ready to let your arms show, look for a buttercup sleeveless top like this one. If it's on the sheer side, that's cool. Add some color dimension by putting on something like a grey tank. And don't worry about your shoes matching. A neutral or even a blue or pink will be a nice touch.
6. Buttercup shirt dress and navy accessories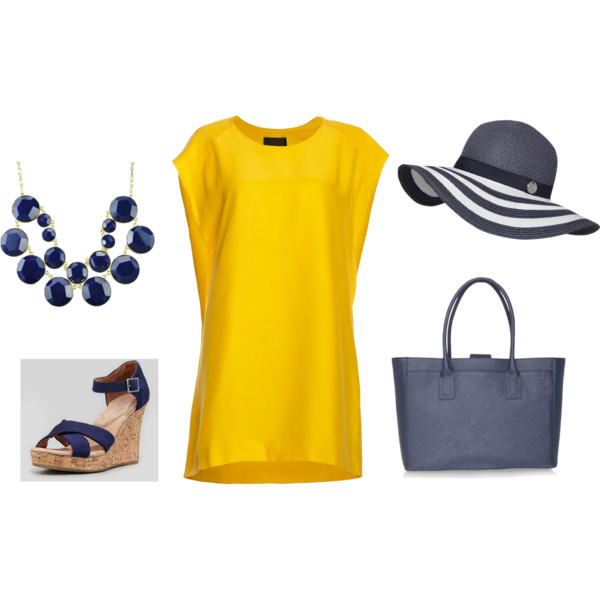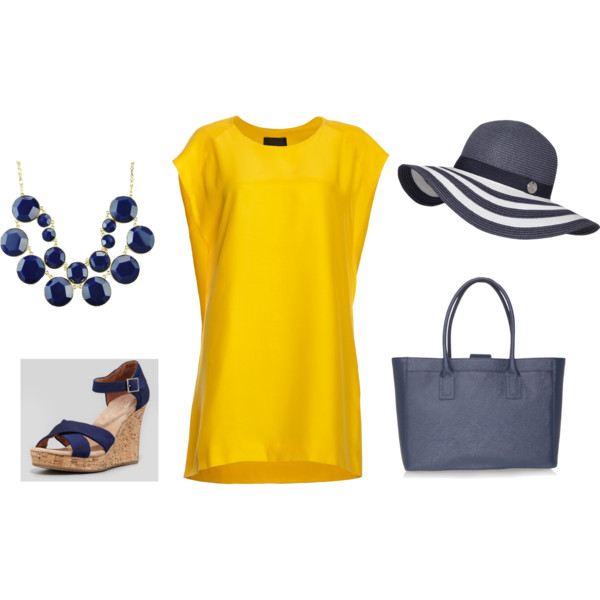 This is one of our favorite looks out of the bunch and it's for two reasons. One is because we love how amazing the navy looks with buttercup. Secondly, if you want to be a hint of sexy without being too over in the process, a silk shirt dress will give you just what you are looking for.
7. Buttercup dress and black cardigan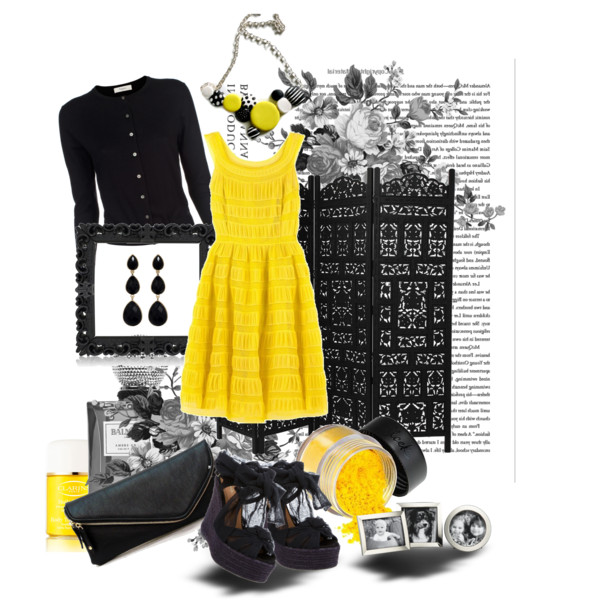 Are you going on a first date and you're not exactly sure where he's going to take you? This is fun because it's flirty while still being pretty laid back when it comes to comfort. And when you pair up buttercup with black, you can intermix everything with so many other options. Something that's eye-catching about this look is the extreme details. Peep the yellow nail polish and also the matching eye shadow.
8. Buttercup strapless ribbed dress and shades of blue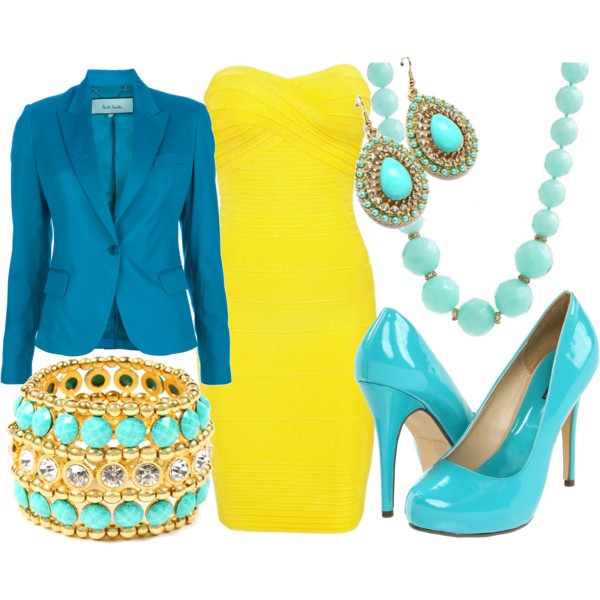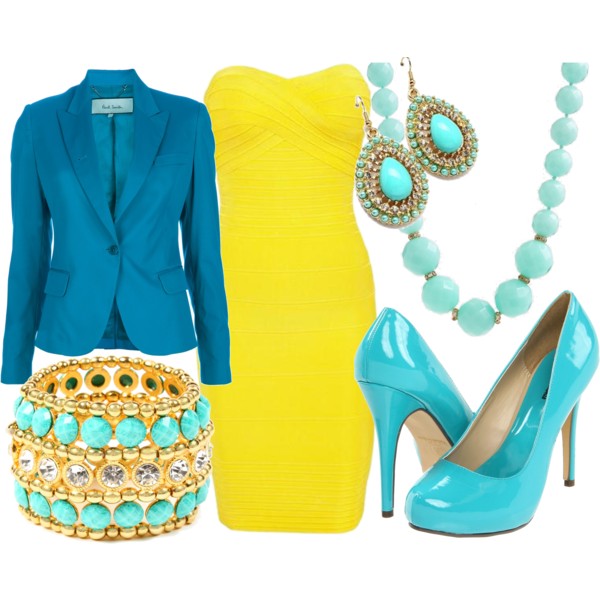 It takes a special body type to be able to pull this off! But if you've been working out all winter in order to show your figure off, hey, don't be shy! A buttercup ribbed dress may be just what the doctor ordered! Not how there are all sorts of shades of blue that are used to complement it. Magnifique!
9. Graphic T-shirt, jeans and buttercup blazer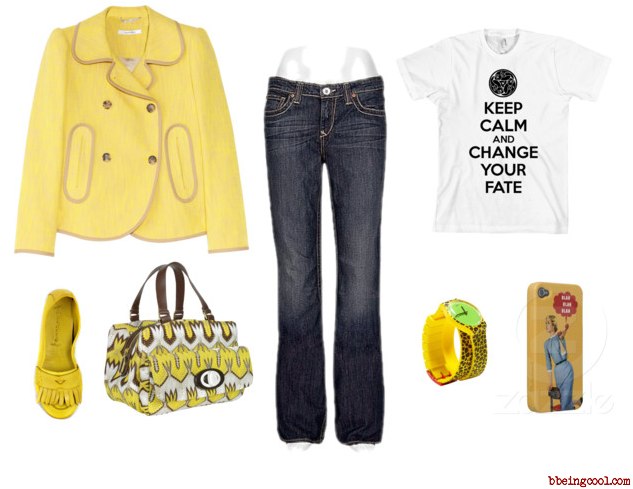 Are you planning on hanging out with the girls and you don't feel like dressing up, but at the same time, you don't want to look too frumpy either? It's amazing what a blazer can do; especially one that is on a shade of buttercup! A look like this makes it possible for you to avoid the jogging suits and still not have to be over-the-top with your attire.
10. Black jumper and buttercup accessories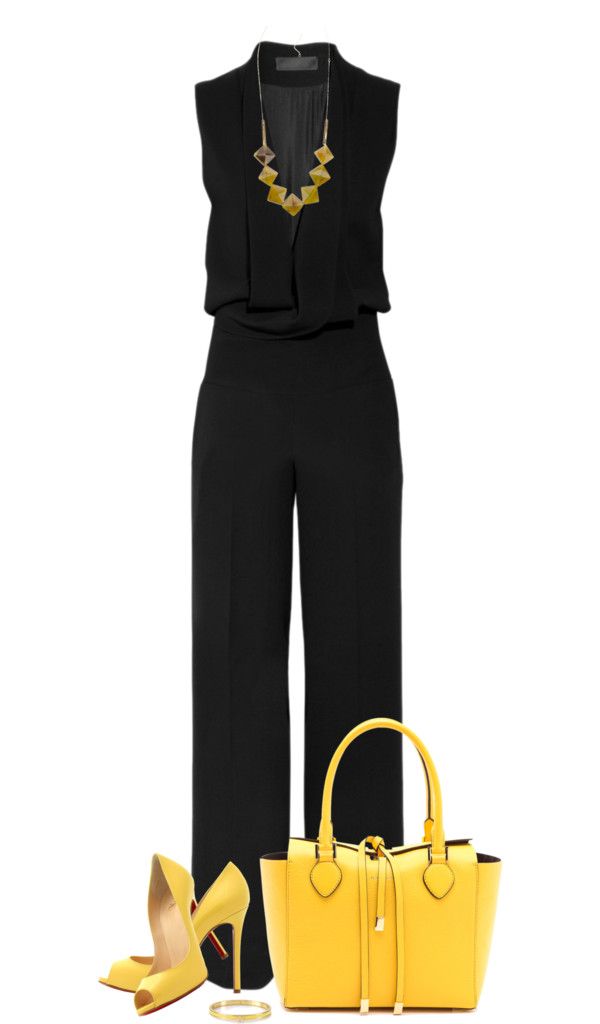 This is so "grown woman sexy", we can't stand it! And a part of the reason is because it's a clear example of the fact that being sexy does not require showing a ton of skin. It's oftentimes simply about finding an outfit that complements your curves and one that just happens to do that for many is a jumper/jumpsuit. And buttercup? What a nice way to rock black, don't cha think?
11. Buttercup low-V top and flare jeans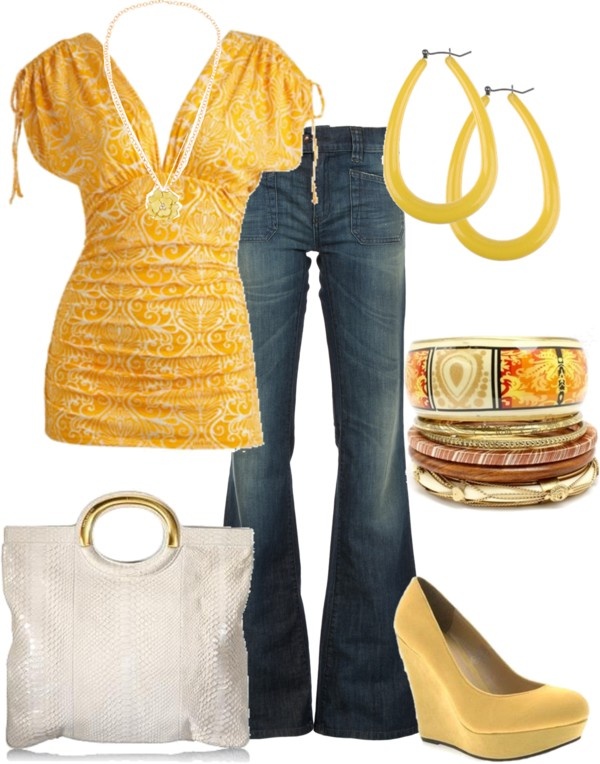 Low-V necklines are in right now which is the main reason why we're including this buttercup-and-white top. Oh, and here's a way to wear flare jeans right along with it. If the jeans happen to be dark denim, you might even getting away with wearing jeans at work.
12. Floral halter top, buttercup maxi skirt and Aztec jewelry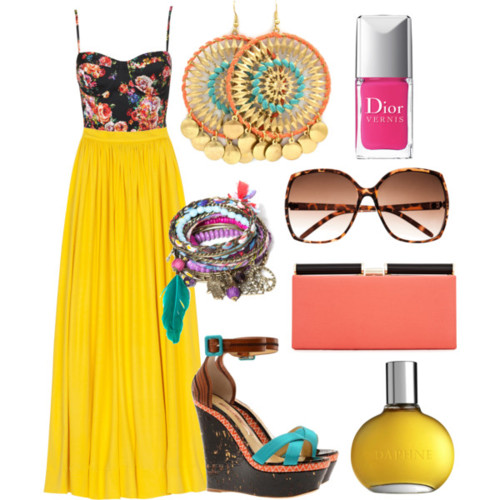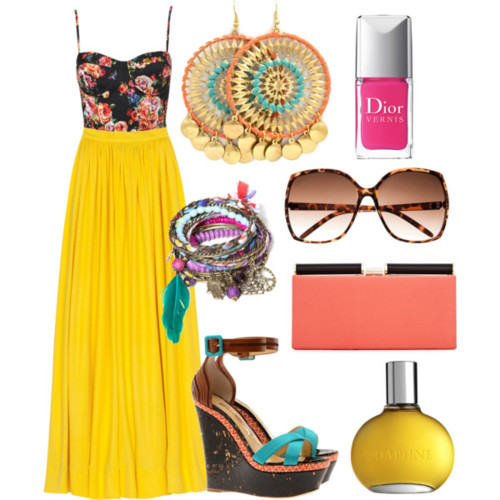 Pretty much every woman needs to have at least one (OK maybe two) maxi skirts hanging up in her closet. And when it comes to the spring and summer, buttercup is a welcoming hue. If you choose to pair it up with a halter top or bustier that is floral print, just think about all of the ways that you can accessorize it. Truly, the sky is the limit!
13. Buttercup and brown accessories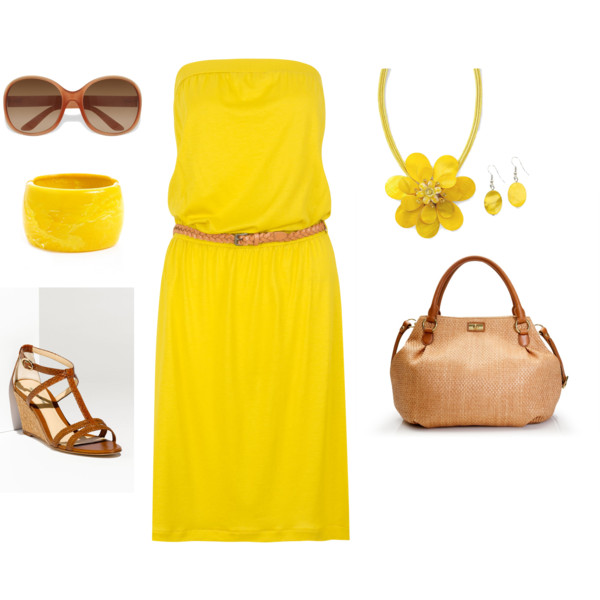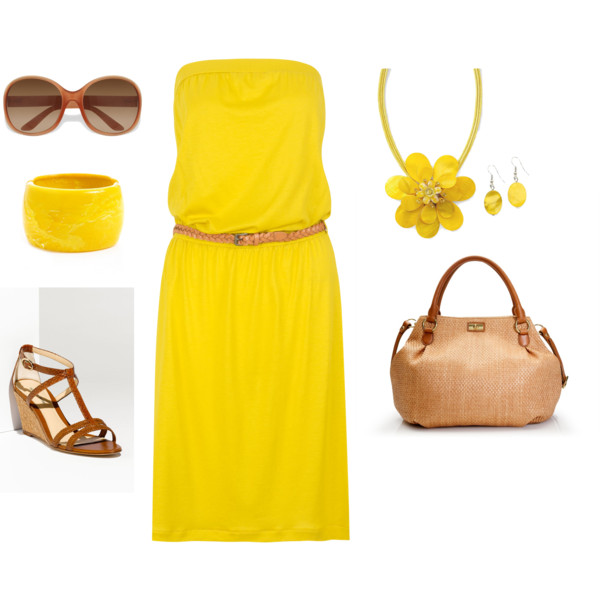 This is the feature picture because it's so easy and still oh so lovely too. No matter what your size or body type, a strapless cotton dress like this one will look great on you. Add a matching buttercup bangle and some brown leather wedges and you're as good as out the door!
14. Buttercup ruffle top and black-and-white polka dot pencil skirt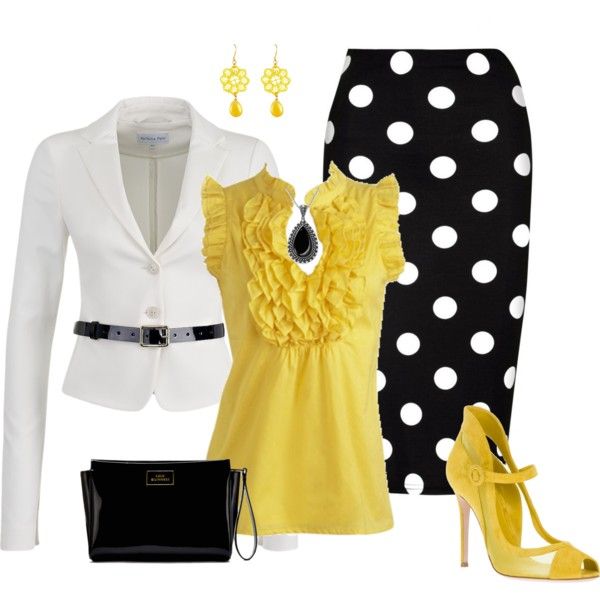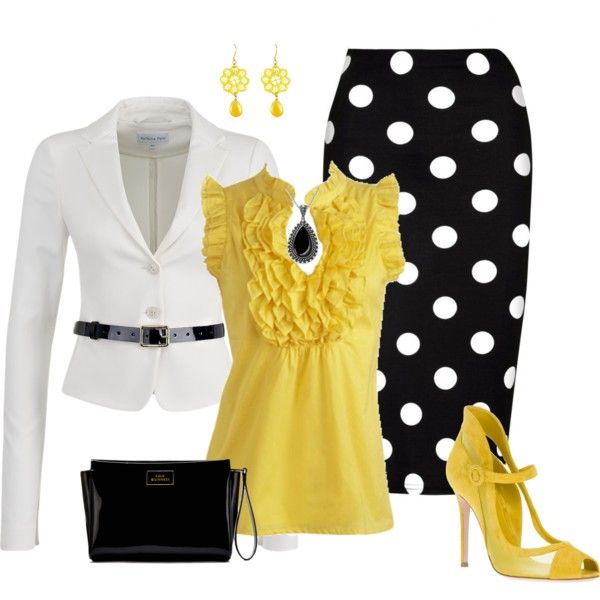 Tell us the truth. What do you like more? The fact that the pencil skirt is polka dot or the fact that the blouse has ruffles and is buttercup-colored? And yeah, don't even get us started on those shoes. If you have big Easter plans this spring, don't leave home without a look like this one.
15. "Tie dye" buttercup sleeveless razor back top and jean shorts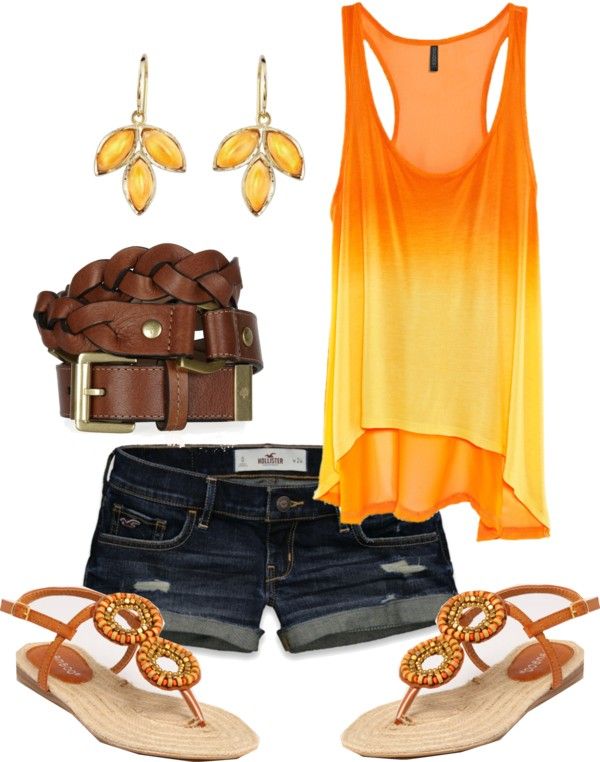 Here's a fun style for a day at the beach. Opt for a top that is not only buttercup, but has a tie-dye blend of other colors as well. For instance, this one looks just like a sunset off of an ocean. The only other two things that you'll need are your favorite dark denim shorts and your favorite pair of sandals.
16. Black and white with buttercup accessories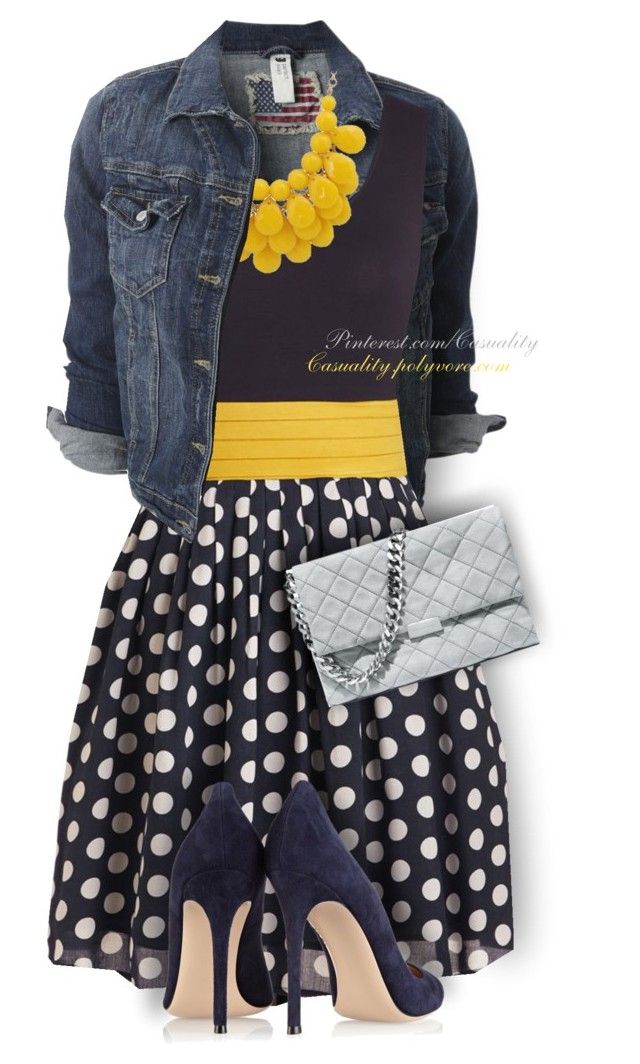 Is it just us, or do you also smile whenever you see the polka dot print? This is another look that we really like for a wedding because while the black-and-white is pretty subdued, the yellow belt and statement necklace definitely adds a bit of pop!
17. Grey tank and buttercup skirt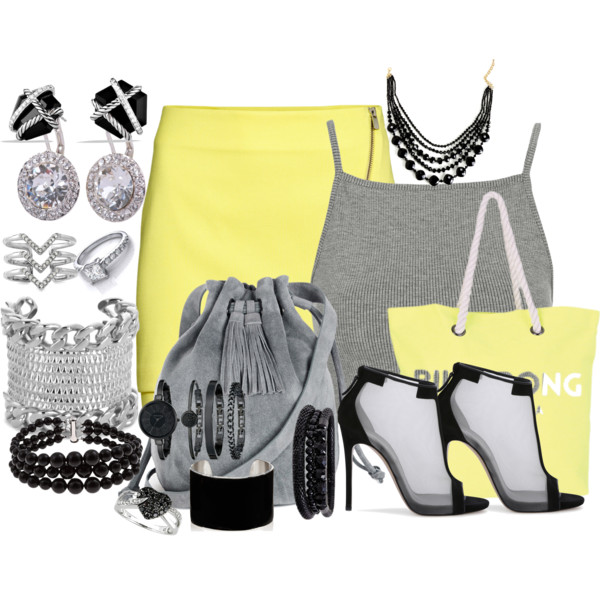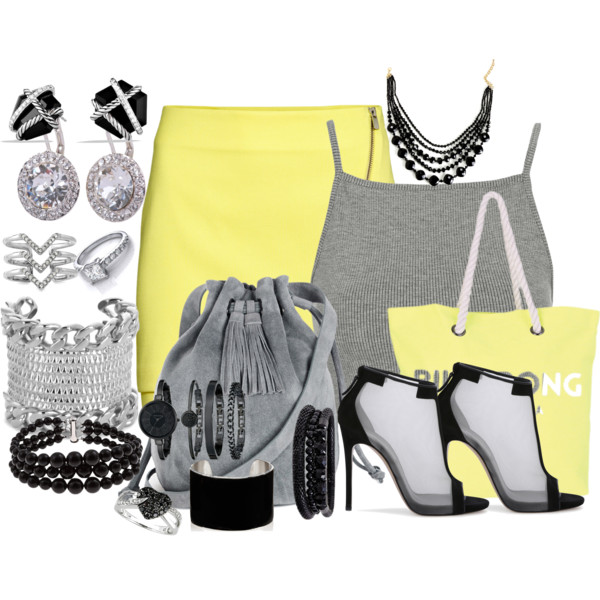 DEFINITELY one of our favorite ways for someone to rock buttercup with another color! And being that shades of grey are also trending right now, you'll be quite the fashion plate! If you're someone who doesn't like to be super matchy-matchy, add some black into the mix as well.
18. Light buttercup sleeveless linen dress and brown accessories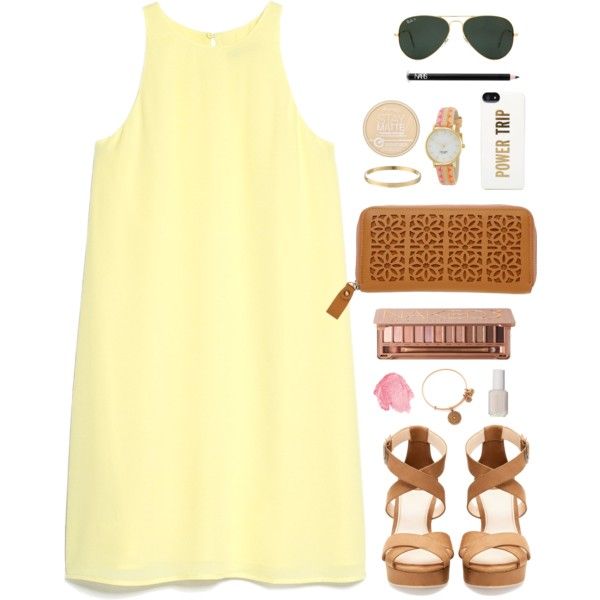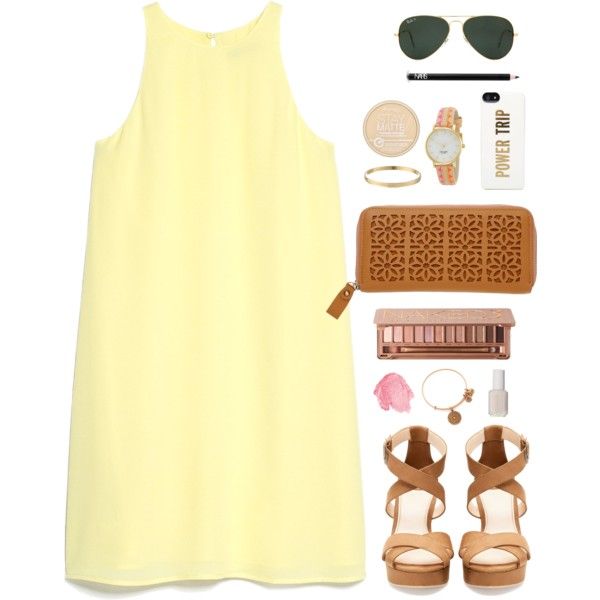 If some of the other shades of buttercup have honestly been a bit too extreme for you, here's a lighter shade that is softer and yes, a bit easier on the eyes. To tell you the truth, a color like this could be accessorized with just about anything, but if you opt for neutral accessories, you can wear them with so much else.
19. Buttercup blazer, floral top and jeans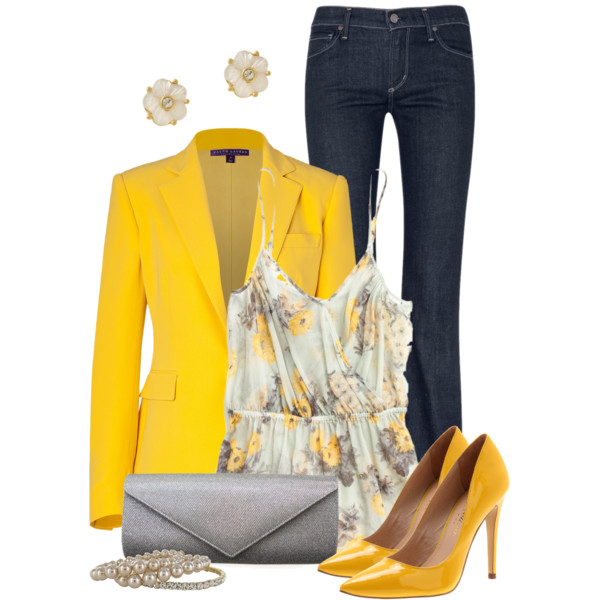 Here's another wonderful outfit for work—especially if you have plans for after it. Look for a blazer that is buttercup- colored and then match it with a pair of pumps. Coordinate everything with a sleeveless blouse that has a bit of buttercup in it and then pull out another color from the blouse with your clutch.
20. Buttercup vintage print sleeveless dress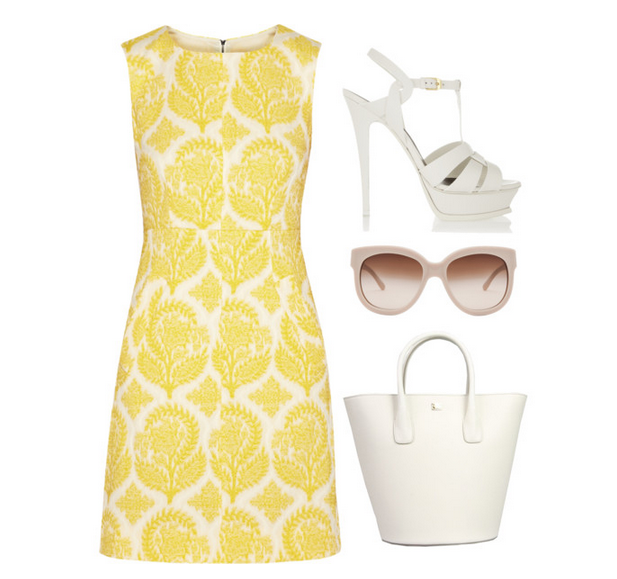 Although there are certain seasons when vintage clothing is more popular than others, one of the reasons why it's such a smart fashion investment is because antiques never really go out of style. So, if you happen to be someone who has a soft spot for the 60s and 70s when it comes to fashion, this buttercup and white dress will be sure to bring a smile to your face.
21. Buttercup baby doll halter top and denim shorts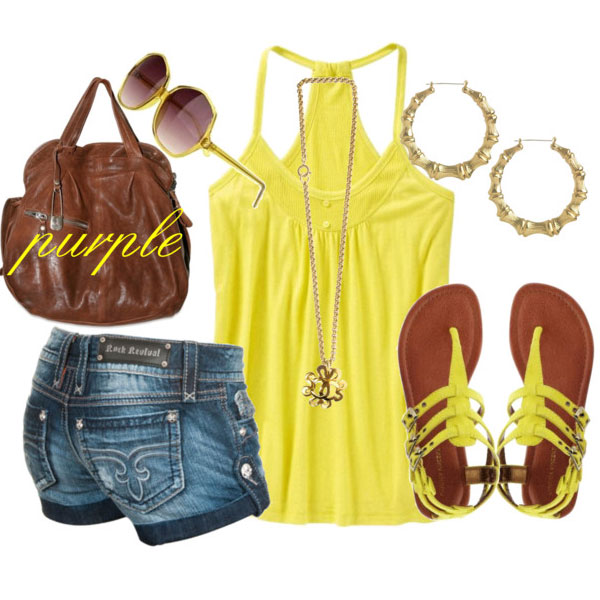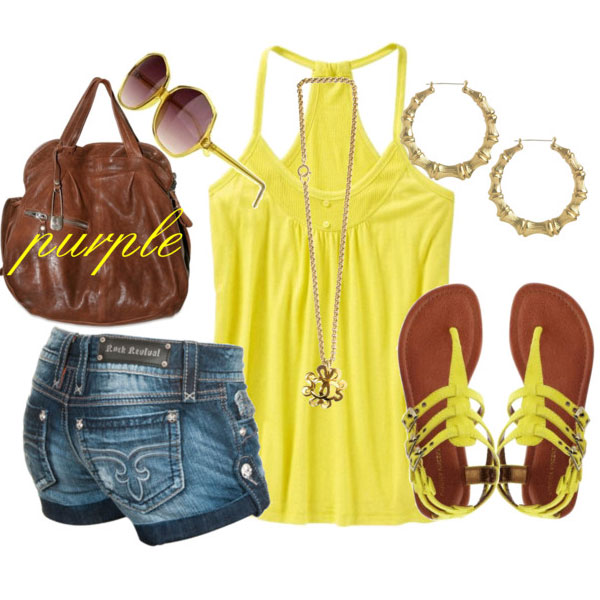 Baby doll dresses are super cute. But if you're someone who prefers pants (or shorts), go with a baby doll top and then put some jeans shorts on under it. As you can see here, another great complementary color for buttercup is brown. Leather brown, to be exact. And those buttercup-trimmed shades? An absolute must-have!