This year the bob has taken over the fashion world and here at the Styles Weekly office we just couldn't be more supportive. Everyone from the Kardashian clan to the lady next door has been going for the chop – and you could too for a gorgeous change in style. Bobs can be the perfect middle ground between short and long hair, and we think they look particularly incredible when they're wavy to show off the gorgeous cut. Here's our pick of the bunch of wavy bobs for your ultimate hair inspiration.
Glossy Brown Bob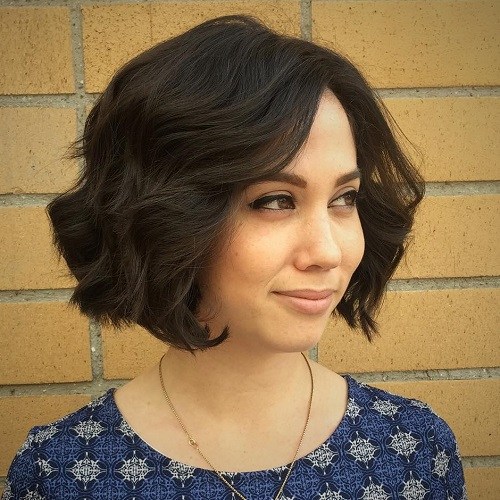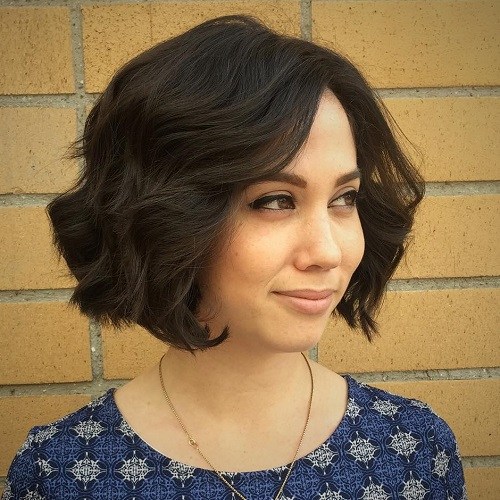 We're starting our gallery strong with a simply stunning example of a wavy bob! This absolutely gorgeous lady has cropped her hair short, falling just above jaw level, and has kept her hair one long layer from top to bottom. A rich and glossy shade of dark brown, she's waved her hair backwards off her face to create this stunning finished effect.
Balayage Loose Waves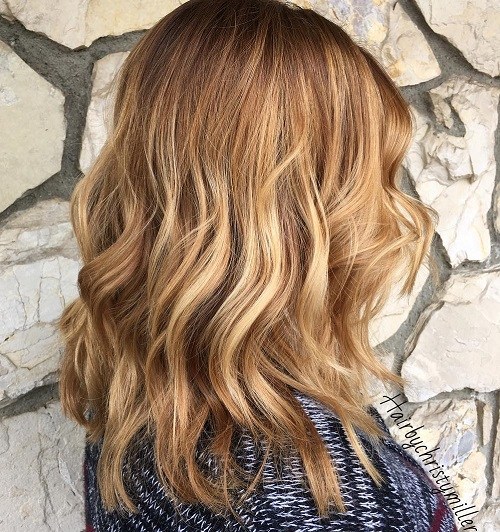 This lady has opted for an equally beautiful yet slightly longer bob, with the ends just brushing the ends of her shoulders and finished with lots of lovely shorter layers throughout. The colour is a deep and dark shade of caramel at the root, blending to a lovely lighter blonde at the tips, and the loose waves throughout show off the transition perfectly.
Subtle Flashes of Blue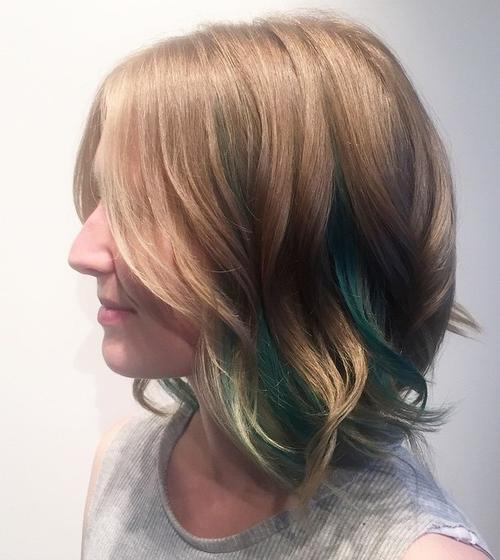 Of course – no one said your wavy bob had to be boring! There are plenty of ways to work a vibrant colour into your shorter hair – just like this lady has proved! The top of her hair is a lovely light brown with gorgeous blonde streaks falling around the face, and the underneath of the hair is a bright blue shade which we adore. She's added waves throughout to show off that peek of colour.
Brown Balayage Bouncy Bob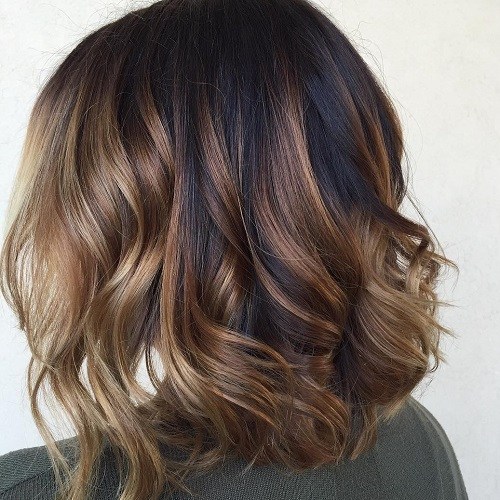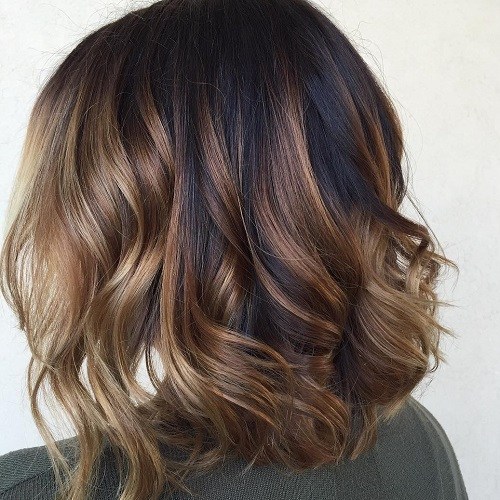 What we love most about wavy bobs is the gorgeous bounce it adds to a style – exactly like this stunning lady has proved! Her beautiful hair falls just above the shoulders, and works from a rich brown at the root through to a lovely light brown at the tip. These tight curly waves show off the depth of colours at work throughout these luscious locks.
Bright Red Bob with Side Fringe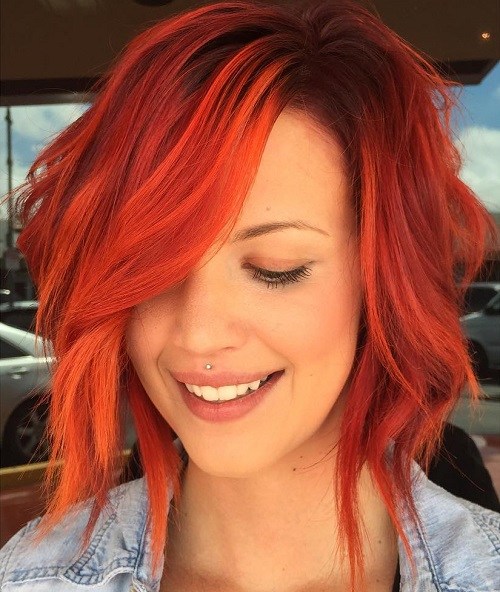 This gorgeous and vibrant shade of red brings this stunning wavy bob to life – don't you agree? This rugged bob falls in loose layers around the front of the face, with choppy ends that finish ever so slightly shorter around the back and sides. A side parting creates this gorgeous sweeping side fringe, and the waves just bring the whole look to life!
Tight Black Waves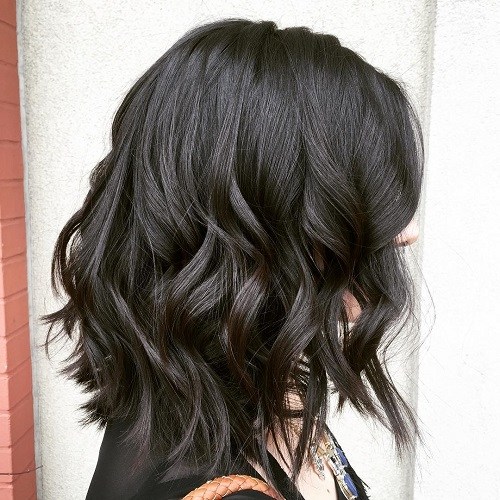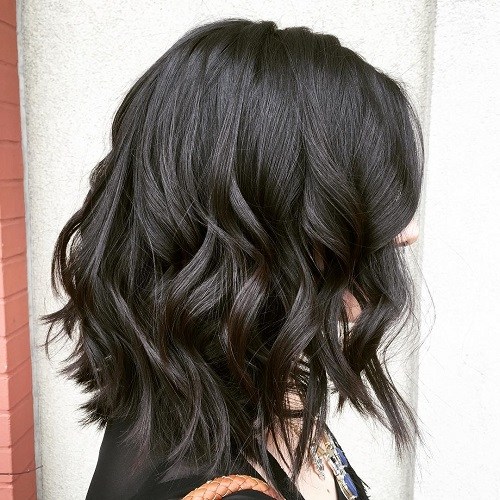 This lovely longer bob has stolen our hearts – especially with those gorgeous tight waves throughout creating the most perfect evening style! This stunning black bob falls around shoulder length and is finished with lovely choppy ends and subtle layers running throughout. The glossy hair is brought to life by the curls, which we simply adore.
Black and Brown Bob with Wavy Ends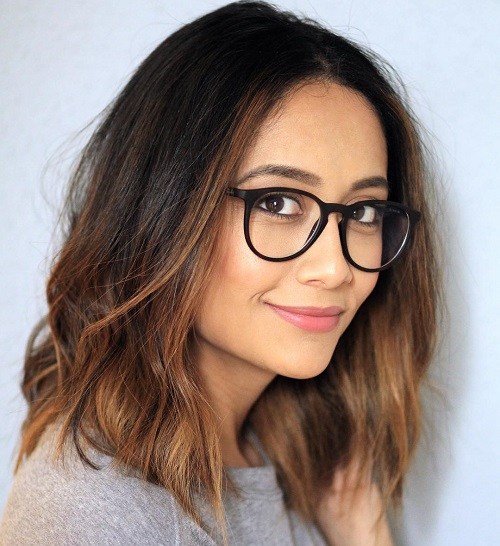 The beauty of a wavy bob is that you can add as much or as little of a curl as you want and have so many versatile styling options, just like this stunning bespectacled lady proves with her masterpiece! Her gorgeous hair works from black to a light and bright brown through a stunning ombre blend, and she's loosely waved the ends for effect.
Blonde Balayage Waves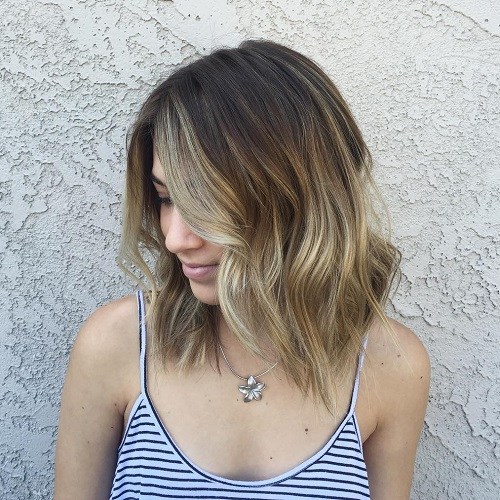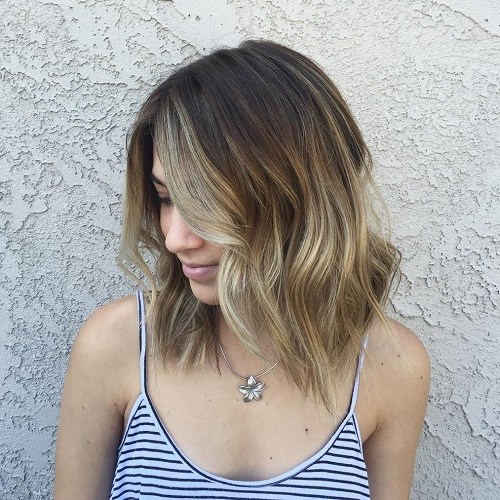 We can't get enough of this gorgeous bohemian beachy style – can you? This gorgeous longer bob is parted in the centre and finished with a loose cut around the shoulders, with a stunning blend of blonde shades running throughout. We particularly love the bright blonde fringe sections! The loose waves create a spectacular beach vibe.
Bright Copper Crop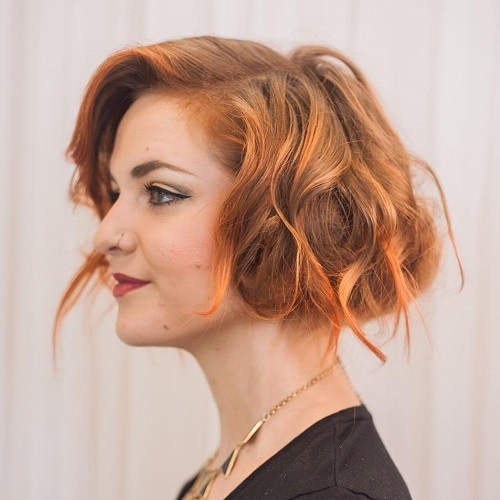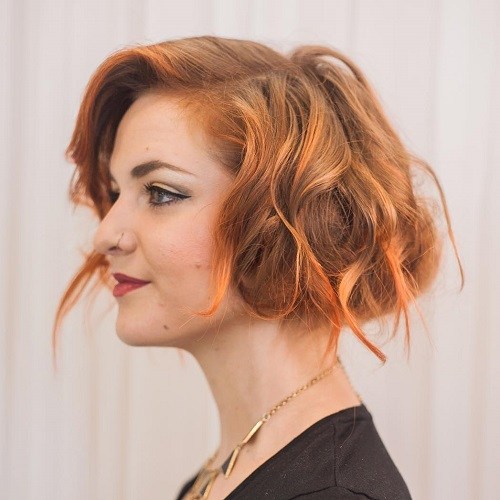 This impeccably copper bob is oh so beautiful! Finishing around the ear length with scattered longer strands which fall around the face in the most stunning way, we think the waves worked throughout this look brings the look to life. This impeccable orange shade is so unique, and looks gorgeous against this woman's complexion. This style is perfect for a night out.
Subtle Brown Highlights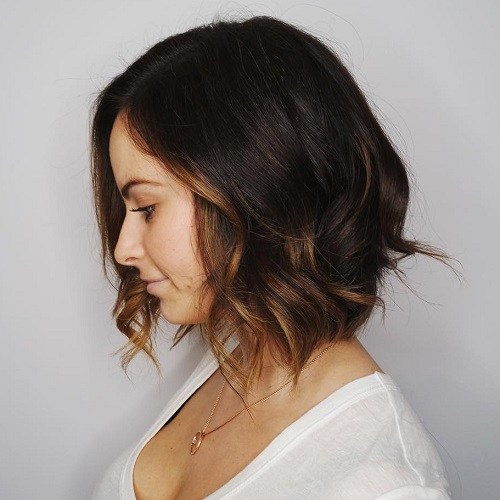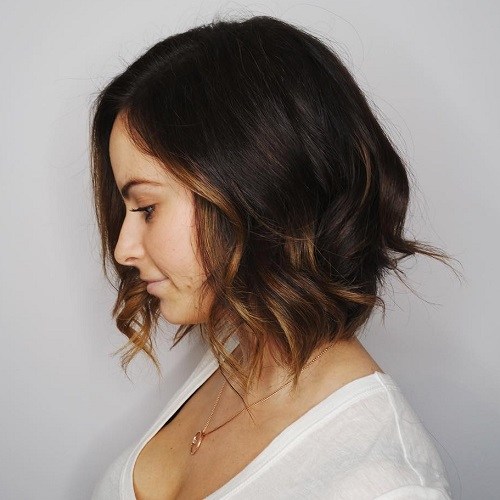 This might just be one of our favourite bobs of the whole bunch, and can you blame us? This lady has the most gorgeous curved bob, with a deep and dark glossy shade of brown on the top, and subtle caramel highlights running through the underneath and around the front of the face. She's waved the ends of the hair for this phenomenal bounc style.
Silver and Blonde Beach Waves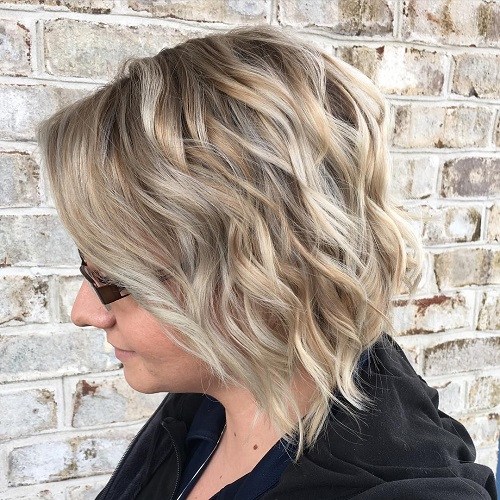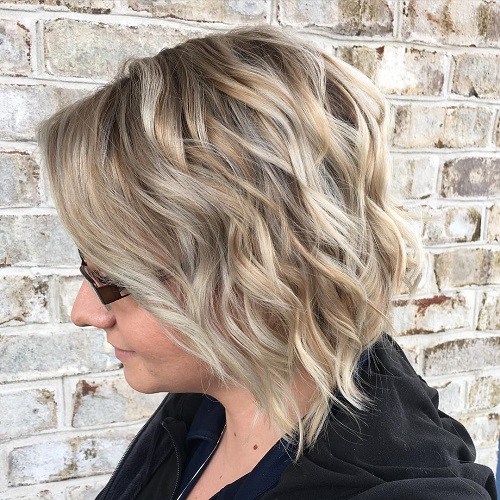 This is a shorter look from our wavy bobs collection, finished with lovely shorter layers towards the back of the head and working their way up to the top of the hair, whilst the longer sections fall towards the front of the face. This lovely lady has a combination of blonde and silver highlights running throughout and the most gorgeous beach style waves we ever did see!
Half and Half Graduated Bob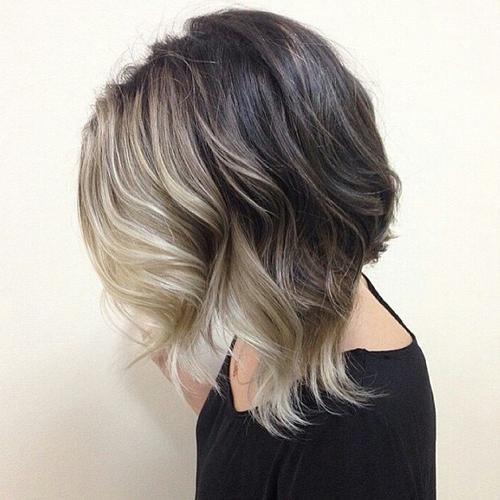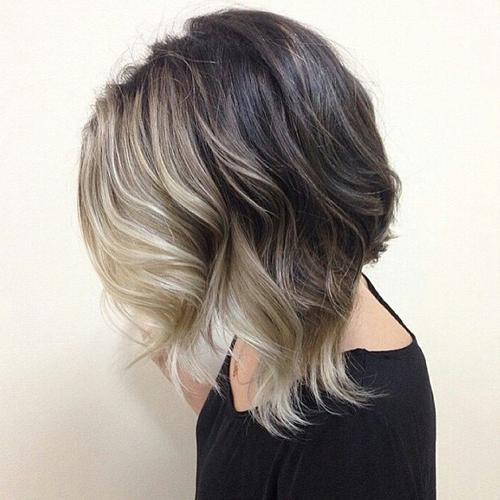 This is another of our favourites from this stunning collection! This gorgeous graduated bob is cut close and short at the back of the head, where the hair is a beautiful and rich dark brown colour. It graduates into the most stunning section of longer hair which falls in stunning waves around the front of the face, finished with this striking blonde shade we simply adore.
Brown Ombre Bob with Side Parting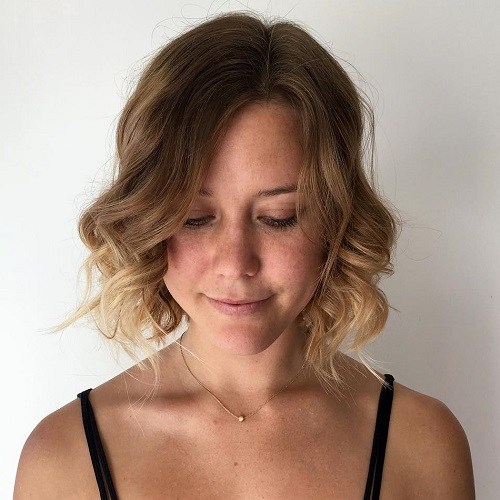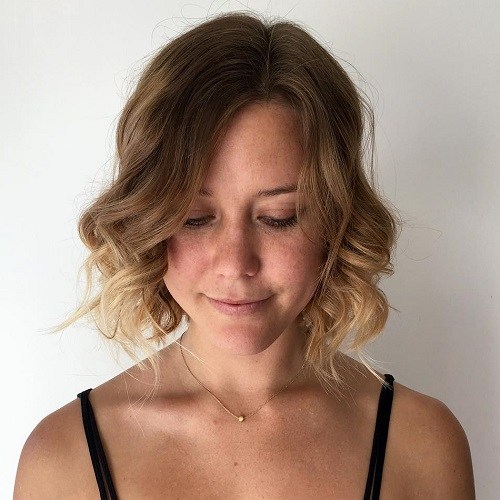 This incredible bob is simply gorgeous, and we absolutely cannot get enough of the colour transition! This incredible short bob works from a lovely light brown to a blonde at the tips through an impressive balayage blend, and she's parted the hair at the side. She's worked gorgeous curls throughout the ends of her hair for this amazing look.
Double Blue Wavy Bob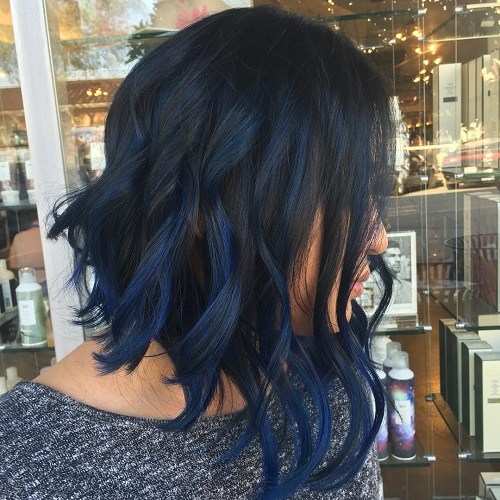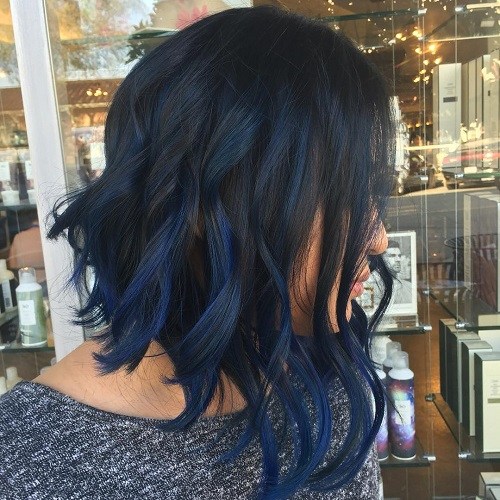 Why opt for one shade of blue when you can have two? Just like this stunning lady, you could go from a gorgeous dark denim shade to a royal blue at the tips through a stunning ombre transition and bring your bob to life! Her hair has a graduated finish from short at the back to longer at the front, and has gorgeous ringlets woven throughout.
Amazing Tousled Bob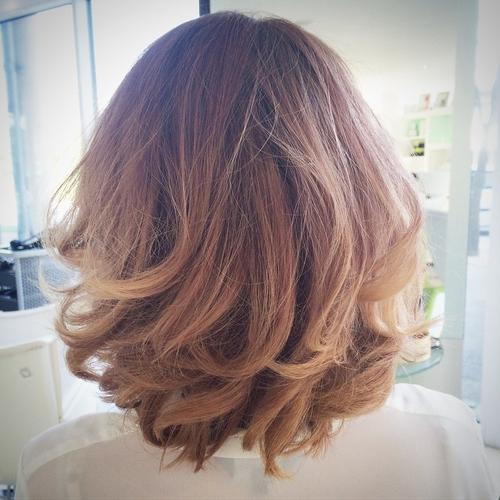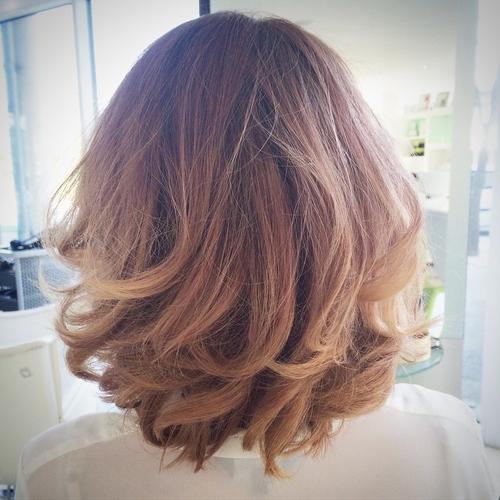 This absolutely breathtaking bob is styled to perfection – creating the most incredible silhouette which is ideal for a night out look or a special occasion or event! This bob is the most vibrant shade of copper, full of shorter layers cut throughout. The ends are curled and waved, creating the most wonderful bouncy finish, full of a tousled effect.
Curly Brown Bob with Blonde Tips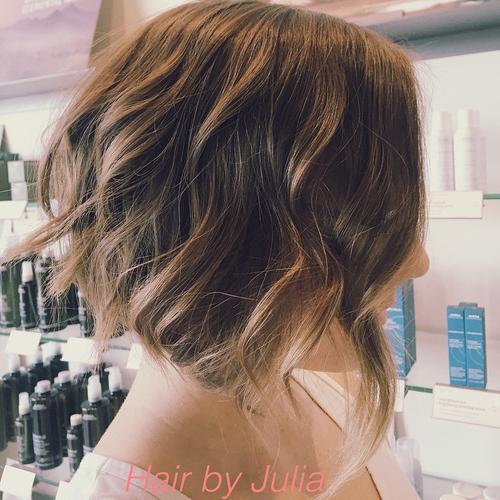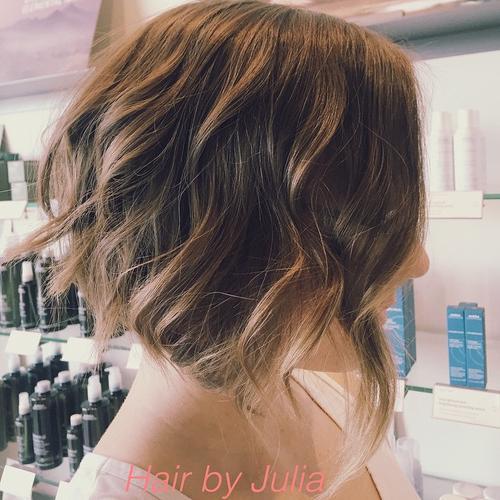 This is another graduated bob which has made the cut, and boy is it a good one! This luscious brown hair works from shorter at the back to longer at the front, and the tips of this hair are a gorgeous blonde, creating the most wonderful, sun-kissed effect. The hair is loosely waved from top to bottom creating this amazing relaxed style which we simply adore.
Messy Blonde Wavy Bob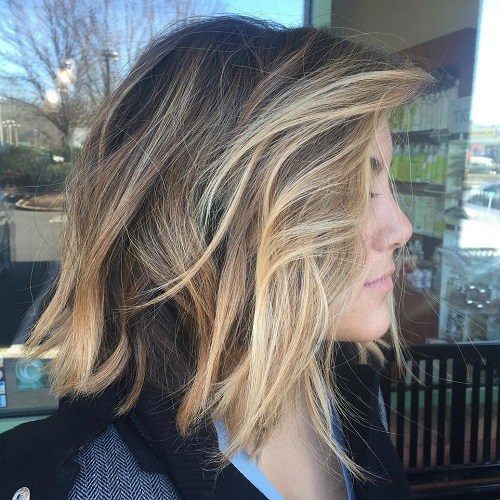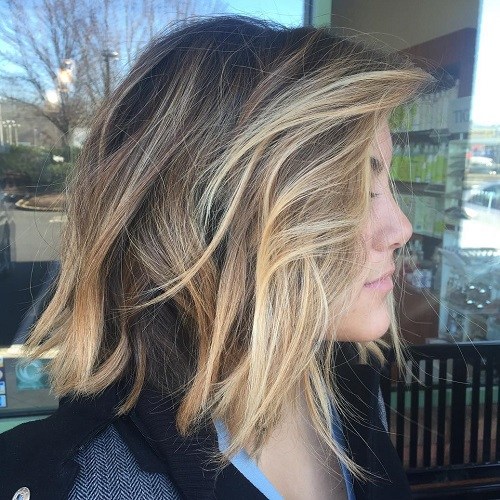 This messy style has stolen our hearts – we just love the cool and edgy finish. Her long bob has a deep side parting, creating this fantastic sweeping fringe across one side. the back of the hair is a dark brown which blends to blonde at the end, and the beautiful blonde colour runs right through the fringe. The loose waves run throughout for this amazing tousled style.
Blonde Highlighted Bob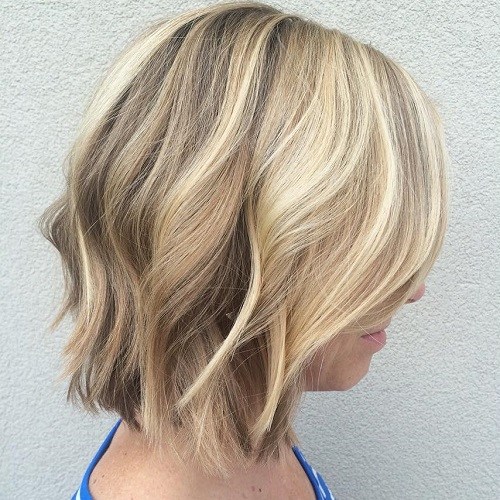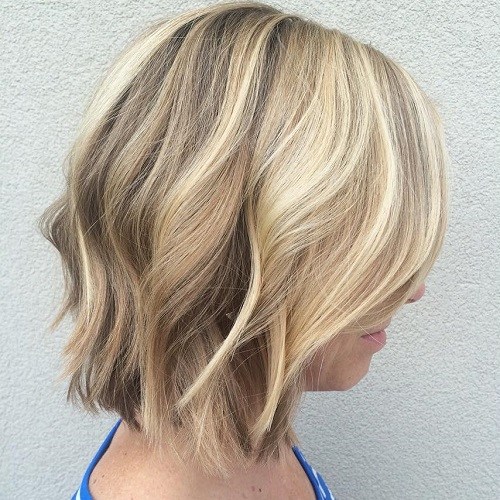 If you've got a beautiful blonde bob then why not add in a loose wave to show off the golden colours at work? Just like this lady has done, she's worked her stunning highlighted blonde bob which falls with an immaculate sweeping fringe on one side, into the most incredible loose waves from the ear length down to create this incredible bounce.
Blonde Ombre Messy Bob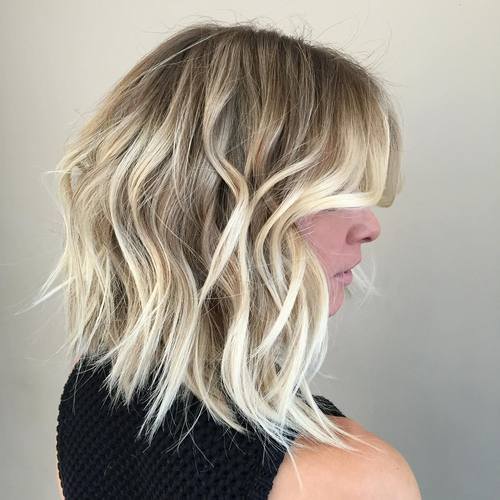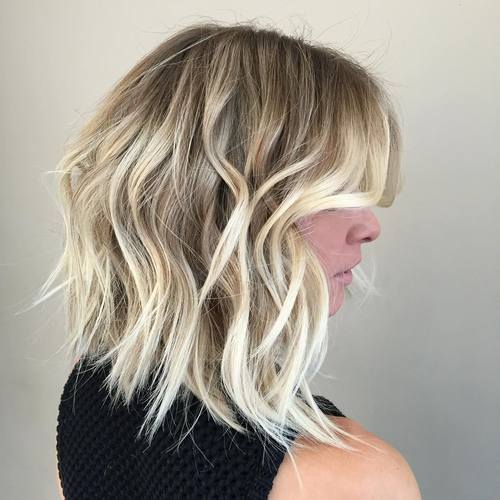 This messy bob is super fashionable and works one of our favourite colour combinations to date! From a lovely dark blonde at the top to a white blonde at the end through balayage transition, this lovely longer bob finishes around the shoulder length. The waves work from top to bottom and she's loosely tousled the style and created this phenomenal look.
So there you have it – a gorgeous gallery of wavy bobs for you to take the ultimate inspiration from! These are some of our favourite styles just full of body and life, perfect for a day to night look. Be sure to let us know which one is your favourite!