Weddings are the most special day of a bride and groom's life – not least because you are committing to spend the rest of your life with your best friend, but because all of your family and closest friends gather in the same place to celebrate your love. For the best day of your life, it's important that you feel simply incredible – and the first step to doing that is by opting for a hairstyle you absolutely adore. Here is our gallery of perfect wedding hairstyles for those with curly hair. Styles Weekly hopes to make your special day that bit more special with this gallery of wedding hair inspiration!
Curly Brown Hair with Braided Crown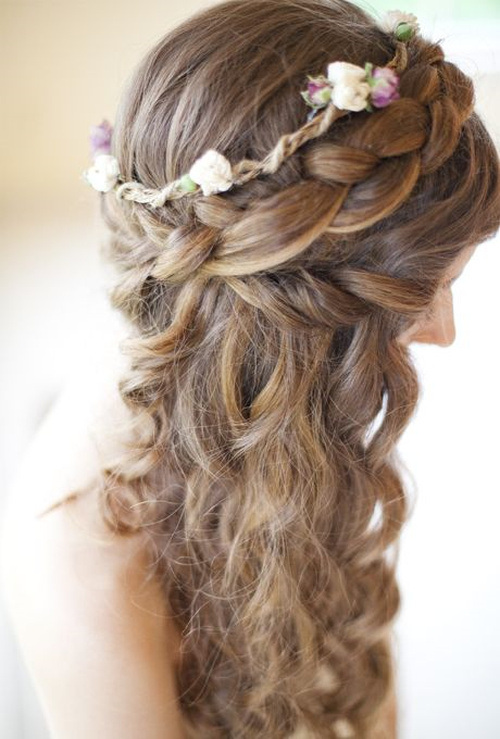 This lady has absolutely beautiful long and brown hair, which is extremely curly, cascading in beautiful waves from the top to the bottom of her hair, which falls down her back. She's swept all the hair to one side, and has worked the front fringe section into a series of beautiful braids across the head, fastened for a wonderful finish. A flower crown finishes the style off with a bohemian twist.
Swept Back Copper Style with Curly Pinned Finish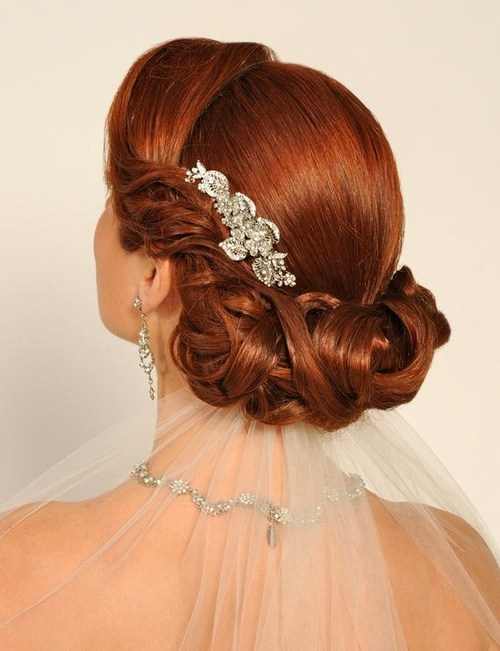 This utterly stunning style would be so perfect and utterly glamorous for a wedding! This lady's absolutely beautiful copper hair is glossy and shiny, and has been pulled back into a smooth and sleek ponytail section. The fringe section has been swept back into this beautiful and flicked finish, and the ends of the hair have been twisted and pinned to this gorgeous curly bottom bit. A diamante clip finishes off the style with class.
Curly Bob with Flower Crown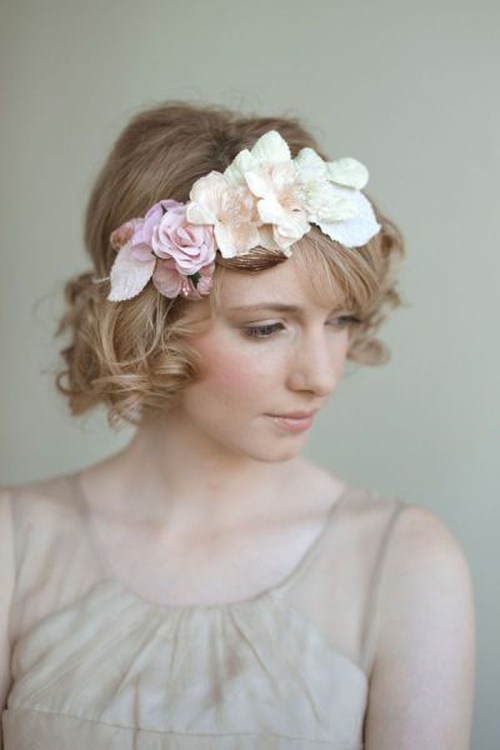 This lady has created an absolutely gorgeous bohemian bride style which would be perfect for a shabby chic or festival themed wedding! Her striking blonde curly hair is worked into tight ringlets, some of which are left to fall around her face elegantly, the rest of which are tied in a bun at the back. An elaborate flower crown works across the front of the head for the finish.
Twisted Bob with Flower Pin – Wedding hairstyle for short hair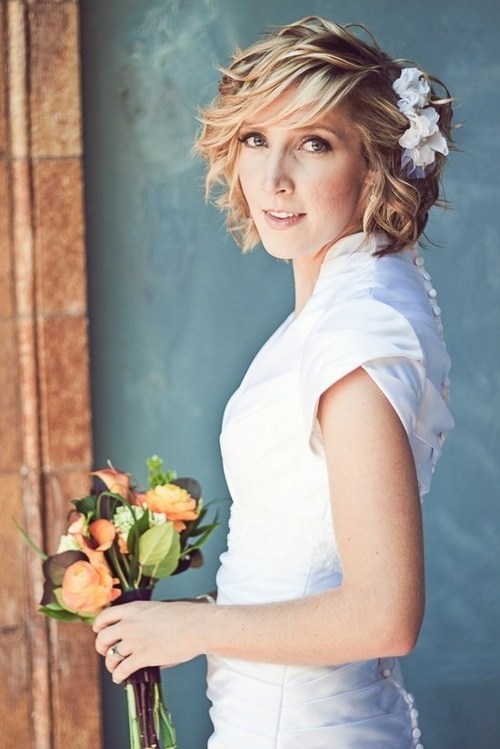 This absolutely stunning bride has worked her beautiful curly bob into a cool, contemporary and modern hairstyle which we simply adore! Her gorgeous blonde bob is finished with a sweeping side fringe, and is in bouncy curls throughout. The other side of her hair has been pulled back and pinned with a beautiful flower pin which we adore.
Swept Back Fringe with Long Curls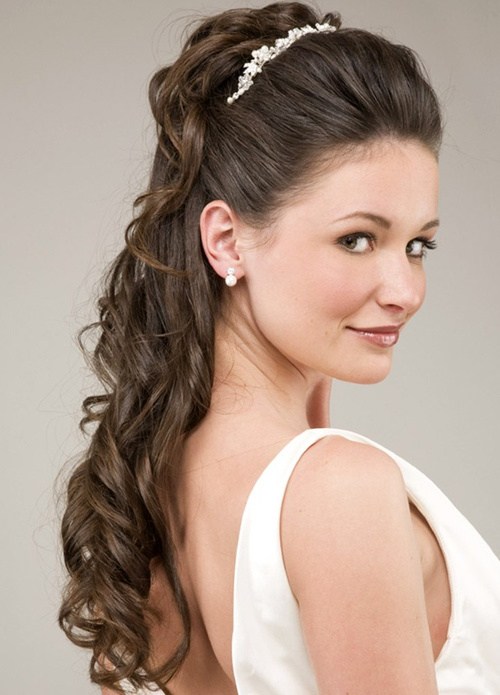 This gorgeous lady looks incredibly pleased with herself – and we're really not surprised, just take a look at this beautiful wedding hairstyle she's created! Her striking brown hair is glossy and dark, full of amazing ringlets from top to bottom. She's swept the fringe section back and fastened it with a diamante grip, letting the curls fall and do the rest of the talking!
Curly Bob full of Layers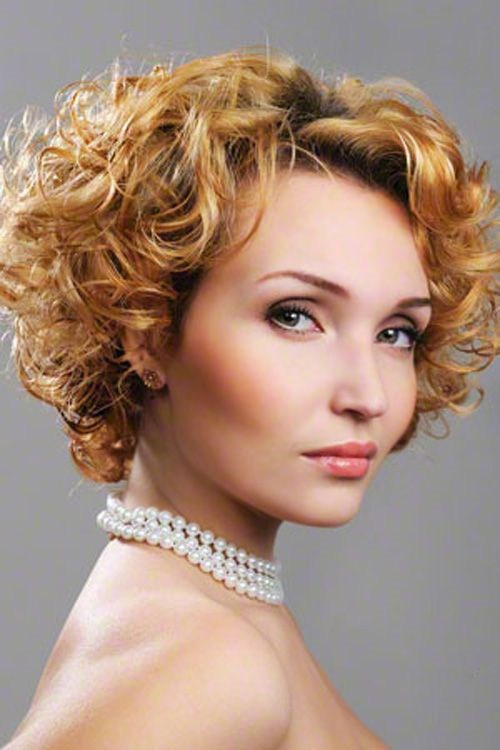 This utterly beautiful curly bob has truly stolen our hearts – and should inspire you to go curly with your wedding style too! This gorgeous caramel blonde bob finishes longer at the bottom of the neck, and is full of short and choppy layers throughout, creating this bouncy and voluminous shape which is brought to life with the tight curls she's opted for.
Curly Blonde Hair with Side Parting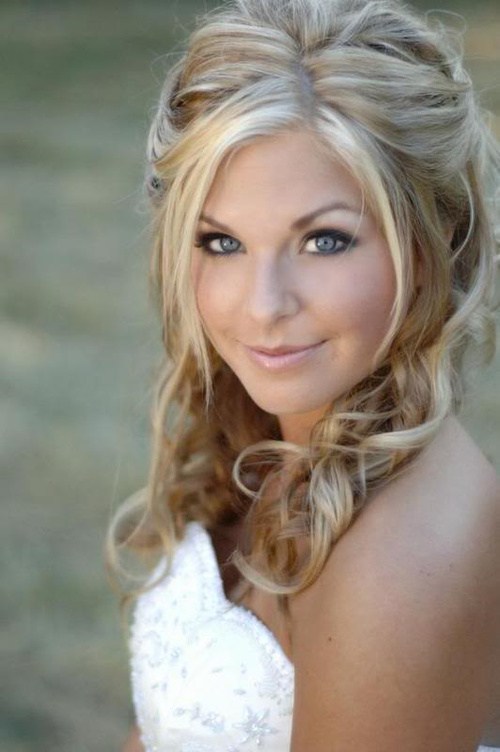 This absolutely beautiful blonde lady has created a truly striking wedding hairstyle which we simply cannot get enough of! This gorgeous lady's blonde hair is full of lovely highlights, working different shades of blonde together. She's worked a side parting, and left the fringe strands fall around the face. She's pinned sections of hair to create a half up half down style, and left the rest of the hair to cascade in beautiful ringlets around her shoulders.
Curly Side Style with Voluminous Quiff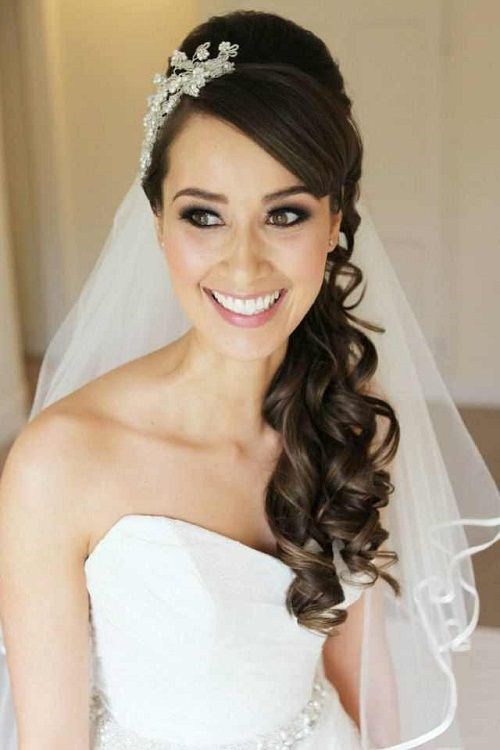 This absolutely gorgeous wedding style shows just how effective curls can be on a big day! This lady has left her amazing side fringe loose, and has then swept the hair backwards into a gorgeous and glossy quiff section. The rest of the hair is pinned to one side, and worked into big ringlets, which fall down one shoulder in an elegant and classy finish.
Swept Back and Pinned Curly Blonde Style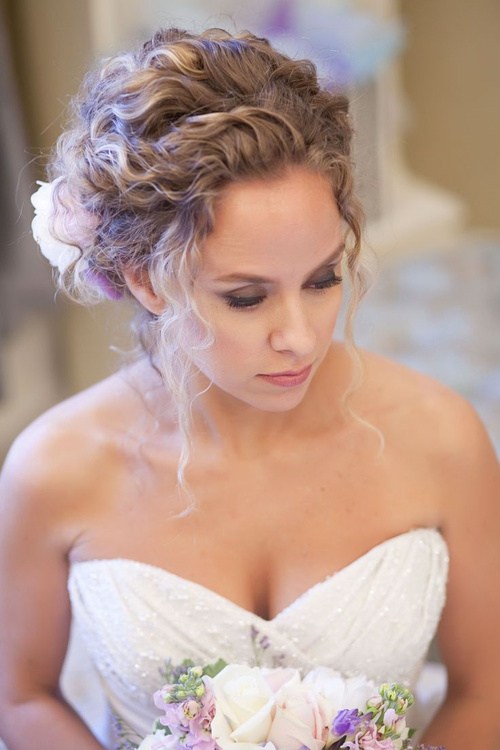 This absolutely beautiful lady has gorgeous blonde hair which is bright, vibrant and simply stunning. Her hair is full of tight natural curls from root to tip, which is showed off perfectly with this amazing up do. She's swept the hair back from the face, leaving loose curls around the ears, and has fastened the bun section at the back with a lovely white flower.
Elaborate Curly French Braid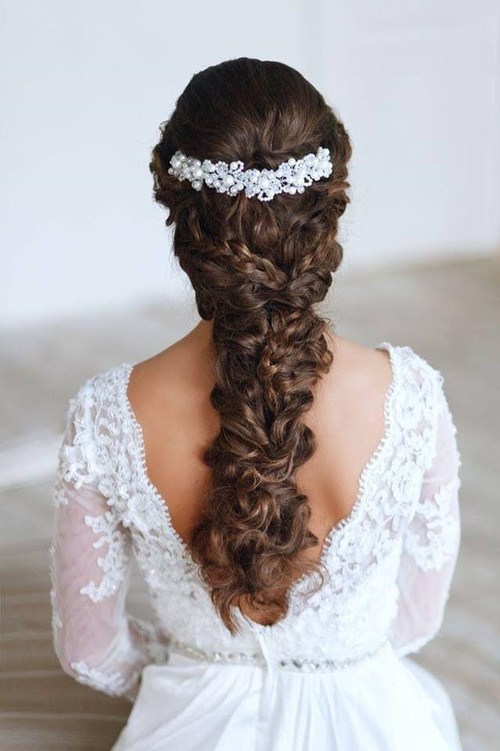 This gorgeous and romantic curly french braid is so perfectly crafted it's difficult to take our eyes away! This lady has stunning brown and naturally curly hair, which she's separated into several sections and braided. The smaller braids are then grouped together and plaited to create this dramatic and elaborate romantic braid style, which is finished with a diamante grip across the back of the head.
Waved Up Do with Diamante Clips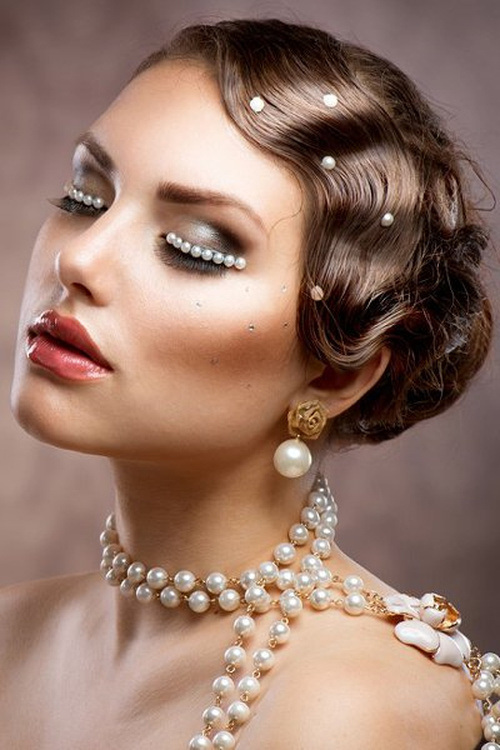 This lady has gorgeous and rich brown hair, which she's added loose waves throughout from top to bottom. Her hair has a deep side parting, and the fringe section has been pinned to the side of the head in a curl. The rest of the hair has been worked into a gorgeous low bun. She's added subtle diamante grips throughout the fringe for an extra touch of sparkle.
Swept Back Romantic Ringlets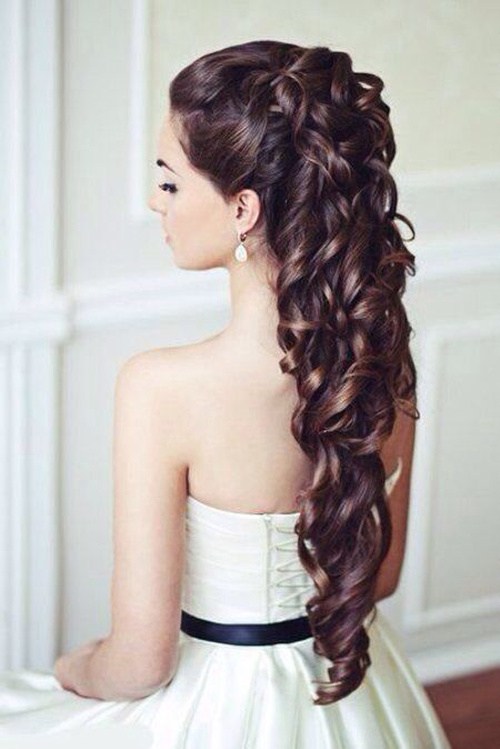 If you're blessed with incredibly thick and glossy hair, then why not fashion an elaborate curly hairstyle like this gorgeous lady has done for her wedding? Her hair is a stunning and shiny brown, which she's pulled back off her face and pinned at the top of the head. The rest of the hair is left to fall down her back in these gorgeous and tight ringlets which look just incredible.
Side bun Pinned with Flower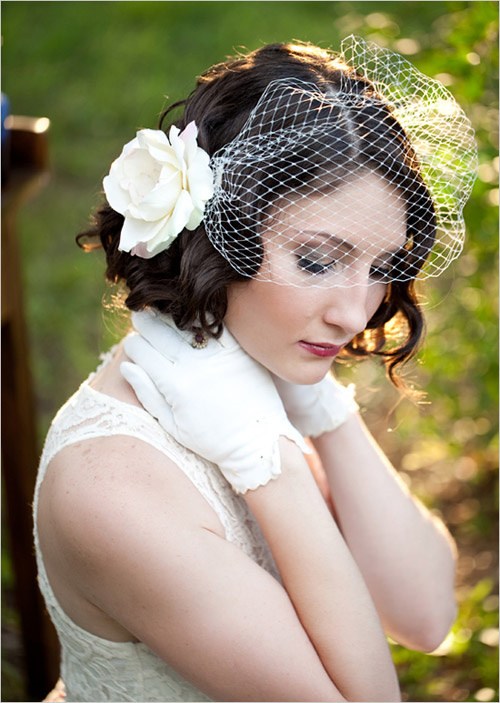 This lady has the most gorgeous natural shade of hair, in a deep and dark brown which is shiny and glossy. Full of beautiful curls throughout, she's swept the hair to the side and pinned it into a low bun, finished with a gorgeous white flower hair accessory to create a fabulous finish. Curly strands of hair are left around the front of the face and finished with a veil.
Elaborate Blonde Swept Style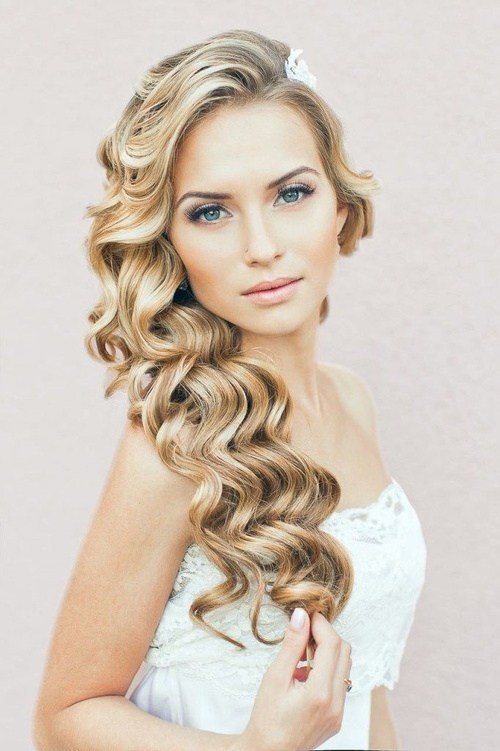 This lady is absolutely breathtaking, and her hair even more so – we simply adore this incredible hairstyle! Her beautiful hair is an incredible collection of blondes, from a white and bright blonde do a warmer caramel shade. Worked into big barrel curls from top to bottom, she's swept the front sections of hair back and left the curls fall down one side.
Braided Curly Brown Bun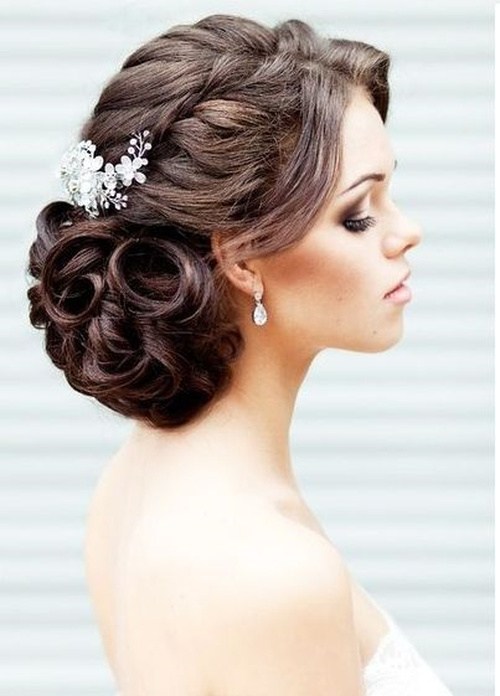 This beautiful hairstyle is to die for – and makes the perfect wedding style if you want your wedding hair to be full of beautiful curls! The fringe section is left loose around the face, and an amazing french braid works through either side of the head, gathered at the back. The ends of the hair and intricately curled, pinned and twisted for this bun effect, finished with a diamante and floral grip.
Side to Side Blonde Braid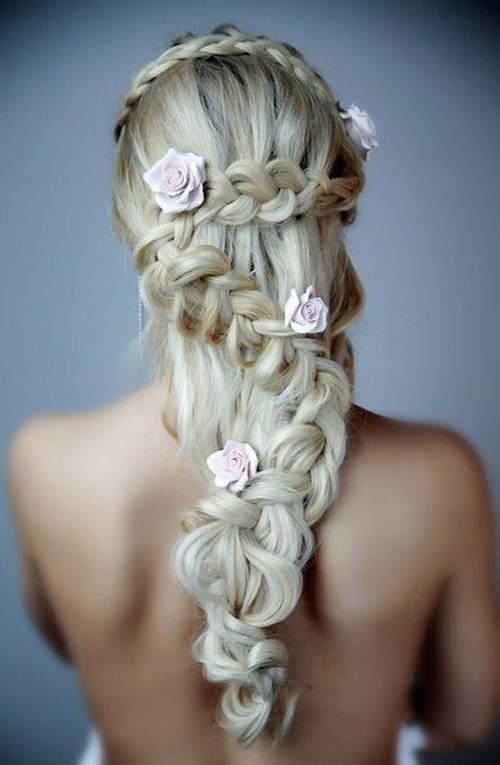 This lady has the most beautiful white blonde hair which is gorgeous and shimmering – perfect for attracting attention on your wedding day! It's naturally curly and beautiful throughout, but the star of the show is undoubtedly this incredible graduated braided which works from side to side, right the way through the hair. Subtle floral pins are added for a beautiful bohemian finishing touch.
Pinned Twisted Bun with Flower Hair Pin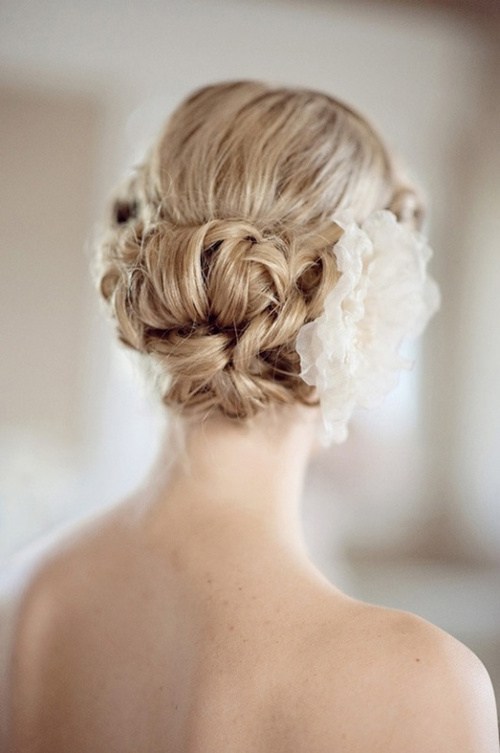 This absolutely stunning blonde hair is a warm shade of honey blonde, full of a luscious natural wave that people would pay lots of money for! The hair has been swept back, and then fastened into this gorgeous twisted and curly bun section, full of elaborate styling work. Finished with a gorgeous white flower hair accessory on one side, this style is simply beautiful.
Twisted Side Bun with Diamante Grip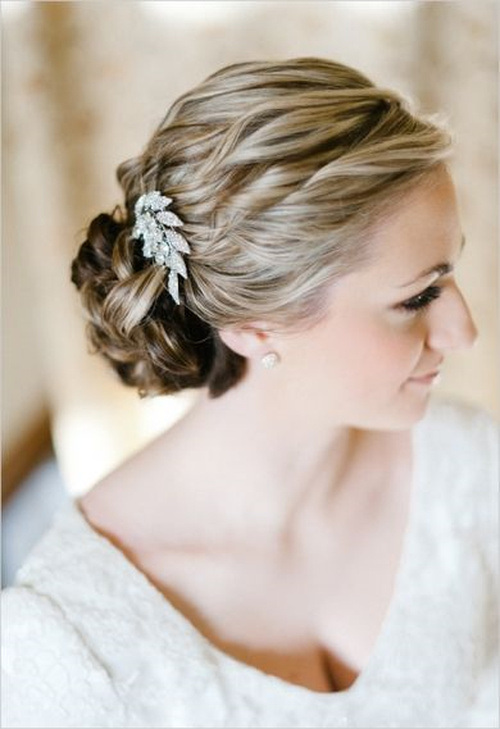 This absolutely beautiful lady has dark blonde hair absolutely full of white blonde highlights, which creates a stunning two-tone blonde finish. The front sections of hair have been twisted and swept backwards, fastening to create this stunning twisted bun which sits low on the back of the neck. The style is finished with a diamante hair grip which we adore.
Curly Crop with Diamante Hairband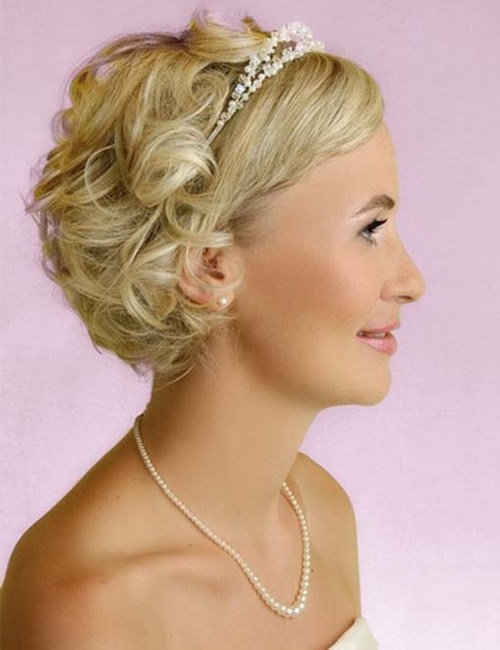 This lady has the most beautiful short blonde bob which is kept cropped close to the head, finishing around the jaw level. Her vibrant blonde hair has been worked into amazing bouncy curls throughout to create this lovely finish, with the adorable side fringe left straight sleek for effect. She's added a beautiful diamante hairband to finish the look off.
Curly Black Up Do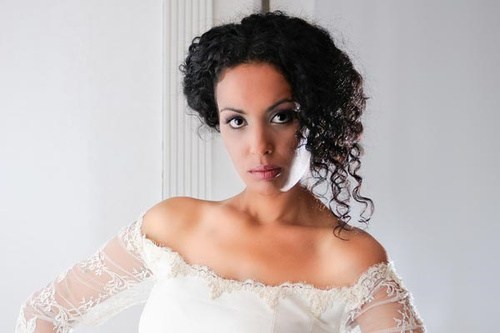 This stunning lady has the most gorgeous hair! It's curly, black and worked into the perfect natural corkscrew curls from top to bottom. She's created a voluminous bun look, sweeping the hair back and creating this fantastic look from the front, leaving gorgeous strands of hair to fall around her face on one side in wonderful ringlets.
Curly hairstyles are perfect for a wedding because they're elaborate, beautiful and romantic too. We've chosen our favourites – which are yours?