It doesn't matter what outfit you're wearing or how stunning your makeup is, it's undeniable that your hair is the finishing touch for any look. You're never fully dressed without your hair in place – whether that's up, down or in any hairstyle of your choice. Our favourite way to finish our hair off to perfection is by adding a hair accessory. From headscarfs to clips, hair bands to beads – the addition of a hair accessory can absolutely transform your look. Here are 10 gorgeous hair accessories inspiration looks to help you choose the perfect hair accessory to complete your style.
Beaded Headband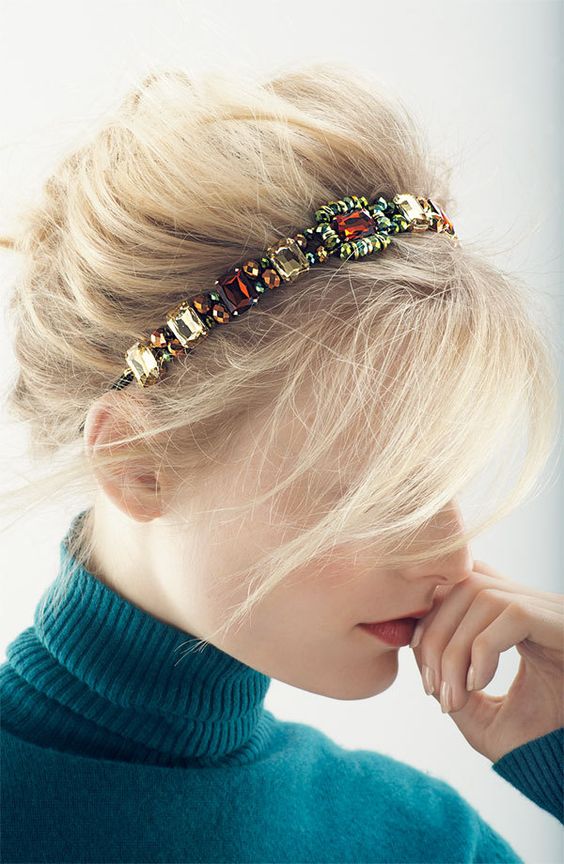 Headbands are a simple way of turning a casual up do into something stunning. The addition of a jewelled headband will transform your look from something casual to ready for a special occasion. Choose something pretty and jewelled with tons of sparkle. Work your hair into an up do and then add your hairband for a stunning end result.
Pretty Headscarf

Headscarfs are a super cute throwback to the vintage days – and an easy way to take a simple hairstyle to the next level. Not only will you look super cute by choosing your favourite headscarf, but you'll be super on trend too. Work your hair into an up do, leaving your fringe or the front sections of hair loose. Tie your favourite scarf around your head and knot at the top.
Flower Hairband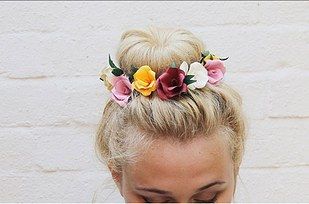 Hairbands come in all shapes and sizes, but this stunning floral hairband might just be one of the prettiest ones we've ever seen. It's embellished with multicoloured flowers and helps you to create the perfect bohemian style. Work your hair into a high bun, sweeping your hair off your face. Use the flower hairband around the bun for this pretty finish.
Pearl Hair Grips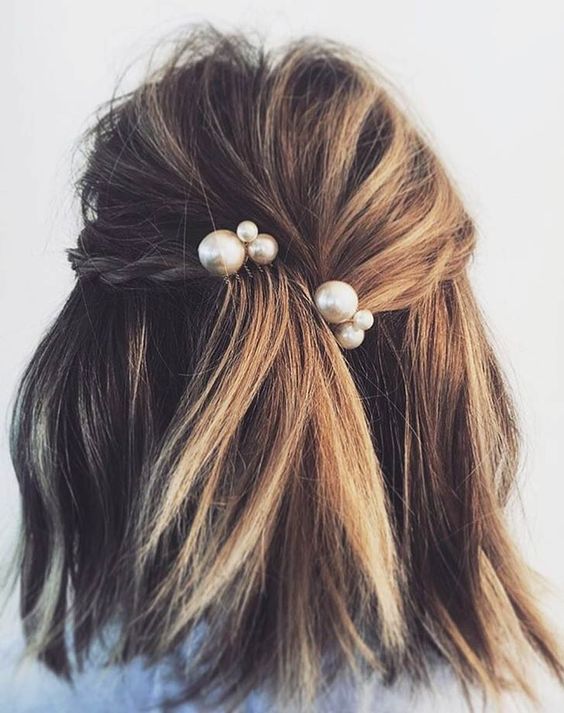 Turn a simple half up half down hairstyle into a work of art with the addition of pretty pearl grips as pictured above. Start by taking two sections of hair, one on either side of the head, and braid backwards. Fasten at the back of the head with the prettiest hair grips that you can find. We just adore these pearl ones!
Golden Flower Hair Accessories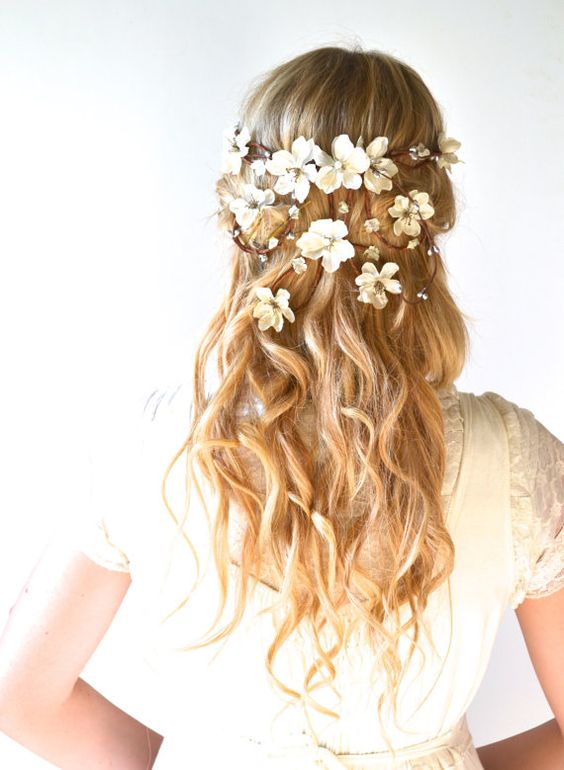 Bridal hairstyles are often accompanied with the prettiest hair accessories – don't you think? These stunning golden flowers are utterly beautiful. Curl your hair from top to bottom in tight ringlets. Drag sections of hair back and pink in place with pretty flowers. Scatter them throughout the hair for a remarkable end result like this.
Metal Leaf Hair Grips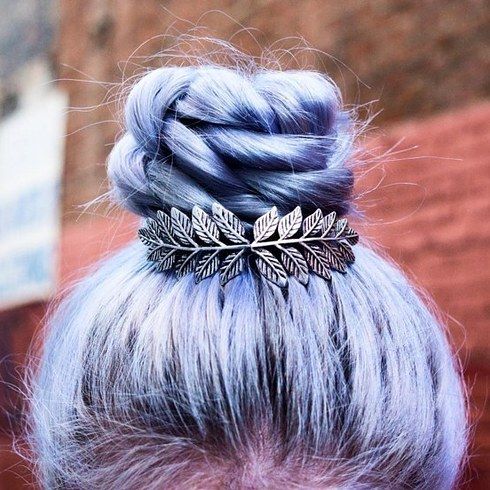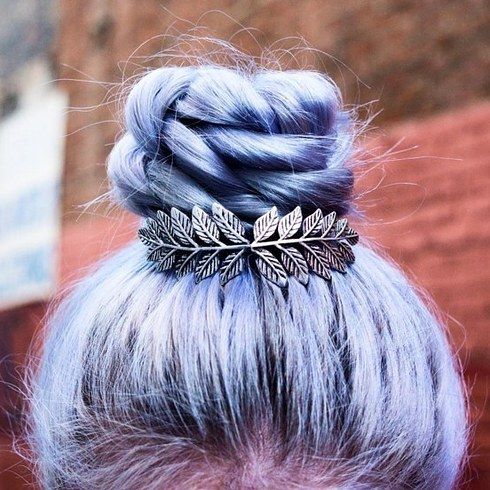 Buns are the perfect casual hairstyles. Scooping your hair up into a high bun can be both smart and casual – super practical and incredibly adorable too. Whether you're wearing a chic ballerina bun or a messy casual bun, adding a hair accessory can mean that your bun is night out ready. We love this metal leaf hair grip which transforms the hair ready for a special occasion.
Stunning Branch Hair Accessory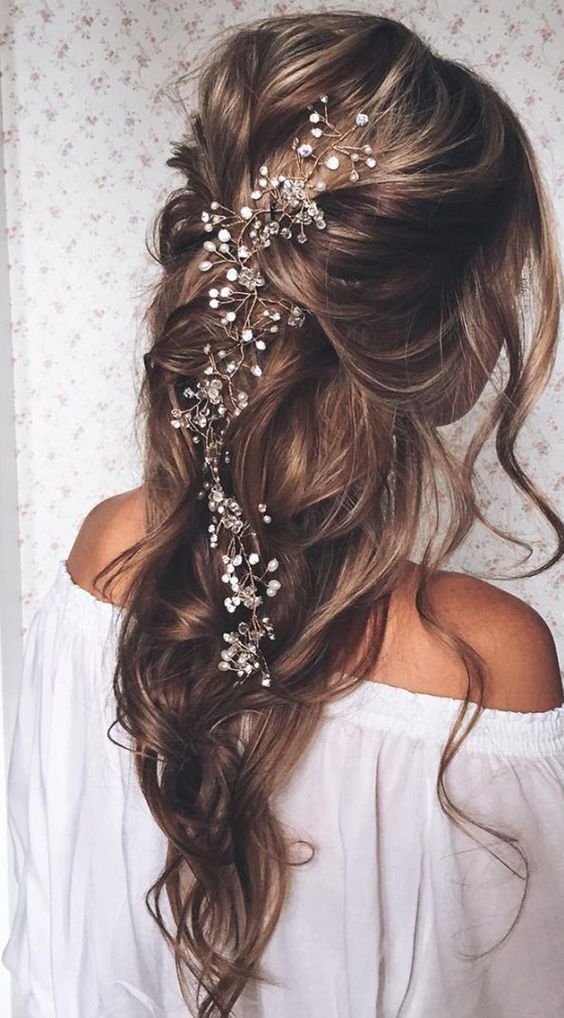 Romantic hairstyles are often accompanied by the prettiest hair accessories. This utterly stunning bridal look features an incredible length branch style hair accessory finished with pretty beads and gems. This stunning lady has used this gorgeous accessory to finish her romantic ringlets, dragging sections of hair back to form a loose and romantic style fit for any princess!
Golden Coin Hairband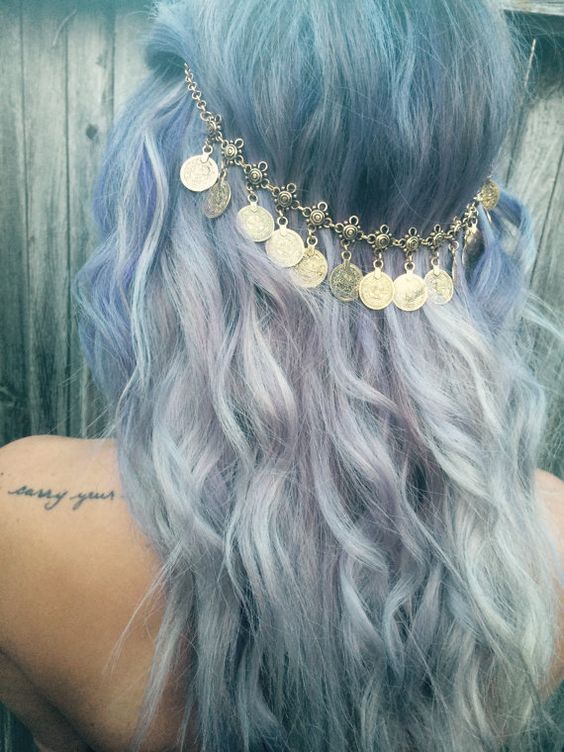 This gorgeous and glam coin hairband is the perfect bohemian hair accessories to glam up your striking style. It's a pretty gold chain headband which is finished with decorative gold coins all the way round. This stunning hairstyle is a pretty pastel shade of purple. She's added this incredible hairband to the back of the head to create a cool half up half down style worthy of swooning!
Subtle Star Hair Accessories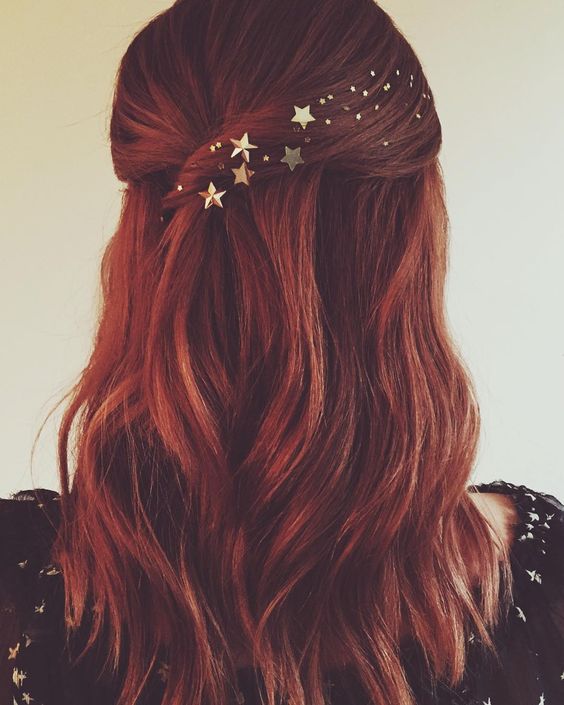 Simple is sometimes best, don't you agree? This gorgeous hairstyle is finished to perfection with these pretty and delicate star hair accessories. To recreate this look, take the top layer of your hair back. Comb it backwards for a smooth top and work towards a half up half down style. Gently twist the hair around and pin. Finish by working your gorgeous star accessories throughout the top section for a glamorous end result.
Golden Leaf Hair Pin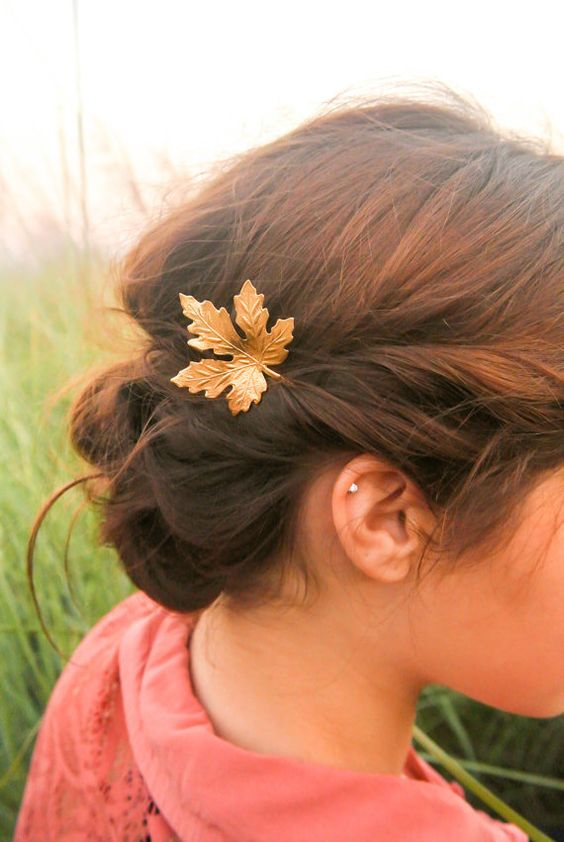 Leaves are beautiful in any capacity – but especially when in your hair! This stunning golden leaf hair pin absolutely transforms this up do, don't you agree? Work your hair into a classic up do. Twist the front sections of hair back and wrap the ends of your hair into a bun or a ponytail. Use your statement hair accessory and pin into the side of your hair for the prettiest end result.
Which hair accessories are your favourite? What's your go to hair accessory when you're in a rush? Leave us a note in the comments and share your top tips with our other readers!