Ombre is without a doubt one of our favourite hair trends to come out for the past few years – we just can't get enough of the technique, which blends two colours together seamlessly. We particularly love an ombre effect on more natural hair colours, like browns and blondes, which is why we've curated this gorgeous gallery of brown ombre looks which will look incredible on any hair type!
Thick, Long Bob from Brown to Blonde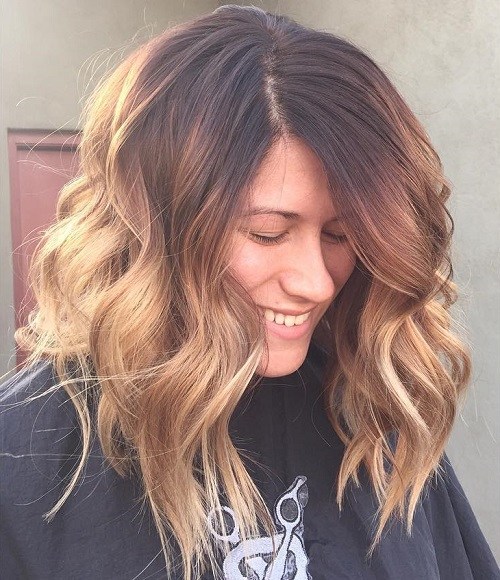 This utterly gorgeous lady is the perfect example to start off our gallery of gorgeous brown ombre hairstyles! Her graduated long bob, starts ever so slightly shorter at the back of the head around shoulder length, and falls longer towards the front to frame the face. It blends from a deep and dark brown to a gorgeous caramel blonde, which we just adore.
Dark Brown Roots with Curly Caramel Tips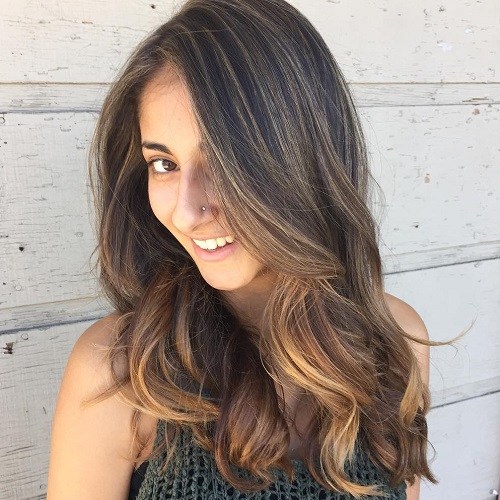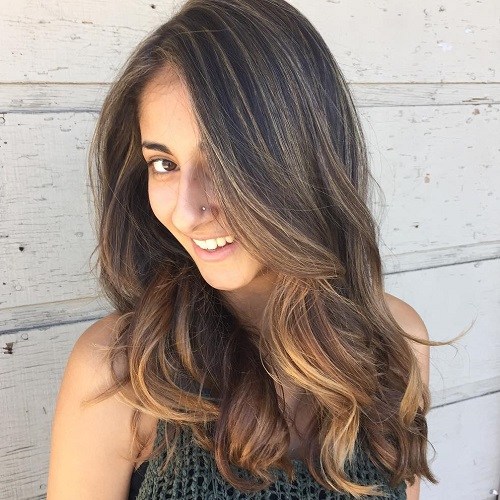 This absolutely beautiful girl is blessed with equally beautiful hair – lucky her! Her long locks which fall a few inches below her shoulders, starting from a deep and dark shade of brown at the top of the hair, and blending into a wonderful caramel shade of light brown at the tips through a seamless ombre transition, with the ends curled softly.
Brown to Blonde Tousled Long Bob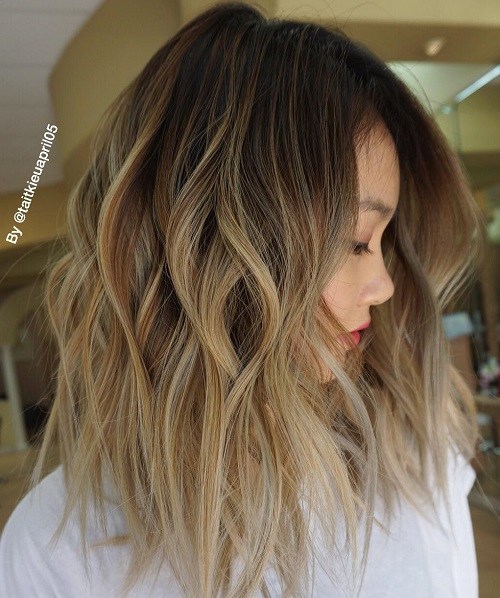 This stunning bob is taking no prisoners – and this lady is stealing hearts wherever she may go! We can't get over this high fashion look, which blends from a gorgeous and dark brown at the root to a stunning caramel shade of blond at the end, blending seamlessly from one to another. She's added a loose curl and tousled her locks for a fantastic finished result.
Side Parting Graduated Bob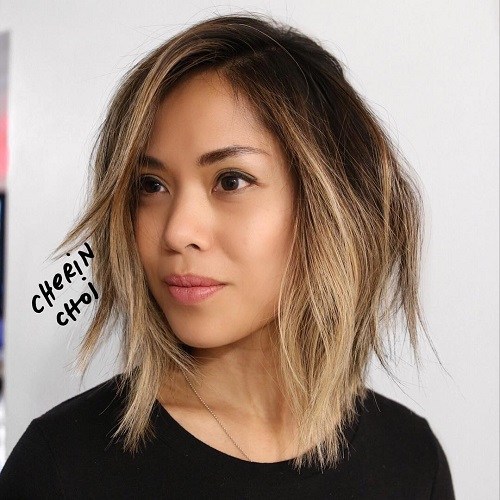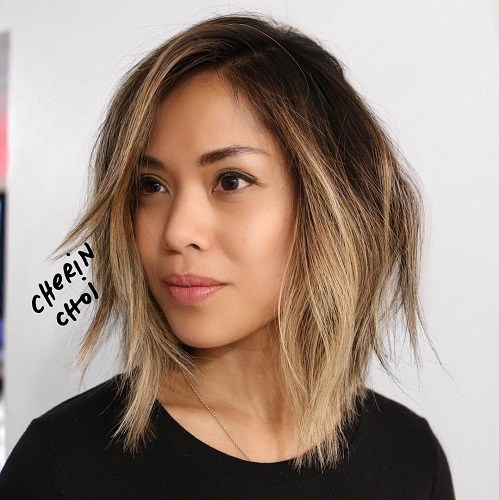 This absolutely gorgeous lady has hair which is equally gorgeous! This stunning bob works from longer towards the front of the face to ever so slightly shorter at the back, and has a side parting, finished with a gorgeous side fringe. The hair blends from brown to a striking honey blonde shade which adds light and lift to this incredible look.
Brown to Blonde Barrel Curls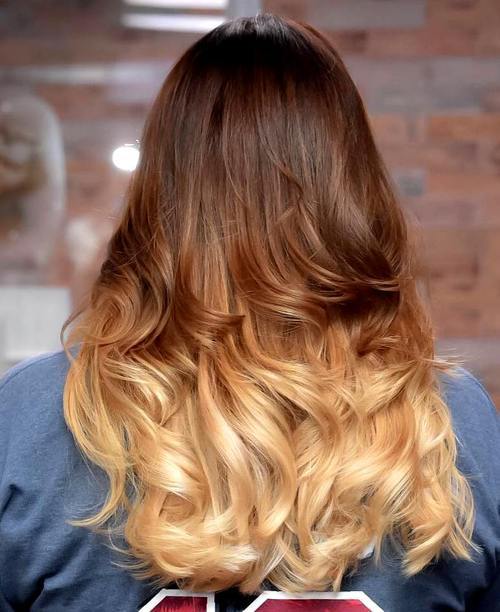 This absolutely gorgeous hair is making the entire Styles Weekly office swoon! Her beautiful long locks are a striking chocolate brown which blends seamlessly into a bright blonde at the tips. She's added incredible barrel curls throughout to create this romantic and bouncy finish that we simply cannot get enough of – serious hair goals!
Dark Brown to Caramel Long Ringlets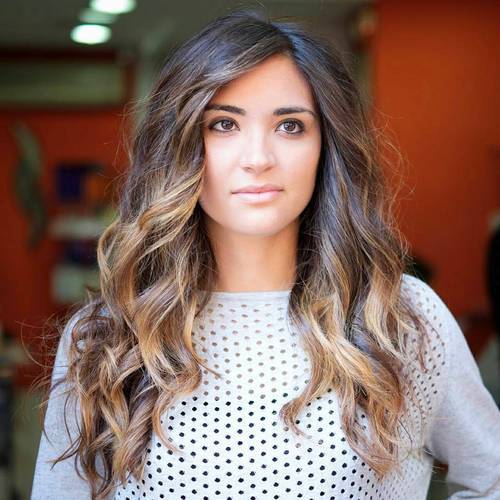 This lady is blessed with beautiful, long and thick hair which we simply adore. With a side parting, full of gorgeous ringlets, her hair blends from a remarkable shade of dark brown into a stunning caramel blonde through an impeccable ombre transition which is so on trend lately. We think this style would be equally special when straight too.
Dark to Light Brown Ombre Blend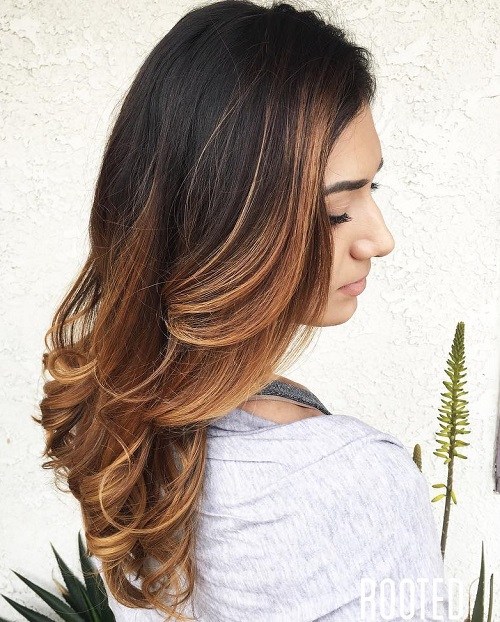 Ombre works impeccably with two tones from the same colour – just as this lady proves with her amazing brown on brown blend! Her smooth and silky locks transition from a deep and dark brown at the root into a lovely lighter shade of brown towards the end, which she's worked into gorgeous, romantic curls throughout and we are smitten with this style.
Tousled Ombre Curls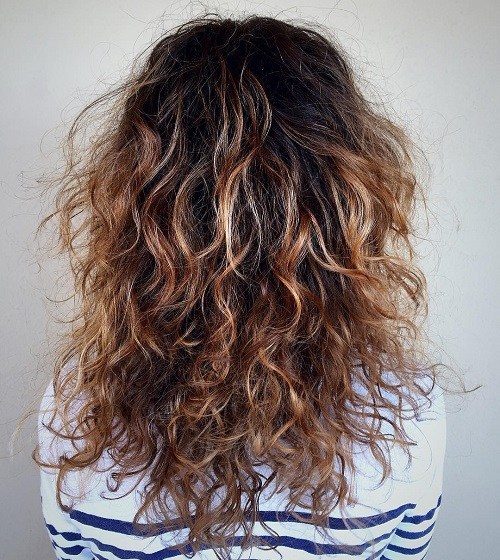 If you're blessed with gorgeous natural curly hair, like this incredible lady is, then the best way to bring it to life is by working a stunning natural ombre blend and lightening the ends up a treat, exactly like this lady has done! Working from dark to light brown and tousling her natural corkscrew curls, she's created a wonderful finished style.
Subtle Ombre Curly Bob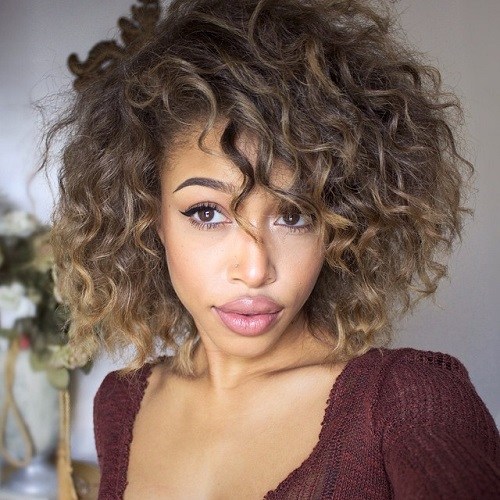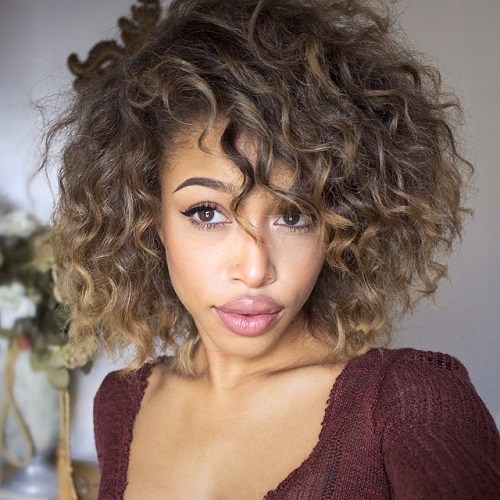 We can't decide what's more beautiful – this lady's stunning face or her incredible hair! She's rocking a short bob absolutely full of incredible corkscrew curls. Parted to the side, this hair works from a lovely brown to a caramel colour which subtly kisses the ends of the hair. We think this look might just be one of our favourites from this collection.
Long Loose Waves with Dark to Light Ombre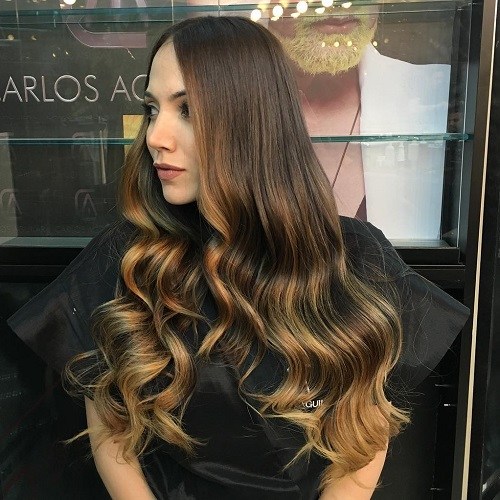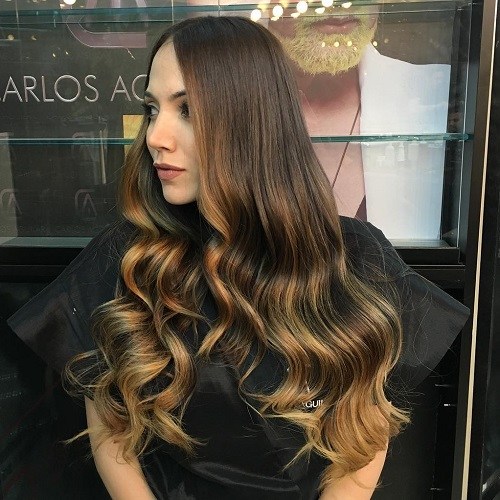 This lady has absolutely glorious, long and sleek hair which is oh so glossy and shiny. Her hair falls well below the shoulder, and works from a deep chocolate brown to a wonderful caramel blonde which works through the ends of her hair towards the front of the face and at the tips too. She's loosely curled her long locks for this impeccable finish.
Sun-Kissed Ombre Locks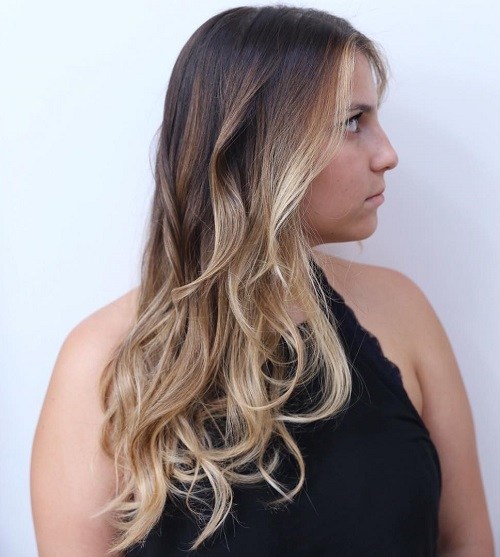 This incredible long hair has the most incredible beach style which is so on trend right now – not least because of the amazing ombre blend at work here. From brown to an impeccable bright blonde towards the front of the face, it makes the most beautiful sun-kissed look, which is perfectly complimented by the curls running throughout the hair.
Natural Ombre Effect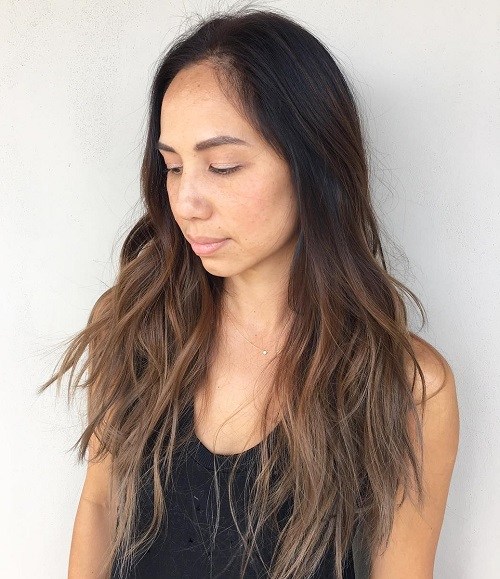 If you have incredible long locks just like this lovely lady, then you need not always go with a bright and drastic colour change to have an amazing effect on your hair. This lady has subtly blended her hair from dark brown to light brown in a natural ombre transition which looks incredible. She's added a loose tousle and curl to her long locks for this amazing finished hairstyle.
Graduated Sleek Bob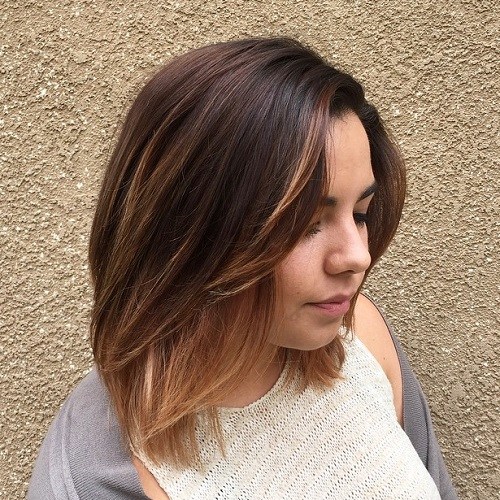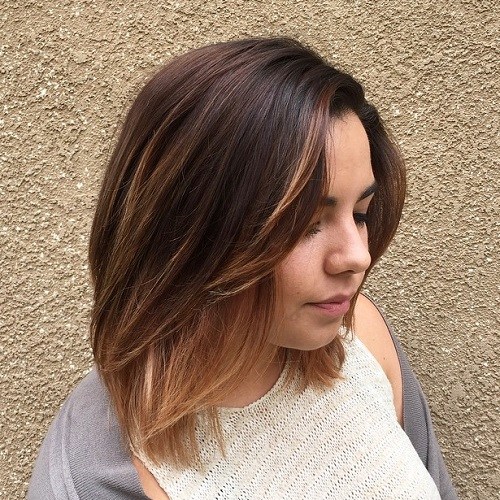 This gorgeous medium length bob falls roughly above shoulder length in a stunning graduated style which we simply adore. It's ever so slightly shorter at the back than it is at the front, and with a side parting and remarkable sweeping fringe, her hair transitions from dark brown to a stunning caramel shade at the ends in this incredible sweeping style.
Caramel Ombre Bob with Ringlets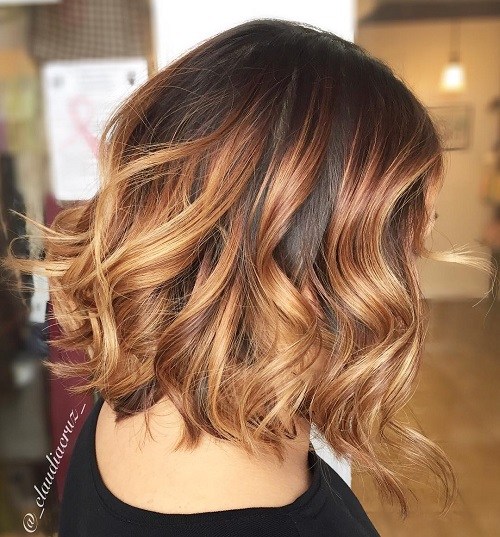 Another stunning cropped bob to add to our collection! This one falls a few inches above the shoulder and is finished the beautiful and bouncy curls throughout, creating an incredible silhouette. This style works from a dark brown to a bright caramel and copper shade, which perfectly accentuates those curls, though we think a straight finish would be perfect too.
Big Barrel Curls with Ombre Blend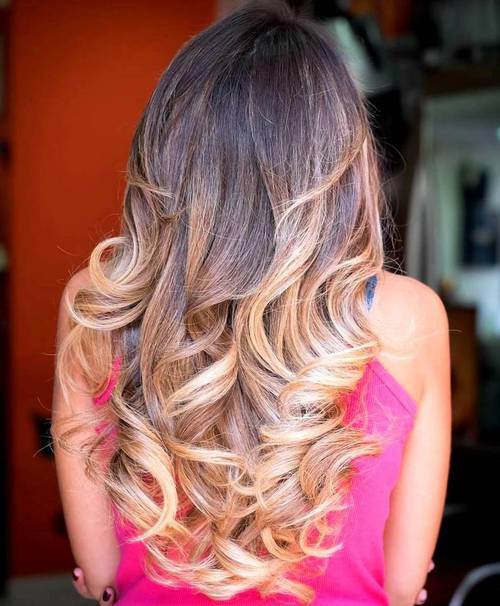 This incredibly thick hair has been styled to absolute perfection, with a dramatic and glamorous look which is simply perfect for a formal occasion. As if the hairstyle itself weren't stunning enough, the ombre colour blend is truly next level! Working from a dark brown to an amazing shade of blonde, we simply adore this finished look more than anything.
Dramatic and Loosely Curled Brown Locks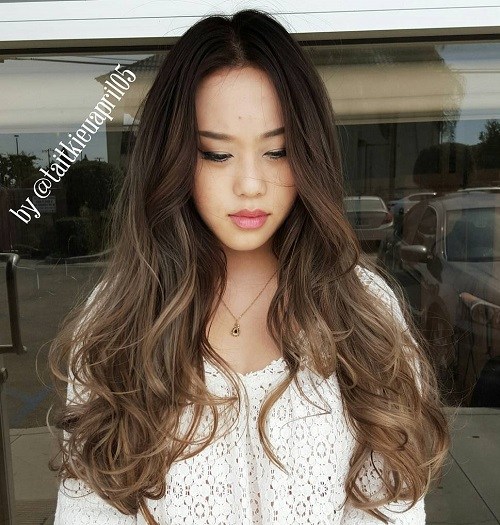 This incredible hair is so long and thick that it finishes well below the shoulders. It starts sleek and straight and ends with beautiful tousled ringlets which fall below the jaw and down around the shoulders. It also blends from a dark brown at the root to a lovely light brown around the ends. The middle parting seals the deal for us!
Brown to Blonde Medium Length with Waves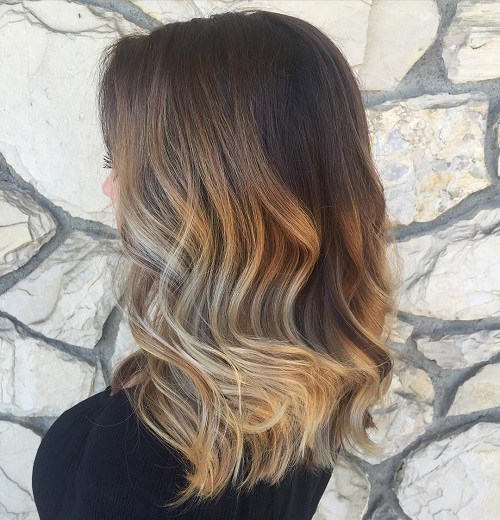 This utterly incredible shoulder length hair is finished with the most gorgeous loose waves from root to tip, creating a stunning bounce and a wonderful finished effect. The hair works with an ombre blend from brown to the lightest blonde in one seamless transition, which perfectly compliments the waves at work on this amazing lady's look.
Brown to White Blonde Tight Curls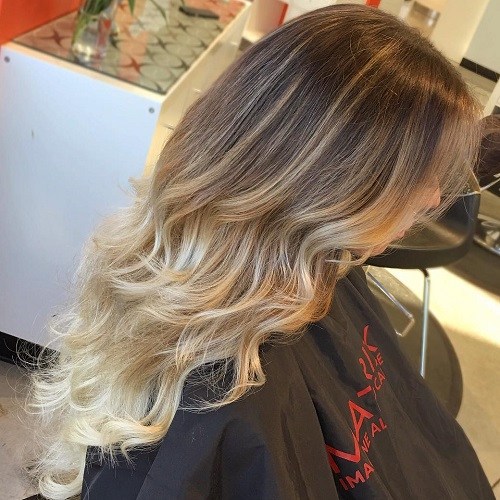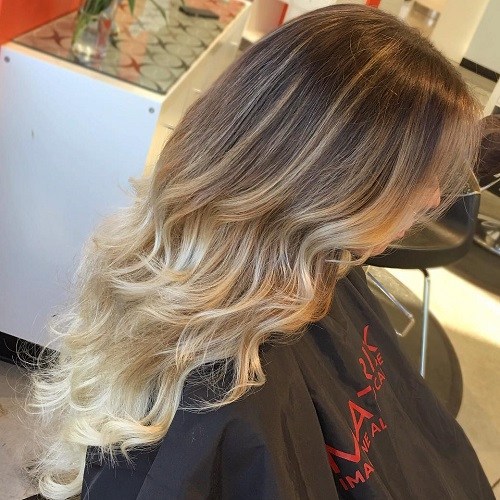 This incredibly long hair falls several inches below shoulder length, and has been curled from the jaw level downwards into these amazing and tight ringlets, which creates a wonderful finished look. The ombre style works from chocolate brown to bright white blonde at the tip, working through several shades of blonde at the same time.
Tousled Long Bob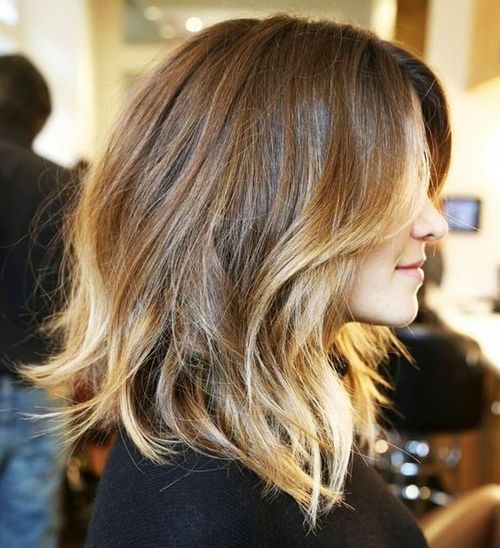 This utterly gorgeous long bob is shaggy and stylish – two of our favourite things! Working from an ever so slightly shorter layer at the back to a longer level at the front, and finished with a wonderful side fringe, this brown ombre bob is finished with a loose curl and tousle throughout which adds a fabulous finish to this wonderful bob look.
Brown to Caramel Wavy Long Hair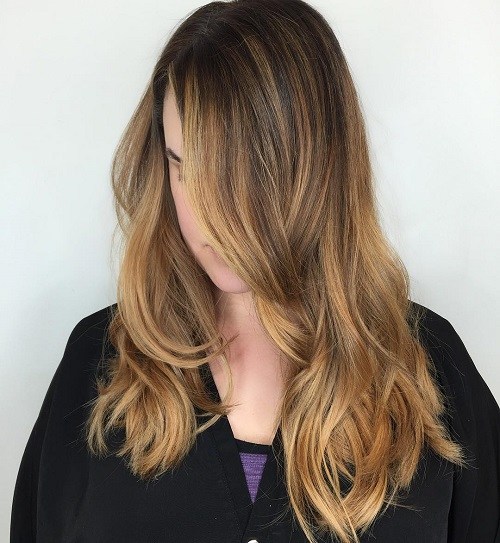 This lovely long hair is finished with one of the best ombre blends we ever did see! It goes from a gorgeous dark brown to a stunning caramel or toffee coloured shade of blonde in an utterly gorgeous transition. The hair is cut with amazing layers throughout, and finished with an ever so slight wave and twist from around the jaw length down.
Asymmetrical Bob with Side Parting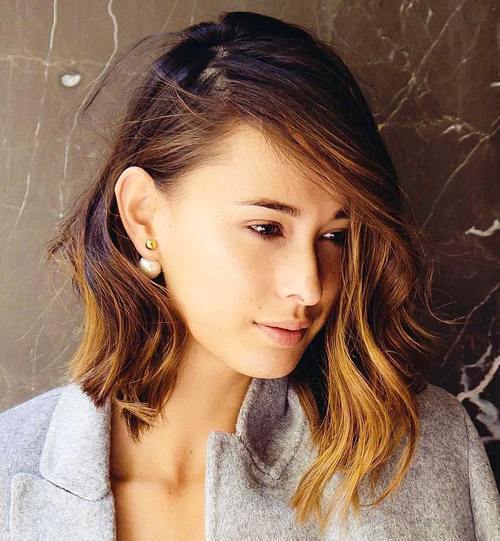 This absolutely stunning asymmetrical bob is shorter on one side of the head and falls longer on the other, with lovely long strands falling around the face to frame it perfectly, showing off the side parting which is at work here. A collection of coppery brown tones, the ombre blend from dark to light is lifted perfectly by the loose curls throughout.
Long Locks with Beach Style Curls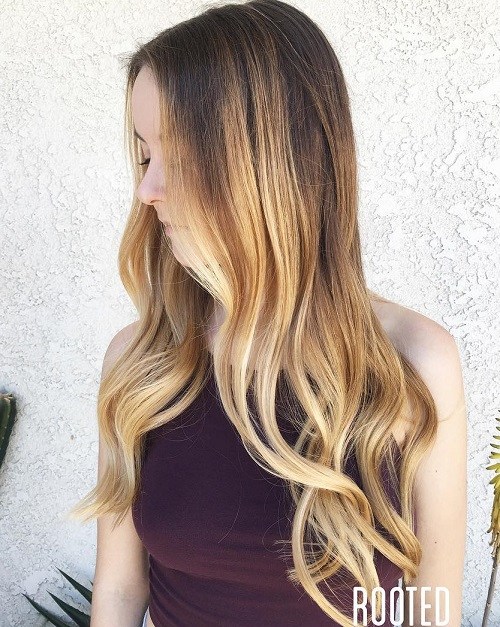 This lady has utterly incredible long locks which she's worked into these incredible beach style loose curls from top to bottom, which makes a wonderful wavy style that will ensure your hair is the envy of the town – just like this lady's! Especially when combined with that gorgeous brown ombre blend, it's difficult not to adore this hairstyle.
Alas, there we have it, the collection of the most beautiful brown ombre hairstyles ever – all in one handy Styles Weekly post for your inspiration! Let us know what look you'd like us to explore next.