1. Scarlett Short Haircuts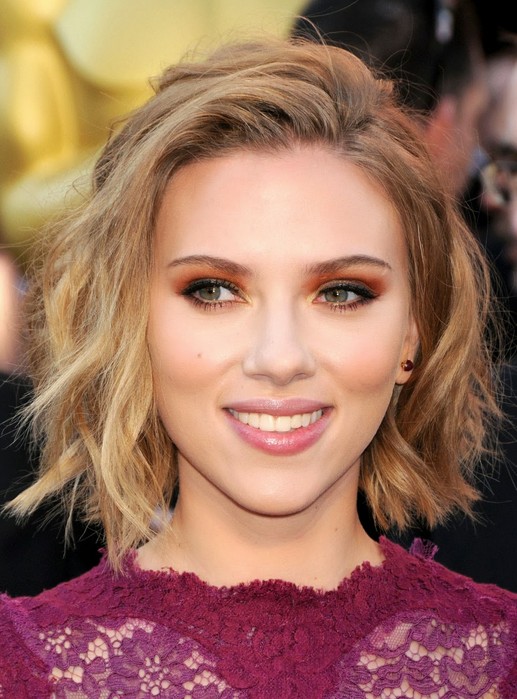 This is a really contemporary, modern style for Scarlet Johansson, and just goes to prove that she is one of the lucky few that can wear almost any shape of hairstyle and still look amazing. Here, she works a short cut which has been styled with loose waves to create shape and fixed in place in a tousled, edgy manner that provides the perfect surround for her oval face. On top of the head, a side parting gives her that 'just out of bed' look. This is a young, sexy style for Scarlet Johansson and she really suits it.
2. Scarlett Johansson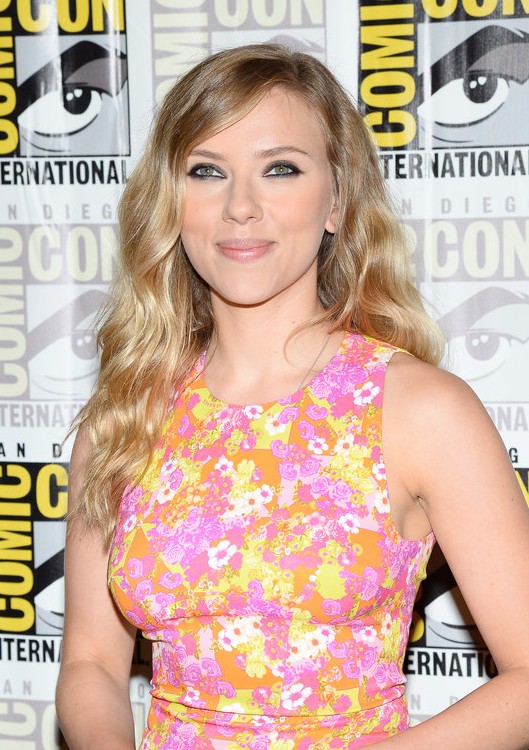 This is a great shade of blonde for Scarlet Johansson's skin tone; a natural, dark blonde gives way to a beautiful golden blonde shade that is just so summery and fresh (especially with the floral print outfit). With a side parting and a side sweep leading to gorgeous long waves, this is a very feminine look. Hair falling along one side of the face while the other side is left bare is a great way to subtly frame the face, and a clever trick for all facial shapes.
3. Scarlett Johansson Updos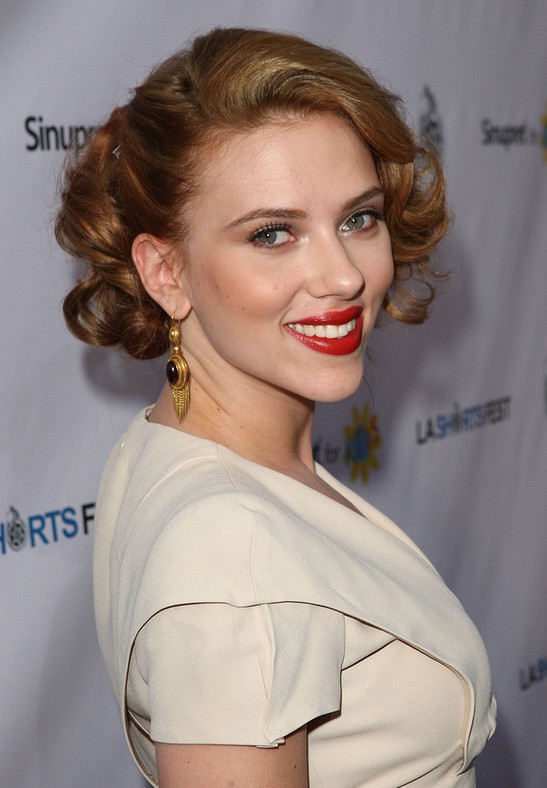 Scarlet Johansson's elegant updo has a strong sense of retro glamour about it. Tight, perfectly formed curls are pinned back at one side while at the other side of the face, a side sweep and gorgeous loose curls frame the face, falling to just below the cheekbone and drawing all our attention to this part of the face, so we immediately are struck by Scarlet Johansson's great bone structure. The auburn colour is so pretty, and the sailor-girl inspired outfit helps create the perfect vintage look.
4. Scarlett Johansson Updo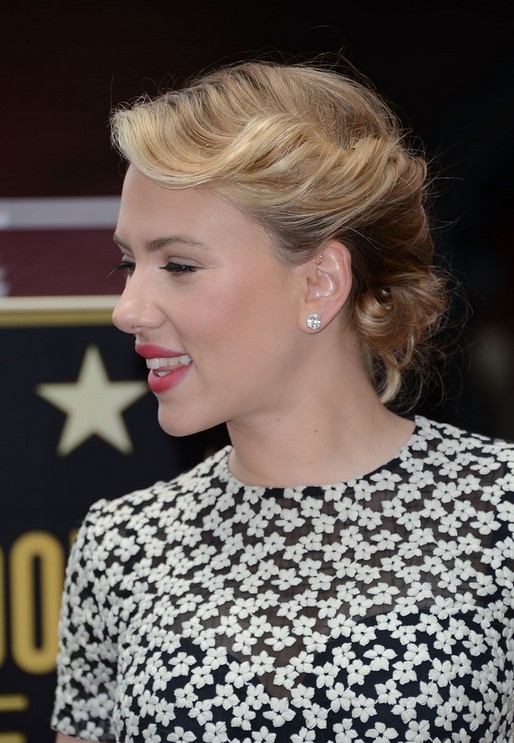 This updo is so reminiscent of the classic forties look… it evokes a real sense of the past and is a perfect nod to vintage elegance and sophistication. The whole focus of this style is that stunning twisted wave that starts in a pretty side sweep over the forehead and runs along the side of the head before joining the rest of the hair in a loosely pinned bun. With dark blonde and ash blonde undertones and layers of paler blonde shades, this is a really effective look.
5. Scarlett Johansson Short Hairstyle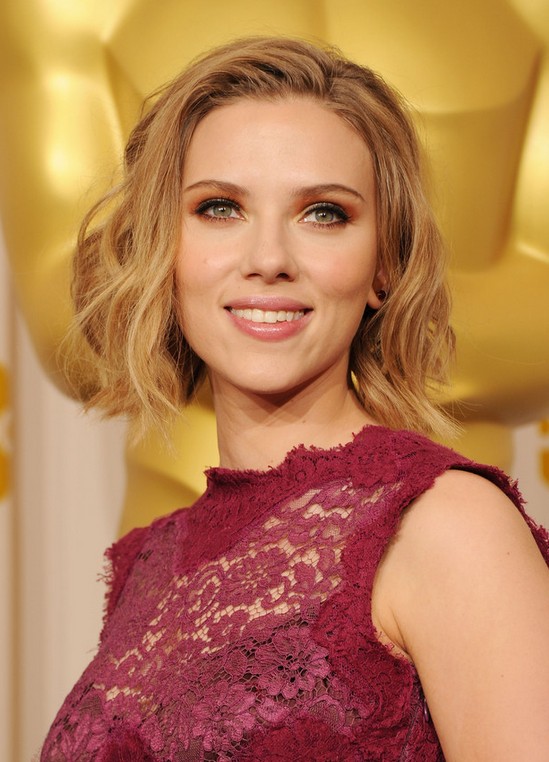 This is a really great example of how a short bob can be styled for a more formal event. Soft waves really work in Scarlet Johansson's short style, so don't be afraid to try out loose, tousled waves even in a shorter style. The side sweep of hair creates a very flattering wave of hair along the face which highlights Scarlet's fantastic cheekbones. Soft, muted blonde tones are interspersed with a few dashes of straw blonde and lots of golden tones really work with the actress' pale complexion and copper eye makeup.
6. Scarlett Johansson Short Bob Hairstyle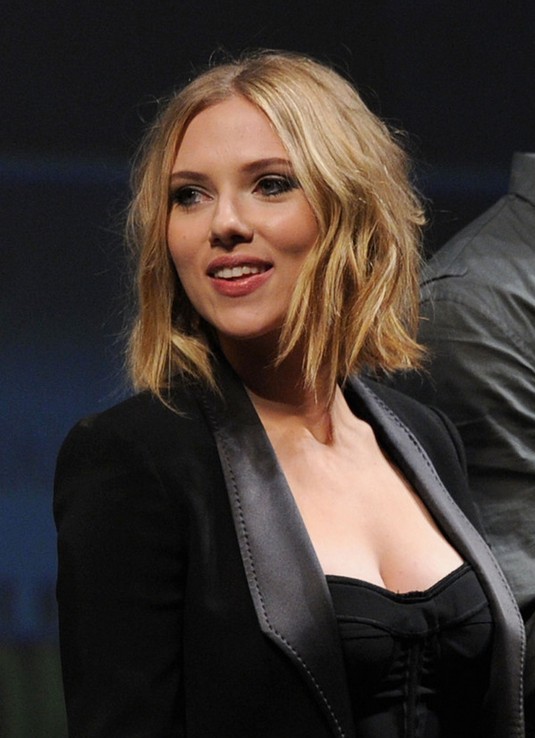 When Scarlet Johansson cut her long hair into a bob, she went for a contemporary shape that really created and impact when it was revealed. With the hair tousled and roughly styled, the shape is the key to this look. The shape is created by a series of layers and ends with are of differing lengths. The resulting look is choppy, uneven and modern. Scarlet Johansson teams this look with a sharp tailored outfit to really highlight the edgy style of her bob.
7. Scarlett Johansson Retro Style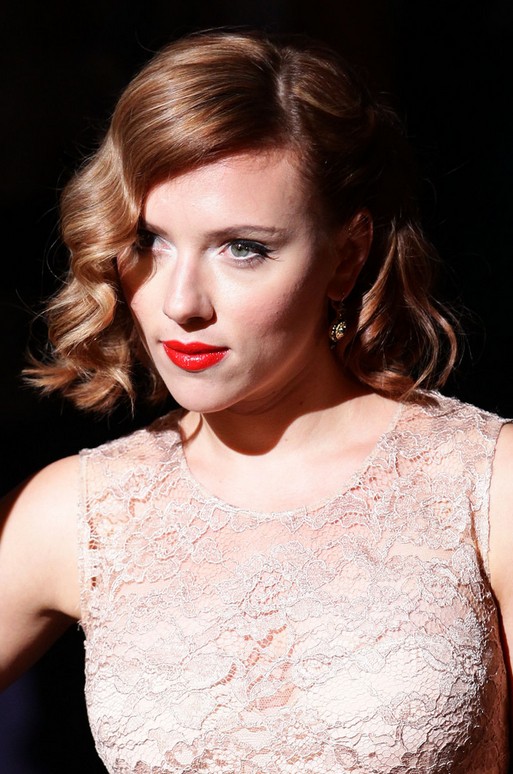 With a side parting and broad side sweep, this is a very dramatic style for Scarlet Johansson. The actress embraces the retro hairstyle trend with a big broad wave over the side of the face, with the other side of the hair brought back and styles in loose waves. The look is very sophisticated and glamorous and really evokes the current love of all things vintage. The colour is made up from a soft brown palette, with warm brown shades and hints of golden blonde.
8. Scarlett Johansson Heidi Braid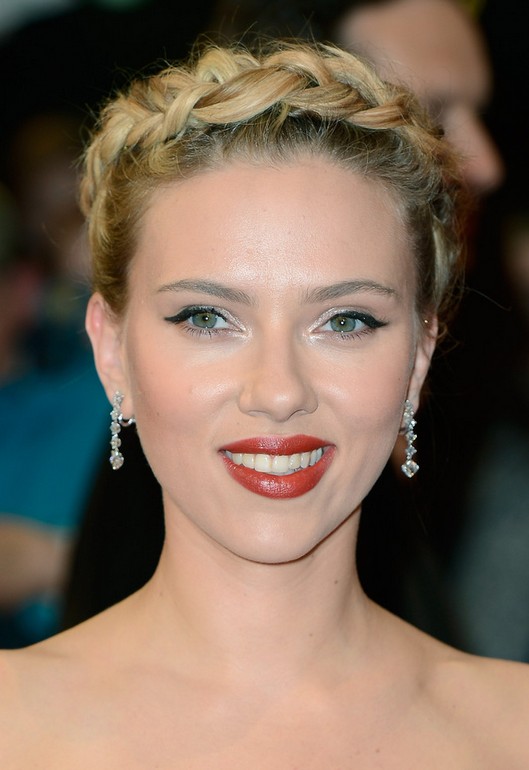 The Heidi braid is a very girly and sweet look; here Scarlet Johansson wears her hair with a braid right across the head. This creates a halo-like style to the hair which is so feminine. Combined with Scarlet Johansson's pale complexion, the whole look is one of ethereal beauty and lightness. This is a great way to add height and detail to an updo. A touch of sparkle in the ears and truly glamorous, rich makeup makes this a very sophisticated style that retains a sense of fun. As a side note, this is a tricky style to achieve by yourself – so enlist help!
9. Scarlett Johansson Hairstyles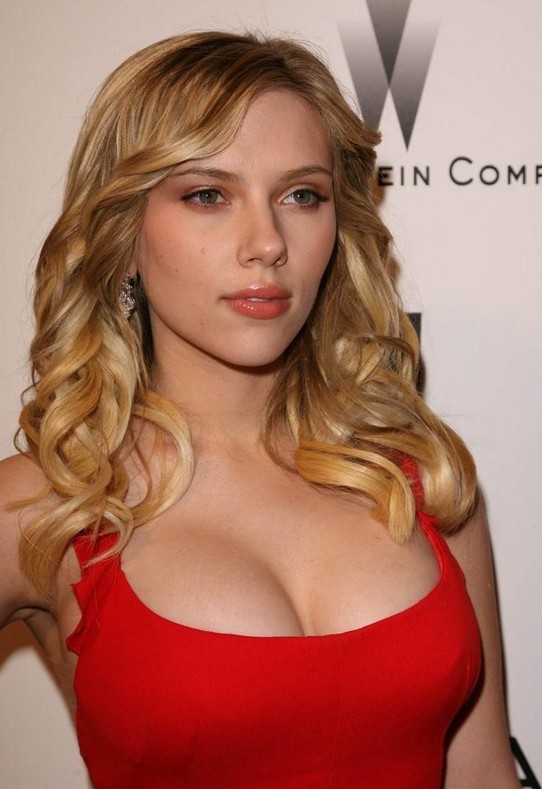 This gentle side sweep is a fantastic choice for those with shorter foreheads who want to wear a flattering side parting without cutting the forehead short. The resulting style is really pretty; the side sweep flicks back into the lengths of the hair and melds perfectly into a great swathe of cascading blonde curls. The curls really steal the show here; they are perfectly formed and so well defined, a great example of perfect spiral curls.
10. Scarlett Johansson Hairstyle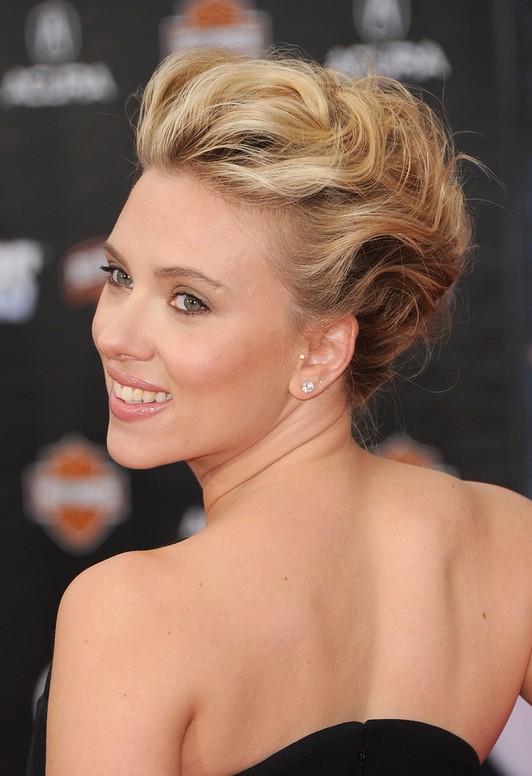 Scarlet Johansson's flawless, natural make-up and her bare shoulders are the perfect base for a really dramatic hairstyle, and this is a perfect choice. Styled in a classic updo, the hair is loose and swept back gently so that there is plenty of height around the head and lots of wispy strands. While the updo is sophisticated and elegant, the loose waves and gorgeous multi tonal colour, with all those stunning blonde notes, add a real sense of texture and movement to the style. This is a truly successful look for Scarlet Johansson.
11. Scarlett Johansson French Twist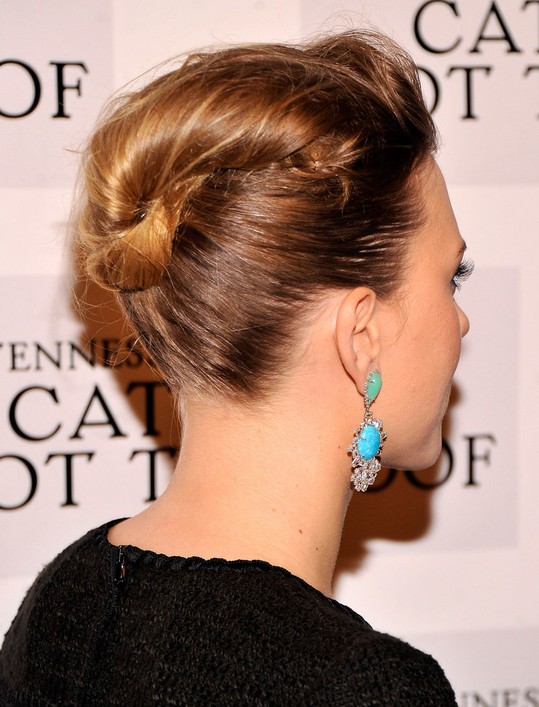 This is a French twist, with a… twist. In this sleek and elegant updo, Scarlet Johansson's hair is styled in the classic French twist, but set slightly higher up on the head and turned sideways so that we can see the gorgeous curvy shape of the twist. With a range of dark to light blonde shades, and some loose strands to add a little casual edge to the style, this is a great look for a big event, especially when teamed with some truly fabulous earrings like Scarlett's sparkly turquoise pair.
12. Scarlett Johansson Curly Hairstyle: Long Hair for Heart Face Shape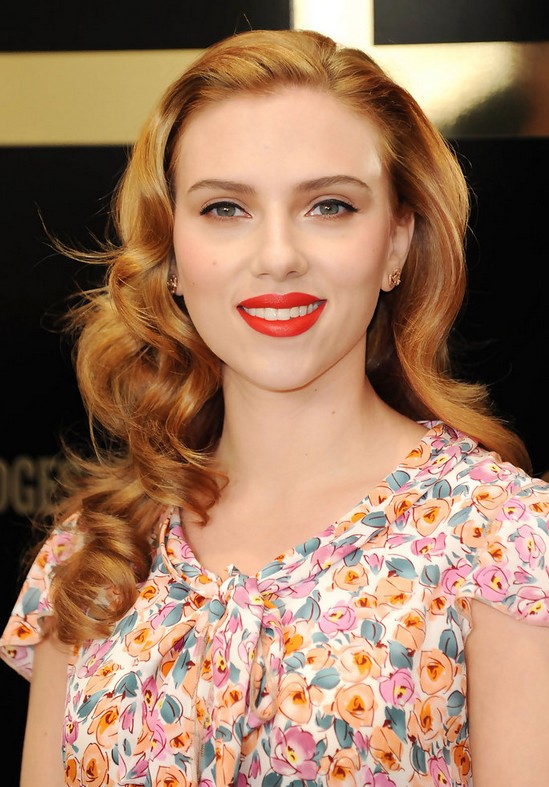 Scarlet Johansson's pale skin tone lends itself really well to this copper colour – and the red lips really pop! The copper colour is a great colour for this curly style because the glossy shine and multi-tonal shade really helps to define the curls. A side parting and lots of natural looking volume and body makes this a very pretty and feminine style for Scarlet Johansson, and her curls are just so perfectly formed. The hair is touchably smooth and perfectly styled – top marks!
13. Scarlett Johansson Braided Updo: French Braid Hairstyles for Prom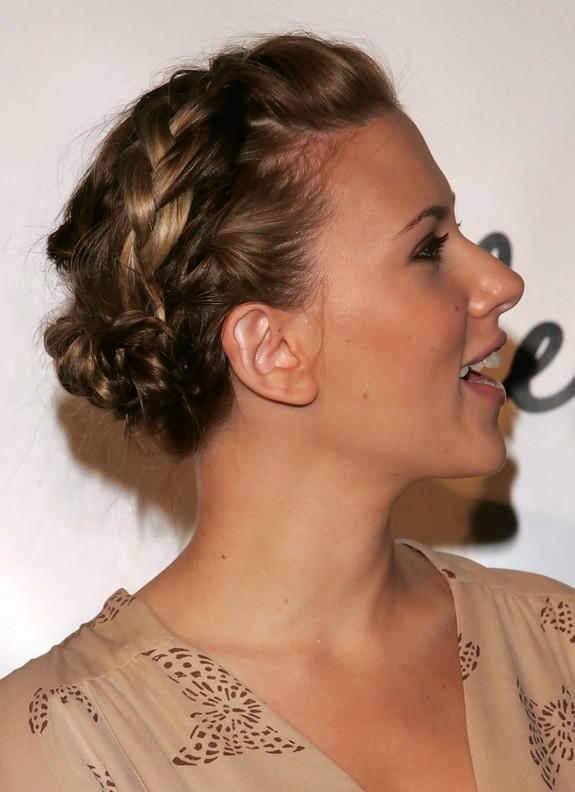 This braided style is a great way to achieve the elegance of an updo with the casual fun of girly braids. With the hair woven into a series of braids and pinned close to the head, this is a feminine short style that really lets Scarlet Johansson's natural beauty shine through. An all-over dark blonde colour with some beautiful brightness thanks to those golden blonde streaks really makes the style work – a playful, versatile look that looks fun to wear.