1. Jessica Biel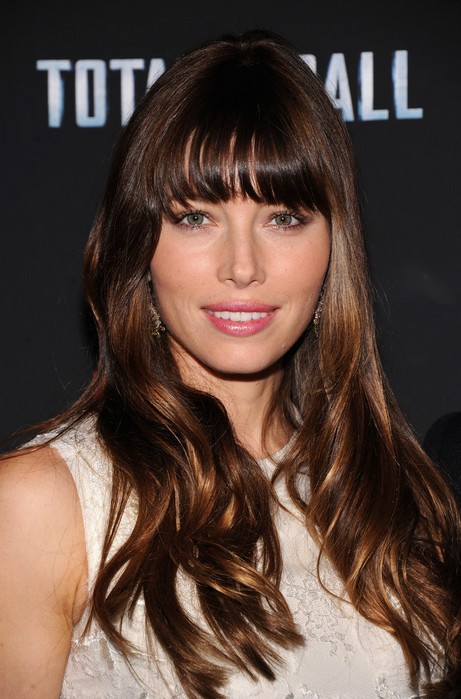 This is a great fringe, so if you are thinking of having bangs cut into your hair, this is a strong contender. The fringe begins far back on the head, balancing the face, while slightly longer strands at the sides of the fringe give it shape. The lengths of the hair are styled with a slight wave, which is made really pretty by the addition of some golden brown highlights through the darker chocolate brown of her hair. The overall effect is a good look for Jessica Biel's longer oval facial shape as the fringe shortens her face a little.
2. Jessica Biel Short Hairstyle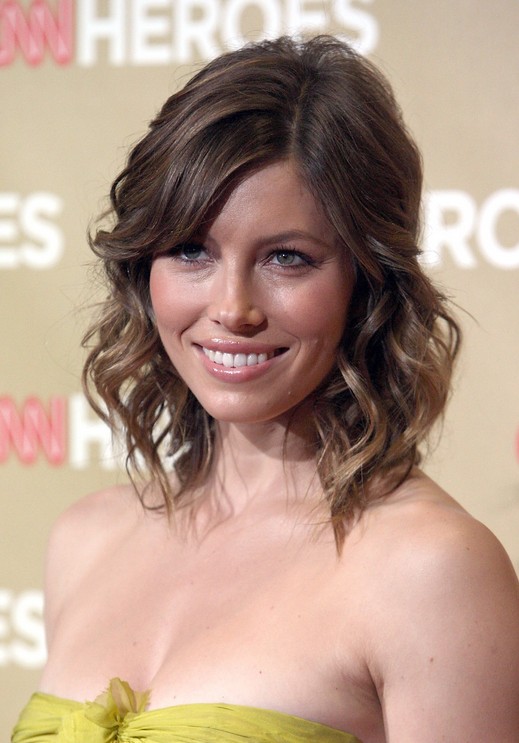 This is a very pretty and girly style for Jessica Biel. Her hair is side parted and a wavy side sweep partly covers one eye. The hair is mostly pushed back to reveal her face (and if it was your face, wouldn't you want it to be seen too?!) while the lengths are styled with loose curls. The colour here works in Jessica's favour; darkest blonde on the roots melds into warmer blonde tones, but the change is very subtle. The effect is very flattering to her pale skin tone and adds just a hint of summer sun to the look.
3. Jessica Biel Hairstyle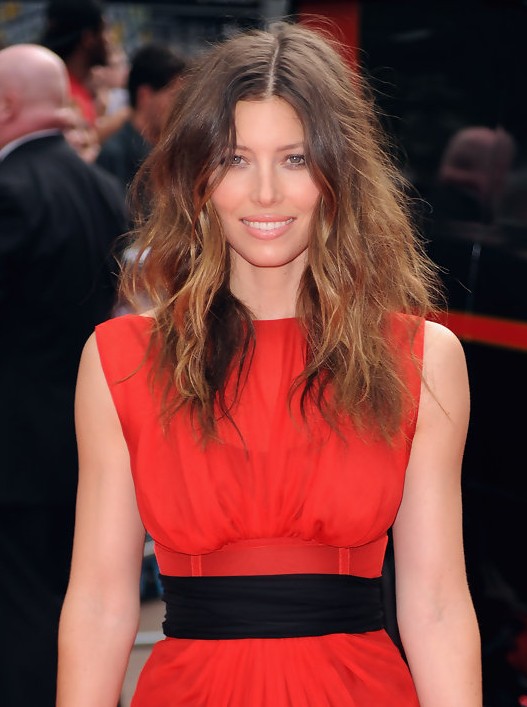 From the catwalk to the red carpet, the messy look has been big news; here Jessica Biel teams a slinky designer dress with loose, roughed-up hair that, let's be honest, looks like it hasn't seen a comb, let alone hours in a salon. However, the look works, because it gives Jessica everything she needs for the occasion; drama, volume, fab colour and an effortlessly sexy look. The parting is slightly to the side and the hair is brought down over the face at both sides and then styled with teased, tangled waves and loose strands.
4. Jessica Biel Hair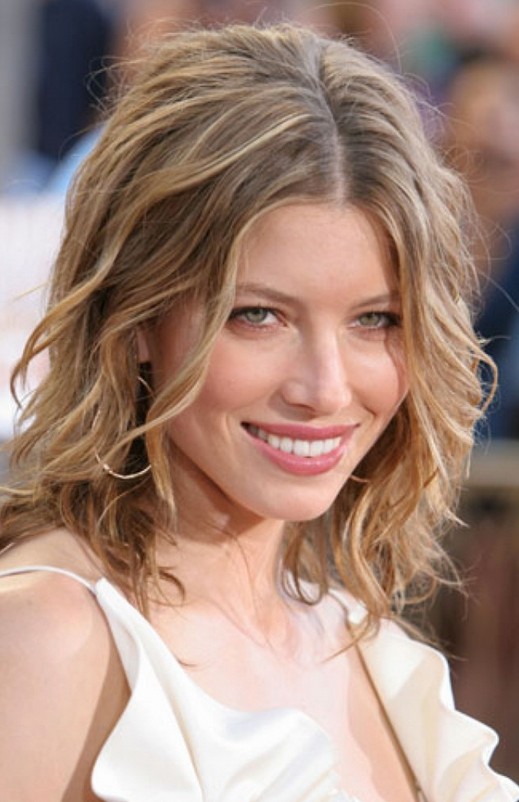 With her hair in a simple centre parting and just a little volume teased into the roots, this style should be quite boring… but luckily a stunning array of waves and curls and a fantastic palette of soft dark blondes and honey shades turns a simple style into an exciting look for Jessica Biel. The 'just out of bed' look is a popular trend – simply get the curls or waves right and tousle them gently for a sexy, tangled look that works equally well in a casual setting as it does in a formal one. Great for most face shapes, this is a gorgeous feminine style.
5. Jessica Biel Curly Updo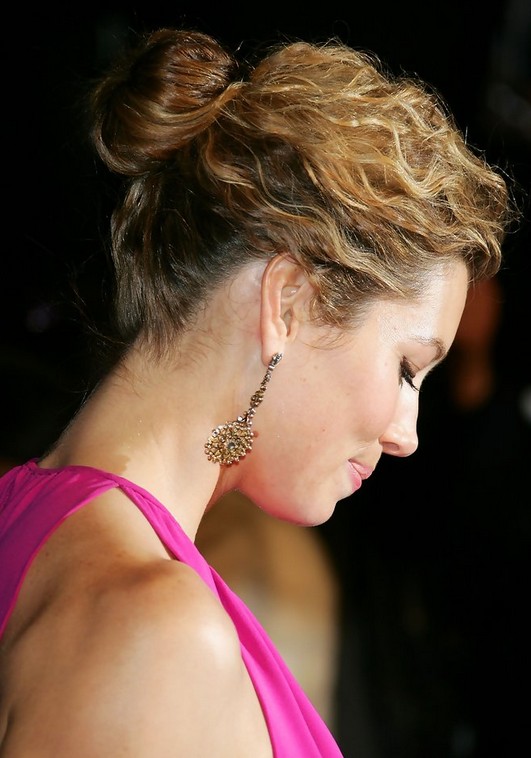 Who said wearing your hair in a bun at the back of the head has to be harsh? Jessica Biel shows us how soft and feminine this classic style can be with tight, teased curls on top of the head which have been pulled back into the simple bun shape. The hair hasn't been pulled back too tightly, so lots of soft hair can still frame the face. The colour adds even more charm to the look; dark blonde underneath with golden top layers make this a grown-up look but with plenty of girly style. A pair of long dangling earrings finish the look perfectly and stop the face from looking too bare.
6. Jessica Biel Bob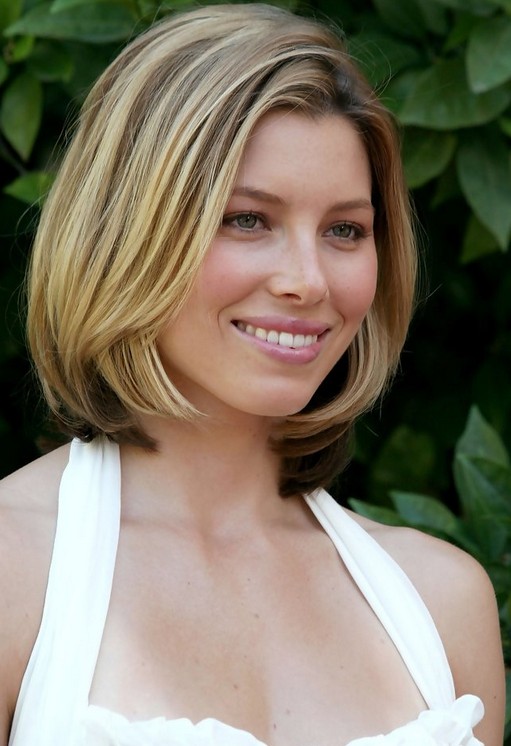 This is a very flattering bob for Jessica Biel. Her hair is cut in layers which have been styled separately in order to create more volume and shape to the hairstyle. The hair is parted in a side parting so that some of the hair is brought across into a side sweep that flatters the face while the other side highlights her enviably high cheekbones. The colour is soft rather than harsh; dark blonde is lifted with lighter blonde and golden shades which really compliment her complexion. This is a strong look for Jessica, and very wearable for many face shapes.