Lots of people enjoy the cherry blossoms. That's not only because the sakura flowers are lovely but also because the pink colors are extremely dreamy and romantic. Now, it's time to wear pink in this beautiful season. The pink outfits will add extra feminity to women's overall look and they are fabulous for any occasion.
Pink is trendy now! In this post, we are going to show you 21 stylish ways to wear pink. You can see fashionable outfits in different pink colors, such as the baby pink, pastel pink, vivid pink, hot pink and the blushing nude pink. No matter how old a woman is, pink should never walk out of her wardrobe. Now, scroll down and get yourself inspired.
Effortless Chic Pink Outfit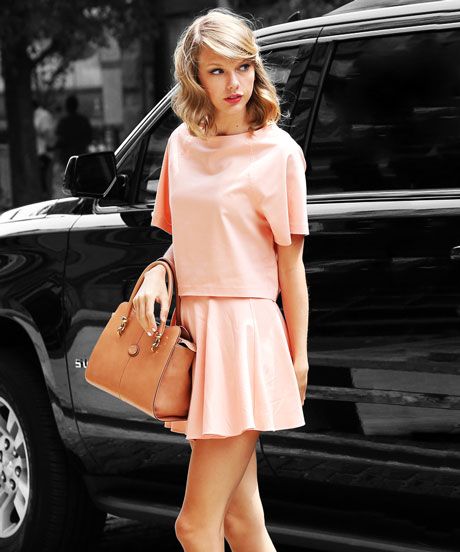 Taylor shows us how to be effortless chic just with the pink outfit. It's easy for you to buy a similar copy at the mall. This outfit idea is great for most occasions in our daily life.
One-Piece Pink Dress Outfit

Blake Lively looks super glamorous just with this one-piece hot pink dress. You can copy this idea when you are invited to a party or some formal occasions.
Trendy Pink Skirt Outfit Idea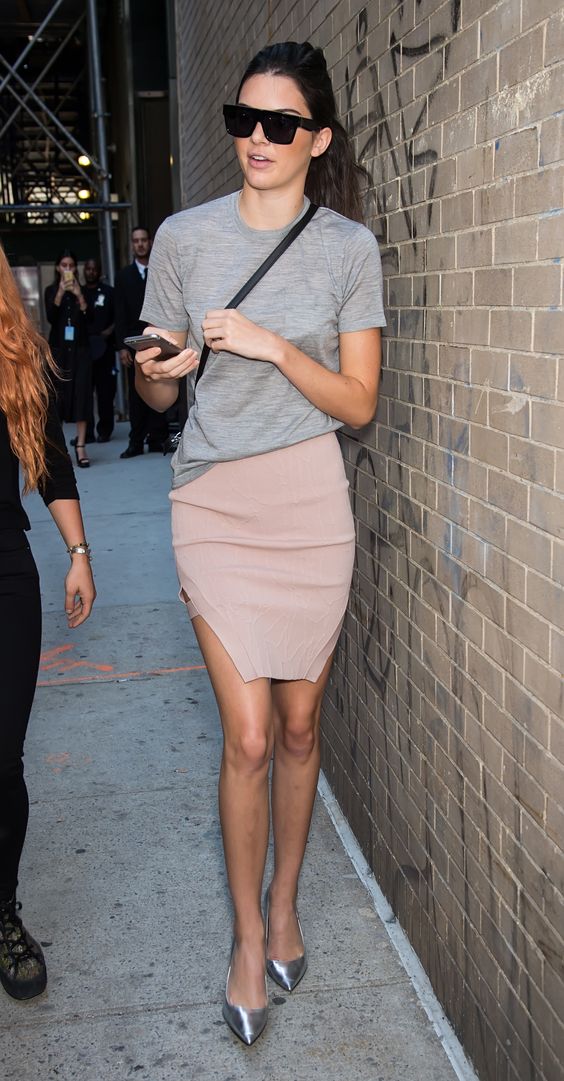 Kendall Jenner sets us a great example about how to look chic with the basic pieces in your closet. A grey T-shirt and a blushing pink skirt make you look stylish yet not too assertive. Plus, the metallic flats can upgrade any outfit.
Pink Plaid Dress Outfit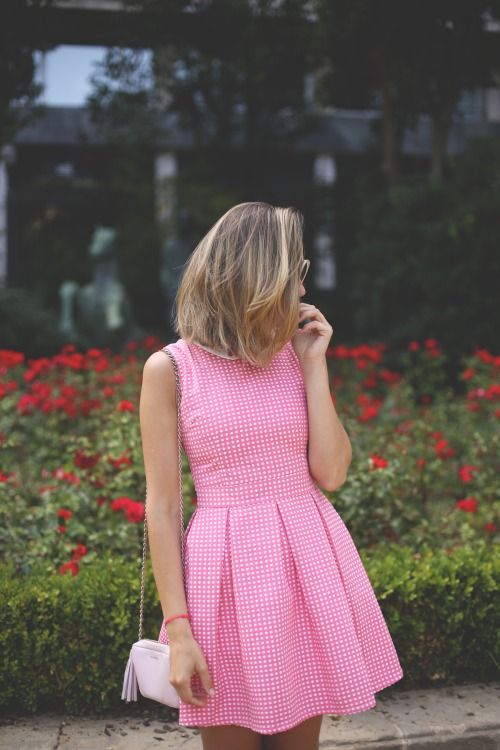 The pink plaid dress is fabulous for young women. And it's quite an adorable outfit idea for your dates.
Pink Tulle Dress for Wedding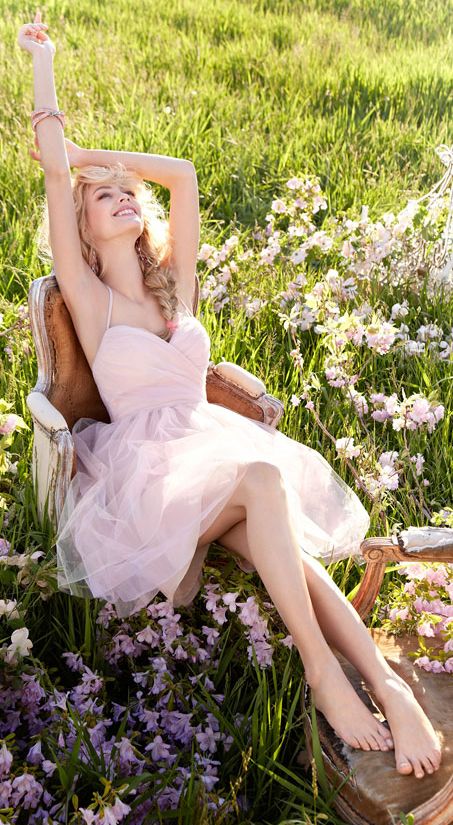 If you want a romantic wedding this summer, just try the pink wedding. Ask your bridesmaids to wear the pink tulle dress, and it will make your wedding more beautiful.
Pretty Pink Dress Outfit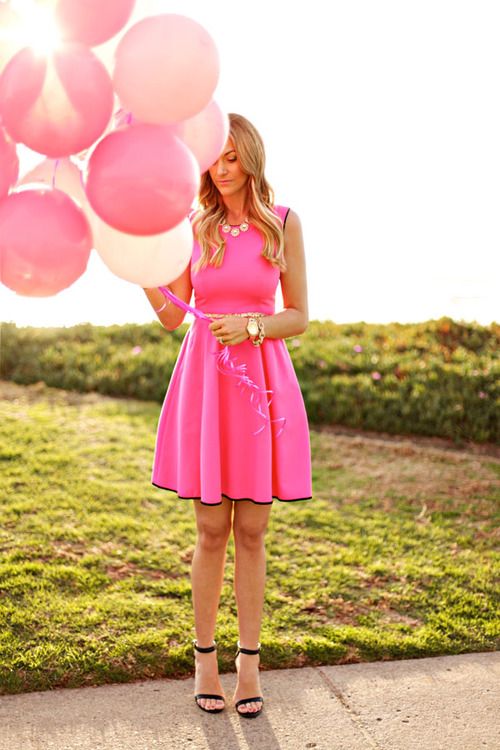 Pair your bright pink dress just with a pair of simple black shoes. That will be pretty enough for any occasion.
Chic Pink Skater Dress Outfit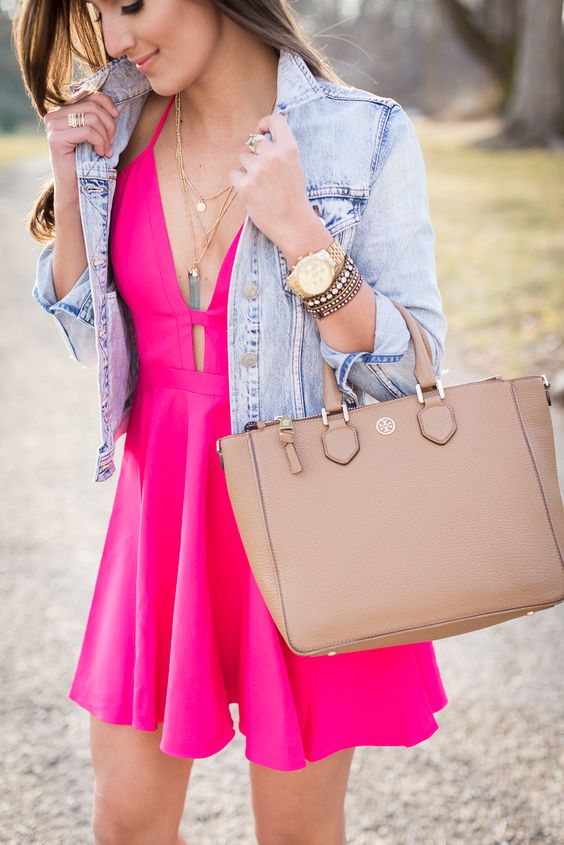 The denim shirt is also a great choice to pair your hot pink dress. Besides, it can make your overall look more youthful.
Beautiful Pink Gown for Women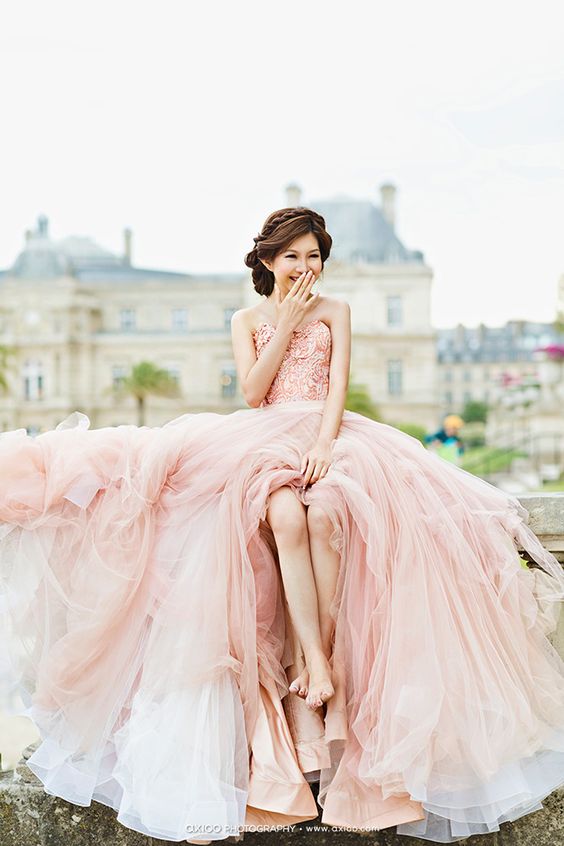 Do you want to wear this beautiful pink wedding gown on your big day? I do.
Graceful Pink Dress Outfit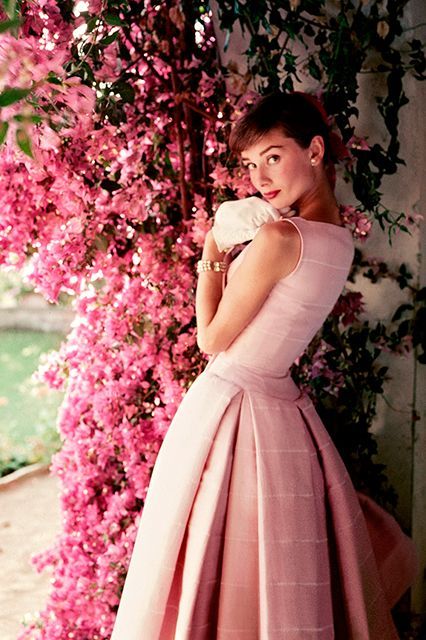 Pink dress doesn't merely mean cute and sweet. It can be more feminine and graceful for women at any age. So, don't hesitate to buy a decent pink dress for yourself.
Pink Pleated Skirt with Black Top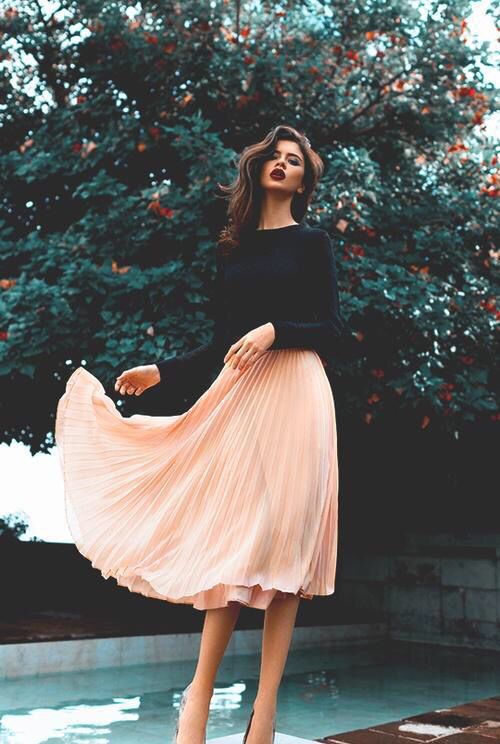 The salmon pink pleated skirt lights up the black top. This is a fashionable outfit idea for women to copy.
Pink Stripes Outfit for Summer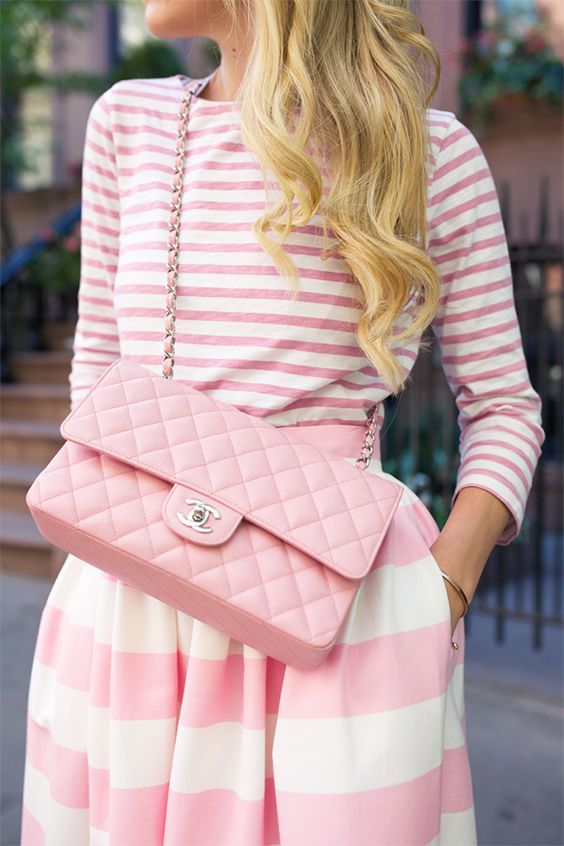 For younger women, the baby pink outfit can make you look soft and cute. In addtion, the white and pink stripes are really lovely for  the summre time.
Elegant Pink Dress Outfit

A pink dress like this is quite elegant for women to choose for formal occasions. It's formal yet still full of feminine charm.
Casual-Chic Pink Dress Outfit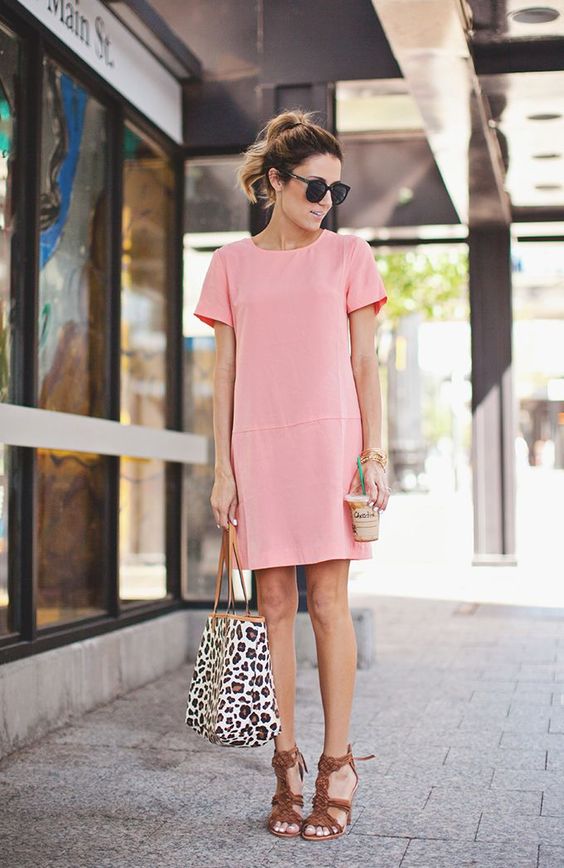 A pink dress can save you a lot of time to make a chic outfit combination. You can wear this dress on both work days and holidays.
Stylish Pink Outfit for Summer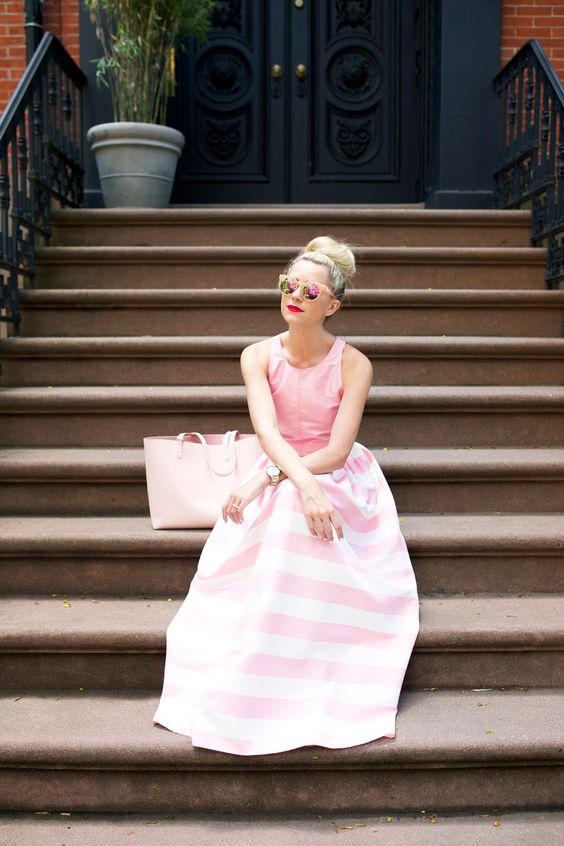 This is a stylish way to make a holiday outfit with pink pieces. By the way, you must appear several years younger with such a pretty outfit.
Lovely Pink Skirt Outfit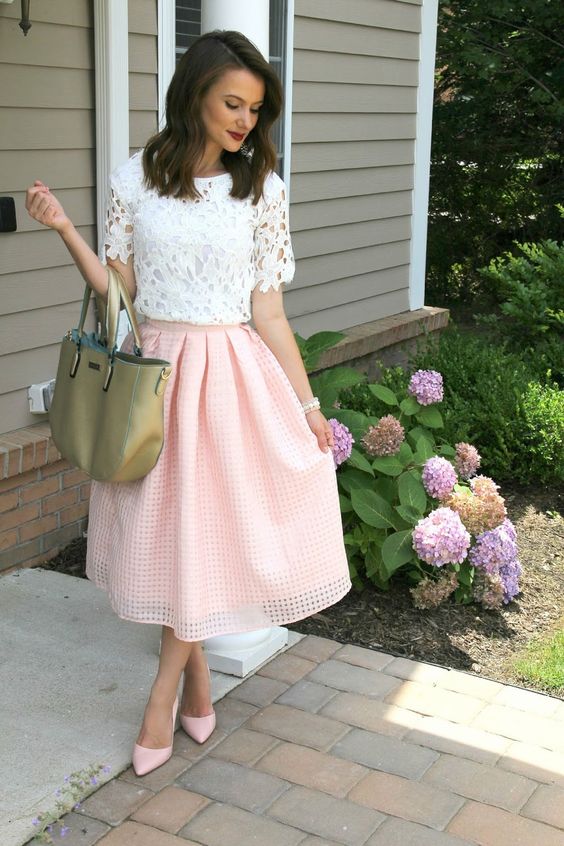 Pair your white lace top with a lovely pink skirt as well as pink pumps, and you will get a beautiful outfit for work.
Baby Pink Jacket Outfit /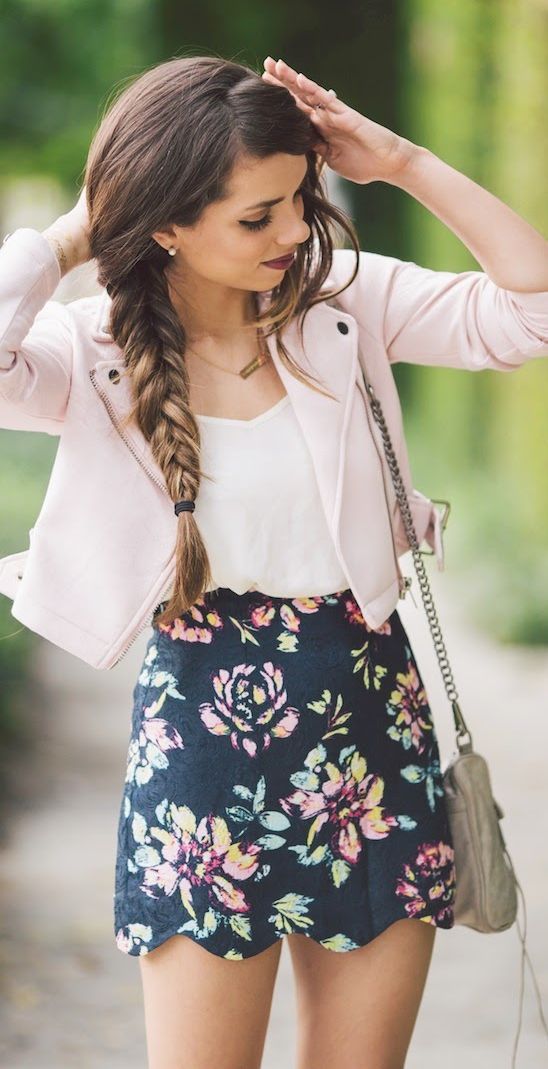 Take a pink jacket with you on the windy days. It will keep you warm and fashionable at the same time.
Pink T-shirt with White Jeans

Light pink looks more beautiful with white. So, why not match your pink top with a pair of white jeans? It's also an effortless chic outfit for almost all occasions.
Feminine Pink Skirt Outfit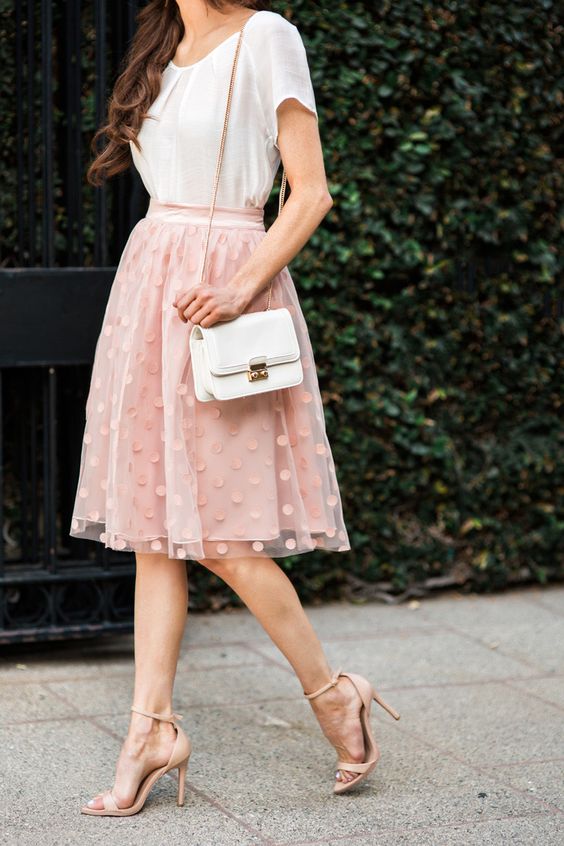 Or, you can wear a simple white tee to get your lovely pink skirt matched. This is a very beautiful look for the sweet and romantic occasions.
Pastel Pink Tulle Skirt Outfit Idea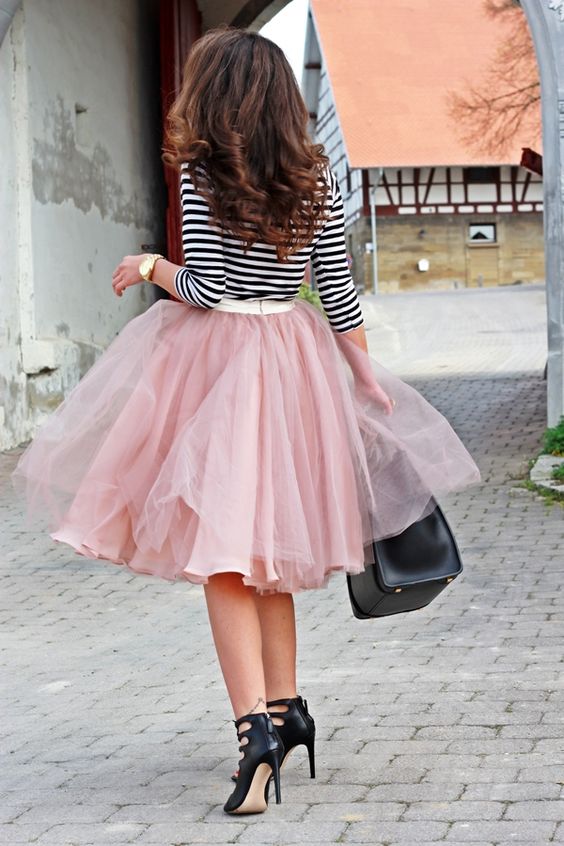 The tulle skrits are quite popular in summer. You can wear a pastel pink one and pair it with black and white stripes top. Thus, your can get a chic instead of a too girly outfit look.
Bright Pink Skirt with Stripes Crop Top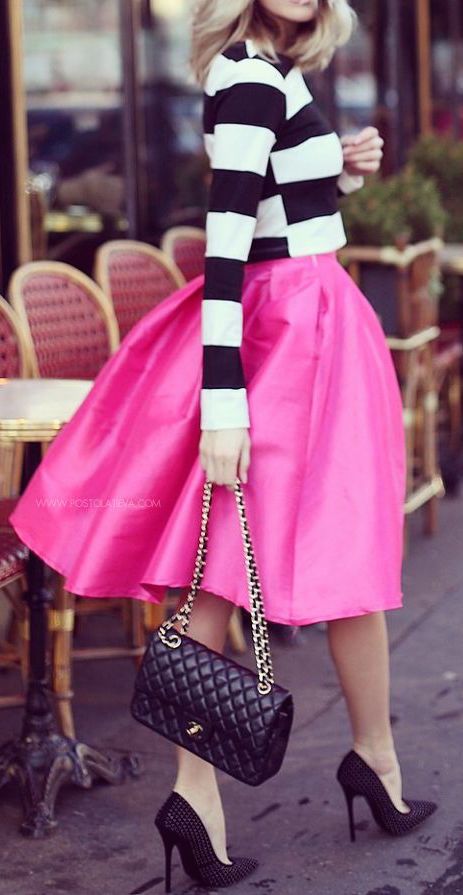 The bright pink skirt is more fashionable for mature women to try. It's better to match your hot pink skirt with black shoes and bags. Otherwise, it may not appear so sophisticated for formal occasions.
Gorgeous Pink Gown for Prom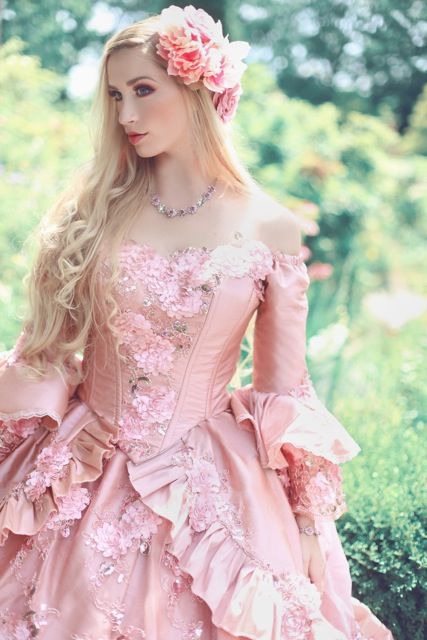 This pink gown is quite gorgeous. Most of us have little chance to wear it, but if you are invited to a certain party or prom, this vintage gown may draw all attention to you.