The bedroom should be the most comfortable place for people to stay. If your bedroom is designed in a beautiful and fashionable way, then you will enjoy your sleep or the time you stay there better. All pretty colors can be used to decorate the teenage girls' room. Such as pink, blue, mint and purple…
In this post, we would like to share 17 fantastic bedroom designs for teenage girls. And some of them are also quite stylish ideas for young women to copy when they are decorating theirs. Stay here and have a look at these gorgeous designs. They may give you some stunnig inspirations next time you decide to decorate your bedroom.
Cozy Bedroom Design for Teenage Girls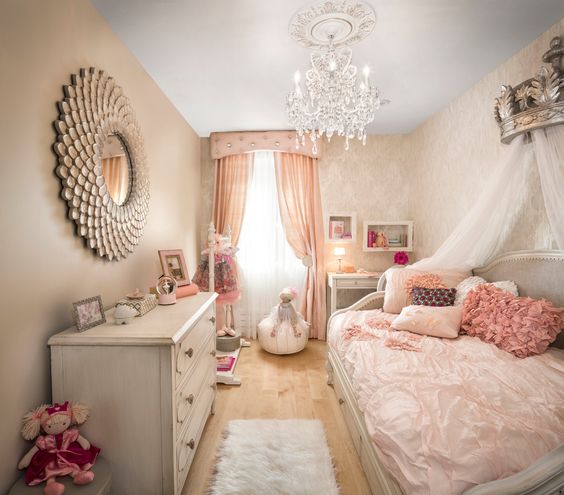 The coral curtain and pillows make this room look quite cozy. Besides, a stylish round mirror and a crystal chandelier will upgrade this small space effortlessly.
Bright Girl Bedroom Decoration Idea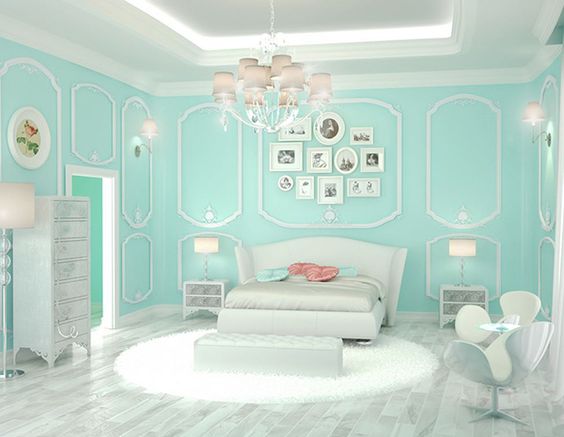 Bright and spacious! This mint and white room design is quite great for quiet girls.
Lovely Pink Bedroom Design for Girls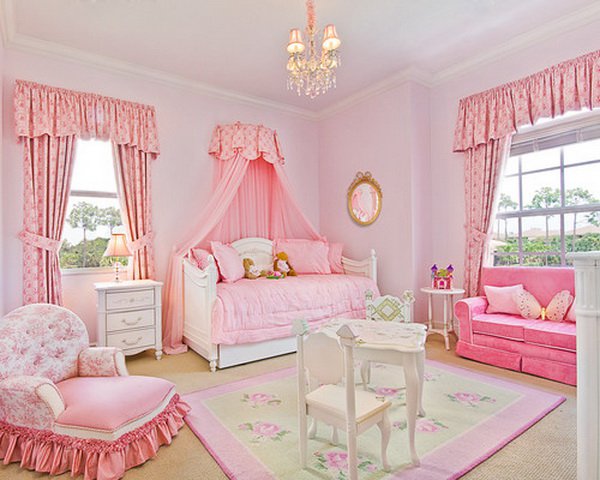 Most teenage girls love pink. This pink room design is far more beautiful because of those floral prints.
Peaceful Lavender Girl Bedroom Design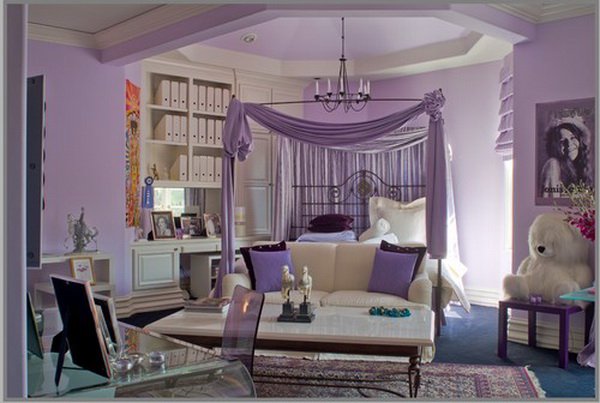 If you love purple, just turn your bedroom into a lavender world. Besides, white furniture and toys will make your room look brighter.
Purple and Grey Bedroom Design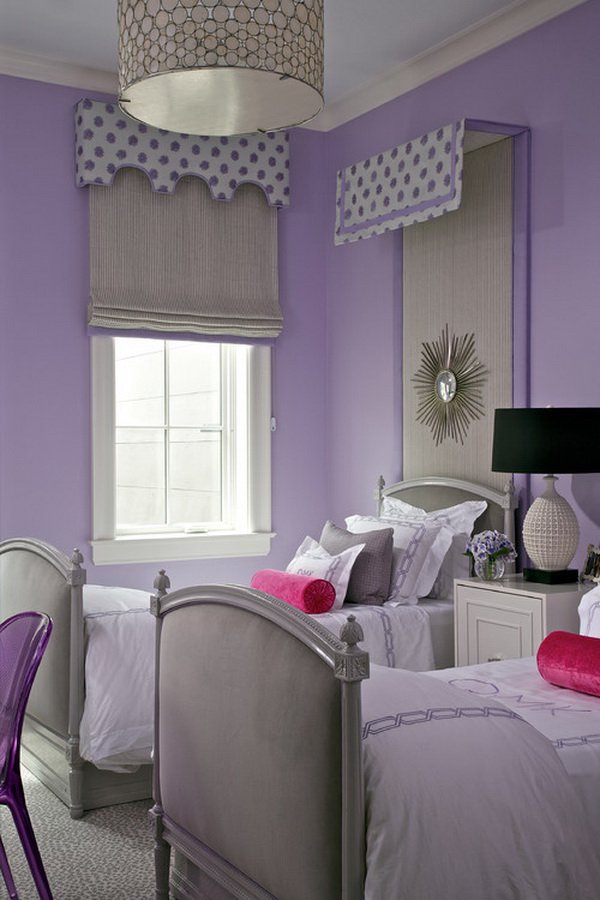 Even if the room is not so big, you can still decorate it with your favourite colors. For example, purple and grey can be a wise combination to make your bedroom look comfortable.
Blue and White Bedroom Design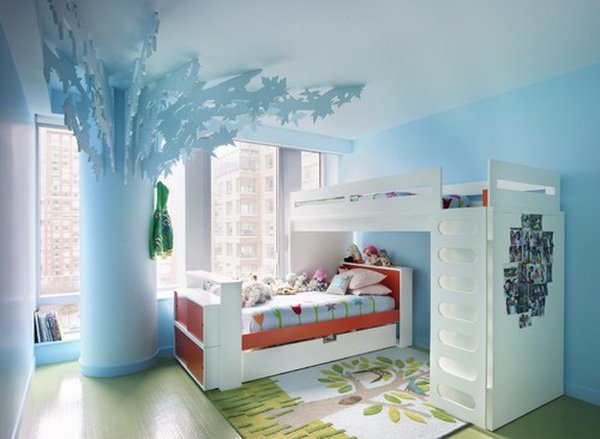 This blue and white bedroom design is so cool for teenage girls. Plus, a bed like this can really save your space and keep your bedroom stylish at the same time.
Navy Style Bedroom Design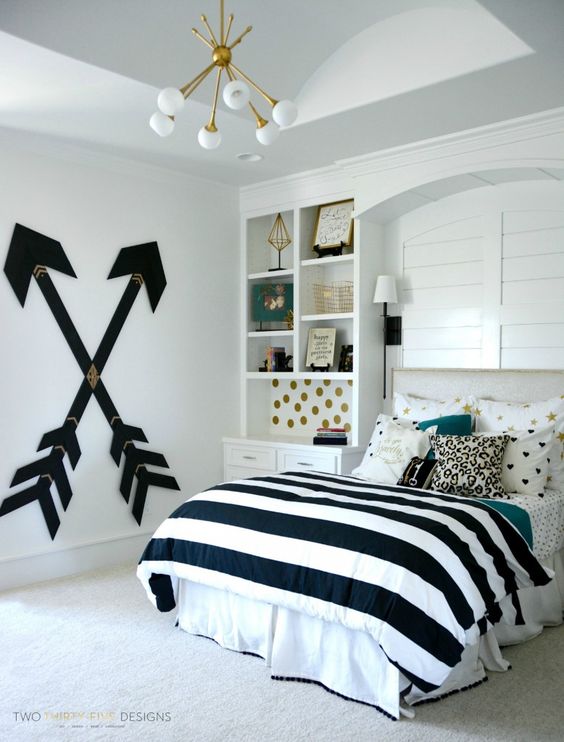 This navy style bedroom may appeal to girls who don't like those pastel colored rooms. It's quite clean and effortless chic for both teenagers and grown-ups.
Stylish Princess Bedroom Design for Girls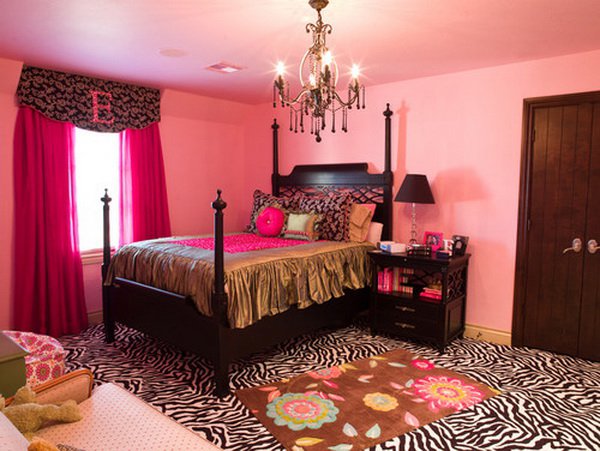 Hot pink curtains, pastel pink walls and ceiling as well as the zebra-print carpet make this bedroom super stylish space for girls. You will feel like an proud princess if you live in this chic bedroom.
Fairy Bedroom Design for Girls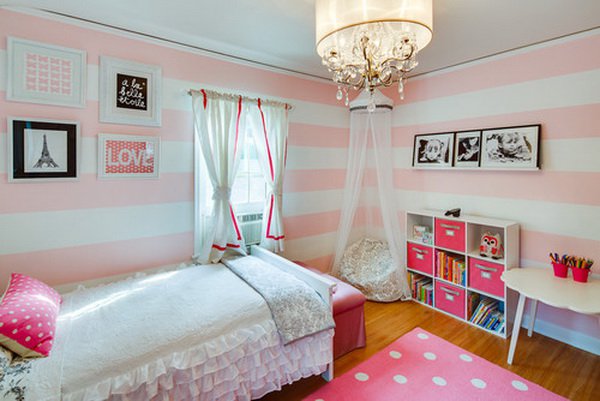 If you want your bedroom look soft and lovely, this fairy bedroom design will be a perfect choice.
Romantic Pink Bedroom Design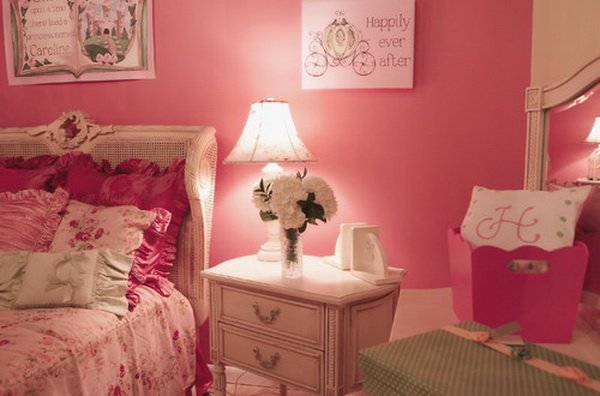 The pink room looks more romantic with the flowers on the bedside cupboard and literary pictures on the wall.
Red and White Bedroom Decoration Idea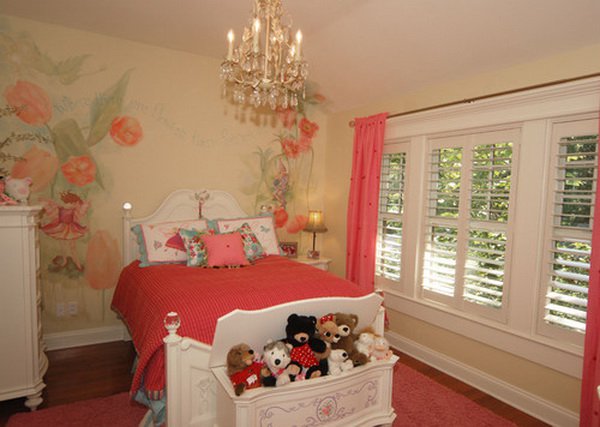 Teenage girls should live in a bedroom where there are full of wonderful stories. So, paint a nice picture on the wall and put all the toys that have accompanedyour childhood in your bedroom.
Large-Space Teenge Girl Bedroom Design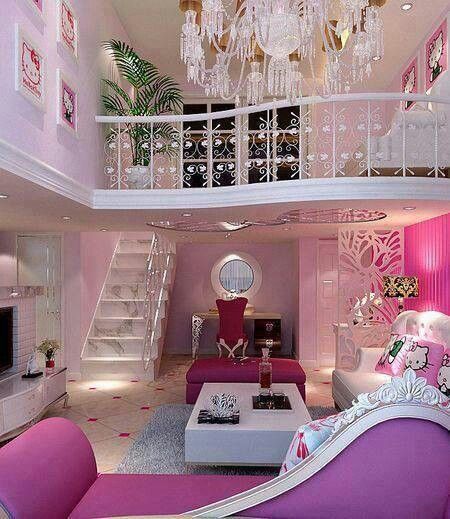 The pink coach, Hello Kitty cushions, the chandelier and a nice dressing table, all of which make it an admiring bedroom for girls.
Cartoon Bedroom Design for Girls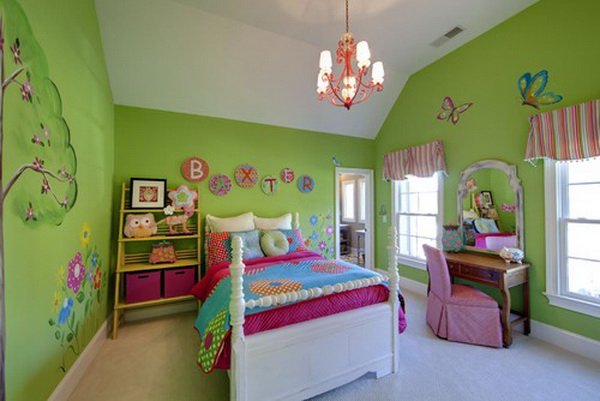 This green cartoon bedroom desgin is full of life. It must be favored by little girls.
Artsy Bedroom Design for Teenage Girls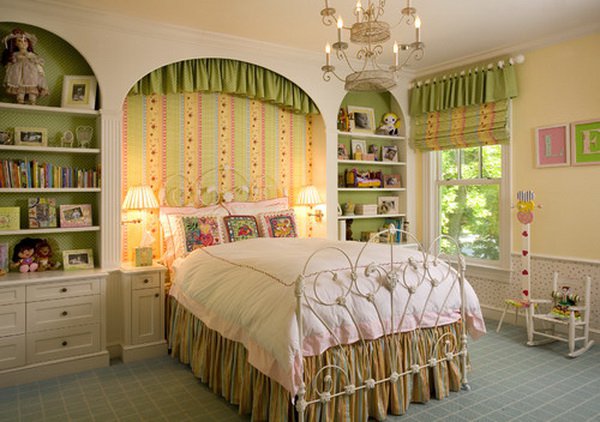 This bedroom design looks quite artsy. By the way, you can buy a roman iron bed like this for your girls. She must love it.
Warm Bedroom Design for Teenage Girls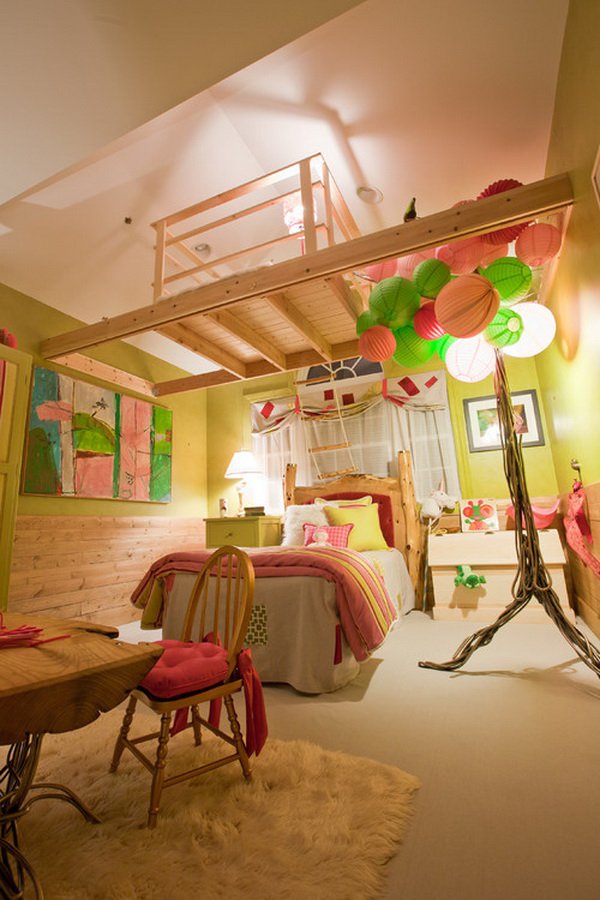 Wooden bed, wooden desk and wooden chair! These are all wonderful pieces to complete this coloful room. This is really a warm bedroom for teenage girls to grow up.
Fantastic Bedroom Design for Girls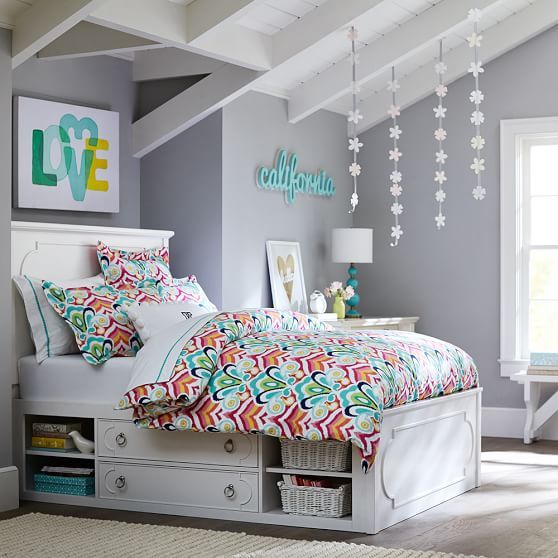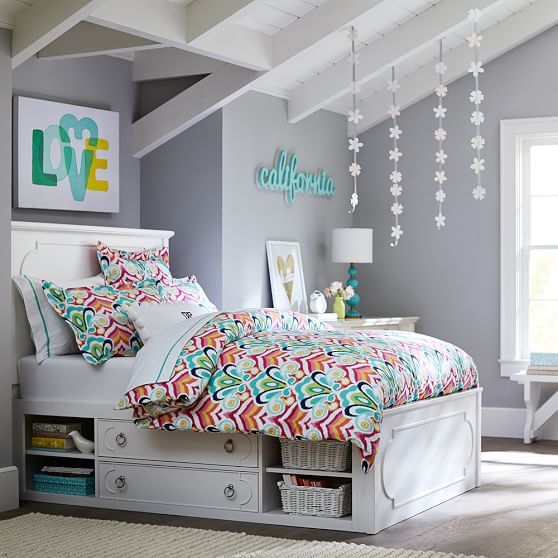 When girls grow up, some of them may not like those bright colors or childish patterns any more. Then, it's time to try these quietly elegant colors and paintings to decorate their bedroom.
Pretty Bedroom Design for Girls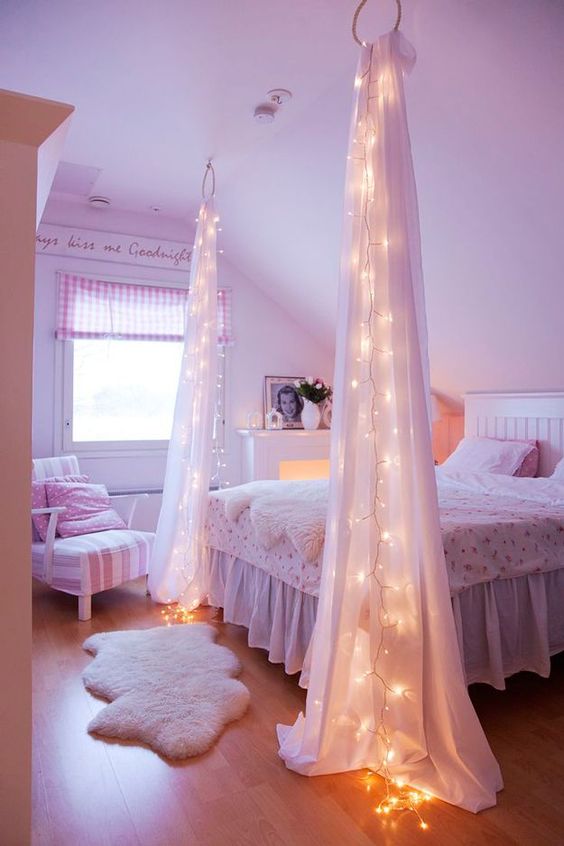 A small bedroom can look quite pretty as long as you add some interesting ideas to it.