Dressing up for special occasions is easy. Whether you're looking for an outfit for a wedding, a night out with the girls or a date, it's super simple to choose something glam and gorgeous. You accentuate your best features and choose something you feel just fantastic in. No problem, right? However, it's choosing the casual outfits which is a lot more difficult. You want something relaxed and not too dressy, that's comfortable but still stylish too.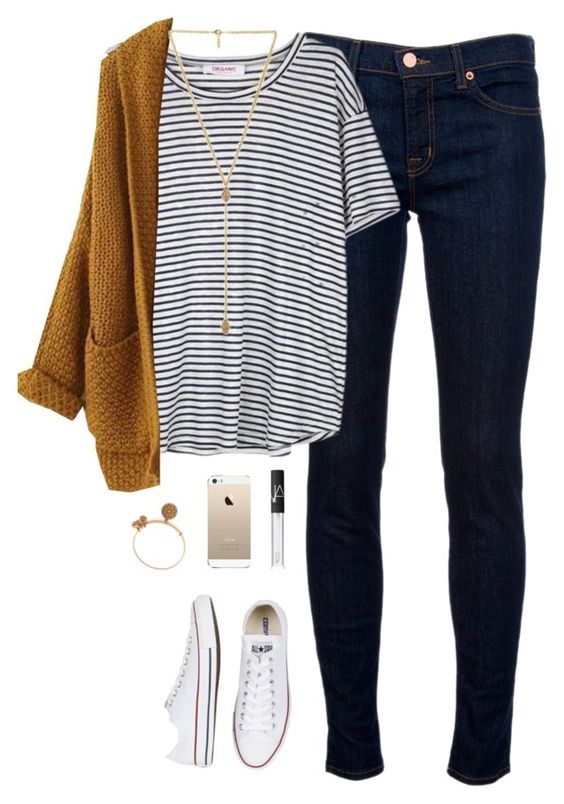 Keeping up with the trends can be difficult and it can be a nightmare to plan your casual wardrobe. Here are some great casual outfit ideas that will keep you comfy, stylish and cool all at the very same time.
Jeans, Shirt and Denim Jacket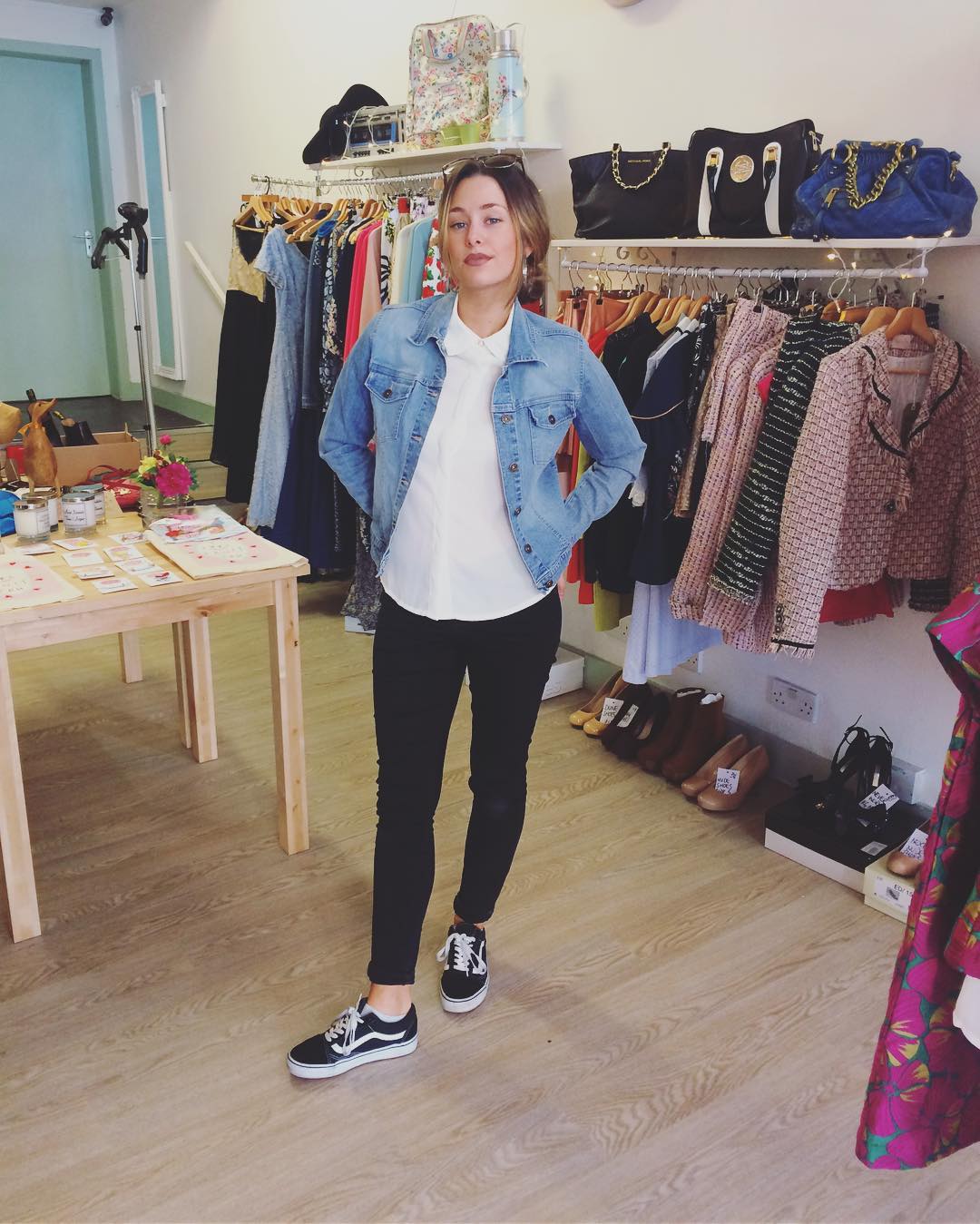 Jeans are truly the staple for a casual wardrobe. They're fitted, comfortable and versatile – so expect to see a lot of them! Team black jeans with a classic white shirt for style. Add a denim jacket for super cool double denim vibes – but also, black and blue denim work together seamlessly. Finish the style with your favourite pair of trainers. We particularly like the black vans pictured above. Wear your hair up and you've got a great casual day look.
Black Cold Shoulder Top and Ripped Jeans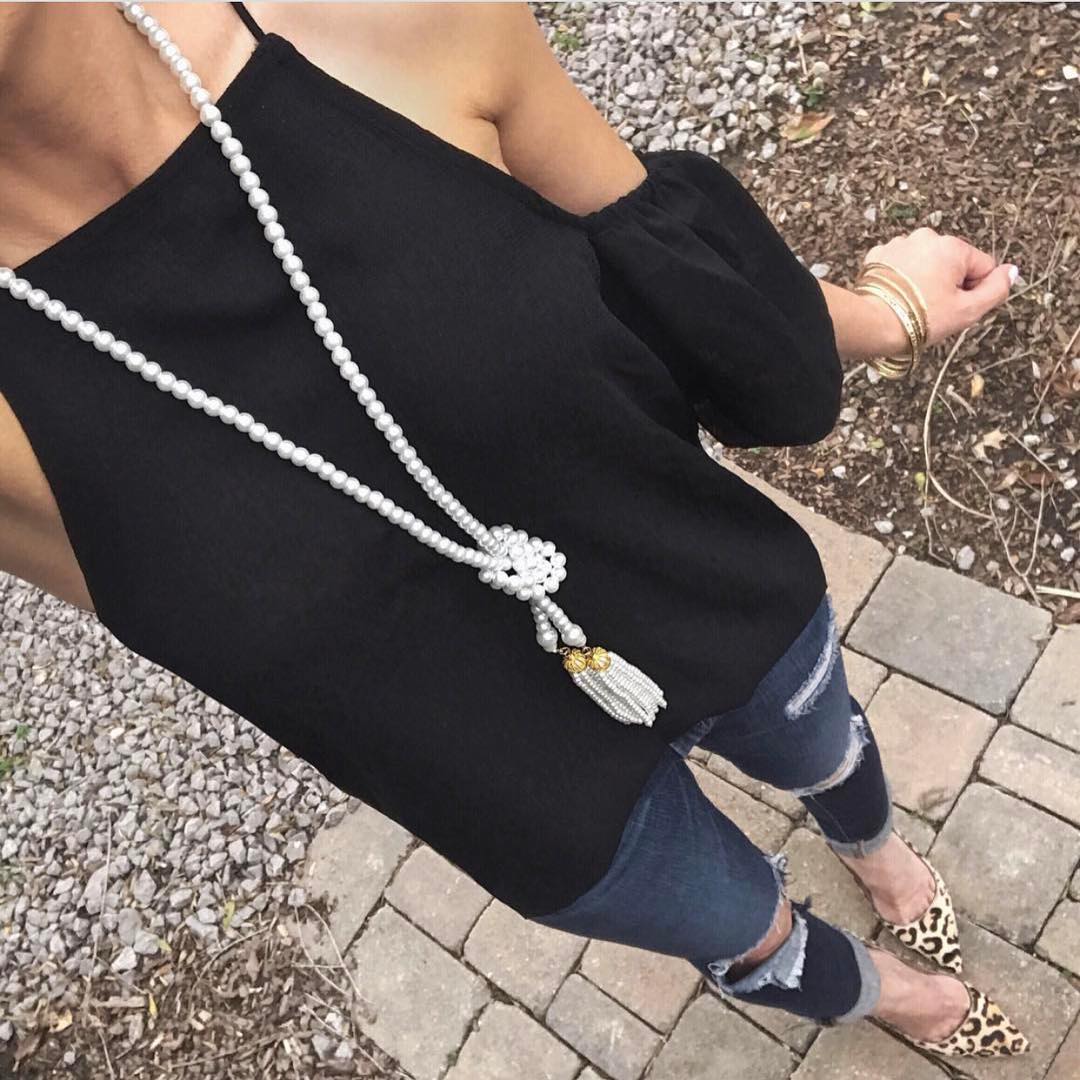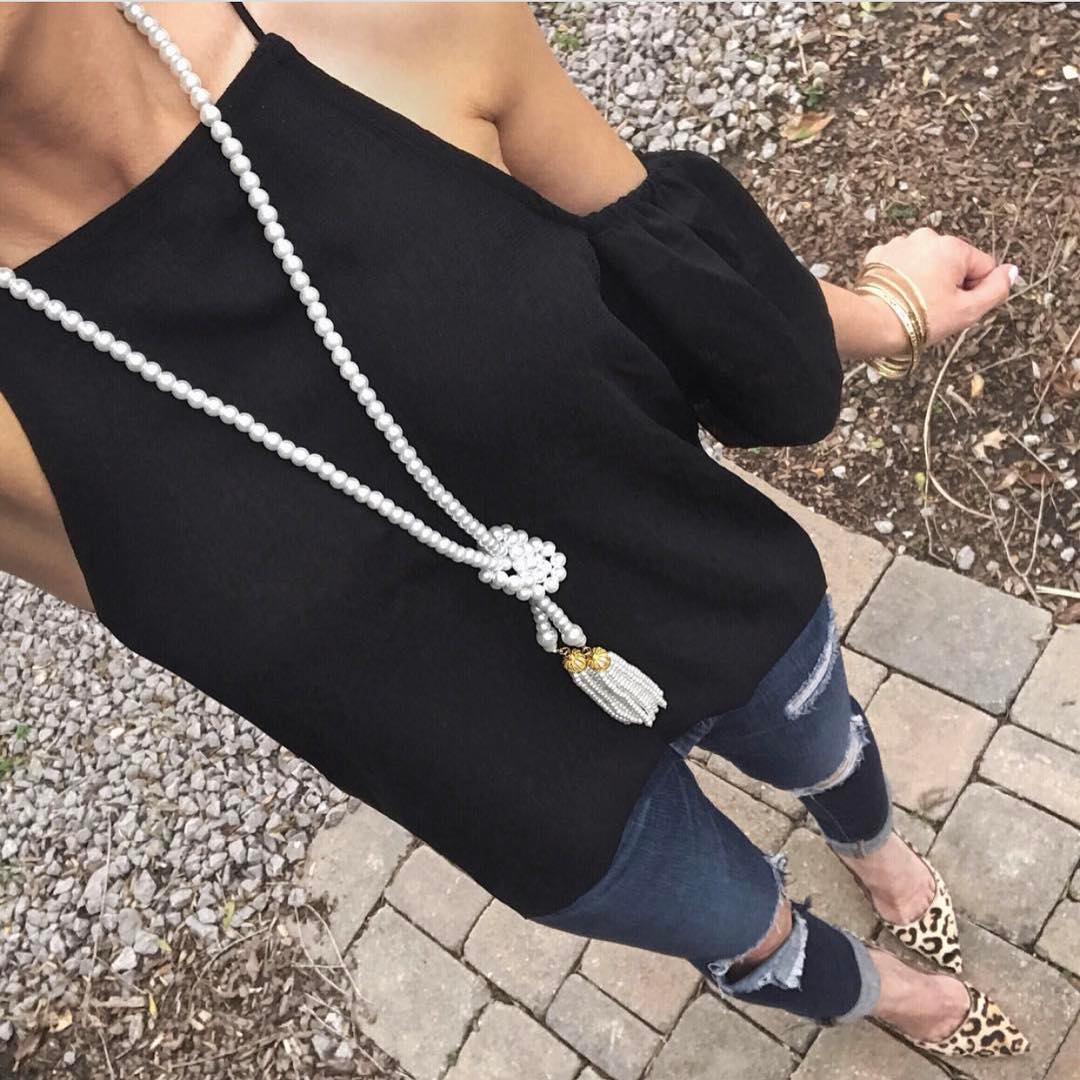 Cold shoulder tops are great for casual outfits because they add a touch of sass and style to the occasion. Team your black cold shoulder top with your favourite pair of ripped jeans for an element of interest. Add some sassy printed flat shoes for effect. Finish with lots of statement jewellery and your hair up in a high messy bun for a look which we cannot get enough of.
Slogan Jumper and Jeans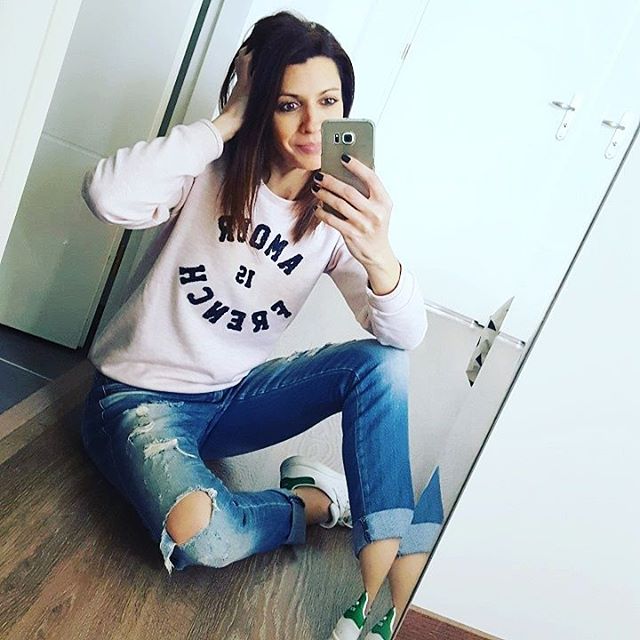 Slogan jumpers are easy to wear, incredibly cute and an instantly cool and casual outfit. You can purchase them in a whole host of different colours, styles and with different slogans – the important bit is how you style them! Wear with your favourite pair of ripped jeans and some super casual and comfortable trainers. Wear your hair down and you've got a fantastic causal look.
Fluffy Coat, Jumper and Jeans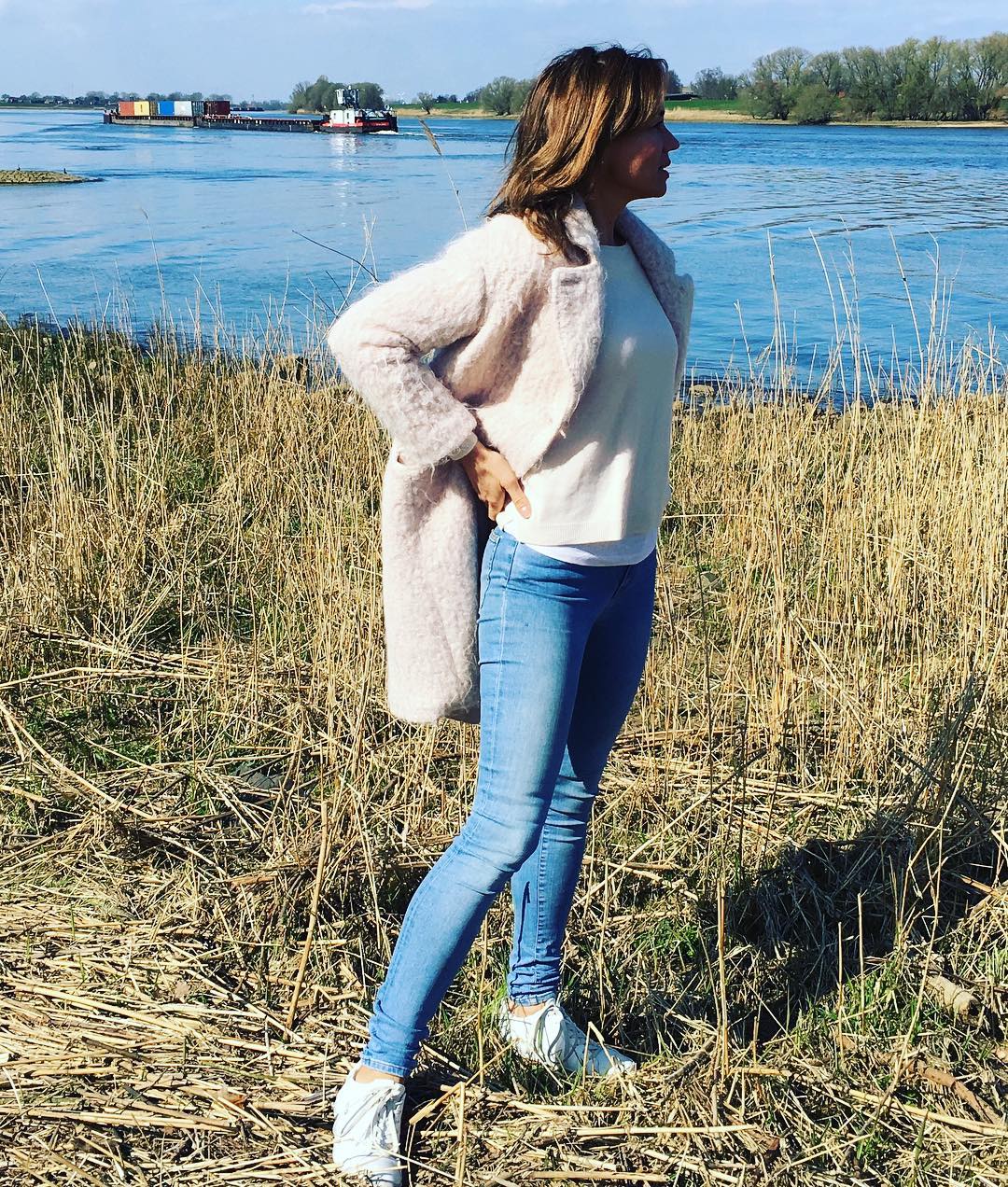 Fluffy coats are so incredibly stylish, and add a lot of fashion to a classic, casual look. Wear your blue jeans with a plain t-shirt and a neutral coloured jumper. We particularly like this oatmeal shade in a light cotton finish. Wear with your favourite fluffy coat – we just adore the pink colour of the one pictured above. Finish the look with trainers and you've got a stunning daytime style which isn't short on style.
Floral Bomber Jacket and Ripped Jeans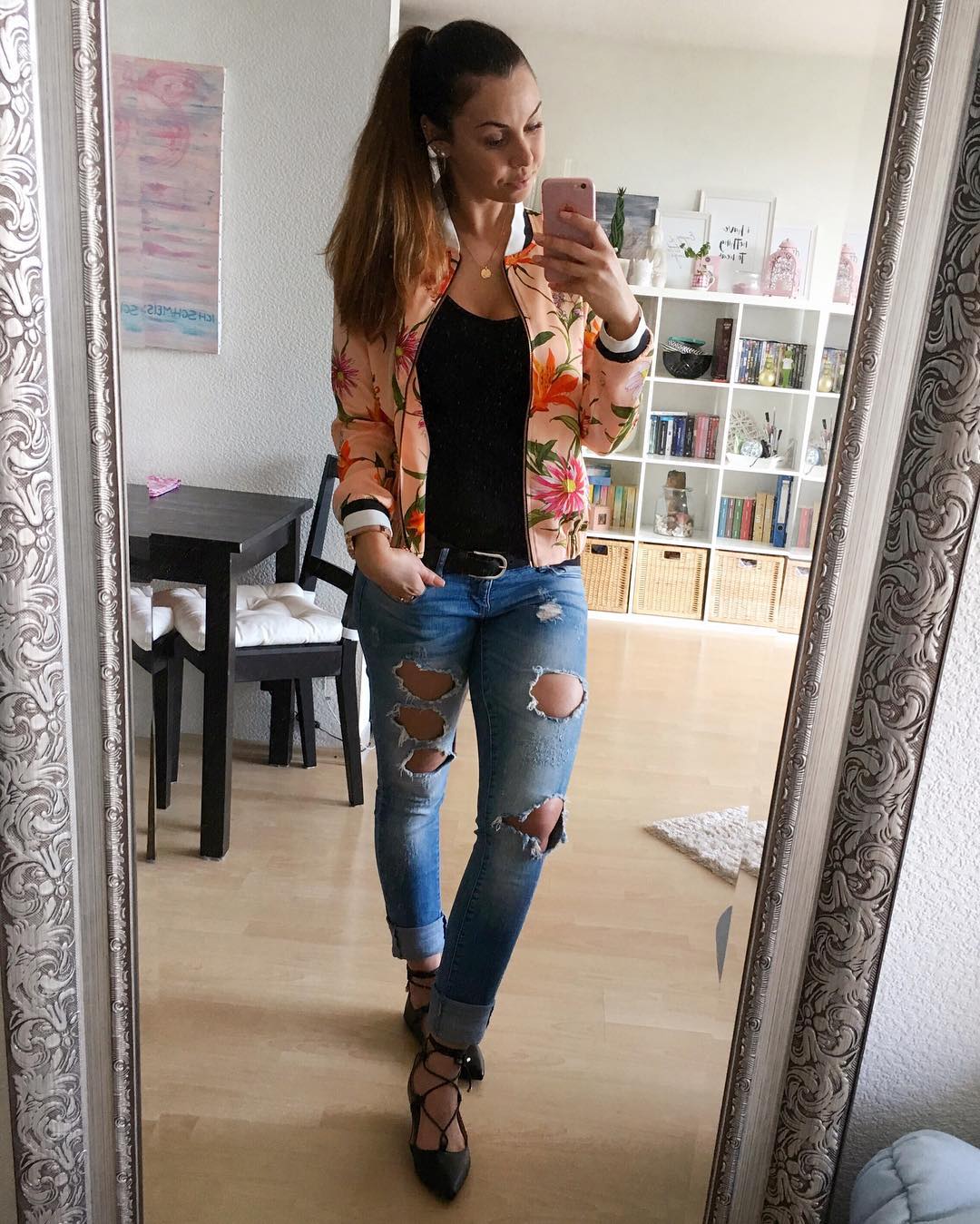 Floral bomber jackets are the perfect way to inject some colour into a casual style without dressing too over the top. Start with a plain black vest or t-shirt. Then add your incredible and brightly coloured statement bomber jacket. Add some ripped jeans and turn up the cuffs at the bottom. Finish with some sassy flat sandals and wear your hair up in a ponytail for a great date day or day time outfit.
Printed Tee and White Jeans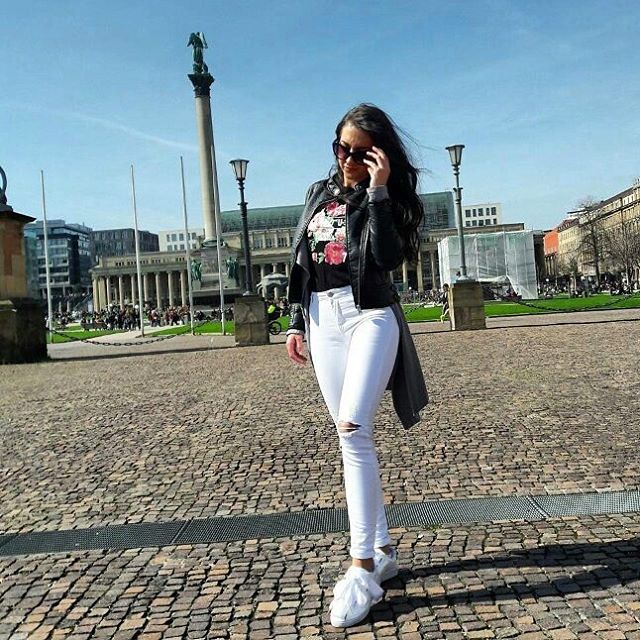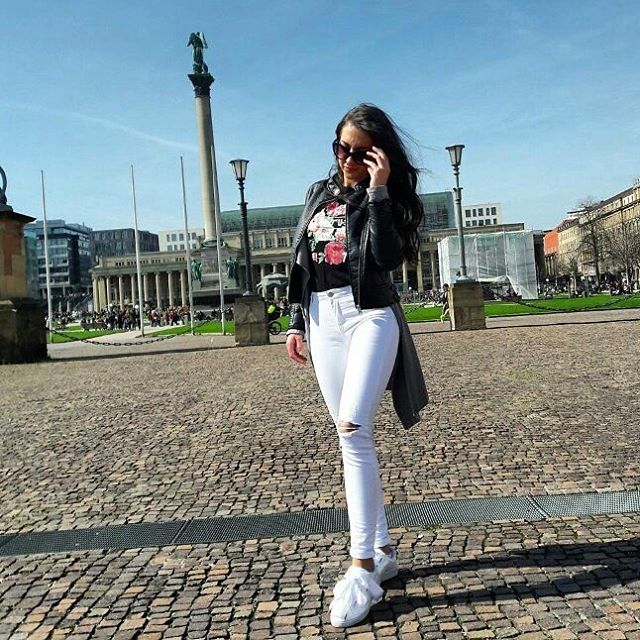 Printed t-shirts are the perfect way to inject some personality into your casual day time outfit. Choose your favourite printed tee to start your outfit. We particularly like this black one with lots of pink flowers. Add with some high waisted white jeans with rips to the knees. Finish with your classic pair of white trainers and a biker jacket. Add sunglasses and you've got a wonderful casual outfit.
Khaki Coat and Light Jeans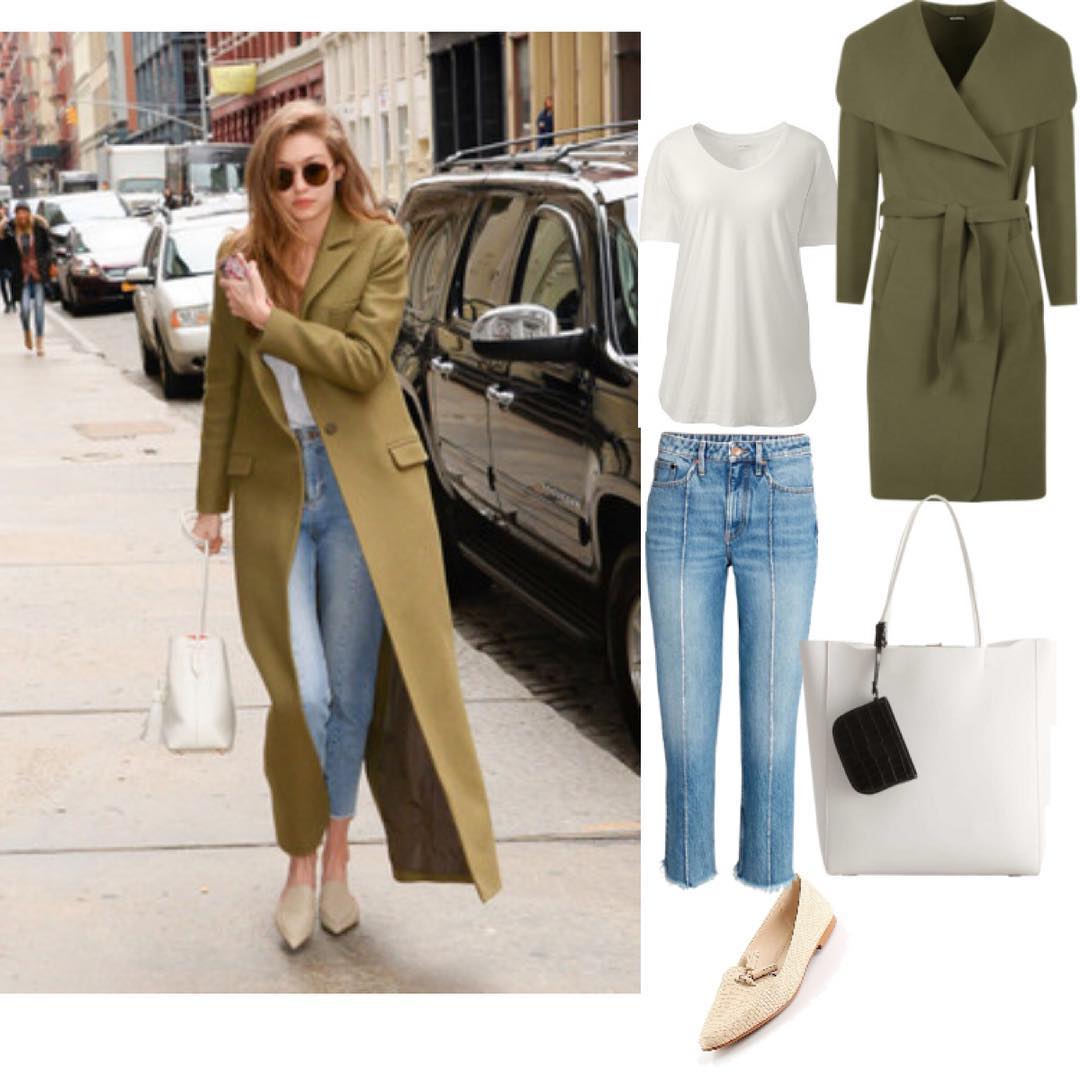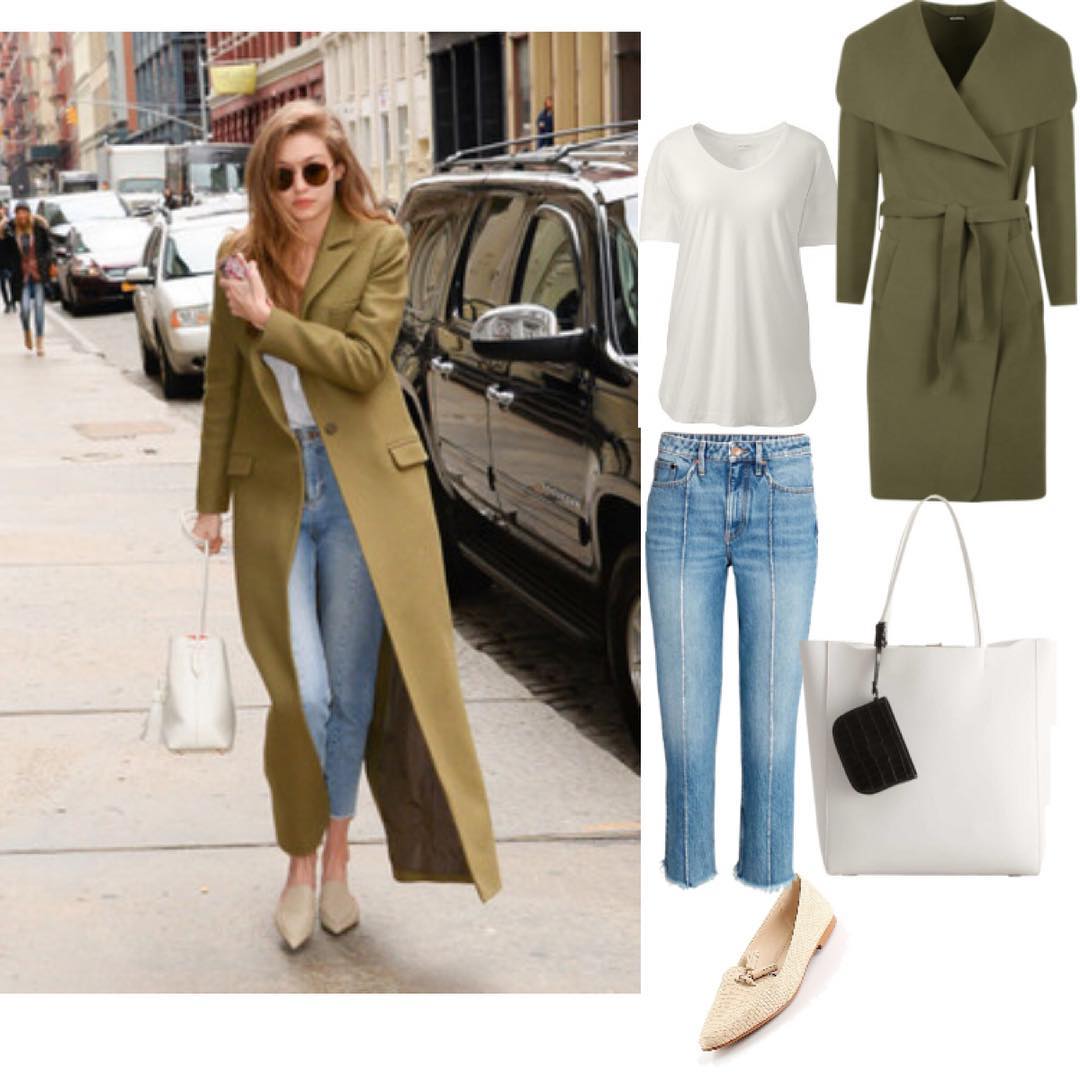 Khaki is such a versatile colour, working equally well with blue or black jeans, as we're sure you'll agree. Let your coat be the focal point of the outfit so try and keep the rest of the look relatively minimal. Opt for a white t-shirt, some light blue jeans and your big khaki coat as a statement item. Keep your shoes and accessories in a neutral shade to compliment the coat.
Pink Jeans and White Tee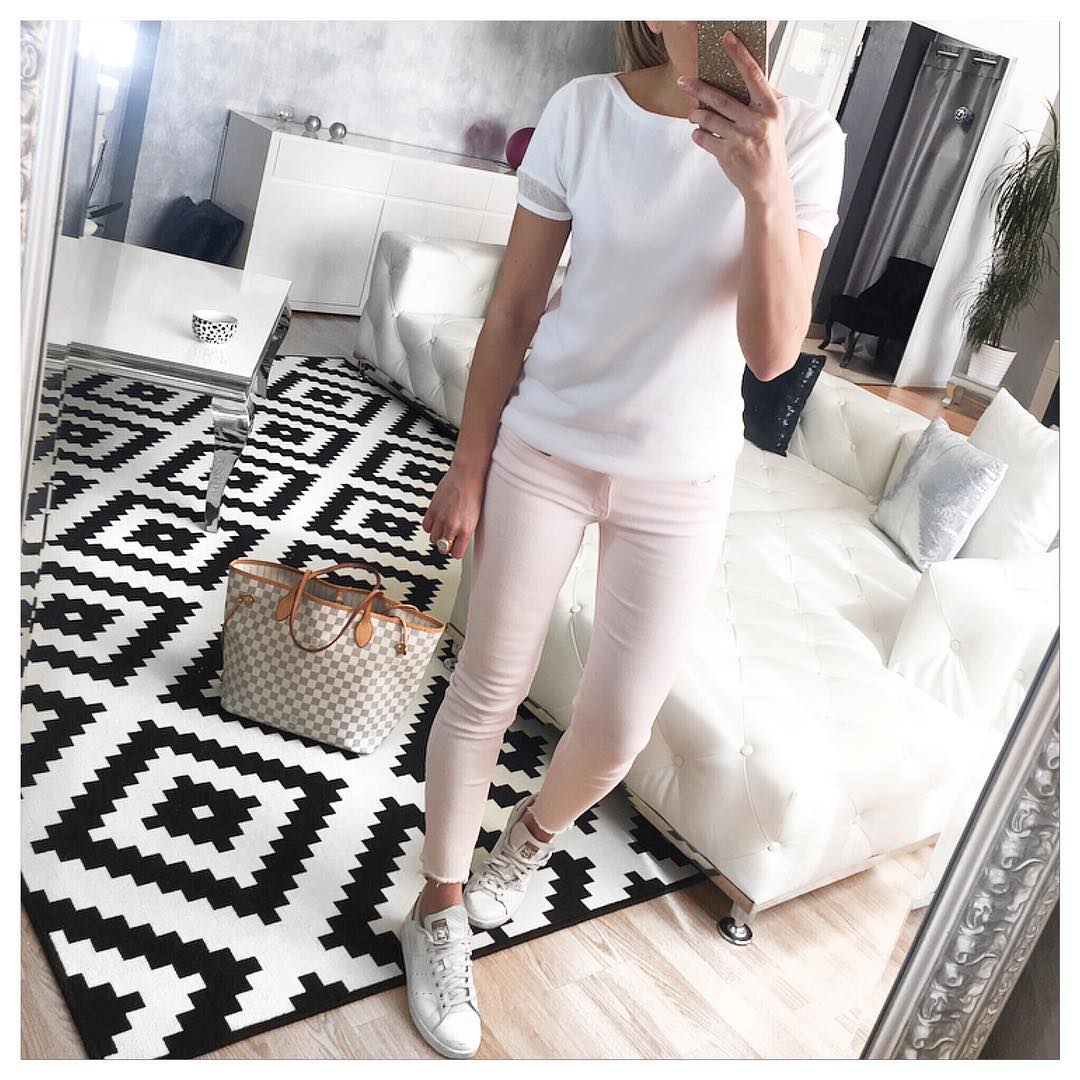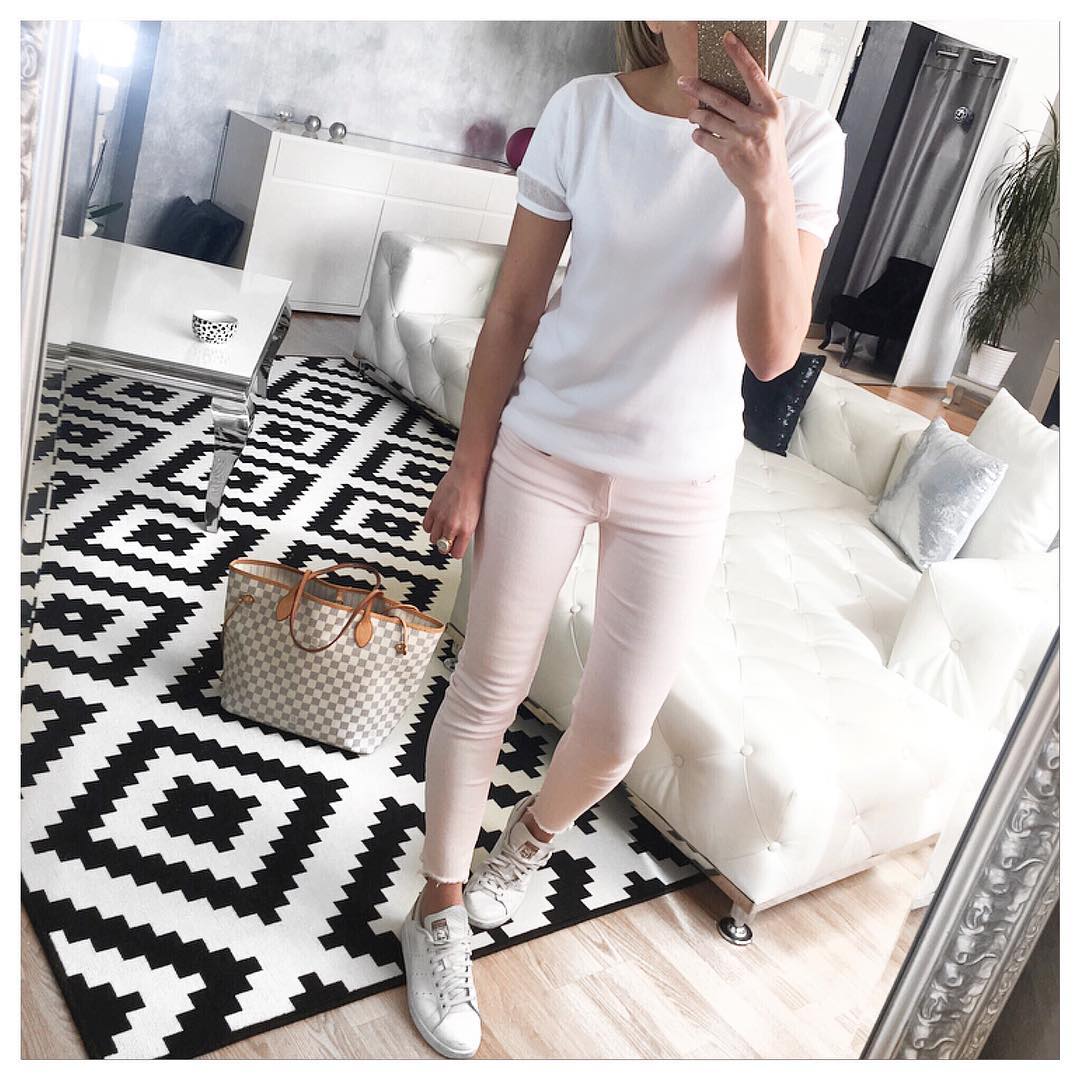 Baby pink jeans are a great addition to any summer wardrobe – helping you to stay away from white whilst remaining light, comfortable and holiday appropriate. Choose your favourite pair of pink jeans and team with a classic white t-shirt that will mean you just can't go wrong. Finish this style with a classic and comfortable pair of white trainers.
Knitted Midi Dress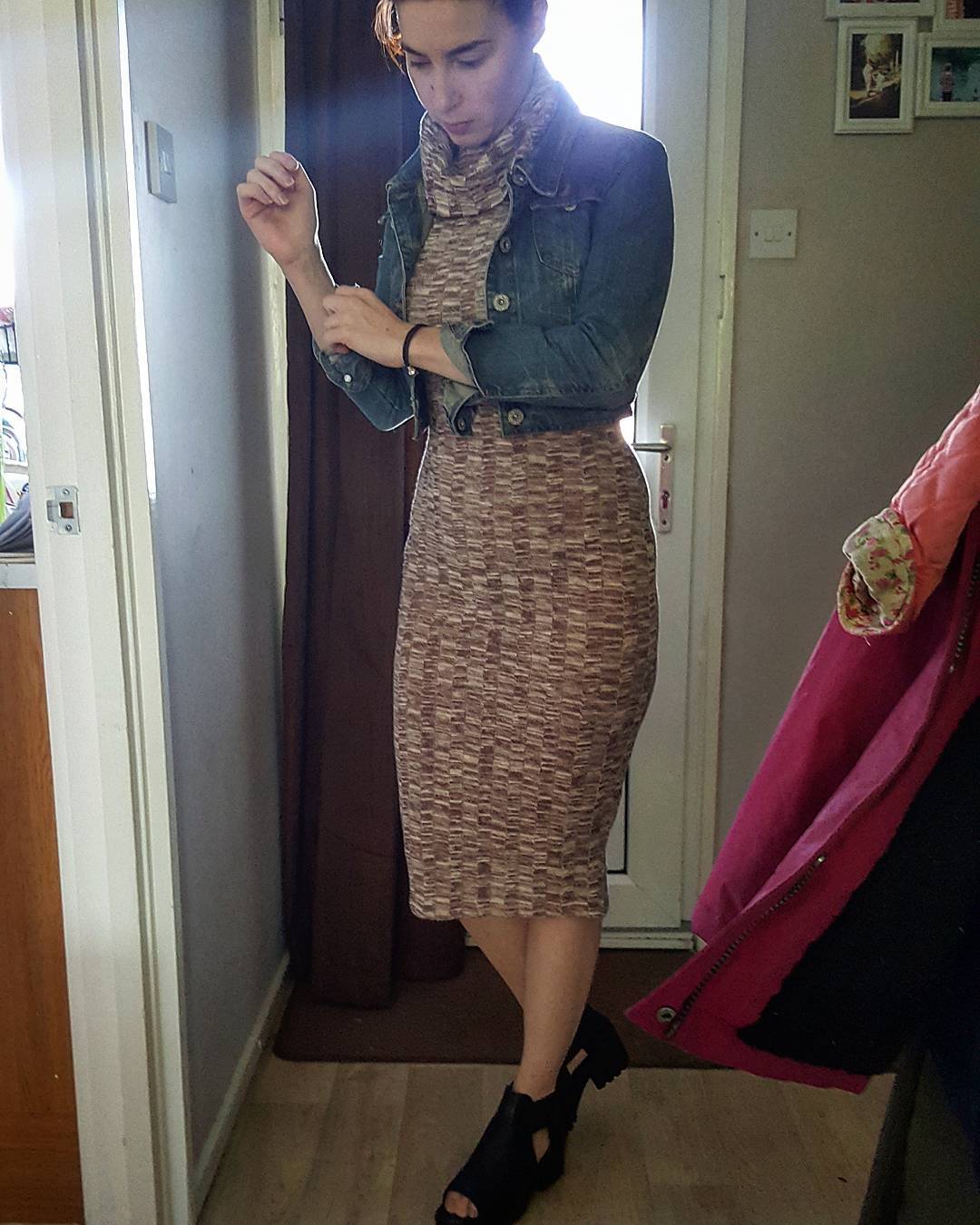 Knitted midi dresses are incredibly fashionable because not only are they comfortable and stylish, but they . hug your figure and give you a wonderful silhouette at the same time. Choose your favourite knitted midi dress. You can opt for one with our without a roll neck – with is pictured above. Finish with your favourite denim jacker and some casual boots or wedges.
White Peasant Playsuit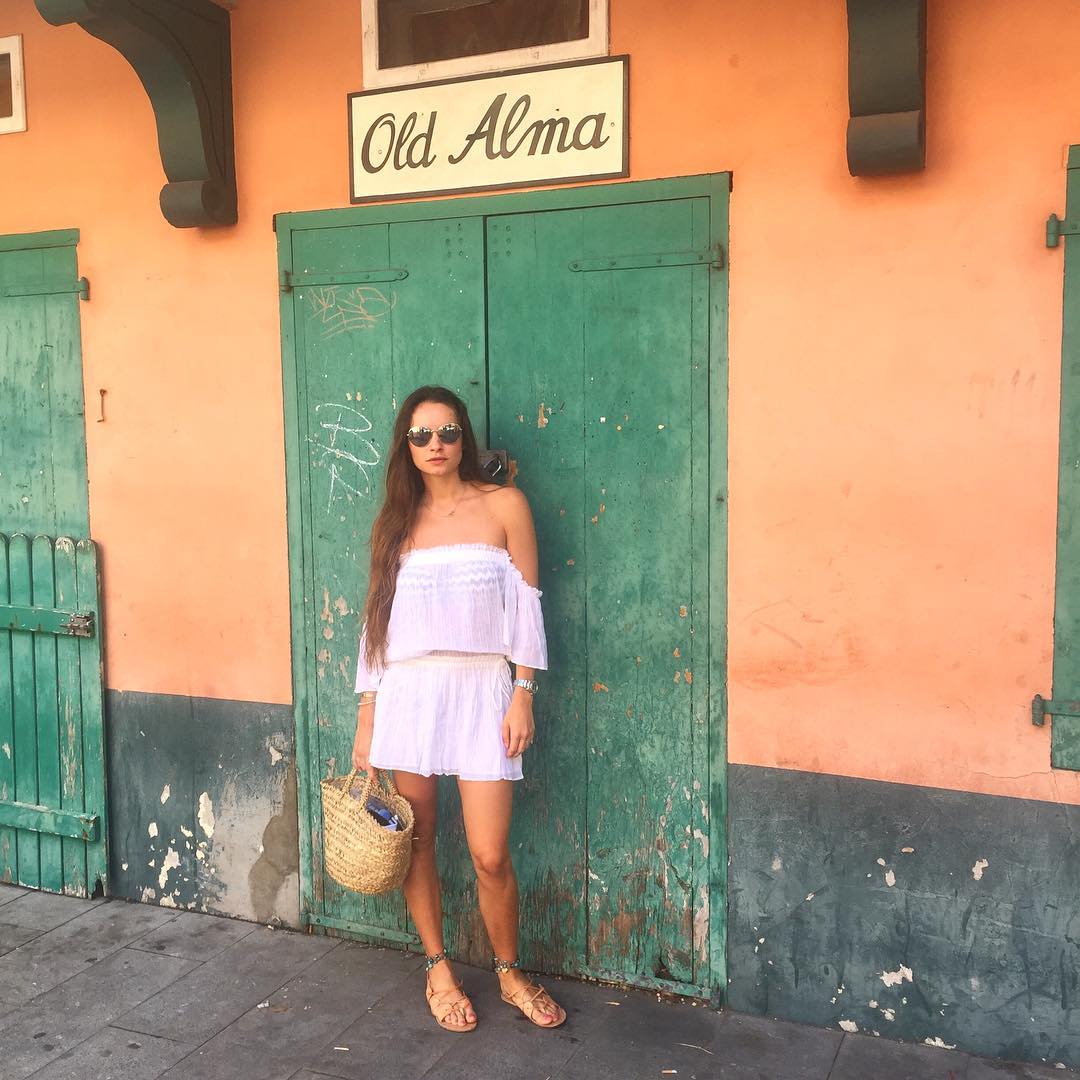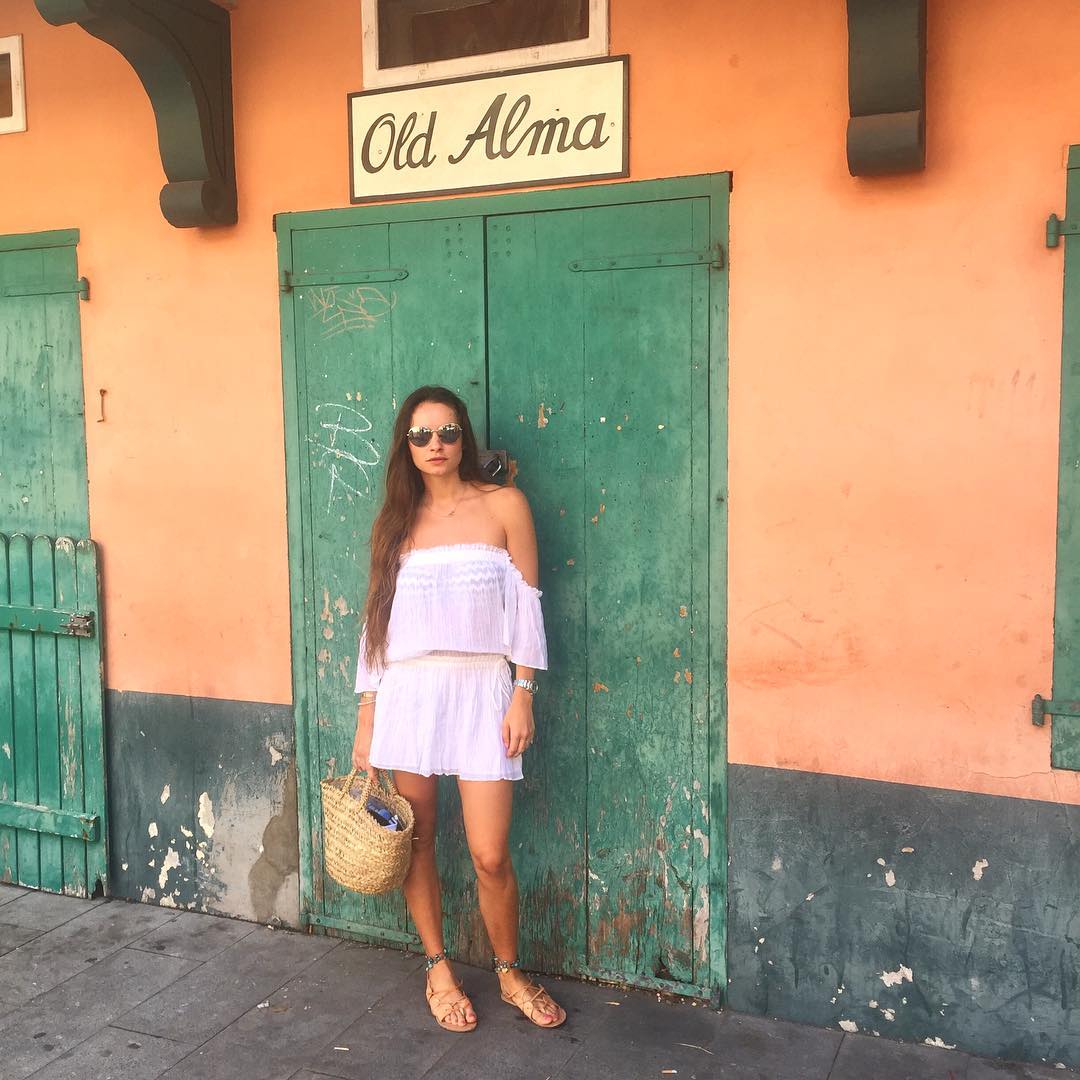 Peasant playsuits are relaxed, light, airy and comfortable – perfect for a casual look in the summer. This white playsuit is off the shoulder and completely loose fitting – both on top and bottom! The short playsuit will work perfectly with sandals. Keep your hair down in loose waves and add your favourite pair of sunglasses to finish.
Casual outfit ideas for work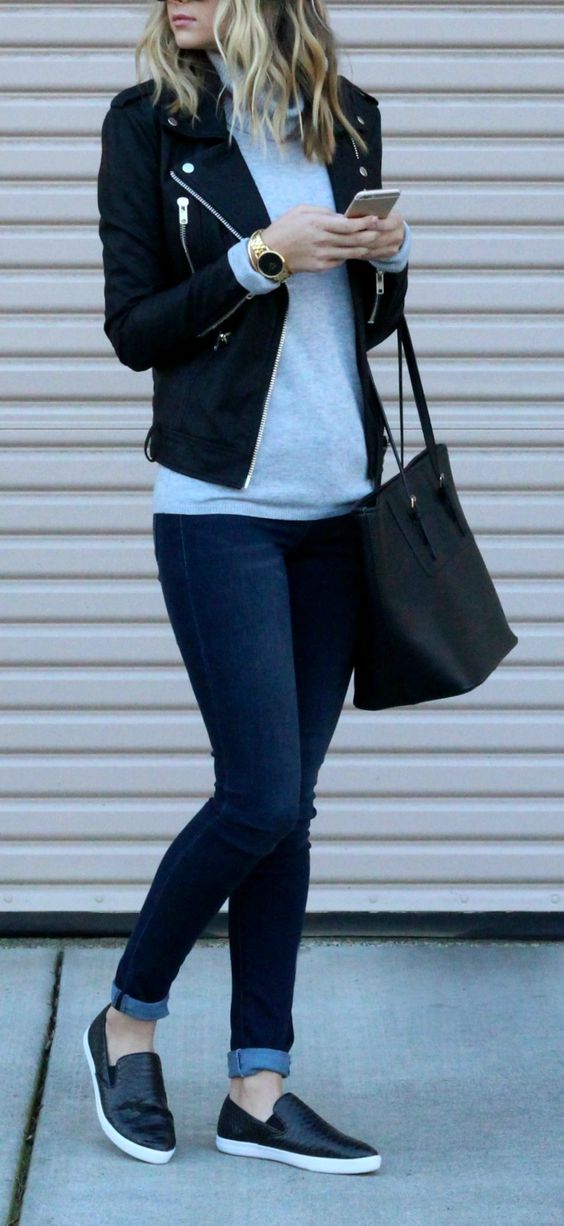 Dressing casually doesn't mean you need to compromise on style – and we hope this handy blog post has proved that! Don't forget to let us know which of these looks is your favourite.