What do you wear for work every day? Is this what puzzles you every morning? This post is made just for those office fashionistas who want to look fabulous every day. In the gallery below, you will be shown 18 fashionable office outfit looks with the checkered clothes.
We choose the checkered pieces because they are timeless and elegant for a lady. The other reason is that even though many women like wearing the plaid patterns in summer, they don't know how to combine them in order to get a modern lady look instead of a outdated country girl look. After reading this post, you will get some stunning ideas to copy. Just stay here and check them out! Enjoy!
Checkered Full Skirt with Black Crop Top
---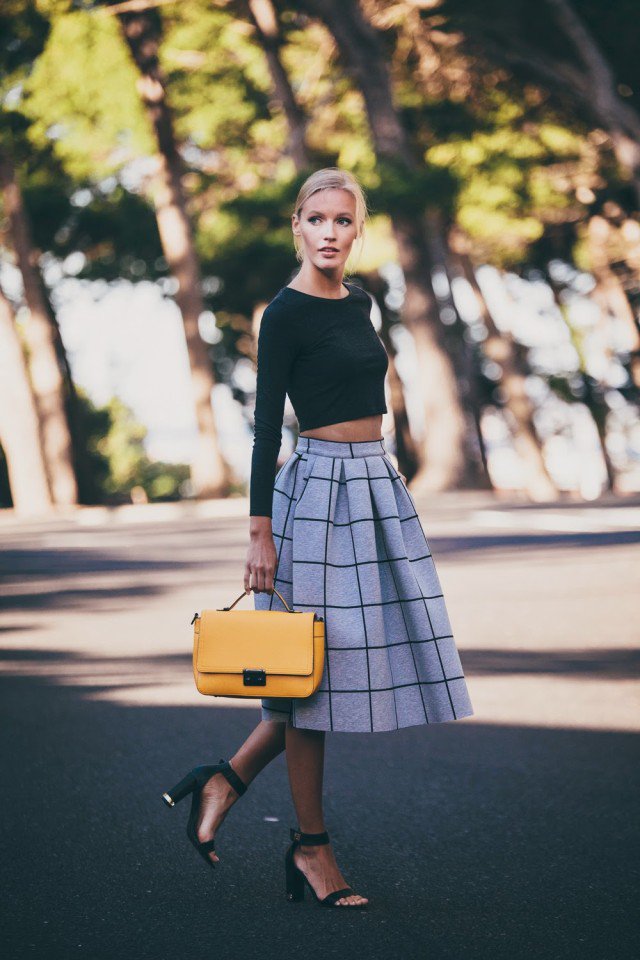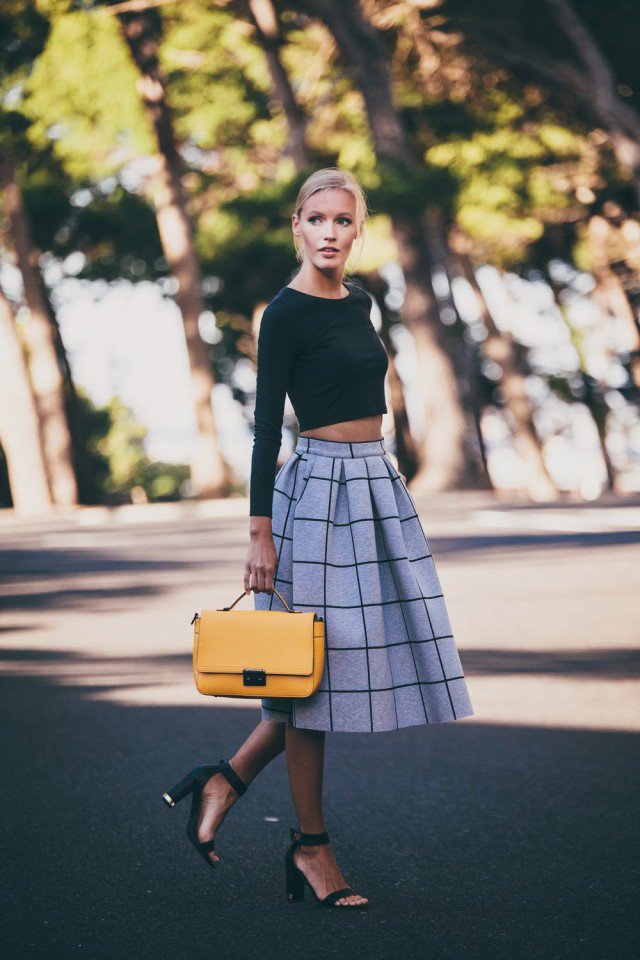 This grey full skirt is effortless with the wide plaids. Also, the black crop top and black sandals complete this look in a neat and decent way.
2015 Trendy Office Outfit Idea
---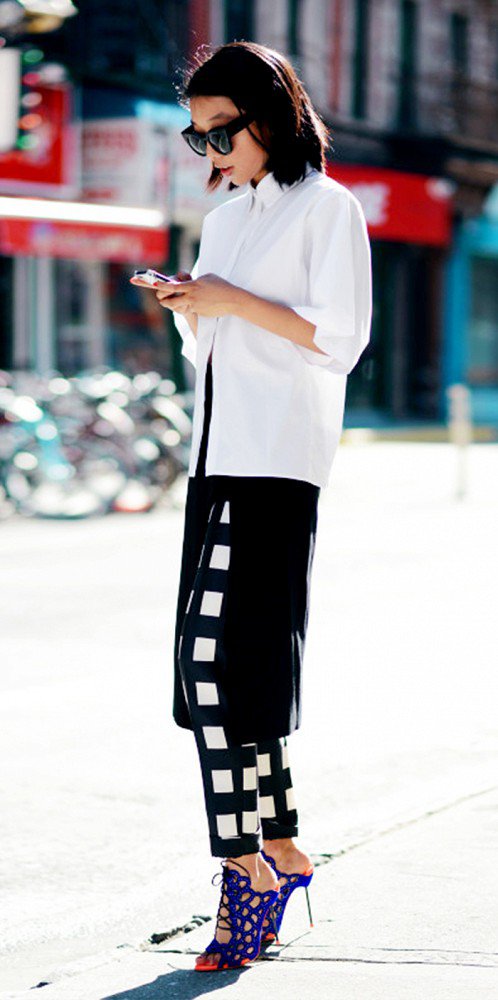 Unlike the conventional black and white outfits which are too formal, this one is quite fashionable with the genius pants and high-heels.
Classy Black and White Outfit for Work
---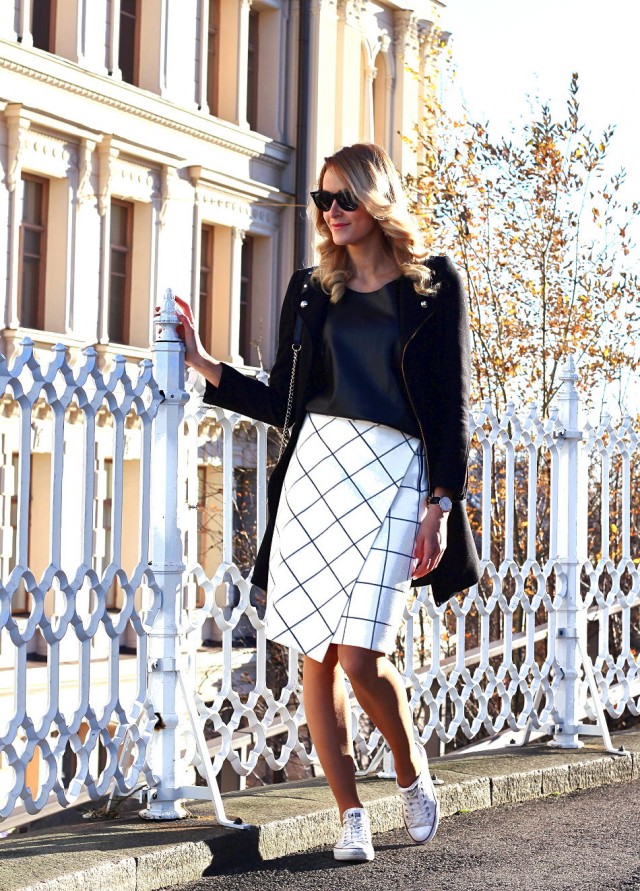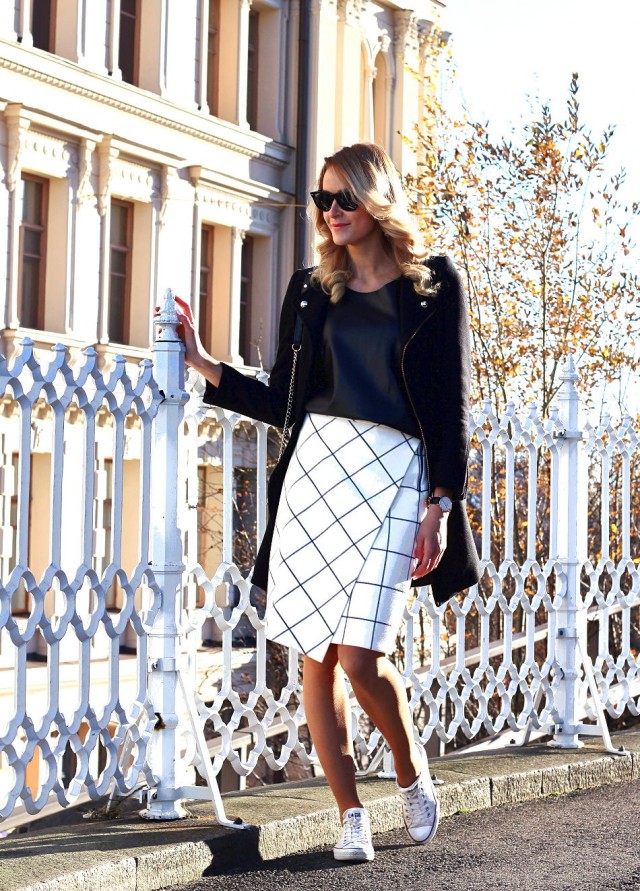 Want to look more cheerful? Then just put on your white sneakers and the white checkered skirt.  It's such a fashionable outfit both for work and the time after work.
Pretty White Shirt with Checkered Skirt
---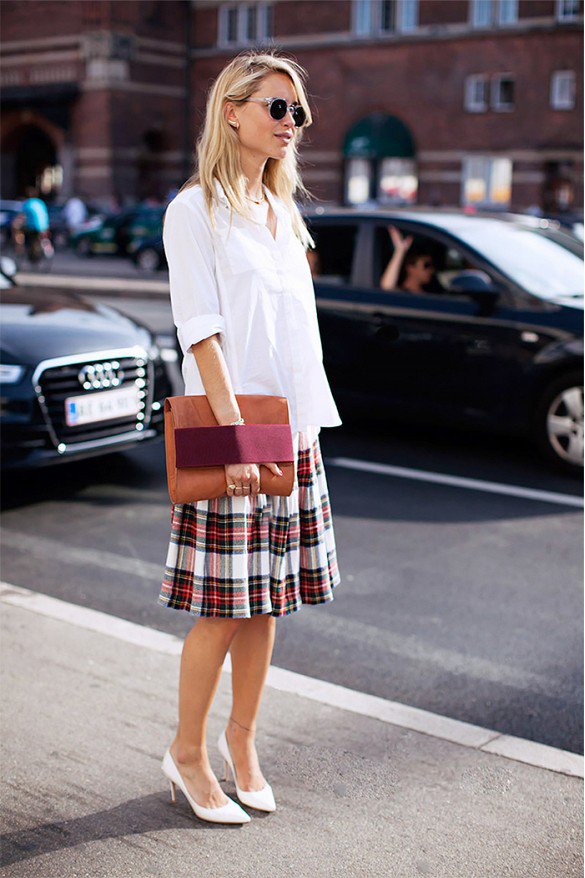 White shirt is what every woman should own in her summer wardrobe. That's because it's the most beautiful yet simplest piece to go with any other clothes. This picture shows you how pretty you will when you wear a red checkered skirt together with little white pumps and a classic white shirt.
Fashionable Checkered Outfit
---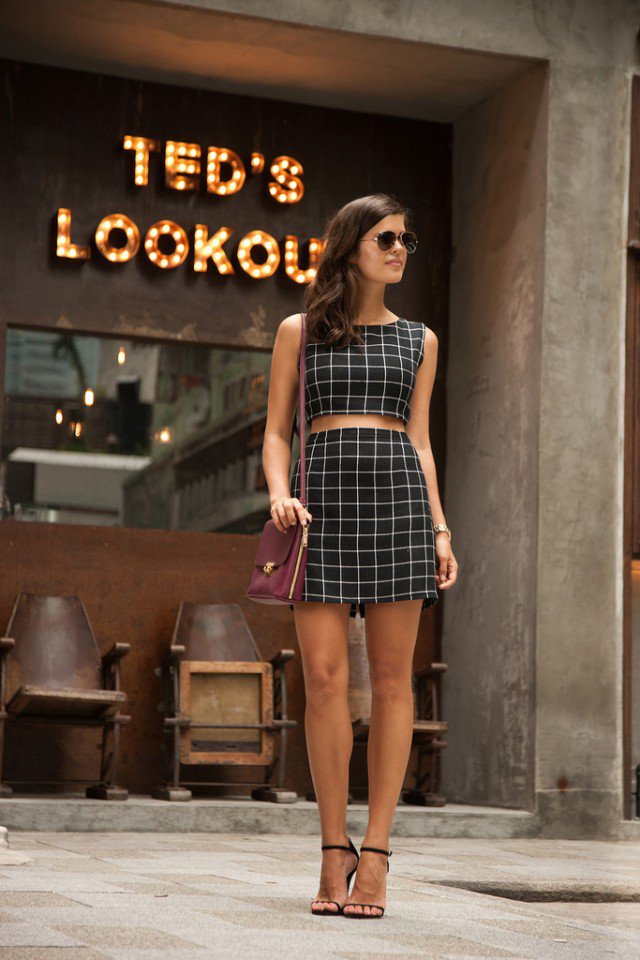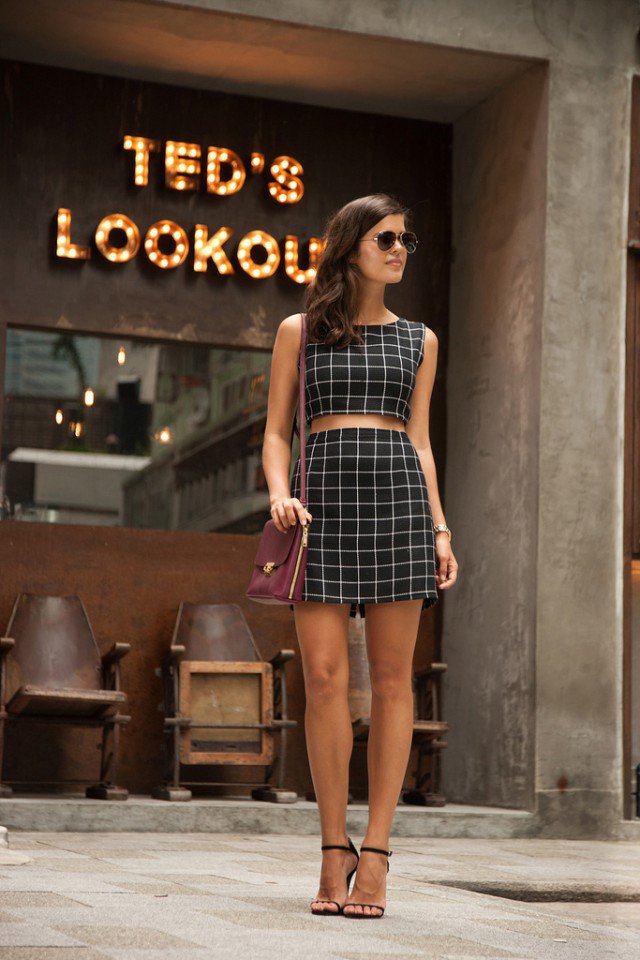 Less is more! Everthing looks simple. However, they are effortlessly chic for an everyday office look.
Romantic Chiffon Checkered Dress for Work
---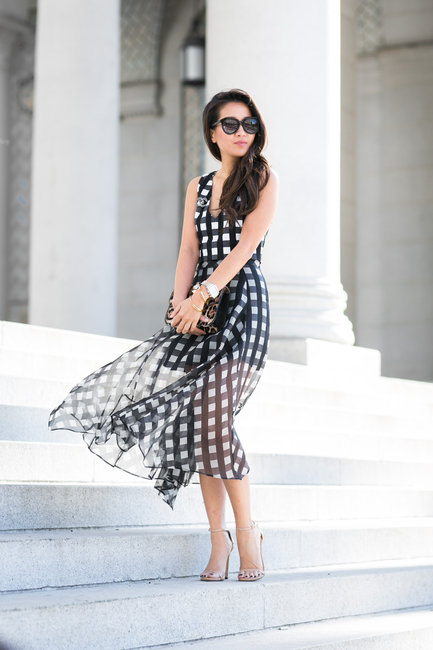 For a more romantic and feminine look, just try a checkered dress in chiffon texture.The flowing dress is the best choice for summer.
Green Checkered Midi Skirt Outfit
---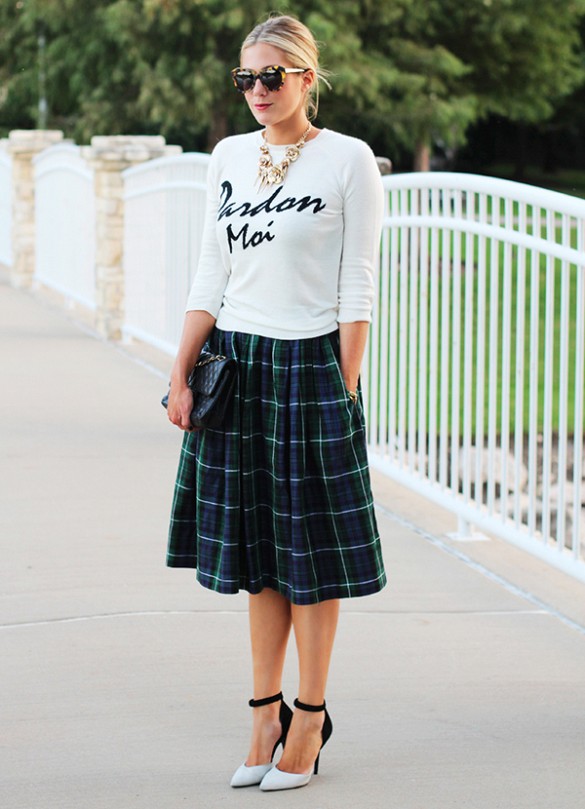 A simple white T-shirt with a pretty necklace is enough for this green and blue checkered shirt while your shoes should not be ordinary any more. Put on a pair of graceful ankle-strap pumps will upgrade your whole look, making it more stunning.
Checkered Pencil Skirt Outfit
---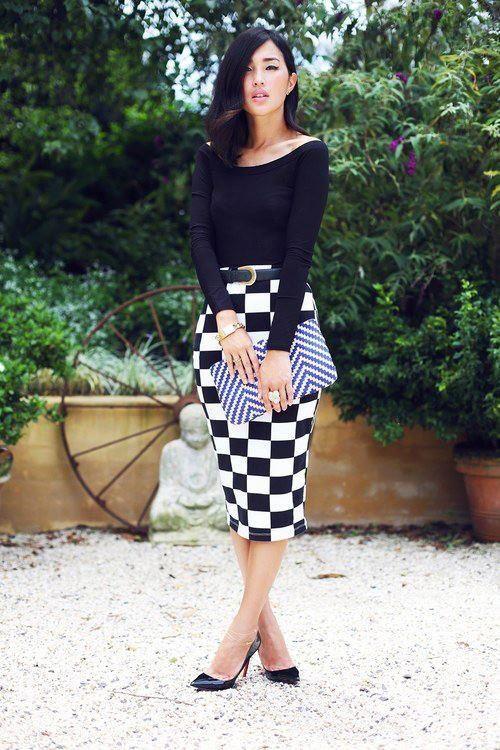 The checkered pencil skirt illuminates the serious look and adds more fashion vibes to the whole look in a minute.
Chic Gingham Shirt with Baggy Jeans
---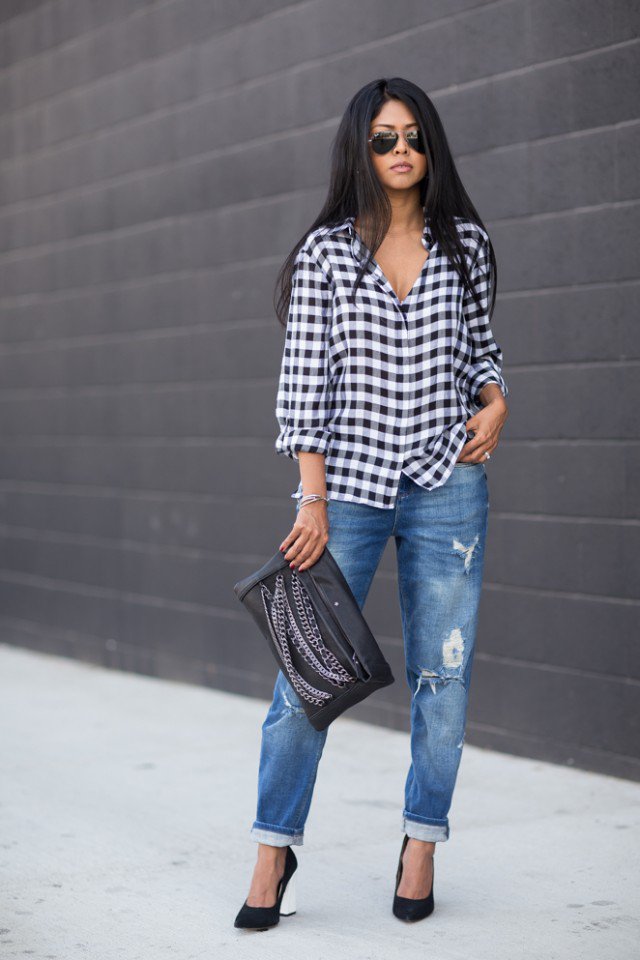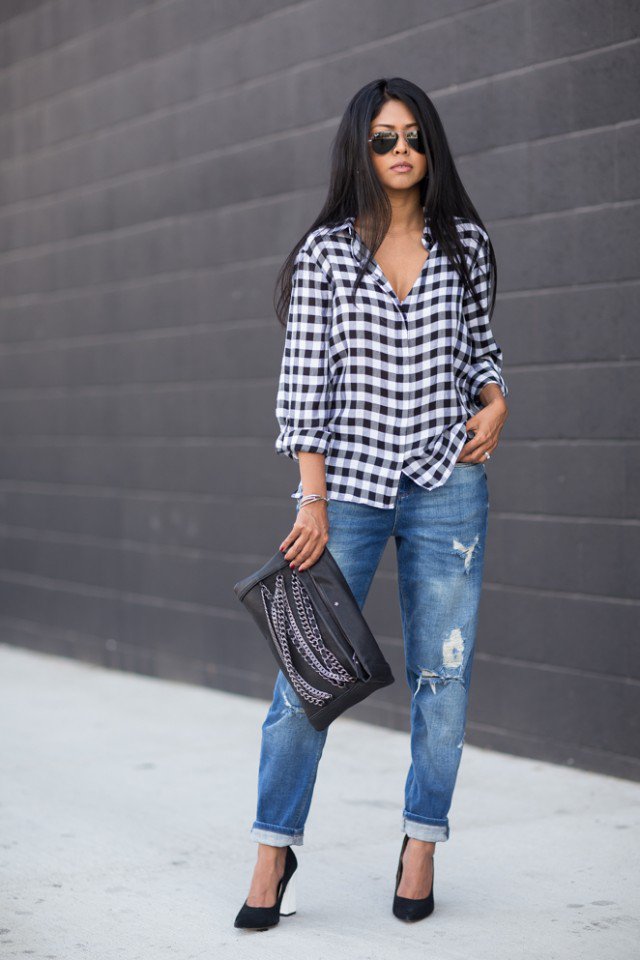 For a more comfortable feeling, just put on your boyfriend's jeans and a larger size checkered shirt. Don't forget to put on your black high heels, which is what makes this overall look much more charming.
Youthful Combination with Checkered Shirt and White Jeans
---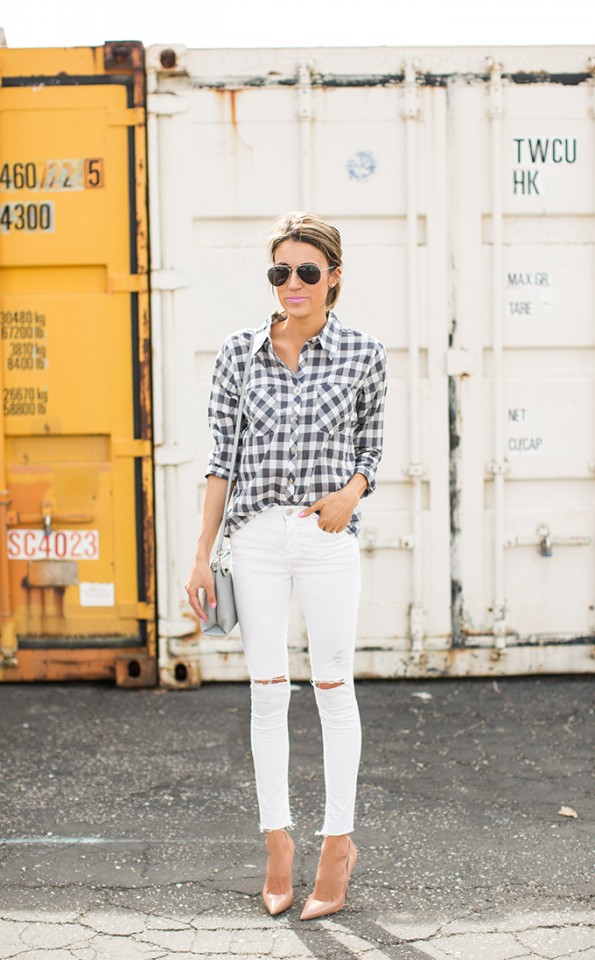 Or you can tuck your gingham shirt into your white ripped jeans. Besides, you still need a pair of pumps in nude colors which will add more femininty to your look.
2015 Elegant Office Outfit Idea
---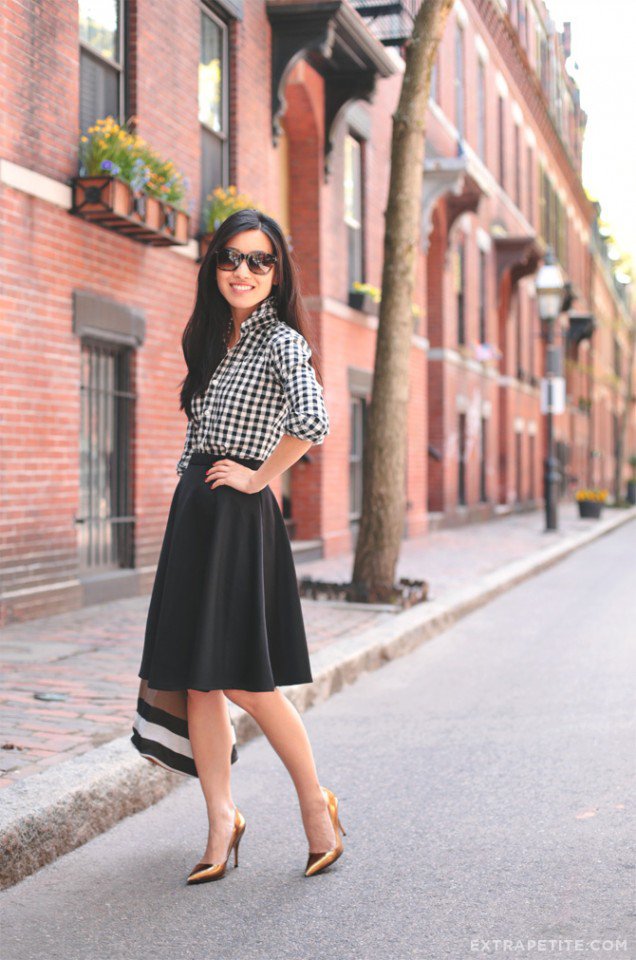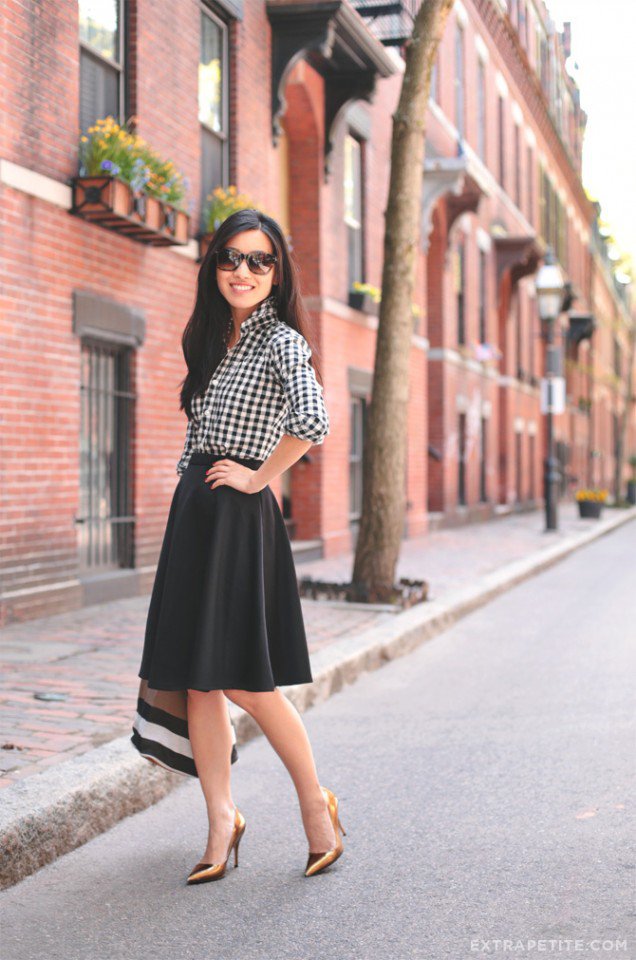 If you decide to try this look, you should find a pair of bright colored pumps for your feet. Otherwise, there isn't any fashion style apart from a traditional teacher's look.
Comfortable Wearing Idea for Work
---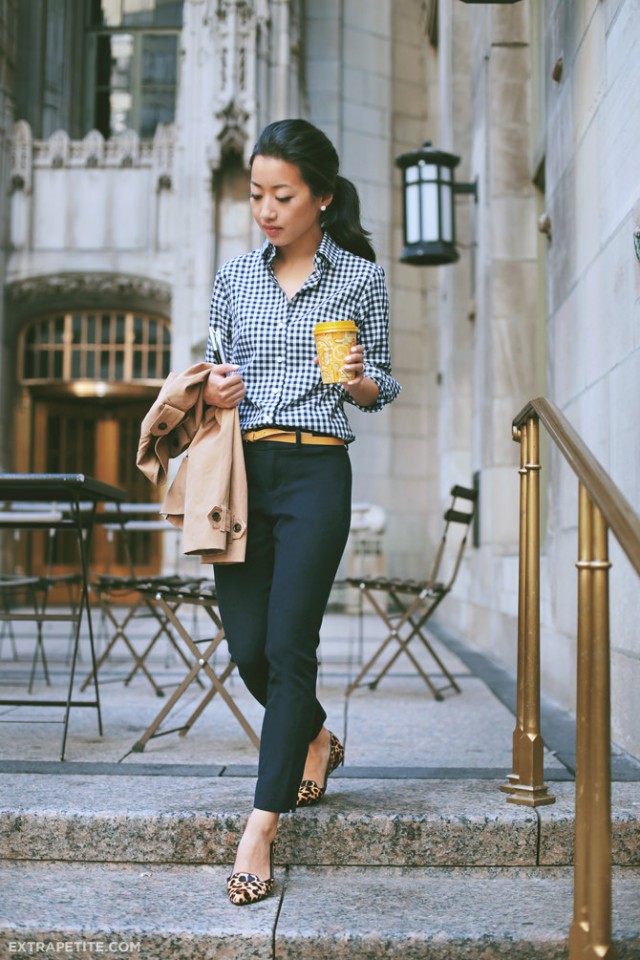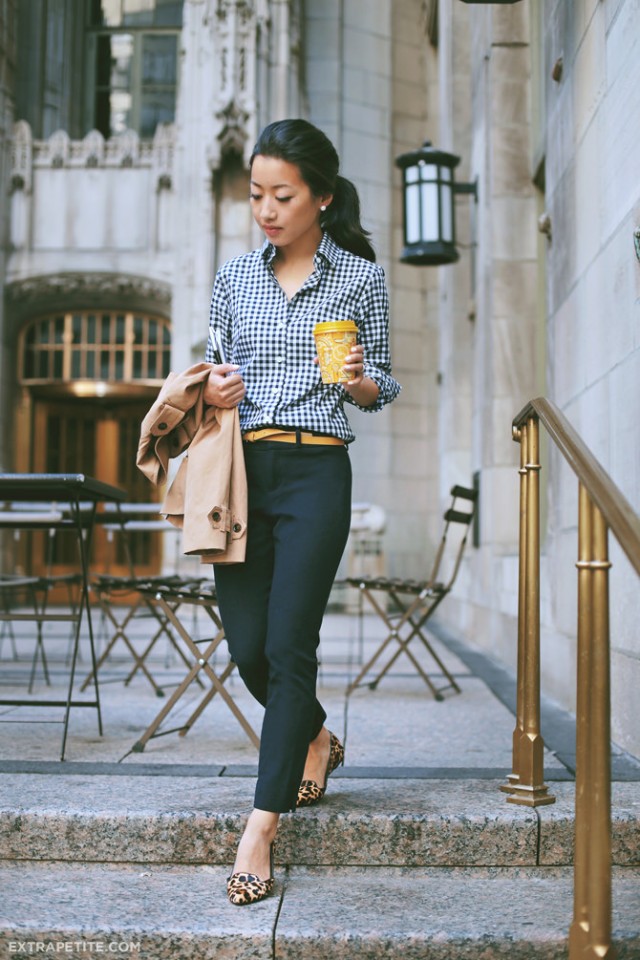 The black pants and flats maybe the most common things for many office workers. You may compliad that your outfit is too boring, but you will find it can be much fashionable when you pick up a fashionable leopard printed flats to complete the look.
Lovely Pastel Skirt with Checkered Shirt
---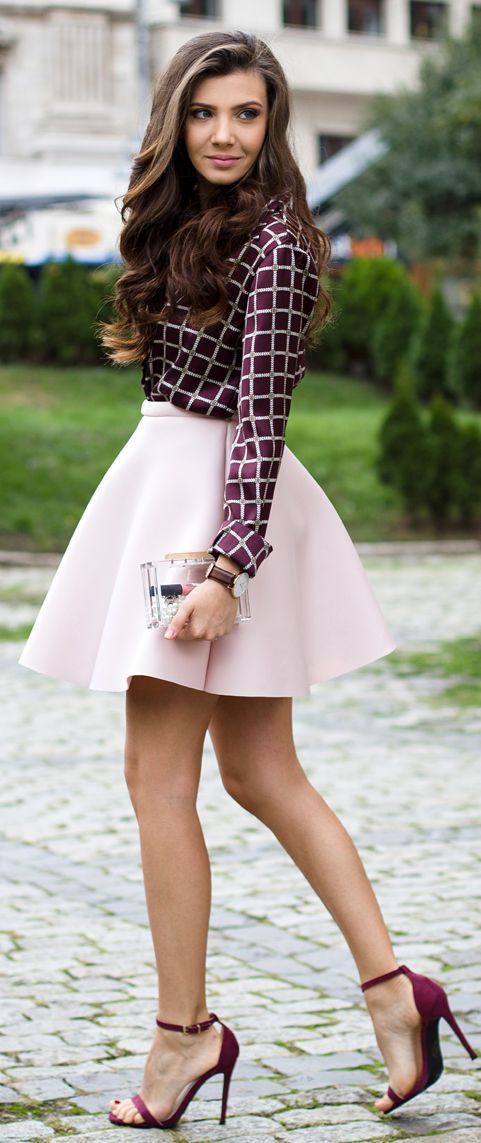 Burgundy is trendy and pretty for women to try in this summer. A pastel skirt make a contrast to the darker burgundy pumps and the checkered top, which is really a pretty outfit idea for women to copy.
Feminine White Outfit for Work
---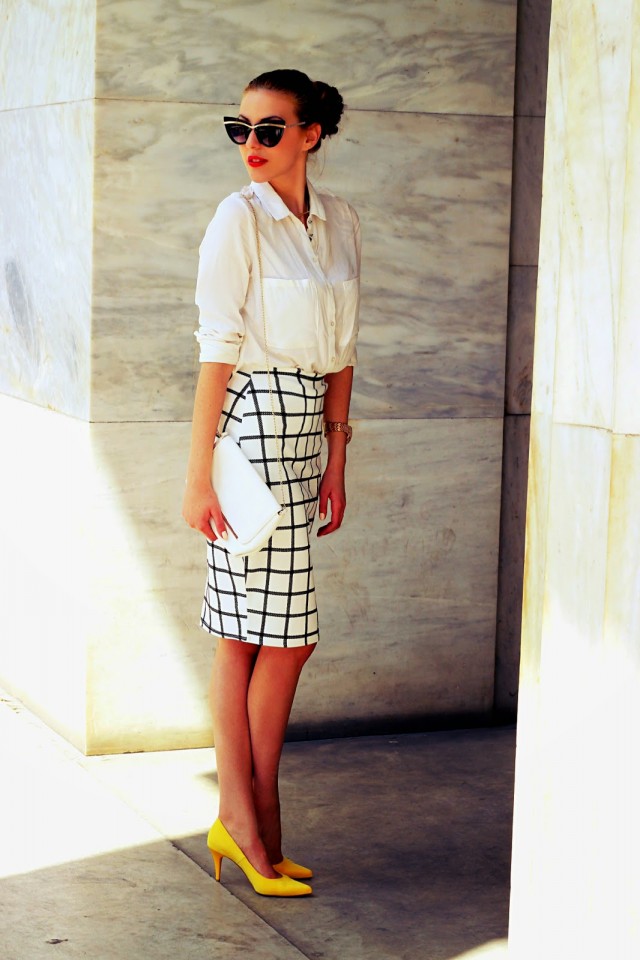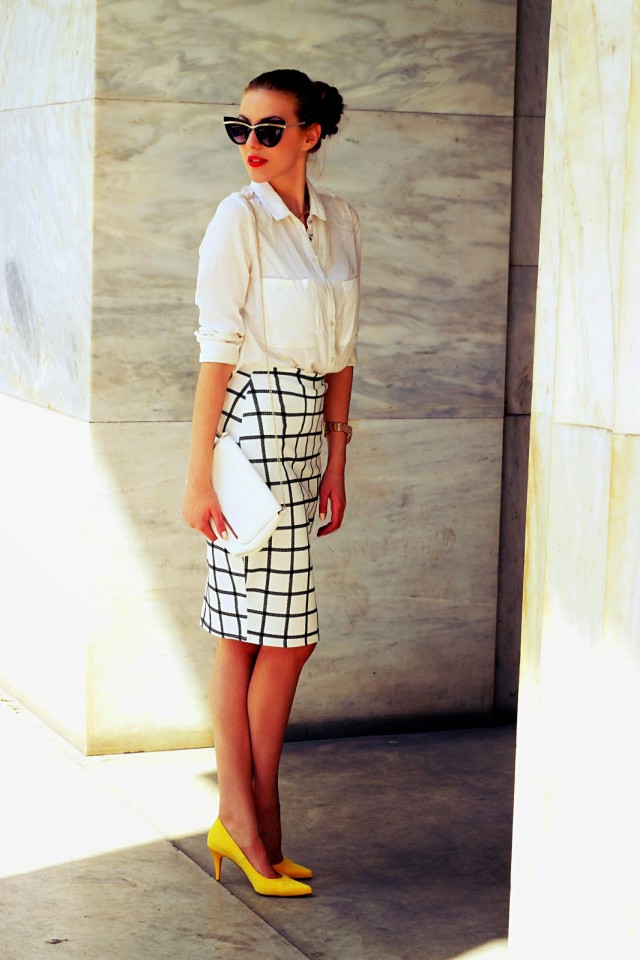 White is always salubrious for summer! The the sweet candy colors are also hot now! Just brighted your simple look with the bold colored shoes.
Chic Checkered Skirt with Black Top
---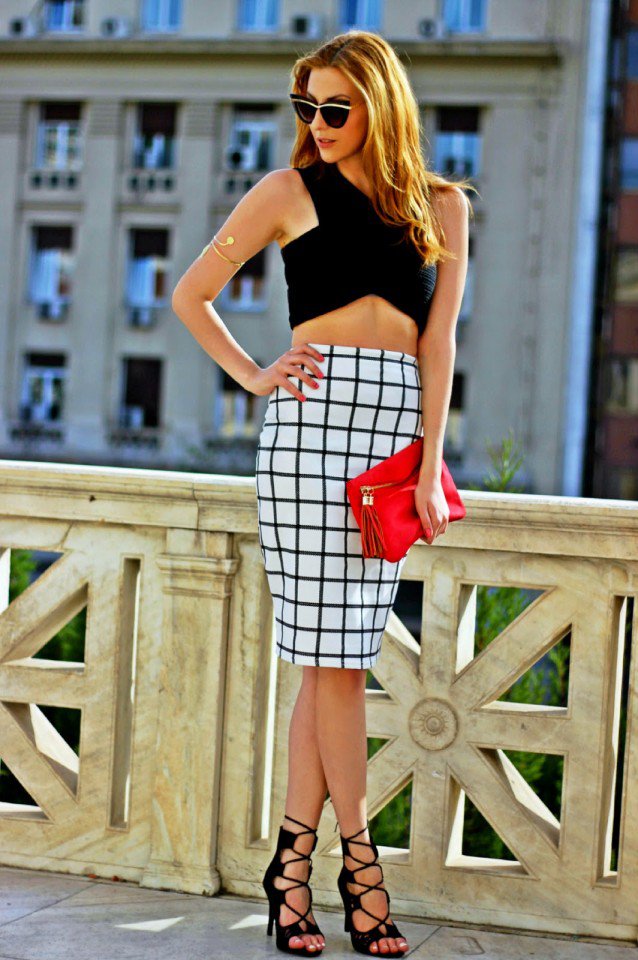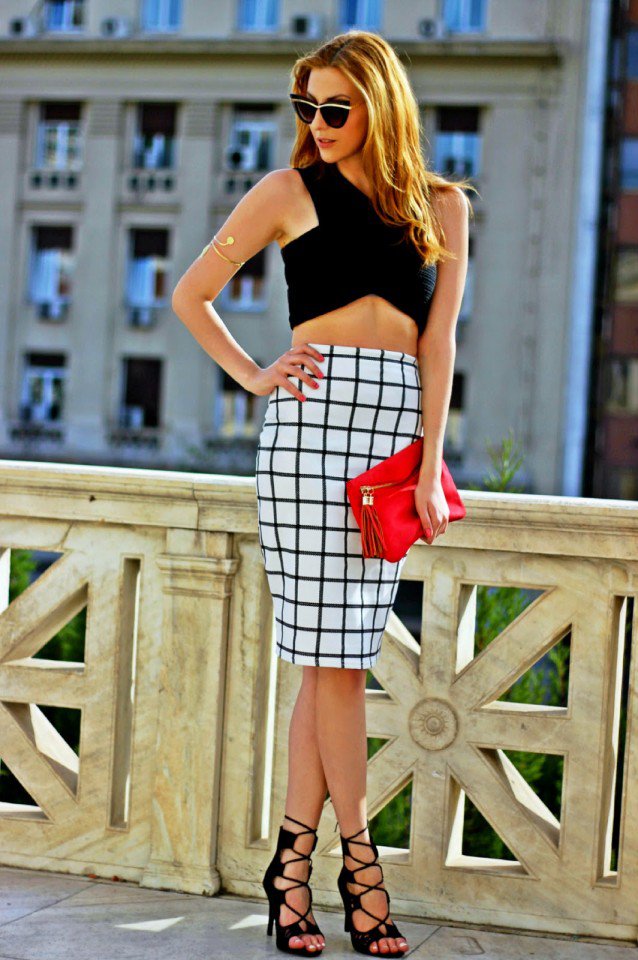 If you think the checered skirt is somewhat ordinary, then make your shoes and tops more fantasitc! Besides, accessories are necessary to get a more sophisticated look.
Fashionable Fuchsia Skirt with Checkered Top
---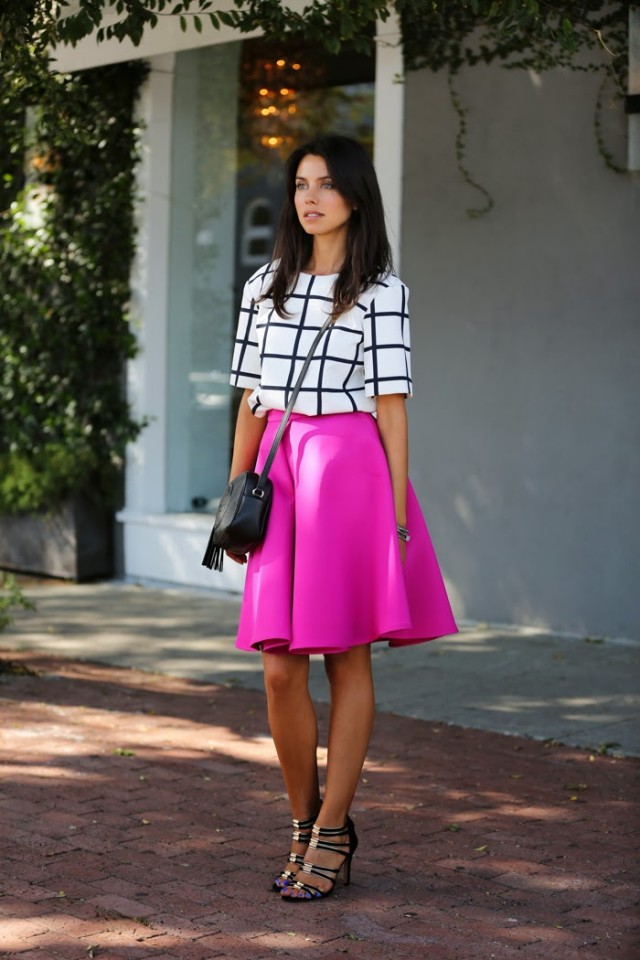 Whit this hot fuchisia skrit, it's hard for you to be ignored in the crowd!
2015 Fashionable Office Attire
---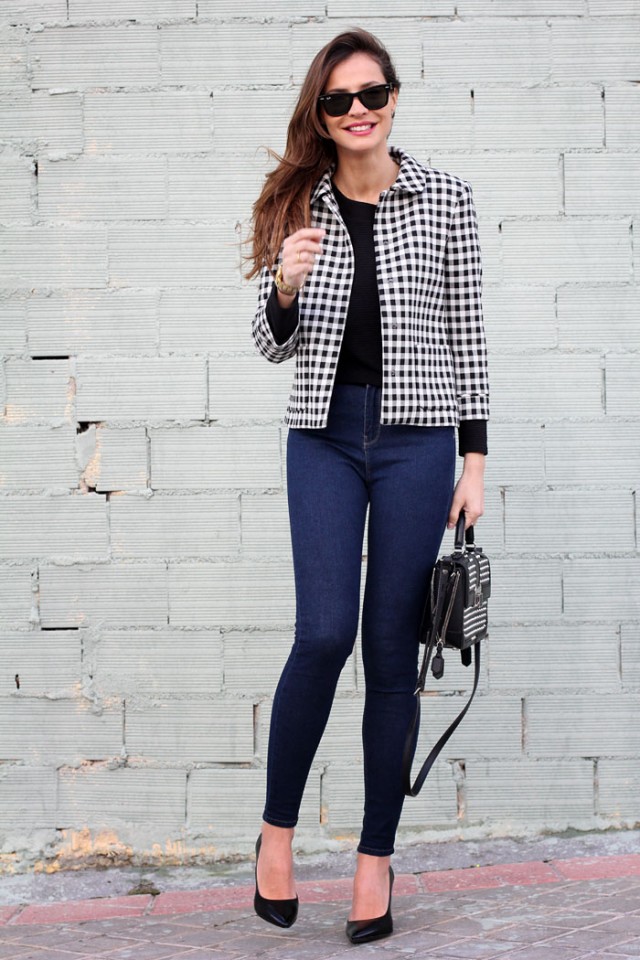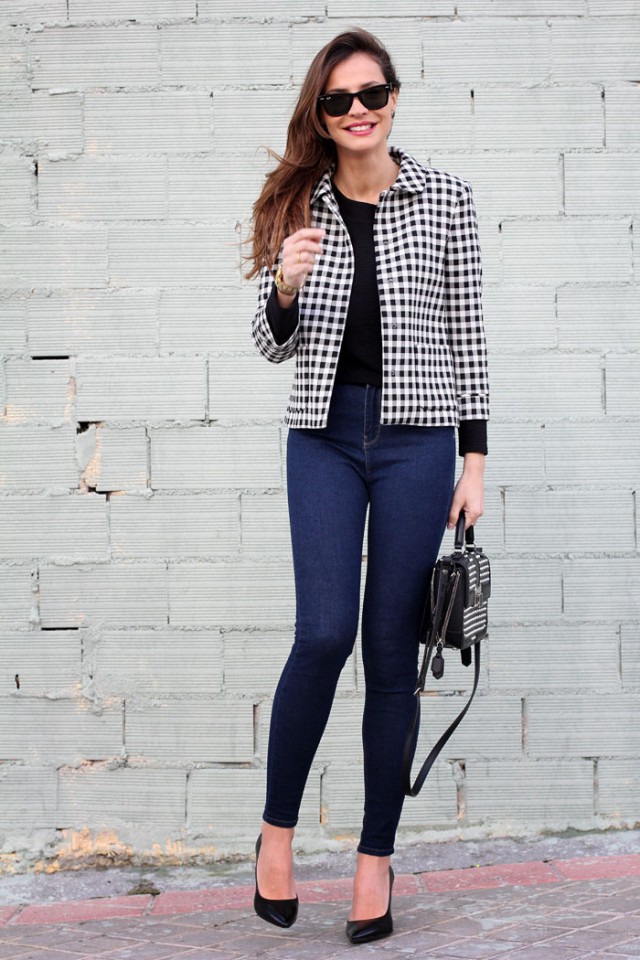 The classic black and white plaids always look fabulous on women. To pair this timeless coat, you just need a pair of basic jeans and black pumps. Fashion is just so simple!