1. Olivia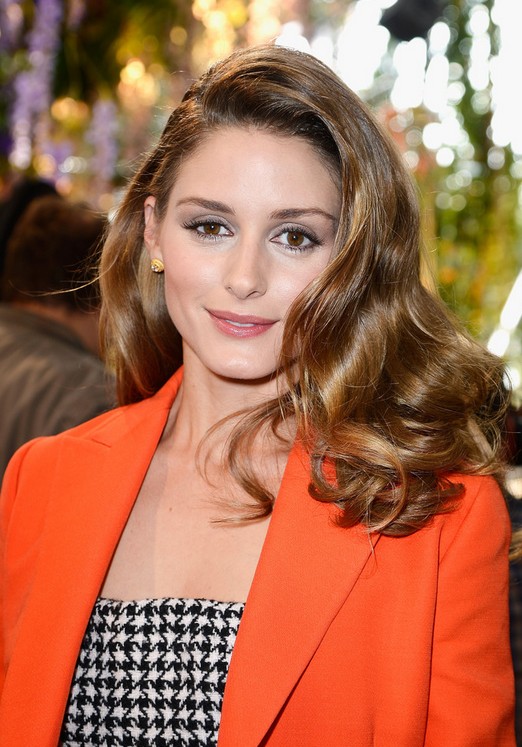 What wouldn't we give for hair that looks so beautifully thick and glossy? This style really shows off that sheer volume of hair that Olivia Palermo is blessed with, the style is classic – a very strong side sweep adds height and volume to the top of the head and brings loads of hair to the side where is falls in the glossiest of glossy waves, silky and soft. A big style like this is a great for flattering the face as it frames the face and adds lots of volume to prevent flatness. Golden brown shades really finish the look perfectly.
2. Olivia Updo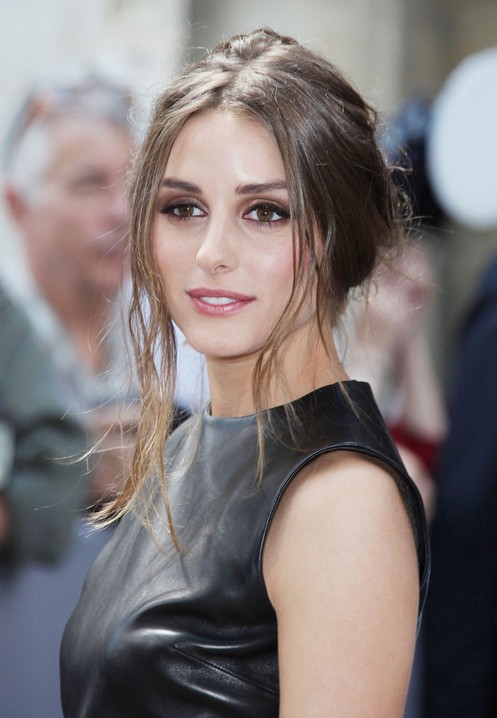 With her long dark hair gathered and pinned back, and lots of lovely loose strands falling around the face, this is an updo that Olivia Palermo wears really well. The loose strands help to frame the face while the pinned up style is elegant. The overall look is quite messy, an effortless looking style that has been carefully styled to look like it has been simply thrown into shape. The colour is dark and rich, a chocolate brown with just a hint of lighter shades at the front, giving quite a solid unforgiving block colour.
3. Olivia Style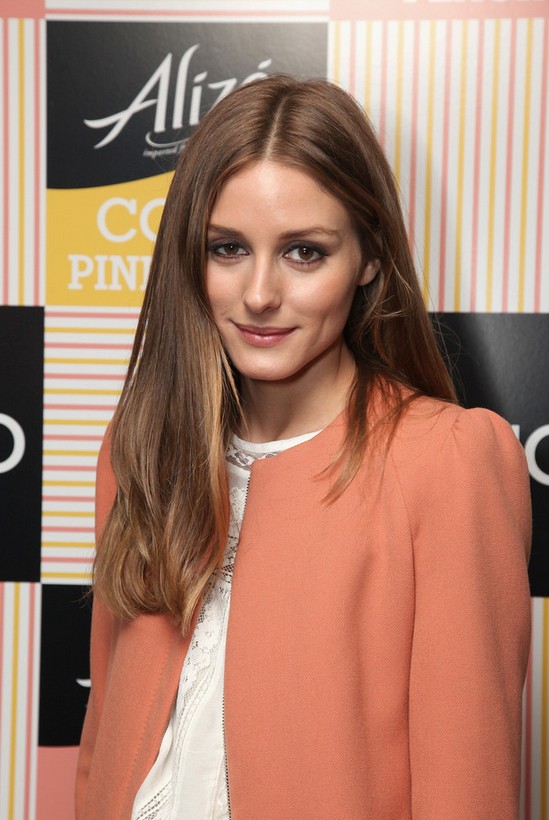 It is quite frustrating when someone like Olivia Palermo can look this good with a simple straight style! This hairstyle is a basic, go-to style that is a great way to show off super long hair that is in tip top condition. Olivia Palermo's hair is naturally thick, but it has also been given some shape with layers cut into the hair, and shorter strands near the front are very flattering. The colour is well judged as well; a rich chocolate shade fades slightly towards the ends and a few blonder tones make this straight-forward style very pretty.
4. Olivia Palermo: Straight Long Hair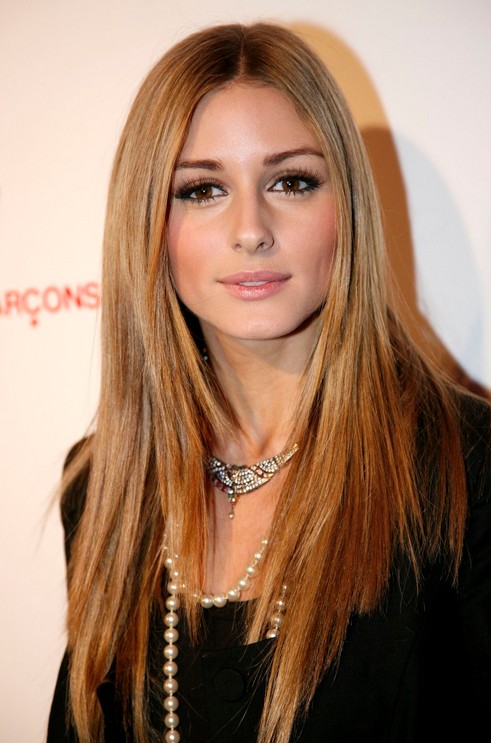 This poker straight hairstyle is anything but boring or flat thanks to Olivia Palermo's fantastic haircut which sees countless layers cut into her ultra long hair. The layers are bold, with the ends of the hair cut to different lengths and some much shorter sections at the front which are perfect for drawing the eye up so that the face doesn't look too long or angular. The colour is a warm dark blonde, verging on a pale auburn, which has slight variations to create depth, but all very subtly done to create a smooth, uniform look.
5. Olivia Palermo Loose Braid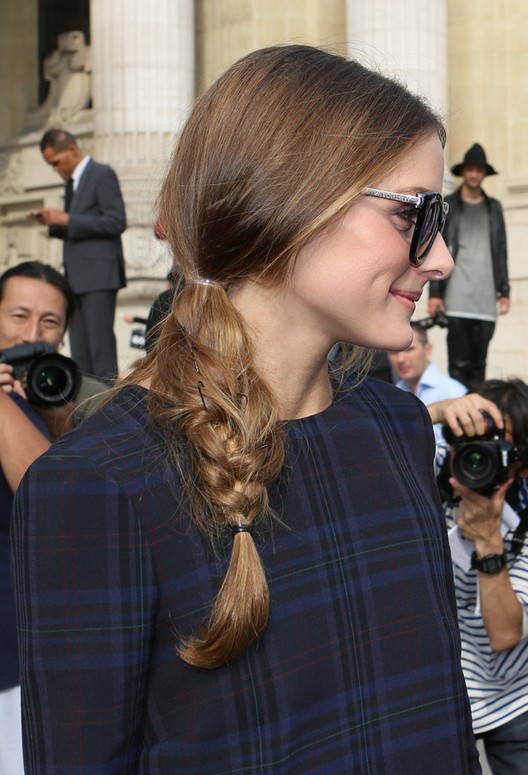 The loose braid is a great casual style that combines the pretty feminine style of a braid with an edgier more contemporary feel. Olivia Palermo's loose braid is secured at the top with a transparent band and gets tighter and more defined towards the ends. Bobby pins secure the loose hair. The result is a rough, unstructured style that embraces this messy chic trend and gives her an edgy look. That fine blonde streak of in her mid brown hair, sitting right at the front is a very pretty addition to this style.
6. Olivia Palermo Hairstyle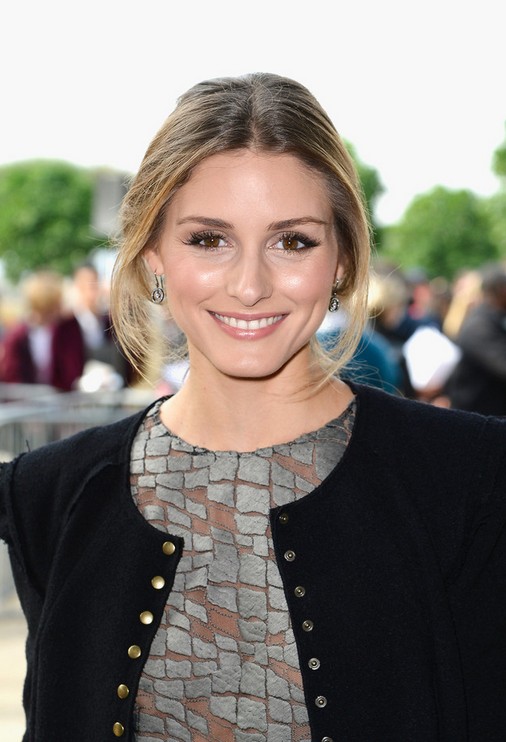 This updo is a rare departure for Olivia Palermo, who usually gets her hairstyle perfect. Here, however, the face is left looking rather angular. This could be because of the loose side strands which sit out from the face and tend to widen it, or it could be because the style is quite harsh. Of course, Olivia's classic good looks carry the style well and as always, she looks amazing – it just isn't the most flattering of updos for an angular jawline.
7. Olivia Palermo Haircut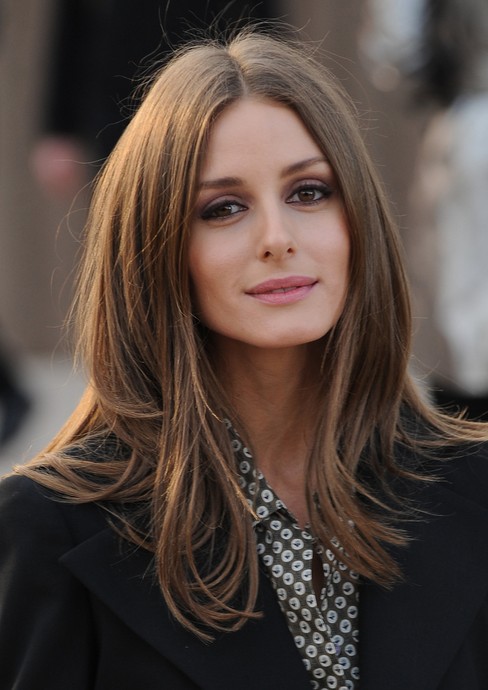 Olivia Palermo shows us how to create curvy shape and style using well cut layers and some subtle volume. Her chocolate brown hair is parted simply in the centre of the head so that the lengths of the hair can fall wherever they want, and yet still there is a real sense of style and shape to this look. Layers of differing lengths are styled with very slight waves, curving this way and that for carefree yet elegant style. This is effortlessly stylish and pretty.
8. Olivia Long Hairstyle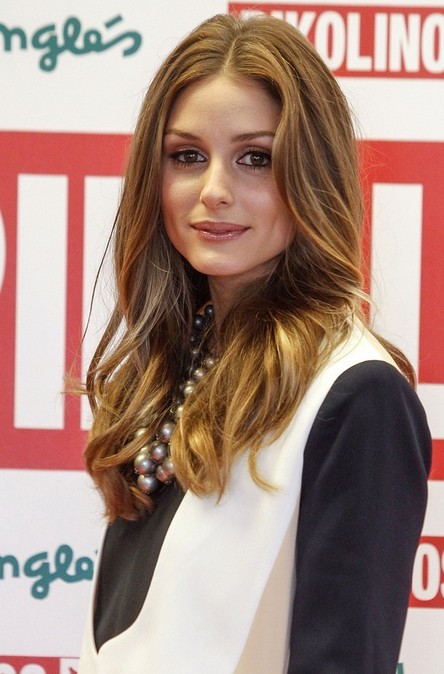 An auburn shade really makes Olivia Palermo's big brown eyes stand out. This centre parted style creates a simple, casual look so it's important that it is lifted by a great colour with lots of varying tones and subtle highlights. The lengths of the hair are styled with soft waves that allow those fine blonde highlights to peek through the red tones and catch the eye. As always, Olivia Palermo packs in plenty of volume, turning an everyday look into a red carpet worthy style.
9. Olivia Hair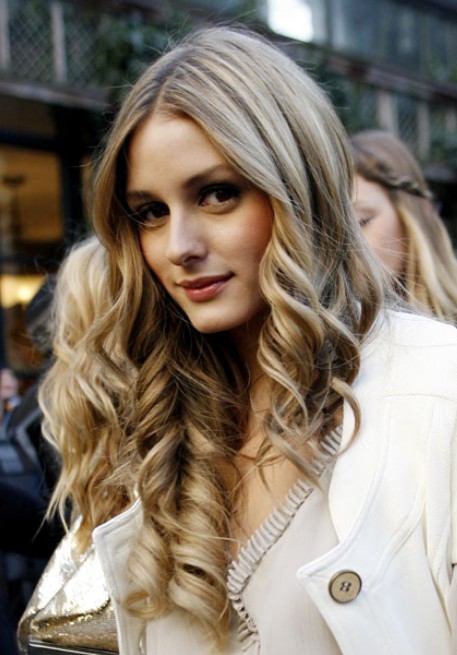 Long, thick barrel curls are the defining feature of this cool style. Here, Olivia Palermo has somehow managed to achieve perfectly cylindrical curls. With a soft centre parting and all of the hair down at both sides of the face, she creates a big bouncy frame for her face. The colour is made up of various shades of blonde, from dark ash tones to platinum shades, all of them on the cool end of the spectrum. A fantastic icy winter look for those with long, thick hair.