Find Julianne Hough's Latest Hairstyles in this Gallery. Including short haircuts, medium hair, long hairstyles and updos from Julianne!
Julianne Alexandra Hough(July 20, 1988) is an American professional ballroom dancer, country music singer, and actress. She is a two-time professional champion of ABC's Dancing with the Stars. Julianne Hough's hair color is blonde, usually she wears medium length and long hairstyles, her favorite hairstyle is medium blonde wavy hair.
Julianne Hough Layered Razor Cut: Layered medium hairstyle for women under 30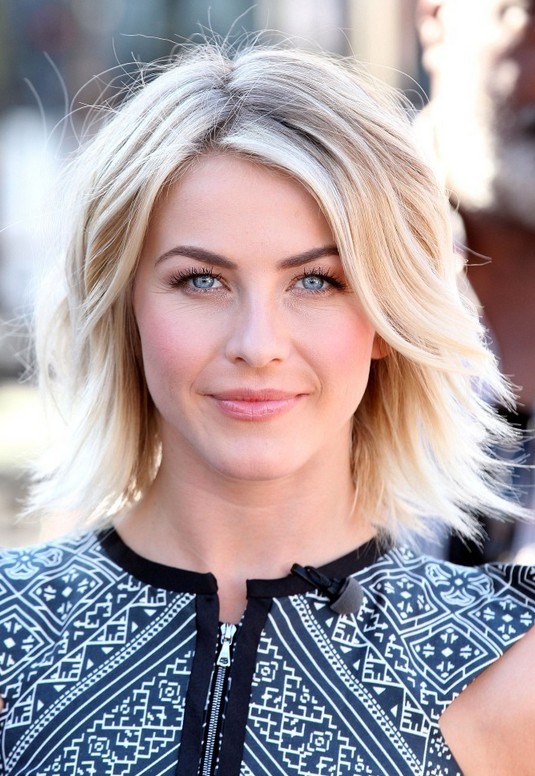 A razor cut is a great way to add some edgy modern styling to any hairstyle and this is a great example of how razor cut layers can provide a style update. The razor cut layers are perfectly set off by the platinum and cool blonde tones that streak Julianne Hough's short style, toning ith her pale skin tone and icy blue eyes. This shoulder length hairstyle is great for oval, square, heart, round faces.
 Julianne Hough Hair:  Edgy Short Hairstyle with long side swept bangs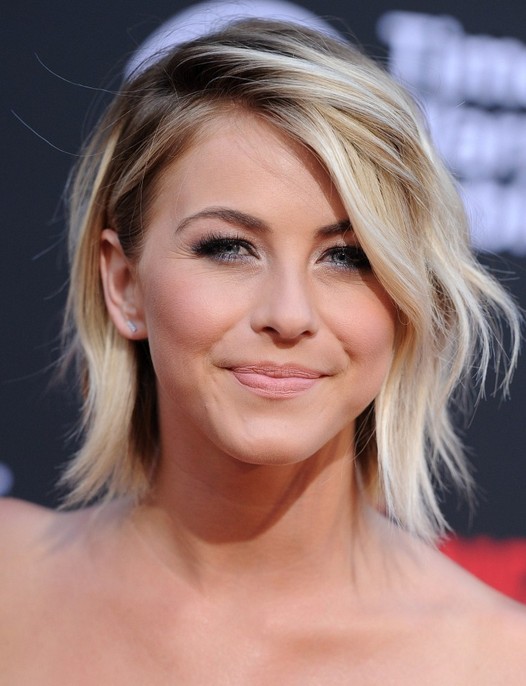 This edgy style is a brave move for Julianne Hough but it really pays off! Dark blonde and platinum tones have been cut in rough layers to give an uber-modern, yet feminine look that suits her face perfectly with her pale skin tone and blue eyes. The sweep of hair to the side adds some drama and glamor while the casual way she has tucked the other side behind an ear is just so cool. Top marks!
 Julianne Hough Haircut: Demi Bob – blonde straight hairstyle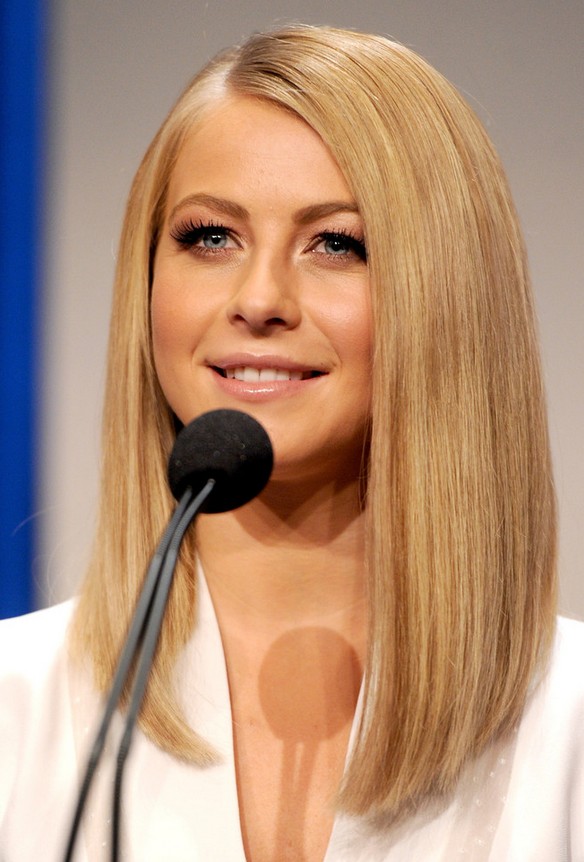 Not quite a bob, and not quite a long style, this is a graduated demi bob which gives Julianne Hough a business-like but glamorous look. The colour she has opted for comprises a range of honey and caramel blonde tones giving a warm look but the overall effect is reduced by the side parting which leaves rather a heavy section of hair over the side of the face.
Julianne Hough Hair: Beautiful Braided Helmet Updo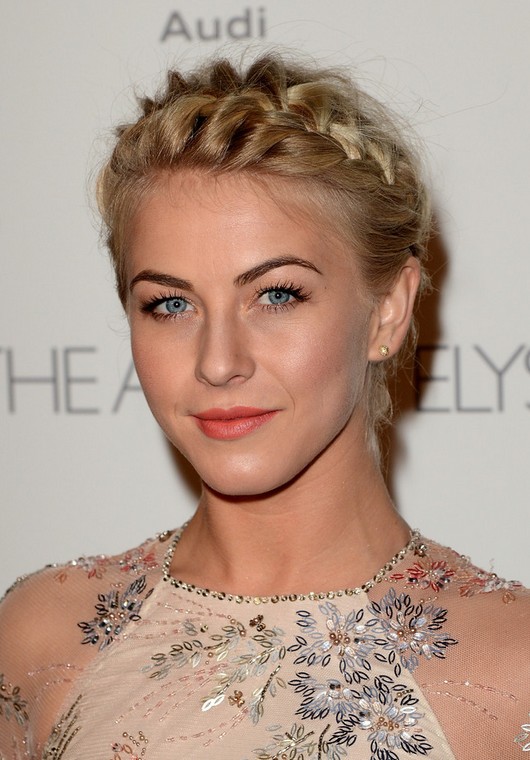 This is an easy look to achieve if you have a willing accomplice to help braid the front section of hair from one side of the head to the other. The resulting look is a fun young style that lends an angelic quality to the look, especially in naturally blonde hair like Julianne Hough's. This is a great way to create an updo that doesn't look overly formal.
 Julianne Hough  Hairstyle: Popular medium wavy bob hair with layers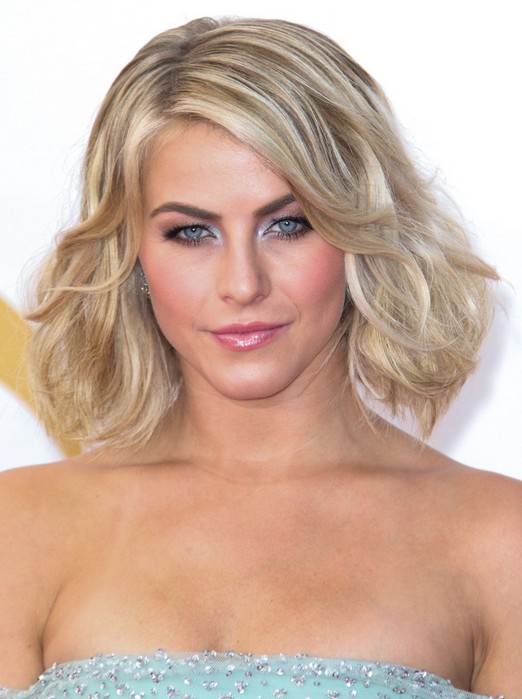 This is bob that packs in a LOT of volume. The extra height on top and the tousled waves through the lengths really give this short style some big impact. The colouring is dramatic too, with defined streaks of lighter and darker blondes, adding to the impact. While some might prefer the more subtle highlighted look, this is a look that flatters Julianne Hough's pale skin and blue eyes.
 Julianne Hough Short Haircut: Chic blonde wavy bob hairstyle with side swept bangs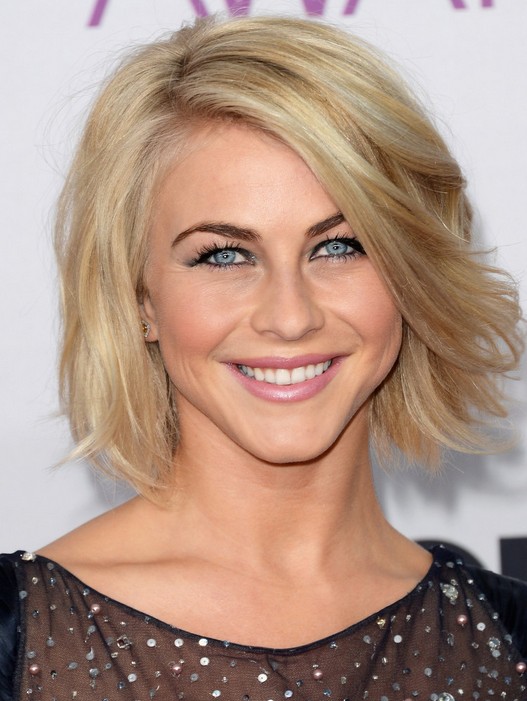 This is a flattering style that works well for women of all ages. The side sweep of the front section of hair is kind to the face and the stunning range of ash blonde and honey tones create lots of depth. Add to this some beautifully worked texture and you have a very versatile, very easy to wear style. The softness of the cut means that it flatters Julianne's angular jaw despite the fact that the length draws attention to this part of the face. This is a great short haircut for round, oval, heart faces.
 Julianne Hough Bob Hairstyle: cute short bob cut for spring/fall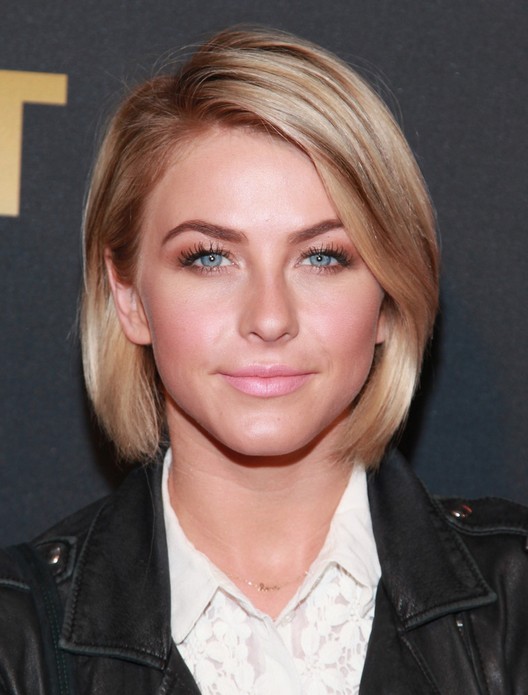 This modern bob cut has a great range of highlights and lowlights that add so much depth to the colour and flatter Julianne Hough's skin tone. The side parting and gentle curve of the hair work well. However, the length of the bob, ending right at the jawline, draws attention to a defined jaw and angular chin – making this a bold move.
 Julianne Hough Retro Hairstyle: glamorous long blonde wavy hair style for women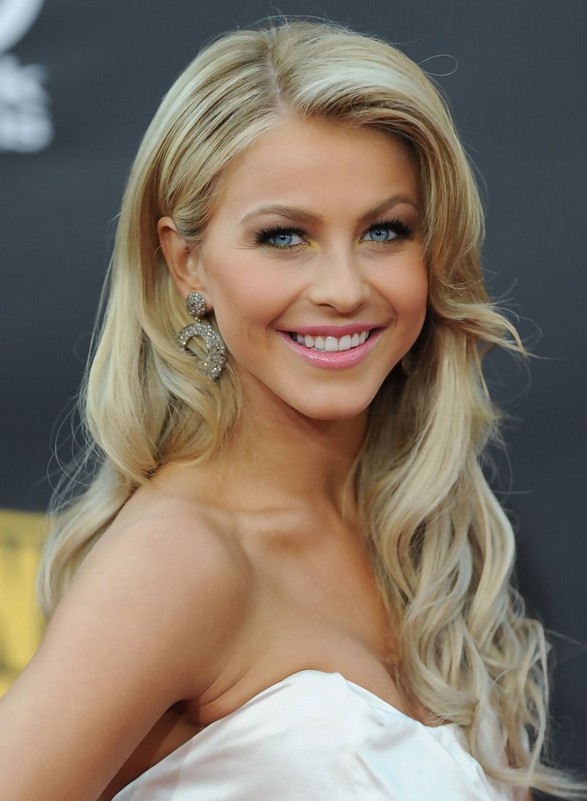 This retro-inspired hairstyle gives Julianne Hough the beauty queen look. The volume and bouncy shape make this a style that simply screams glamour. To balance Julianne's defined jawline, the sweep of hair over the side of the face draws our attention up to focus on her eye line. The curls are loose but defined and the multi-tonal colour adds depth.
 Julianne Hough Messy High Knot Updo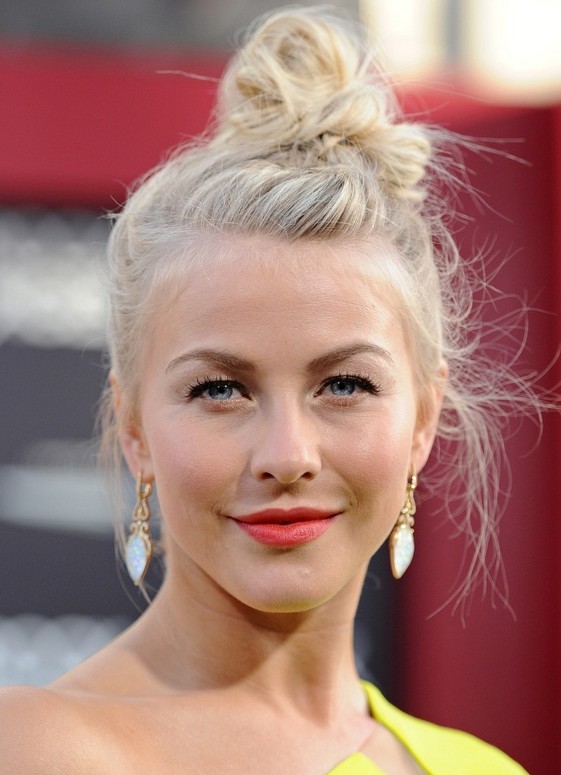 Love it or hate it, the messy look is right on trend. Here we have Julianne Hough's messy high knot, a style that takes an elegant updo and gives it a rather windblown twist for an edgier look. The platinum tones and wispy strands give this style a light airy look that contrasts with the bright red lips to create a bold look – difficult to wear well but this is a style statement that looks fantastic if you have the attitude to pull it off.
 Julianne Hough Loose Wavy Hairstyle – Julianne Hough Hair Color Formula: blond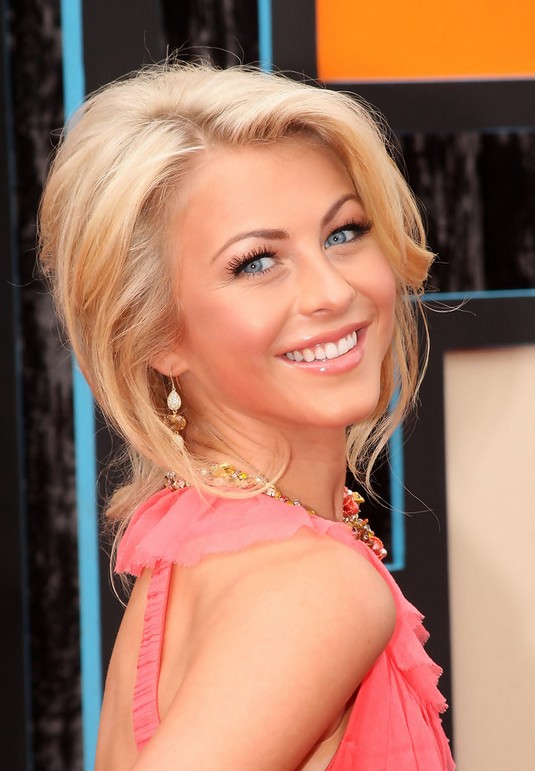 This loose wavy style manages to look effortless and yet sophisticated; perfect for any occasion, however casual or formal. A versatile style like this can be difficult to get right, and Julianne Hough gets the balance right here with plenty of height and volume for an elegant look contrasted with lots of loose waves that frame the face and give the style a relaxed, fun twist.
 Julianne Hough Long Straight Hairstyle: casual long sleek hairstyle for girls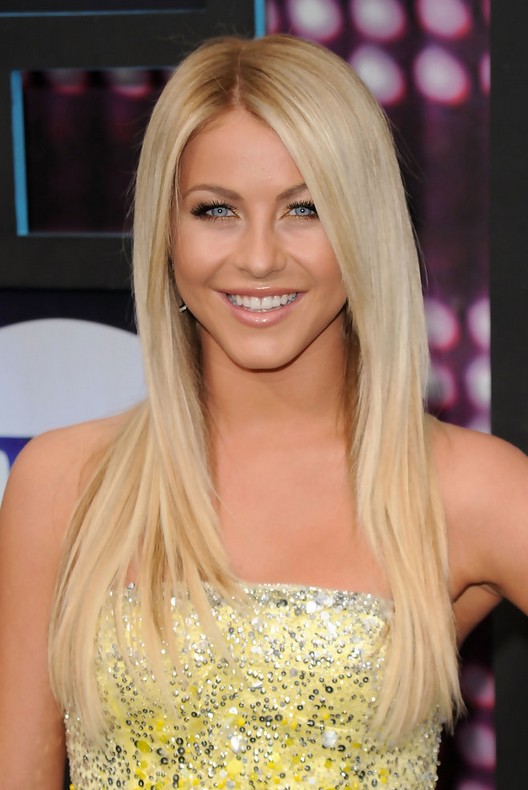 Back to school hair idea: This may look like a simple style, but look closer and you will see that not only are the layers perfectly judged and very well cut, but also the beautiful range of tones that make up Julianne Hough's flattering blonde shade. This is a great summery look that shows off her long sleek locks so well.
Julianne Hough Short Haircut: Side view of  Julianne's short cut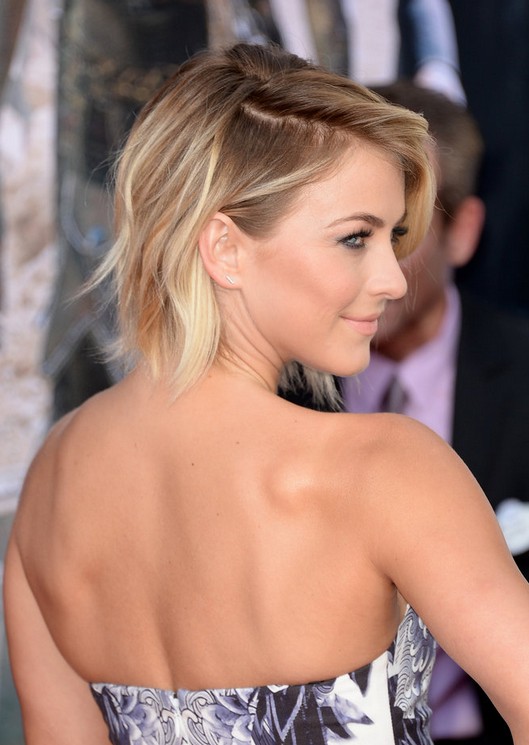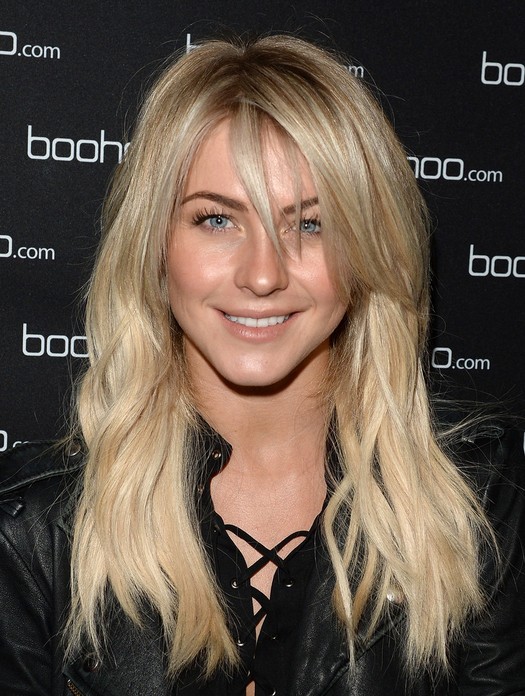 Here is Julianne Hough's latest new hair style, her hair grow longer this year, she wore her hair in punky waves when she attended the boohoo.com event.
Julianne Hough hair: sexy shoulder length blonde wavy curly hairstyle for summer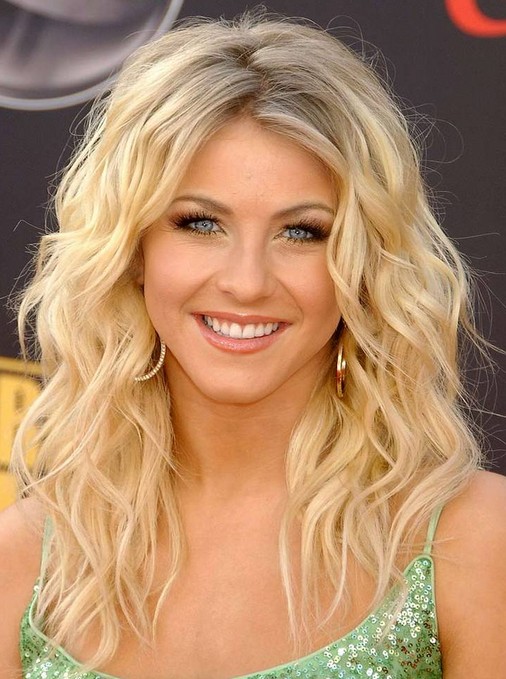 Sexy beachy wavy hairstyle for hot days!