1. Ashley Tisdale Style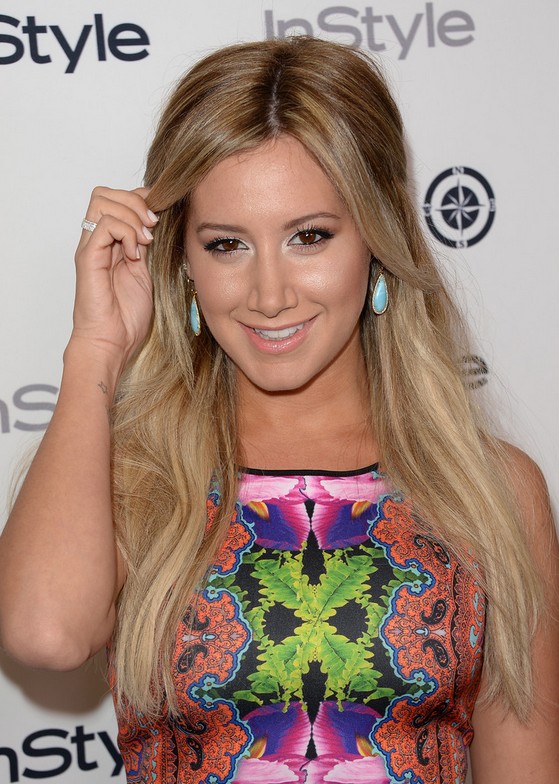 This is a very pretty, feminine style for Ashley Tisdale who opts for a range of natural looking blonde shades in a range of tones. Both warm and cool tones are used here to create rich, multi-tonal effect that gives this style a sunny, summery look that works very well with Ashley's tanned skin tone. The shimmery eye makeup and blue earrings add pastel shades that emphasis the look. A simple centre parting and the hair brought back from the face and pinned with broad swathes around the face give it a half up, half down look that is great for a casual look.
2. Ashley Tisdale Ponytail: Side View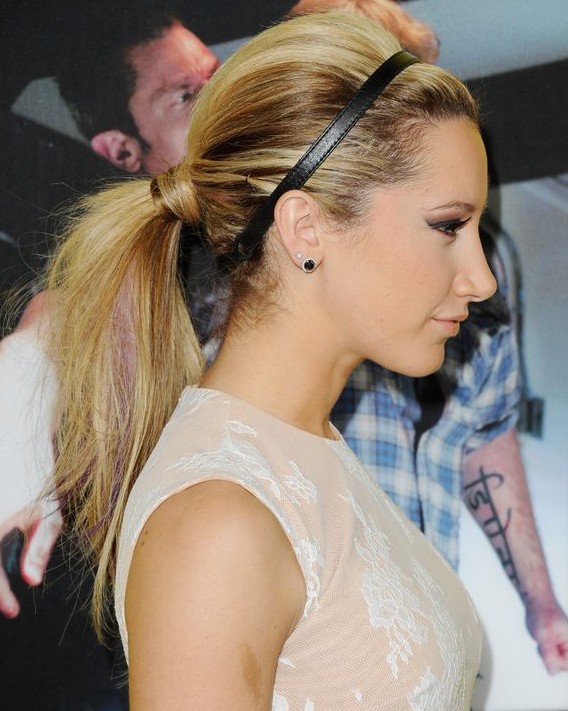 This should be everyone's go-to updo! A very simple ponytail has been dressed up to give a more elegant updo that really works as an alternative to sleeker, more traditional up styles. By wrapping her hair around the ponytail band and securing it out of sight, Ashley Tisdale injects a touch of glamour into the look, and the fine leather-look hairband frames the face and gives a nod to the trend for alice-bands. The ponytail itself is kept messy while the top of the hair is sleek and glossy – a very fashionable and flattering look.
3. Ashley Tisdale Ombre Hair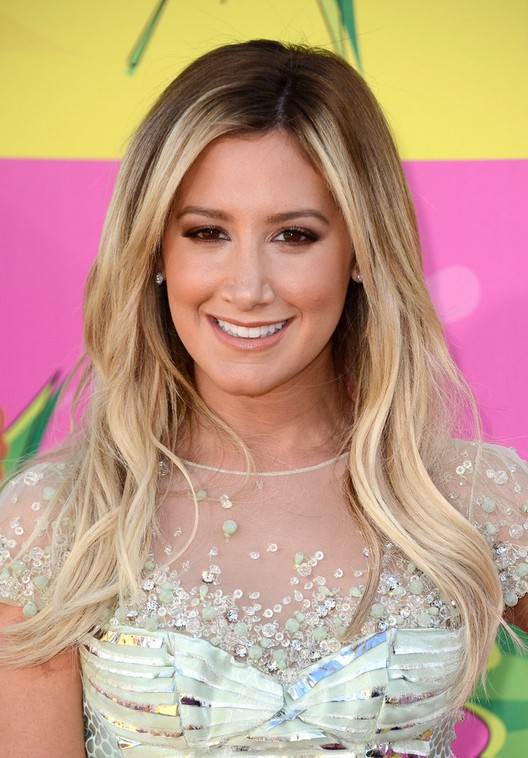 This ombre style with the dip-dyed look works well for Ashley Tisdale but it is quite a dramatic take on a popular look, and might not work for everyone. The roots here are kept a dark brown, while the ends are a very light ash blonde so the graduated section changes colour quickly as you move from root to tip. Extra blonde at the front of the head give very defined lines of colour that go against the idea of graduated ombre highlights but they do frame the face nicely – rather a hit-and-miss style for Ashley.
4. Ashley Tisdale Medium Hairstyles: Chic Straight Hair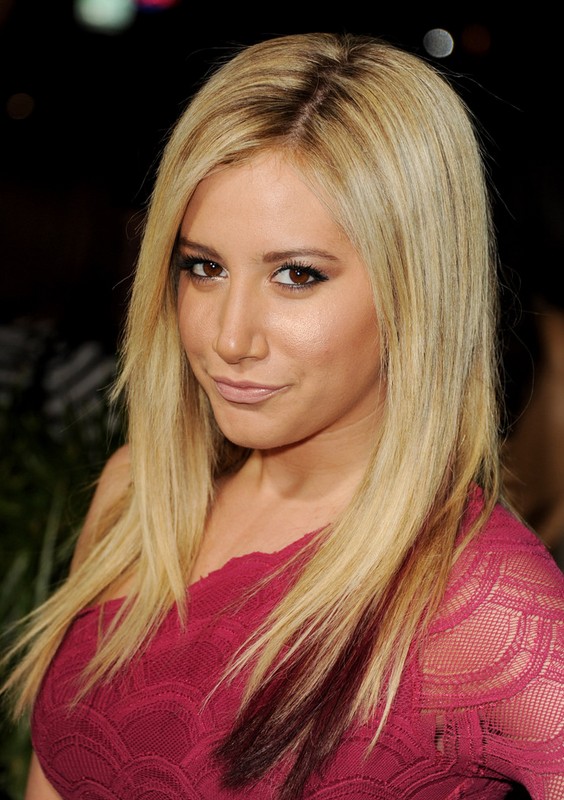 This is a style with lots of shape thanks to layer upon layer of poker straight hair. Layers of differing lengths give this style an edgy feel, and that flash of dark brown really adds to this. Some subtle volume at the roots and plenty of gently co-ordinating blonde tones and highlights turn this simple style into something much more interesting. If you want to go blonde without going too girly, keeping lines sharp and adding a dash of contrast is a great way to do it.
5. Ashley Tisdale Hairstyles: Long Hair with Braid Bangs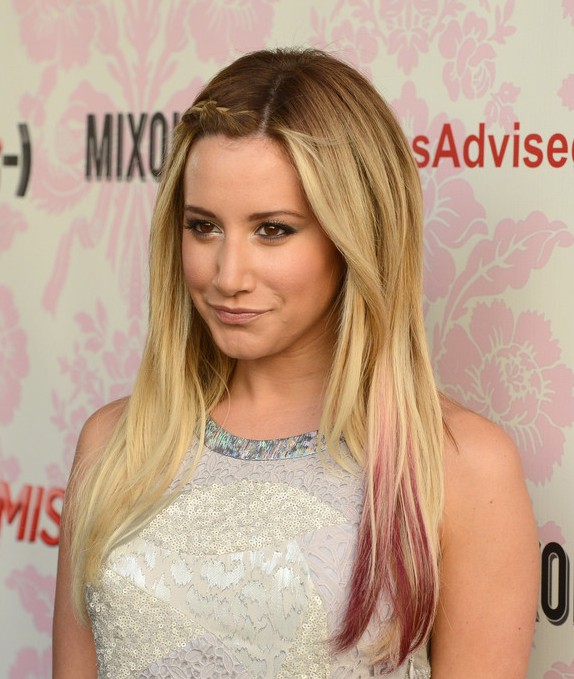 This is a style that combines a pretty, girly look with just a touch of edgy rebellion, thanks to the streak of dark pink at the ends of Ashley Tisdale's long, pale blonde hair. A side parting and a fine braid that keeps the hair away from the face make this a very easy to wear style that works for Ashley's oval face but this is a style that would work for most face shapes. Layers give the style shape and give the cut a gentler edge.
6. Ashley Tisdale Hair: Formal Long Hairstyles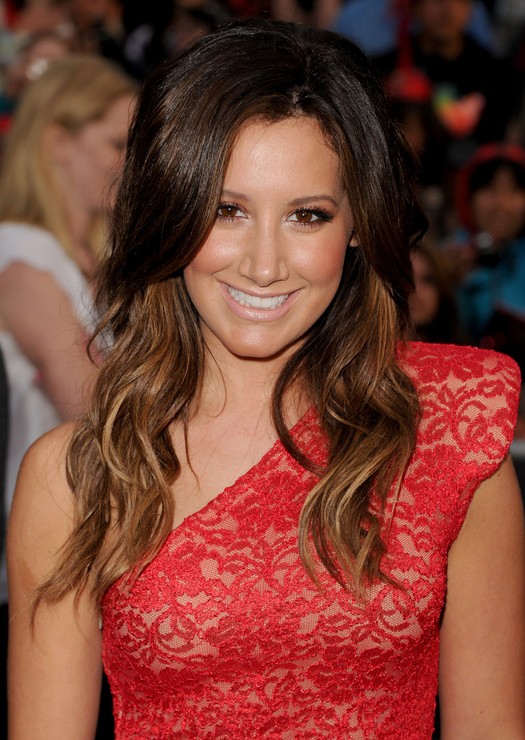 Perhaps it is down to the tilt of her head in this picture, but this side parting isn't the most flattering for Ashley Tisdale. This is emphasised by the darker colour at the top of the head which lies somewhat heavily over those pretty, highlighted layers underneath. The lengths of the hair are much more successfully styled, with gentle waves and a range of warm blonde shades adding light to the style. This style tends to elongate Ashley's face and draws attention to an angular chin, perhaps because of the volume on top.