Alessandra Ambrosio Wavy Hairstyles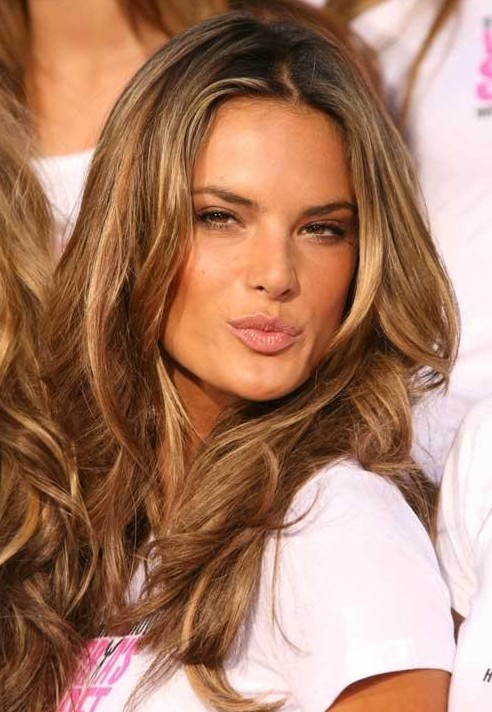 By styling her hair with a side parting and lots of tousled waves, Alessandro Ambrosio avoids elongating her oval face and drawing attention to a prominent chin. Instead, she achieves a balanced, sexy look with lots of texture and detail. The colour here is carefully chosen to perfectly complement Alessandro's enviable skin tone. Dark blonde and ash tones with just a hint of gold creates a really lovely multi-tonal yet understated effect.
Alessandra Ambrosio Straight Hairstyles: Ombre Hair Style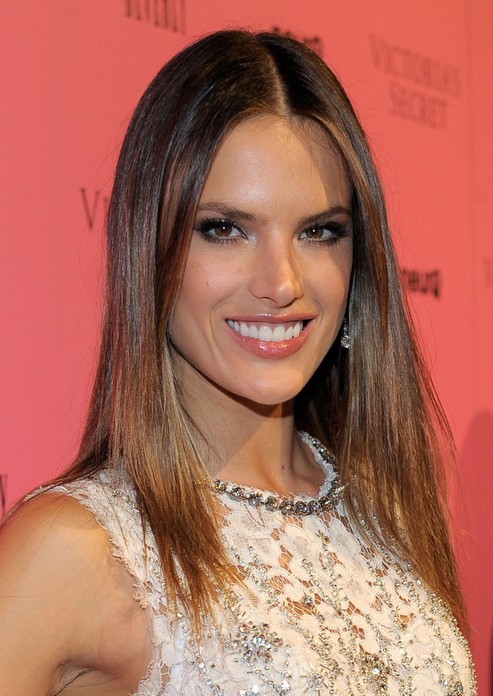 Here, Alessandro Ambrosio chooses a hairstyle where all the action is at the back, just like her eye-catching outfit! This rather simple hairstyle, with its long loose waves and gentle centre parting, is made much more interesting with the addition of some warm, golden brown streaks, especially at the front of the hair, bringing light and detail to warm up a cold brown. The result is gorgeous; a casual, laid back style that doesn't steal the limelight.
Alessandra Ambrosio Loose Bun: Celebrity Updo Hairstyles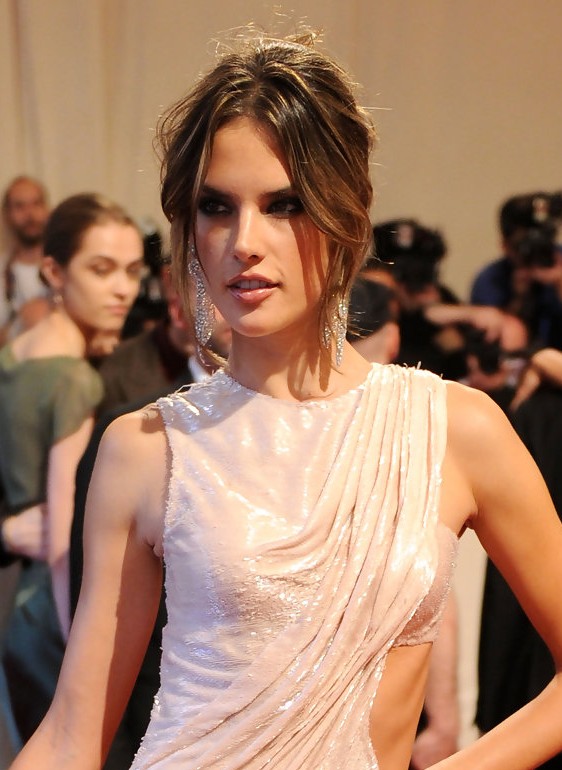 When it comes to packing plenty of volume and 'oomph' into a hairstyle, look no further than Alessandro Ambrosio's long bouncy style. With layer after layer of big, voluminous curls which have been gently tousled for a sexy, messed-up look, this is a big look that really stands out. As well as layers of curls, there are layers of colour, with a range of dark blondes and light to mid browns adding even more of the wow factor to Alessandro's glossy, conditioned locks.
Alessandra Ambrosio Long Hairstyles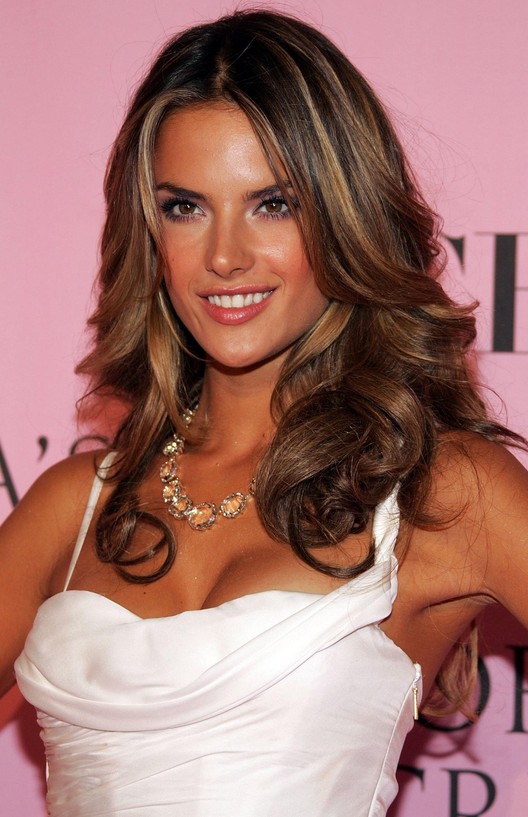 This look captures the best of an updo – classic, elegant and a little more formal than wearing long hair down… and yet it still frames the face and doesn't look harsh or unflattering. This is thanks to the looseness of the style; the hair is pinned into a loose bun and the front section is left down where it can frame the face. It isn't the best messy up-do we have seen, but it certainly softens the face and gives a slightly more edgy style to the classic bun.
Alessandra Ambrosio Hairstyles: Sexy Long Hair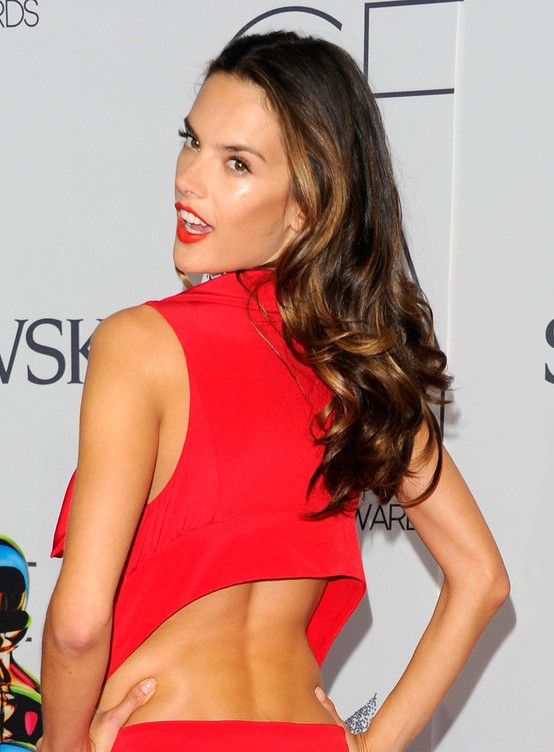 This straight hairstyle showcases hair that is in good condition but it does look quite flat, leaving the hair looking just a little too fine and fly-away. The result is a somewhat harsh and elongates Alessandro Ambrosio's face. A straight style with some volume to give it shape might have worked better with her face shape and prominent features. The look is saved by those hints of highlights, which give the style a healthy-looking touch of summer.
Alessandra Ambrosio Hair Color: Long Wavy Hairstyles with Side Bangs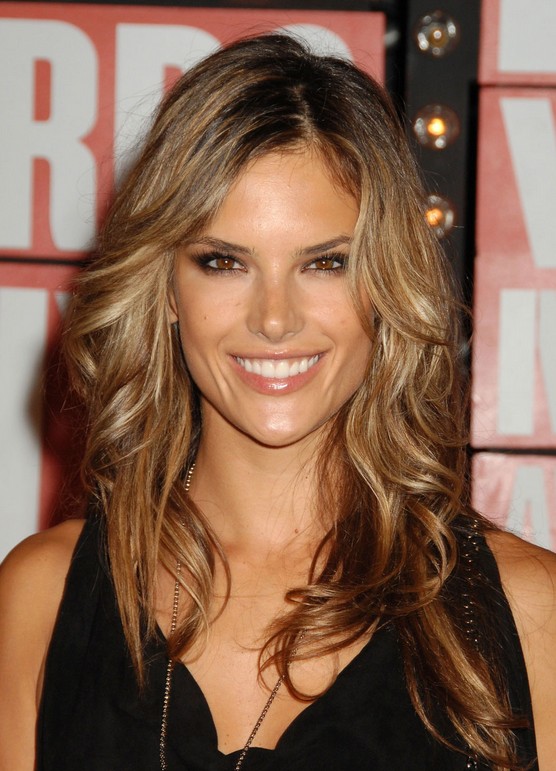 With Layer upon layer of big, loose waves, and those dramatic, summery blonde highlights, this is a great style for Alessandro Ambrosio. The volume helps to frame her face and round it out, ideal for a long oval facial shape. There is a lot going on with the colour too; a range of blond shades make this a great style for lifting the complexion and making the most of sun-kissed skin. The overall effect is sexy and stylish, an she teams this perfectly with very low-key makeup so the hair does all the talking.