Yellow. It's the color of sunshine. It also represents cheerfulness, warmth and burst of energy. So naturally, it would make sense that it's one of summer's favorite colors while being a shade that is super fun and fashionable to wear.
Whether you already own a closet full of yellow outfits or you've never purchased anything in that hue before, it can never hurt to pick up an article or two. It's one of the colors that's beautiful on everyone. Plus, it provides a youthful glow that adds an extra special kind of flair.
Sweet yellow floral top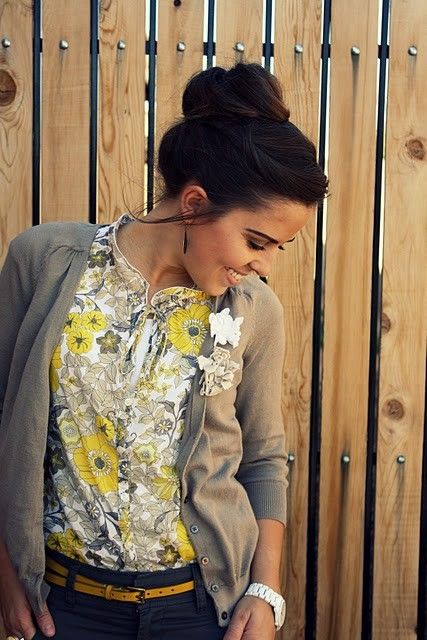 If you like floral prints, then consider getting a shirt like this one. It's so romantic and the thin yellow belt adds an additional "pop" of color against dark denim or trousers.
Grey with yellow accessories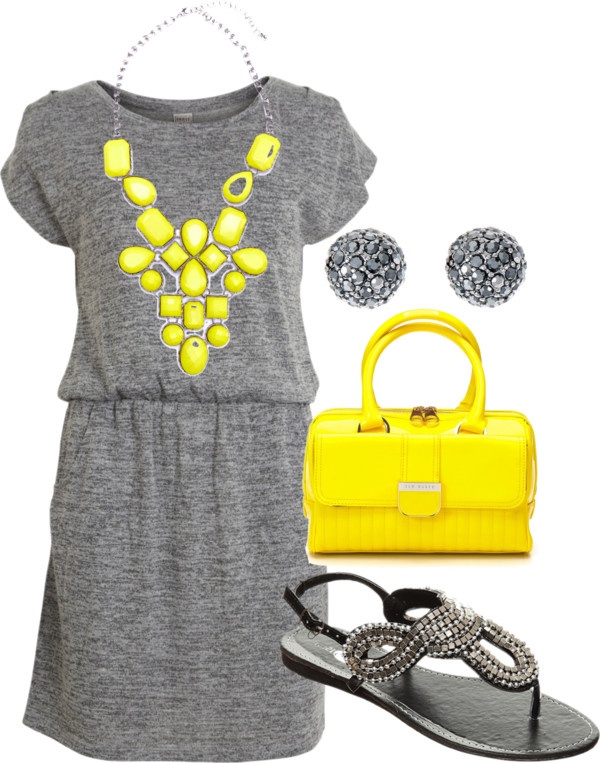 Something that this outfit has in common with the first one is that it incorporates yellow with grey. And while initially, you might have never thought to put these two colors together, as you can see, the complement one another perfectly. (The brighter the yellow, the better!)
Cute and casual in yellow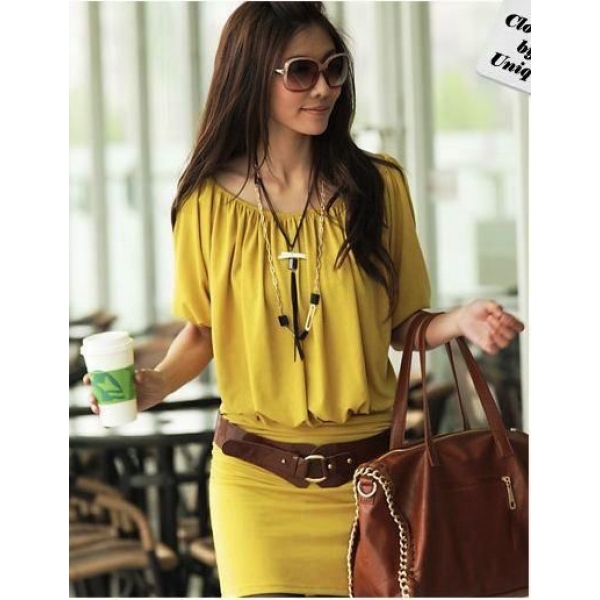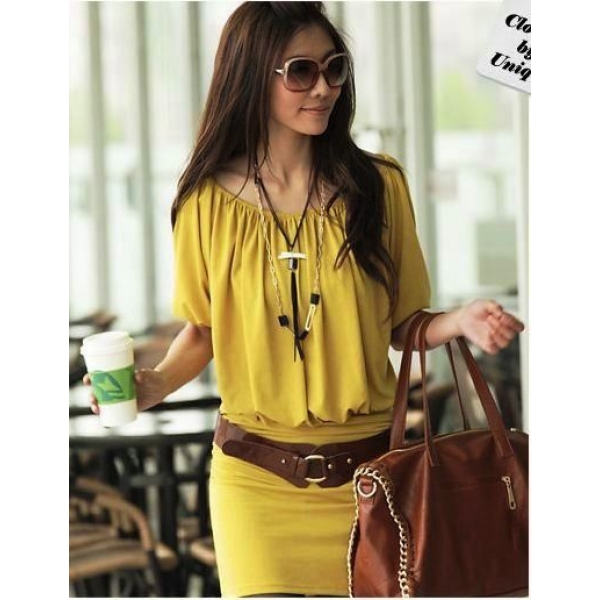 If you'd prefer to "ease into yellow", then there are always darker shades that you can go with maize, gold or goldenrod. You'll love how it looks on you if you decide to get casual silk dress like this one.
Yellow graphic tee and leggings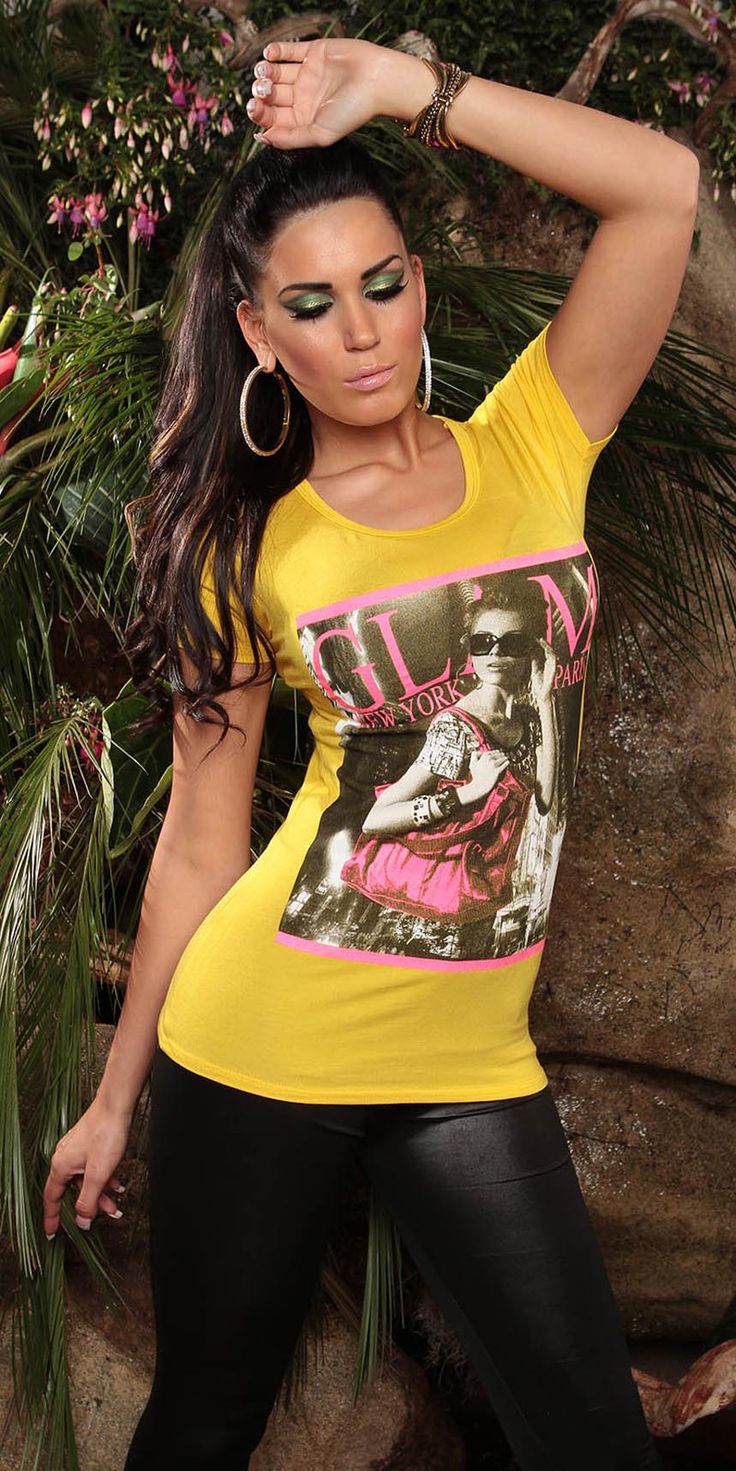 Graphic tees and leggings are a popular and comfortable look. And when the color combo is yellow and black, it's really sexy—in an effortless way—too.
Yellow embroidered tunic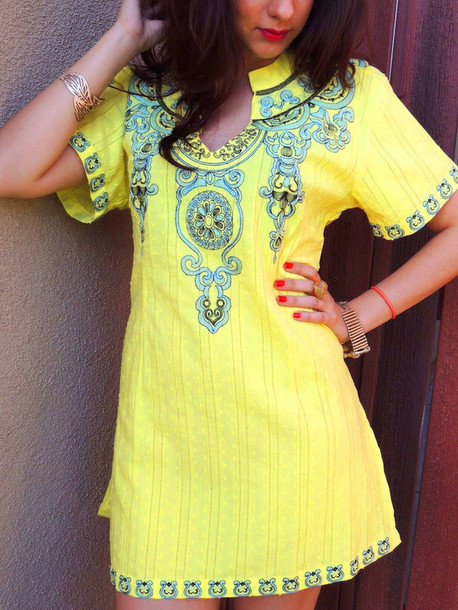 Tunics are great. They are fitting for all body types, plus you can wear them a myriad of ways. In the summer, you can wear them alone with a pair of sandals. In cooler weather, just put on some jeans, capris or leggings.
Yellow corporate style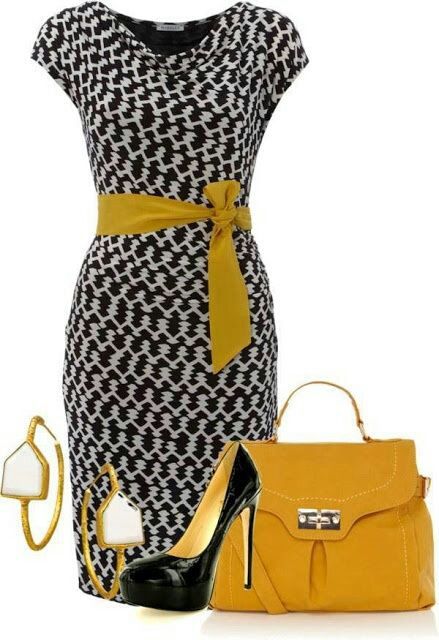 Do you have the kind of job that requires you to dress up a level from business casual? If so, that doesn't mean you have to wear drab or boring colors. As you can see, accessorizing with yellow is amazing with black and white clothing.
A yellow blazer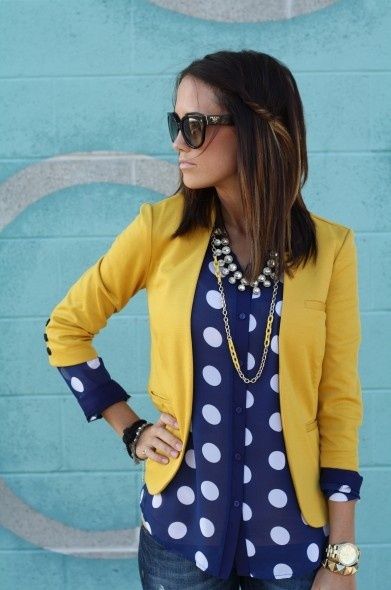 A great investment for your wardrobe is a yellow blazer. It goes with so many different colors. Not only that, but you can use it to dress "up" or "down".
Some yellow linen shorts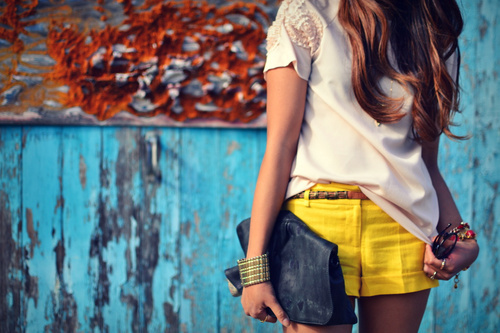 Nothing says "summer" like a pair of yellow shorts. Preferably if they are made out of linen.
Yellow and brown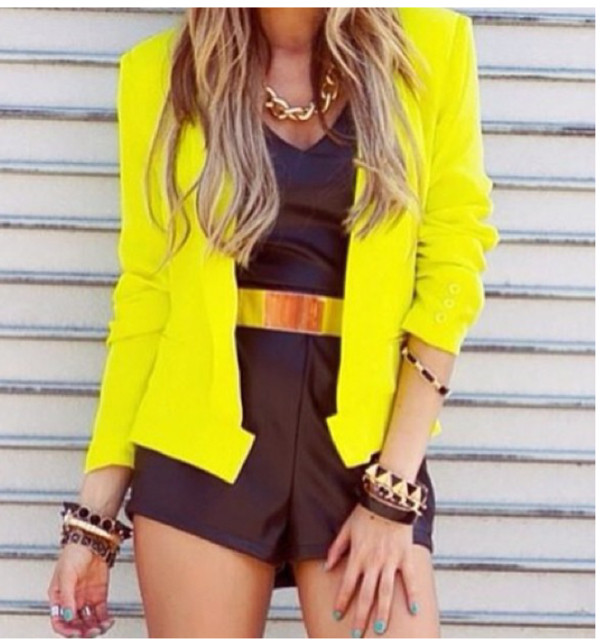 A super awesome color palette combination is yellow and brown. Aside from a look like this one, consider getting a dress that has brown and yellow in it. You won't regret it.
Bright and yellow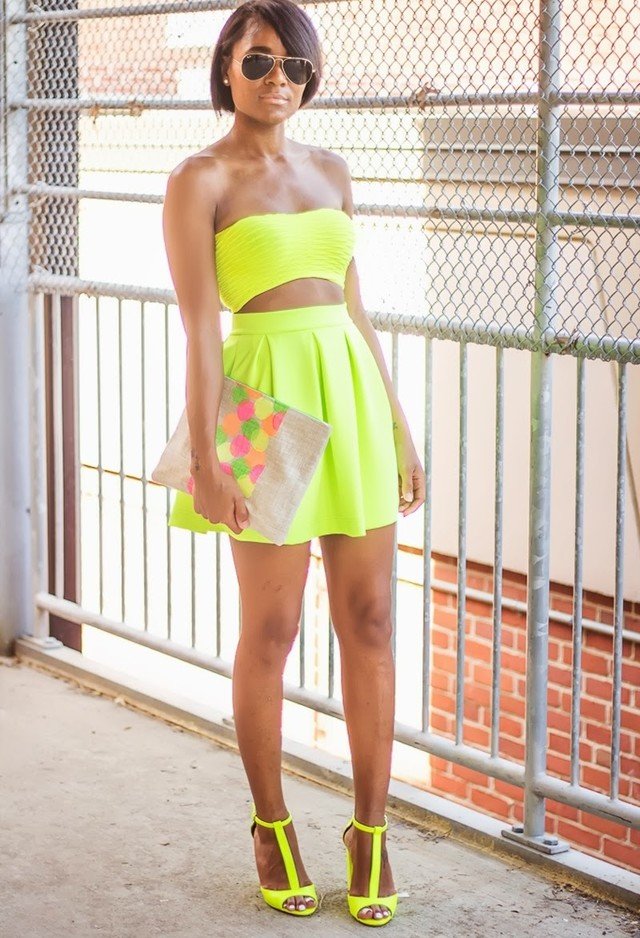 After looking at any outfit like this, you can probably see why it's a color that represents energy. It also goes to show that during the summer, you can never wear enough of it. (We just love her yellow shoes!)
A pale yellow blouse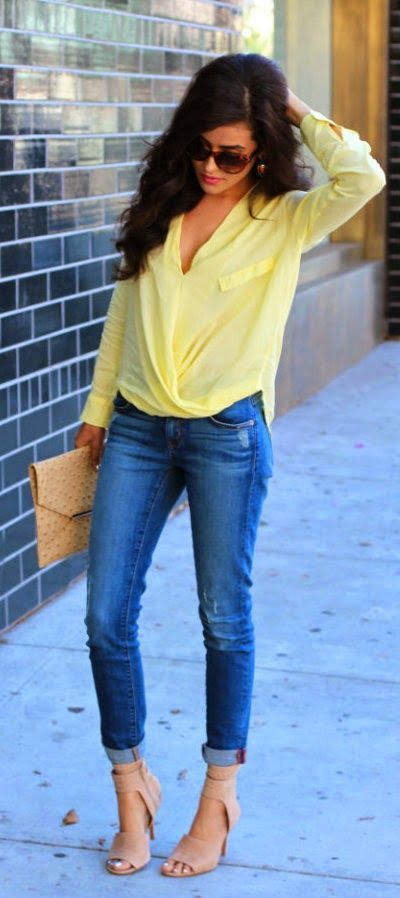 This is another subtle way to bring yellow into your wardrobe. If you don't already own a yellow blouse, try and get one as soon as possible!
Yellow 'n mint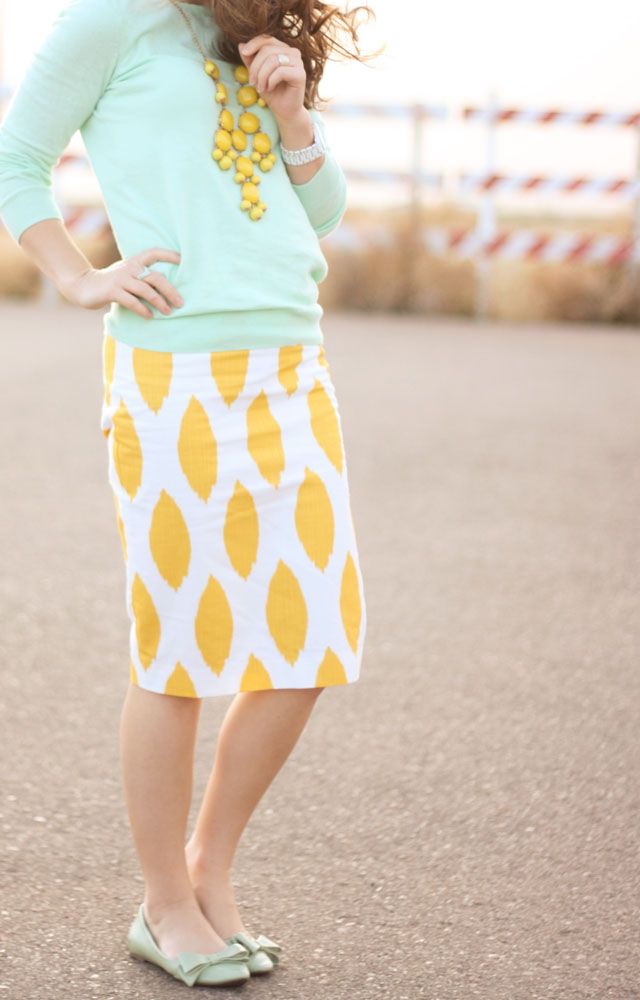 Out of all the ways to wear yellow, this is one of our favorites. Mint green is such a sweet and happy color and yellow simply takes it to another level.
Yellow flats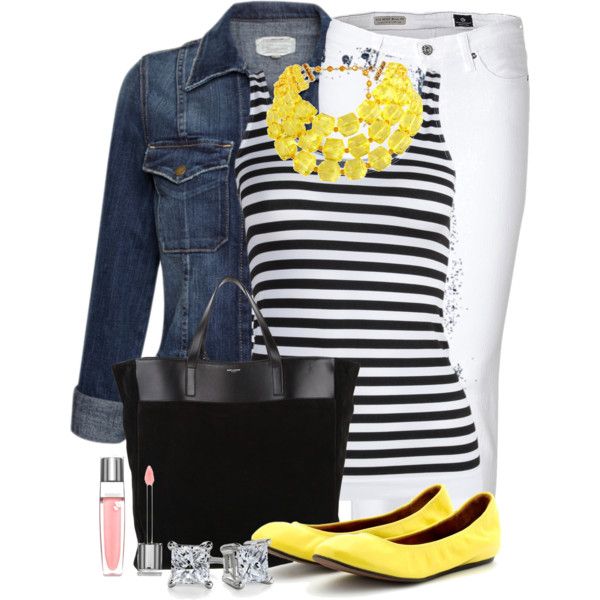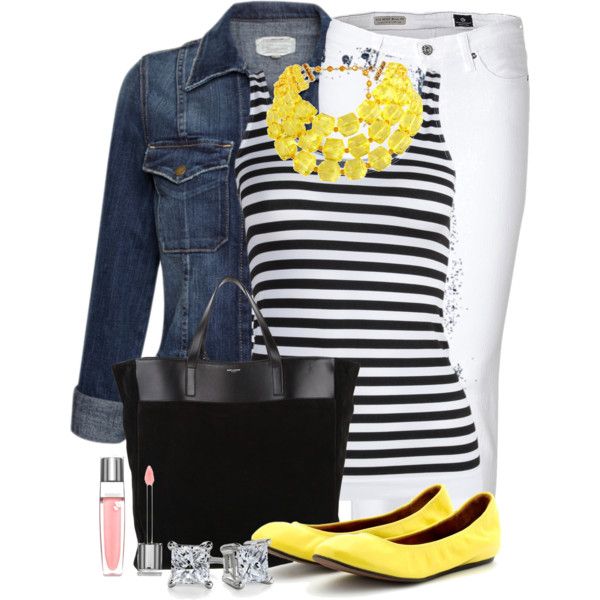 Does your style tend to lead to the more conservative side? You can still make yellow work for you. Buy a pair of yellow flats. (Buy a yellow necklace too.)
Yellow and white dress combo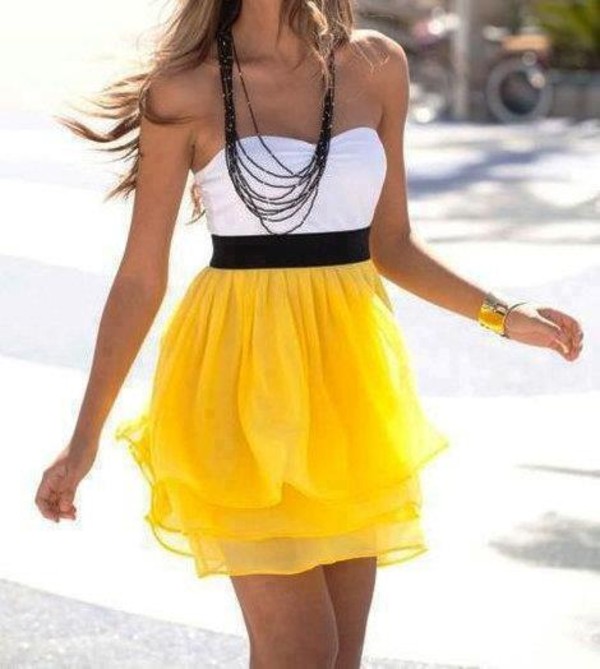 This is so the ultimate party dress! Whether it's a first date outfit or a block party with friends, you'll be the center of attention with this white and yellow look.
Yellow wedge heels
Yellow wedge heels/via
Sure, the off white lace dress is cute enough. But the yellow wedge heels are what make it really stand out, don't you think?
Golden trousers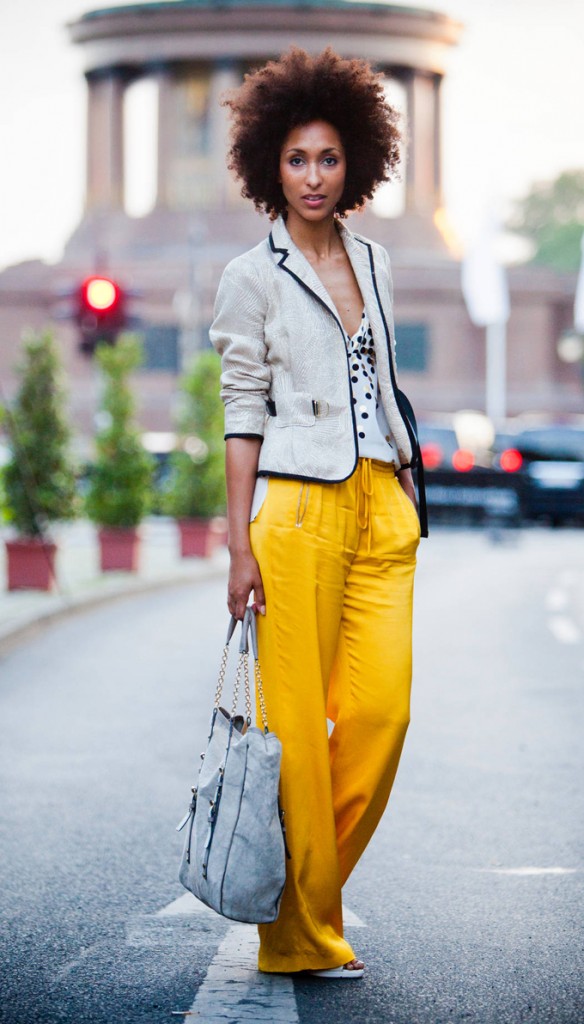 These golden trousers are a smart outfit addition. You can wear them with a blouse and blazer, a tank or a solid-colored T-shirt too.
Dressy casual (in yellow)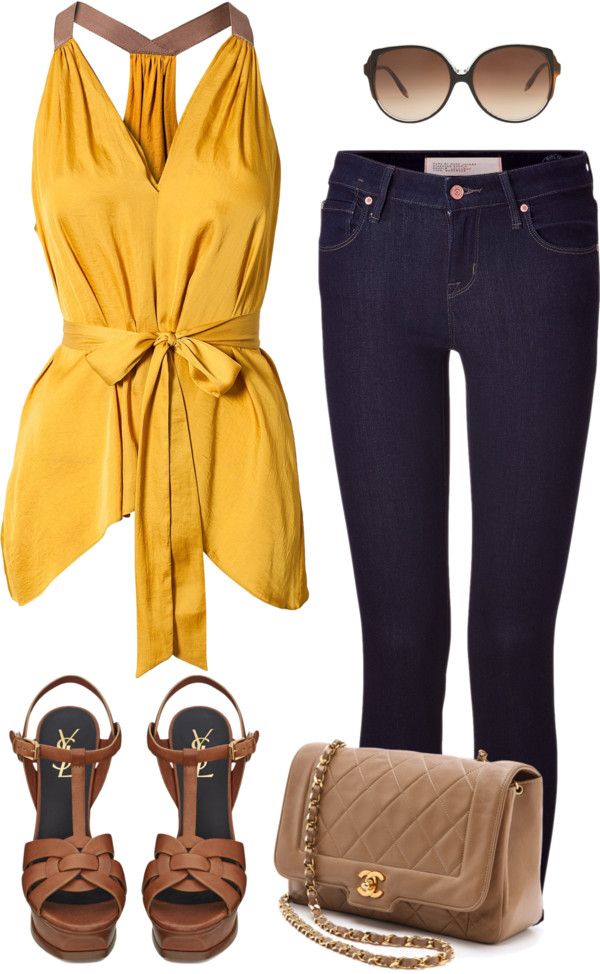 If you're sweetie wants to take you out and it's a surprise, go with an outfit like this one. The butterscotch silk top makes it dressy while the dark denim jeans still keeps things casual.
Yellow maxi dress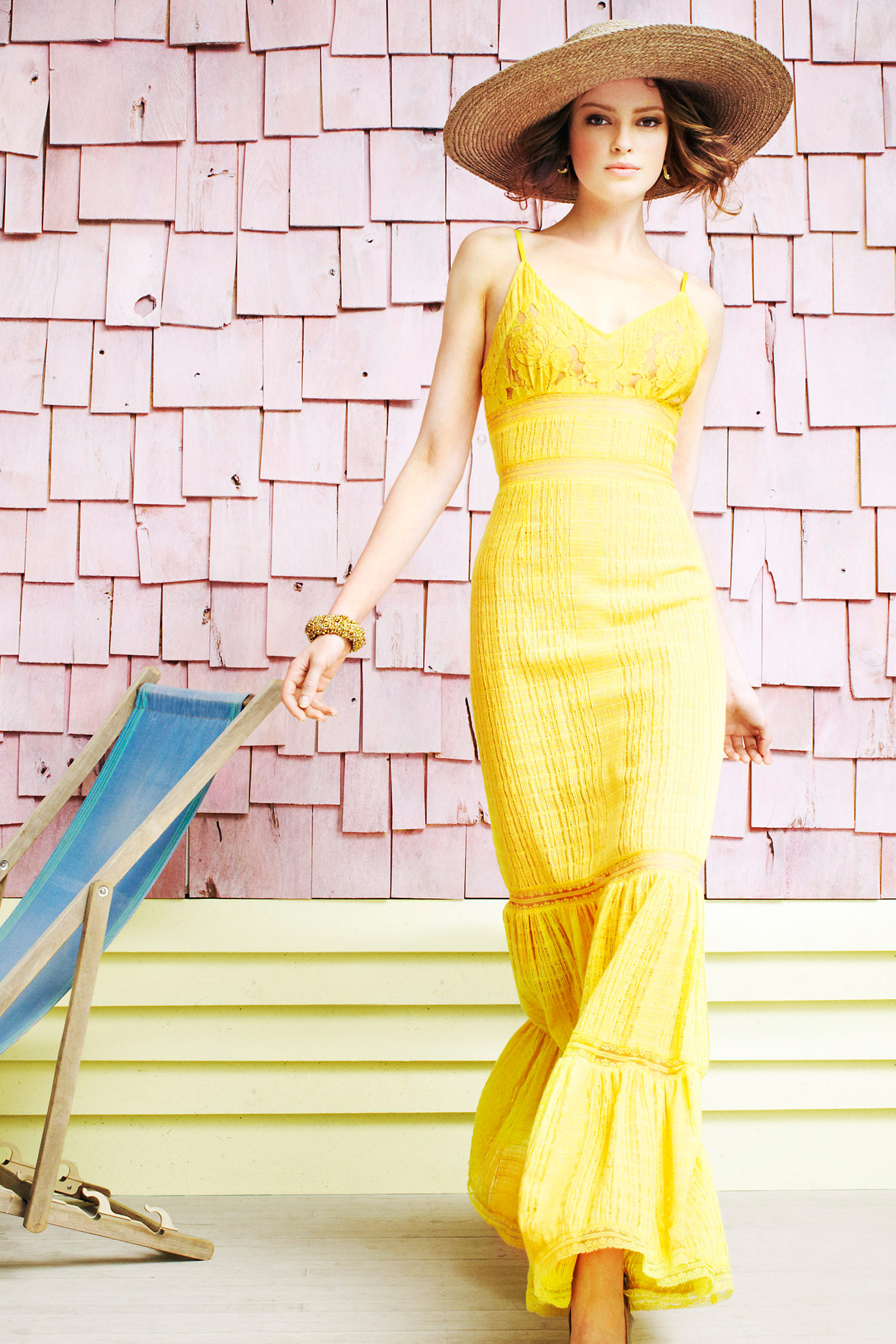 With a yellow maxi dress, you will be so ready for all that the summer season has to offer.
Yellow with angel sleeves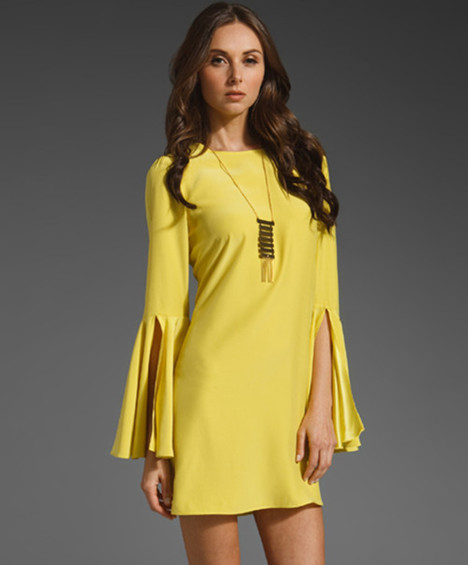 Shirt dresses are pretty popular right now. If you want to add a bit of a retro look, look for one that is not only yellow but comes with angel sleeves as well.
A yellow summer combo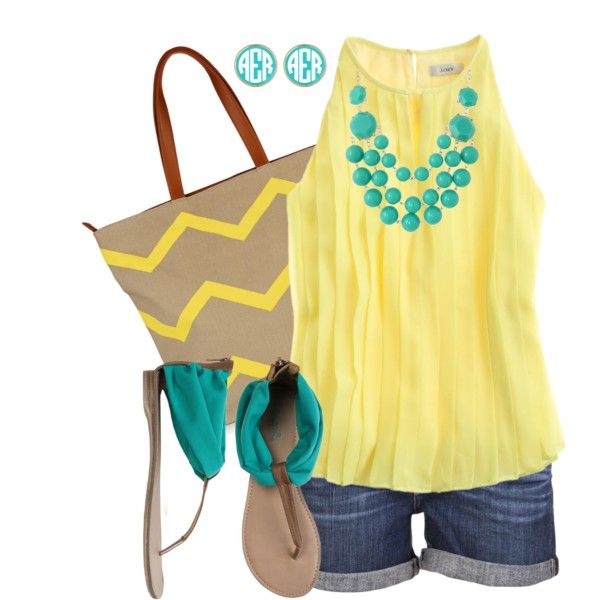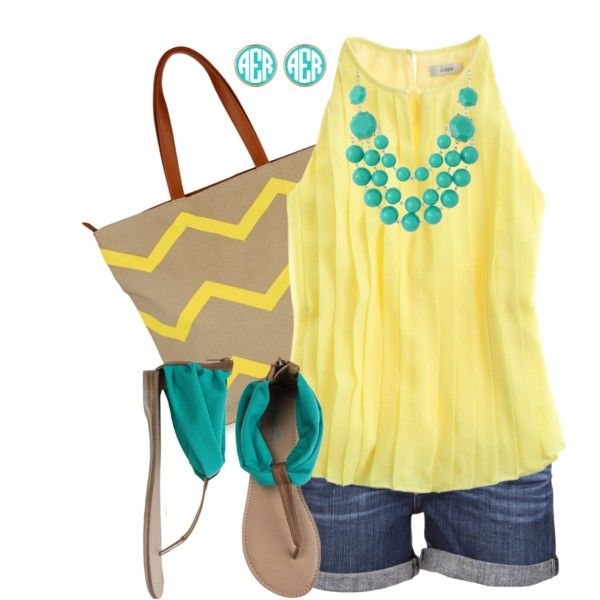 You probably already own a pair of denim cut-off jeans. Now all you need is a yellow pleated tank and a beach bag with some yellow in it and you're all set for a day at the beach.
Sleek yellow pencil skirt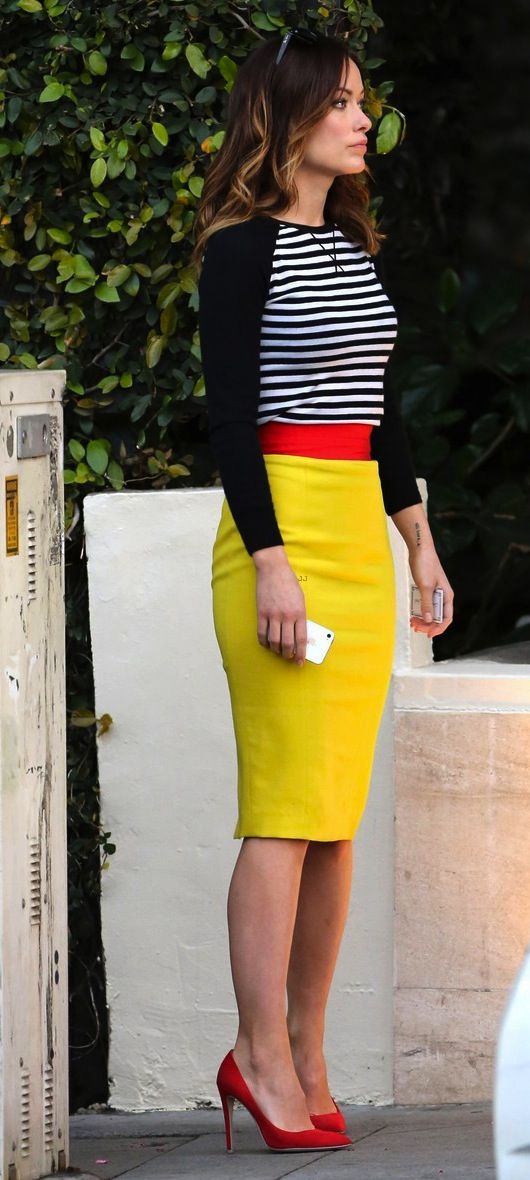 This is a look that is perfect for work. It's business appropriate while it also shows off some of the distinctiveness of your personality.
A yellow purse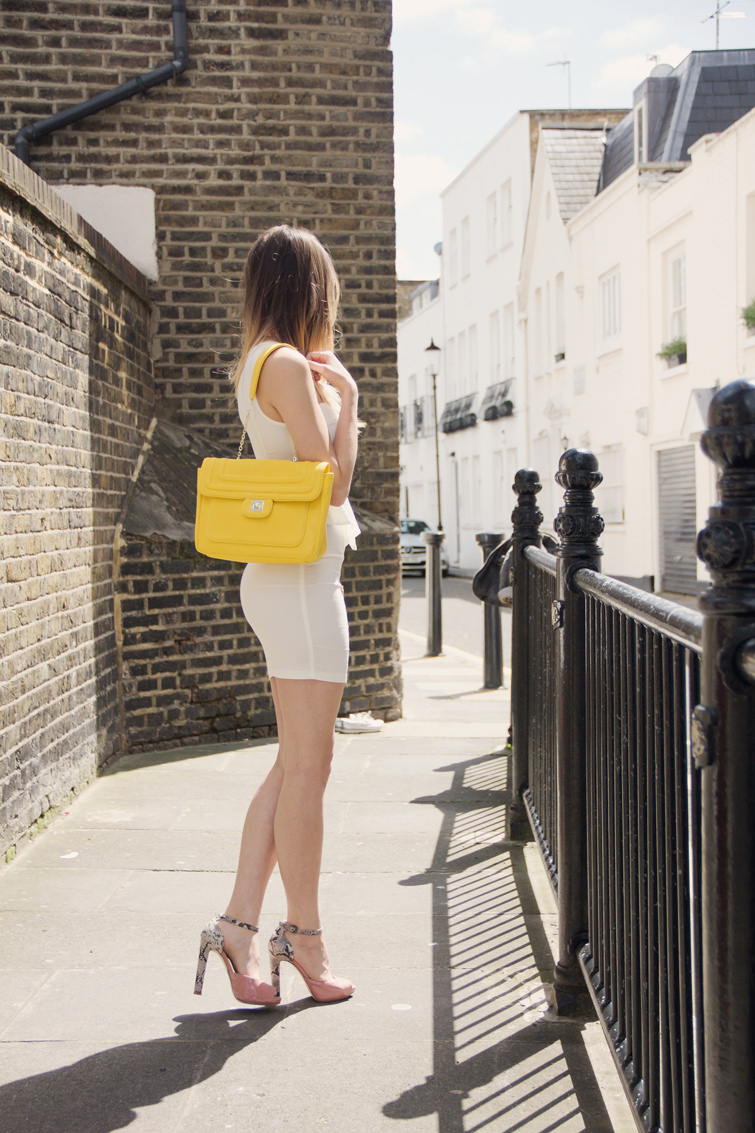 Are you in the market for a new purse? If you see a yellow patent leather hobo bag or clutch, buy it. With any neutral, it's a wonderful accessory.
Yellow jeans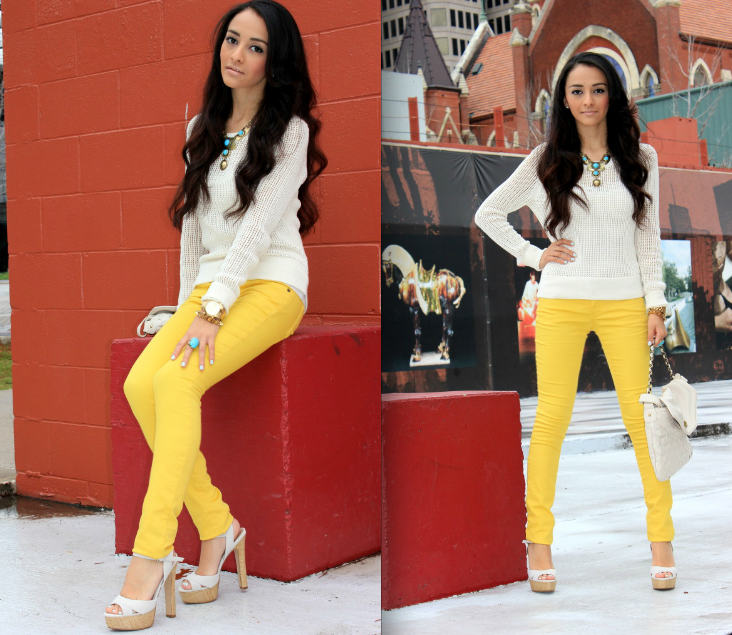 Colored jeans are another hot trend. Boy, and just think about how hot a pair of yellow ones would look on you!
Mustard maxi skirt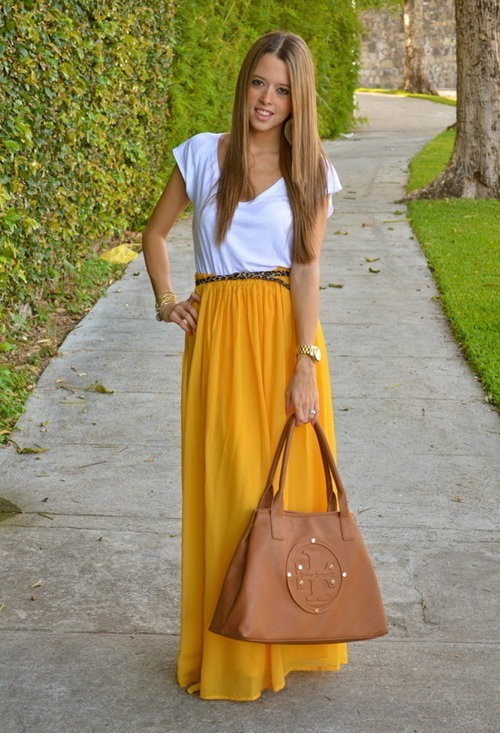 A gal can never have enough maxi skirts. So, why not get yourself a mustard one? You'll look just as good in it as she does. (Probably even better!)
A cute yellow peacoat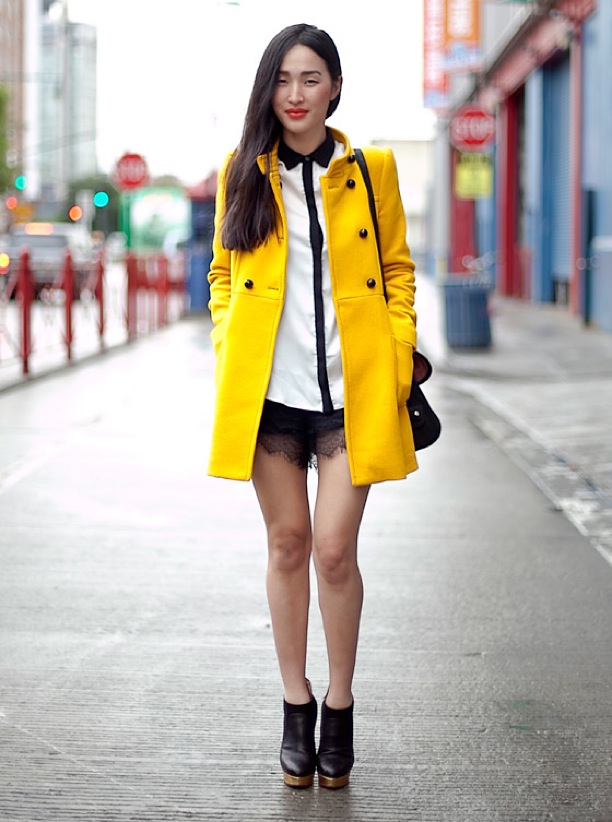 Although yellow tends to be worn most in summer, that doesn't mean that you can wear it the rest of the year too. Take this bright yellow peacoat for example. It brings brightness to dreary weather.