If you pride yourself on following the latest trends in fashion, then you might already know that one really big one is the off the shoulder cut on tops, dresses and sweaters. But if you're wondering how many ways that you can wear that particular style, boy are you in luck. No matter what is already hanging in your closet, we're pretty sure that you already own at least 2-3 things that can help you to pull of some of the following looks.
Off-shoulder rayon dress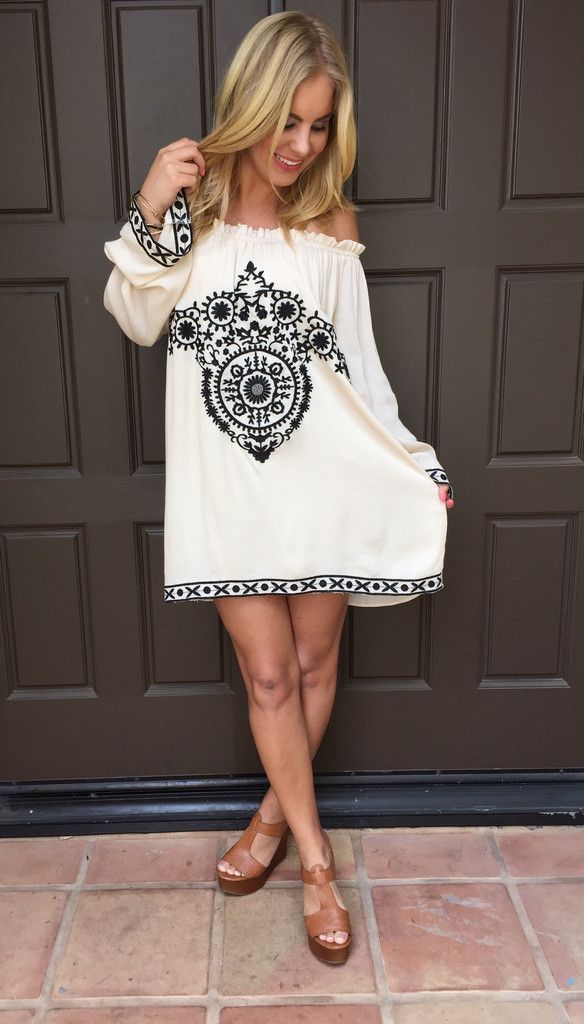 The embroidery on this particular off-shoulder rayon dress is what really makes it stand out. But even if you don't have a dress like this one, any that has a wide elastic band around the neck can help you to get this look.
Off the shoulder fleece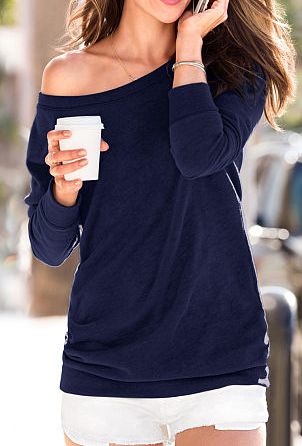 A large (preferably extra large) long-sleeve fleece shirt will work with a pair of shorts, pair of jeans or even a maxi skirt.
One-shoulder chevron jumpsuit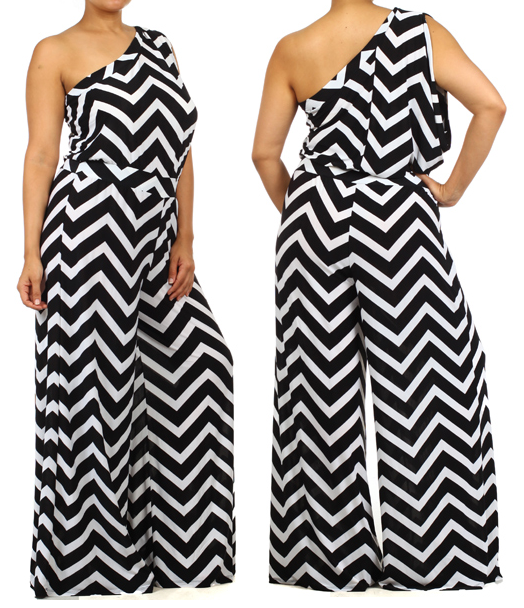 OK, you might not already own a chevron maxi jumpsuit. But when you look at this picture, doesn't it make you want to go right out an get one?
Off the shoulder body suit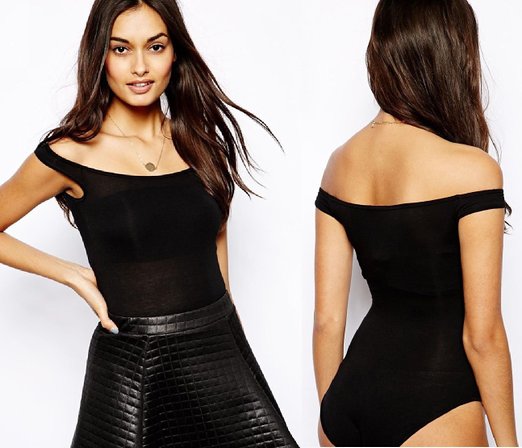 Yeah, every woman needs to have an off the shoulder body suit. Actually two: a white one and a black one. You can usually find these at a lingerie store or boutique.
Cut-out shoulder dress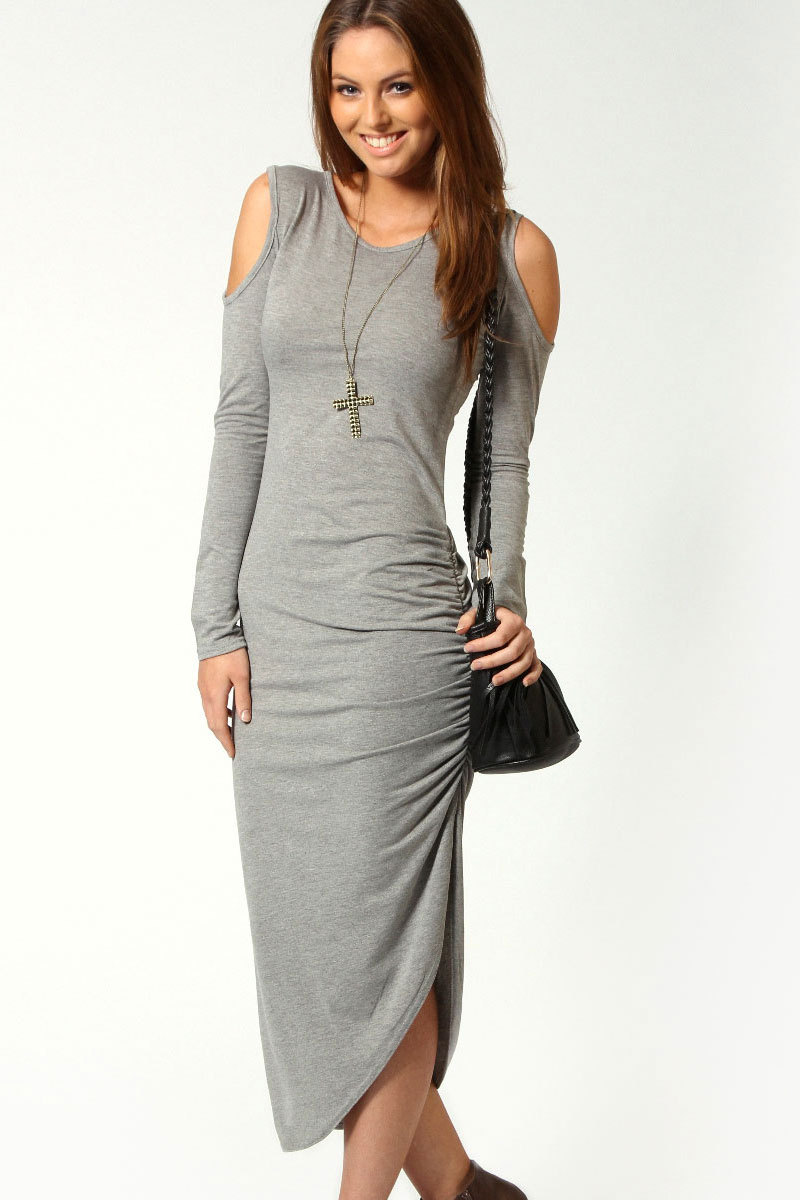 Off the shoulder doesn't just mean that a blouse or dress has to literally hang off of it. You can also find an outfit where they shoulders are cut out. Like this one.
Off the shoulder wrap knit sweater

Yep. You can wear the off the shoulder look during the fall and winter too. Look for something like this wrap knit. It goes with everything.
Off-shoulder romper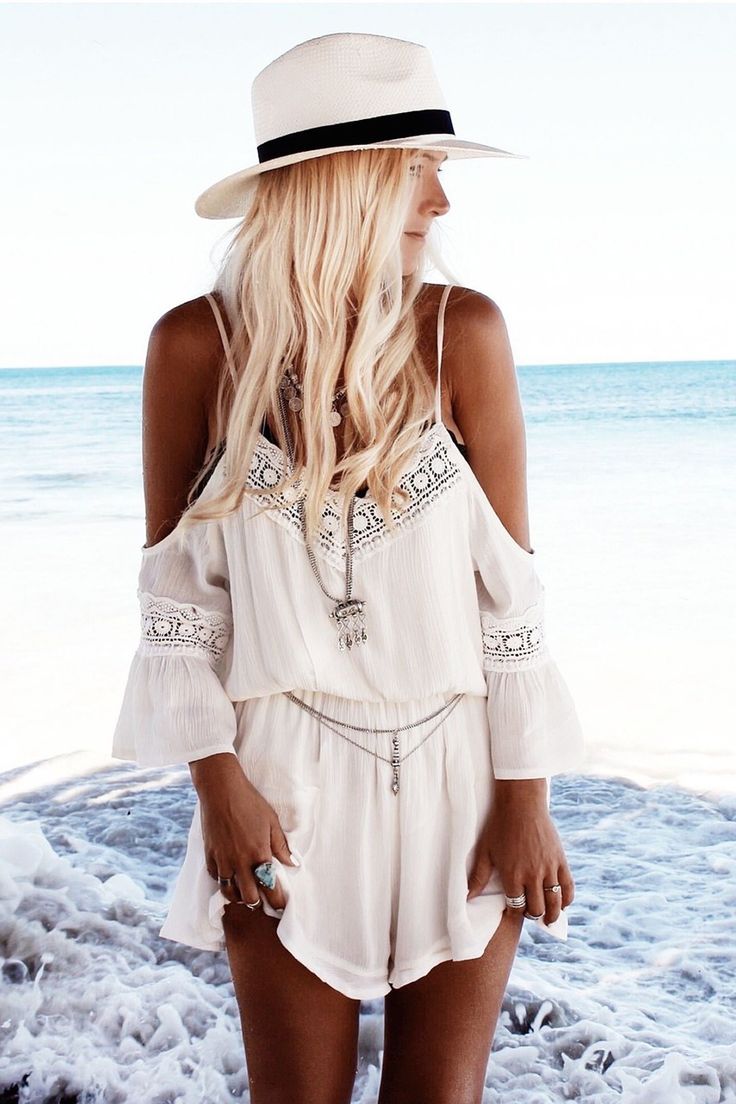 Ah. An off-shoulder romp. It's so perfect for sitting on your back deck, walking along the beach or going on a cruise.
Off the shoulder sweatshirt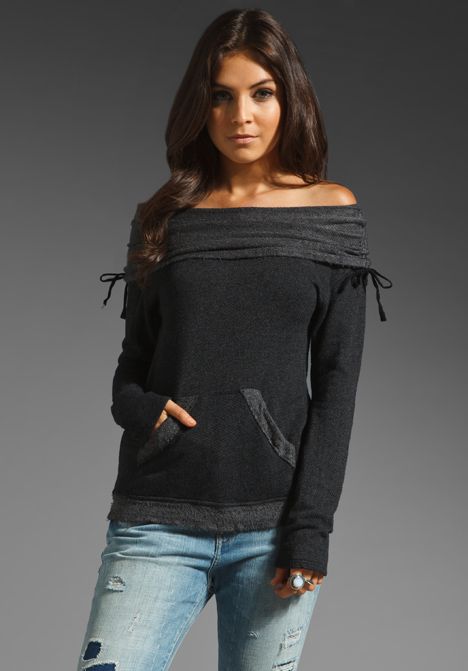 An off the shoulder sweatshirt is similar to an off the shoulder fleece. Only it's thicker which makes it better during cold weather.
V-neck shirt with one shoulder strap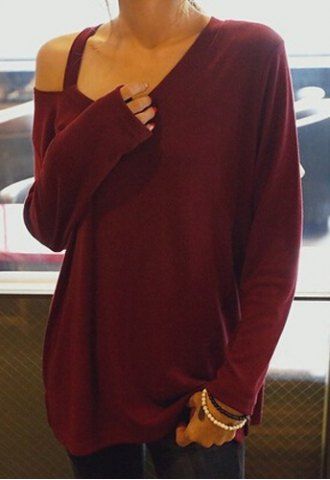 Sometimes what makes a plain shirt standout is the detailing. The one-shoulder strap on this one proves that point perfectly.
Off the shoulder tunic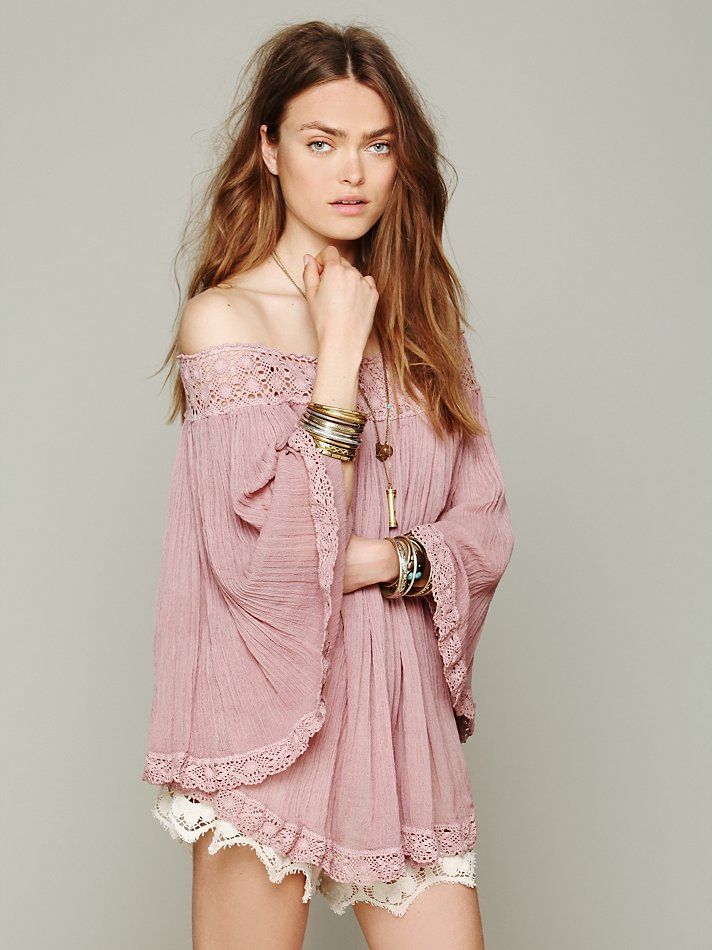 If you already own an off the shoulder tunic, great! If you don't, buy one that is oversized and let it hang off of one or both of your shoulders…naturally.
Off the shoulder sequin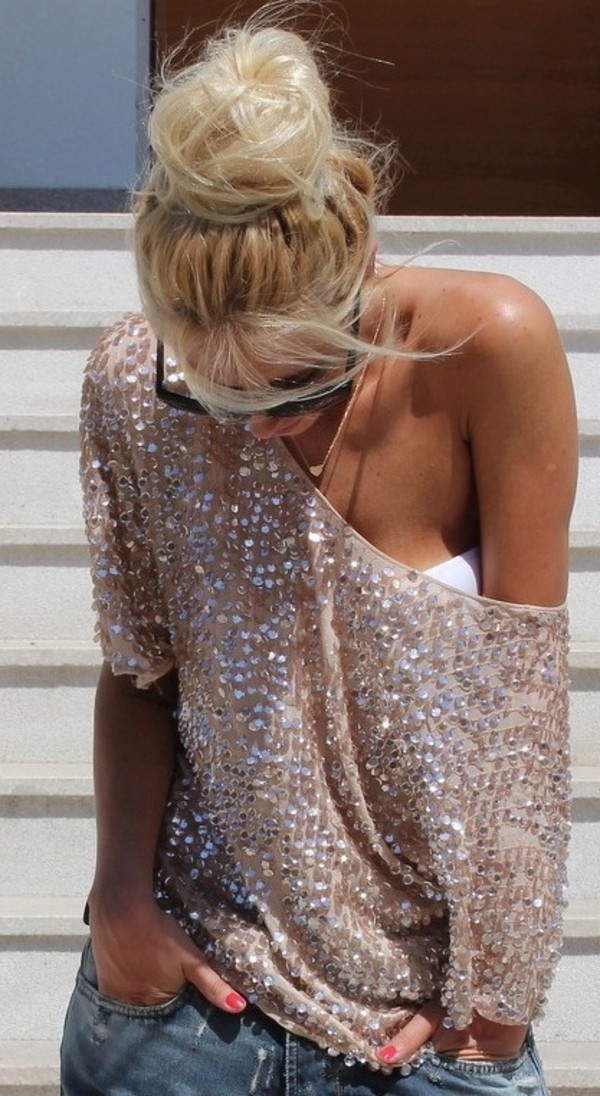 Don't you just love this sequin shirt? So do we. Especially since it's in one of the hottest colors right now: rose gold.
Off-shoulder striped midi dress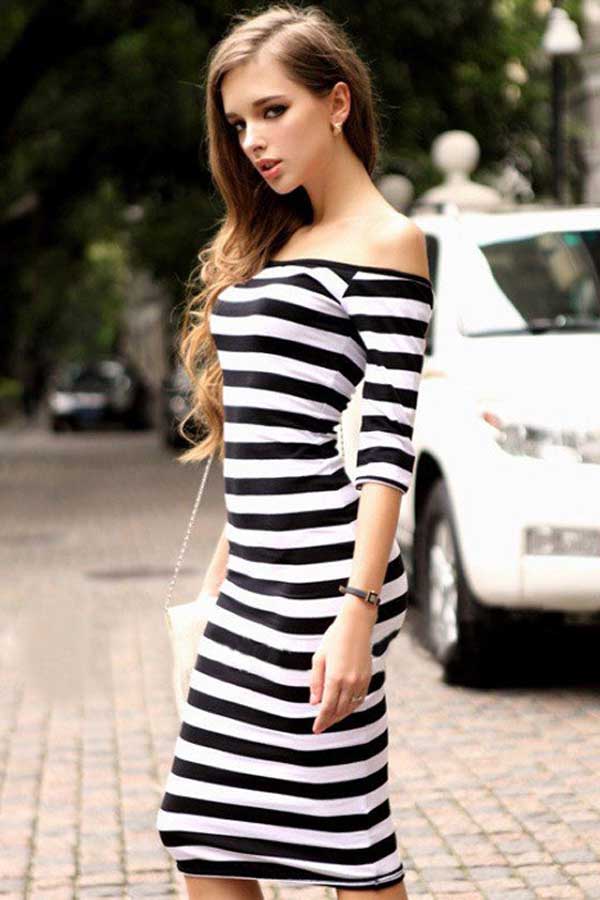 An off-shoulder striped midi-dress is great because you can wear it alone or with some leggings underneath. It's also really cute with a big floppy hat.
Off-shoulder oversized shirt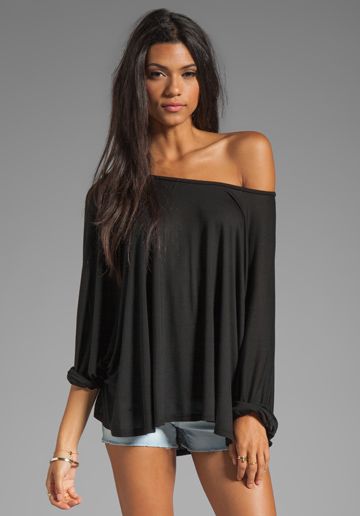 This is one of the easiest ways to look sexy. For that reason, get more than a couple of off-shoulder oversized shirts.
Off the shoulder lace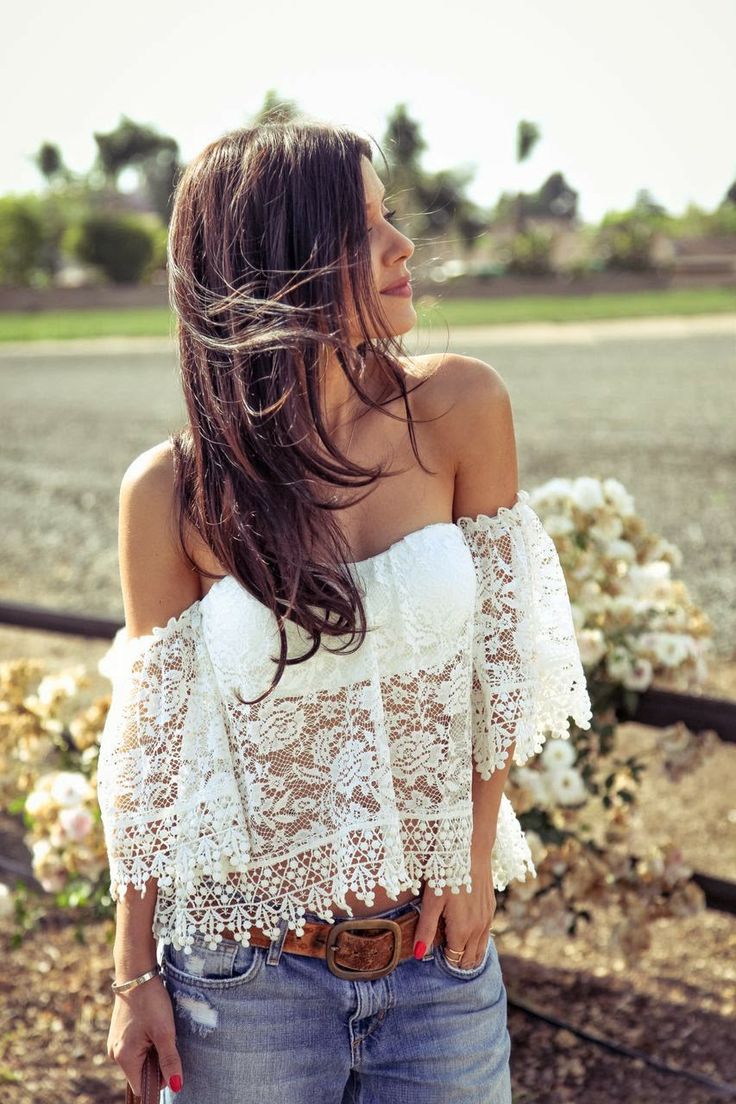 Here's a tip for this particular style. If you don't already own an off the shoulder lace top but you do have a strapless one, you can create this look with the help of some lace material and elastic. Just make some sleeve cuffs. One for each arm.
Boho chic off-shoulder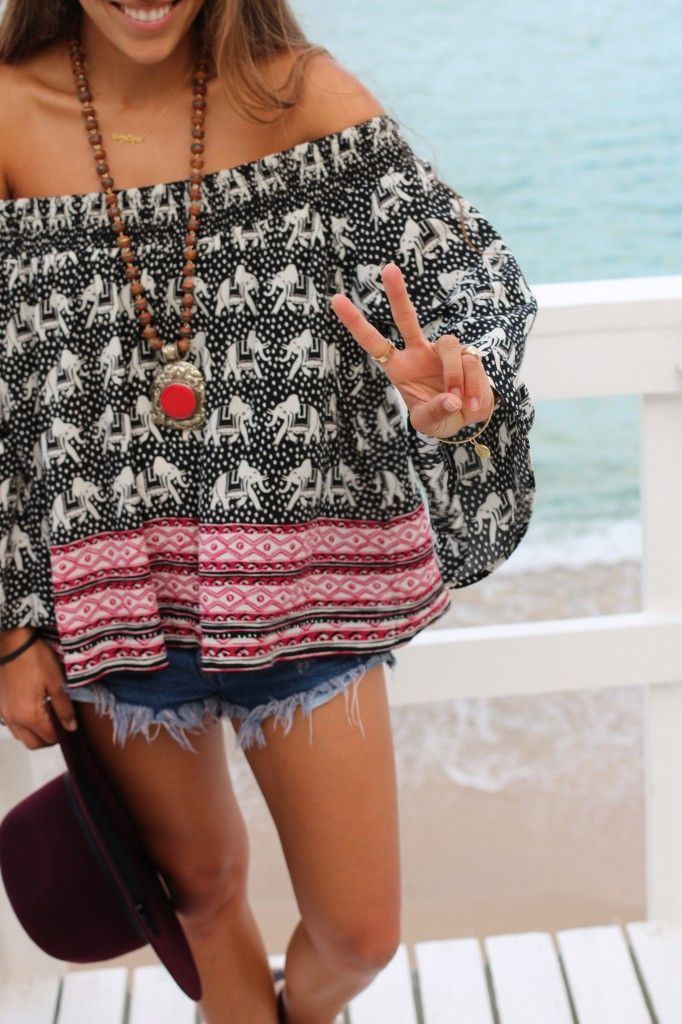 Boho fashion is big and oh so much fun when it's an off-shoulder top like this one!
Off-shoulder tie dye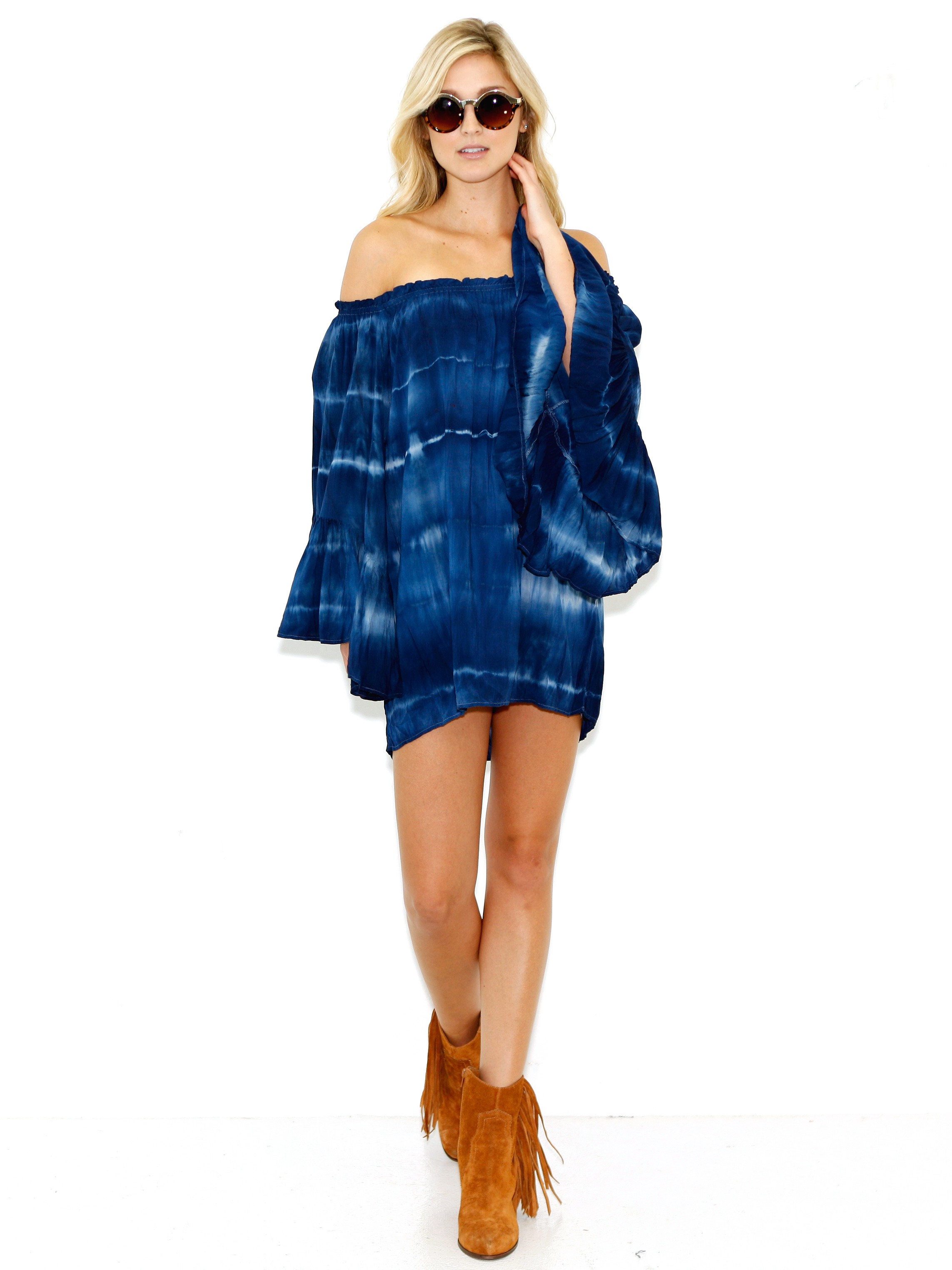 We decided to show you this off-shoulder tie dye because if you have a plain light-colored off-shoulder (or oversized) shirt that you're thinking about tossing out, you can actually upcycle it by tie dying it. You can learn how to do it here.
Off the shoulder gypsy maxi dress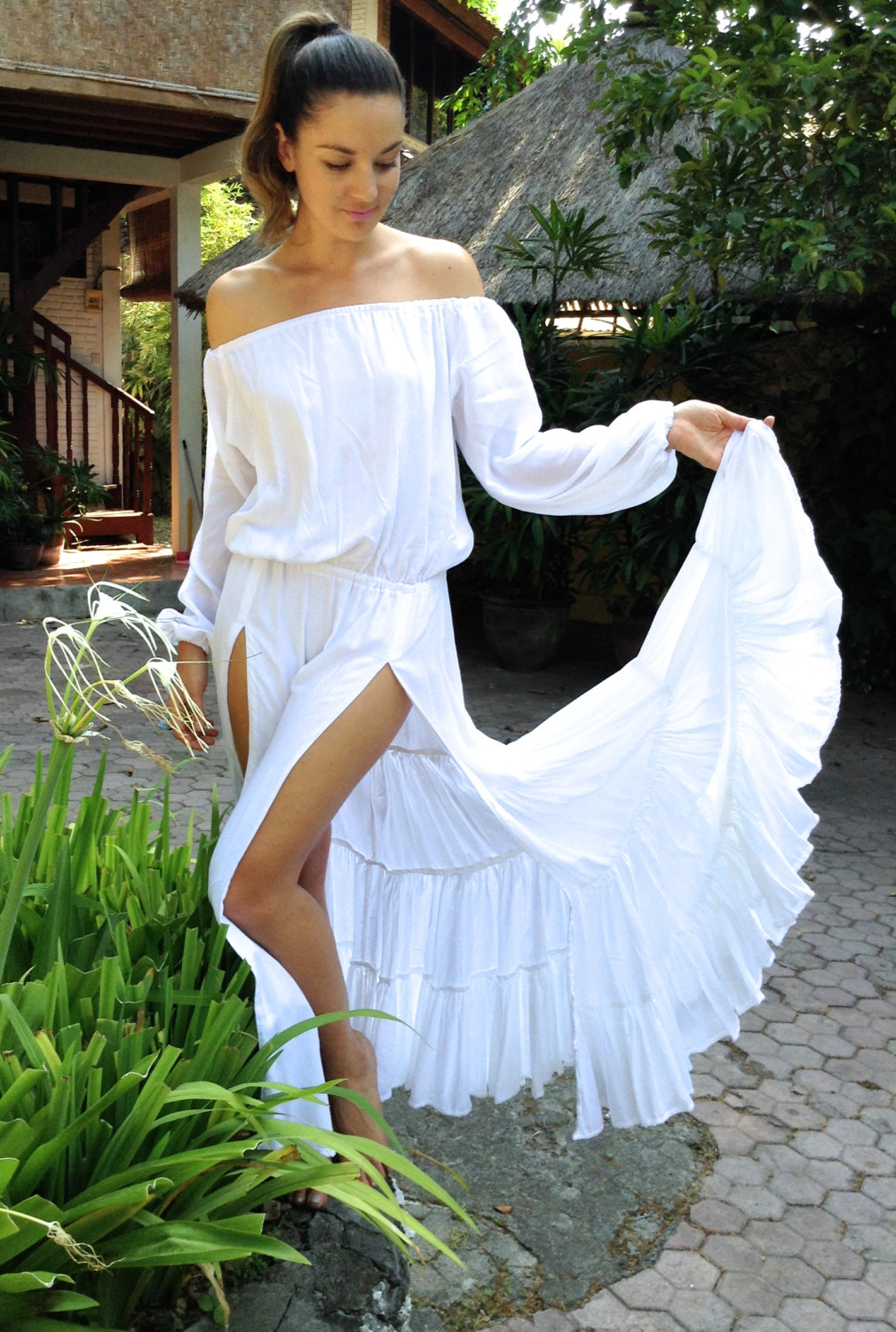 Another popular Boho look is an off the shoulder maxi dress like this one. If you can find one that has two side splits, even better. And if you can't, you can always cut some into the skirt yourself! (Just remember to hem both sides if you do.)
Off-shoulder graphic tee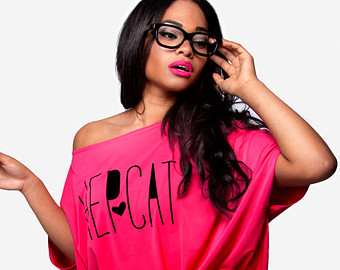 Graphic tees are awesome, no matter what style they come in. Off-shoulder shirts are just one example of this fact.
Off-shoulder lightweight sweater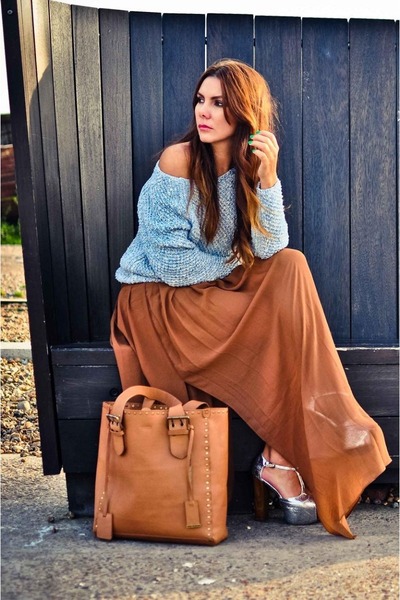 In the fall, wear an off-shoulder sweater with a maxi skirt. In the winter, wear it with some jeans or leather pants instead.
Off-shoulder tee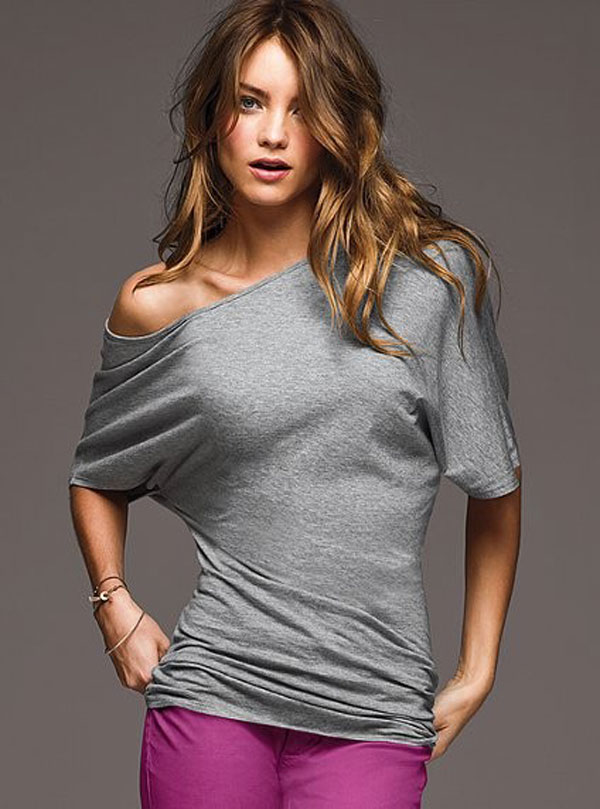 These are wonderful because you can also wear them all kinds of ways. As an off-shoulder shirt or even as a low-V in the front.
Strapless dress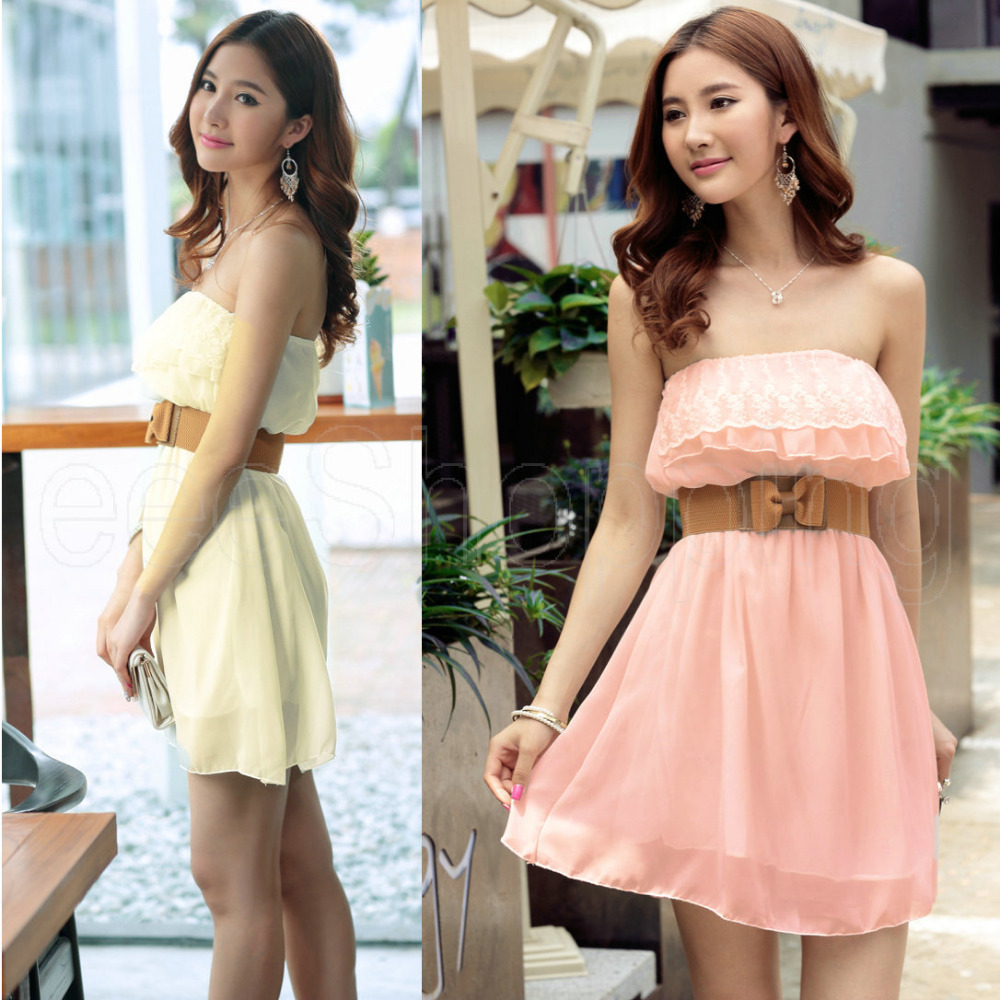 And then there's the pretty strapless cocktail dress. Perfect for a summer wedding or party—or date. Make sure that you have one!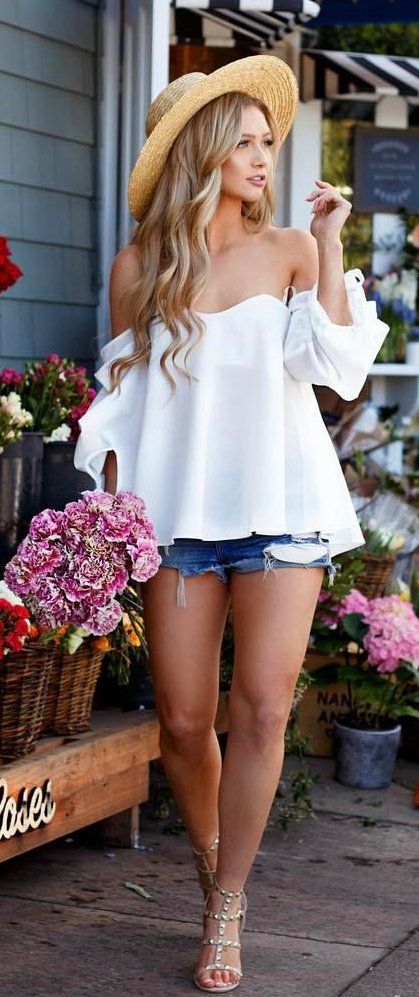 Light Hat + White Off The Shoulder Top + Denim Short

summer outfit ideas for women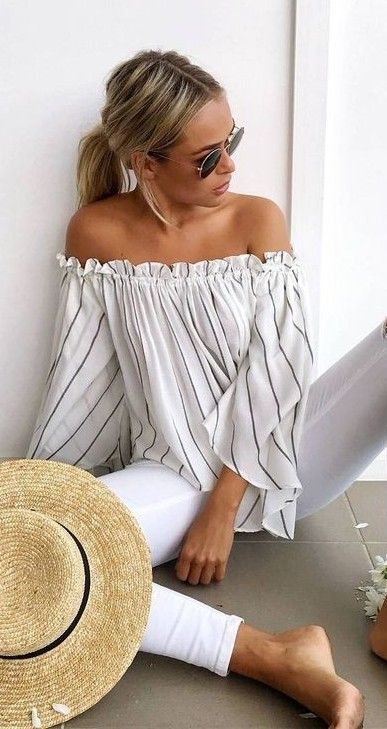 Summer And Popular Outfits Of Mura Boutique Australian Label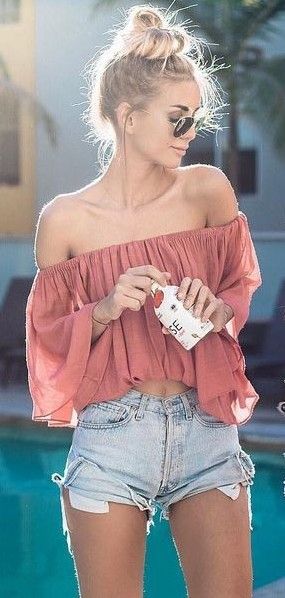 cute summer outfit ideas for girls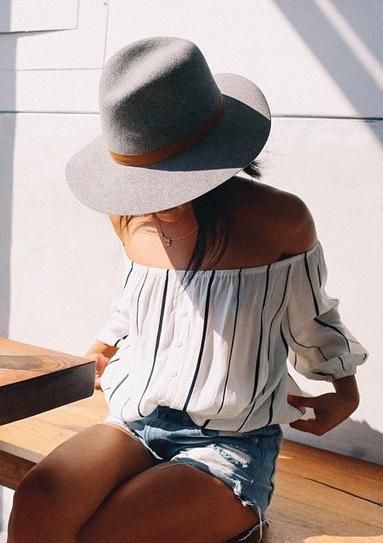 Stylish Outfit Ideas to Update Your Wardrobe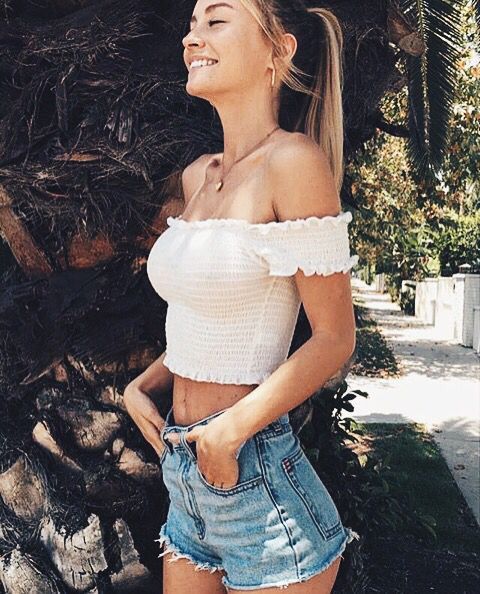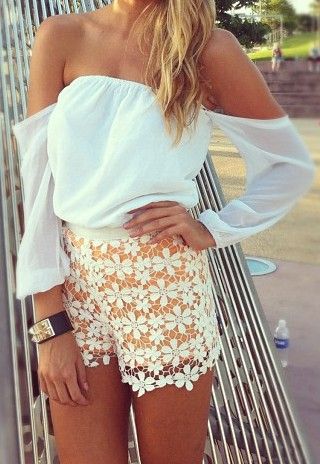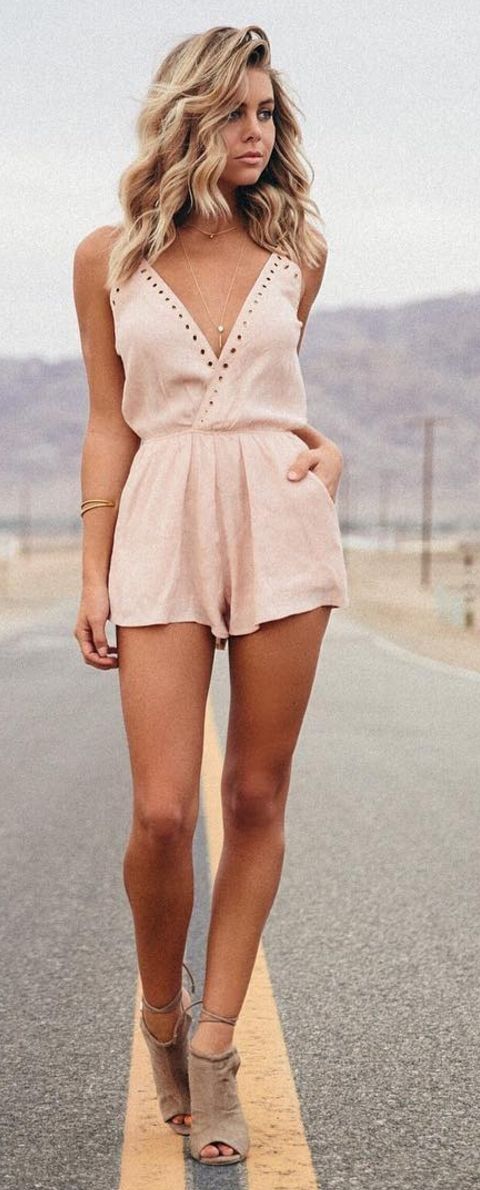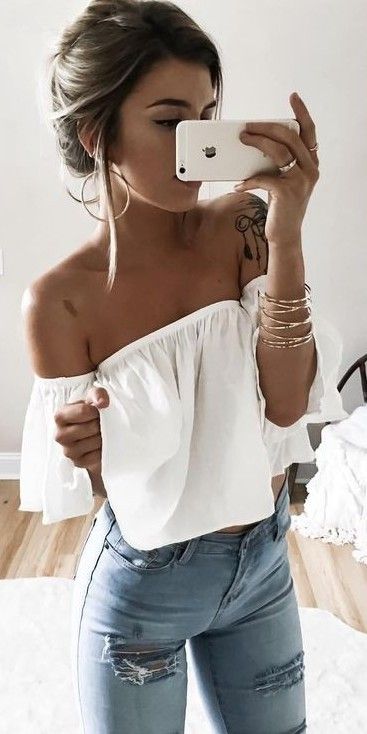 White Ruffles Cop Top + Denim