Congrats mum! You are pregnant! It's time to flaunt your baby bump like a Hollywood starlet and let it grab the centre stage of your exciting maternity photoshoot. Yes, girls adore and nuzzle leggings and sweats throughout the year. But when it comes to exclusive maternity photoshoot outfit ideas, you should scout out top-drawer staples that are perfect for your epic maternity look debut. Whether it's a silky wrap dress or a cozy knit, these exclusive one-and-done pieces make this whole process of dressing up stylish and easy.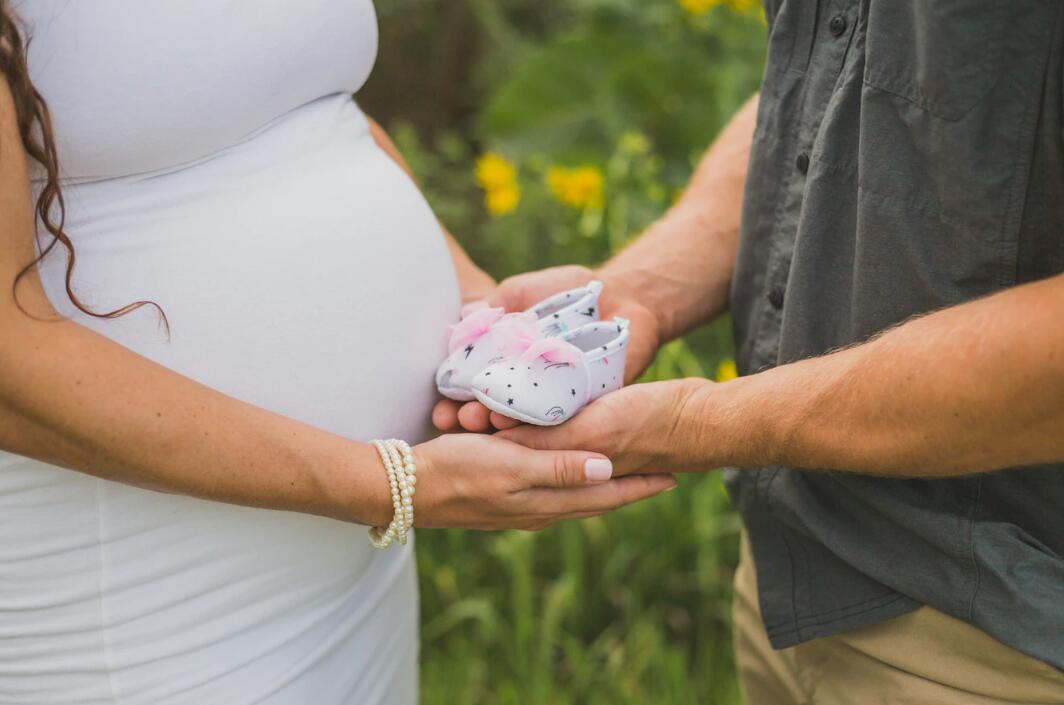 @christinnoelle
Outfit Guide for stylish to-be moms – Maternity Photoshoot
Check out some of the coveted styles to get ritzy looks and feel like a debonair Diva.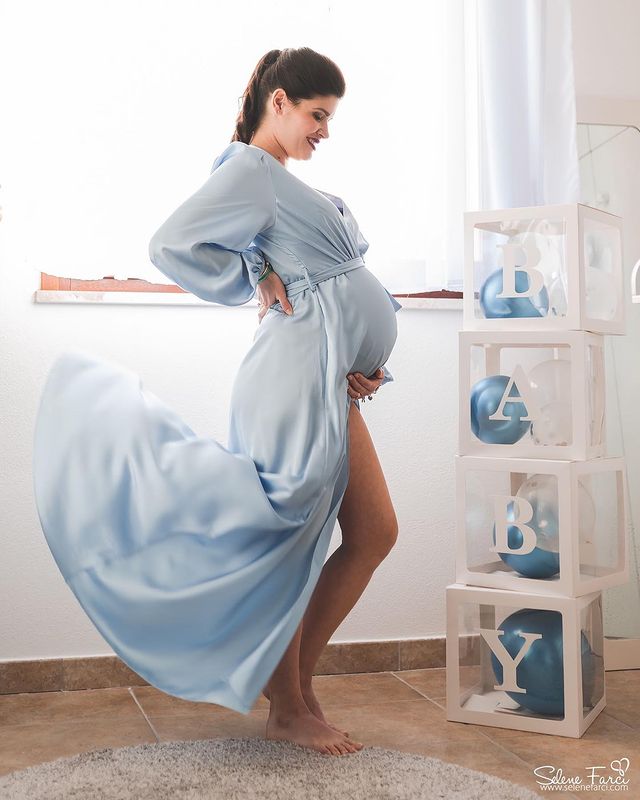 Flowy Dresses
Flowy Dresses are incredibly flattering and comfortable to wear. Maternity photoshoots usually take a long time. Therefore these stunners are the first choice of new mums. The flowy fabric of these exquisite dramatic pieces creates movements and adds life to your photos while flaunting your endearing baby bump.
Empire Waistlines
Empire waist Maternity dresses are the best friend of your baby bump. These bobby-dazzlers sit perfectly above your belly and help you to stay trendy. After all, no one wants to think after twenty years, "Why did I wear this during my photoshoot!" Therefore, look simple but opulent and timeless and flaunt your voguish ritziness to avoid such dramatic problems. The versatility of these pieces allows you to wear them in any formal event as well.
Bodycon
Ladies love to flaunt their gorgeous body curves during pregnancy. In that case, what can be a better choice than a tight bodycon dress? This spiffy outfit looks incredibly attractive. When you have a hard time adjusting to your changing body shape, this sassy outfit comes to your rescue. You can look on fleek during your photoshoot, especially if you pair it with cute sneakers.
A crop top and a flowy skirt
When a beautiful crop top teams up with a flowy skirt, it creates a fabulous indoor or outdoor Maternity photoshoot look. Its stretchy fabric will fit plus-size beauties as well.
Oversized sweater
Oversized hand-knitted sweaters in a bold color will be classic for your casual Maternity look. Try to plum for a stunner with a hoodie. These warm, cozy, and lightweight cuties will protect you from cold on long winter days.
Fitted tops and jeans
You can always spice things up by keeping them simple. Yes, you heard it right! A simple but cute fitted top with jeans and a pair of boots will be a classic choice to freeze some special memories.
Bump friendly tank dress
Bump-friendly tank dresses are ethereal. These pieces are usually super soft, stretchy, and comfortable. Its long length and sleeveless design and exposed clavicle lines will create an incredibly sexy look.
Front open dresses
Front open dresses are the most coveted ones and are specially designed for your Maternity photoshoots. These Maternity gowns with sweetheart neckline celebrate your baby bump in your beautiful pictures that you treasure for a lifetime.
Peek-a-boo Outfits
Peekaboo Maternity outfits always embrace the body changes during pregnancy. These cute styles flaunt your tummy and back areas and help you to stick to your signature look for long. These nursing maxi dresses are super soft and stretchy. Its high-quality fabric and beautiful designs make it an ideal choice for a mum's Maternity photoshoot.
Tips to choose Right maternity Outfit for You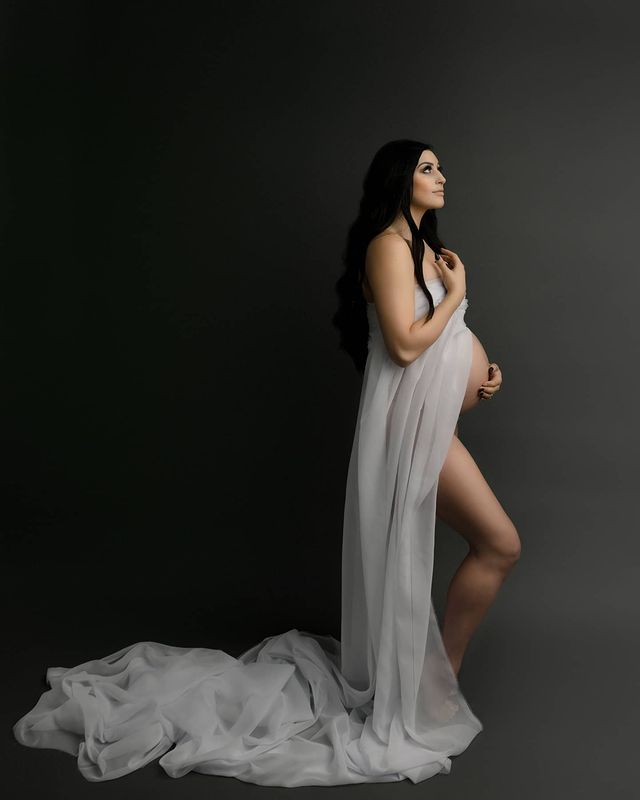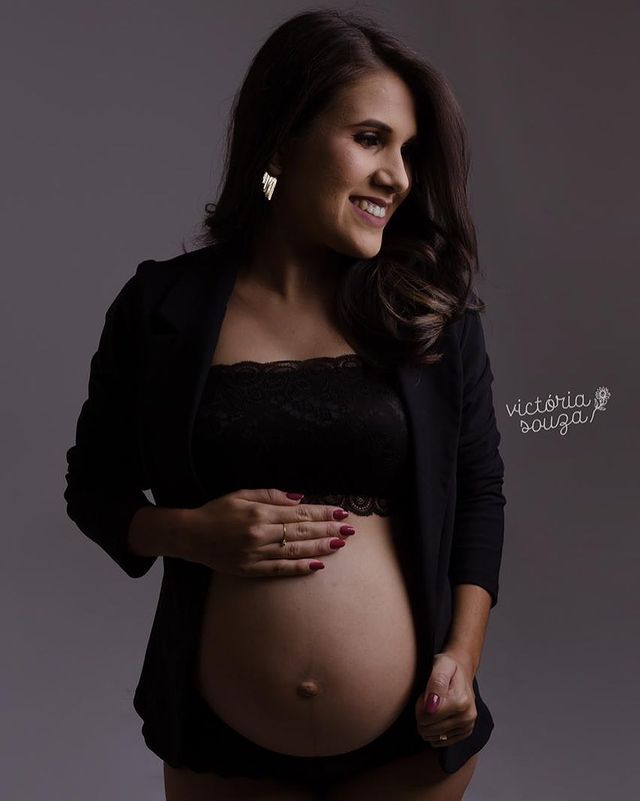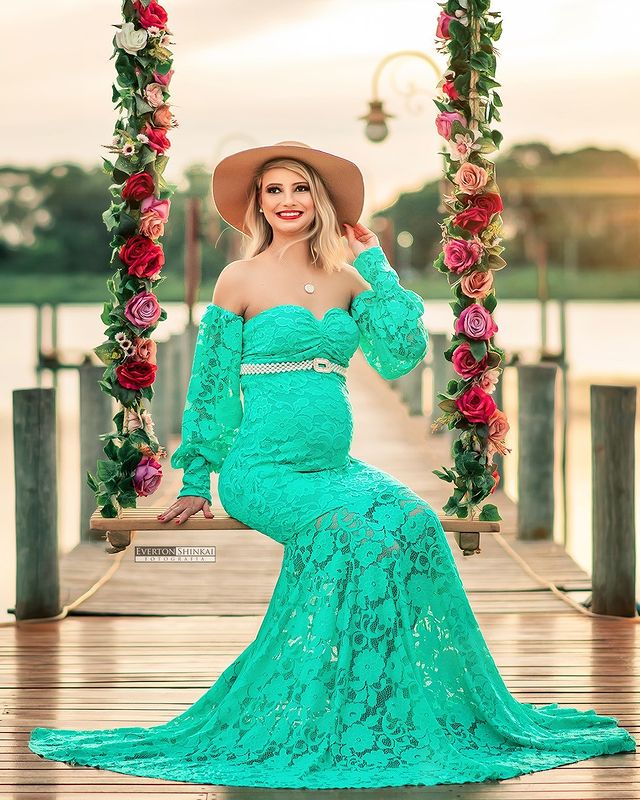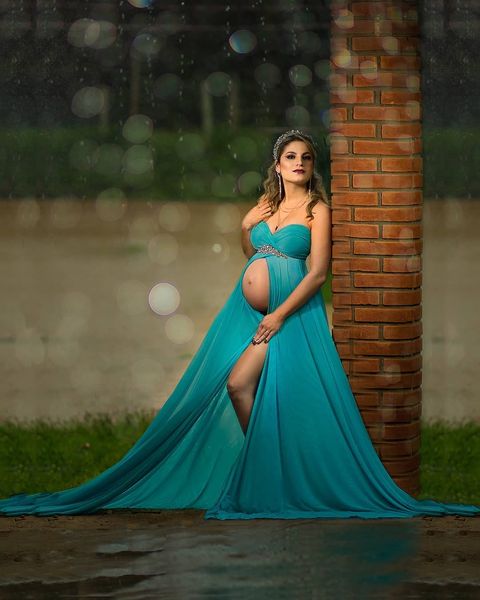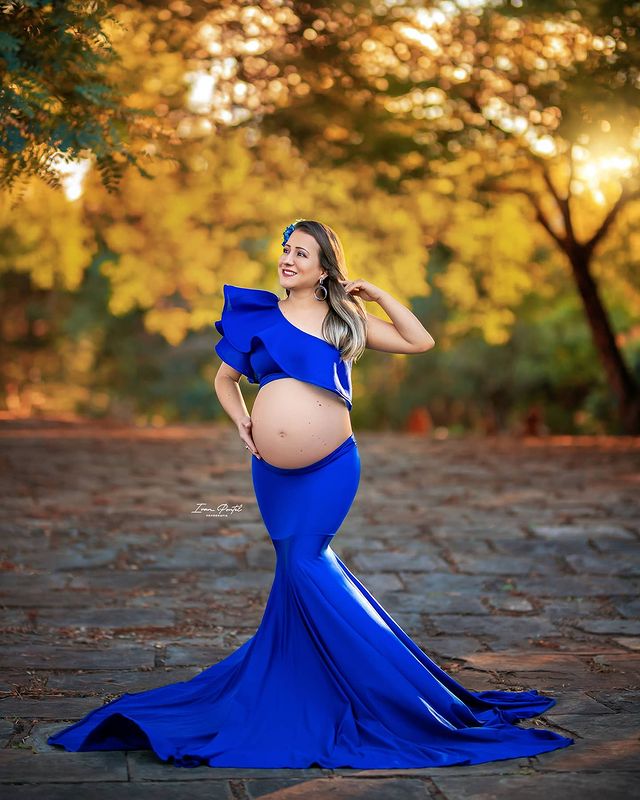 Choose Maternity Outfit According to the Season
Flowy silhouettes are the best choice because these pieces are not hard to find. It will really look terrific in the fall season, especially if you team up with knee-high boots and a stylish belt that accentuates your beautiful belly by staying ideally below your bosom. Plus-size fashionable mums go gaga over these wardrobe staples because this roomy design can easily cover up whatever you actually don't want to show in your photograph.
Steer clear of Dark Colors
Now, you have to make sure that this Maternity photoshoot should revolve around your baby bump when it comes to print or color.
Therefore fashion-conscious mums swiftly shun prints and patterns and plump for light colors like white, pink, beige, cream, light blue, or dusty peach that stands out the most and flaunts your beautiful belly and feminine look.
Avoid dark colors like black or navy that hide your baby bump, and go for bold ones like red, yellow, purple, or turquoise. If you have a proclivity for prints and patterns while shopping, let your husband wear a similar shirt this time. Add some fun to your beautiful look with bold accessories.
Flow with the Trend
Let's start with the baby-doll trend as it has been the star of various designer collections, including Cecilie Bahnsen and Greta Constantine. Women usually look for something long. Believe us. These fall maternity dresses will never let you down when it comes to styles and options.
Location guide for Maternity photoshoot 
Outdoor locations for Best Maternity Photography
Beach
Your sandy toes in white water, a beautiful Maternity photoshoot gown, and your suntanned bump, what can be better? Try to pick an outfit that lets the sun kiss your baby bump. A gorgeous flowy maxi dress, front open dresses, slit dresses, long-tail dresses, lace dresses, cover-ups are some of the best choices.
Park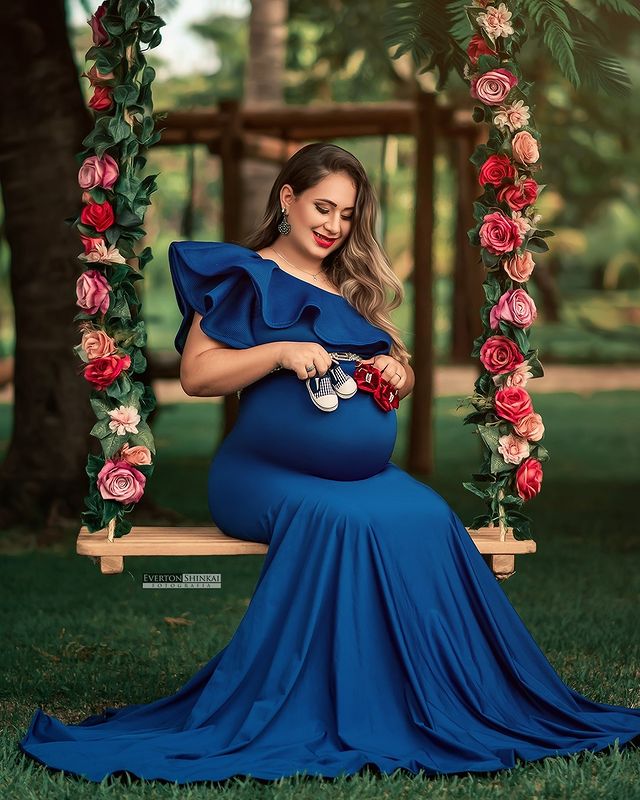 Park is another fantastic location for your cherished pregnancy portraits. You will look best with your partner if you are easy and relaxed during this photo session. Some of the best outfit choices will be lace maxi dress, mermaid dress, glittery dresses, off shoulder dresses, bodycon, long-tail dresses, and props like board and shoes.
Studio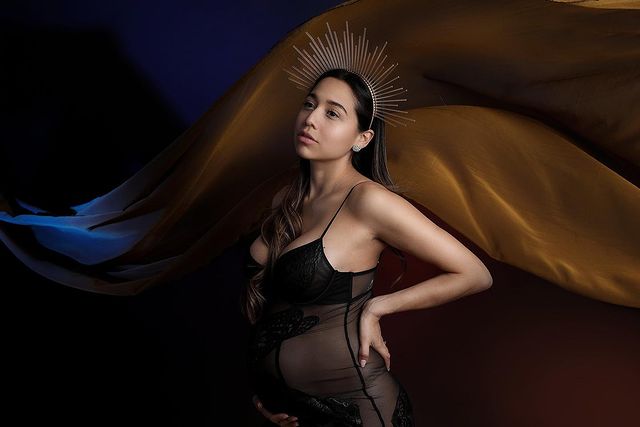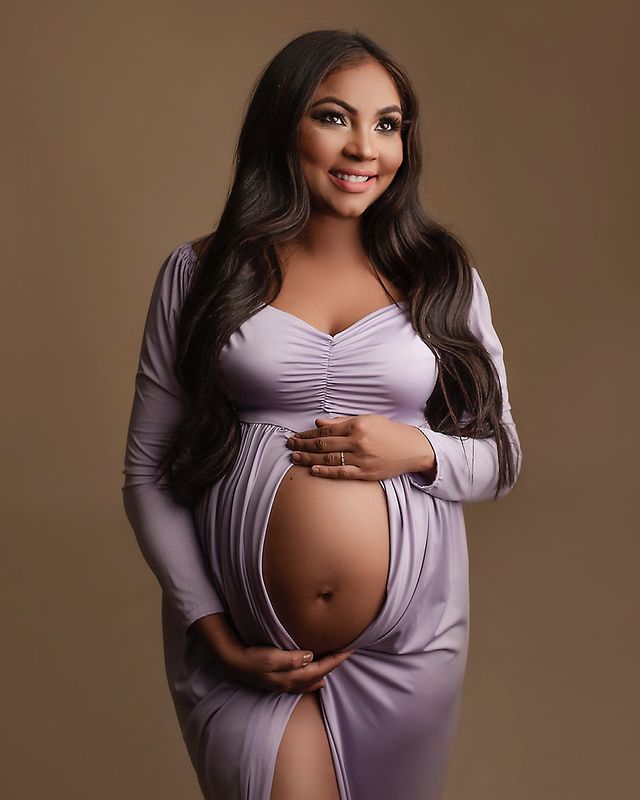 Studio photoshoots are timeless, artistic, and often experimental. Here the photographer tries to show his creativity with different concepts, ideas, looks, poses and dresses like bodycon, front open, a night suit set, lace, maxi dresses, or bodysuits.
How can we forget beautiful pieces of jewelry like a tiara or a pet? No matter how many unique or modern portraits you create, filming in a studio is incomplete without your beloved husband.
River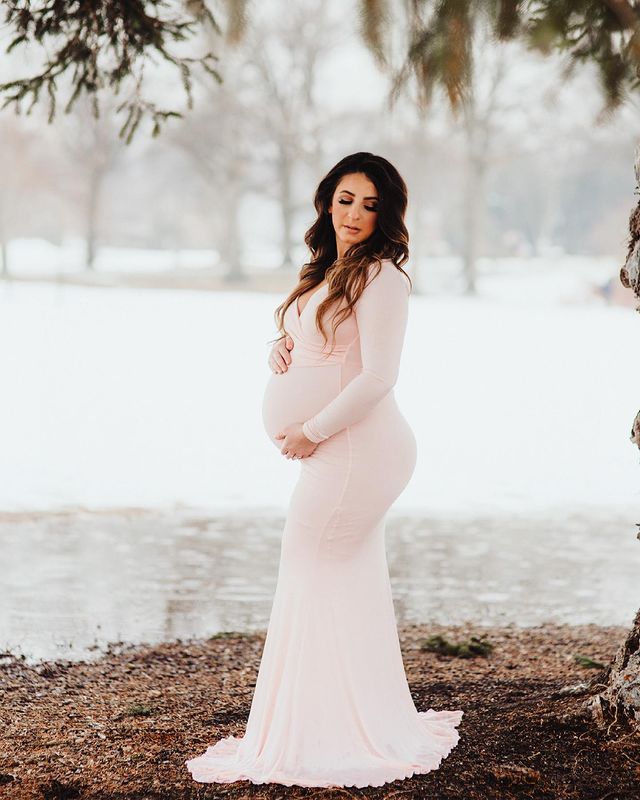 Riverside photoshoots are boho and romantic. In that case, you should go for sheer lace, a front open dress, or a flowy maxi dress. These stylish outfits will let the riverside wind flow through your clothing and make the whole shoot magical.
Street in city
For street photography, you should always choose someone who is addicted to it. A long maxi gown that flaunts your baby bump beautifully or a cute crop top with jeans and sneakers will come out as a beautiful picture in the street light. Apart from that, bodycon, off shoulder dresses with sandals and minimal pieces of jewelry is like earrings, bracelet, or a necklace set goes well.
Bridges
Whenever we watch bridges, we feel a delightful nostalgia. If you want to capture that nostalgia, you need to feel your husband's warm hug in a gorgeous light color maxi gown. You can also revive those nostalgias with your boyfriend by creating a girl-next-door look with a flowy skirt and a beautiful top.
Indoor locations for Best Maternity Photography
Are you not sure about heading towards a professional studio to get your Maternity portraits done? Well, your home or your beautiful garden can be turned into the best Maternity photoshoot areas. At first, you should watch the background of your living room, bedroom, kitchen, and bathroom. Understand the lighting part. Then you should get your makeup and hair done.
When it comes to clothing, top-bottom sets like Dungaree, jeans, and tees, oversized sweater staples will be excellent choices for you. Don't forget your camera, tripod, and remote control. Now you are all set to click! Enjoy this session with your beloved and create some beautiful memories that you two can cherish forever.