15 Casual Chic Outfit Ideas for Winter
Although days are getting colder and colder, you should keep yourself as stylish as ever before. As your personal fashion stylist, we are always here to offer you the best fashion ideas. In today's post, we'd like to show you 15 casual chic outfits which will keep your stylish and warm all the day.
These outfits are great for any everyday occasion and every one can find these basic pieces in their winter wardrobe. Just stay here and see how to make a fabulous winter outfit in an effortless way. Scroll down and enjoy.
Plaid Shirt Outfit with Boots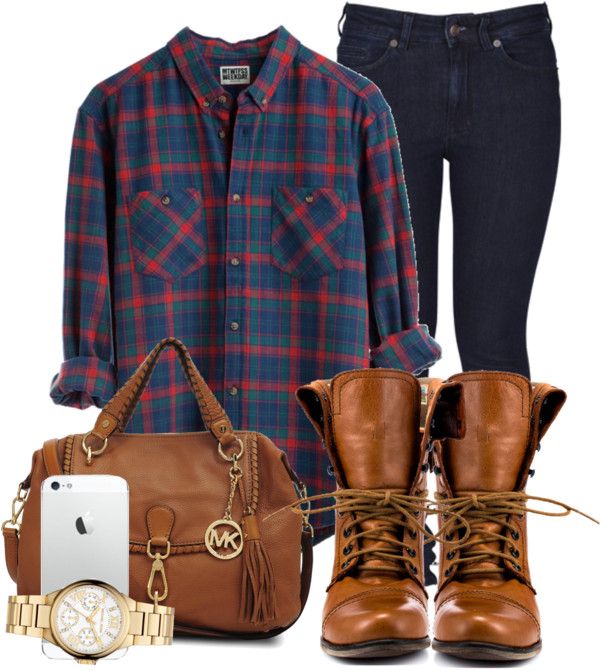 The plaid shirt is suited for all occasions. You can pair yours with jeans in a dark color and get your bags and boots matched. This outfit is great wherever you go.
Warm Winter Outfit Idea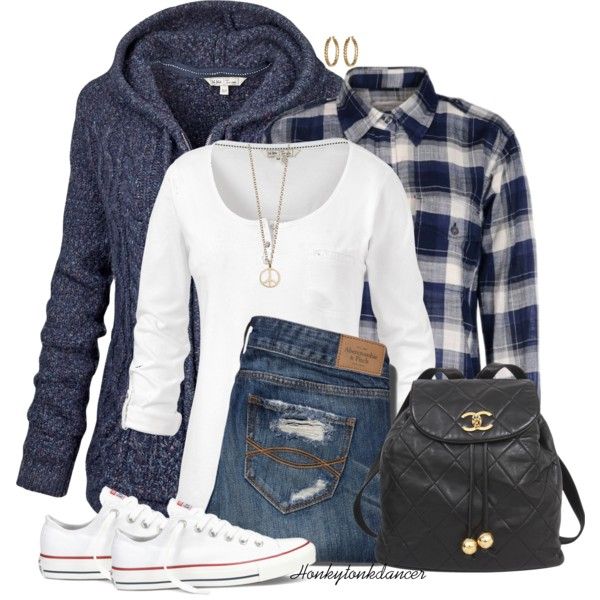 Snearkers are comfortable to wear and they will make your outfit effortless fahionable. You won't feel cold as you 've got the plaid shirt and the thick coat.
Pastel Sweater with Black Jeans for Winter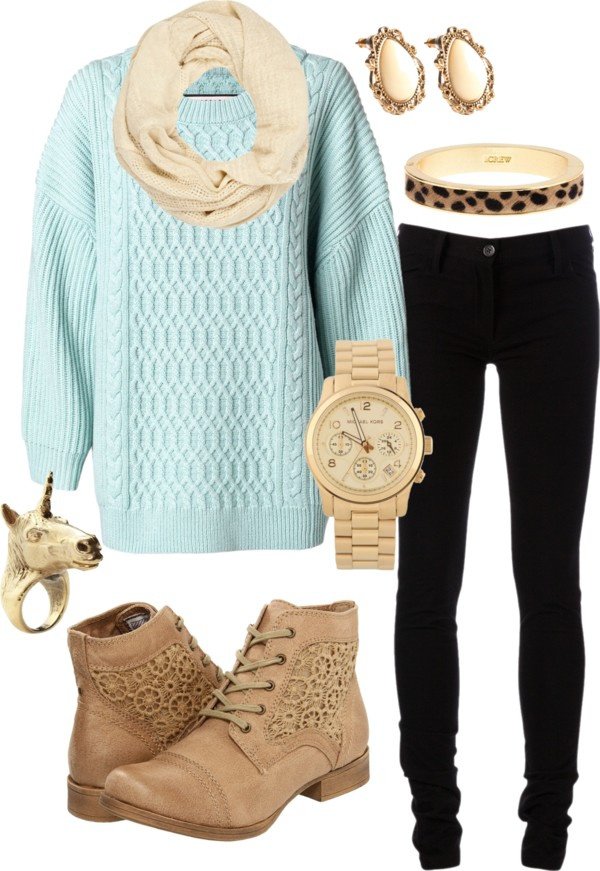 This Pastel sweater can make you look younger and more adorable. Just choose a beige scarf and a pair of light camel shoes to complete this pretty look.
Lovely Winter Outfit for Women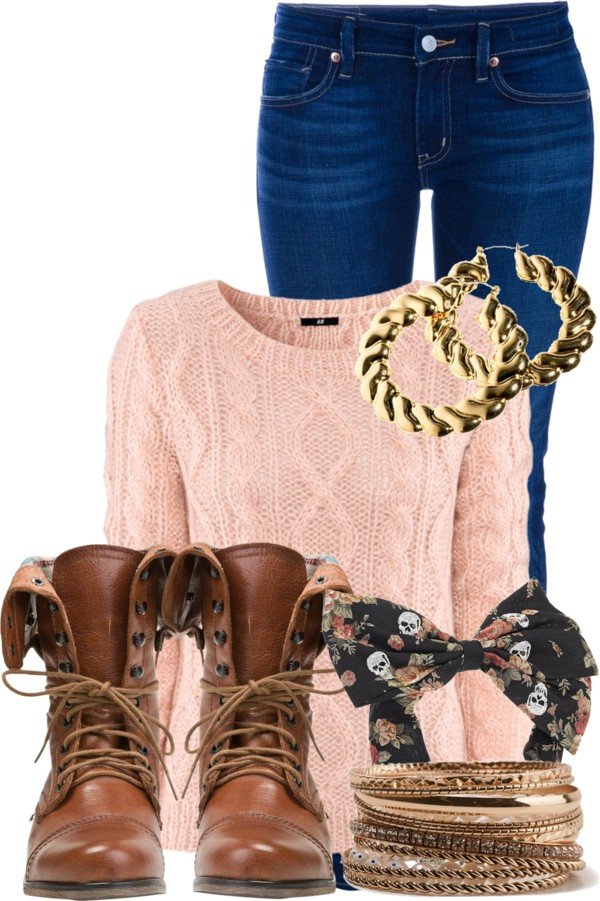 A pink sweater and a pair of jeans are pretty enough to make a lovely winter outfit. You can pair them with boots as you go out. Or, you can make this outfit more intersting by wearing some cute and chic accessories.
Maroon Sweater with Black Jeans and Boots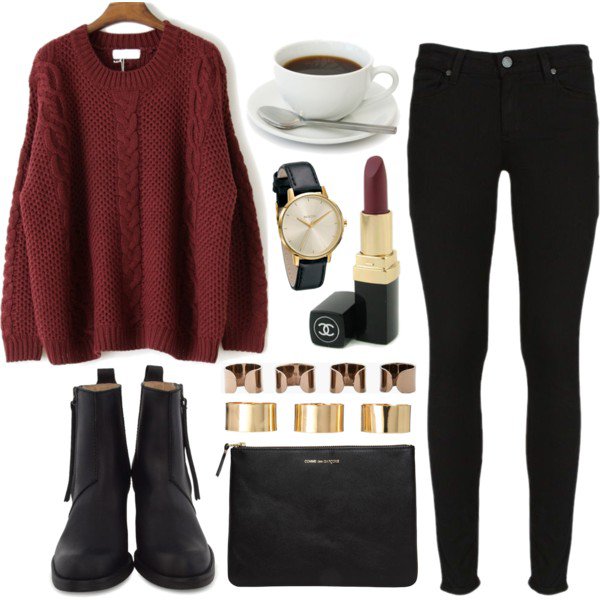 Maroon is a fantastic color for cold days. So, just find out your maroon sweater and pair it with the black jeans and boots. You can get a chic winter outfit instantly.
Simple Grey and Black Outfit for Winter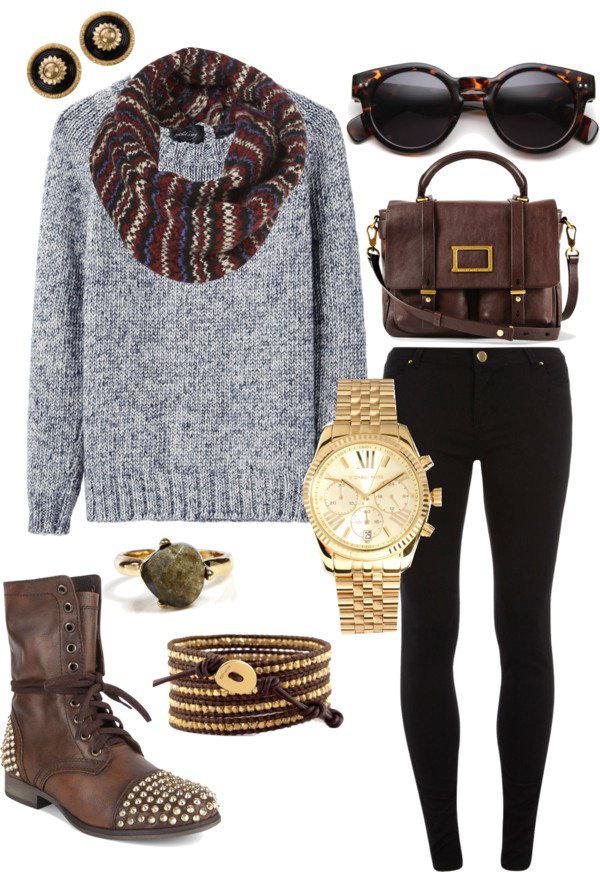 A pair of stylish shoes will upgrade any ordinary outfit. Besides, the simple grey and black outfit become much more fashionable as you pair them with appropriate accessories.
Printed Sweater with Brown Boots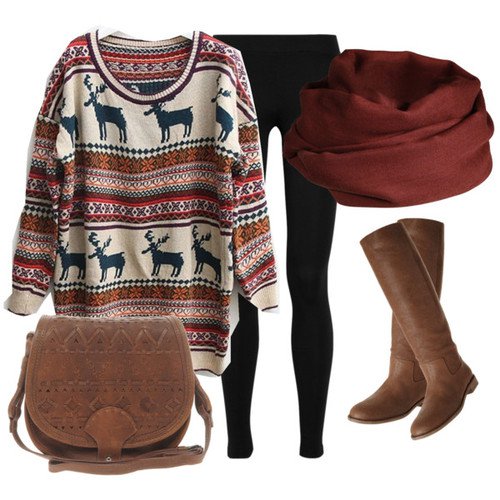 You can't have a warm winter outfit without a scarf. In addition, pair your printed sweater with black leggings and boots. Thus, you will spend a warm day.
Lovely Winter Outfit with Printed Sweater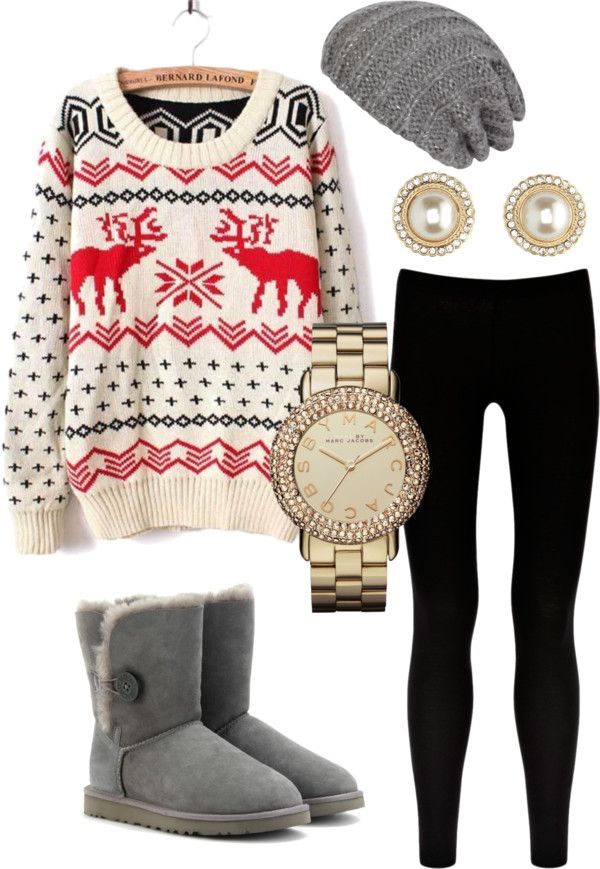 You will look quite lovely with printed sweater as you pair it with elegant pearl earrings, gray hats and boots. This outfit is wonderful for young women.
Casual Chic Winter Outfit with Jeans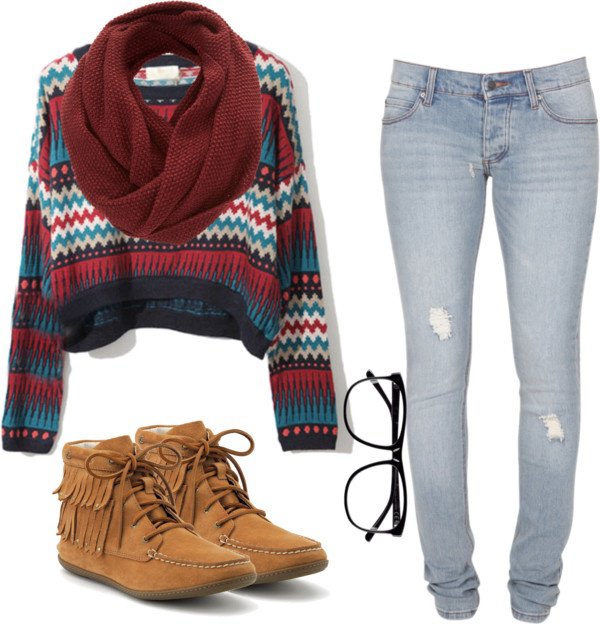 Ripped jeans and knitted crop top will make a casual chic outfit. To make yourself warmer, you may as well add a knitted scarf in any bold color.
Stylish Winter Outfit Idea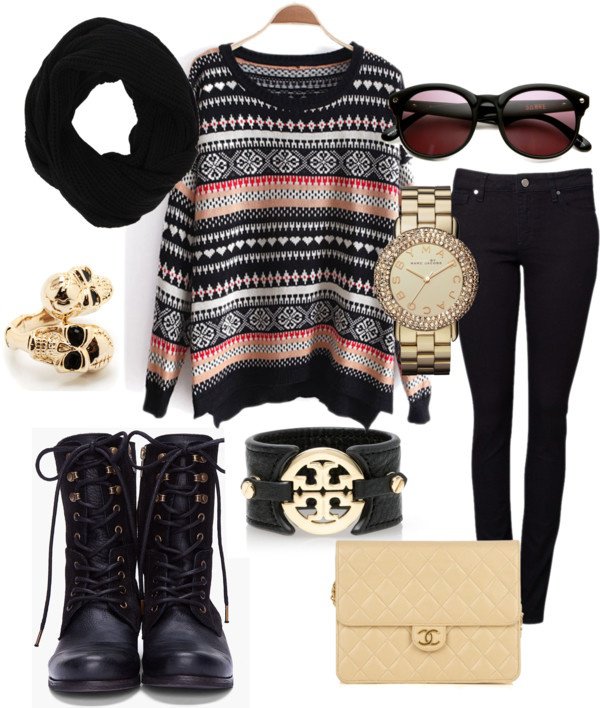 Black is common to see in winter. It's classic and you can make your black outfits more outstanding by puting on a stylish sweater and wearing some metallic accessories.
Chic Winter Outfit with Printed Cardigan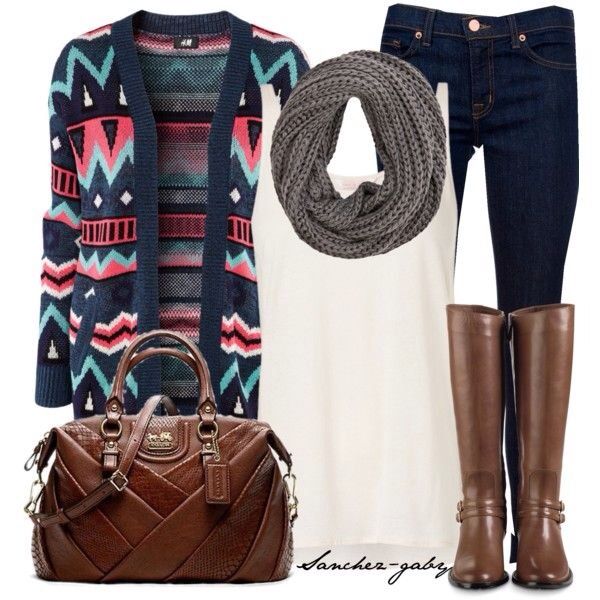 Wear a printed cardigan over your summer white top and then pair it with jeans and high boots. Of course, you should not ignore the knitted scarf.
Fashionable Winter Outfit Idea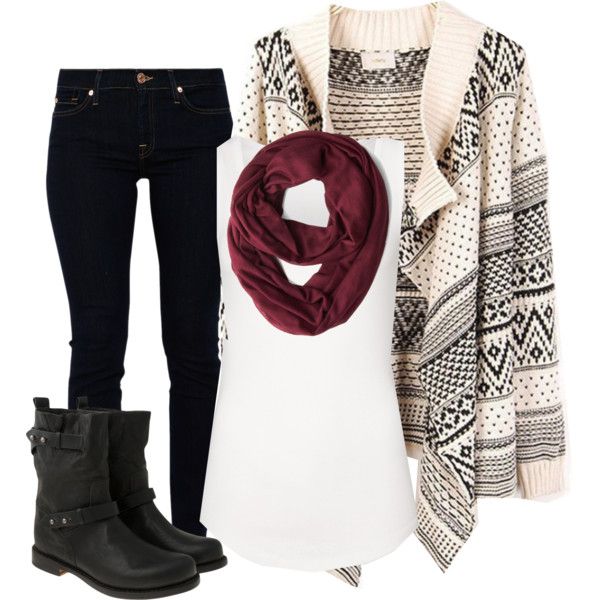 If you prefer simple look, this outfit idea will work for you. To look more stylish, just add a maroon scarf.
Grey Cardigan and Jeans Outfit for Winter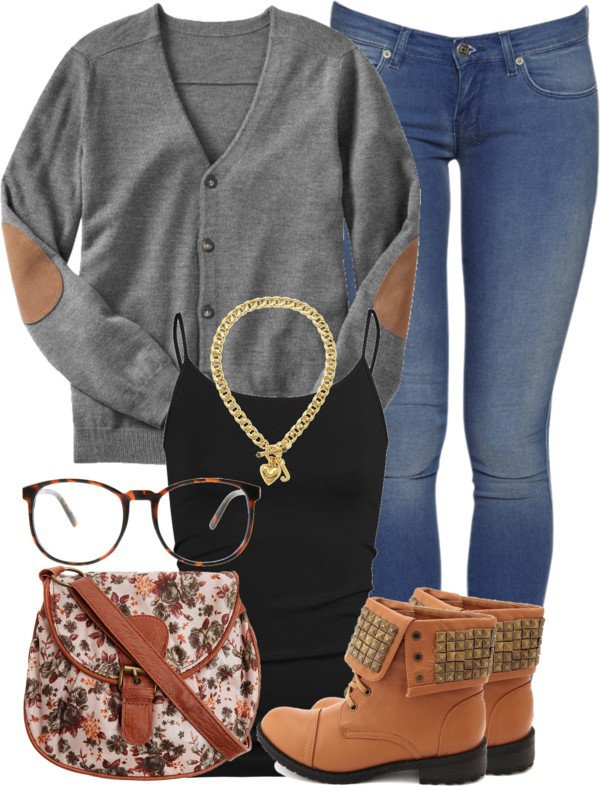 There are some sunny days in winter. That will be the best time to wear you summer top and layer a cardigan over it. A pair of ankle boots will keep you warm the whole day.
Effortless Black and White Winter Outfit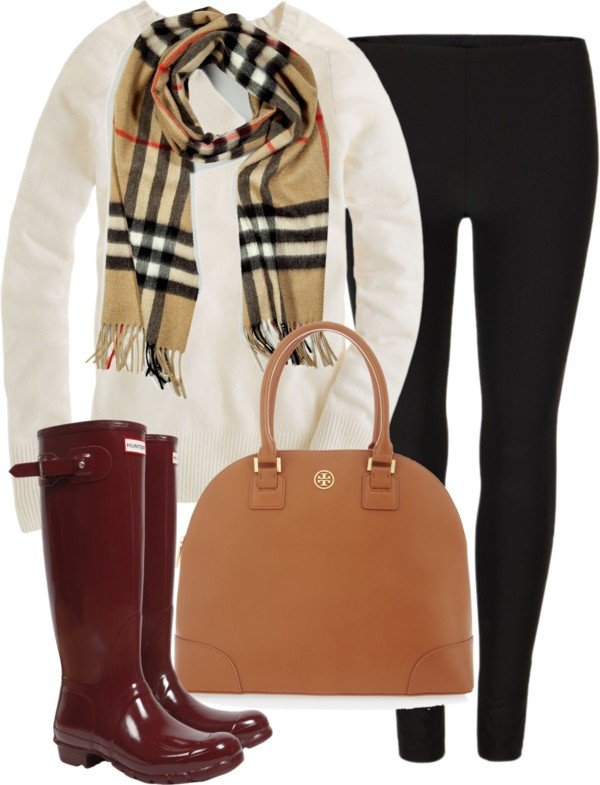 Everyone should own a tartan scarf. That's because it can not only keep you warm but also keep you stylish.
Trendy Winter Outfit with Black Dress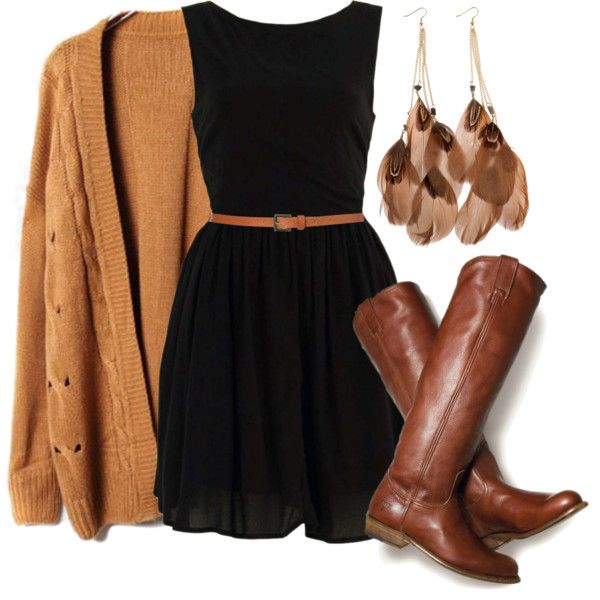 No matter how old the day is, there are still some women who would like to wear dresses. If you do belong to this group of women, just copy this outfit idea.