Ombre hair is a trend that's been around for some time now, and it's truly taken the fashion world by storm. In fact, this gorgeous look that blends two colours together isn't going anywhere, and we're delighted by this because we think ombre might be our favourite hair trend ever.
Ombre hair is truly beautiful, and here are some of our favourite looks in a range of different colours and styles to get you inspired to take the ombre plunge yourself.
Beautiful Brown to Honey Blonde Ombre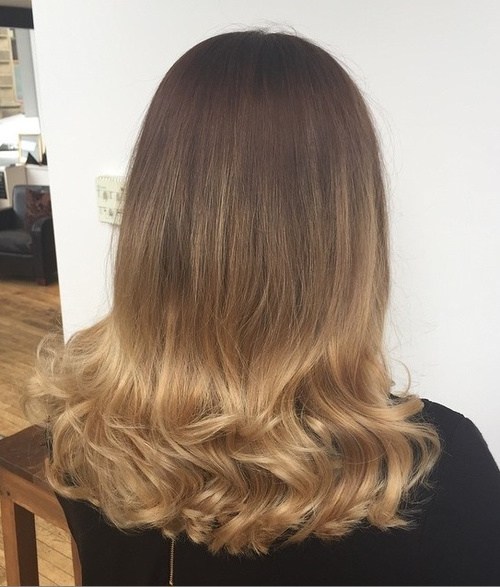 This stunning look has been perfectly styled and this gorgeous girl is read for a night out or a gorgeous glamorous event! Her hair starts a beautiful rich brown colour and gradually melts into a stunning caramel-toned blonde towards the end, which are curled to perfection to highlight the most beautiful colour transition. We love this look!
Dark to Light Brown Ombre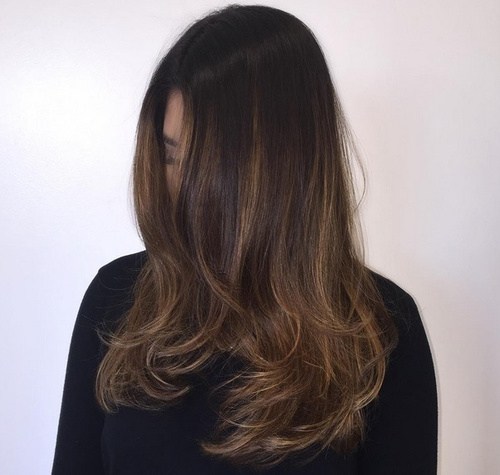 This gorgeous look shows how ombre can be special with two tones of the same hair colour – brown to brown. This girl has gone for a gorgeous dark brown at the root which blends seamlessly into a light brown at the ends. This fashionable lady has gone for a gorgeous soft curl throughout the hair which creates stunning volume and bounce.
Light Brown to Bleached Blonde Ombre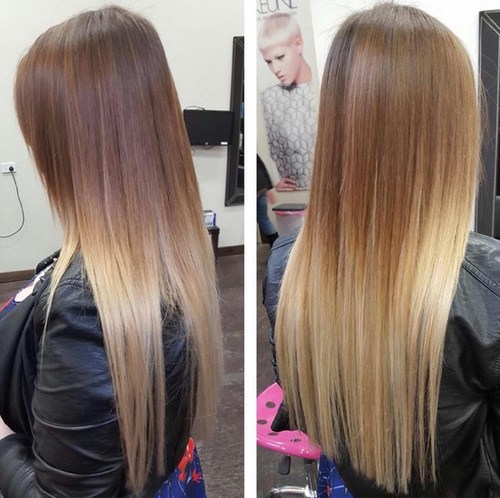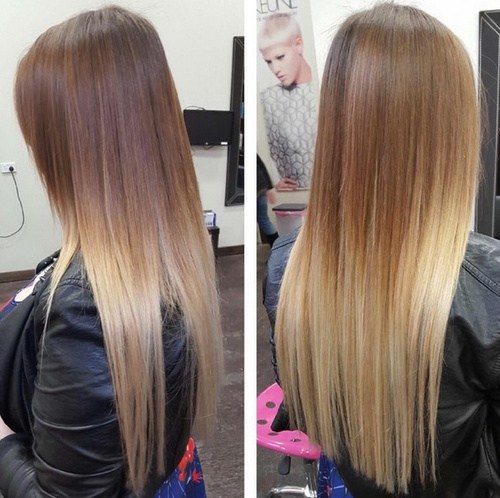 A contrast to the previous style which went from one shade of brown to the other, this glorious hair style goes from a light brown to a vibrant bleached blonde, transitioning beautifully from one colour to the other. This fabulous girl has gone for a shiny, straight and sleek style to show off the amazing colour melt, but it would look fantastic curled too!
Black to Blue Ombre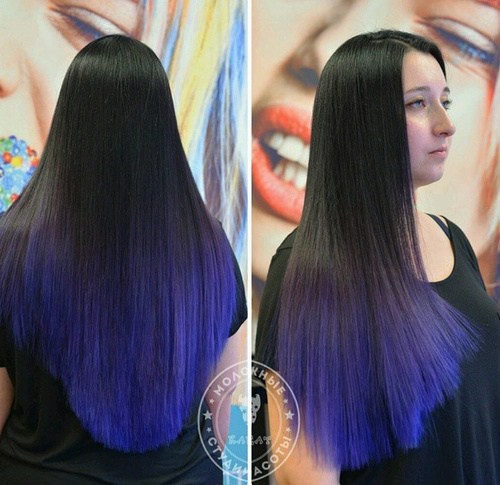 Of course, the impeccable ombre style still looks gorgeous if you're opting for a more vibrant colour too! This lady has gone from black to a gorgeous bright blue and we think the two colours work together perfectly. This lady's long locks are smooth and straight, which means the colours are showed off in a super stylish way, as we're sure you'll agree.
Multi-Coloured Ombre Look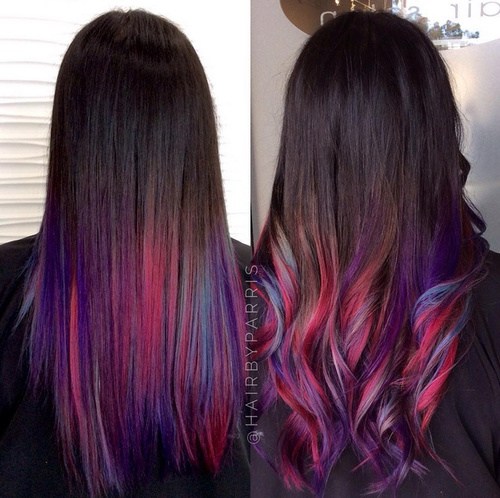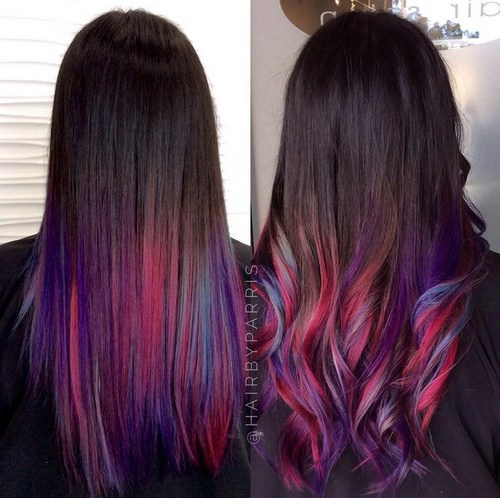 Why settle for one colour transition when you can go for several? This amazing hair goes from a beautiful incredibly dark brown to a wonderful selection of pinks, blues and purples which creates a stunning rainbow effect that we just can't get enough of! As the pictures show, this look is equally as impressive when straight as it is with beautiful curls!
Fiery and Colourful Ombre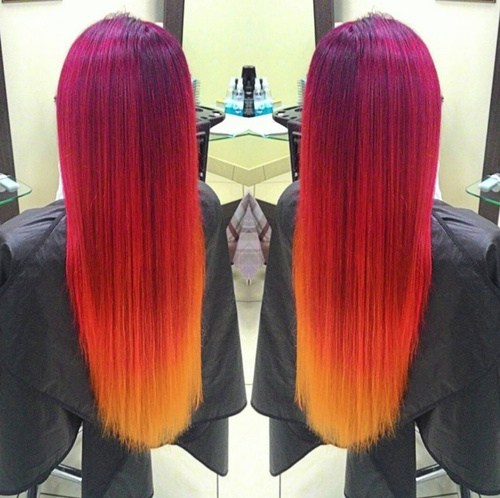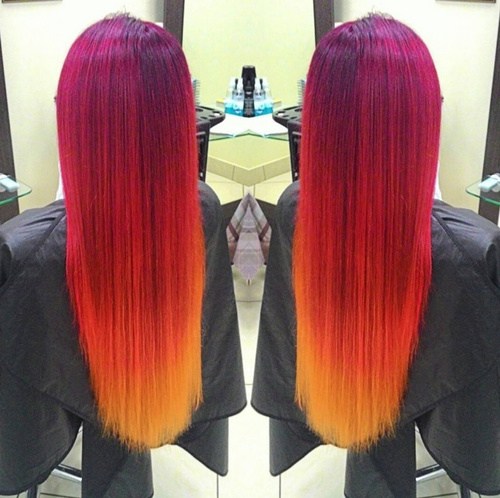 This amazing and colourful ombre look is fun, flirty and oh so stylish – and what's not to love about that? Starting from a gorgeous hot pink, working its way into a deep red and finishing with a bright orange on the ends. The completely straight look shows off this amazing colour transition to perfection, and we think it looks incredible!
Black to Red and Orange Ombre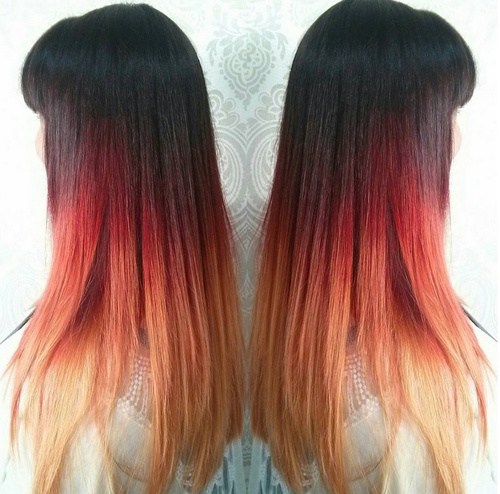 This gorgeous ombre look is fun, colourful and quirky – and we absolutely adore it! Starting from a beautiful and glossy black look at the root, transitioning into a gorgeous and fiery red and finished with a lovely and vibrant orange at the tips. This lady has gone for a straight look which highlights the colour change and shows off this fabulous style.
Brown to Toffee Coloured Ombre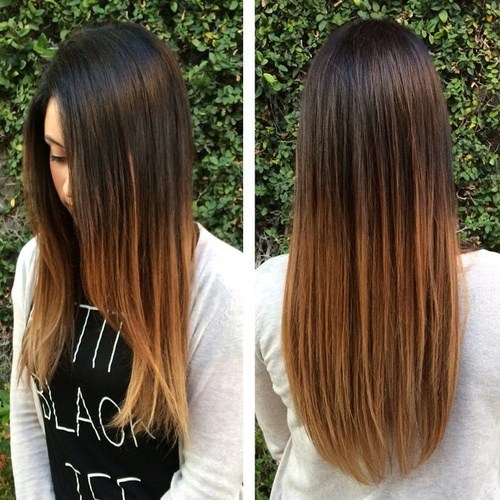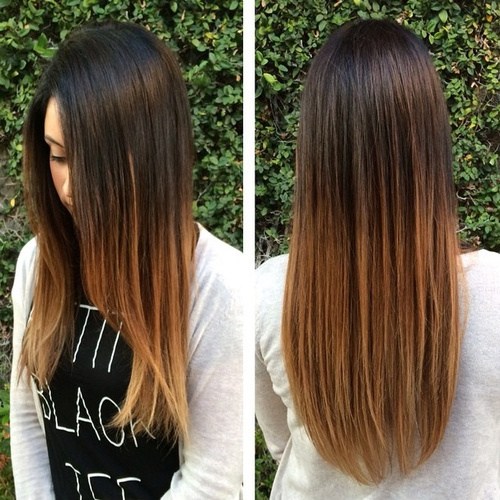 This stunning look is natural and gorgeous, with an on-trend ombre twist that we can't get enough of! Going from a rich and dark brown at the top of the head to a stunning toffee-coloured lighter brown at the ends, the blend is truly seamless and looks absolutely gorgeous with a soft flick on the end as this lovely girl has gone for. Add some curls for a night out look!
Beautiful Black and Red Ombre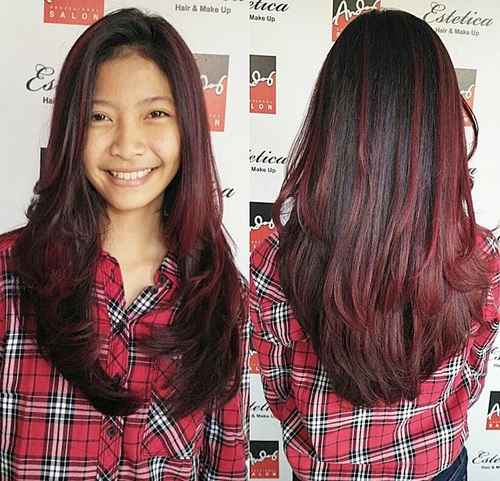 This beautiful black and red ombre look combines the two hair colours seamlessly to create a truly striking hair style that we just can't get enough of. This gorgeous girl has gone for a stunning red ombre look that starts towards the top of her gorgeous black hair, and blends to a stunning look at the ends. She's loosely flicked the ends for a beautiful look which we adore!
Dark to Light Blonde Ombre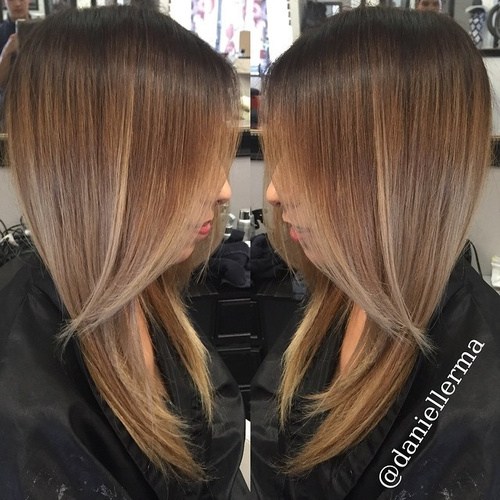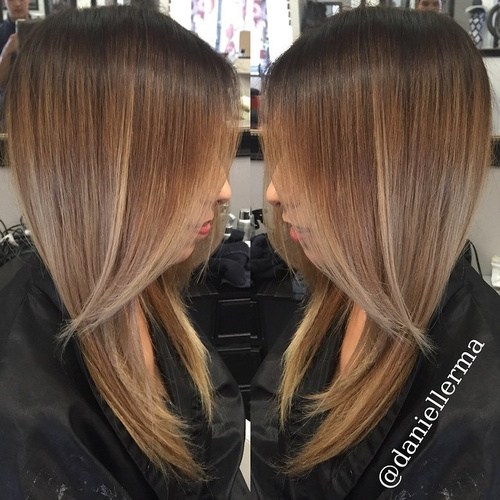 This glorious dark to light blonde ombre is an incredibly beautiful and natural looking colour blend that is testament to excellent hair dressing in our opinions! Working from an incredibly dark blonde tone at the root of the head to a gorgeous light blonde at the ends of the hair, there's a subtle flick at the end of this straight and sleek look to show off these colours.
Red Toned Brown to Caramel Ombre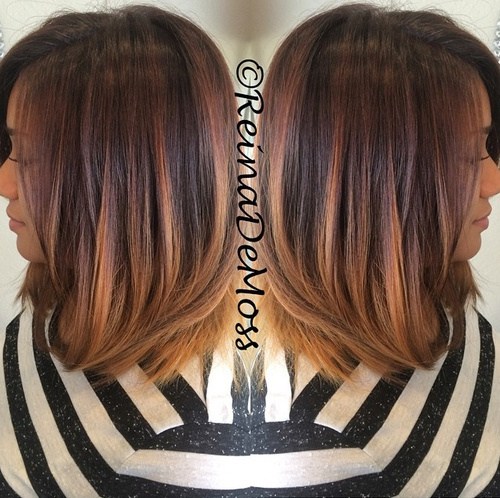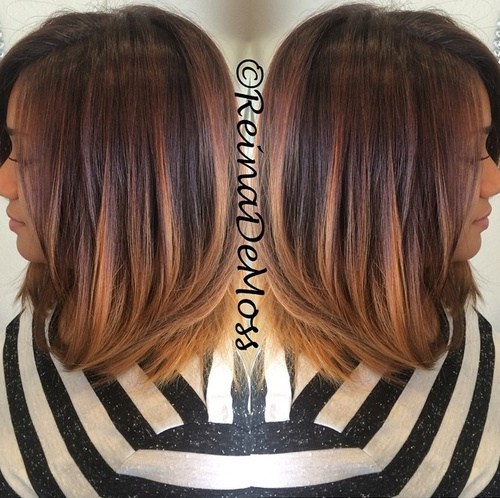 This gorgeous colour combination is totally unique and we simply love it! This fashionable lady has a stunning red-toned brown hair tone that blends perfectly into a caramel tone at the ends. The colours in this wonderful cut create a striking appearance on this amazing shoulder length hair style which is straight, sleek and oh so smooth too!
Dark Brown to Vibrant Red Ombre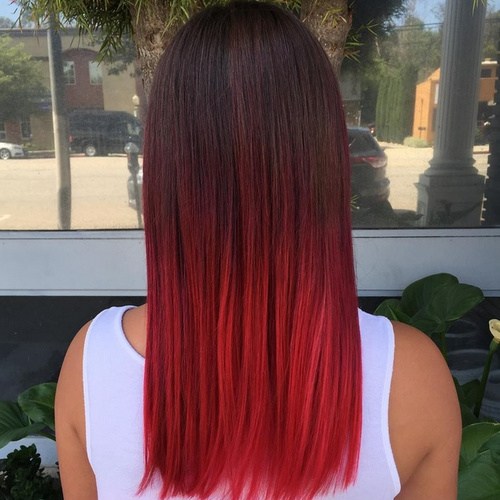 Brown and red are two colours which work seamlessly together time and time again, as this fabulous hair style proves! This lady's worked a gorgeous and vibrant red tone with an ombre transition from her gorgeous brown roots, and opted for a straight and sleek style to really show off this beautiful change in colour! This would look equally amazing curly too.
Blonde to Blue Ombre Look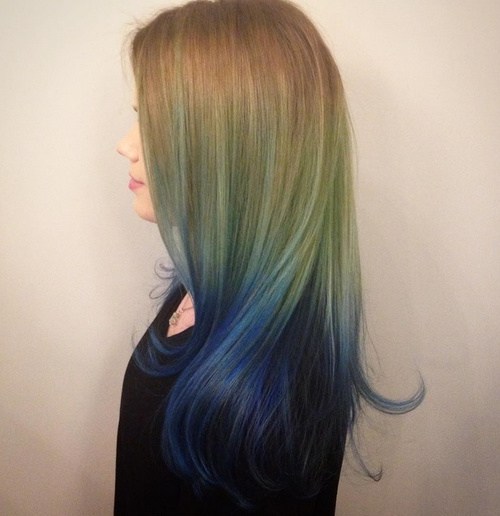 Blonde and blue might not have been two colour tones you would typically put together, but after one look at this gorgeous girl's wonderful hair we're sure that you will be dying to pop to the hairdressers and get the same gorgeous blonde to blue ombre style. This lovely long hair is finished with subtle flicks on the ends to highlight this beautiful look.
Dark Brown to Copper Ombre Bob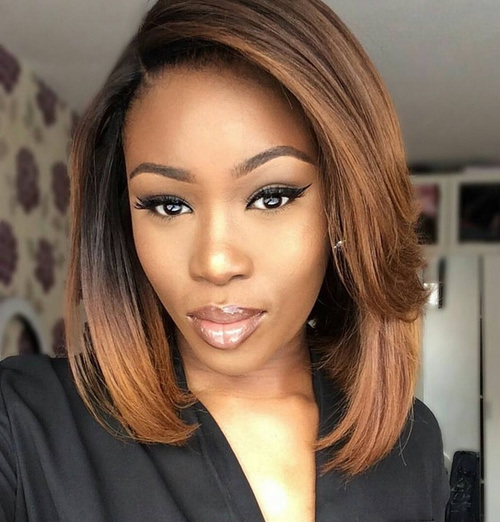 This stunning dark brown to copper ombre look might just be one of our favourites in this stunning ombre collection, and it's certainly not difficult to see why! The stunning and unique copper tone that forms the body of the hair is so striking, especially on this shoulder length bob which is finished with ends that are curled softly to create body and bounce.
Brown to Blonde Long Ombre Style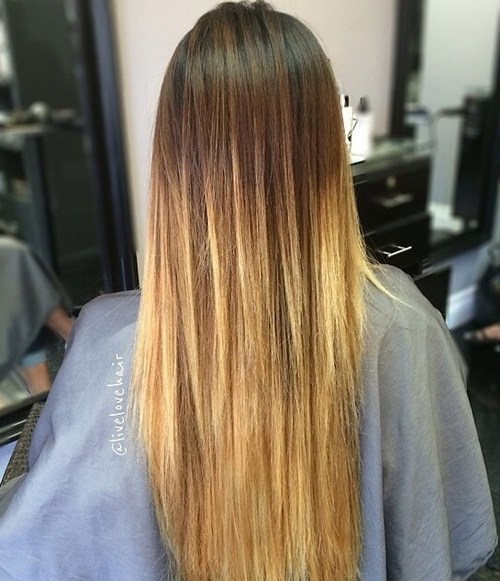 This brown to blonde ombre style is long, sleek and oh so stylish – and we're not entirely sure we could love it any more! From a stunning chocolate brown blending into a glorious warm blonde tone which forms most of the length of the hair, which is incredibly straight. We think this beautiful hair cut would be stunning with some loose curls throughout too!
Brown to Blonde Inverted Bob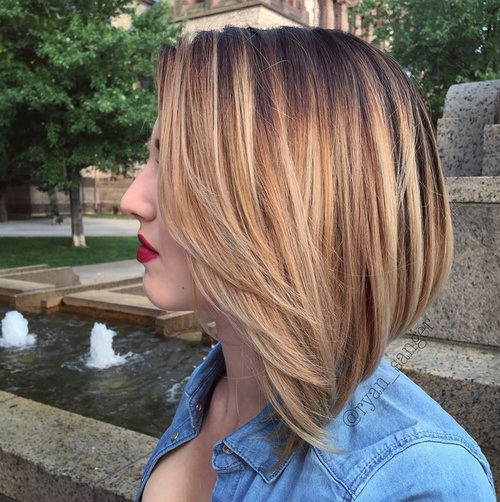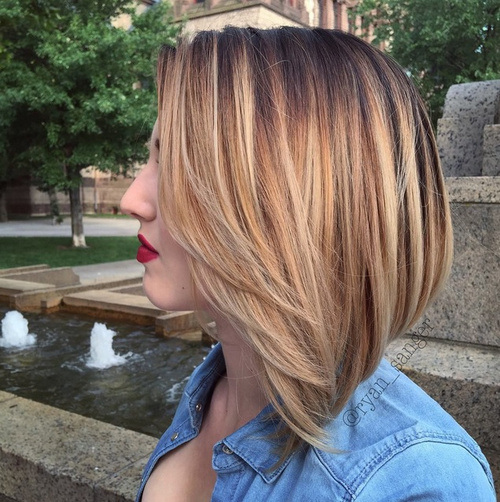 This brown to blonde inverted bob is stylish, classy and super sophisticated – simply perfect for a cut that stands out from the crowd. These gorgeous brown roots are highlighted with a range of stunning blonde tones to create a light and bright overall look which works incredibly well on this amazing bob cut which graduates from longer at the front to shorter at the back.
Brown to Denim Blue Ombre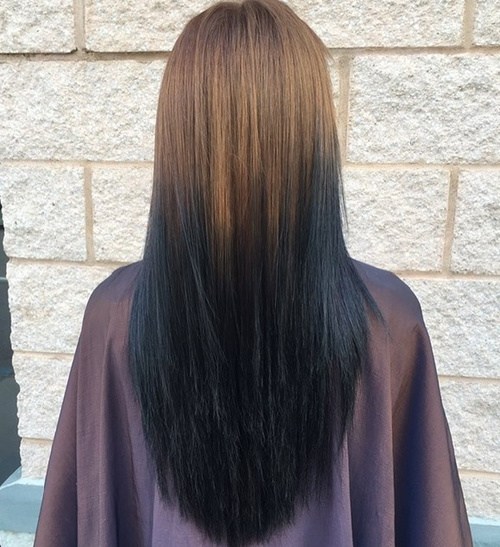 This gorgeous rich brown hair has an ombre transition to a completely unique and striking denim-toned blue which is such a stand out colour that we simply cannot get enough of. The transition is smooth, sleek and oh so striking, as we're sure you'll agree. This look is beautiful, especially on her long and straight hair which falls down her back.
Brown to Bubblegum Pink Ombre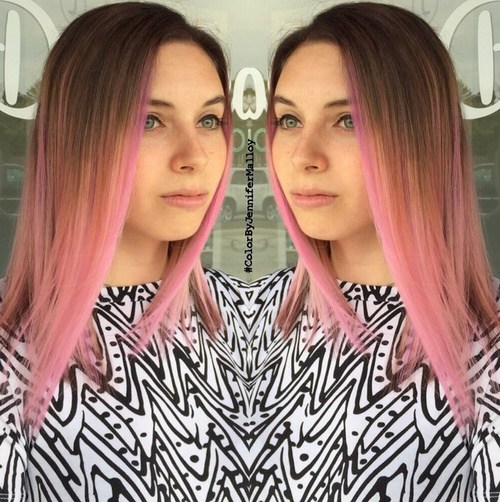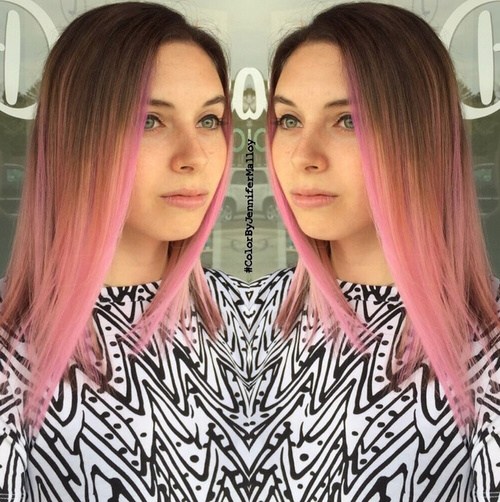 This stunning lady has the most fabulous pastel toned hair – she looks as if she's straight from the catwalk! Her hair is a stunning combination of brown and bubblegum pink, with one colour blending to the next in an amazing ombre style. She's gone for a smooth and straight style which falls around her shoulders to highlight this phenomenal colour.
Black to Grey Blonde Ombre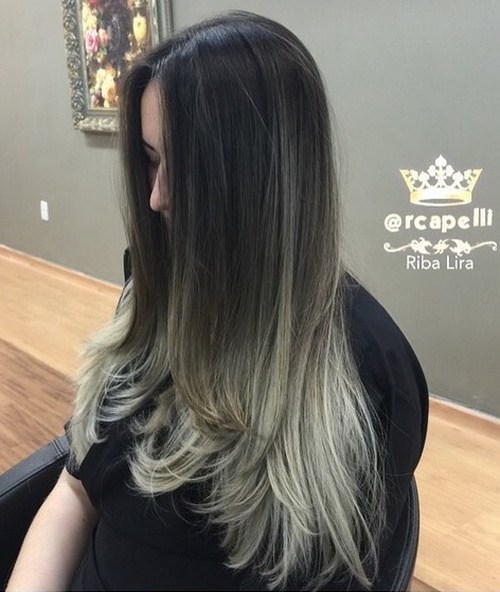 This amazing black to grey blonde ombre look is a stunning combination of trends to create a totally unique style which we just can't get enough of! Grey tones are incredibly fashionable, as are ombre hair looks – so to combine the two is unique, innovative and simply gorgeous. This long hair is finished with amazing flicked ends that we just love.
Coffee Brown to Honey Blonde Ombre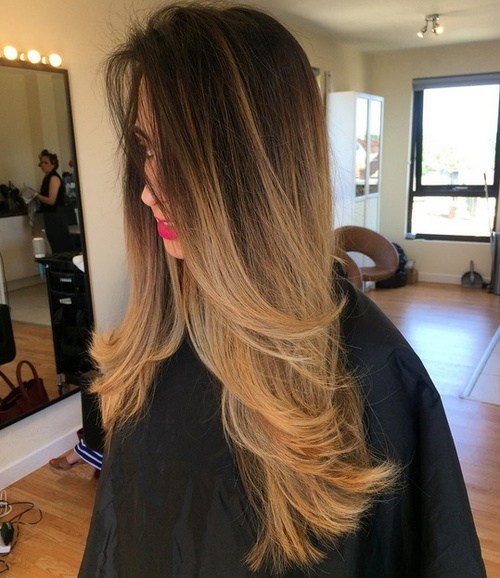 Brown and blonde go together like black and white, peanut butter and jelly and left and right! They're a match made in heaven – especially when they're put together in an ombre style on stunning long hair like this lady has. The brown colour melts from brown to blonde and the ends are flicked out in a remarkably glamorous style ready for a fabulous occasion.
Ombre is a hair trend which suits simply everyone and never fails to look gorgeous; regardless of which colours or styles you choose to work it with! We hope our gorgeous selection of pictures has inspired you to change up your look, but with Styles Weekly there are always plenty more gorgeous pictures in other blog posts to come – so make sure you have a browse of the site in full!