1. Nina Dobrev Ponytail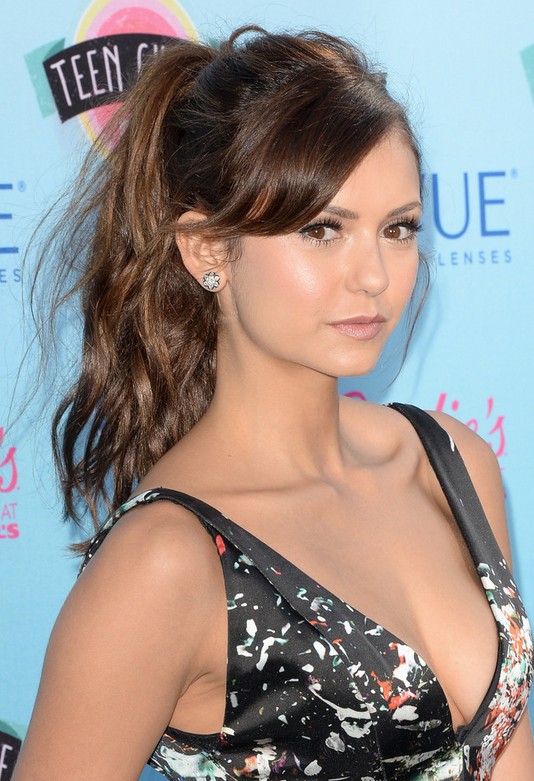 This is a versatile look that would be just as suitable for an everyday shopping trip as it is for the red carpet.Nina Dobrev's hair always looks thick and healthy, and this look makes the most of her great head of hair with a big high ponytail. The lengths of the hair are then styled with tousled waves and loose strands, while the front of the hair is smooth and sleek in a flattering sweep that really helps frame Nina Dobrev's well-proportioned, symmetrical face.
2. Nina Dobrev Long Hairstyles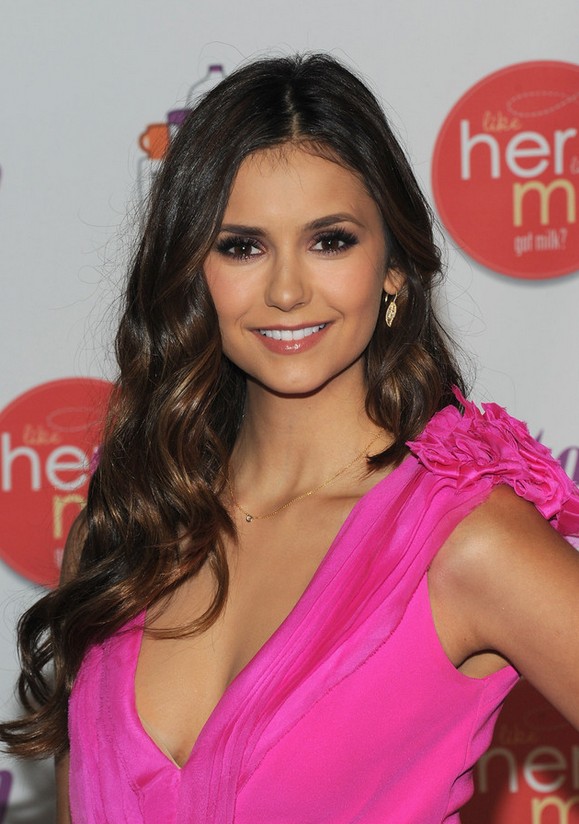 This is an impressively long, thick hairstyle that gives Nina Dobrev the impression of having endless quantities of stunning chocolate brown hair. This style relies on this enviably thick cascade of hair that is styled in big, loose waves from the eye level right down to the ends. The hair is allowed to fall over one shoulder and down the back, so this look is attention grabbing from all angles. A few lighter golden highlights help define the waves and add more warmth to the look, and the hair is so smooth and shiny it simply has to be worn loose to show it off.
3. Nina Dobrev Hairstyles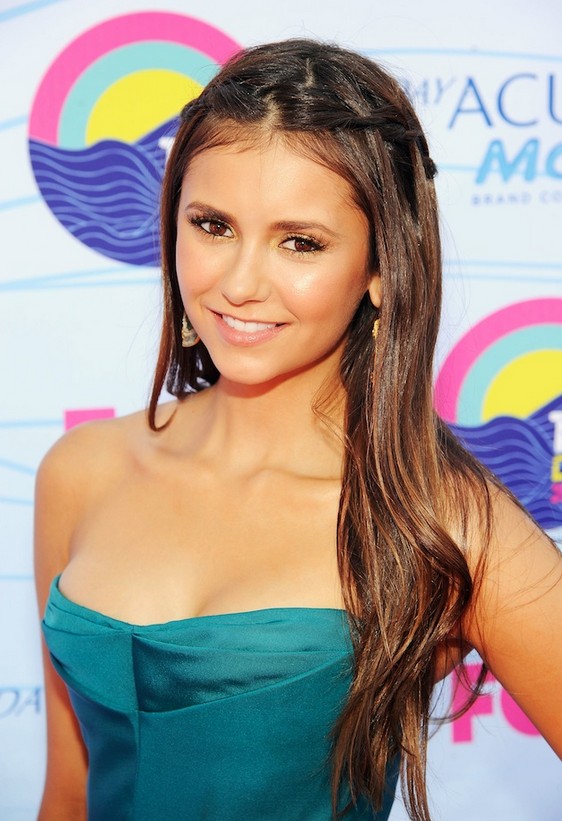 This style is an odd choice for Nina Dobrev. Her long dark hair is kept very straight with some stark golden highlights throughout the lengths. The parting is uneven, with a braid at each side of the head brining the front section of hair back from the face. The overall effect of this look on the top of the head is that is appears quite badly styled. The style also makes her forehead look larger which upsets the balance of her face. Not the best of looks for Nina Dobrev.
4. Nina Dobrev Curly Hairstyle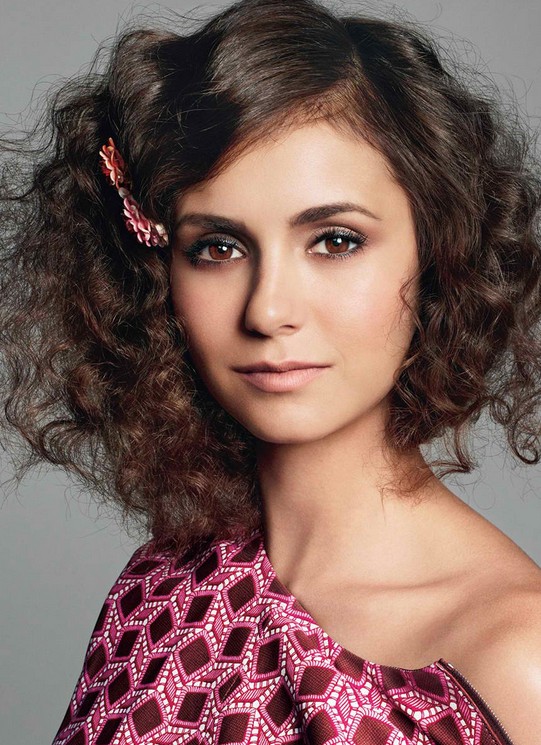 This is a high fashion look that might not be particularly practical, but as a fashion statement, it certainly stands out. Nina Dobrev's cool shade of brown is styled in a side parting and then curled in small sections before being teased to create this big voluminous bank of curls at one side and a slightly smoother look at the other side of the head. Held back from the face with a pretty hair slide, once you get used to the big impact of this style, you can see how it really flatters Nina Dobrev's face shape and provides a soft, ethereal look that is great with her pale peach skin tone.
5. Nina Dobrev Chignon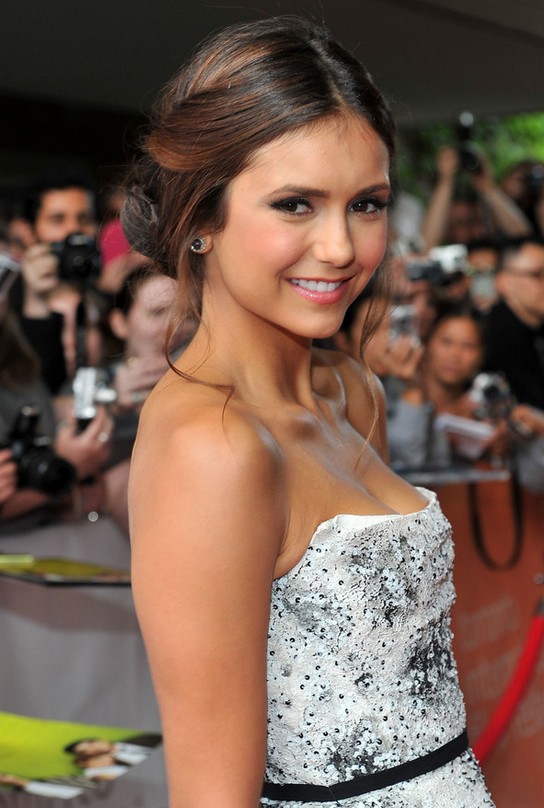 The classic chignon is sometimes thought of as an older, more formal style, but hereNina Dobrev shows off a pretty chignon style that is well structured and yet loose enough to allow plenty of body on top of the head and loose strands which add detail and interest to what could otherwise be a stark look. With her dark brown highlighted and lifted by a range of golden brown shades, this is a really great look for Nina.
6. Nina Dobrev Braided Updo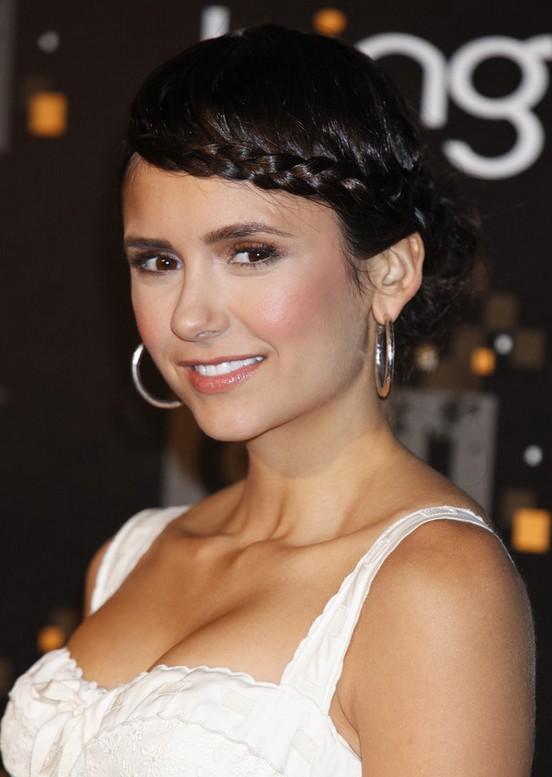 A braid is a great way to add some classic feminine detail to a style, as well as a touch of youthful, girly fun. This style, worn by Nina Dobrev, is a good example of how a braid can really add to a formal look. The shape is unusual, leading some to compare it to a hat rather than a hairstyle, but Nina has a tall forehead which means she can wear the style low over the front of the head without it making her face look short. The hair is gorgeously shiny and rich, with a dark shimmering brown colour that really makes her eyes stand out.