1. Sandra Bullock Straight Hairstyles: Long Hair with Bangs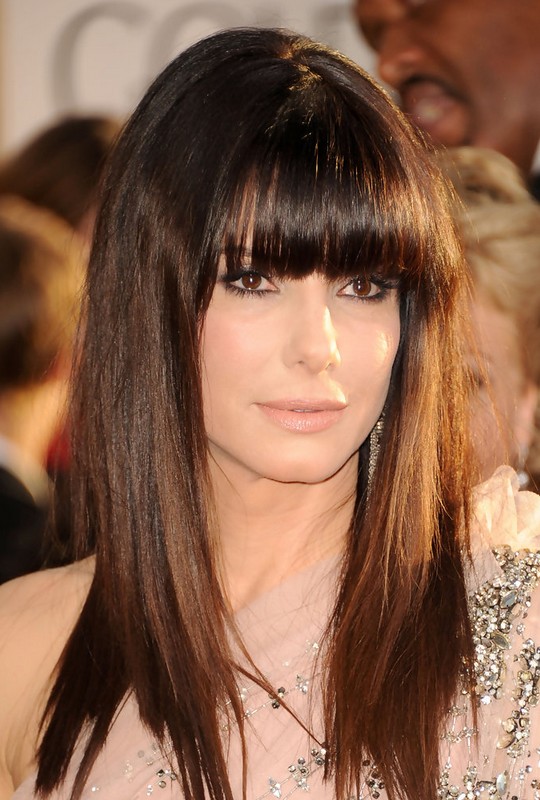 A heavy fringe is a tricky style to pull off, but thanks to a balanced face and high forehead, Sandra Bullock gets it just right with this on trend look that sees a full fringe just graze the tops of the eyes. The lengths of the hair are kept poker straight but have loads of shape as they have been cut into layers of different lengths. The colour is Sandra's trademark chocolate brown shade with a few warm tones throughout creating extra depth. The overall effect is very beautiful, a look that really flatters the actress.
2. Sandra Bullock Long Hairstyles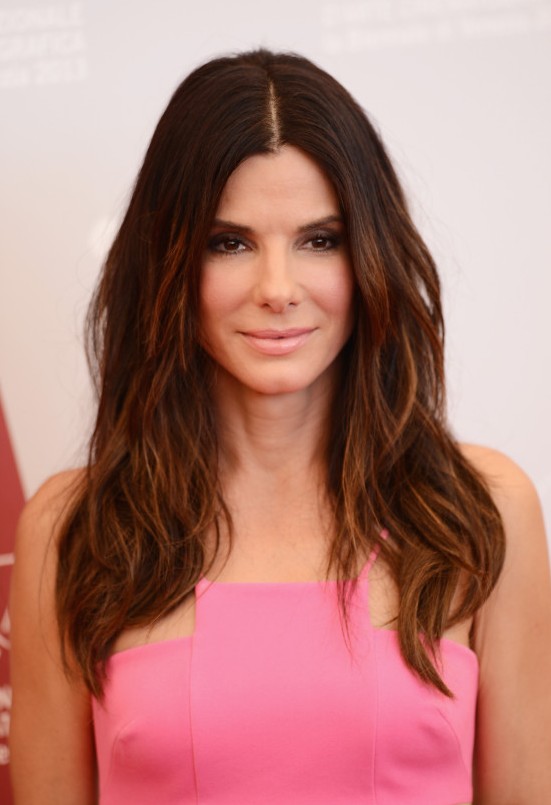 This is one of the most flattering and successful colours we have seen on Sandra Bullock; the star's dark chocolate brown hair is tinged along the lengths and ends with a warm auburn brown shade that creates warmth and depth, a definite nod to the ombre trend. The hairstyle itself is a beautiful shape, with a centre parting and lots of carefully cut layers creating shape and texture throughout the lengths of the hair. This is a very beautiful look that looks really lovely with Sandra Bullock's dark eyes and brows.
3. Sandra Bullock Hairstyles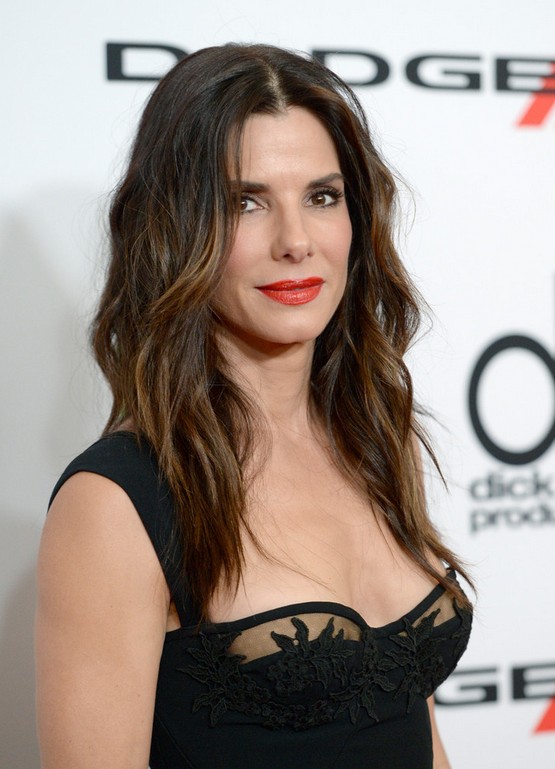 With a revealing outfit, bright red lips and tousled bed hair, this is a very sultry, sexy look for Sandra Bullock. The hairstyle is quite simple; the hair has been straightened and then given a gentle wave so that the ends remain straight, giving us the chance to see the layers that create the shape of the style. The waves are gentle and tousled, but add flattering width to the face. The colour is a dark brown with a golden mid brown shade throughout the hair, bringing out the actress' dark eyes.
4. Sandra Bullock Short Haircut: Straight Long Bob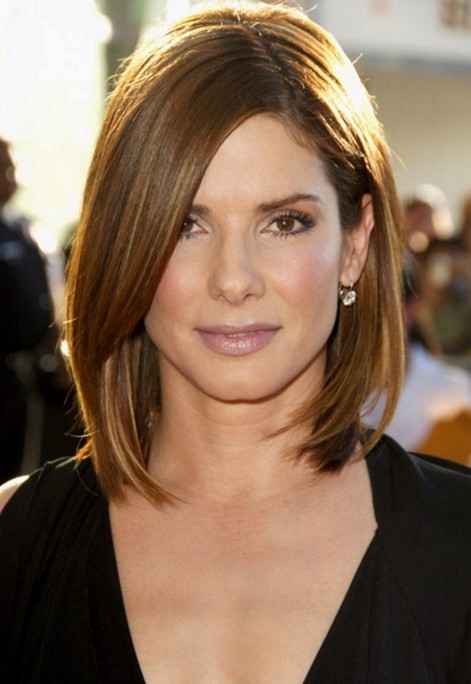 This bob cut is a shapely style for Sandra Bullock; her hair is parted in an angled side parting which creates a smooth sweep of hair which partially obscures one eye and falls over the side of the face. At the other side, the hair is casually tucked behind the ear. The shape is very flattering , especially suitable for those with a longer face shape. The hair has been styled with a gentle curve that highlights how smooth and glossy the hair is. Sandra Bullock's hair colour is beautiful here; a rich chocolate brown that had very fine, very pretty golden highlights which lift the colour and add detail.