1. Kristin Cavallari Wavy Hair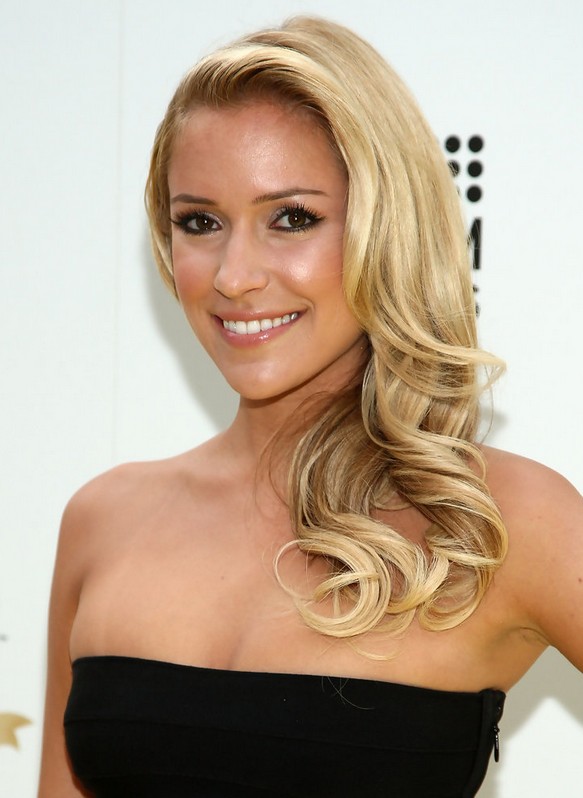 The retro look is a big trend and here, Kristin Cavallari wears the vintage style very well. Her trademark blonde tresses are tamed into smooth sleek curls and that classic side parting gives her a flattering high sweep over the top of the head rather than across the forehead for a more dramatic style with lots of body. The curls falling over her shoulder are so well formed, making this a very strong look that is at once bold and feminine.
2. Kristin Cavallari Short Hairstyle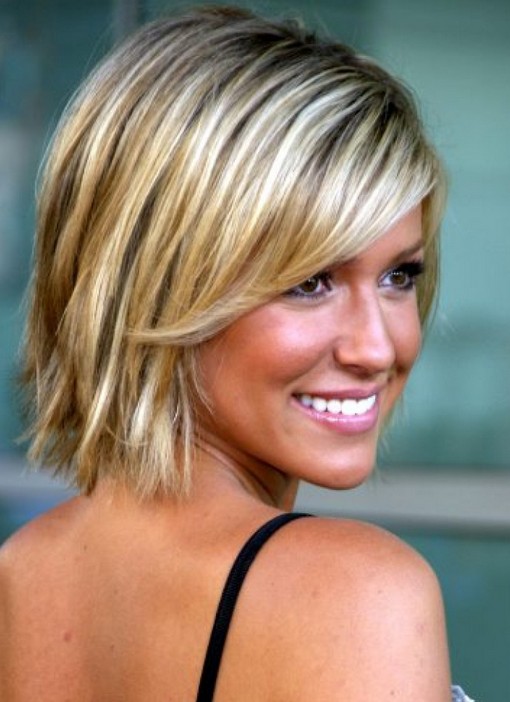 This edgy, contemporary style is a fantastic choice for Kristin Cavallari; the shorter style stops her oval face from looking too long and the fringe which seeps to the side from a deep side parting adds to this effect, creating balance in the face. The colour, made up of warm but pale blonde tones and platinum highlights, works really well, especially with the choppy, razor cut ends which give the look its edge. Great texture and a fresh, modern shape make this a really successful look for Kristin Cavallari.
3. Kristin Cavallari Medium Hairstyles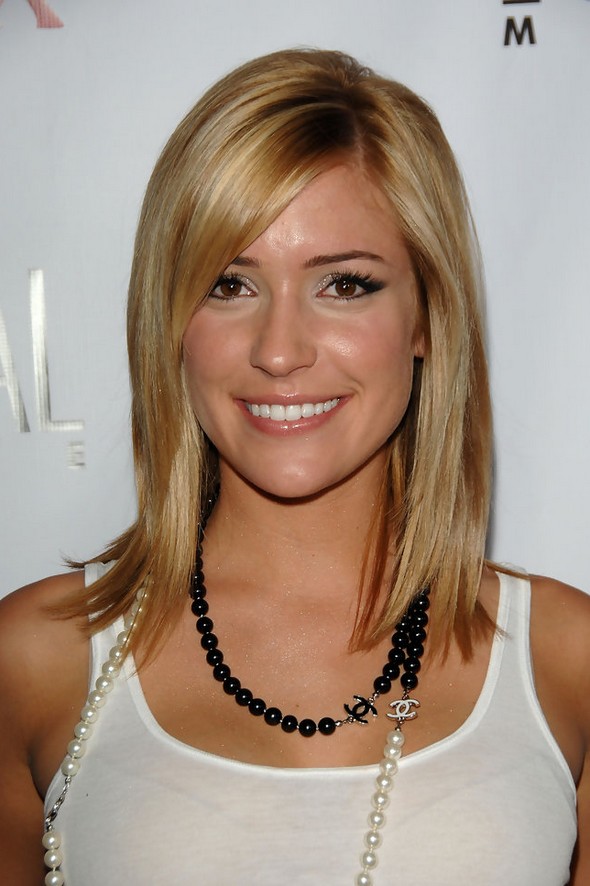 This medium length style is a flattering length for Kristin Cavallari, as is the side sweep. Both the length and the side sweep that cuts across the forehead work to shorten the face, rounding it out slightly to create a more balanced shape. Her trademark blonde is in beautifully sleek condition, smooth and silky. She suits the straight style thanks to the layers which give it shape and add some body to the look. Summery and sweet, this is a great medium style.
4. Kristin Cavallari Long Curls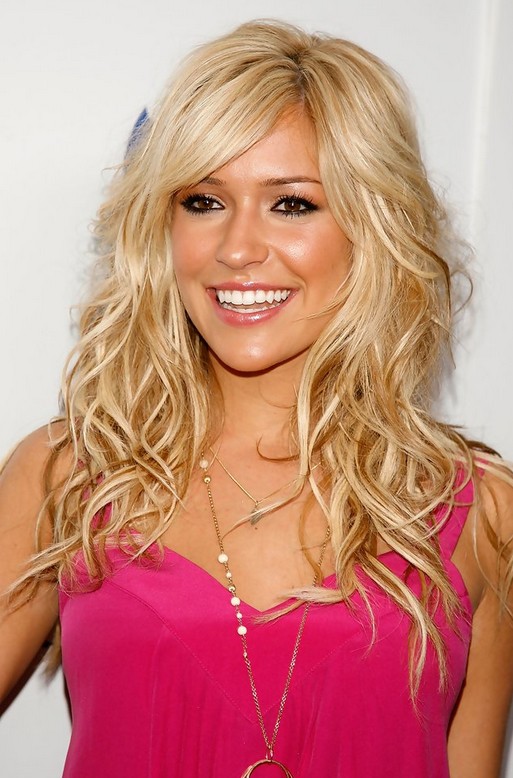 This tousled style relies on loads of volume and some very dramatic colouring to give it impact. The teased roots and side parting add volume and body to the hair while the lengths are wavy and defined. There is a difference in texture between the roots and ends that hints at too much product, which takes away from this look, and the dark blonde strands are quite stark against the paler blonde. A great shape for Kristin Cavallari but perhaps not her best look.
5. Kristin Cavallari Half Up Half Down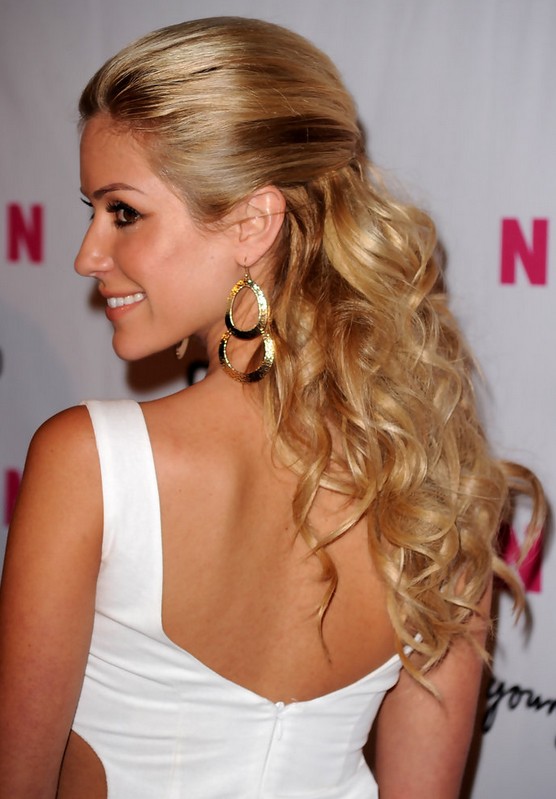 Kristin Cavallari's half up and half down style is a great way to achieve the elegance of an updo, the hair swept back from the face, with the pretty feminine allure of long curly lengths. This style hinges on keeping the hair straight on top with plenty of volume for height on top of the head. The curls begin after the point where the hair is secured. Kristin's look is set off by the colour which consists of a range of golden shades and darker blonde hints, for a stunning summery look.
6. Kristin Cavallari Hairstyles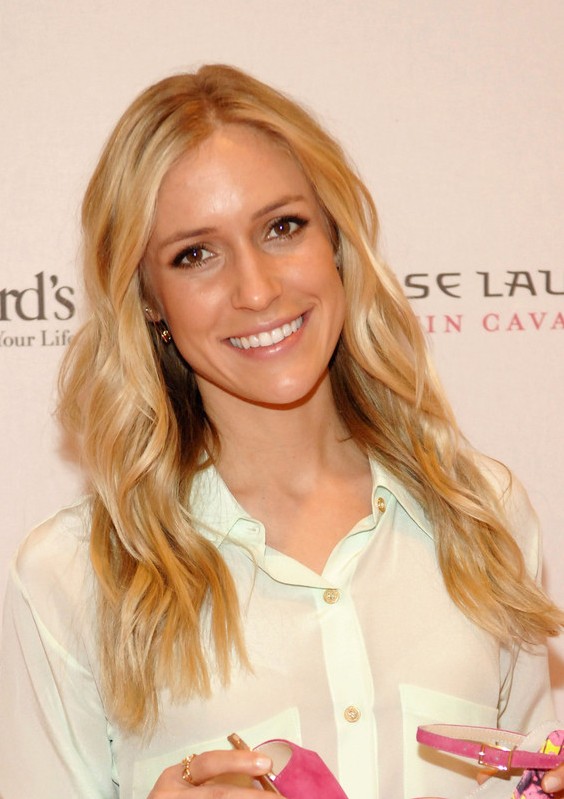 Kristin Cavallari wears her golden hair in a simple parting with the long lengths styled in loose, feminine waves. The ends of the hair are kept straight for a more contemporary take on the wavy style. This shade of blonde is really great for Kristin, the warm honey and golden tones really flatters her tanned skin tone and gives her a healthy glow. The nude lips and darker eyes are the perfect accompaniment to this pretty style.
7. Kristin Cavallari Hair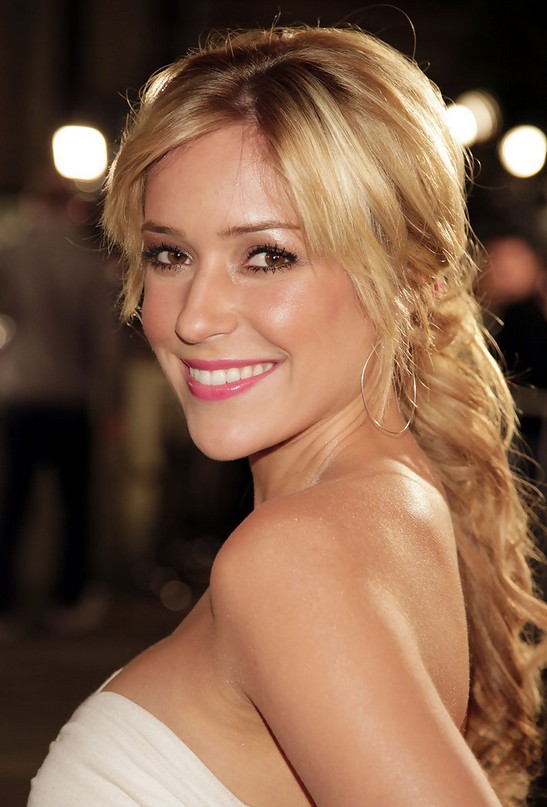 With close cropped layers around the face and a choppy, contemporary fringe, this style mixes girly waves and golden blonde tones with an edgier feel. The hair is brought back and tied up, but loosely so that the look isn't in any way harsh. The short bangs make the style really work for Kristin Cavallari's longer facial shape, drawing out attention up away from an angular chin and keeping the focus on her smoky eyes.
8. Kristin Cavallari Hair Knot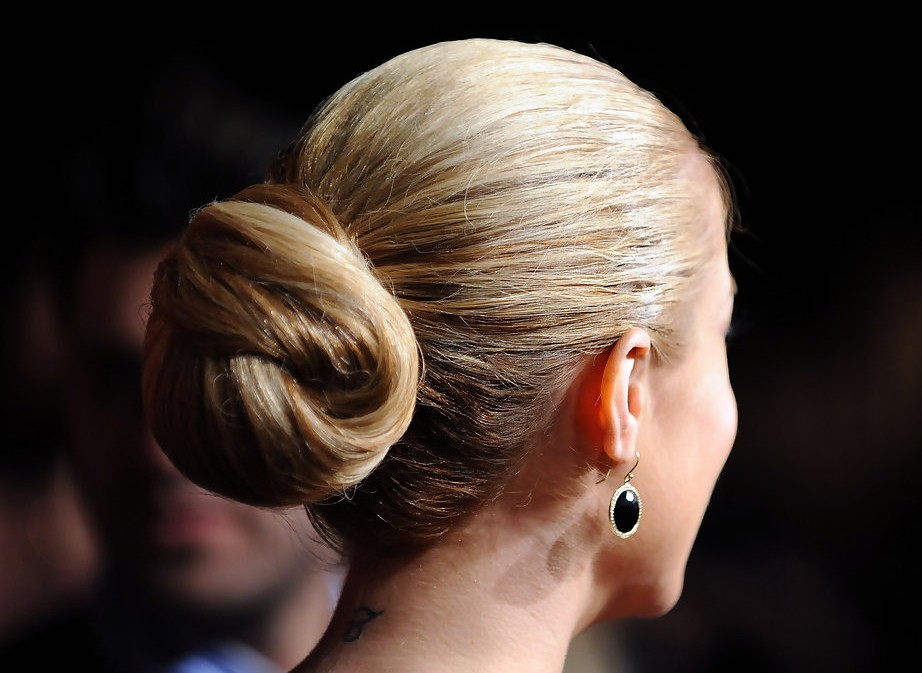 This is an incredibly well styled hair knot – the hair is smooth and perfectly twisted into an elegant knot, with barely a hair out of place and a perfectly even array of light blonde tones combining to create a very striking formal style. Kristin Cavallari's chiselled features allow her to get away with this style, which could look too restrictive otherwise. This sleek style is so sophisticated and glamorous – ideal for the most formal of occasions.
9. Kristin Cavallari Fishtail Braid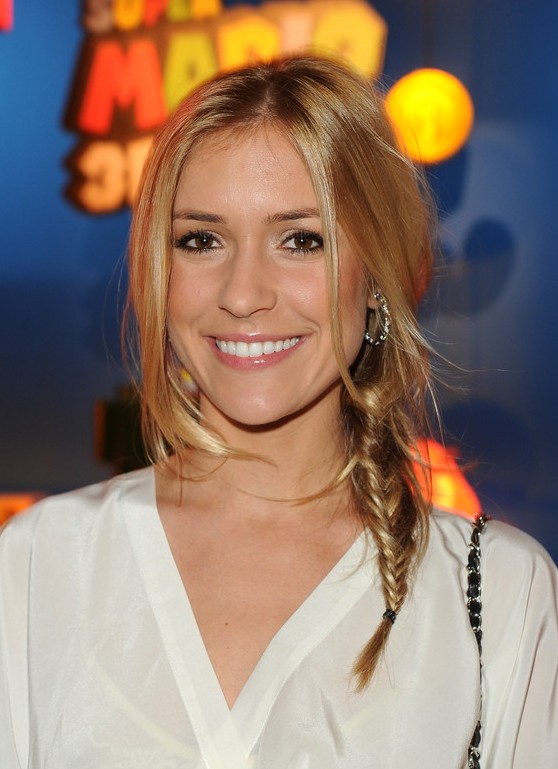 This short but sweet fishtail braid is a pretty and feminine style that gives Kristin Cavallari a youthful, fun look. The key to this look is all the loose strands which fall around the face and frame it perfectly. The colour is crucial to this casual look; dark blonde at the roots and lower layers and lighter shades of blonde throughout the top layers and ends, adding lots of natural looking golden tones to the style, make this a summery, sun kissed look that is so easy to wear.