1. Lea Michele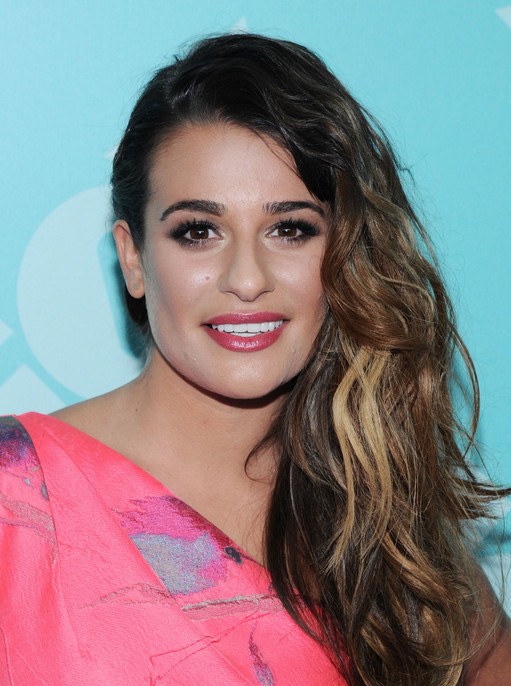 This is one of those 'love it or hate it' styles that will always divide opinion. Here, Lea Michele's super thick, long hair is swept over in a side parting to one side of her face where it is wavy, tousled, and tangled, hanging freely over her shoulder in a messy, effortless tumble of colours. It is certainly the colours which stand out; from dark browns to light browns and many in between shades meet ash blonde and golden blonde streaks. High fashion, maybe not, but high impact? Definitely!
2. Lea Michele Style: Long Hair with Blunt Bangs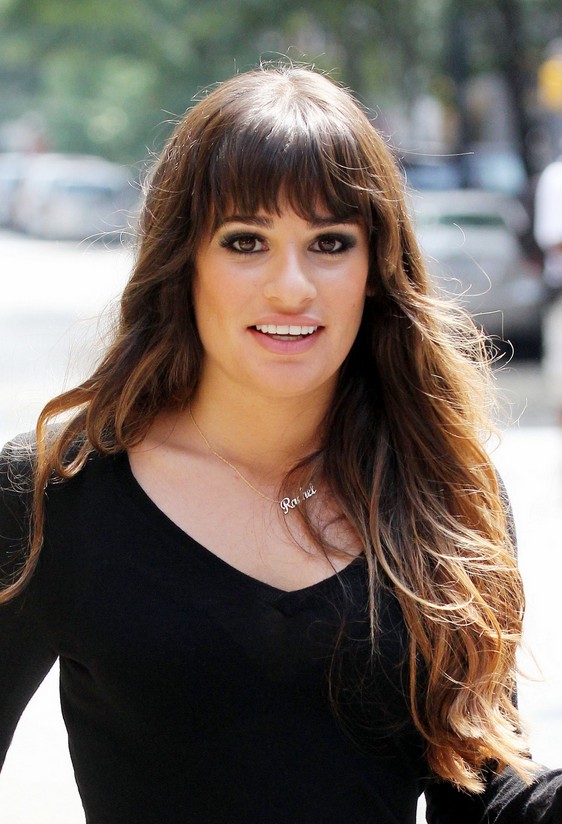 Lea Michele's hair is enviably long and thick, and even when out and about in a casual outfit, her hair looks impressive. Her full fringe is arguably too heavy for her face, and yet those long, free flowing lengths have the effect of lengthening the face so that she pulls off the fringe quite well. With her naturally dark hair streaked with a range of lighter shades, from warm browns to honey blondes, she creates texture and breaks up the solid colour so it isn't too dark. Soft, feminine waves make this a very pretty style.
3. Lea Michele Ombre Hair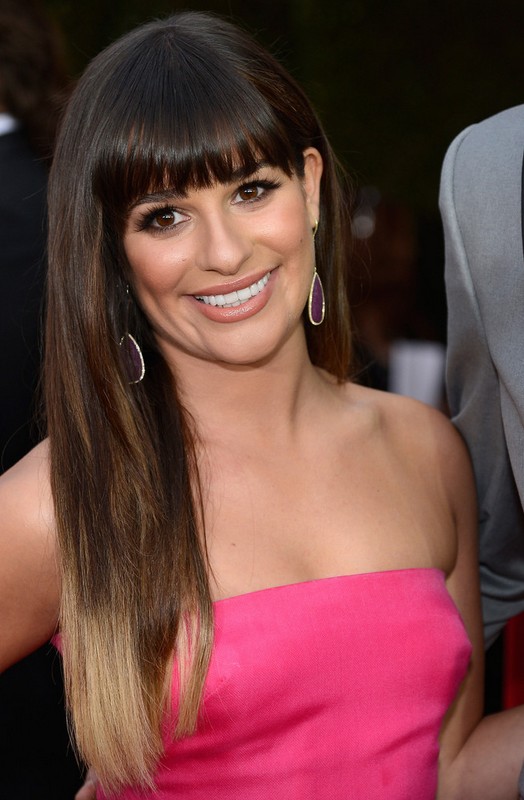 The ombre look is a big trend, and rather than opting for subtle, graduated colour, Lea Michele chooses instead to go for an edgy contemporary feel with this dip-dyed look. The darkest brown of the roots fades slightly through the lengths with a sudden flash of blonde at the ends. The full fringe is a very heavy look for someone with full features, but it certainly creates a sense of personality and fun. The hair itself is in unbelievably beautiful condition, adding to the rich, sleek look of the straight style.
4. Lea Michele Long Ombre Hair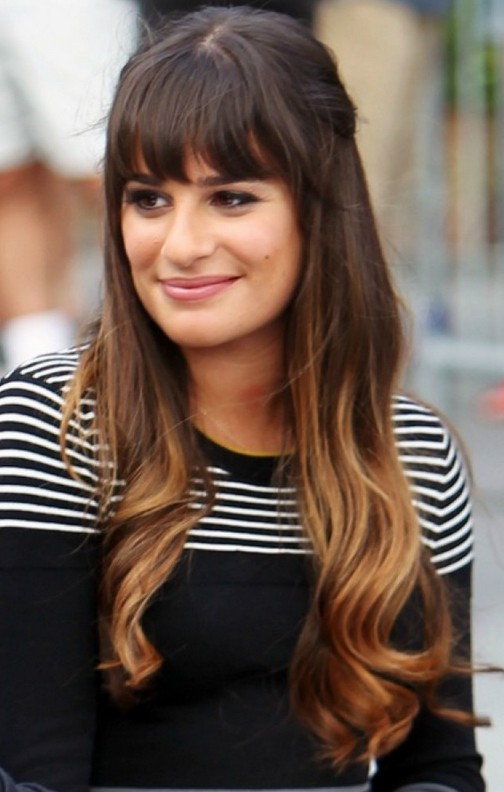 Lea Michele gets the ombre look just right with this graduated colour. From root to tip we move from a dark chocolate brown through a slightly more medium brown shade and down to coppery tones and warm honey blonde touches at the ends. The effect is really great at adding warmth and a touch of on-trend chic to the hair. The full fringe and loose, 'falling out' waves add a pretty, feminine touch to the style.
5. Lea Michele Long Hairstyle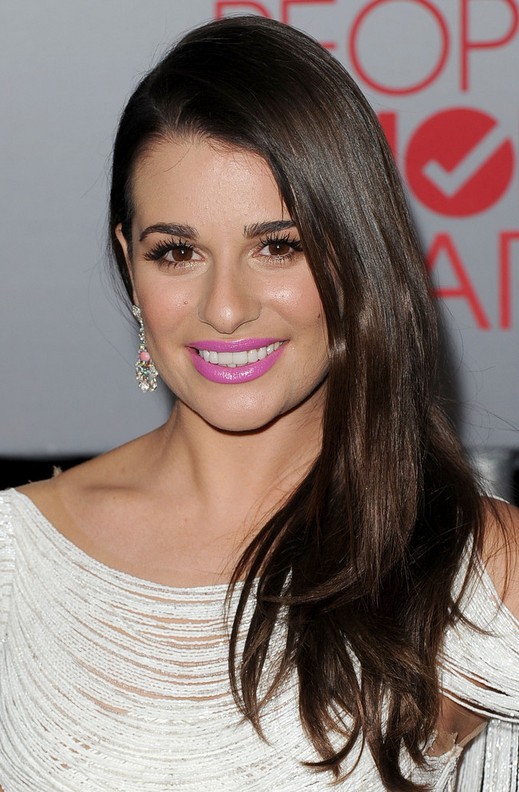 Lea Michele pays homage to the eighties revival look with this dramatic side sweep and long straight lengths. The style has more than a touch of retro glamour, but teamed with the pastel pink lip colour and the vintage outfit, this is much more 80s than 50s. Her hair is beautifully sleek and shiny, it really shimmers with health, and those long straight lengths frame her face perfectly. Height on top of the head and body throughout the hair helps to create a big style that suits her full features while the chocolate brown colour is gorgeously rich.
6. Lea Michele Hairstyles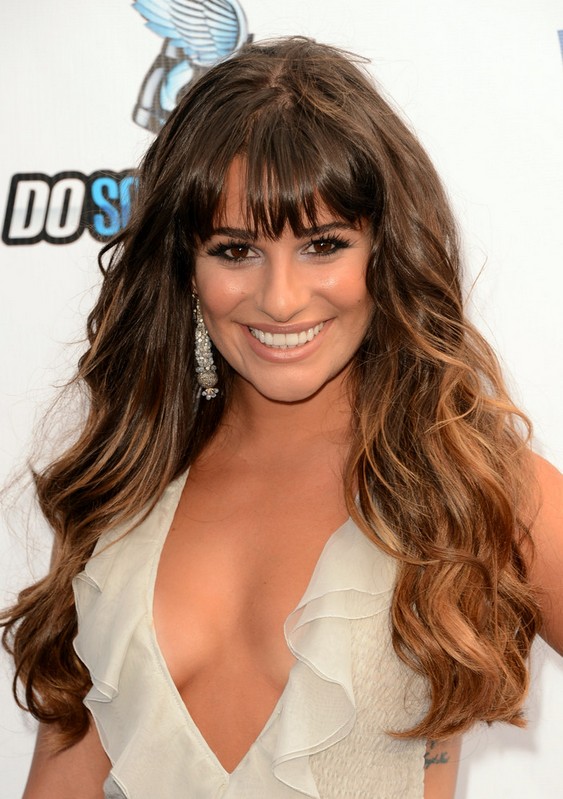 It is rare that a hairstyle could have enough impact to take the focus away from this floaty, barely there outfit, but this hairstyle does its best to steal the show! Lea Michele's long thick locks are styled with a sweet full fringe and it turns out bangs really suit her face shape. The lengths are full of body and styled with big rounded waves. As you move from root to tip, there are warm blonde notes which lift the hair colour and prevent the whole look from being too solid. A big impact style for a bold, limelight-stealing look.
7. Lea Michele Braid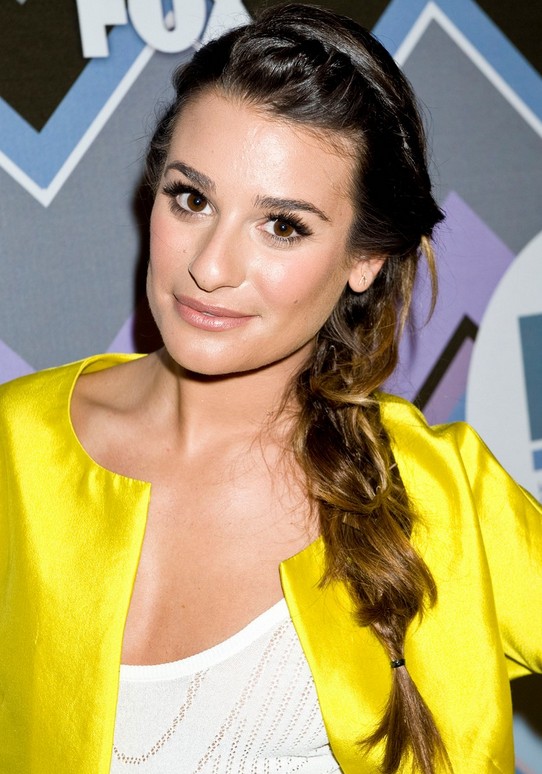 This braid is certainly not your traditional three strand plait! Instead, Lea Michele twists and tangles the hair around a central braid for a messier, tousled style. The top of the hair is pulled back and twisted into place for a sweet girly aspect to the style. The ombre look, with a graduated colour moving from dark brown at the roots to a lighter and warmer dark blonde at the ends provides even more detail. The hair itself is beautifully glossy.