1. Emma Watson Retro Updo
This is just such a chic retro updo. The dark blonde hair is perfectly smooth and sleek with sumptuous subtle shine and stunning shape. With a dramatic side parting and hair sweeping across the forehead, it is simply secured at one side above the ear. The lengths are pinned in such a way as to give the impression of a rounded bob, while in fact this is a classic updo. This hairstyle ticks all the boxes when it comes to retro chic – the style is beautifully crafted to create a real sense of vintage glamour and this is reinforced by the flawless makeup and purple tinted matt lips. Some simple but stunning art deco earrings complete the look perfectly.
2. Emma Watson Razor Cut: Short Hairstyles for Heart Face Shape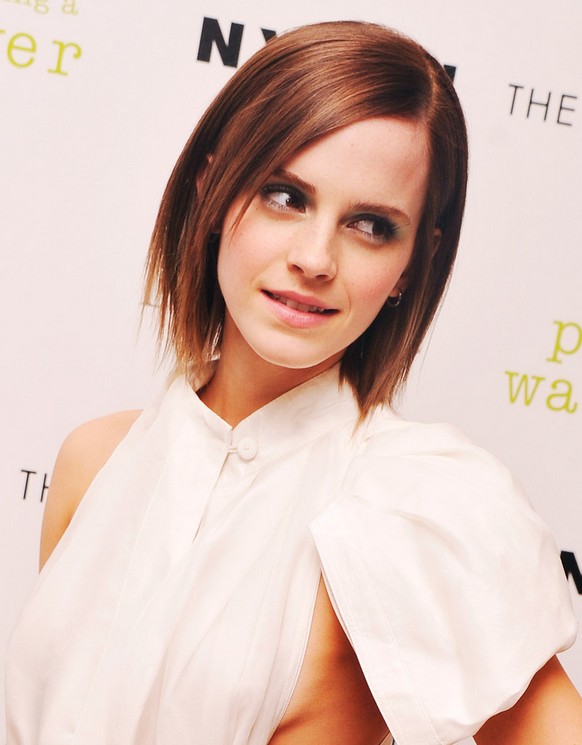 This razor cut style is a very contemporary look for Emma Watson. Here, her warm brown and auburn shade is kept smooth and straight with gorgeous shine. The hair is parted at one side and the ends are razor cut in a series of different layers and lengths. The result is a modern style that is feminine and pretty, yet edgy and adult. The hair sits just above the shoulders and being so straight it does slightly elongate the face, but not to an unflattering degree – however it may be a less flattering style on someone with a longer face than Emma Watson.
3. Emma Watson Pixie: Very Short Hairstyles for Straight Hair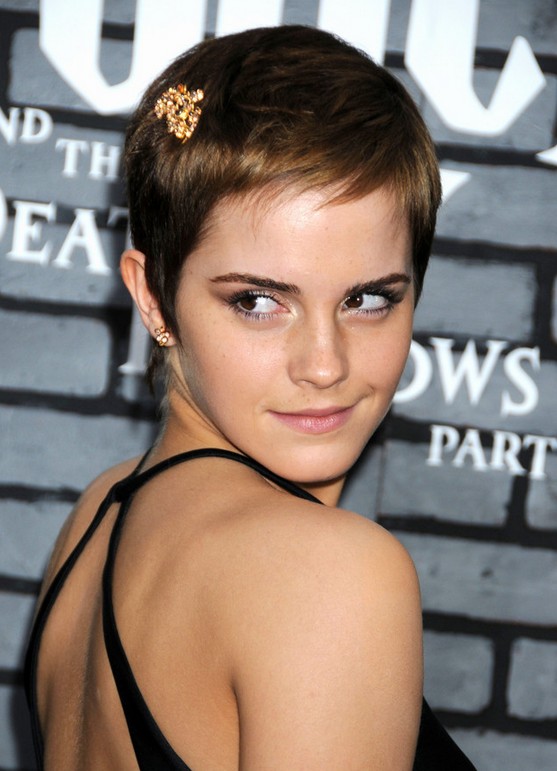 Emma Watson's pixie cut caused a real sensation when it was unveiled – it certainly got people talking and it definitely changed the way the public saw the Harry Potter child star. This style showed how grown-up Emma had become and drew everyone's attention to the fine facial features and bold personality of the actress. The cut itself is quite a soft pixie style; the hair is kept soft and natural rather than styled and shaped with product. The shaping comes from a great cut, with an oh-so-pretty soft girlish fringe that provides some femininity to a more masculine style. This style won't look good on everyone, but for those with balanced features, it can be a stunning look.
4. Emma Watson Medium Hairstyles: Layers and Curls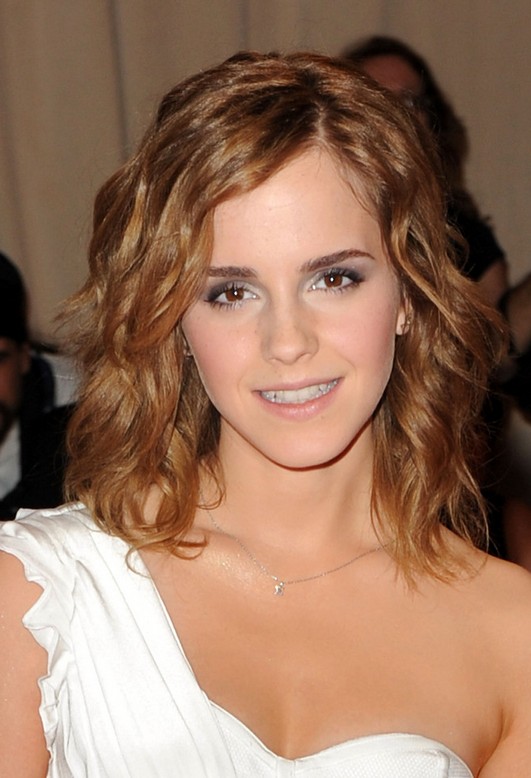 Emma Watson's fine features are so delicate that this hairstyle swamps her face slightly. It is, however, a very pretty style in its own right; a side parting and loose, gently teased curls fall around the face. The result is very soft and feminine, with lovely shaping of the hair and plenty of glossy shine. The colour is great for Emma Watson's pale skin tone and shimmery makeup – the actress really suits this warm golden auburn tone, especially with the slightly lighter ends that add some modern ombre styling to the look.
5. Emma Watson Braided Updo: Short Hairstyles for Updos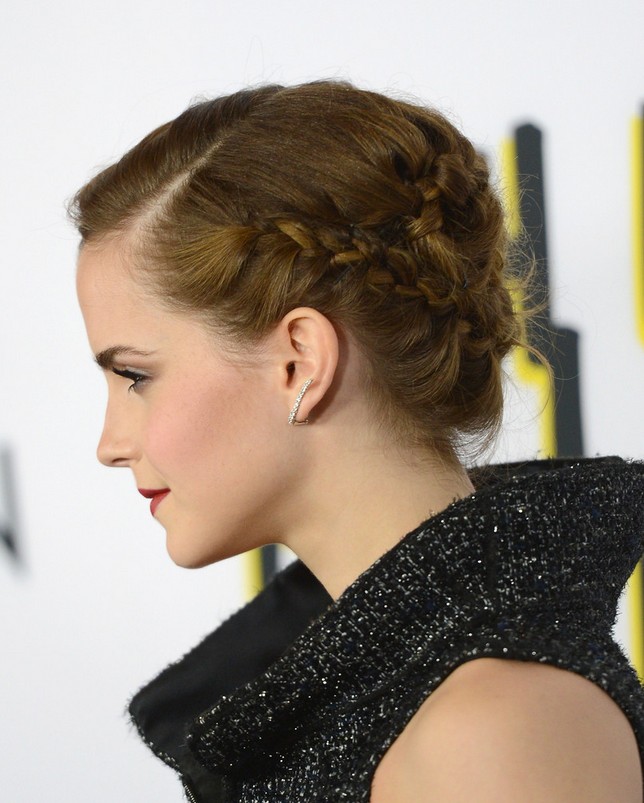 This is an unusual style – a braided updo with a very defined side parting. The result is a contemporary look that has just a twist of retro styling. Emma Watson's warm brown hair with its touch of auburn undertones is parted at the side and pulled back in a series of interwoven braids. This is a complex updo, but the result is very pretty and feminine with stunning detail. With all the hair off the face, our eyes are drawn to the face, so flawless makeup and balanced features are a must!
6. Emma Watson Boycut: Messy Short Hair Cut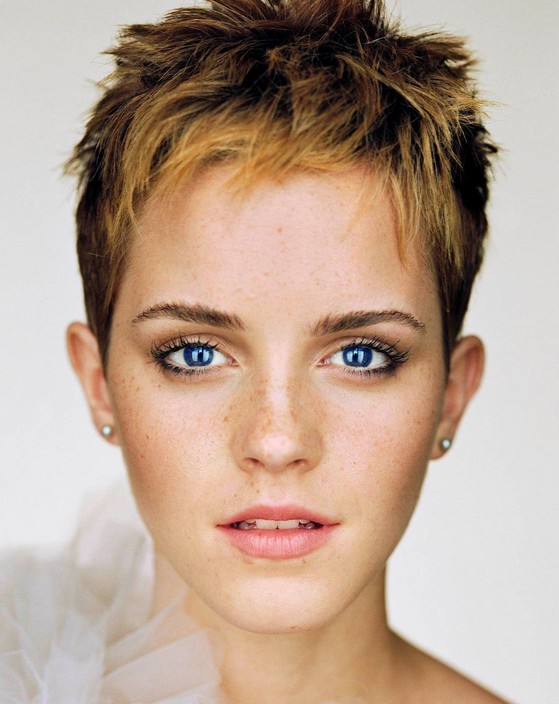 When actress Emma Watson needed to shake off her young image and say goodbye to her most famous character, Hermione Granger in the Harry Potter series, she needed a bold change – and this boy cut was one of her most inspired styles. This short cut transformed the star and drew attention to her perfectly proportioned features and gorgeous facial shape. The style is choppy, edgy and contemporary with ombre highlights. This is a wonderful style for those with fine features and balanced faces, and certainly provides a bold new look (if you are brave enough).