1. Kate Bosworth Wavy Hairstyles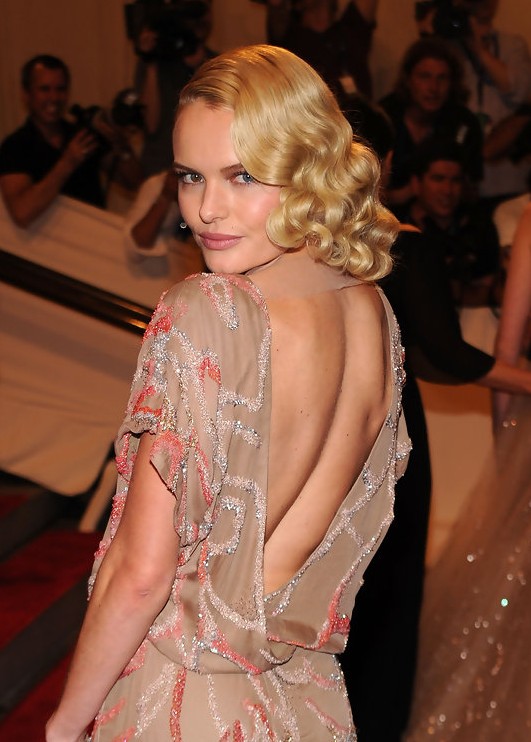 If you want a retro hairstyle with plenty of glamour then this is the perfect choice. This hairstyle embodies everything that is strong and feminine about the vintage look; the dramatic side parting and stunning side sweep which dissolves into a series of strong, defined curls. This style is often worn in long hair, but Kate Bosworth's short style looks stunning with sleek glossy curls. The golden blonde colour is so rich and flattering to Kate's skin tone. Teamed with a vintage style gown, this is a strong look for Kate.
2. Kate Bosworth Style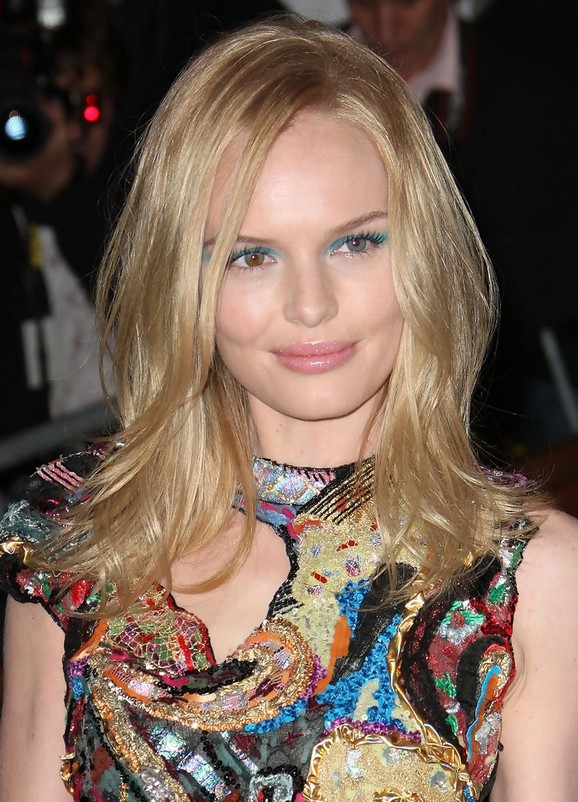 This is a beautiful colour for Kate Bosworth; this is a delicate, straw shade that really flatters her pale complexion. The style is also a great look for her, with a pretty side parting and loose strands falling over the side of the face. While the hair is fairly straight, it is loose and gently tousled for an easy-going style that is striking yet soft thanks to the layers which have been cleverly cut into the front of the hair for great shape and body.
3. Kate Bosworth Short Haircut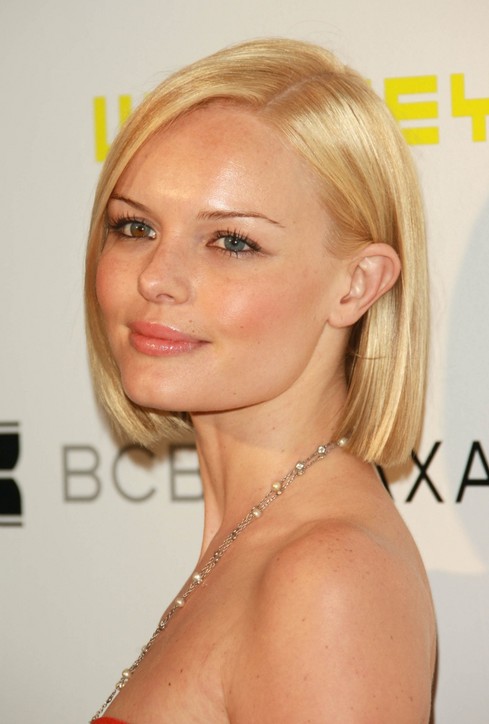 This short bob is a flattering shape and length for Kate Bosworth's facial shape, balancing and rounding out a triangular face shape and drawing the attention to her high cheekbones. Her hair is styled with a side parting so that the side sweep frames the side of her face. The ends of the hair are cut with precision for a perfectly straight edge, giving it a clean line and a crisp look. In terms of colour, the warm honey blonde is a little brassy, clashing slightly with her tanned skin tone and dewy complexion.
4. Kate Bosworth Short Bob Hairstyles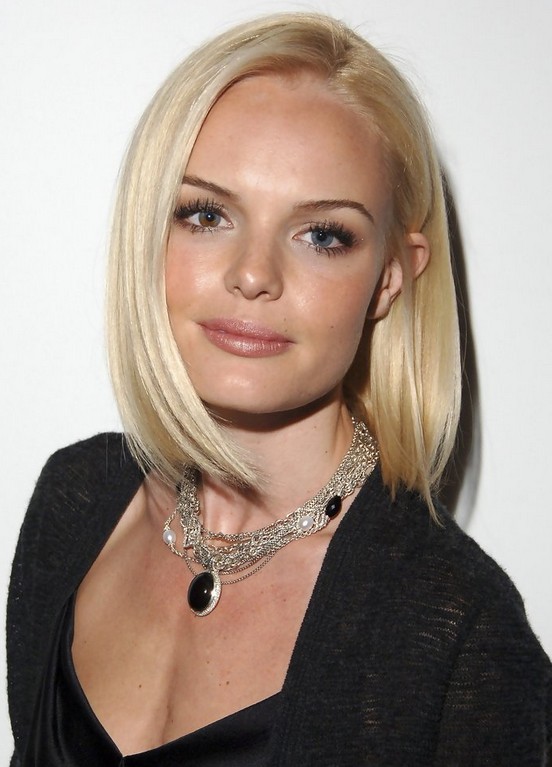 This is a fantastically cut bob style. Kate Bosworth's icy blonde hair falls to just above the shoulder, making this quite a long bob style, but ideal for those with a rounder face or a more square jawline. The ends of the hair are feathered ever so slightly for a softer look. Kate's hair is parted slightly to the side so that her hair brushes along one side of her face and the other is tucked behind her ear in a laid back touch that adds to her effortlessly chic look.
5. Kate Bosworth Long Hairstyles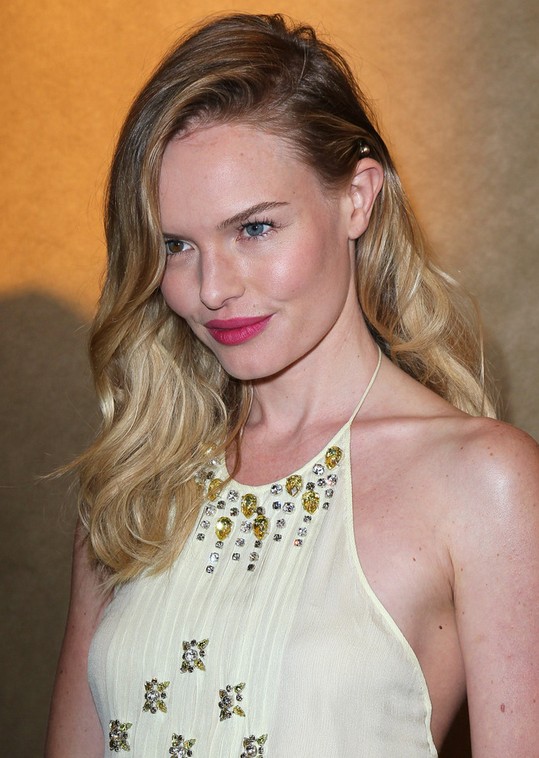 This is a casual but elegant style, Kate Bosworth wears her long blonde locks in a tousled version of the on trend retro inspired side sweep. For a more laid back version of the popular vintage waves look, she sweeps her hair from a deep side parting and allows it to fall loosely in gentle waves while the parting is messy and the lengths are tousled. Her blonde hair gradually gets lighter towards the ends, moving from dark blonde to pale straw tones, adding to the relaxed, effortless style.
6. Kate Bosworth French Twist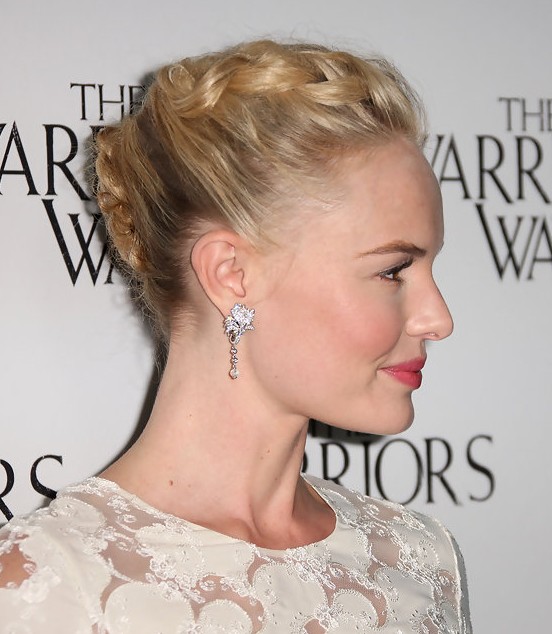 The French twist is a classic look that Kate Bosworth gets perfect with her contemporary take on the ever-popular style. The front of the hair has been loosely braided before being brought back into the twist. The colour of her hair works so well with this style; straw blonde shades and darker blonde tones meld together perfectly to create a natural look that really suits Kate's pale complexion. The earrings add to the elegant look.
7. Kate Bosworth Braided Updo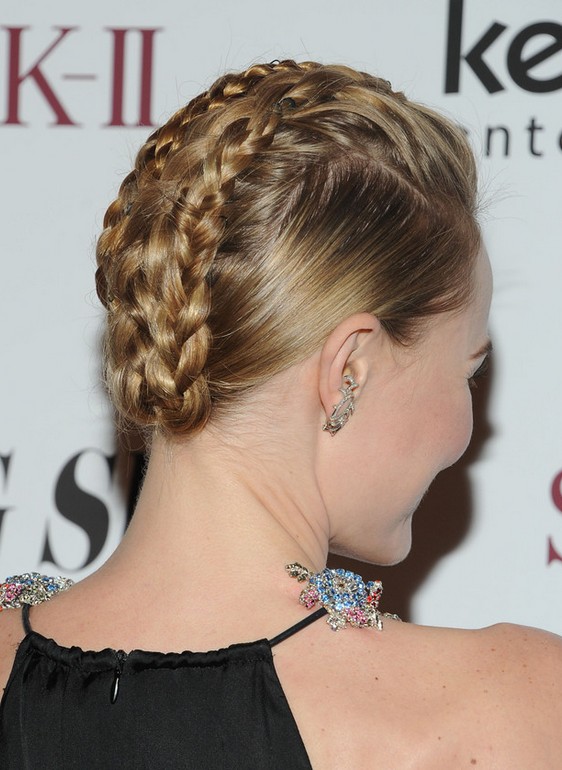 This complex style is made up of a series of braids that are woven up and down the back of the head to create a sophisticated updo. Styles like this where the hair is kept so close to the head can be harsh, but with Kate Bosworth's fine features and balanced facial shape she can wear this style very well. Her hair is gleaming with mirror shine and the sparkling detail on her outfit and earrings really add to the glittering effect.
8. Kate Bosworth Bob Hairstyles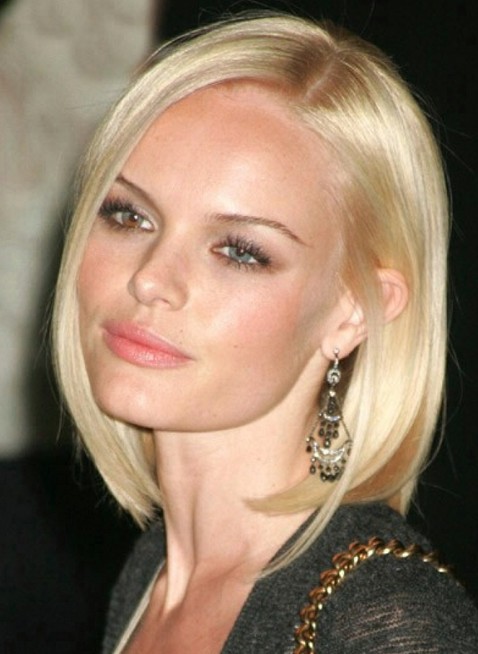 This is the perfect bob for those who don't want to cut their hair too short but still want the shapely look and feel of a bob style. Here, Kate Bosworth wears her hair in brightest blonde, smooth as silk and ever so shiny, with a slanted side parting that gives her a gorgeous, flattering side sweep that frames her face and makes the most of her triangular face shape. The rest of the hair can be tucked behind the ear in a carefree, casual way for an effortlessly chic look.