Find Katy Perry's Latest Hairstyles in This Gallery! Including Katy Perry's short haircuts, medium length hair, long hair styles & updos!
Katheryn Elizabeth "Katy" Hudson (October 25, 1984), better known by her stage name Katy Perry, is an American recording artist, businesswoman, philanthropist, and actress. She was born and raised in Santa Barbara, California. Katy Perry's natural hair color is BLOND, but she dyed her hair black since she was 15! Here Katy Perry Explains Why She Dyes Her Hair Black.
Celebrity hairstyles: Katy Perry Hair styles
Katy Perry  Short Pink Haircut – chic pink bob haircut for women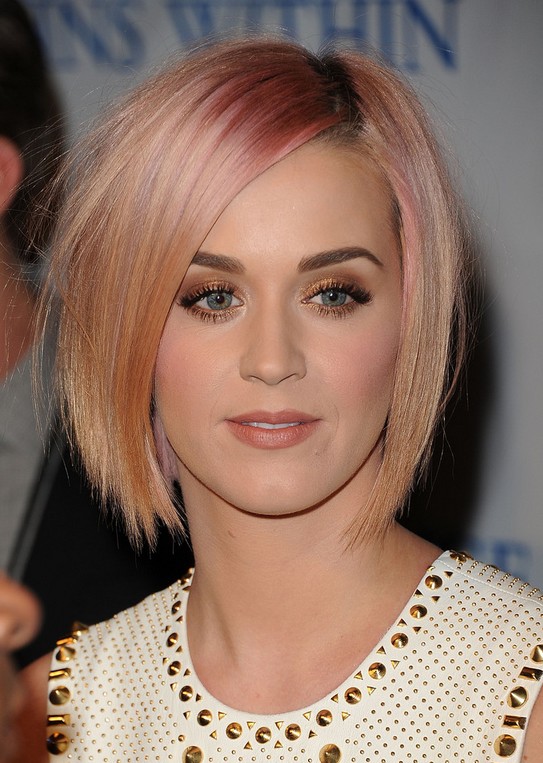 This rich, warm look is a really unusual look for Katy Perry, and shows her love of colour with a fabulous colour range that melds from pink to orange with a range of stunning tones in between. The result is feminine, but edgy – a modern twist on the punky look. The side parting and razor cut shape is styled so well, and the bronze make-up is a perfect match.
Katy Perry Medium Hairstyle: shoulder length black curly hairstyle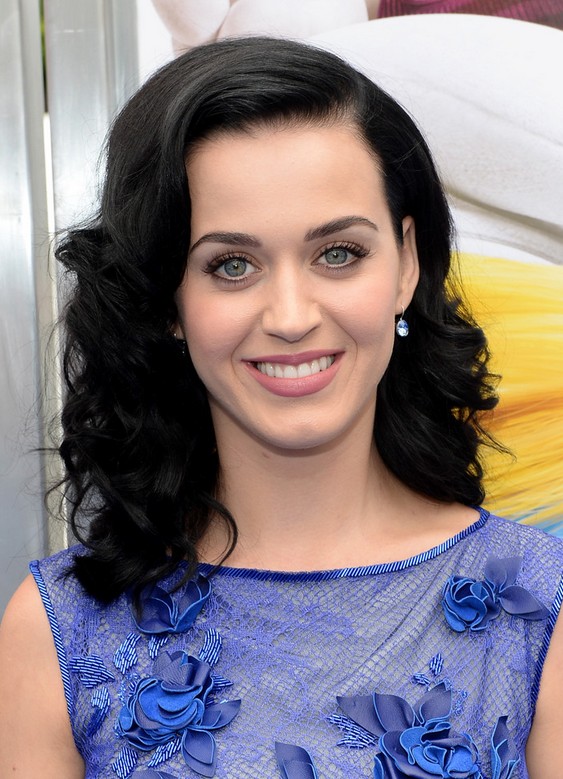 Katy rocks the vintage glam look with a dramatic side parting and sexy teased curls. That perfect sweep over the forehead adds volume and the glossy curls are perfectly formed. The tightness of the curls draws the length of the hair up, and the shorter shape is great for rounding out a long face. Classic, understated makeup finishes this look perfectly. This deep side part black curly hairstyle is great for long, oval, square heart faces.
 Katy Perry Long Hairstyle: casual long black wavy hair style for summer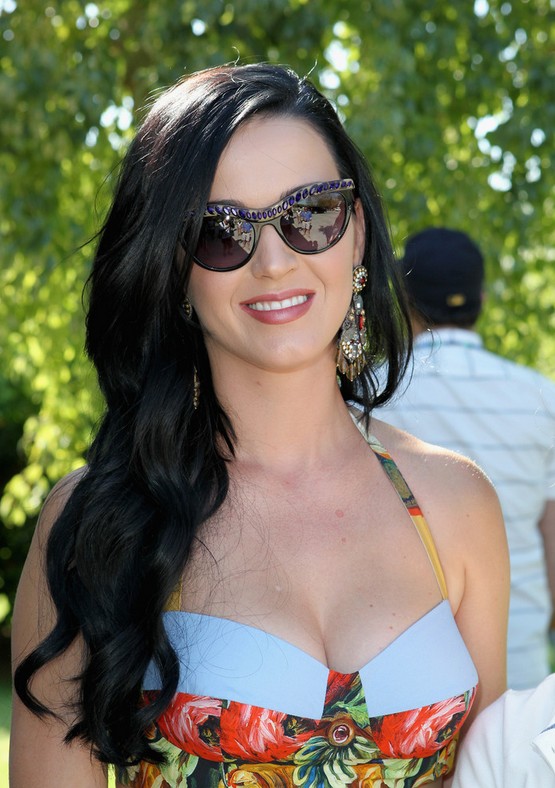 Summer hair style ideas: The side parting and long flowing waves falling over the shoulder give Katy Perry a retro glam look here that matches her fifties style dress and retro shades perfectly. Her dark brown-black hair is absolutely glowing with health, with barely a flyaway to be seen; the fantastically sleek hair helps define the curls and makes this style just so feminine. I love her big sunglasses very much~~
 Katy Perry Long Braided Hairstyle: casual braid for summer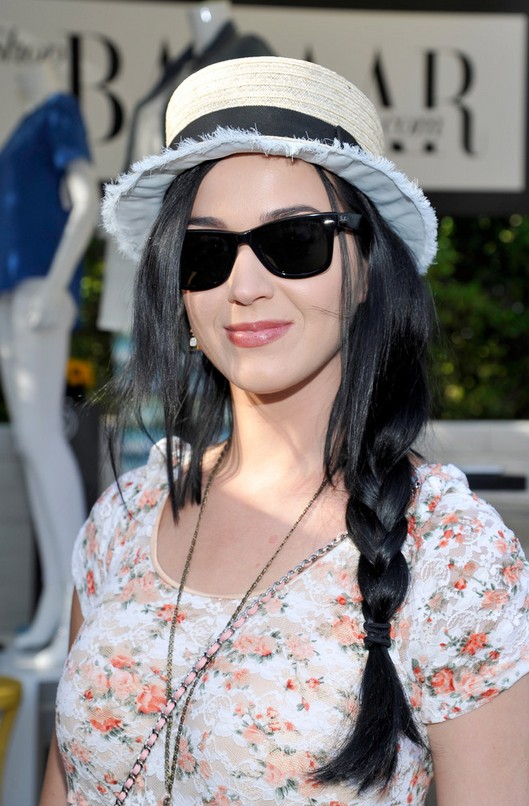 Katy Perry Fashion Style: Katy Perry opts for dramatic black here and while it may emphasis her pale complexion, she certainly knows how to get a mirror shine on those perfectly sleek locks. With a thick braid and plenty of loose hair to casually frame the face, Katy keep it modern by only braiding the hair half-way down for a loose, chunky look.
 Katy Perry Gothic Edgy Hairstyle: center part purple wavy hairstyle for women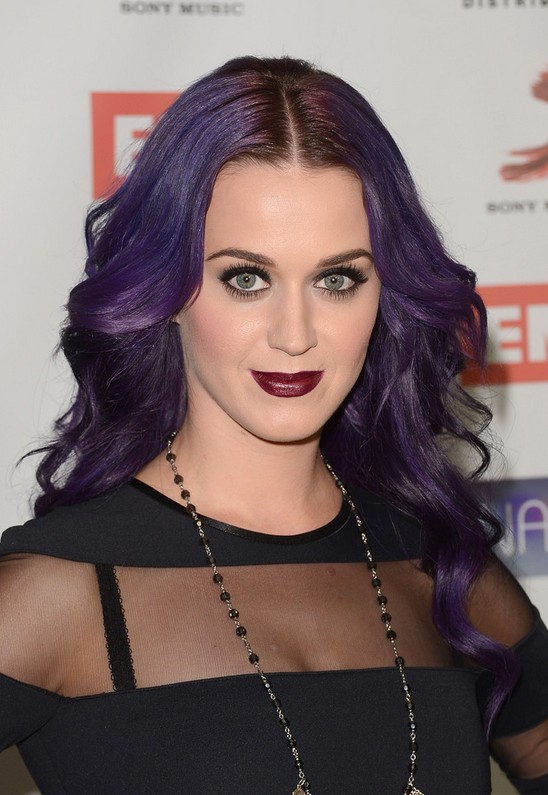 Whatever you think of Katy Perry's outrageous purple shade (and her less purple roots), this style is just about perfect when it comes to sleek, glossy curls. The centre parting may elongate Katy's face slightly which not be the most flattering choice, but it does allow for both sides of the hair to cascade beautifully. Katy manages to make a big statement and yet keep a gorgeously girly style.
 Katy Perry Short Haircut: short straight hairstyle – blue bob cut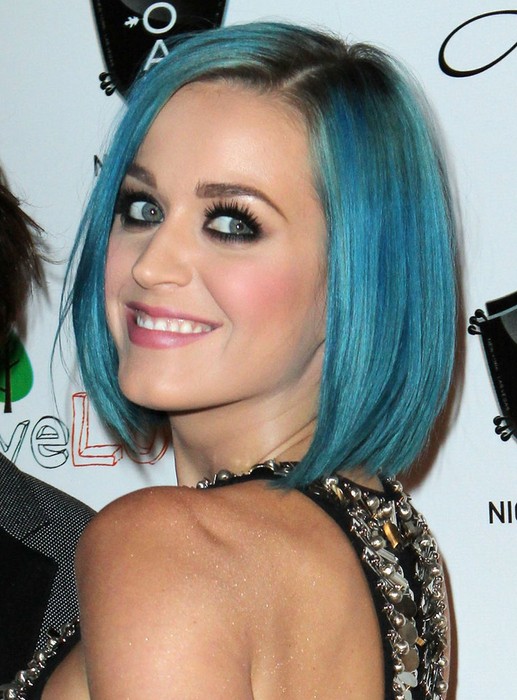 A big style statement by Katy Perry in electric blue. The colour really brings out her eyes, especially with perfect smoky eye make-up and flawless skin. The bob cut is an unusual choice for Katy, who usually goes for long styles but it works so well for her shape of face thanks to the way it frames the jawline. The sharp edges give the style a modern twist that she wears so well. An unexpected hit for Katy! This edgy short haircut is great for women who want a new amazing look! Great for oval, square, heart, round faces.
Katy Perry Hairstyles 2014: Katy Perry Latest Hairstyle – medium black curly hairstyle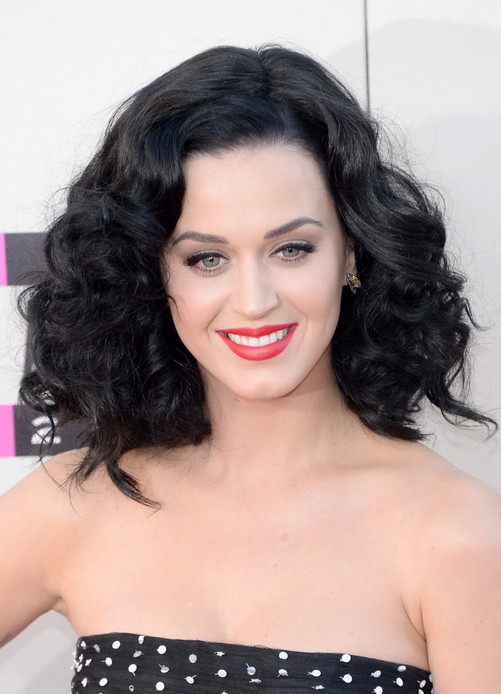 Here is Katy Perry's latest hair style, she fixed her hair in a voluminous curly 'do for the American Music Awards, Katy Perry changes her hair color frequently, as you can she that she tried blue, purple, pink, black, brown etc, but her favorite hair color is black!