1. Jessica Chastain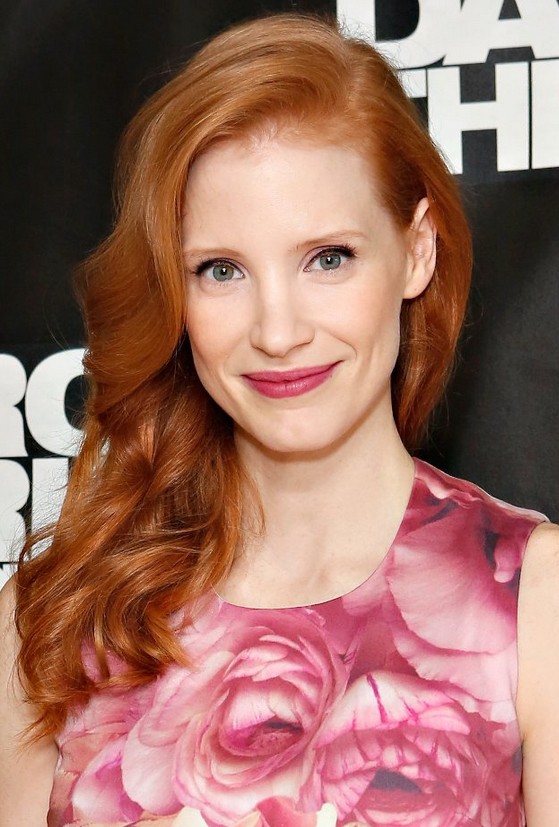 As fiery redheads go, Jessica Chastain really knows how to work her hair colour. With the hair brought to the side, thanks to a deep side parting, it is allowed to fall over her shoulder in a series of loose but gorgeous waves. The rest of the hair is tucked behind the ear casually. With the hair softly styled and kept natural and not over-worked, this is a slightly casual take on the retro inspired trend for glamorous Hollywood golden age waves. It goes so well with Jessica's feminine outfit and pink lips – a fab style for her.
2. Jessica Chastain Wavy Hair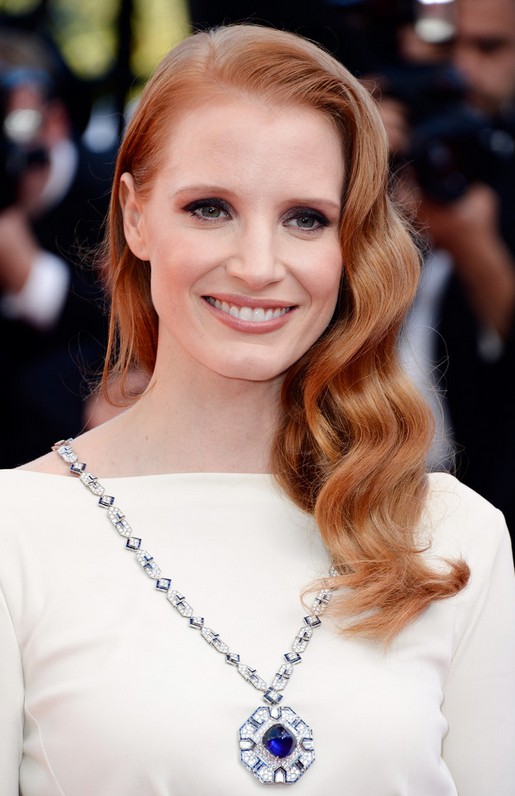 These waves are really difficult to get right, but when you get them right, boy does it look good! Here, Jessica Chastain wears her stunning copper hair in a retro inspired style that takes us back to a golden age of Hollywood glamour. The result is an elegant, sophisticated look that really ticks all the boxes when it comes to the trendfor all things vintage. A side sweep frames the face and those soft, uniform waves are just so precise and perfect.
3. Jessica Chastain Straight Hairstyle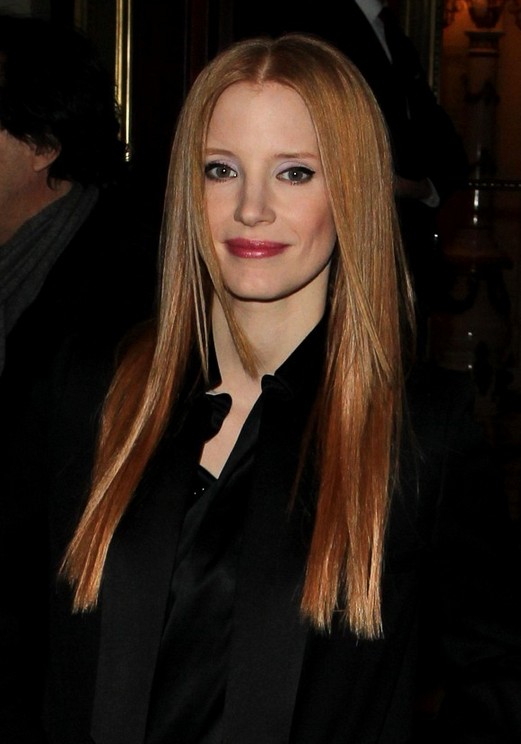 This may seem like a very simple hairstyle – a centre parting with the hair brought down at both sides and then straightened until it is absolutely poker straight. However, to get it looking this good takes skill! The smooth, straight lines of Jessica Chastain's hair is really impressive here, and the sharply cut layers add shape and drama to the look. Of course, her stunning copper colour steals the show as always!
4. Jessica Chastain Short Hairstyle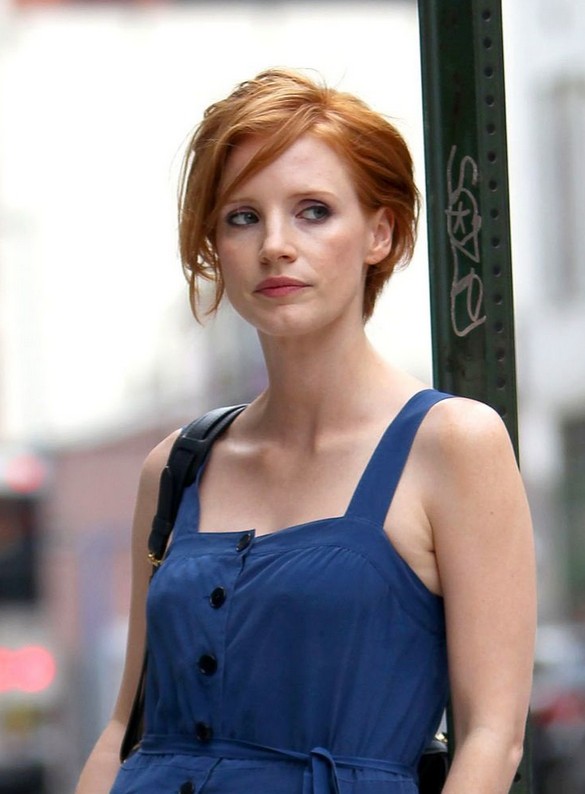 Short hair tends to shorten the face, but this is something that works well for Jessica Chastain with her oval face shape and symmetrical features. In fact, the style bring our attention up to Jessica's eye line which makes a feature of her large blue eyes. The colour is Jessica's trademark copper red that goes so well with her palest of pale complexions. The style is edgy, a contemporary, sweeping look that has been razor cut for a choppy, asymmetric look. Length at one side helps frame the face, and while this look isn't for everyone, it is stunning on the actress.
5. Jessica Chastain Long Hairstyle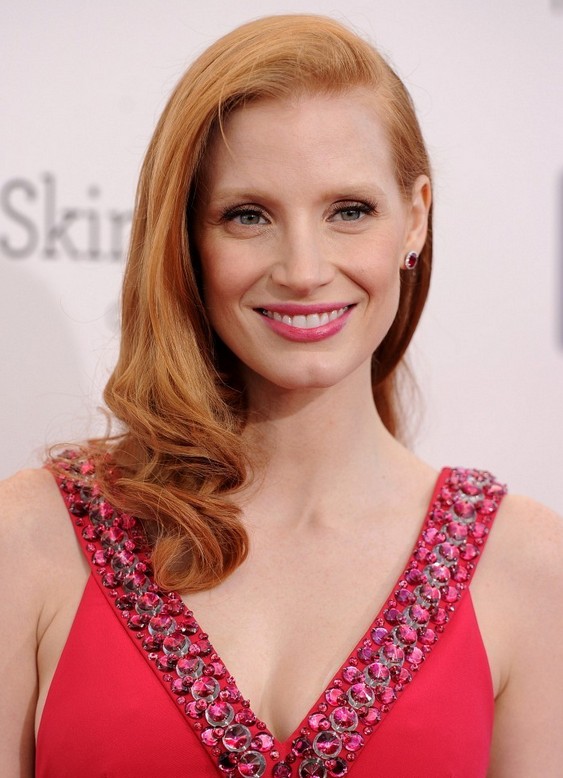 Jessica Chastain really suits the retro inspired style and here she works the style with her trademark copper red hair swept to the side in a dramatic side parting which allows for the that great swathe of perfect waves to fall over the shoulder. The waves don't start until quite far down the length of the hair, so this is a slightly more subtle look that some of the other retro inspired looks on the red carpet, but it really works for her, framing her face at one side and exposing the other so we can all see that amazing bone structure.
6. Jessica Chastain Long Hair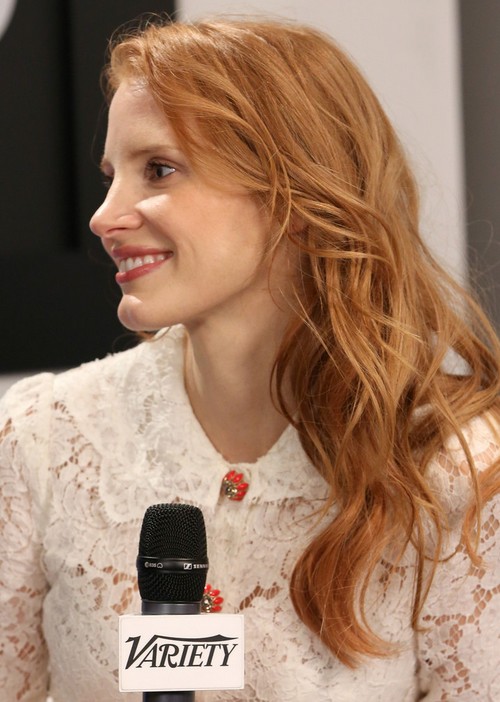 With her copper tones muted and a touch of blonde, this is a great summer look for Jessica Chastain and really lifts her pale skin tone. Her hair is styled with gentle, carefree waves that look natural and effortless while layers give the style lots of shape and interest. The loose, tousled style really works with the preppy, vintage style outfit, adding a more casual aspect to a dressy look. This is a great everyday look; feminine and not too contrived.
7. Jessica Chastain Hairstyle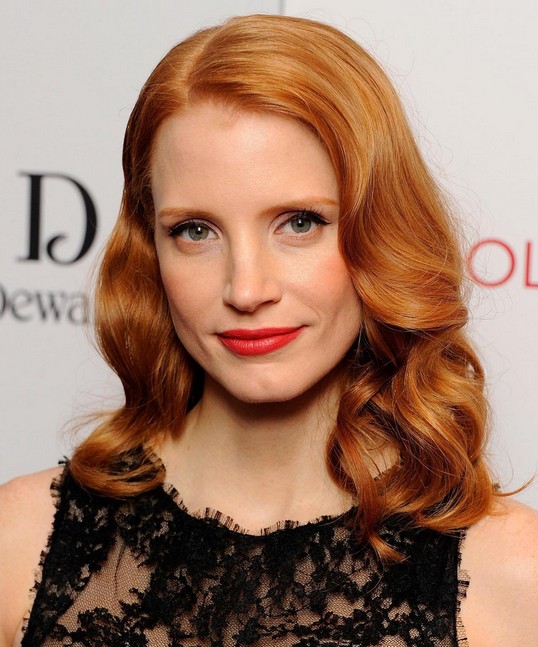 This is a fabulously retro style. With the side sweep and perfectly groomed, 'not a hair out of place' curls, Jessica Chastain looks like she has walked straight out of a Hollywood movie set in the fifties. The natural red colour is just so perfect for her porcelain skin tone while those red lips and the black lace really add to the glamour of her look, no other colour could suit her as well as this stunning copper shade. Gorgeous, glossy and glam –it's a perfect look for the acclaimed actress.