When the sun is blazing outside, the last thing most of us want to do is get dressed up in a lot of layers or heavy materials. In fact, the thing that is most on our minds is figuring out how to look great while wearing the least amount possible.
In walks, casual summer dresses. Looks that are still super cute but don't require a lot of maintenance or muss-n-fuss. If that's something that sounds right up your alley, here are some of our favorite casual summer dress (and skirt) looks for this summer season.
1. Lots of teal to try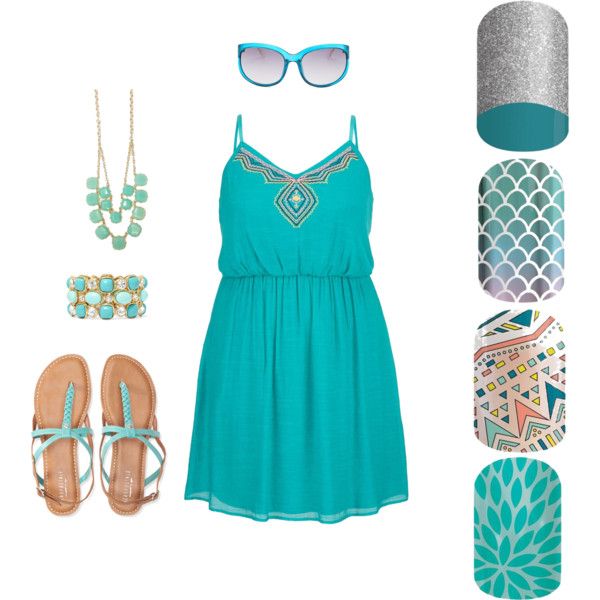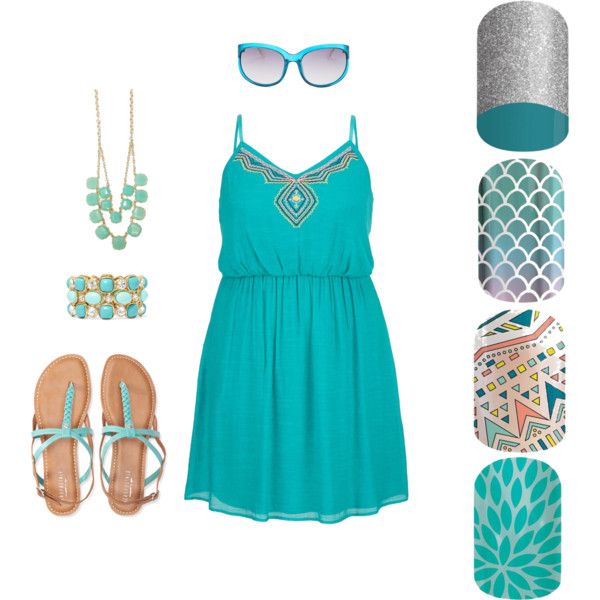 We don't recommend that you always wear basically one color from head-to-toe. But there are certain hues that get a pass, simply because of how visually appealing they are. Teal is most certainly one of them. It's such a beautiful mixture of blue and green; one that goes really well on pretty much every skin tone. It's really great on a dress like this one because it's the quintessential sundress.
2. Light blue, brown and white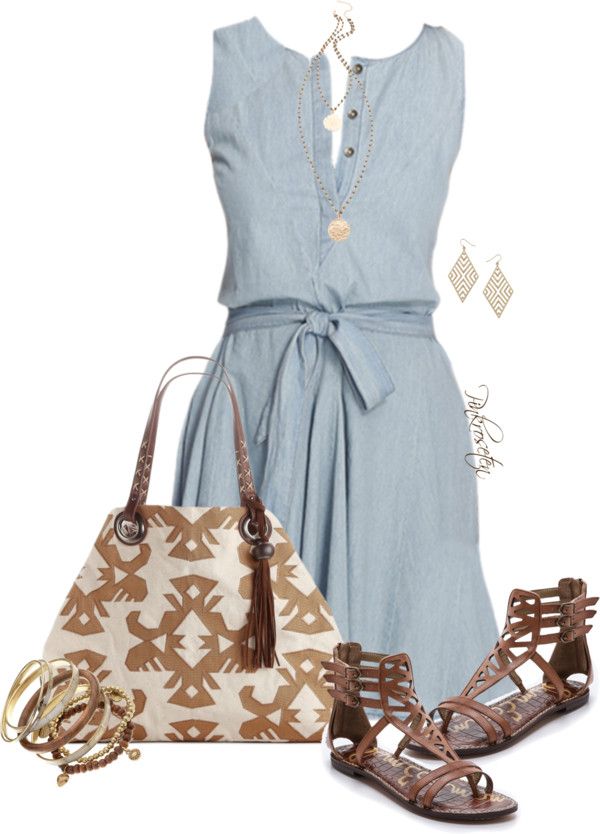 A light blue denim (or organic cotton) dress helps out any wardrobe because it goes with so many different things. The buttons that are in the front of this one we really like because it gives you the option to put a different colored tank on underneath for added dimension or you can go without one. And although gladiator sandals are making their way out as far as hot trends, we can't think of a more perfect look for this particular outfit.
3. Navy top and floral skirt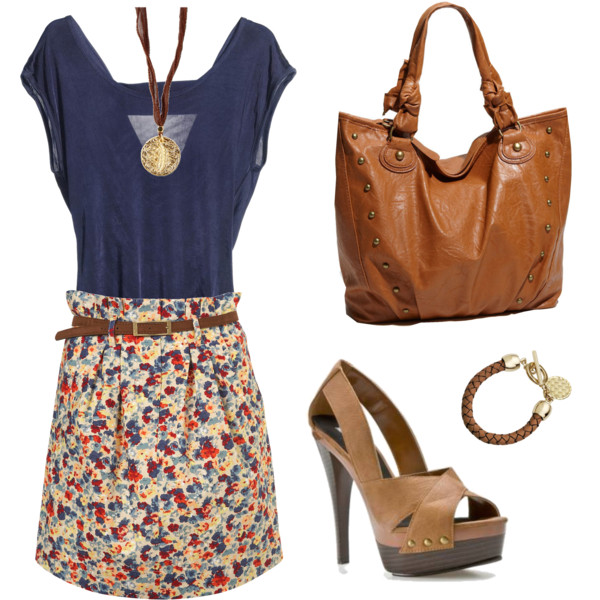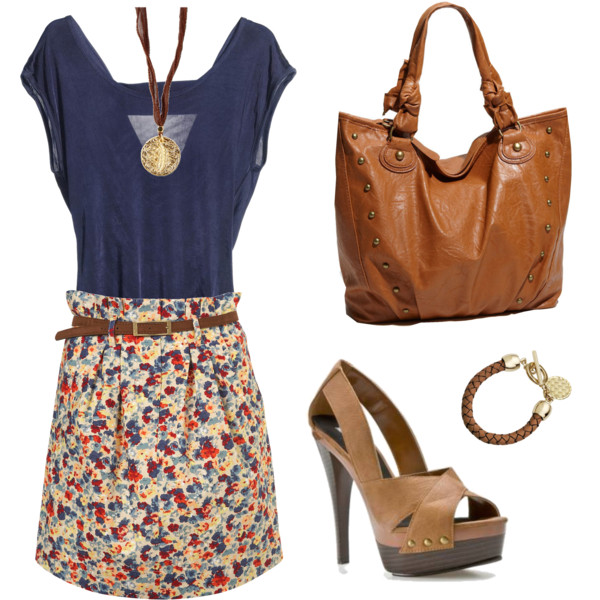 Floral prints are pretty big this year, so if you got one for spring, it's fine to carry it on over to the summer. If the top and skirt are a little too "cutsey" for you, don't forget to add some heels like the ones you see next to it. The added height will give your legs some length and help to "mature" the look a bit more.
4. Denim short-sleeve dress and leather accessories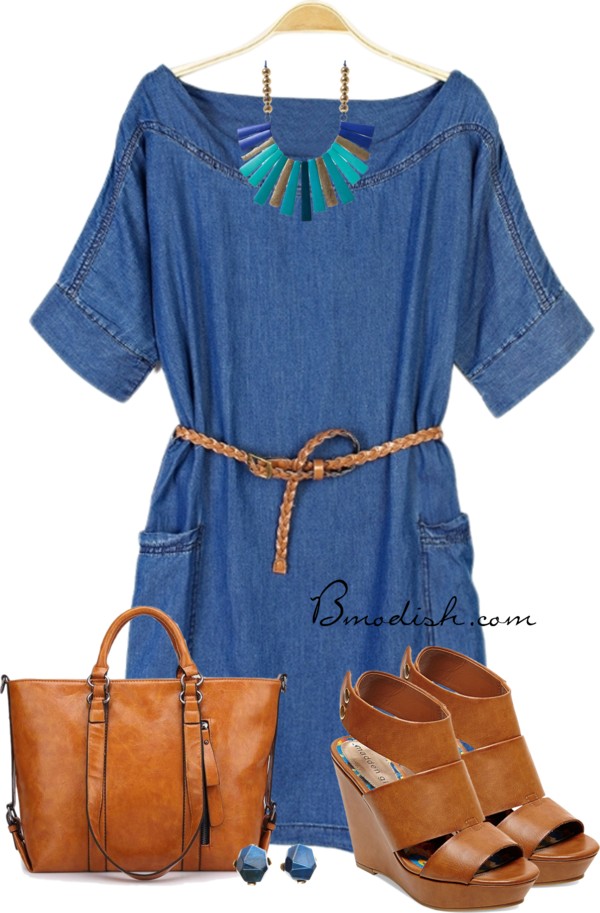 Here's the example of a darker denim dress with short bell sleeves.  Brown leather looks marvelous with it. It's the perfect look for work if you're not allowed to wear jeans…but you can wear denim. (Have fun with some of the statement necklaces that you have too.)
5. Black, white and red all over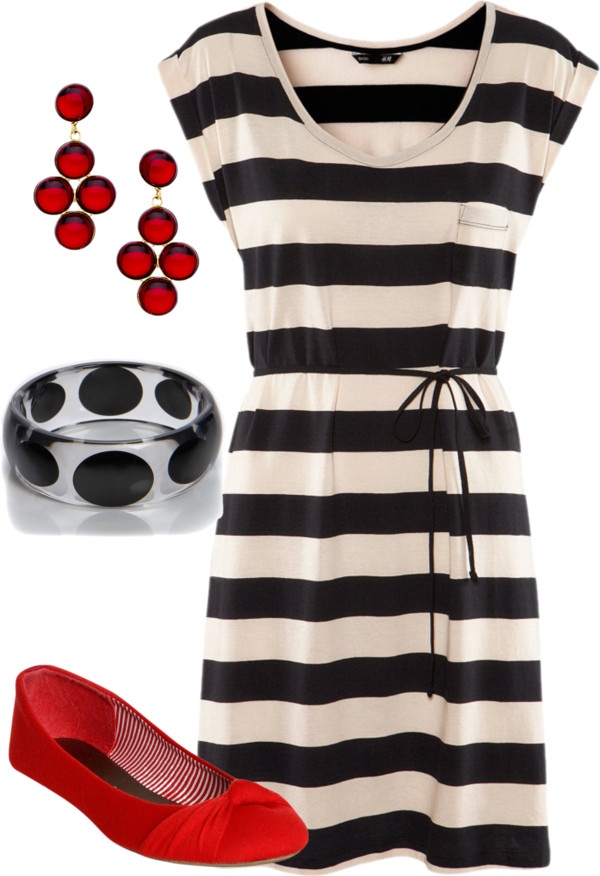 Outfit ideas 2017: Stripes are fun to look at. Plus, did you know that horizontal ones can also help you to look thinner? This is a pretty basic dress, but it goes to show what can happen when the pattern/print of it is bold. And yes, try and offset the color of the stripes with a completely different one in your shoes and jewelry. That will make it even more attractive.
6. Short sleeve jersey dress and denim vest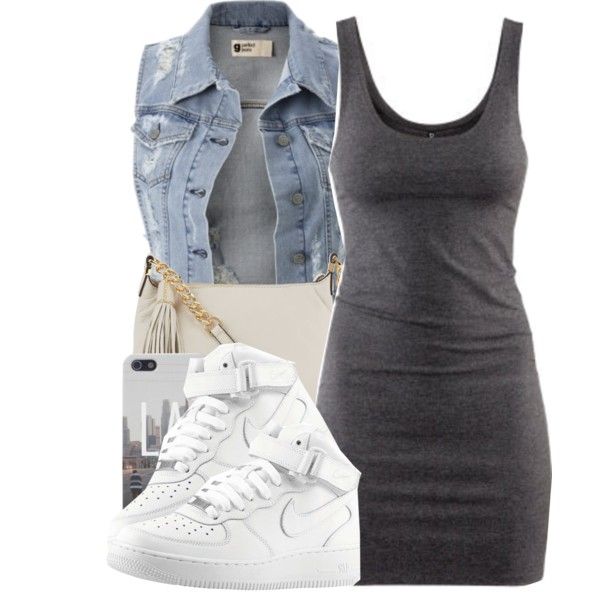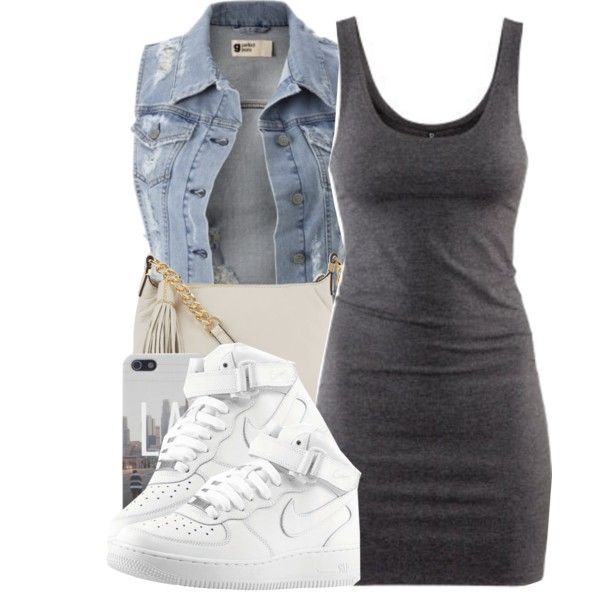 Something about this is so cute for a date. At least we think so. For one thing, jersey material fits really well on a woman's body and a distressed jean jacket adds some style and personality to it. And when it comes to sneakers, one of the best things to ever happen to a girl is the invention of wedge ones. They add height and also look so feminine. A nice look for athletic footwear.
7. Aztec print dress and cowboy boots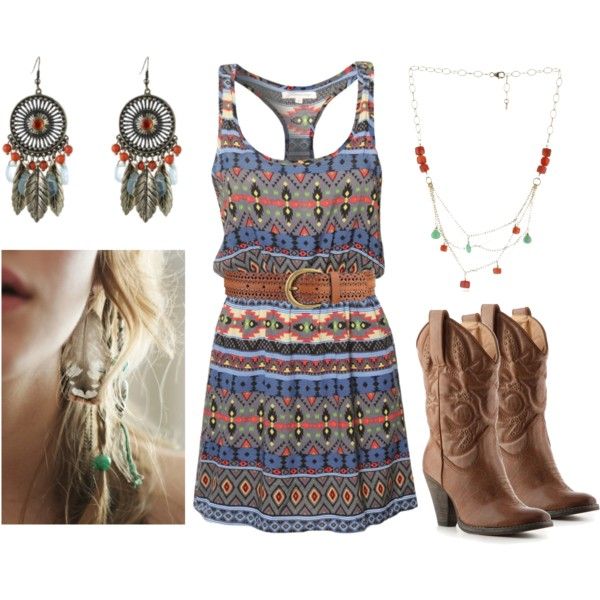 The Aztec print was actually bigger last year but if you know that you're a Bohemian at heart (at least fashion-wise), then this is the kind of print that you'll always want in your wardrobe. Cowboy boots go well with it. So do feathers for accessories; whether you choose to wear them as earrings or tie one in your hair is totally up to you.
8. Mint sleeveless mini dress and black accessories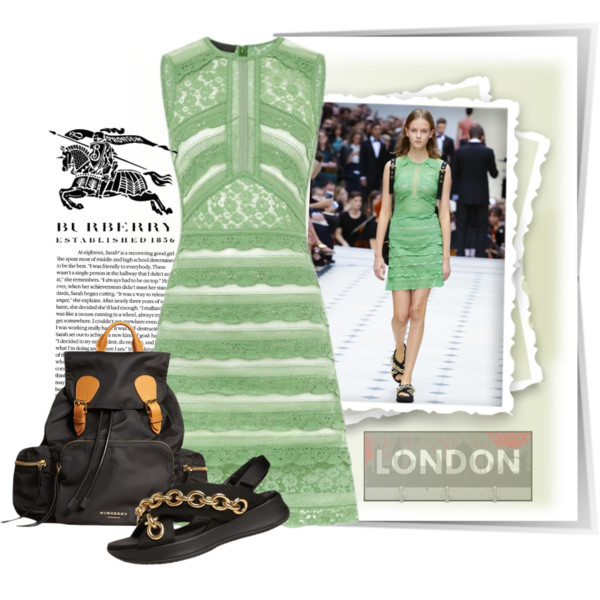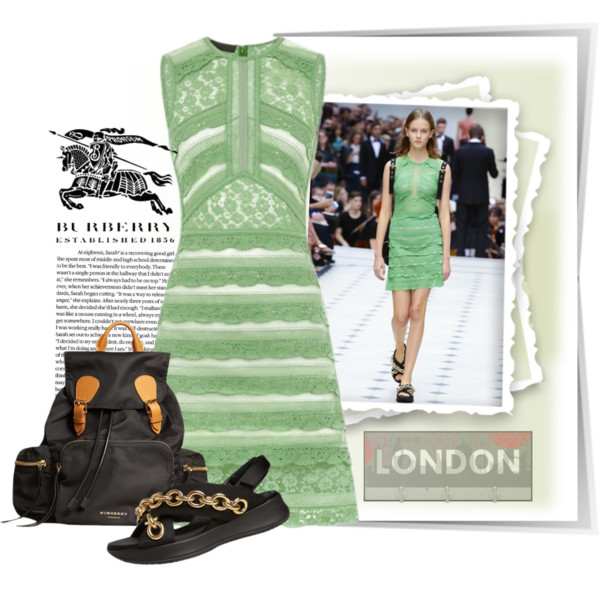 Polyvore outfit ideas: This look is a really good example of how to make lace look casual in a fun and fashionable kind of way. The cut of the dress is perfect for summer. And if all you wan to do is window shop at some boutiques or get a smoothie with a couple of friends, you won't look overdressed. Black may be a bit too stark. Our recommendation is to try some nude or bright-colored accessories instead.
9. Baby blue strapless party dress and sandals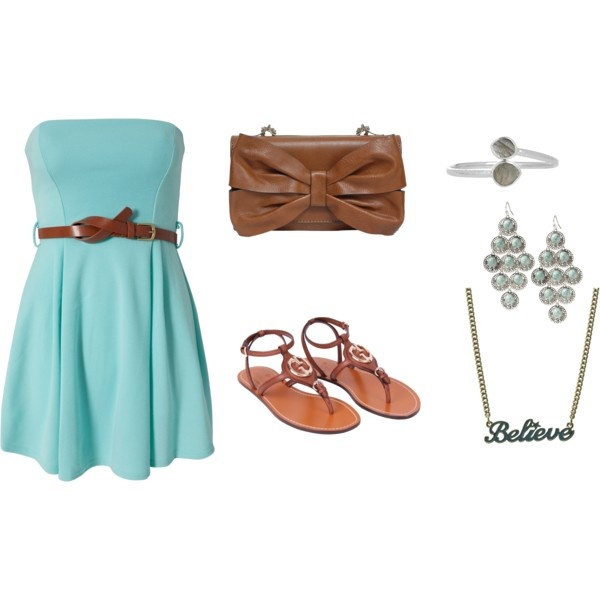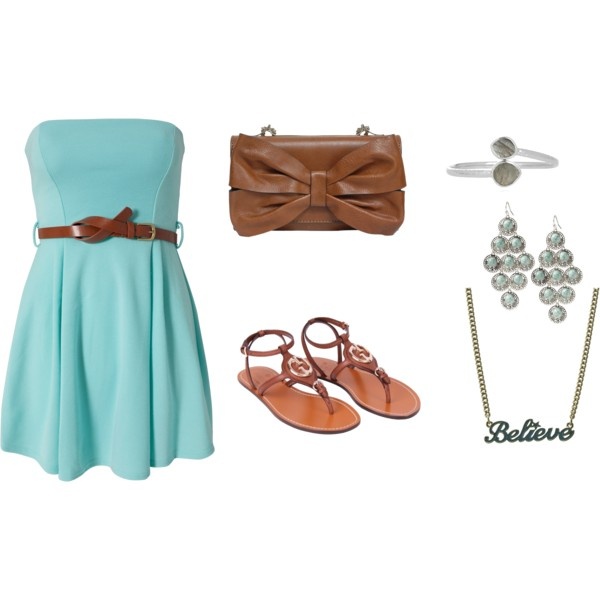 Doesn't the color of this strapless mini number make you think of tropical water? Even if you can't make it to a beach this summer, you can still look like a refreshing glass of H2O in a dress like this. Long earrings dresses it up. Leather sandals still provides a laid back look. And feel.
10. Chevron print maxi dress and straw hat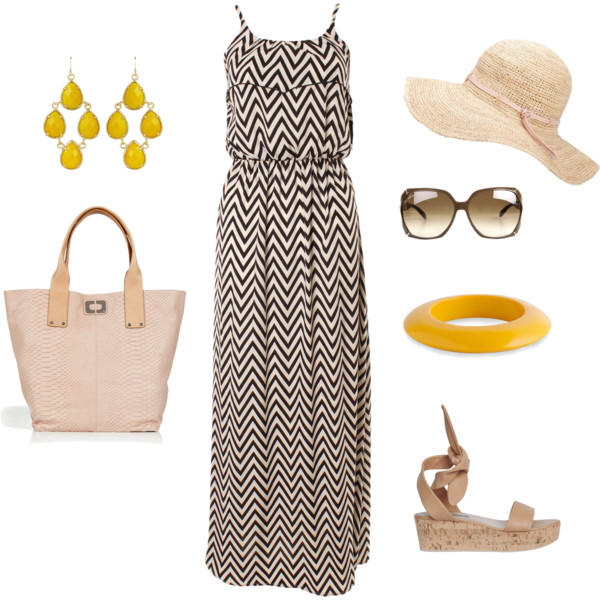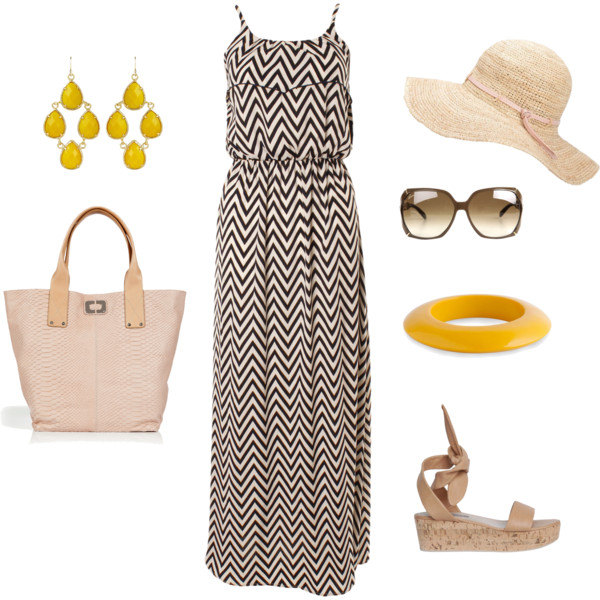 Chevron print is a favorite among women of all ages, mostly because it's the kind of pattern that is sophisticated with a touch of youthfulness—especially when it's used in a maxi dress that is similar to this one. The taupe and black color is divine. So is the nude platform sandals with the "wine cork" heels. (Yellow is a great addition to it too.)
11. Spaghetti strap dress and cardigan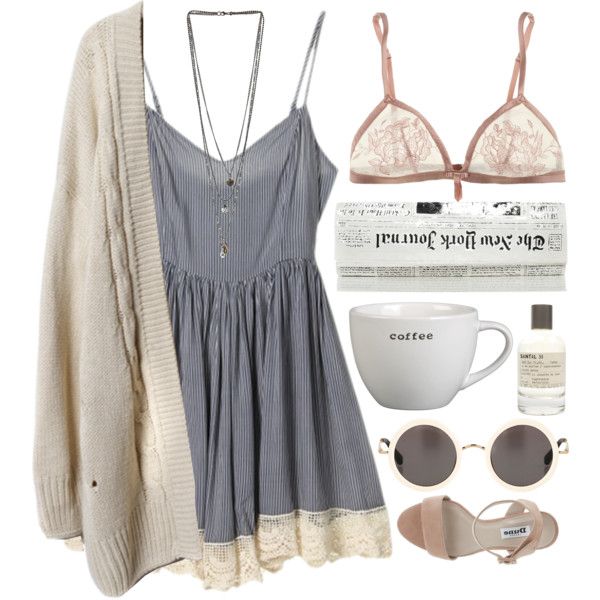 This is a cute country gal kind of dress. Matter of fact, we recommend that you go without the sandals and rock this with a pair of cowboy boots and a brim. And very cool that the sheer bra is included in this shot. It's a reminder that you don't have to worry about your "unmentionables" showing…if they are pretty enough, that is.
12. Sleeveless paisley print dress and wedge sandals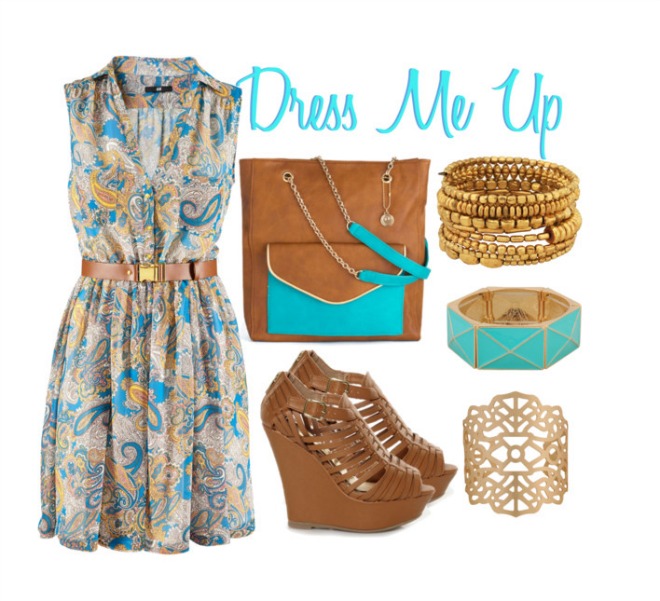 Cute Polyvore outfit ideas: Paisley print is beautiful in any season. We really like this color combination because oftentimes, paisley leans towards darker hues like navy or maroon. But this blue and yellow is really bright and cheery. Awesome in so many ways. (Don't forget to get some wedge sandals like those!)
13. T-shirt dress and cardigan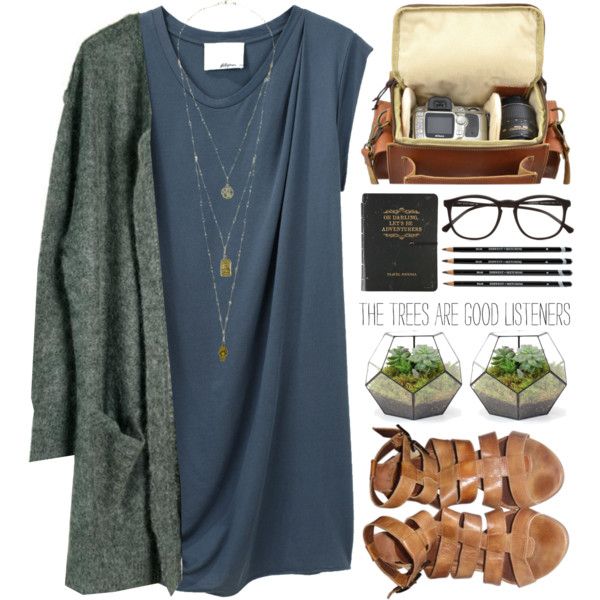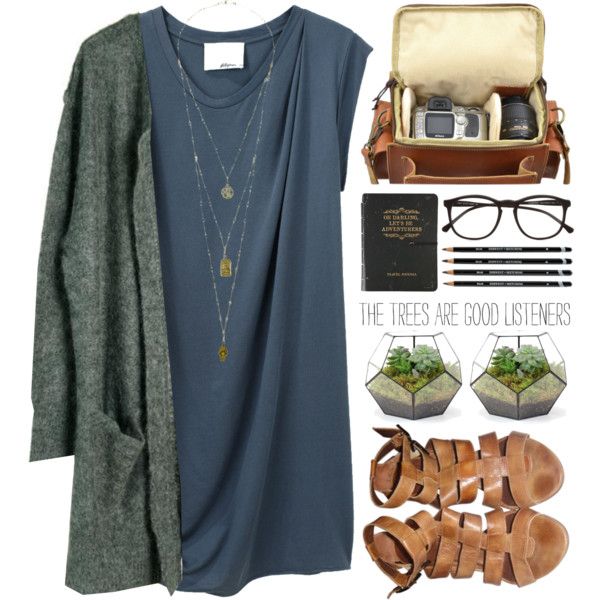 When you live in a climate such as Los Angeles, then you already know that while it may be hot in the daytime, sometimes it can be quite cool in the evenings—even in the pique of summer. That's why we included an outfit that has a cardigan in it. You don't need anything that is too heavy. Just one that will help to keep the goosebumps at bay.
14. Tank top and ruffle mini skirt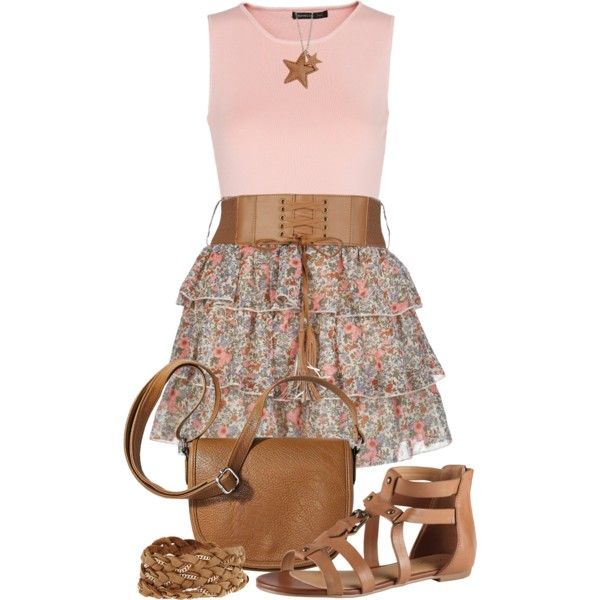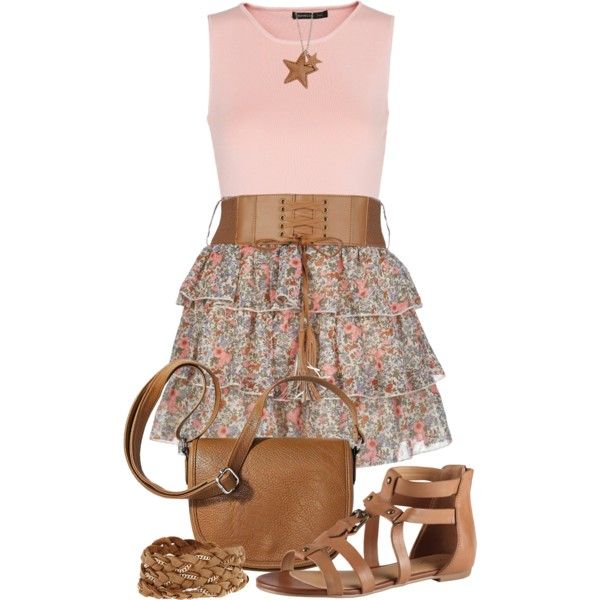 This is a pretty form-fitting kind of look. But if you have the confidence the pull it off (which is the best accessory a woman can wear, by the way!), we totally support it! The skirt actually incorporates two big trends: floral and ruffles. And since it's a mini skirt, that helps to keep the combo from looking too old-fashioned or dated.
15. White linen dress and statement necklace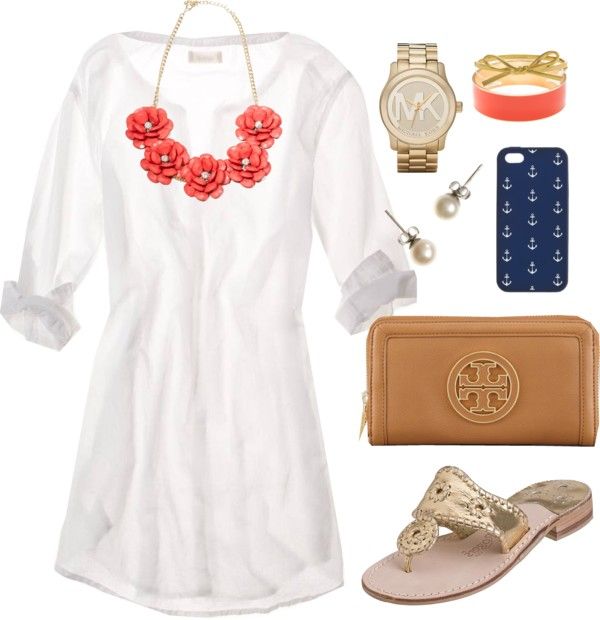 Nothing says "summer" quite like white cotton or linen. And if you take great care of a shirt dress like this one, you can wear it summer after summer. And metallic accessories will help the dress to look elegant in a very easygoing kind of way.
16. Strapless peasant dress and jean jacket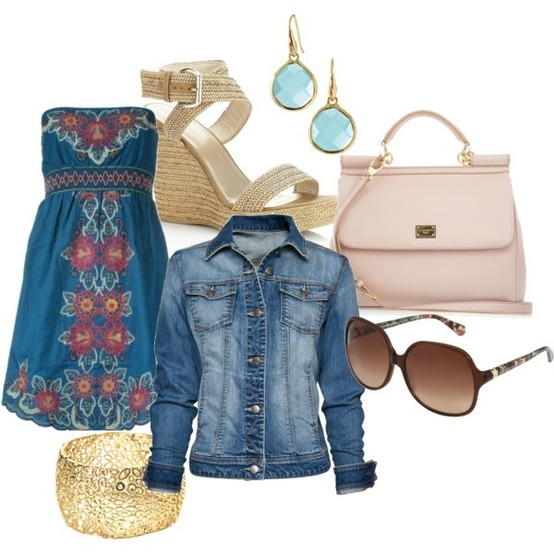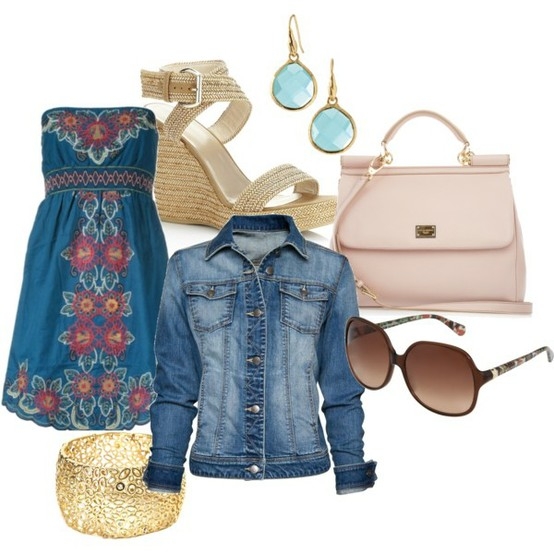 This look is so festive and pretty! And the embroidery print that is running down the front of the dress is a lot like the crochet look that is all the rage this season. It's definitely one of our favorite date (day or night) looks right now. And although there is jewelry featured in this shot, if you're someone who prefers to not wear much, you'll look just as awesome with a messy bun, some lip gloss and nothing else.
17. Nautical dress and jean jacket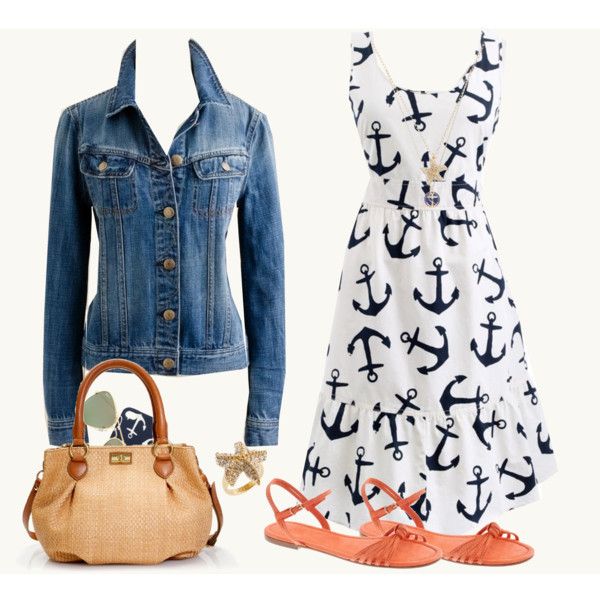 Are you the kind of gal who likes nautical print? If so, when it comes to the color shoes and purse that you choose to wear with it, don't go for the typical red. Try a color that no one would expect like peach…or yellow or even bright green.
18. Khaki maxi dress and sandals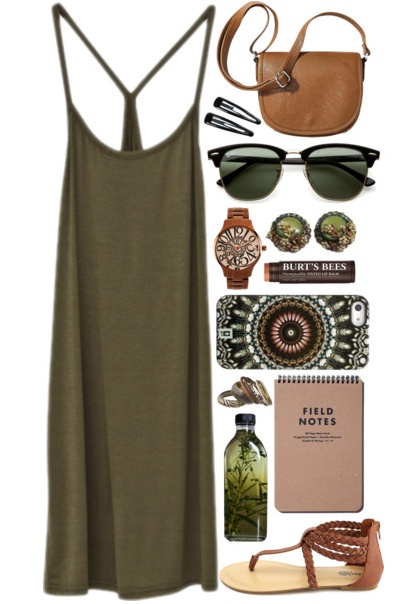 Polyvore outfit ideas for summer: Every woman needs some khaki in her life. And desert storm is a trendy color right now and you'll look like you're in sync with the fashion blogs if you get a dress like this one. It's really simple, but something that's super fun about it is you can have a complete and total BALL accessorizing. (We think knee-high gladiator sandals would be ultimate!)
19. Striped sleeveless dress and wedge leather sandals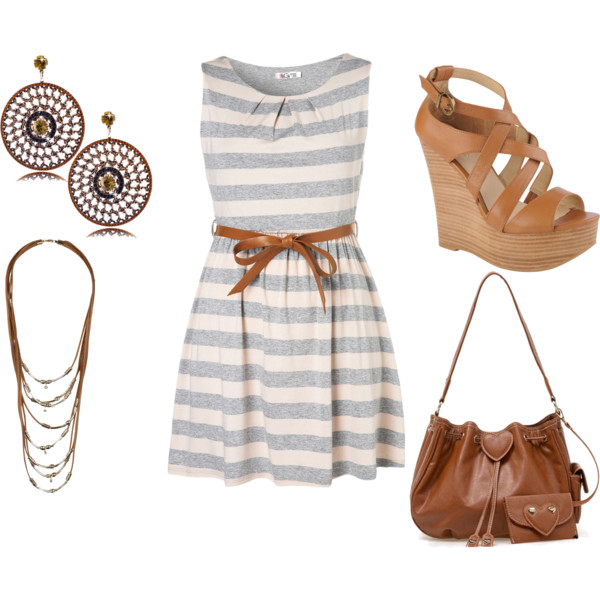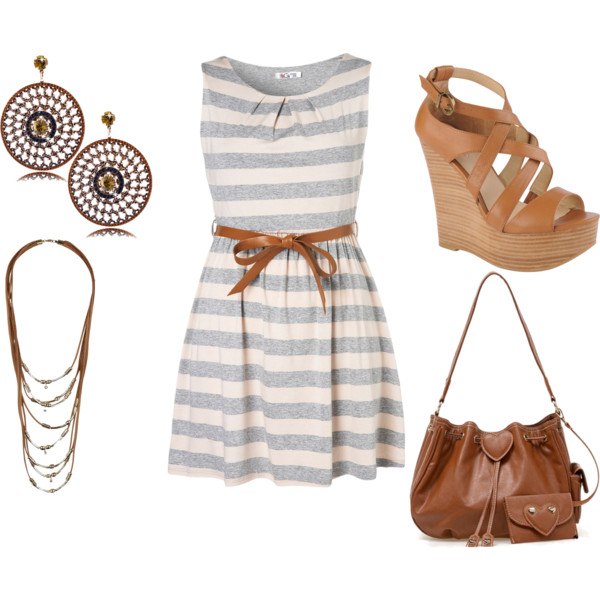 20. Spaghetti strap cotton dress and light blue jean jacket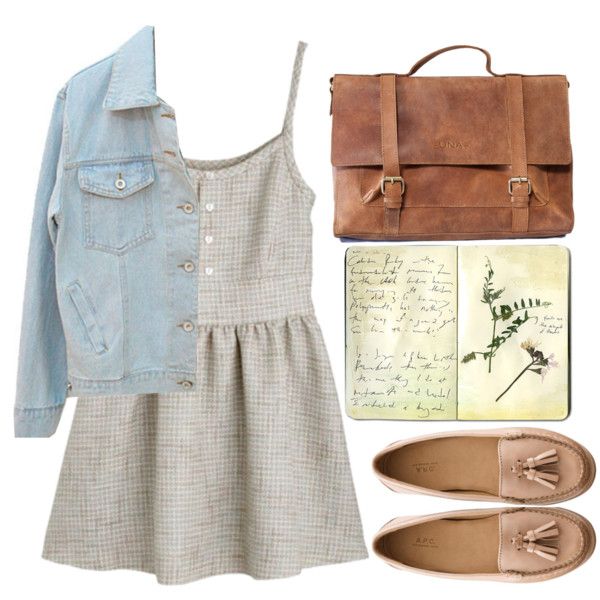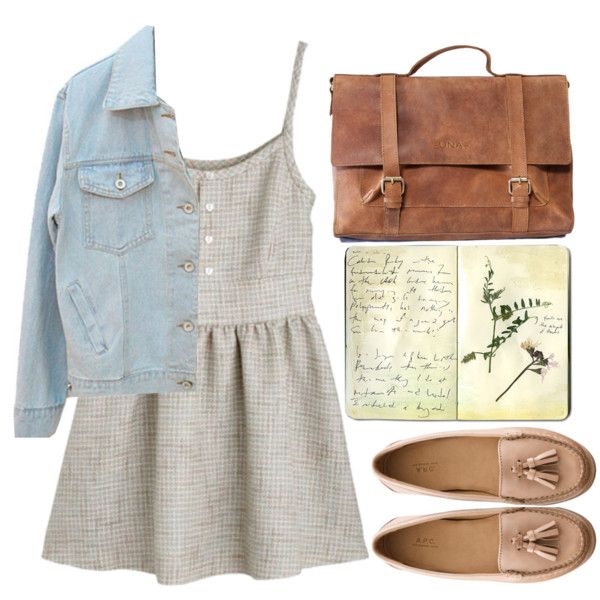 Mini dresses are adorable; especially on women who have long legs and an athletic build. On a casual day, wear a pair of flats. On a date, swap those out for a pair of strappy heels. And if you're going to be indoors? Put on a denim jacket. It will help to take off any of the air conditioner chill.
21. Striped T-shirt dress and sneakers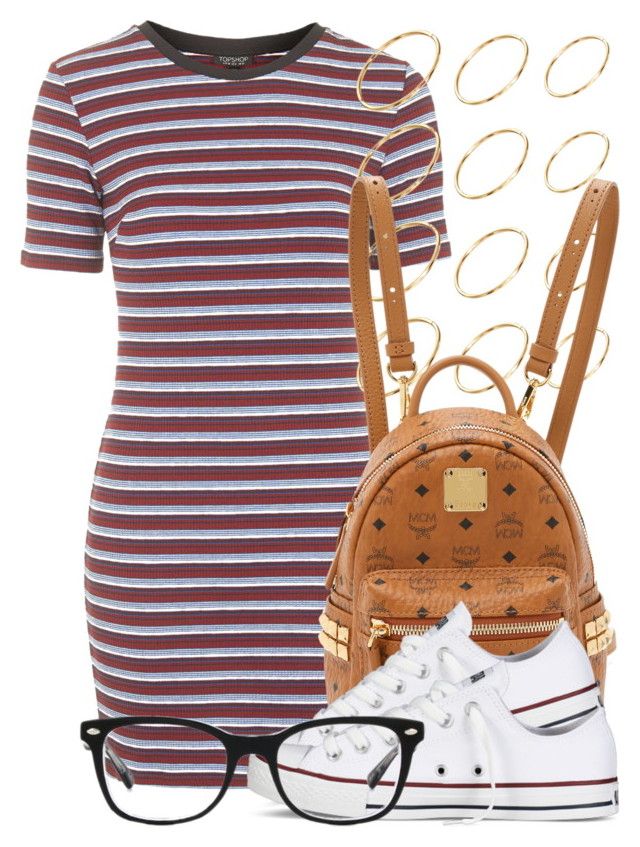 Casual Polyvore outfit ideas: T-shirt dresses are the ultimate kind of casual dress which is just right for the tom boy in any woman. You get to show off the awesomeness of your shape without having to step outside of your comfort zone. Low tops—or even better, wedge sandals—will make you look so comfortably fine from head-to-toe.
22. Black lace dress with bell sleeves and brim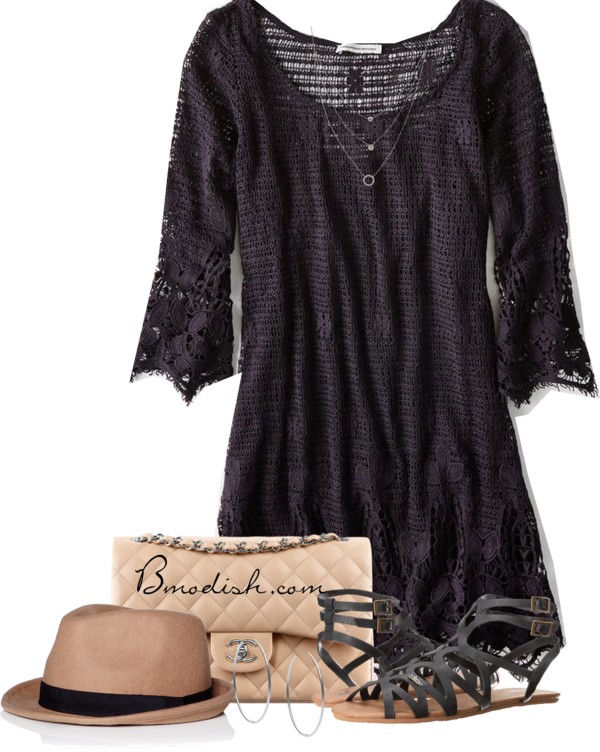 This dress is super special. The crochet look is such a hot trend and the bell sleeves are a creative detail in it. Gladiator sandals are great, but pretty much any shoe would be. And if you're having a bad day, who would ever know if you're wearing a brim on your head?
23. Black-and-white dress and brown accessories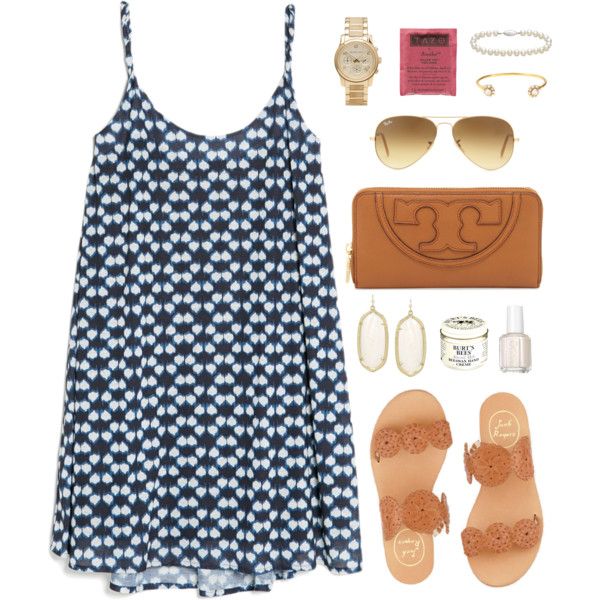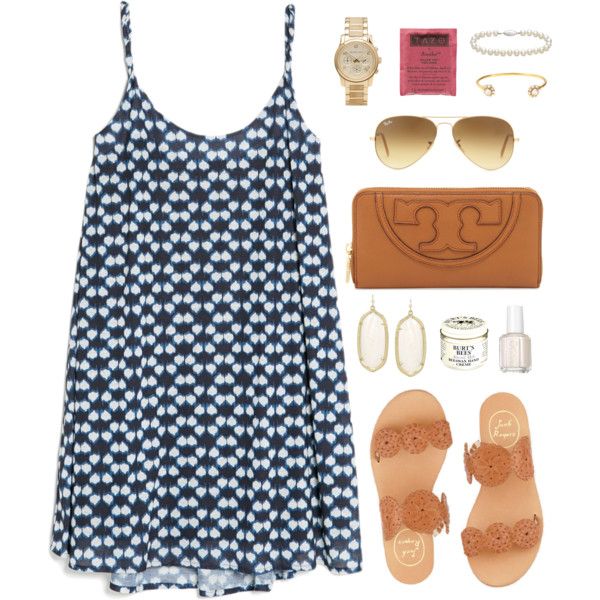 Upon first glance, this might look like a pajama top. But that's actually what we like about it! It's so casual that it brings out the natural beauty in you without a lot of time in the mirror and there's something really special about that. Plus, the shape of this dress makes it possible for you not to have to worry quite so much about your figure. If that's something that sometimes concerns you.