If you're looking for outfit ideas then with Styles Weekly, you've most certainly come to the right place. We strive to gather some of the ultimate outfit ideas for you from across the globe, curating a collection of image galleries which are full of stunning fashion inspiration readily available for you to work into your own wardrobes. So let's get started shall we?
Brown Thigh Highs and Blue Parka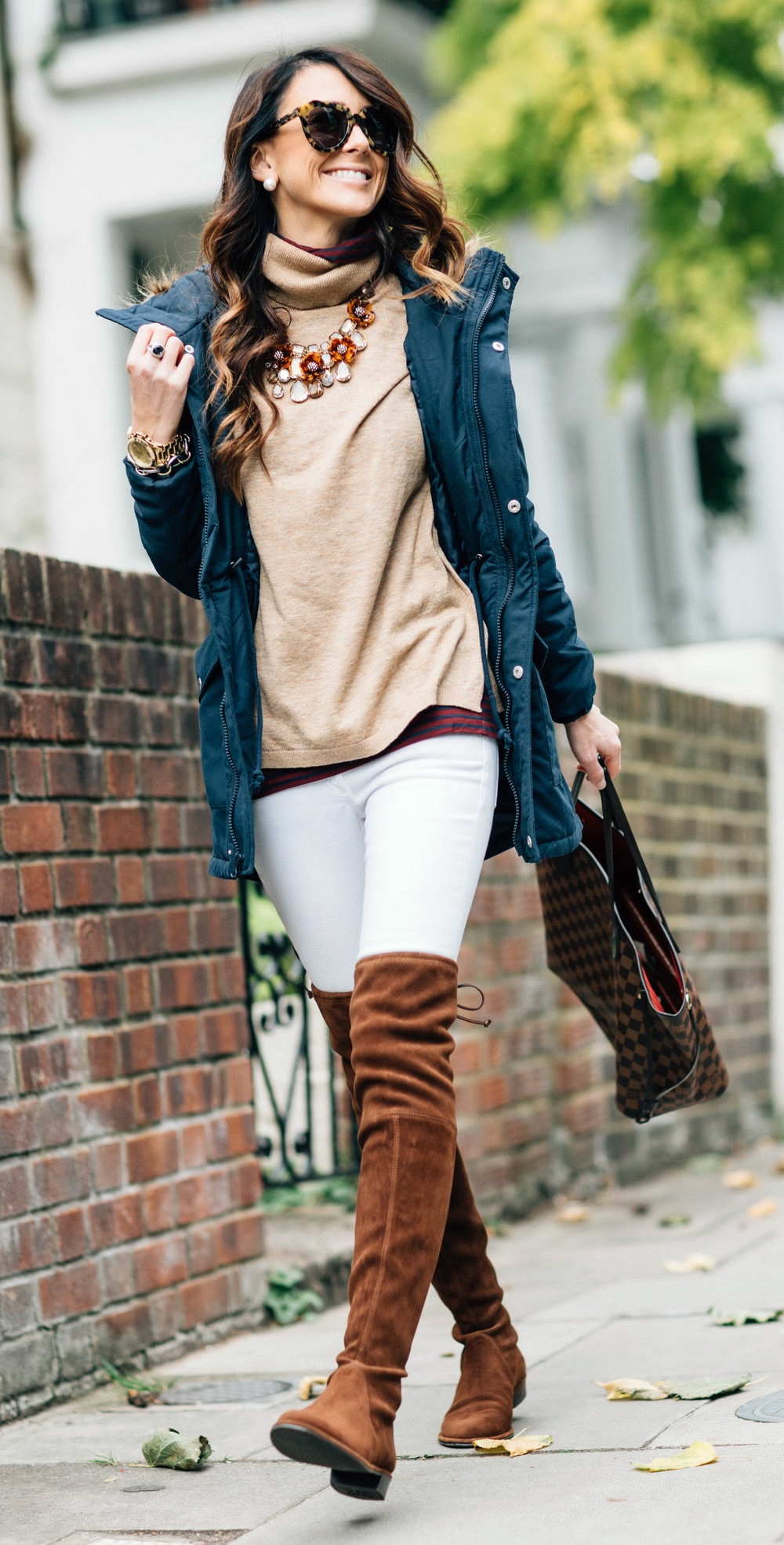 Our first outfit is a stunning one which is just perfect for Fall or Winter! Starting with white jeans, this lovely lady has opted for brown suede thigh high boots as her footwear, a nude roll neck sweater and possibly our favourite part of the outfit – a turquoise parka jacket with a fur trimmed hood. This outfit is both warm and fashionable!
Stripes and Skirts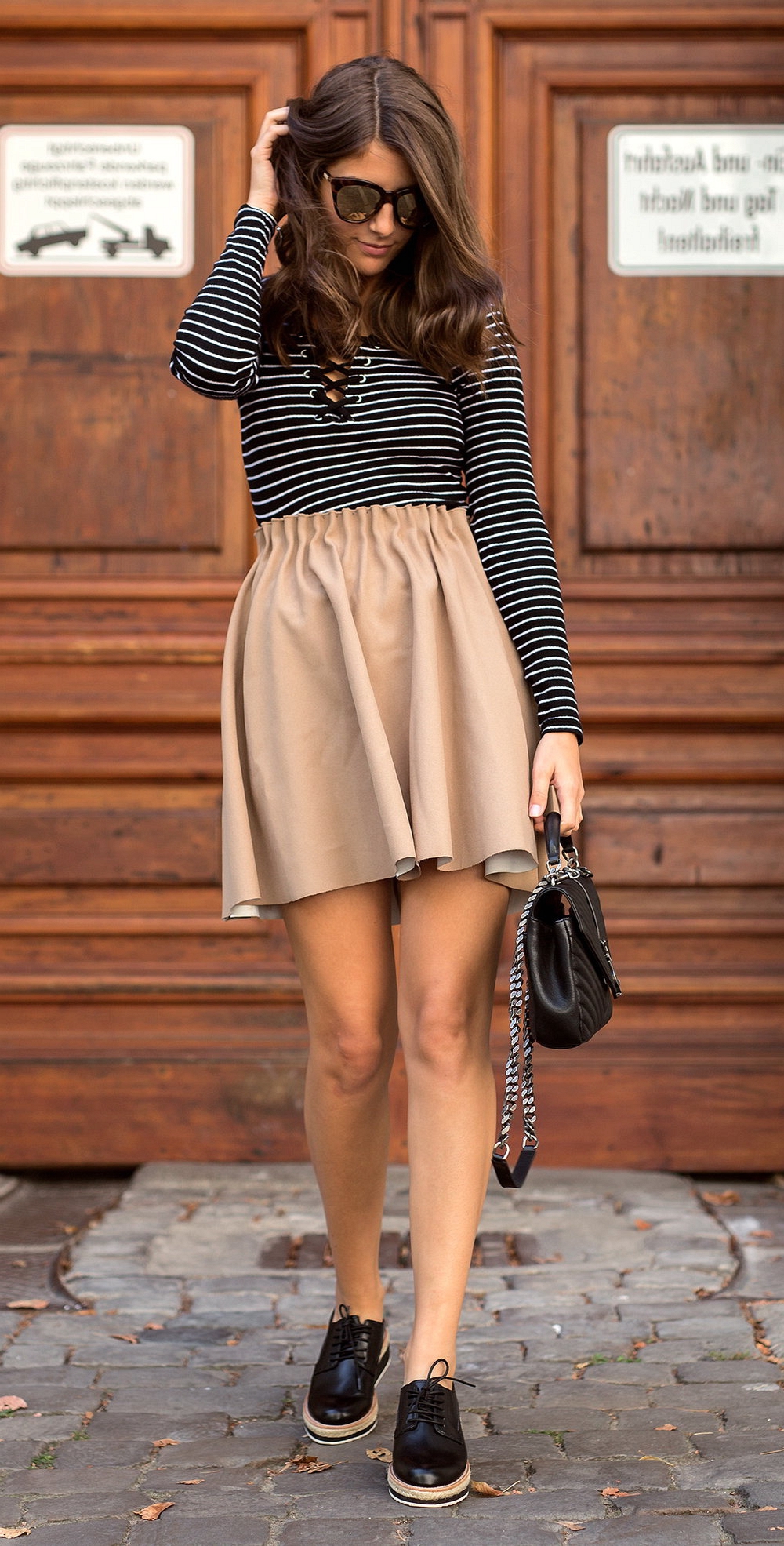 This absolutely stunning outfit consists of two fantastic trends in one look – black and white stripes and nude! A black and white long sleeved top has been tucked into a gorgeous nude skirt to create the perfect look, and the outfit is finished with some super stylish and ultra comfortable black brogues. We adore this style.
T-Shirt, Jeans and Wedged Shoes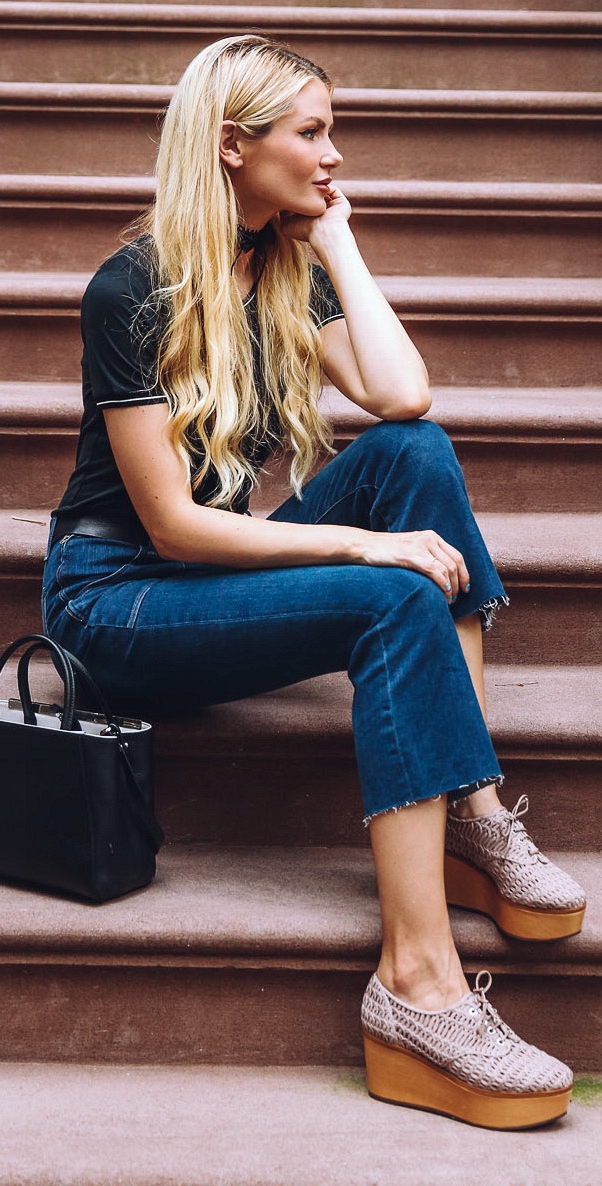 If casual is more your comfort zone, then why not take your inspiration from this utterly gorgeous lady? She's taken a plain t-shirt and added some jeans with a frayed hem which is totally on trend, and finished the look with some cool wedged shoes. Accessorised with a choker and stylish black bag, we adore the end result.
Pinstripe Suit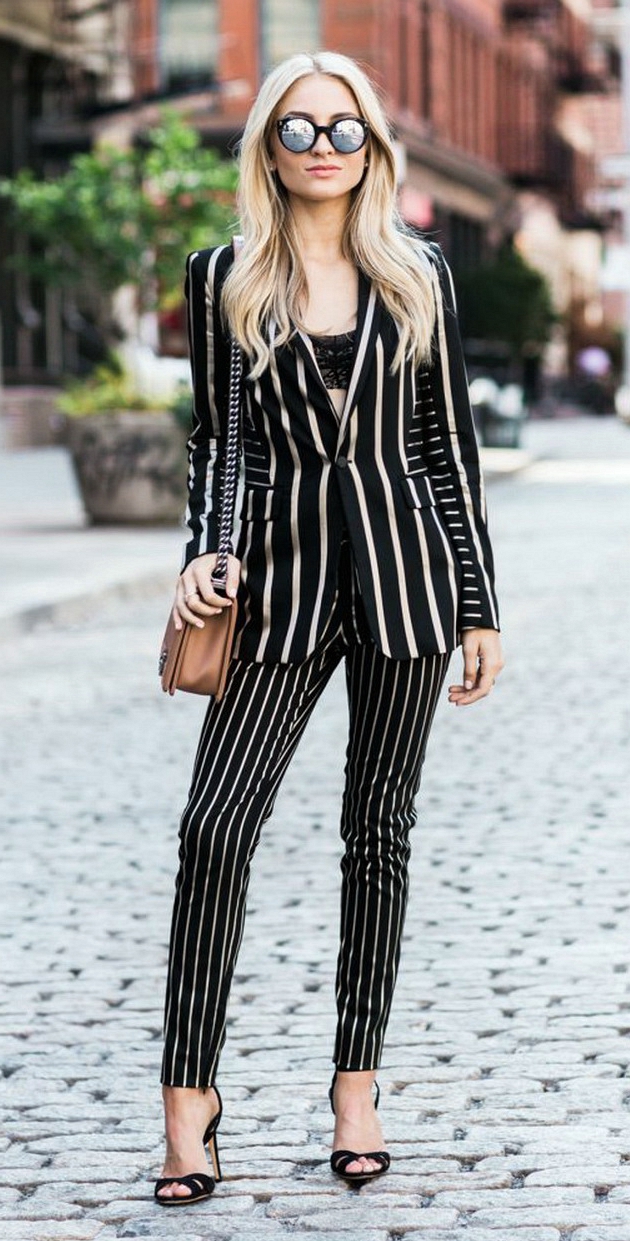 Trouser suits have been an enormous trend for women in the past year, offering a feminine twist on formal occasion wear and something which is contemporary and cool. This pinstripe two piece suit is exceptional – especially thanks to the gorgeous black heels which finish the outfit off!
Burgundy Leather Jacket and Mini Skirt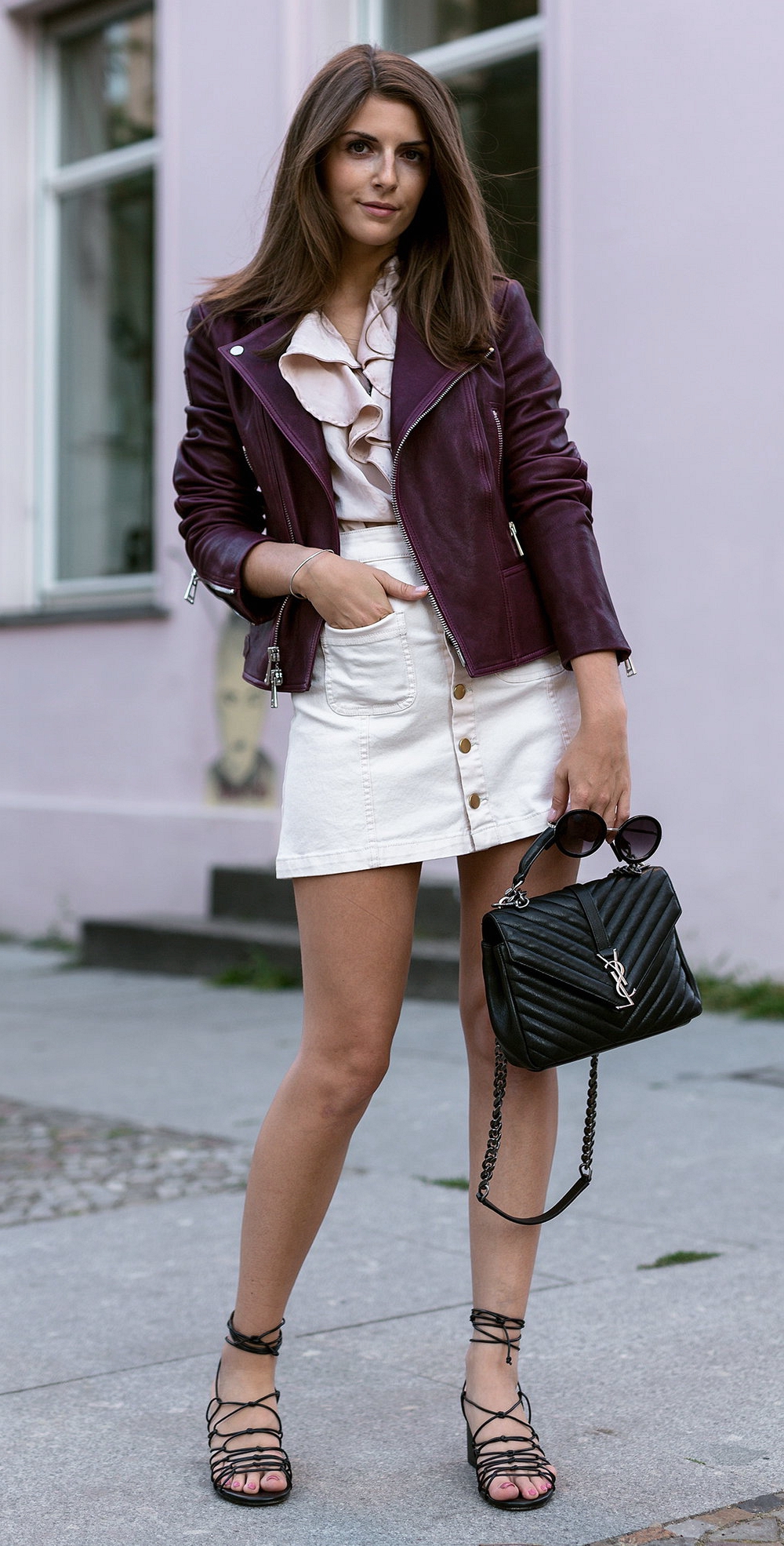 Leather jackets don't just have to be black – and as this gorgeous lady proves, perhaps opting for a different colour like burgundy can really work to your favour! She's paired hers with a frilly pastel pink shirt, a white button down mini skirt and some black lace up flat shoes which finish the look perfectly.
Bomber Jackets and Black Boots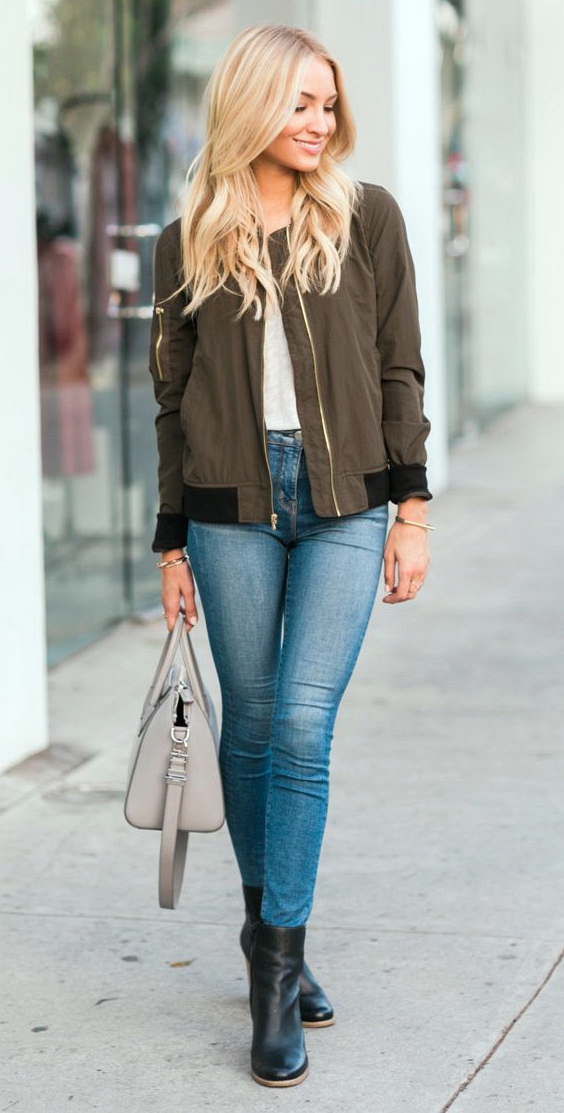 Smart and casual collide in this gorgeous look, and we just couldn't be happier about it! Blue denim jeans are tucked into amazing black leather biker boots, but the star of the show is undoubtedly this incredible khaki coloured bomber jacket. We just love this gorgeous day time look.
Bardot Neck Striped Mini Dress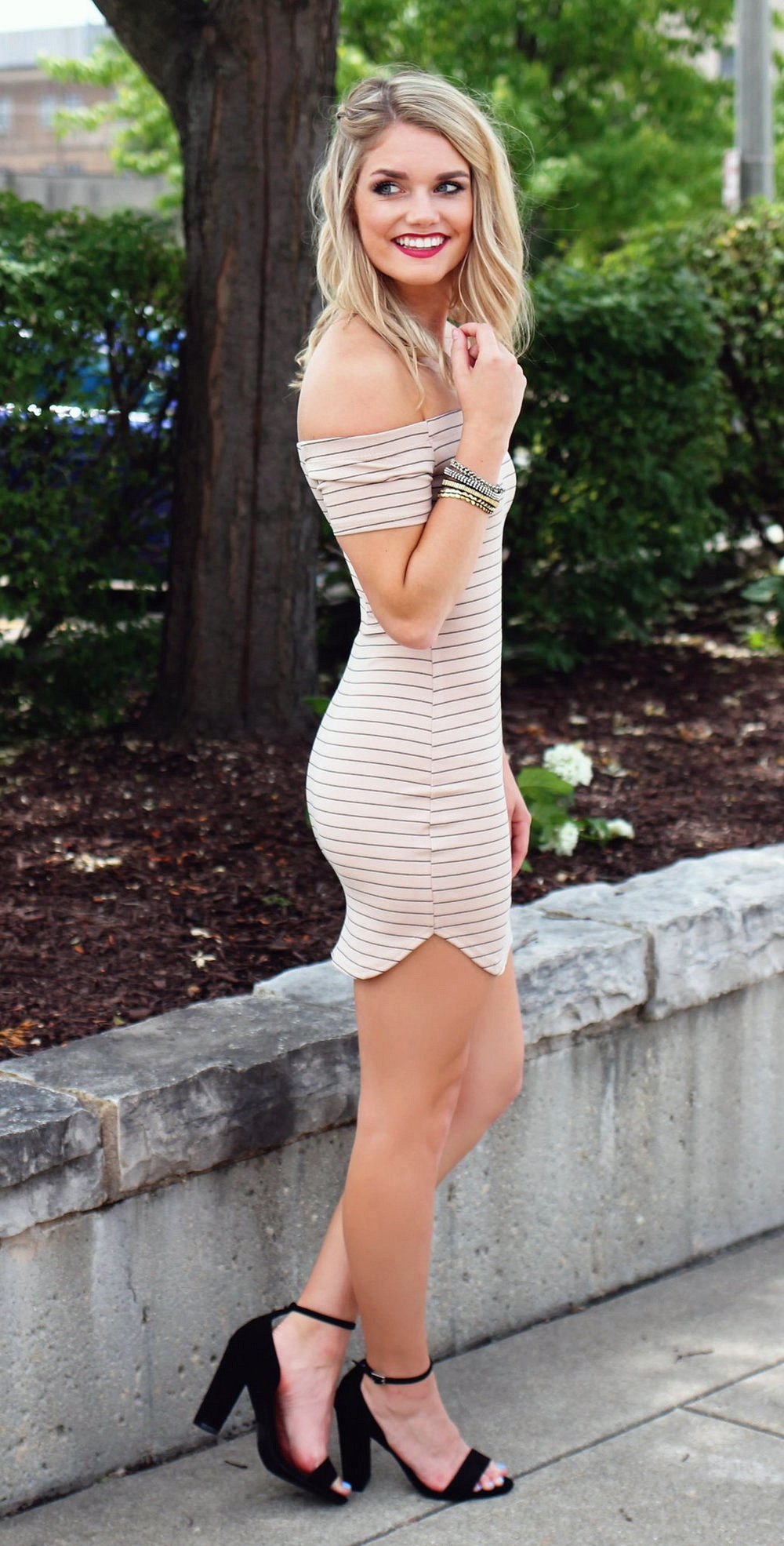 Bardot necklines or off the shoulder necklines have been growing and growing in popularity, and the Styles Weekly team are absolutely all for this trend. This lady has worked the look by opting for a pink and black stripy bardot neck mini dress, and accessorising them with barely there black block heels which are beautiful.
Dressed Down Day Look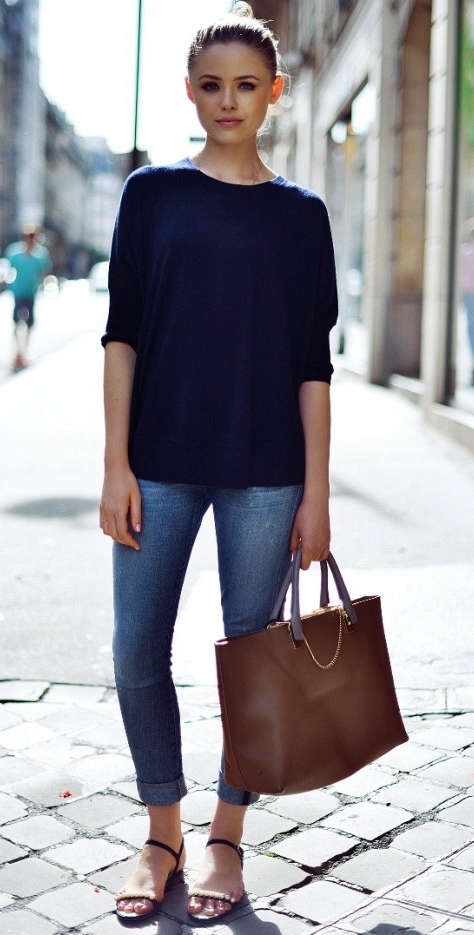 It can be difficult to choose a stylish dressed down look, but this lovely lady has absolutely perfected the finish. With a blue long-sleeved top and rolled up denim jeans, this lady has created the ultimate relaxed style. We adore the black sandals she's finished the look with, and the gorgeous brown bag!
Dramatic Daytime Look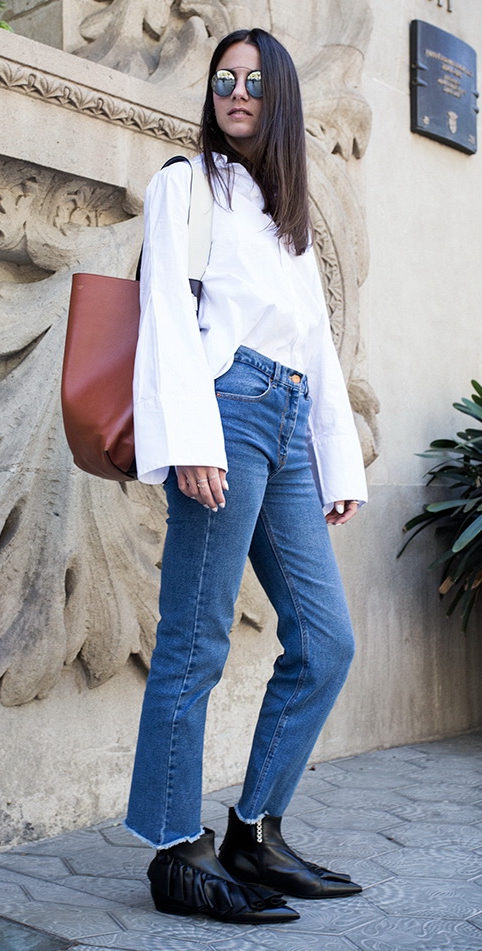 Of course, if you're opting for a day time style there's no reason it needs to be simple! This fashionable female has created a very dramatic look which we just cannot get enough of. Starting with a white blouse with flared sleeves, she's worked them with a denim pair of jeans with frayed ends and beautiful black boots to seal the deal.
Stripy Jumper and Black Heels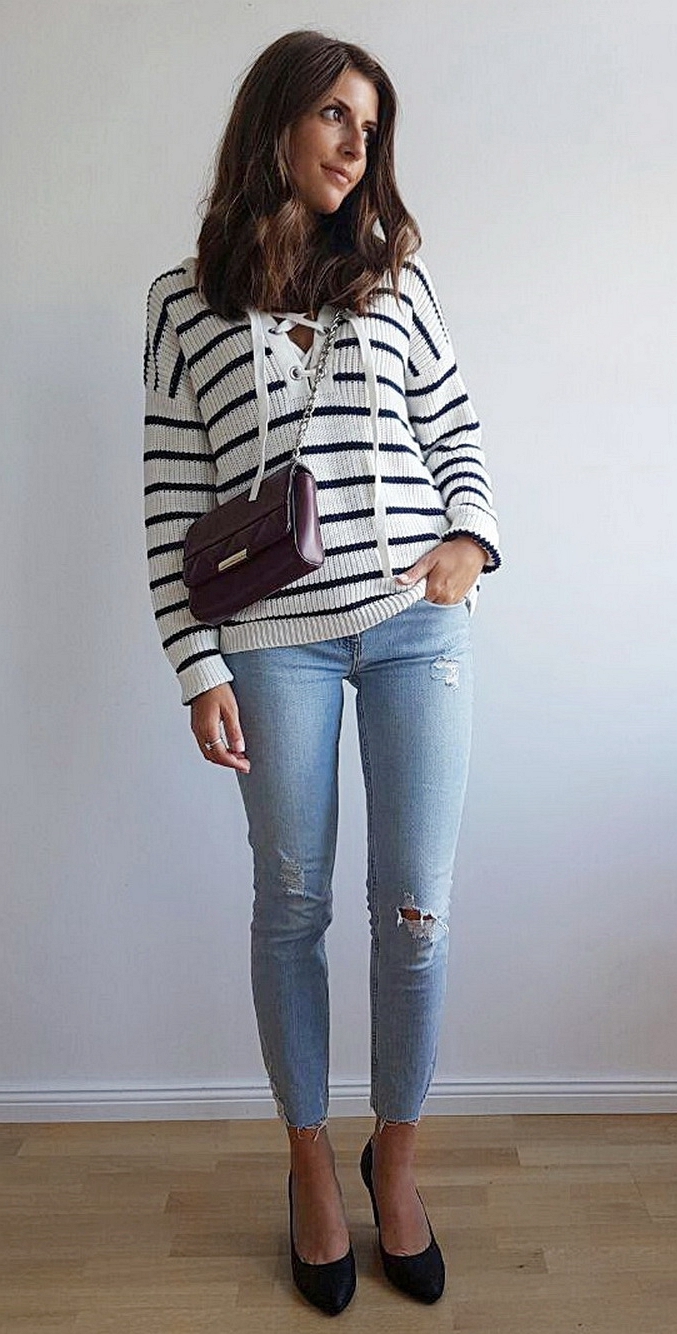 Heels can turn any outfit from casual to smart – and that's exactly what this lovely lady has done here! Starting with a casual black and white stripy jumper, she's teamed it with some ripped tight jeans and a pair of black high heels which truly transform the outfit.
Thigh High Boots and Floral Bombers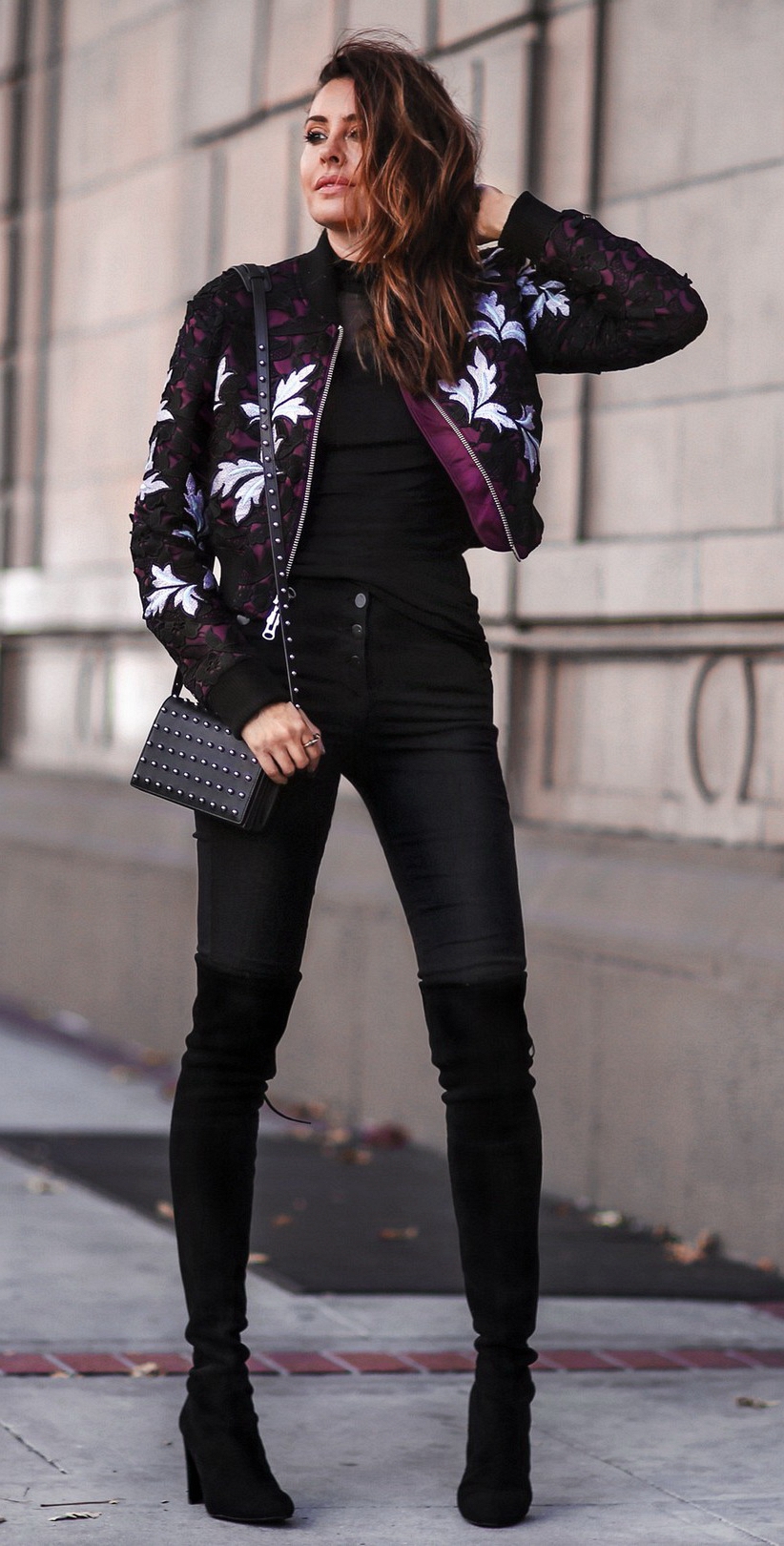 We're finishing this post with a truly stunning look which we simply cannot get enough of. This lady has accessorised black jeans with beautiful suede thigh high boots, a black high neck top and a truly stunning black and purple floral bomber which we absolutely love. We think this look is just perfect!
We'd like to think that with this stunning gallery we've given you plenty of new fashion ideas and inspiration on how to mix and match your favourite pieces of clothing. Let us know what you'd like us to cover next, and don't forget to keep checking back for the ultimate fashion inspiration week in and week out!